This Chocolate Chip Cookie Dough Cheesecake is a creamy and decadent cheesecake filled with chocolate chip cookie dough truffles.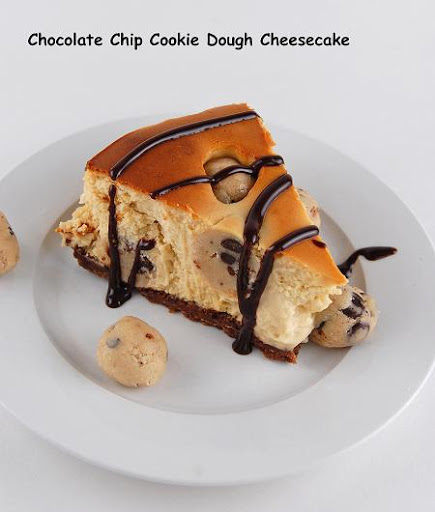 When I am sad and stressed I just pick up my chin and grin and say…the sun will come out (SLAP! Not).
Okay, where was I.
Ah yes, being sad and stressed.
When I am not having the best of days I used to follow a certain routine.
First I would exercise.
If it could be kick boxing, rugby, or hockey that was a plus because I can usually try and hurt someone (really, I'm a nice person I promise 😀 ).
I would work out, which all that did was make me sad, stressed and sweaty.
I'm adding to the S adjectives but that's about it.
Then I would usually journal my feelings (aka right down a lot of swear words on paper).
That usually didn't help all that much and I usually end up killing part of a tree by burning that paper so as not to have evidence against me later. 😉
Then there is the long hot bath.
This helps me be less stinky after the exercise but really, that doesn't help me all that much either.
And that leaves it to the screw it moment.
The moment I drive to the store and think food or liquor?
Food wins 99% of the time as drinking usually ends up badly and usually involves praying to the toilet God.
And the food of choice is usually ice cream.
Usually, even though it is not my favorite ice cream of all time, it is my break up/bad day at work/all around stress ice cream….Chocolate Chip Cookie Dough Ice Cream.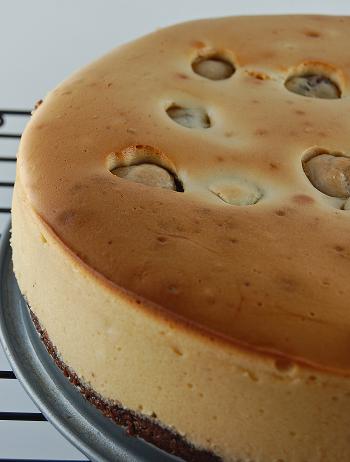 Scattered around my house and in the car and I am sure other places are written down notes of things I thought of, mostly recipe ideas.
Though I am sure the solution to the current economic crisis is on one of those papers, I can never seen to find them.
Randomly when I am cleaning I will find one and think "Ah, ha! I need to make that".
Then I put that piece of paper away, forget about it, and the whole process starts over again.
But this last week I ran across my idea for my Chocolate Chip Cookie Dough Cheesecake.
Combining to perfect stress eating foods.
The cookie dough is tampered with just a bit as there are no raw eggs in it.
But with the addition of the condensed milk, the texture and taste are the same.
I will say this is overload, but sometimes one needs overload.
The only problem I had with this concoction was cutting it.
I got a couple clean slices but some of the others looked mutilated.
So make sure that you have a nice sharp knife to cut though those truffles.
Last but not least…it's a great time to order my cookbook. 😀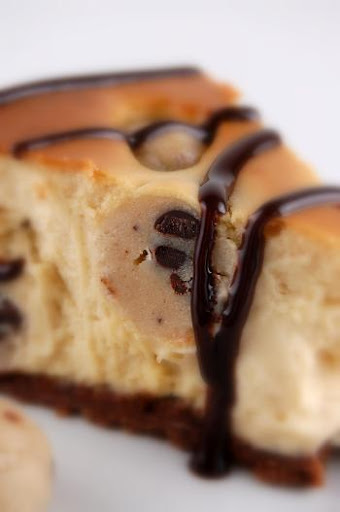 Want More Cheesecake Recipes?
Cinnamon Roll Caramel Apple Cheesecake
Pumpkin Salted Caramel Swirl Cheesecake
Caramel Apple Toffee Cheesecake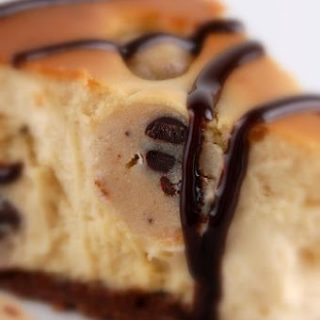 Chocolate Chip Cookie Dough Cheesecake
Ingredients
For the Cookie Dough Truffles:
½ cup unsalted butter, at room temperature
¾ cup packed brown sugar
1 tsp vanilla extract
½ tsp salt
2 cups all-purpose flour (heat treated if you want)
14 ounces sweetened condensed milk
½ cup chocolate chips
For the Cheesecake:
1 ¼ cups chocolate chip cookie crumbs (use a hard cookie like Chip's Ahoy)
2 TBSP sugar
¼ cup unsalted butter, melted
32 ounces cream cheese
1 cup dark brown sugar, loosely packed
1 cup granulated sugar
2 TBSP all-purpose flour, plus some for dusting the truffles
4 eggs
2 egg yolks
1 tsp vanilla
approximately 20 cookie dough truffles, plus 5-8 to place on top
Instructions
For the Cookie Dough Truffles:
Using a stand mixer (or a bowl and beaters), cream together the butter and sugar until light and fluffy, about 3 minutes.
Beat in vanilla.
With speed on low, slowly add flour, alternating with condensed milk, beating well after each addition.
Fold in chocolate chips.Shape balls into 1-inch balls and place into an airtight container. Store in freezer for at least 3 hours.
These make way more than what you need for the cheesecake. You can just dip them in chocolate and eat them.
Source: My mom's old neighbor who made them every Christmas
For the Cheesecake:
Combine the cookie crumbs, 2 TBSP sugar and melted butter.
Press this into the bottom of a 10 inch springform pan.
Bake crust for 10 minutes at 350F and set aside.
Mix the cheese and sugars with paddle attachment on medium speed, about 3 minutes.
Add in the flour on low speed.
Add eggs one at a time, scraping down the sides and bottom after each egg.
Add the egg yolks and vanilla and beat until completely incorporated.
Place truffles into a large bowl sprinkle with flour and light coat each one with flour (this helps them not all sink to the bottom).
Remove and excess flour and fold into cheesecake, reserving a couple to place on the top.
Pour the batter into the prepared pan.
Place the last few truffles on top of the cheesecake.
Wrap aluminum foil on the outside of the ban and bake in a water batch at 350F for approximately 1 ½ hours.
A knife inserted should come out clean when the cake is done.
Chill the cake overnight and then remove from the pan.