These Pumpkin Cinnamon Crunch Buns have pumpkin brioche base filled with Cinnamon Toast Crunch Spread then covered in vanilla cinnamon glaze.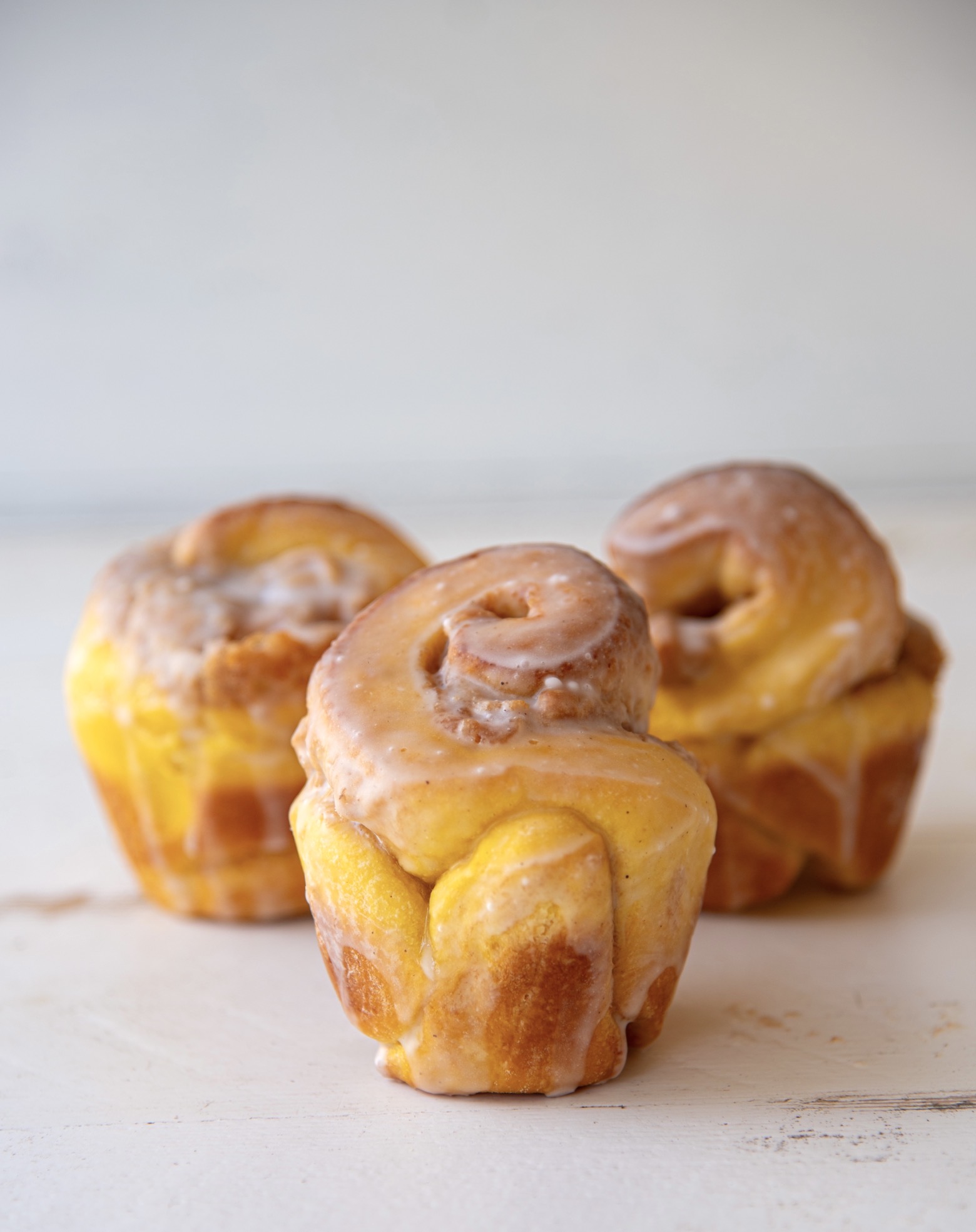 These Pumpkin Cinnamon Crunch Buns are how I dip my toes into the pool of fall baking.
Which it's hard to get into fall baking when it's 95F out and you are shy by 1 degree of breaking the all time record for your area.
But with just a few weeks until September…I'm ready for fall.
Plus they are already rolling out the fall foods and some places have already started serving pumpkin spice lattes.
If you are worried that all these pumpkin beverages will somehow shorten your summer, I can assure you they don't have that power.
If they did I would drink 20 a day until fall showed up early. 😀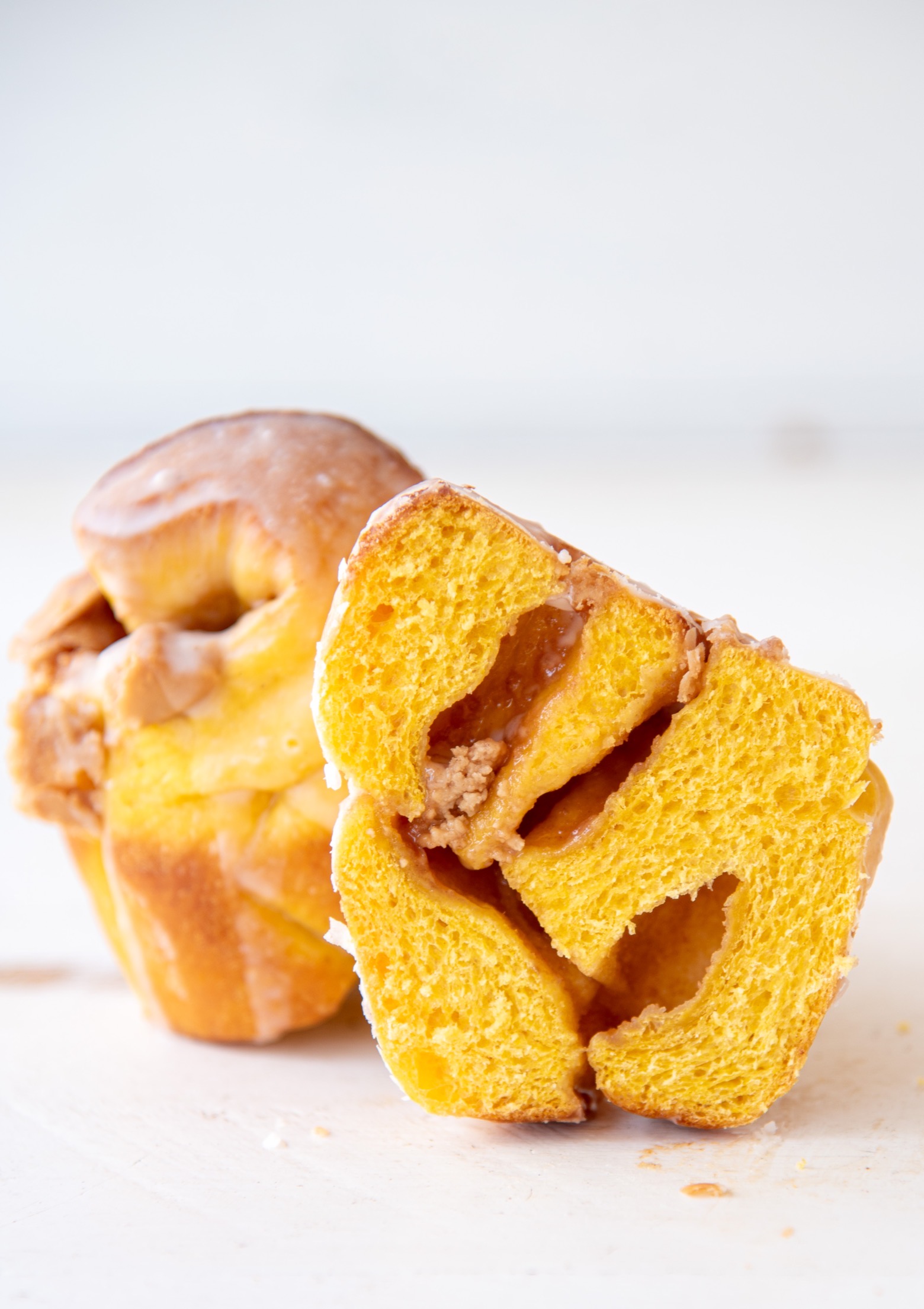 I'm always on the look out for fun new finds.
And I've recruited a few people to help with that.
See, during the pandemic I became friends with a few of my grocery shoppers.
You know, like Instacart shoppers.
The same ones kept taking my orders…apparently I tip well. 😀
Because I kept having the same ones over and over they got to know my habits.
And, one of those habits was finding the season stuff.
Or the new stuff.
So I actually now have shoppers (who aren't shopping for me at the time) take photos of new items out to let me know what store they are at.
One of those items was Cinnamon Toast Crunch Spread.
Which is kind of like cookie butter but it's with the cereal. I wasn't totally sure what I would do with it.
So I made blondies with it (those will be up on the blog soon).
And it was fantastic.
Which lead me to think about what could I use it for with pumpkin.
Enter these buns.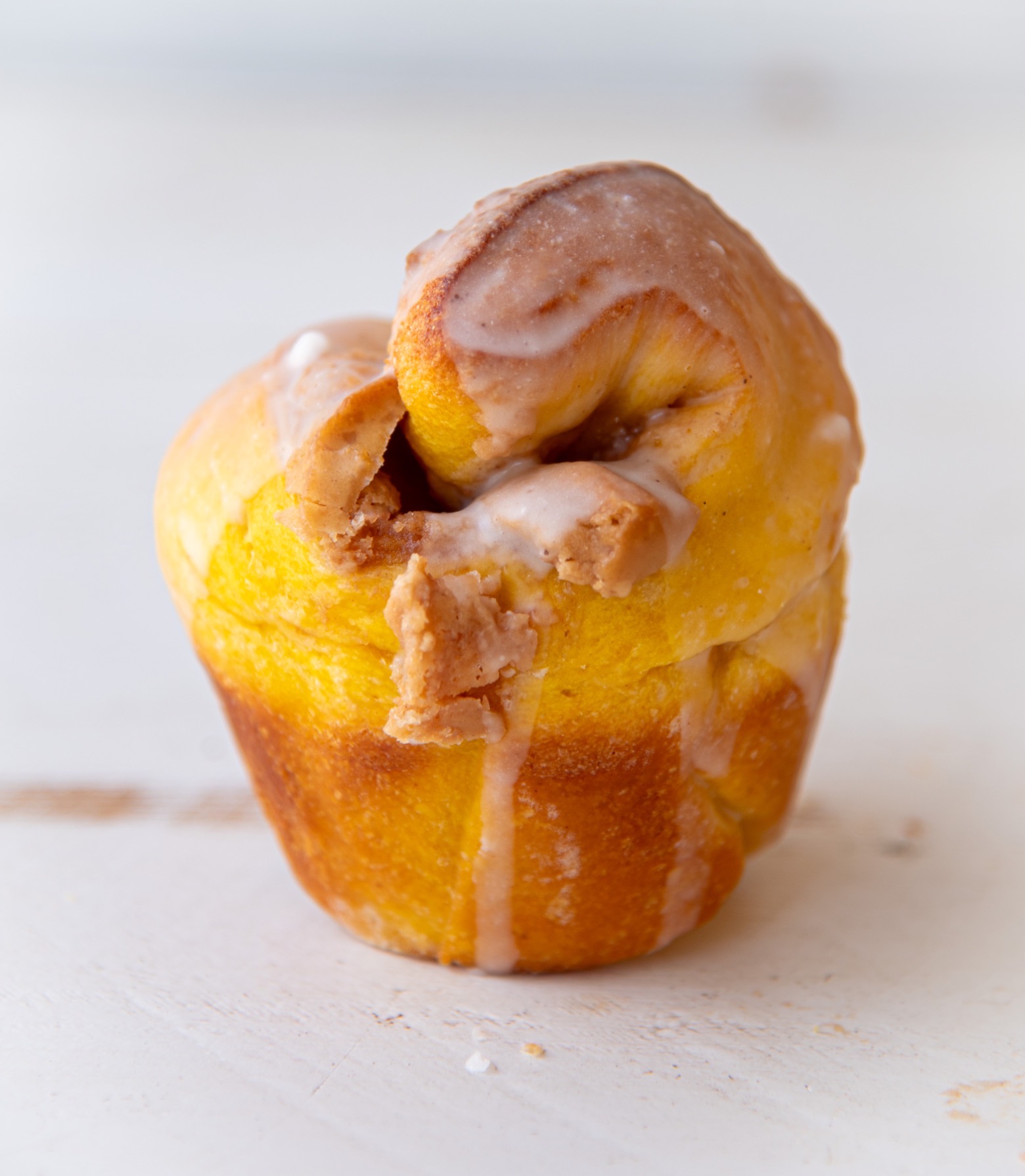 What if I can't find the spread?
If you can't find the spread you can just use regular cinnamon brown sugar filling like regular cinnamon rolls.
But if you are in the states, I have found it basically everywhere from Walmart to Target to every grocery store around me.
Also, I linked it here in the post and in the recipe where you can buy it on Amazon (affiliate link).
Which is what I do…because I can buy six of them at one time.
It's a small jar so I go through it rather quickly.
Especially when making baked goods.
However, if you want to use a spread to go with these you could substitute either cookie butter or Nutella.
Both would work well.
Do I really have to let the dough sit overnight?
Technically, you can have a second rise at room temperature for about 2 hours.
BUT, I highly suggest against that.
The whole point of it being in the fridge overnight is so that the dough can form more flavor.
And really, if you are going to go to the trouble of making brioche you should do it the right way.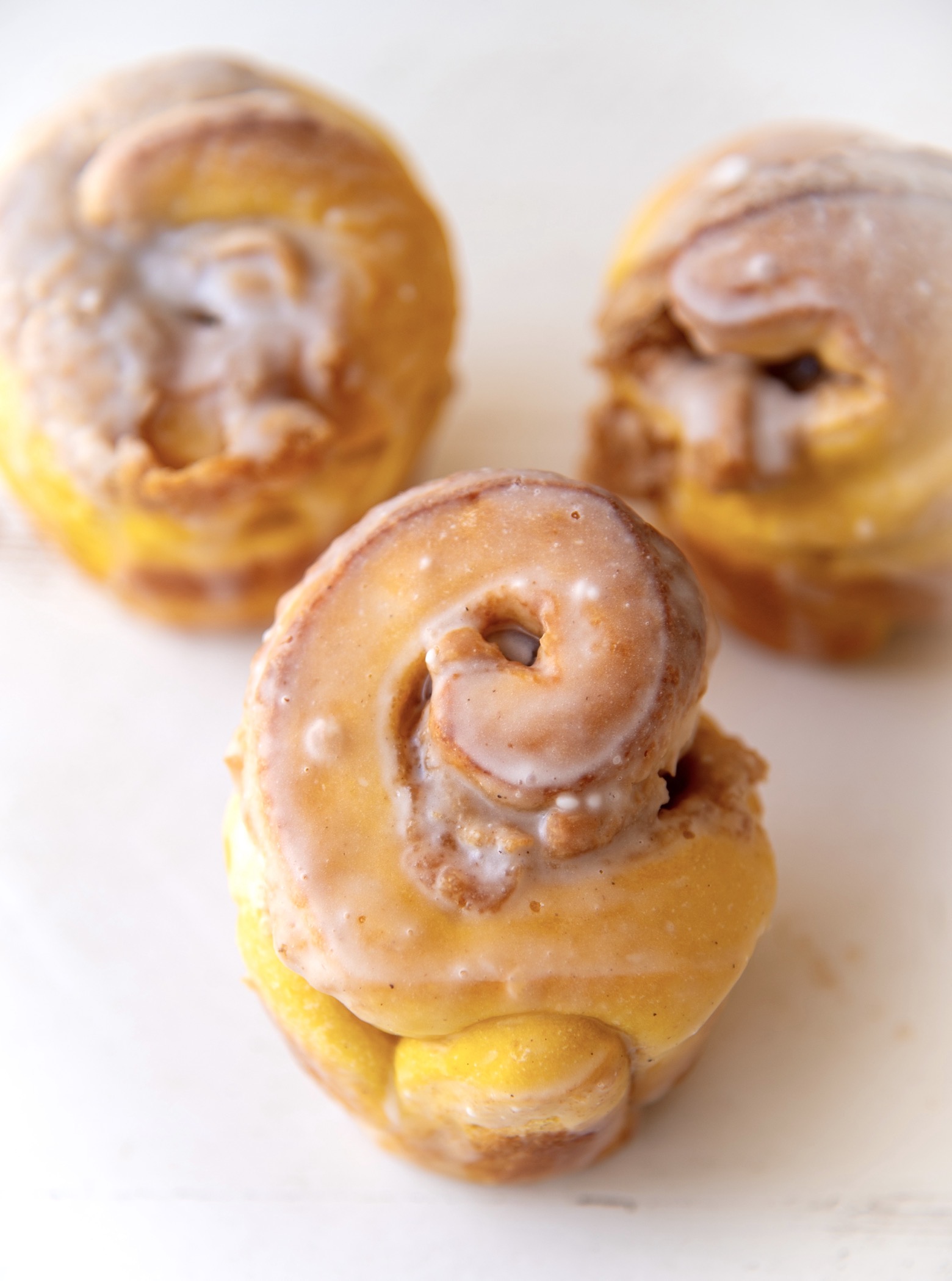 Things to Remember when Baking with Yeast:
Don't be afraid of it.
A lot of people are intimidated by yeast and end up not making yummy recipes because of it.
If your yeast baked goods are not rising it is most likely two culprits.
You didn't check the expiration date.
Or the water was too hot.
The expiration date is important and not a guideline.
Yeast is a living thing and it does expire.
So always check the date.
The other big killer of yeast is water way too hot.
If it's too hot for you to touch, then it's too hot for the yeast.
Dough not rising and you checked the date and you didn't use too hot of water/milk?
Most likely it's just cooler in your house then you realize.
My yeast bakes always take longer to rise if I don't use my proofer.
Yes, I own a proofer and I love it. But if I do room temperature it's never the 75F when I bake…unless of course it's summer.
But I most bake with yeast in the fall and winter and so I need it.
Last but not least…It's a great time to buy my cookbook.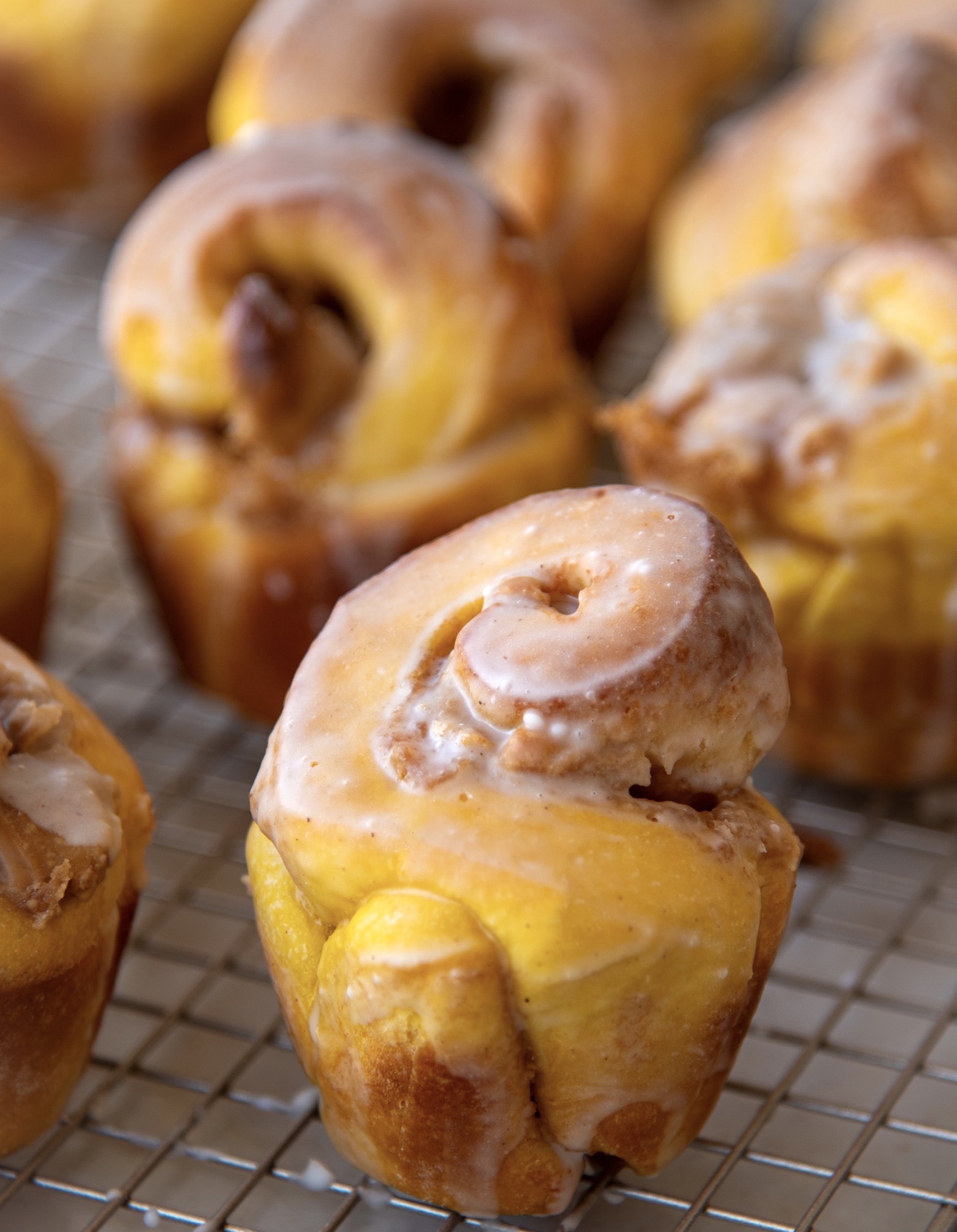 Want More Pumpkin Recipes?
White Chocolate-Pumpkin Topped Blondies
Pumpkin Spice Latte Russian Tea Cake Cookies
Apple Cider Whiskey Glazed Pumpkin Pull Apart Bread
Buttermilk Bourbon Pumpkin Cheesecake Layer Cake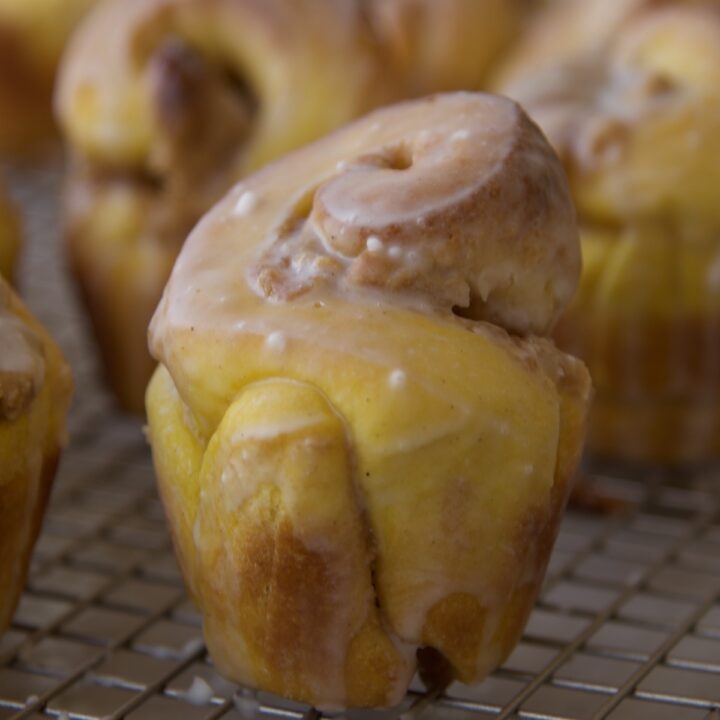 Pumpkin Cinnamon Crunch Buns
Ingredients
For the Pumpkin Brioche (you will only need 1/2 the dough):
For the Sponge:
¼ cup whole milk, at room temperature
2 ½ tsp. active dry yeast (I used Red Star Yeast Platnium)
1 cup pumpkin puree
1/3 cup granulated sugar
1 cup bread flour
For the Dough:
5 cups bread flour
2 tsp. salt
6 large eggs, lightly beaten
8 ounces (1 cup) unsalted butter, softened
For the Vanilla Cinnamon Glaze:
3 cups powdered sugar
1 tsp. vanilla extract
1 tsp. ground cinnamon
3 TBSP milk (more to thin if needed)
Instructions
For the Pumpkin Brioche:
For the Sponge:
Combine the milk and yeast in the bowl of a standing mixer fitted with a paddle attachment and whisk until the yeast is dissolved.
Let stand for 5 minutes, then stir in the pumpkin puree, sugar, and flour, forming a thick batter.
Cover with plastic film and let rest in a warm environment until bubbles form, 30-40 minutes.
For the Brioche Dough:
Add the flour and salt to the sponge, then add the eggs.
Mix on low speed for 2 minutes, or until the eggs are absorbed. Increase speed to medium and knead the dough for 5 minutes.
The dough will begin to slap around. Hold on to the mixer when necessary as it sometimes likes to roam a little when it has to work hard.
On medium-low speed, add the butter, 2 TBSP at a time.
Stop the mixer and scrape down the sides of the bowl occasionally.
Switch to the dough hook at this point.
Knead until the dough is shiny and smooth, about 5 minutes.
Scrape out the dough, wash and dry the bowl, and coat it lightly with oil.
Place dough in the oiled bowl and turn it so that the top is coated with oil.
Cover with plastic film and let rise at room temperature until doubled in volume, about 2 hours.
After the dough has doubled in volume, press down to deflate, folding one half into the other.
Cover with plastic film and refrigerate for at least 4 hours or overnight. This is the second rise.
Remove brioche dough (that has chilled overnight) from the fridge.
REMEMBER YOU ARE ONLY USING HALF THE BRIOCHE RECIPE FOR THE BUNS.
Turn the dough out onto a lightly floured surface.
Using a rolling pin, roll it into a rectangle approximately 12 by 16 inches.
Use a pastry brush(or your hands if you like to get messy) to spread the Cinnamon Toast Crunch Spread around the rolled out dough, leaving an 1-inch margin at the top edge with no spread.
Starting from the long side closest to you, roll up the dough like a jellyroll.
Transfer the log to a baking sheet, cover with plastic wrap and freeze for 10 minutes. This will make cutting the buns clean and even.
Remove from freezer, cut buns into 1 ½-inch pieces, you should get around 12-16.
Place them back onto a greased baking pan If you want regular cinnamon rolls spread them out so they don't touch. If you are making the loaf have them touching slightly. Or you can use a muffin tin like I did.
Wrap with plastic wrap and let rise at room temperature for 1 ½ to 2 hours.
Preheat the oven to 400F. Bake buns for 10 minutes and reduce heat to 350F.
Bake for another 10-15 minutes depending on the size of your buns.
Allow to cool for 10 minutes. Then glaze.
To make the glaze:
Mix all the powdered sugar, vanilla extract, cinnamon, and milk together.
If too thick add a little more milk.
Pour over each bun (do this with the buns on a wire rack with a baking pan underneath to catch the extra glaze).
Let glaze set up and enjoy.