Lemon Sweet Tea Caramel Cheesecake is made with lemon and sweet tea caramel flavored cheesecake batters baked into a graham cracker crust. Topped with Sweet Tea Caramel and Sweet Tea Caramel Whipped Cream. Think Arnold Palmer in cheesecake form.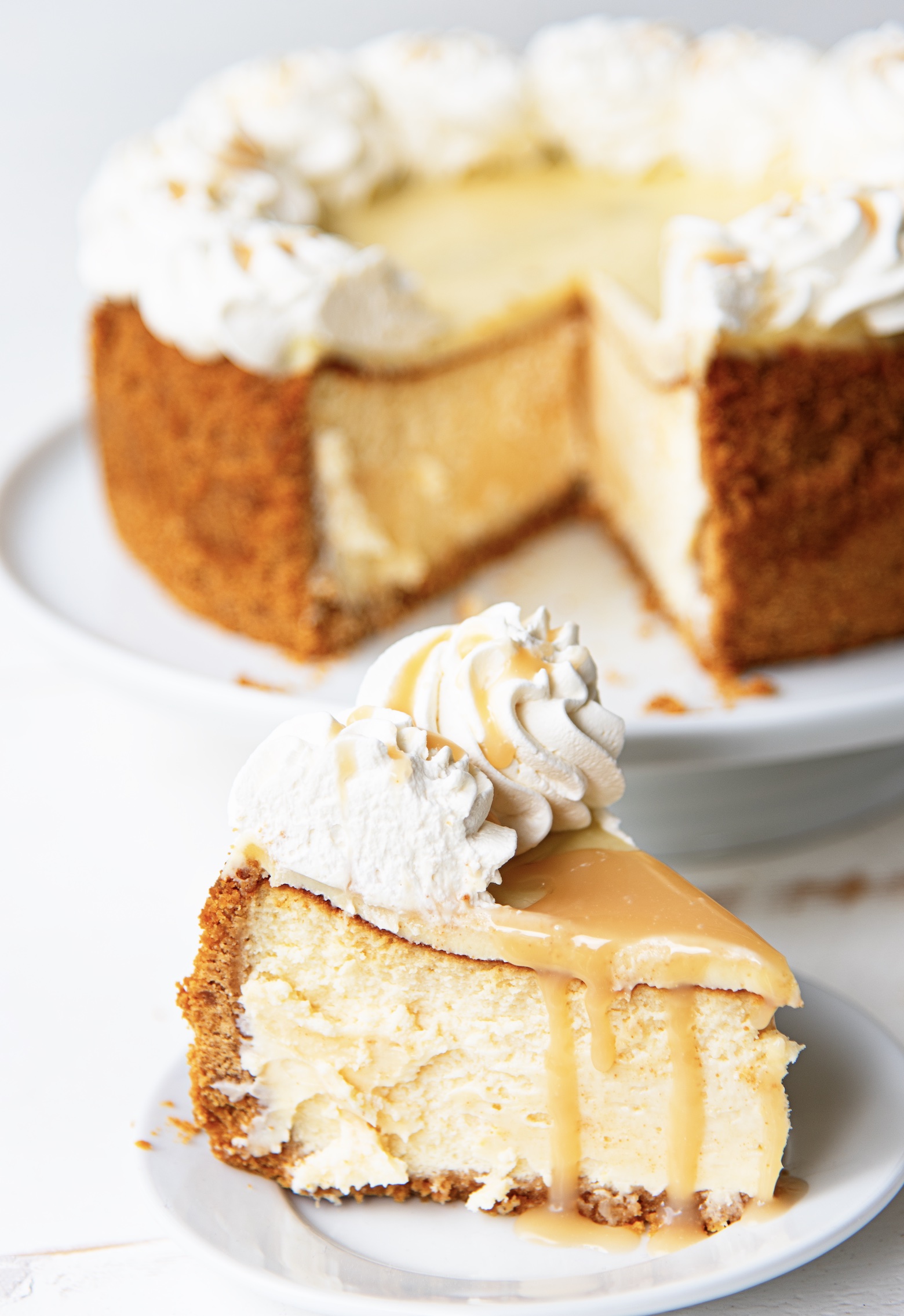 Why You'll Love This Lemon Sweet Tea Caramel Cheesecake:
Bursting with Lemon Flavor– Every bite of this Lemon Cheesecake is full of zingy lemon flavor.
Creamy Cheesecake – This cheesecake is ultra creamy!
Celebration Worthy – This is the perfect dessert to serve for your summer gatherings, but can be made year round.
Medium Difficulty Recipe – While this cheesecake is mostly a bunch of steps that are easy to follow, I'm marking it medium difficulty due to making the caramel. Making caramel from scratch scares people but I promise it's not that hard.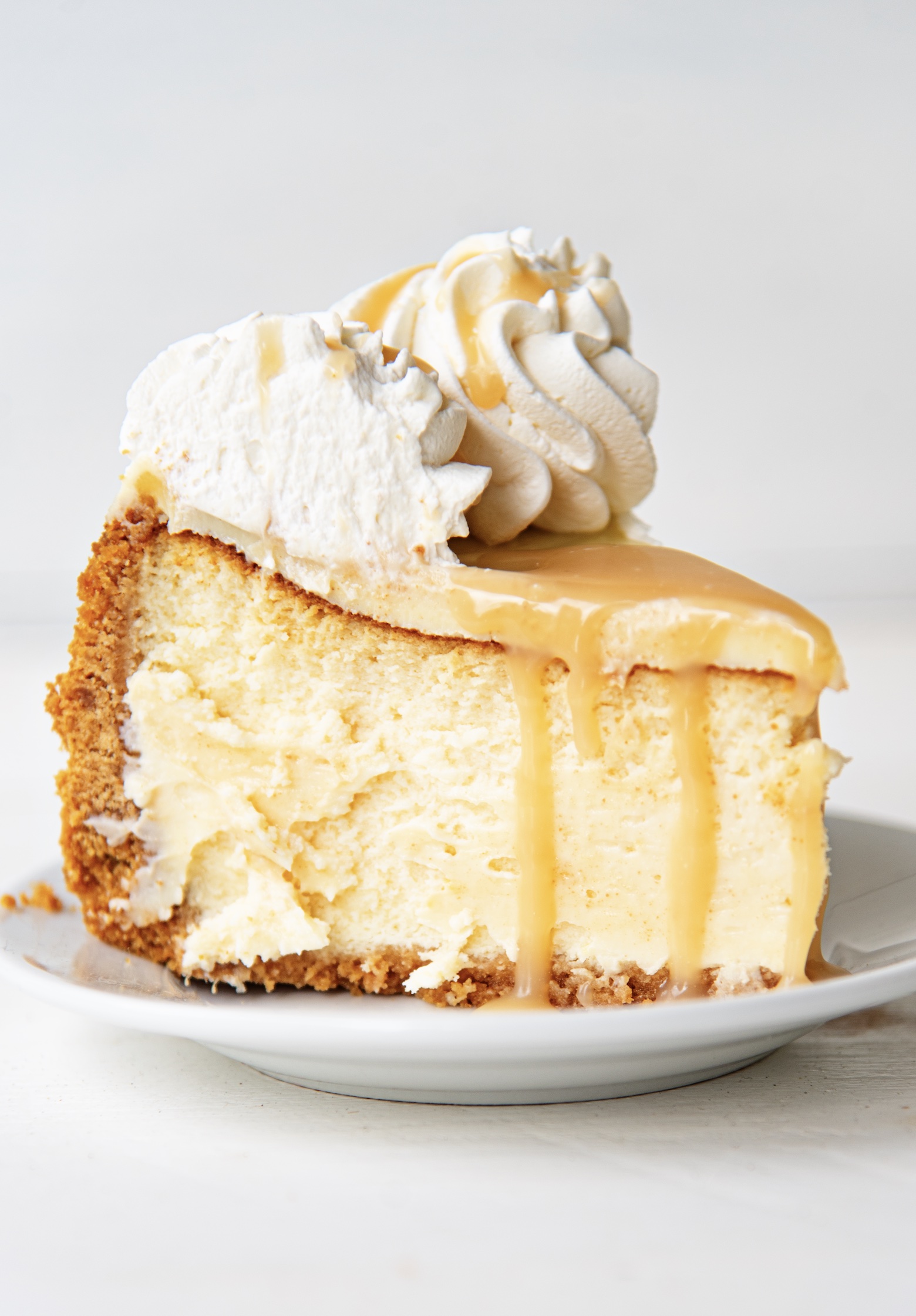 Ingredient Overview:
As always, the full recipe with measurements & directions can be found at the bottom of this post.
Lemon Juice – I use fresh lemon juice in the cheesecake.
Lemon Zest– When zesting I find it best to buy organic lemons. The non-organic lemons seem to have a waxy build up that doesn't really allow the zest flavor to shine through.
Sweet Tea – Choose your favorite sweet tea. You do want it sweetened as unsweetened tea can get pretty bitter and you don't want that in a cheesecake.
Cream Cheese – Use full fat cream cheese and make sure it has come to room temperature.
Eggs – Use large eggs at room temperature.
Sour Cream – Use full fat sour cream, at room temperature.
Vanilla extract – Use real vanilla extract for best results.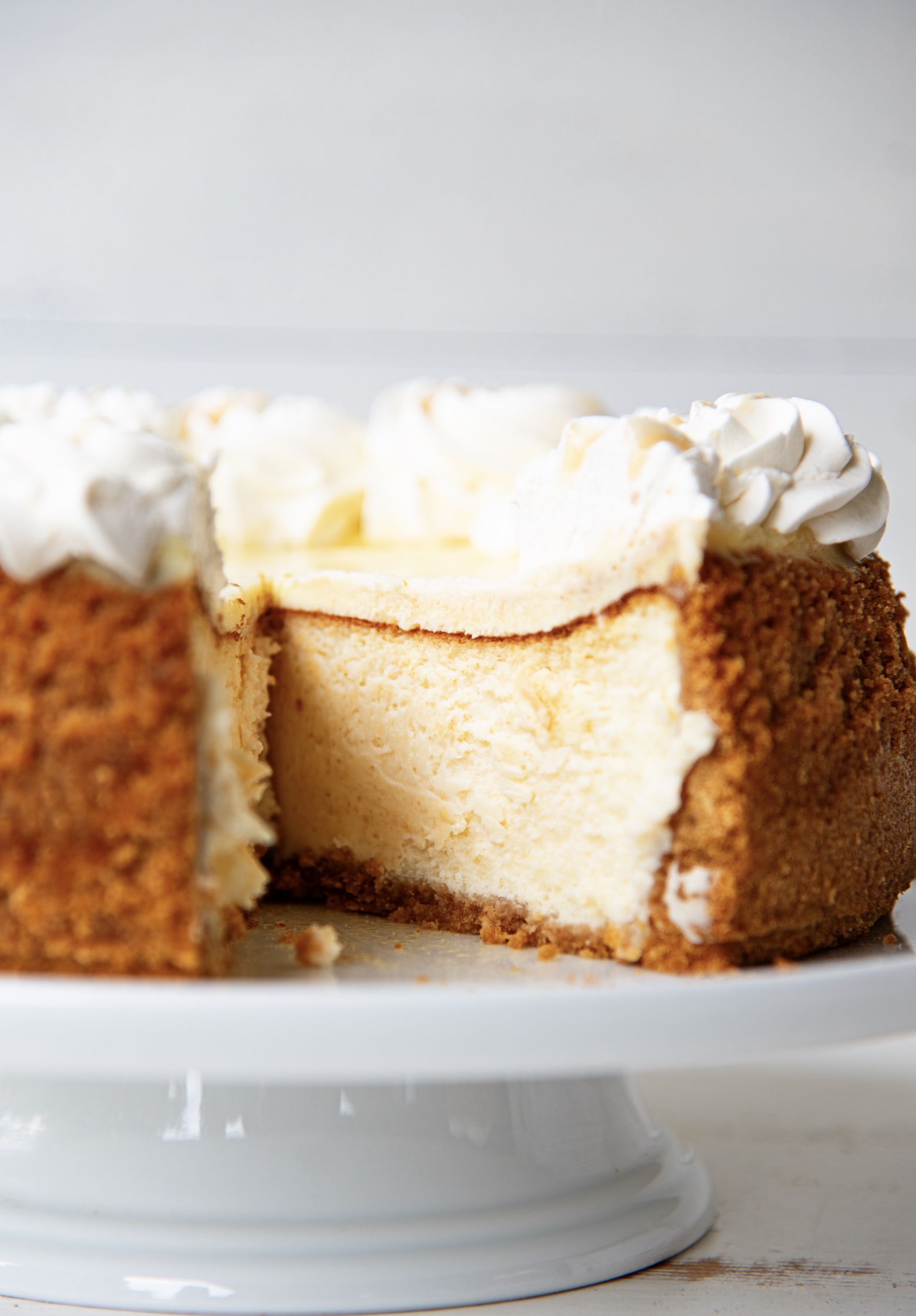 This cheesecake is my version of an Arnold Palmer.
Which most people think is a cocktail (because it's sort of evolved to that) but it's not.
It's simply a mix of lemonade and iced tea.
It was the drink Arnold Palmer drank….hence the name.
So I decide to go with lemon cheesecake.
But how to get the sweet tea flavor in there?
Why caramel of course.
That made a thick enough sauce so that it could be swirled into it.
If you don't want to make the caramel sauce (though you really should) you can use ice tea mix (the powdered kind).
I would use 3 TBSP ice tea mix (make sure it's not diet) with the 2 cups of batter.
Tips for a Successful Cheesecake:
Oven Thermometer – An oven thermometer will tell you if your oven is actually running at the temperature you set it to. Your oven may not be accurate. I have to calibrate my oven about 5 times a year. Now, granted, I use my oven more than most people but if you have not done it in awhile you should check it.
Room Temperature Ingredients – It is imperative that you let your cold ingredients come to room temperature. Cold ingredients will create a lumpy batter.
Don't Over Mix – Over mixing the cheesecake batter when you're adding the eggs can cause the cheesecake to buckle a little bit in the oven. It will still taste great, but won't look as pretty.
Don't Over Bake – Follow the doneness cues given in the recipe card below to avoid over baking the cheesecake. Don't panic if it browns the slightest bit on top – that can happen without it being overbaked.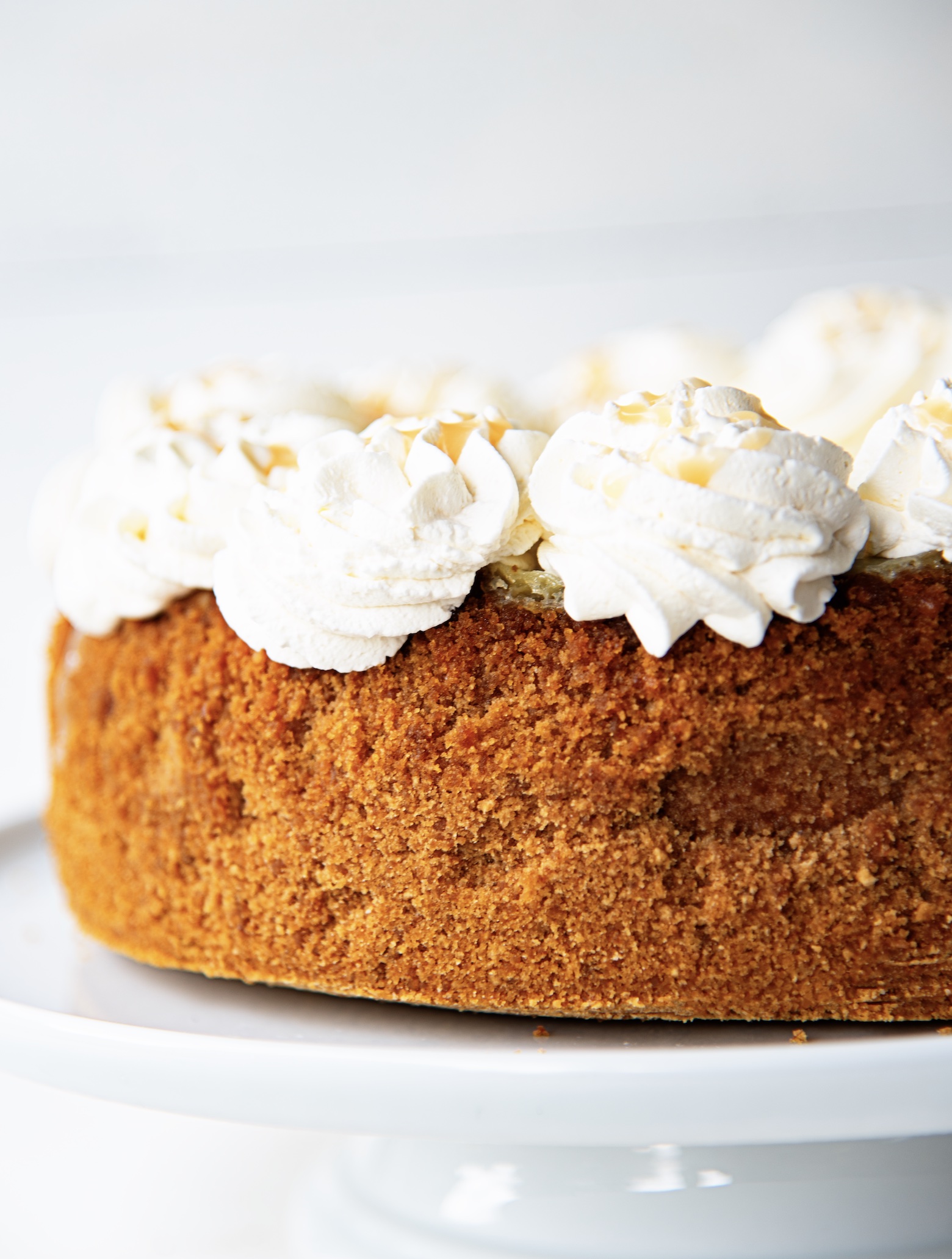 FAQs:
Can I halve this recipe?
Yes, bake a half batch of this recipe in an 8×8 or 9×9 square pan lined with parchment paper. I think half the batter may still be a bit much for a 6-inch springform pan.
Do I really have to chill the cheesecake for so long?
Yes! That's the nature of cheesecake. Allow the cheesecake to come to room temp after it's baked, and then transfer to the fridge to chill at least 6 hours or up to 1 day before serving.
What if I don't want to swirl the batters?
If you don't swirl them then you will have the two flavors separate.
Which if that's what you want to do it's fine.
I just prefer to get a bite of lemon and sweet tea in the same bite.
Do you have to use a bain marie (water bath)?
Technically no.
However, if you want a creamy cheesecake then, yes.
If you want to minimize the chance for cracks in your cheesecake then, yes.
The water bath does a wonderful job of keeping an even temperature for the cheesecake to bake in.
You will need to wrap your pan in foil so water doesn't leak into your springform pan.
Better yet, use one of the silicone wraps.
I like those way better.
You can buy it HERE (it is an Amazon affiliate).
Recipe Variations:
Whipped Cream – I mix the Sweet Tea Caramel into my whipped cream. But you can add lemon zest or lemon juice powder to it and make the cheesecake more lemony. Don't use lemon juice as it will make the whipped cream runny.
Last but not least…It's a great time to buy my cookbook.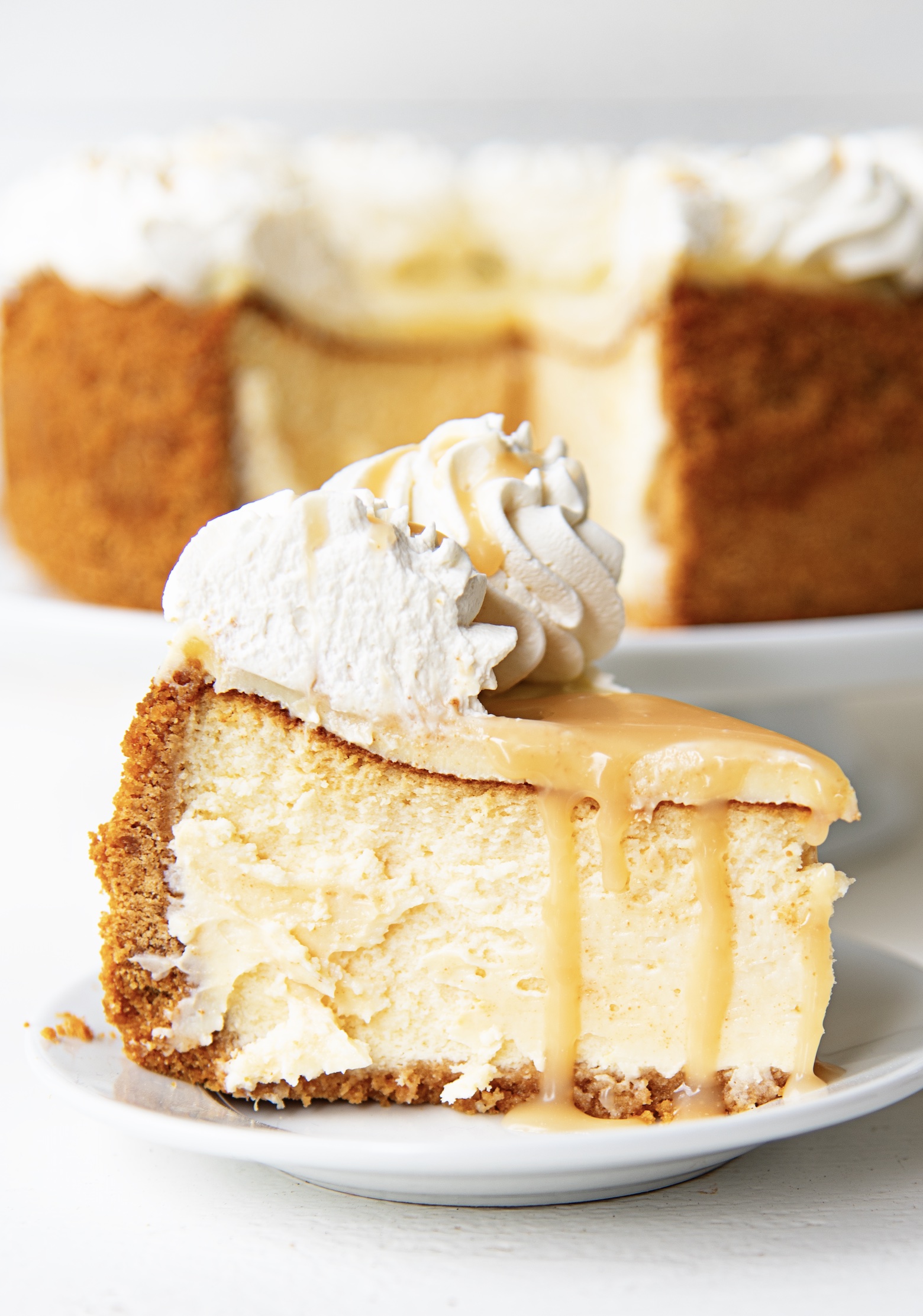 Want More Cheesecake Recipes?
Chocolate Chip Cookie Dough Cheesecake
Cinnamon Roll Caramel Apple Cheesecake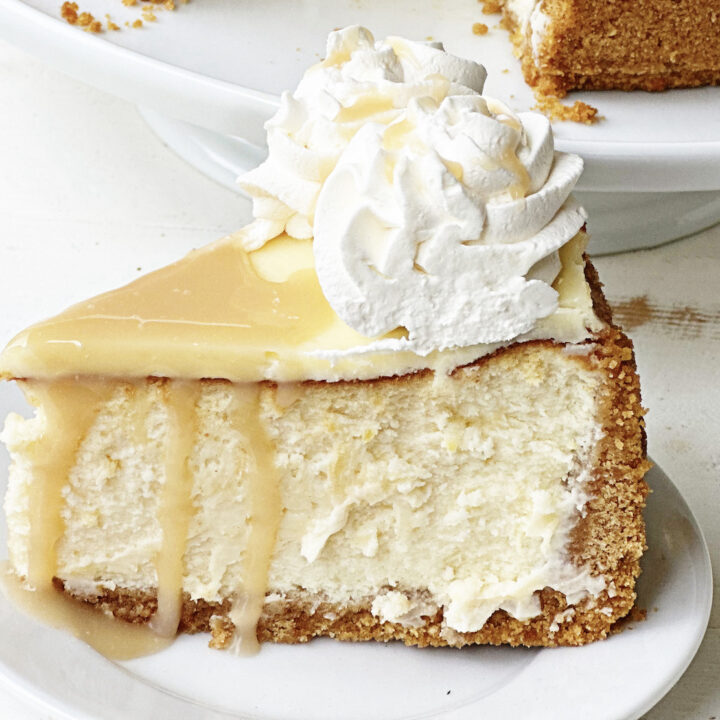 Lemon Sweet Tea Caramel Cheesecake
Ingredients
For the Graham Cracker Crust:
3 cups graham cracker crumbs
1/2 cup + 2 tbsp salted butter, melted
pinch salt
pinch sugar
For the Sweet Tea Caramel Sauce:
1/3 cup sweet tea
1 cup granulated sugar
3 TBSP unsalted butter cut into pieces
3/4 cup heavy cream, at room temperature
1/2 tsp. vanilla extract
For the Cheesecake Filling:
32 ounces (four 8-oz boxes) full fat cream cheese, at room temperature
1 and 1/2 cups granulated sugar
3 large eggs, at room temperature
2 large egg yolks, at room temperature
3/4 cup full fat sour cream, at room temperature
2 tsp vanilla extract
1/3 cup lemon juice
2 TBSP lemon zest
For the Sour Cream Topping:
1 1/2 cups sour cream
3 TBSP granulated sugar
1 tsp lemon extract
For the Sweet Tea Caramel Whipped Cream:
½ cup heavy whipping cream
3 TBSP powdered sugar
1/4 cup sweet tea caramel
Instructions
For the Crust:
Preheat oven to 350° F.
Spray a 9-inch springform pan with nonstick spray and make sure the bottom is securely fastened.
Mix together crust ingredients and press into prepared pan and up the sides a bit
Bake this for 10 minutes. Set aside.
Keep the oven on at 350F.
For the Sweet Tea Caramel Sauce:
Place the sweet tea and sugar to a medium saucepan.
Heat over medium-high heat until it begins to boil, stirring constantly to dissolve the sugar.
Turn the heat down to medium and insert a candy thermometer. or use and instant read.
Do not stir the sugar as it boils.
As soon as the mixture reaches 310-15 degrees F immediately remove it from the heat.
If you want a darker caramel you can go to 330F. But for this sauce I like to go lighter than darker.
Just be careful not to let it go too far because it will burn.
Carefully and slowly pour the cream into the caramelized sugar while whisking.
The caramel will bubble up and is extremely hot.
Continue to whisk until all the cream has been added and is mixed in thoroughly.
Whisk in the butter and vanilla.
Set the pot on a wire rack to cool completely before using in cheesecake. Transfer leftovers to a glass container for storage.
For the Cheesecake Filling:
Remember that your cold ingredients need to come to room temp before you start or the filling won't turn out.
Using a stand mixer with the paddle attachment cream the softened cream cheese until creamy, about 1-2 minutes.
Add the sugar 1/4 of a cup at a time. Let cheesecake mix for 30 seconds after each sugar addition.
Scrape the sides of the bowl with a rubber spatula as you go.
Add the eggs one at a time, mixing on medium speed after each until just incorporated.
Add the egg yolks one at a time, mixing on medium speed after each addition.
Scrape down the sides and bottom of your bowl and mix another 30 seconds until all the eggs and yolks are fully incorporated.
Add the vanilla, sour cream, lemon juice, and lemon zest and mix until just incorporated.
Add the lemon curd and beat until fully incorporated.
Remove 2 cups of batter and add to a medium bowl.
Fold in 3/4 cup sweet tea caramel.
Alternate adding dollops of the two batters to the baked crust, using up all the batter.
Use a butter knife to swirl the batters together.
Save the remaining caramel sauce for the top of the cheesecake and extra for when serving.
You will need to wrap your pan in foil so water doesn't leak into your springform pan.
Better yet, use one of the silicone wraps.
I like those way better. I linked the one I use in the blog post.
Bake the cheesecake for 1 hour and 40 to 1 hour and 50 minutes in a water bath..
For the Sour Cream Topping:
Combine all the ingredients.
Spread on top of the baked cheesecake. You don't need to remove it from oven just pull out the oven rack and spread with a spoon or offset spatula.
When done, the cheesecake will have only a slight wobble in the center, and a knife inserted into the edge will come out clean, and will have just a bit of thick batter when inserted into the center.
Turn off the oven and crack the door open. Let the cheesecake cool in the oven for 1 hour before removing it.
Once the hour is up, remove the pan from the oven.
Remove the foil and set the springform pan on a wire rack. Let cool completely at room temp, then cover with foil and refrigerate at least 6 hours or up to 1 day before removing from the pan and serving.
For the Whipped Cream:
Beat the whipped cream on high using a whisk attachment.
Beat until stiff peaks form, add sugar, and sweet tea caramel sauce and beat another 30 seconds or until fully combined.
Pipe whipped cream on the outer rim of the cheesecake.
Drizzle come caramel sauce over the whipped cream on top the cheesecake.
When ready to serve I suggesting adding more caramel to the top of the cheesecake.
Store leftovers in an airtight container in the fridge for 3-4 days.
Did you make this recipe? Snap a photo and leave a comment!
Be sure to follow bakerpeabody on instagram and tag #bakerpeabody with your photo! You can also post a photo of your recipe to the Sweet ReciPEAs Facebook page. I'd love to see what you make!