This Cookies and Cream Banana Bread is filled with crushed Double Stuffed Oreos and is topped with a chocolate glaze and more Oreos.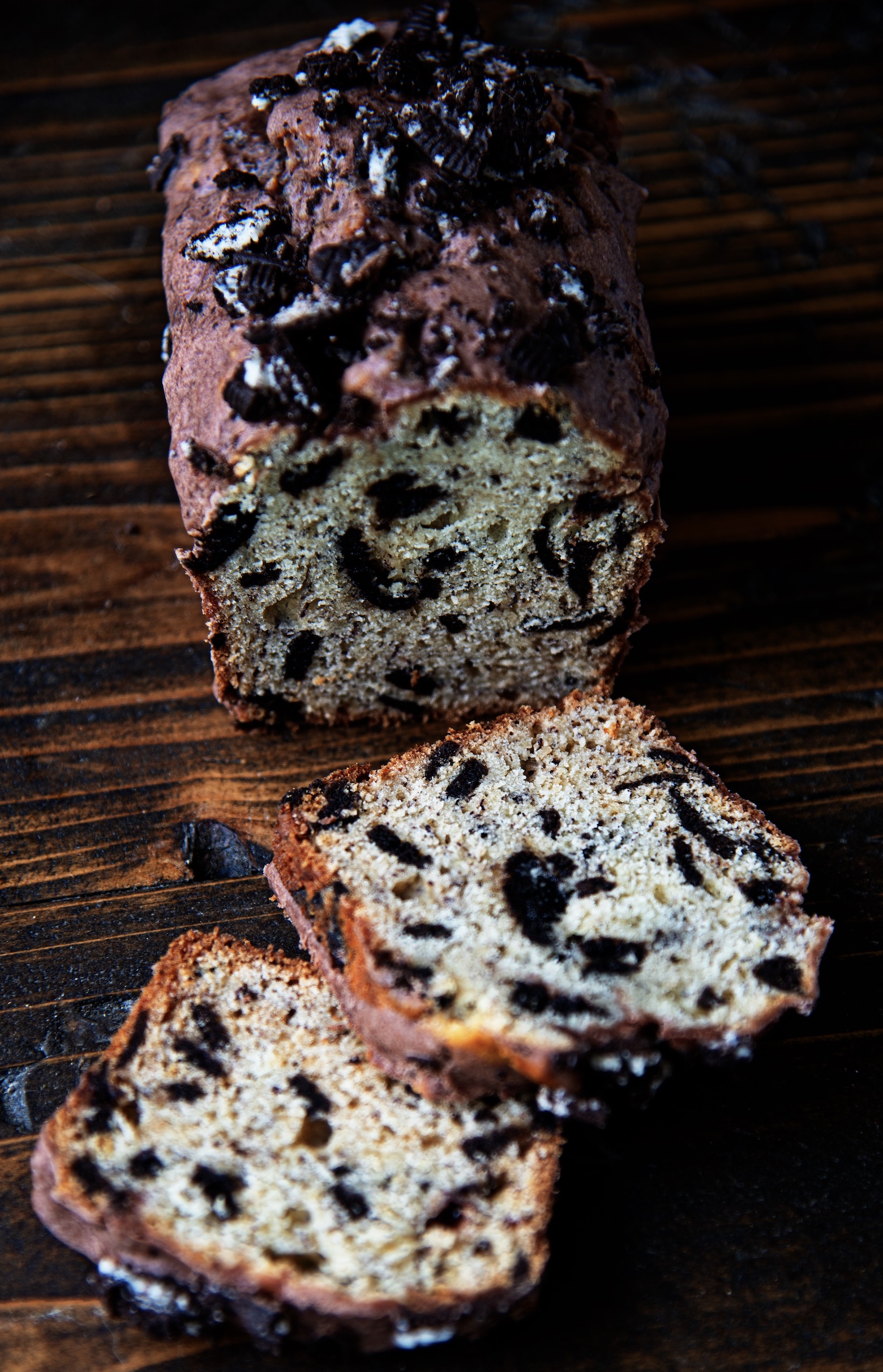 I made this Cookies and Cream Banana Bread for the same reason I make all banana bread.
I overestimated how many bananas I would eat.
So hard to pass up a whole bunch of bananas for like $3 at Costco or buy two bananas for almost the same price.
Normally it's not too much of an issue.
But since Seattle had the 3rd hottest July on record so far…I haven't been baking.
At all. Heck, I've barely been cooking.
There has been a whole lot of throw things at the air fryer (ours is outside) and hope for the best. 🙂
I also made the bread because who doesn't love banana bread and who doesn't love Oreos?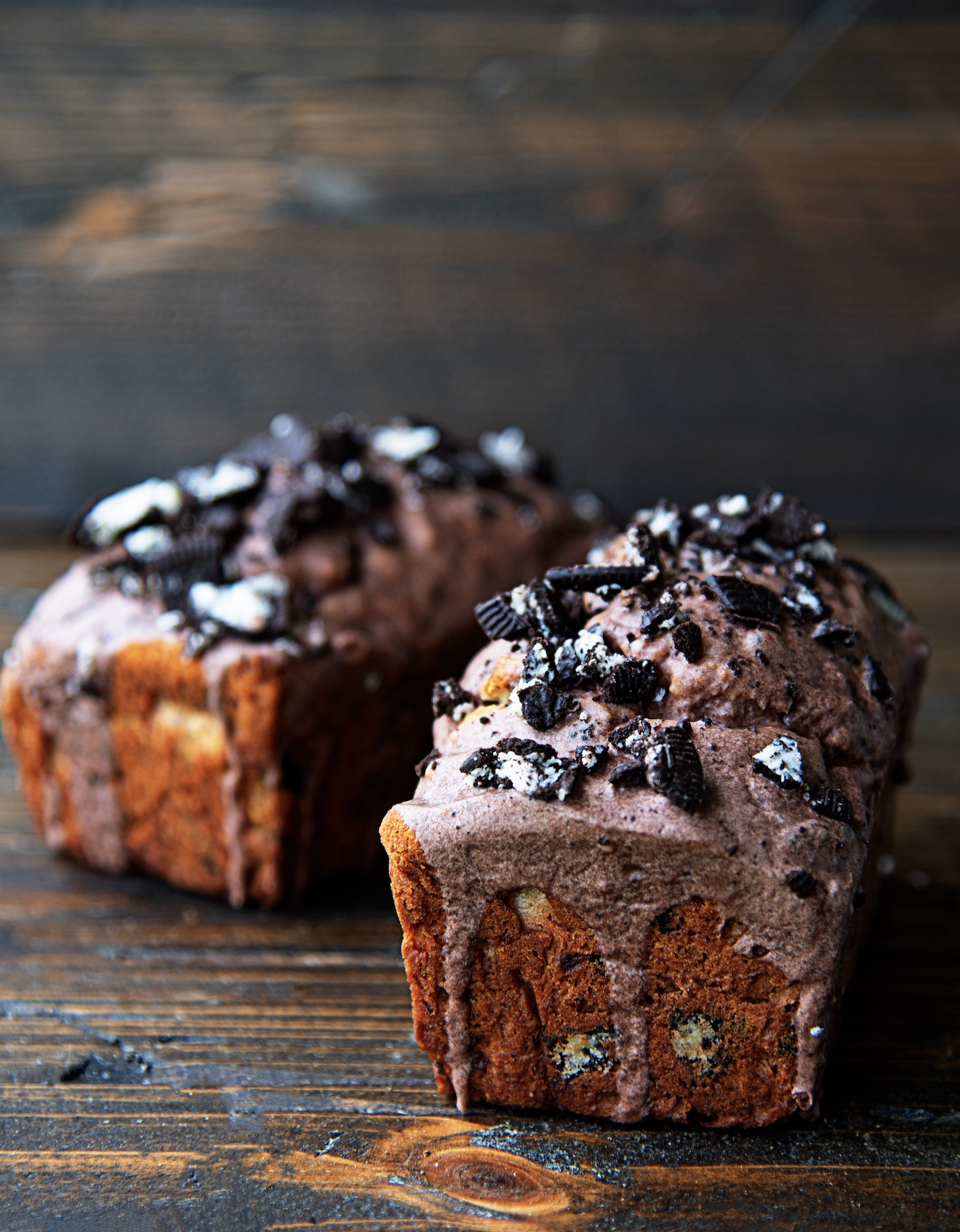 This past weekend Taylor Swift was in Seattle.
A lot of people groaned and I have no idea why.
Taylor brought in a TON of revenue for the city.
A ton.
Oh the horror.
A bunch of happy people exchanging friendship bracelets and pouring money into my city.
Again…the horror.
Honestly, I love their enthusiasm.
I remember the days of loving a band so much that we camped and stood in line to get tickets.
Nowadays, I'm like oh, that's going to last past 10 pm….I don't know. 😀
And while I saw quite a few teens and tweens like one would expect, the spectrum of people there was actually quite impressive.
I related to the ladies holding the Swifty over Fifty signs. 😀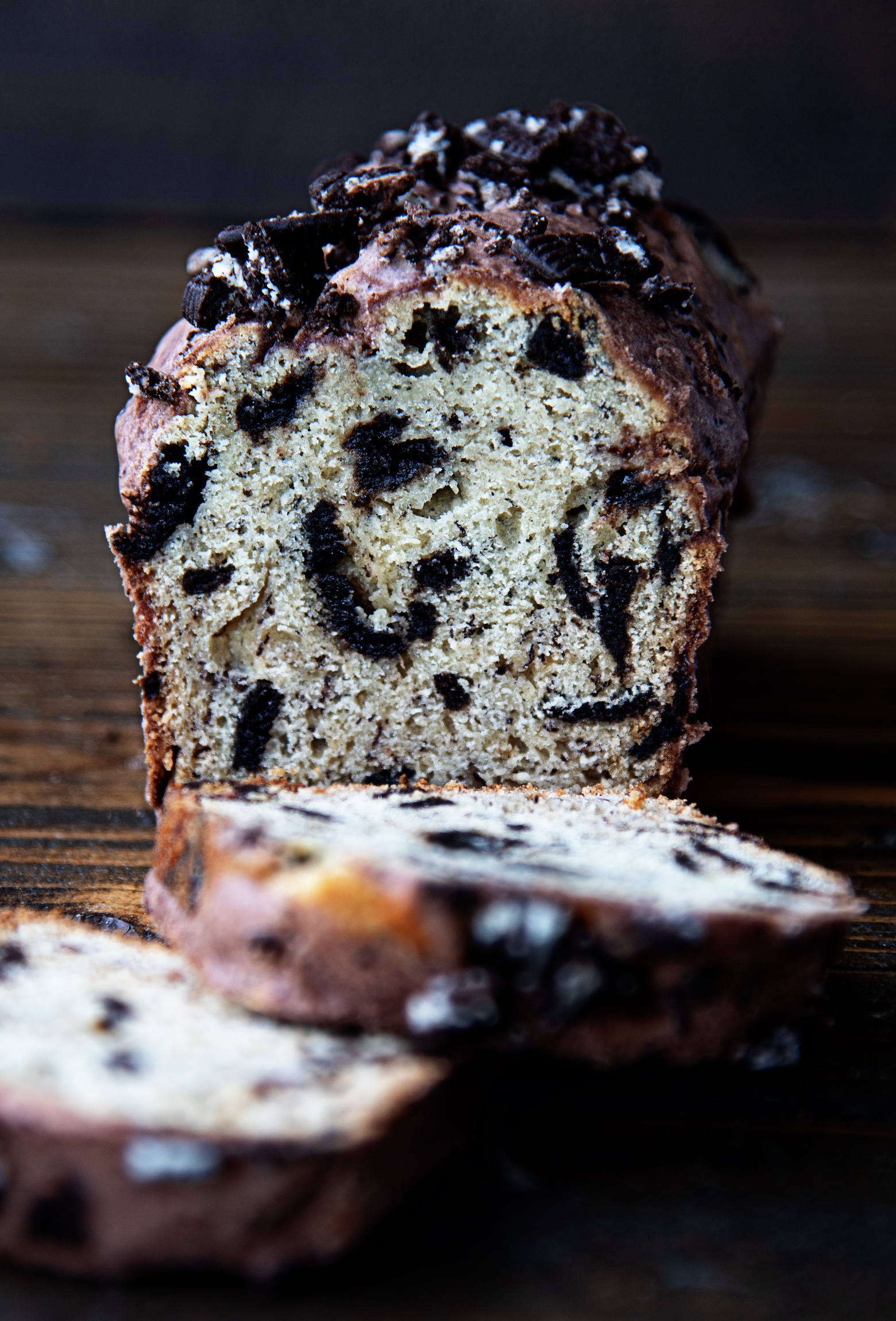 Honestly, if they would have allowed dogs I would have gone to the concert.
Because while, I am certainly enjoy many a Taylor Swift songs, it is my dog Georgia who is a true Swifty.
I know that sounds insane…but she really is.
She has been one of my dogs who truly enjoys music.
Sadly, she is starting to go deaf and that is crushing me a bit.
There are certain songs she gets so excited over.
And amusingly she can tell the difference between the original version and the 10 minute All Too Well version.
She will stop "singing" aka howling along when she finds out it's the 10 minute version.
So, as a bucket list item, since she's getting towards the end of her life, I so would have taken her.
Instead, we had a fake concert at home for her…and exchanged friendship bracelets.
Again, I know, I'm insane.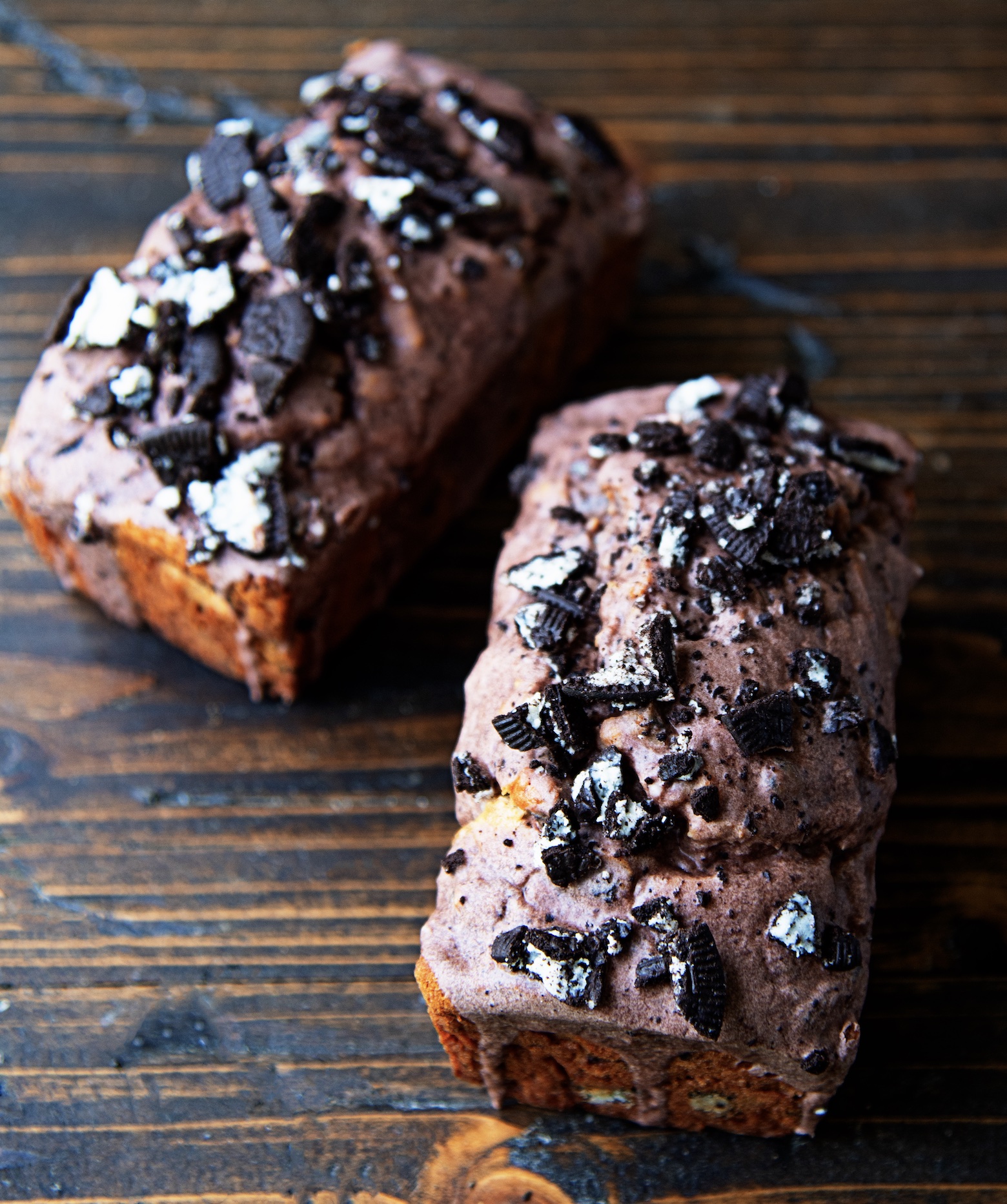 What does banana bread have to do with Taylor Swift?
Nothing.
But it usually makes people happy and Taylor makes a lot of people happy. 🙂
This banana bread is filled with Oreos.
I used Double Stuffed because that's what I like.
If you are more an regular Oreo person then use those.
Also, I put a cup as the measurement in the recipe.
But just eyeball it. If it looks like you need more cookies…add more. 🙂
And as always it's a great day to order my cookbook.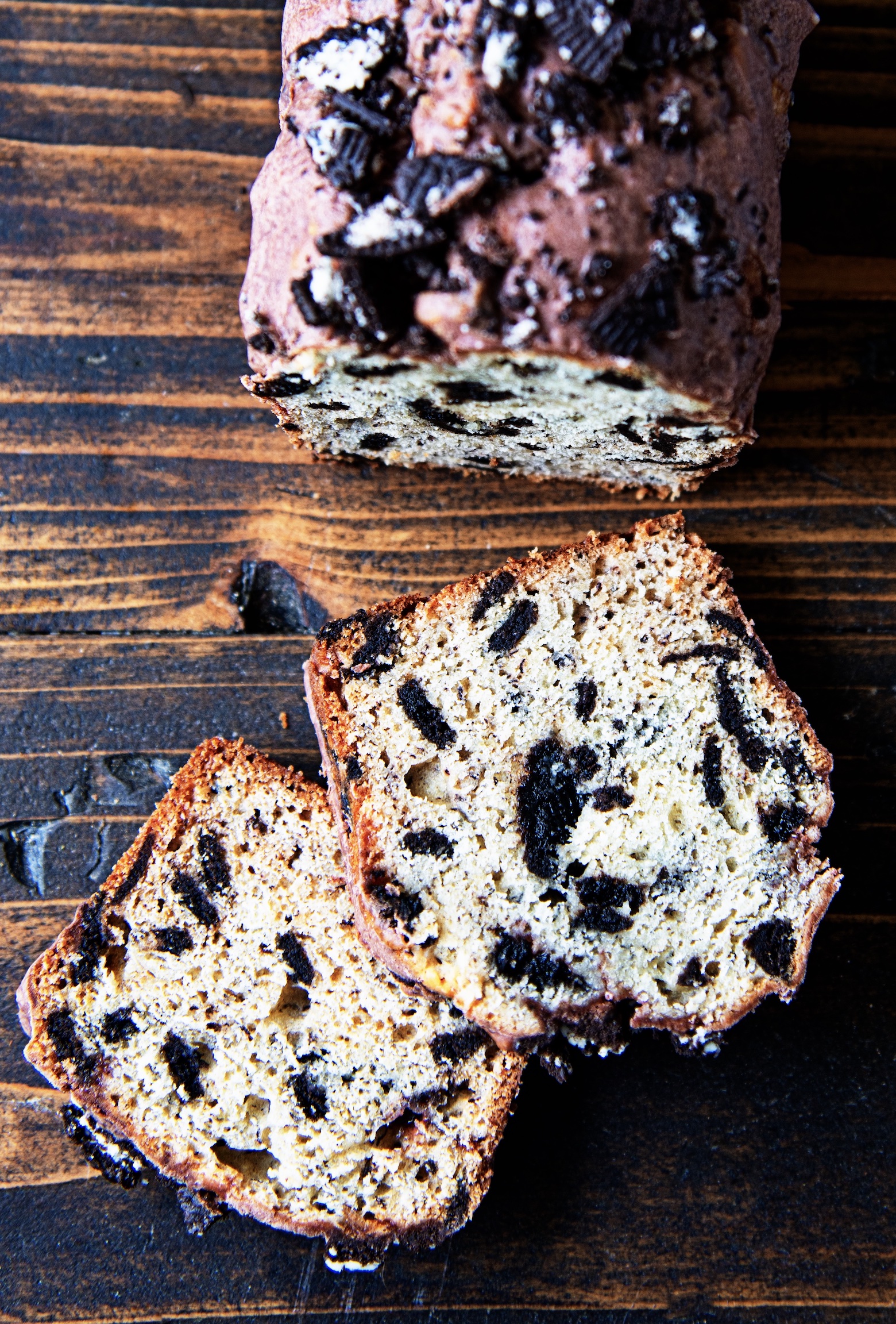 Want more Banana Bread Recipes?
Chocolate Chocolate Chip Sourdough Banana Bread
Dark Chocolate Sea Salt Caramel Banana Bread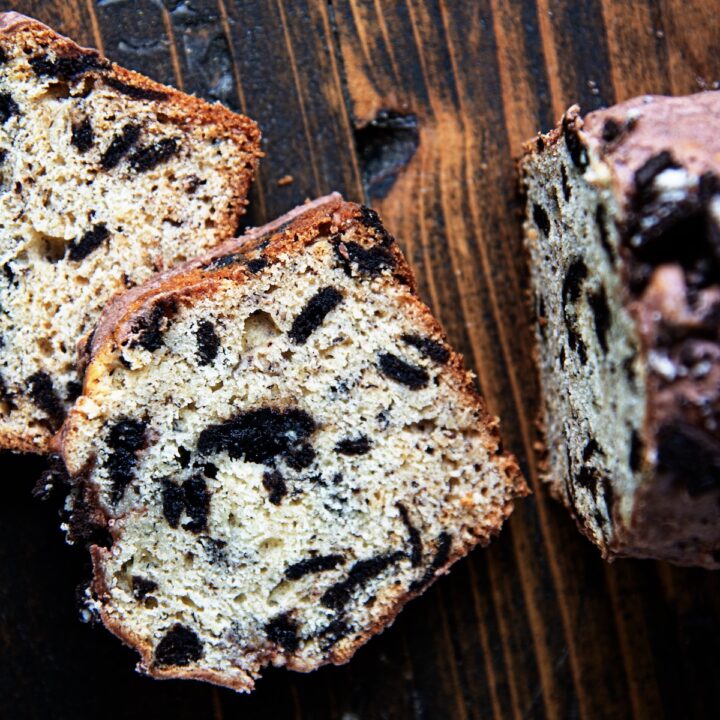 Cookies and Cream Banana Bread
Ingredients
For the Bread:
2 ¼ cups all-purpose flour
1 TBSP baking powder
1 tsp baking soda
¼ tsp salt
½ cup sour cream
½ cup mascarpone cheese
6 ounce unsalted butter, at room temperature
1 tsp vanilla bean paste
1 cup sugar
2 large eggs
2 fully ripe bananas, pureed
1 cup chopped Double Stuffed Oreos
For the Glaze:
1 1/2 cups powdered sugar
2 TBSP unsweetened cocoa powder
3 TBSP milk (more if need thinner)
extra Oreos for garnish
Instructions
For the Bread:
Preheat oven to 350F.
Grease and flour a 9-x-5-3-inch loaf pan or four mini pans.
Sift flour, baking powder, baking soda and salt into a medium bowl and set aside.
Combine the sour cream and mascarpone cheese in a small bowl and set aside.
Using a standing mixer fitted with a paddle attachment beat the butter with the cinnamon on high speed until soft and creamy, about 1 minute.
Slowly add the sugar, 1 TBSP at a time, beating continuously on high speed. It should take 5 to 10 minutes to add the sugar. The mixture should be light, fluffy and creamy white in color.
Stop the mixer and scrape down the sides of the bowl with a rubber spatula.
Add the eggs, one at a time. Be sure each egg is completely incorporated and scrape down the sides of the bowl before adding the next.
Add one third of the flour mixture to the batter and beat until it is just incorporated.
Add one third of the mascarpone cheese mixture and mix until just incorporated.
Add the flour and mascarpone mixture in two more additions, mixing until addition is incorporated before adding the next.
Fold in the bananas and mix until just incorporated.
Fold in the Oreo pieces.
Pour into the loaf pan, or divide evenly among the smaller pans depending on what you are using.
Bake for 1 hour and 15 minutes for the large loaf or 40-45 minutes for the mini loaves.
Cool in the pan on a rack for 5-10 minutes, then remove from pan and set on rack to cool. Will keep for one week in fridge or 3 weeks in freezer without glaze.
For the Chocolate Glaze:
Mix all the ingredients together. You want a thicker glaze. But if too thick, add more milk to thin.
Pour over the the loaf or mini loaves.
Sprinle with extra Oreos if desired.