Monkey Bread Cheesecake is cheesecake on top a Monkey Bread Crust all topped off with a sticky, yummy brown sugar pecan sauce.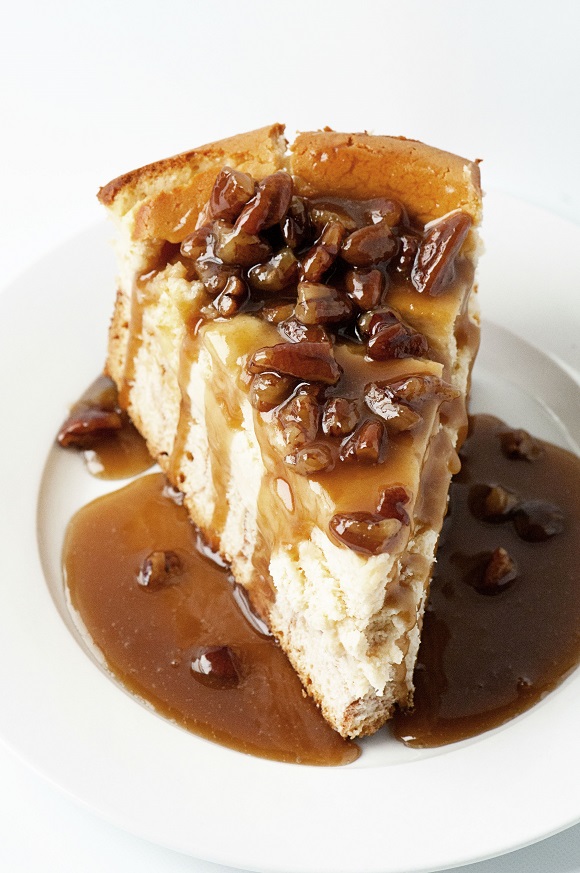 First off yes, I went there.
I combined Monkey Bread and Cheesecake.
Making Monkey Bread Cheesecake.
Yes, I am evil.
Yet, I am also awesome.
It was an experiment I have wanted to try it for some time, so I finally did.
I wanted a cheesecake for Easter but didn't want an Easter themed one.
Since when you run a food blog when you do holiday themed stuff you kind of have to do it two months before the actually holiday.
I was nervous it wouldn't turn out…you can clearly see my worries got laid to rest. 😀
Lately the old school bloggers have been talking a lot about the good ol' days.
What were the good ol' days?
They days when we would have good interaction on our blog with readers.
I still get some but I used to get about 60-80 comments and now I'm elated to get 10.
The days when to get someone to comment we didn't have to have a giveaway.
We as bloggers used to support each other because we liked each other's blogs instead of only supporting those that have the same demographic and traffic as you.
That's a real thing…it's basically moved to I will help you only if I can benefit from it which is beyond lame.
Today's bloggers tend to not want to share anything or tell you how they got to work with a company because they want to keep that to themselves .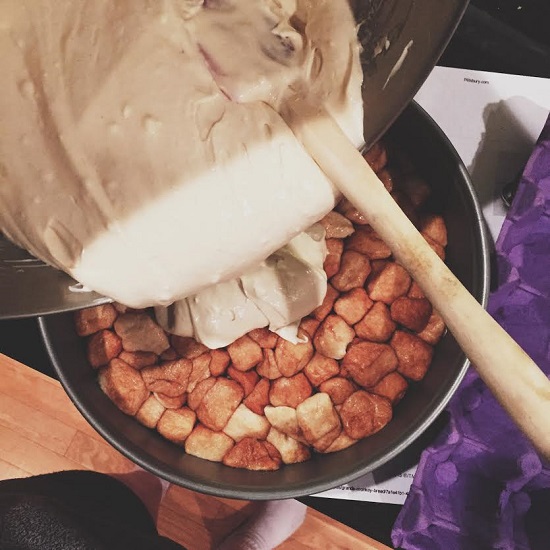 For the old school bloggers the majority of us started blogging as a hobby.
We loved cooking and wanted to connect with others who liked to cook too.
Now most bloggers start out today with the mindset that they are to make money, lots of money at blogging.
I suck at the making money part, how bad do I suck at that
For the last two months I haven't made enough in ad revenue to qualify for the minimum payout. 🙂
Which is funny and sad all at the same time. 🙂
It's also another reason I haven't been blogging as much, no $ for ingredients.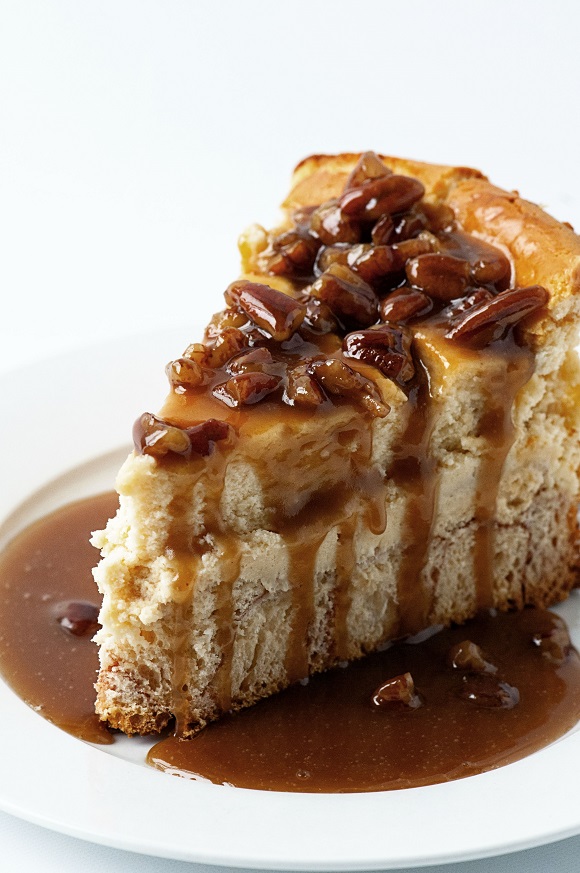 I have nothing against those that profit from running a food blog.
For I myself am currently enrolled in a food blogger based business online course from a blogger who I respect, Jaden (Steamy Kitchen).
I want to get better at serving my readers while making a little more money than what I'm making now.
But at the same time wanting to go back to all the things I loved about blogging…like doing creative recipes.
After almost 10 years of blogging sometimes it's hard to be creative and I used to try to force the creativity.
So that I could get three posts a week up and it made me not like blogging so much.
I've moved back to blogging when the creativity hits and I think having the "pressure" lifted has really helped.
So what does this mean?
Not much. 🙂
I'm just rambling about where my head is in blogging right now.
It means there might not be as many post or there may be 5 days in a row if the creativity and income is really flowing.
And it means that I'm concentrating more on desserts and booze because I'm a lush who likes sugar.
I'll still be doing my newlywed meals/date night in from time to time but if you want savory recipes from me might I suggest that you sign up for my weekly email (comes out every Wednesday) as there is a bonus recipe each week and 99% of the time it's savory and usually a meal MDP and I have eaten.
Last but not least…it's a great time to order my cookbook. 😀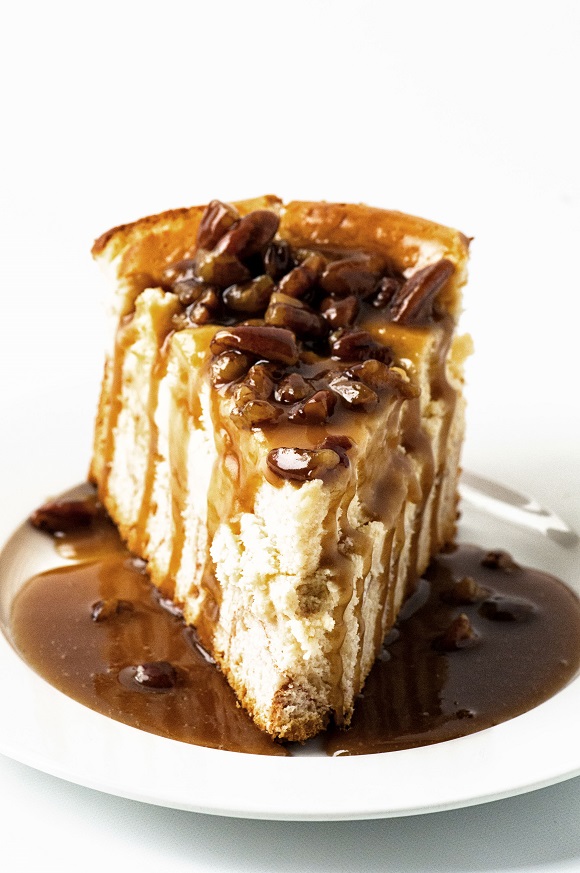 Want More Cheesecake Recipes?
Cinnamon Roll Caramel Apple Cheesecake
Pumpkin Salted Caramel Swirl Cheesecake
Caramel Apple Toffee Cheesecake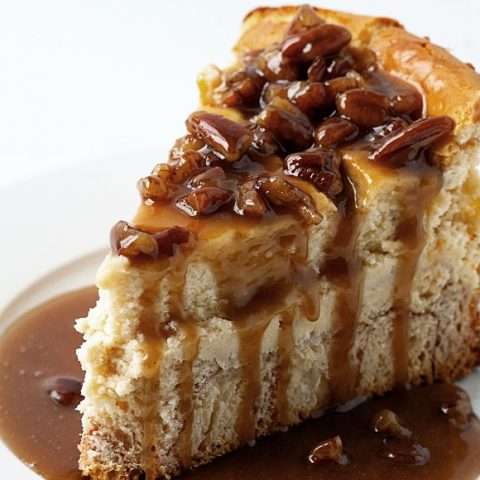 Monkey Bread Cheesecake
Ingredients
Monkey Bread Crust:
1 can (16 oz) refrigerator biscuits (I used Grand's)
½ cup granulated sugar
2 tsp. ground cinnamon
Cheesecake filling:
2 pkg. (8 oz. each) cream cheese, at room temperature
1 cup granulated sugar
1 TBSP vanilla extract (I used Rodelle)
2 TBSP flour
3 eggs
1 tsp. ground cinnamon
Sauce:
1 3/4 cups chopped pecans
1/2 cup unsalted butter, I used Plugra
3/4 cup (packed) dark brown sugar
3/4 cup heavy cream
1/3 cup honey
1/4 tsp. salt
Instructions
Preheat oven to 350 degrees F.
Grease a 9-inch Springform pan.
For the Monkey Bread Crust:
Add the cinnamon and sugar to a gallon size freezer bag.
Cut the biscuits into marble size pieces.
Toss the pieces into the bag and seal the bag.
Shake. If you have kids hand them the bag and let them shake it but have them say "it's Shake and Bake and I helped" for nostalgia reasons. 😀
Remove pieces from bag.
Arrange them in a single layer at the bottom of the prepared spring form pan.
Press them down so that there are no gaps and try to make an even layer…it won't stay even during cooking but let's start with pretending it might.
For the Cheesecake Filling:
Using a stand mixer (and a clean bowl) fitted with paddle attachment, beat cream cheese and sugar for 2 minutes on medium-high speed.
Add the eggs one at a time, scraping down the bowl after each addition.
Add the vanilla, cinnamon, and flour and beat for another minute.
Pour all of the cheesecake batter on top of the monkey bread pieces that are in the prepared pan.
Bake for about 50-55 minutes, cake will be puffy and lightly browned. Let chill for 20 minutes at room temperature and then cover and move to fridge for 4 hours. Remove cake and let it warm up to room temperature just a bit (don't skip this or the bread part will be too hard).
For the sauce:
Melt butter in a small heavy saucepan over medium heat.
Stir in brown sugar, cream, honey, and salt.
Bring to a boil, reduce heat to medium, and simmer until glaze is golden brown and glossy, 3–4 minutes.
Add the pecan pieces.
Pour over cheesecake and serve.