This Chocolate Glazed Scotcharoo Cheesecake is a twist on the cereal treat with the flavors of peanut butter, butterscotch, and chocolate.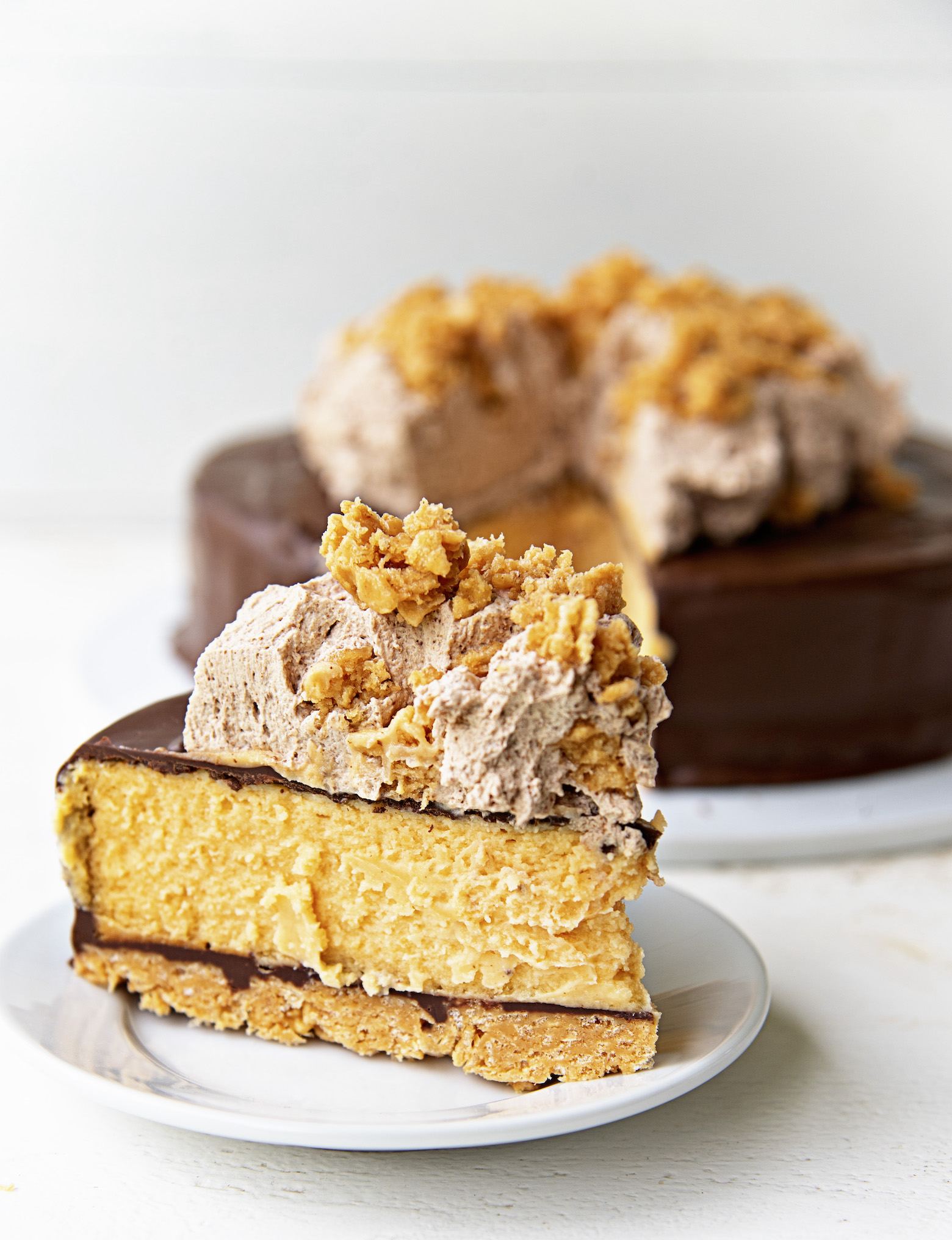 This Chocolate Glazed Scotcharoo Cheesecake is my latest creation with a mashup of Scotcharoos and cheesecake.
If you are unfamiliar with the Scotcharoos (though some call them Scotteroos) are a no bake treat.
Made with a base of peanut butter, corn syrup, butter, and Rice Krispies cereal.
Then they are topped with a layer of melted chocolate chips and melted butterscotch chips mixed together.
And that's the flavor profile I was going for.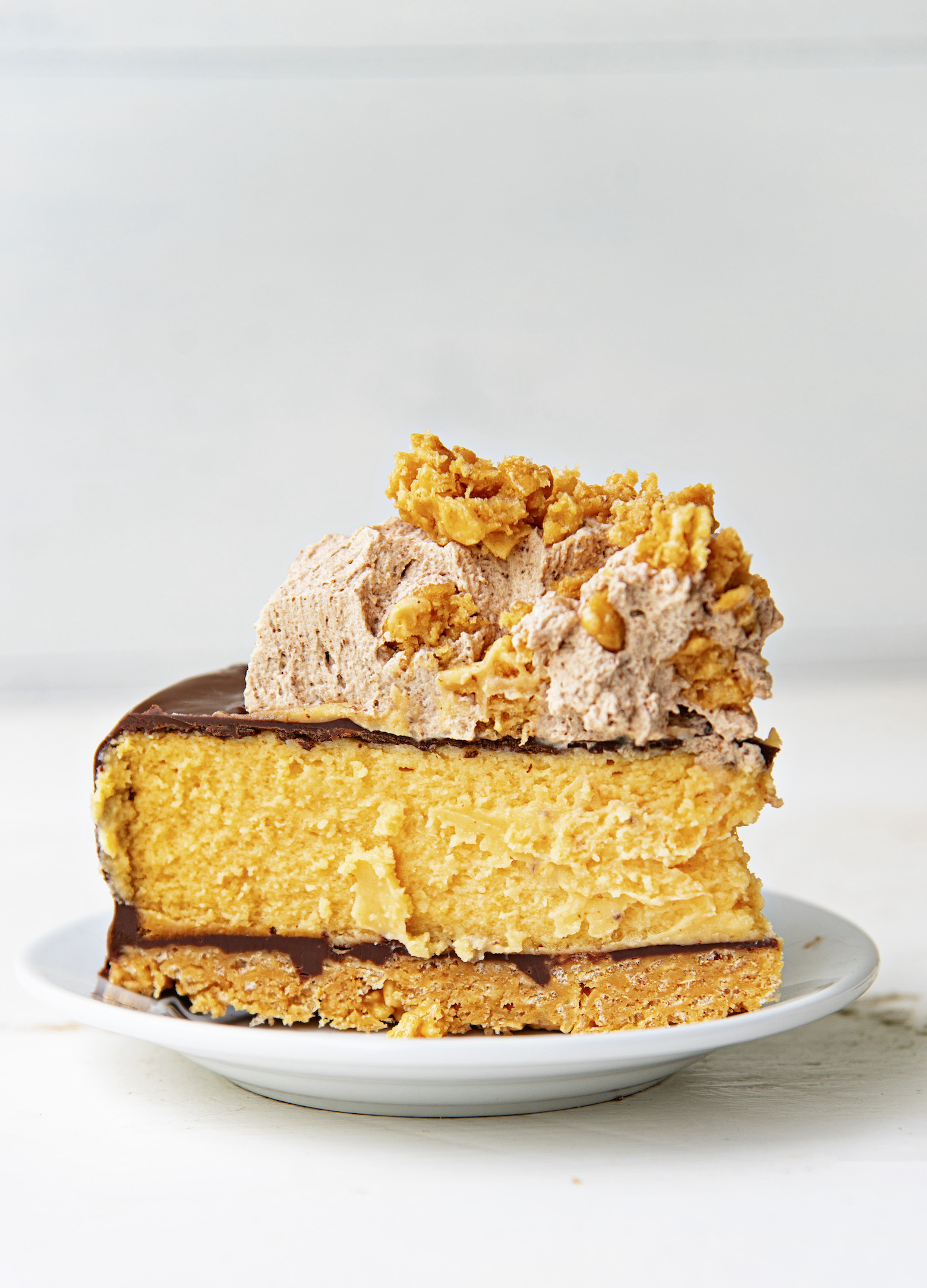 While many people love my Toasted Marshmallow No Bake Cheesecake for it's rice krispie treat crust, several didn't want a no bake cheesecake.
So I had to figure out how to get a baked cheesecake with a crust that doesn't bake.
For this that ended up being the base of Scotcharoos.
The peanut butter rice krispie part.
I originally tried to have it up the sides and put the cheesecake in it.
But that did not work that well.
So I scraped that idea and decided to just to a base and add extra parts of the crust to the top.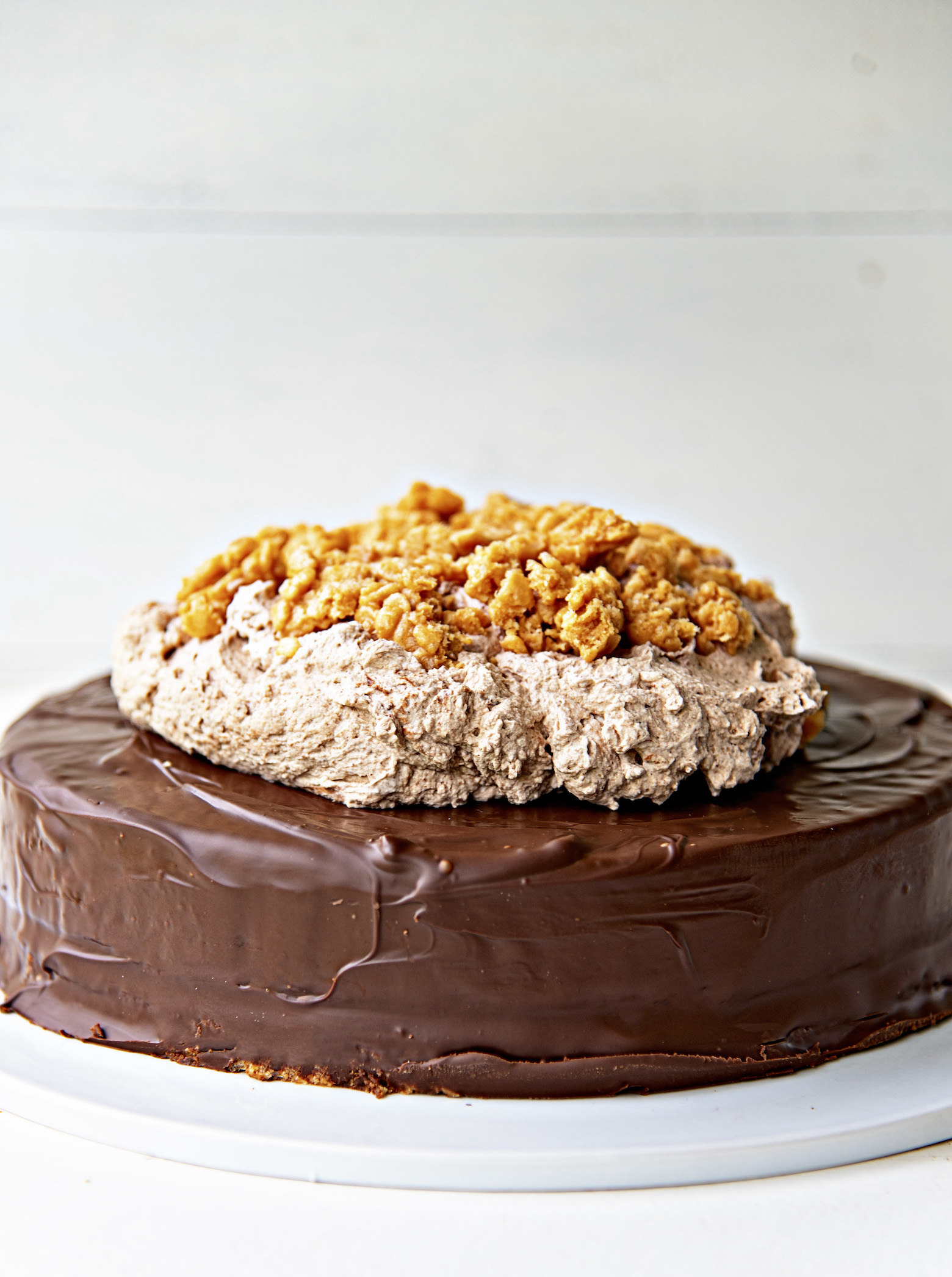 You have to press (or roll out) the crust rather thin so instead of a 9-x-13-inch pan I used a 18-x-13-inch half sheet.
If you cover it with parchment you can use a rolling pin to go over it and get it flat.
You actually cut out the base from that.
I found that method worked best.
Yes, I did try it several ways.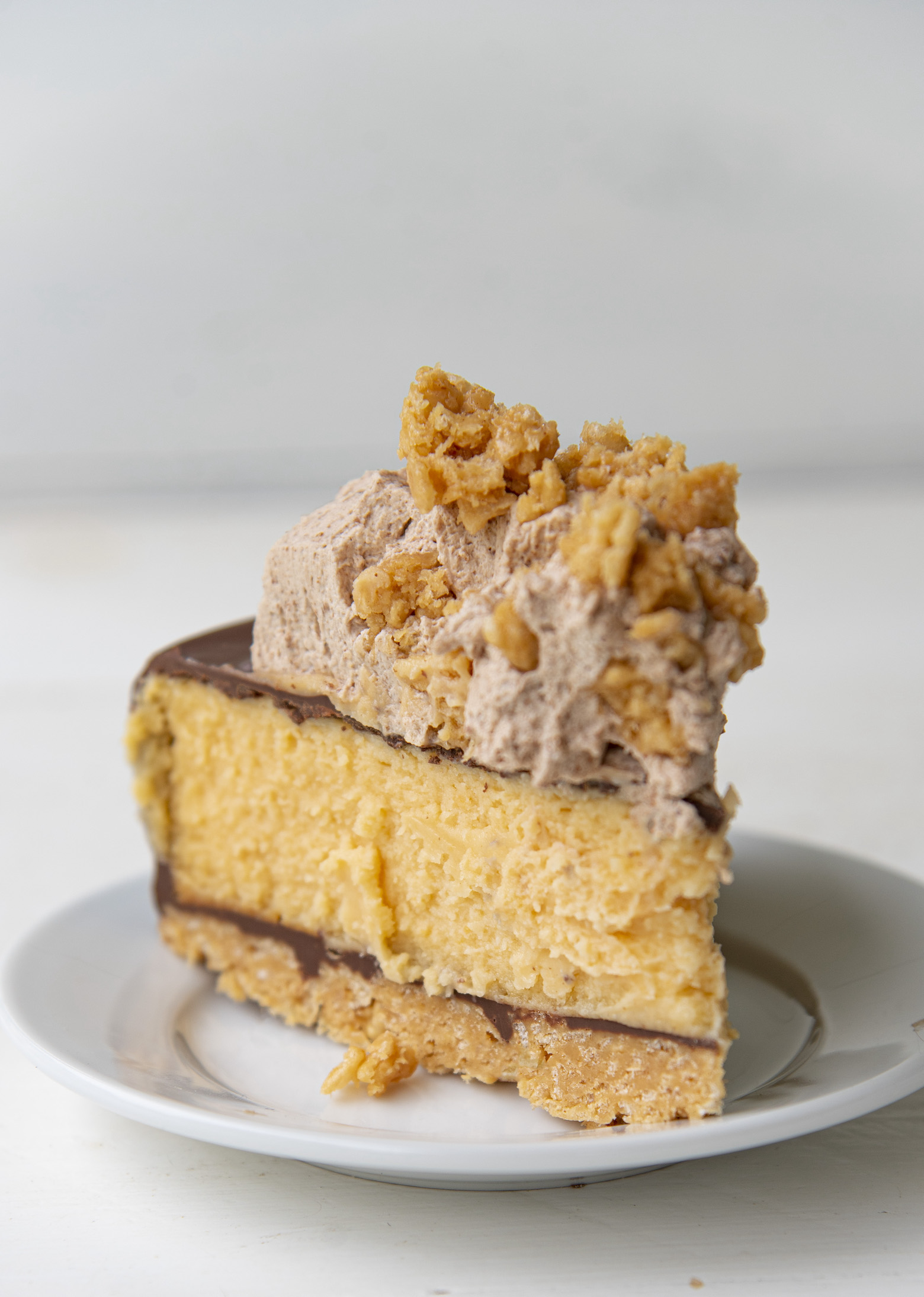 The cheesecake is a crustless butterscotch cheesecake.
That was in honor of my husband who loves butterscotch chips.
And yes, he was over the moon in love with this cheesecake.
Be sure to use a parchment cake circle at the bottom of your springform pan.
Since there is no crust this helps it from sticking.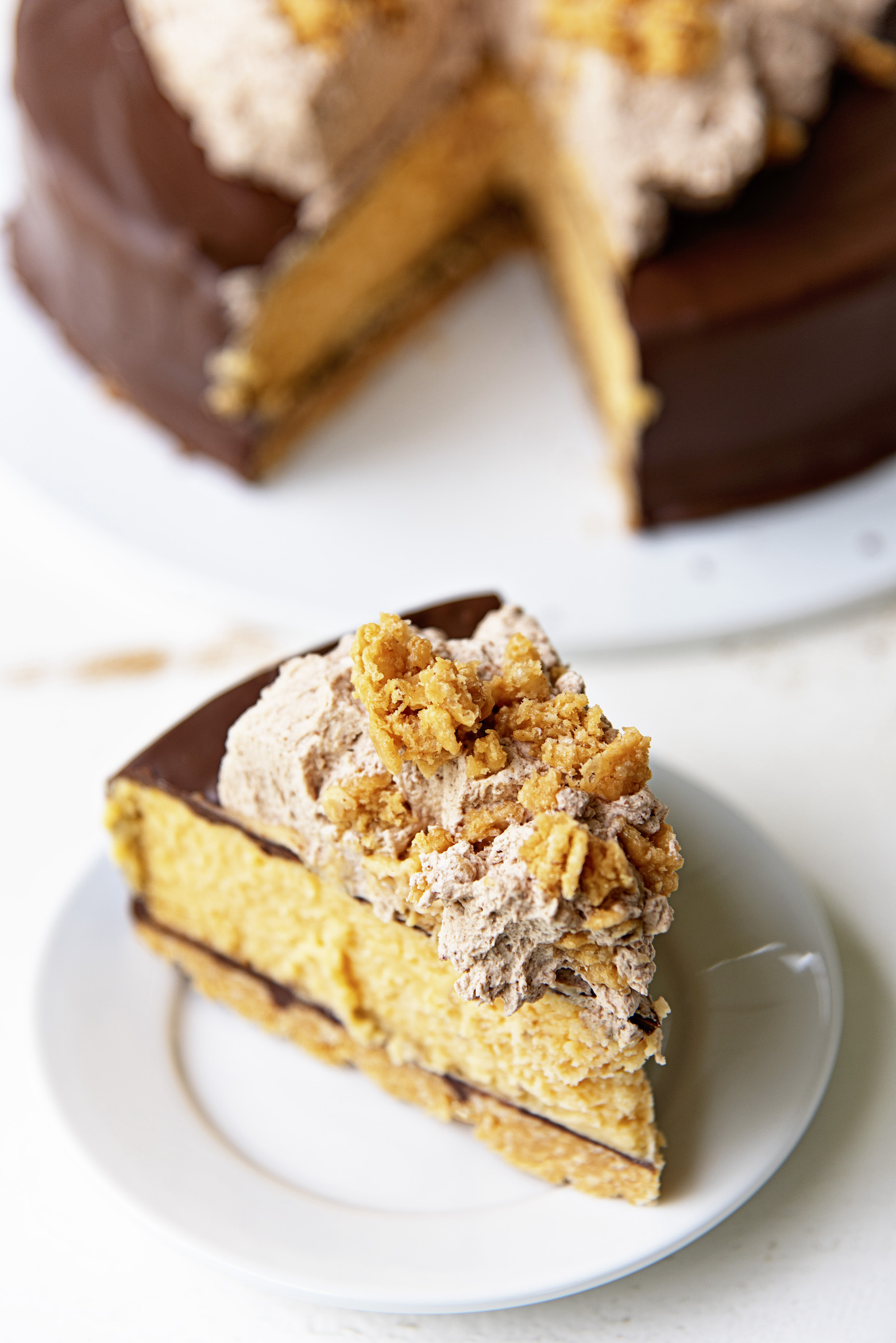 Speaking of the crust, since it's not being baked with the cheesecake it has to adhere to it somehow.
So I chose chocolate glaze.
The chocolate glaze does the trick well.
Then you will glaze the cake like you would frost a cake.
Pouring the chocolate on top and using an offset spatula to smooth the top and sides.
The chocolate will dribble down.
Just leave that be until the chocolate sets up.
Because once the chocolate sets up you are just going to cut away anything stuck to the cutting board.
Lastly is the Chocolate Butterscotch Whipped Cream that is piled on top of the center of the cheesecake.
Garnish with the extra peanut rice krispie crust.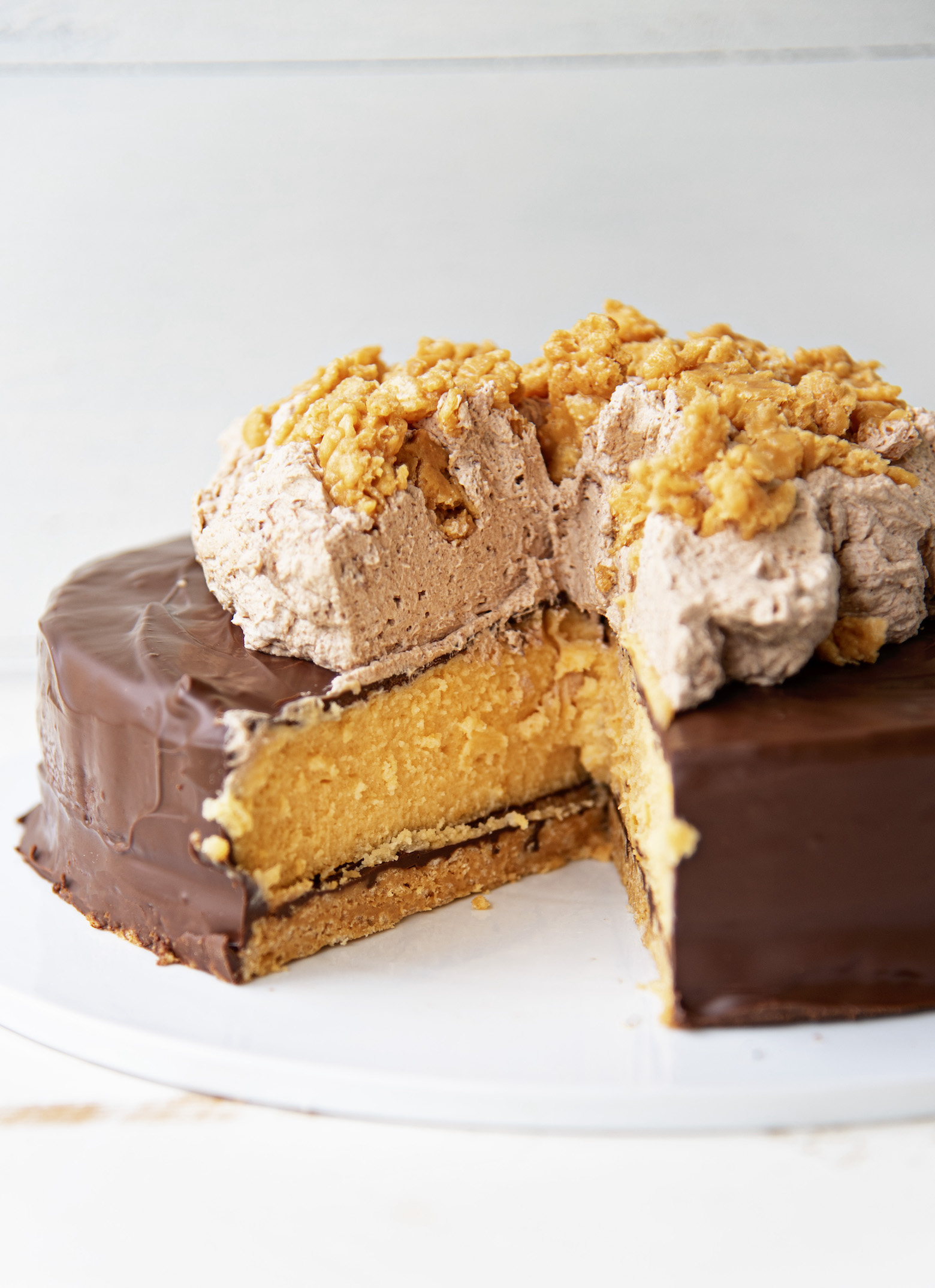 Do you have to use a bain marie (water bath)?
Technically no.
However, if you want a creamy cheesecake then, yes.
If you want to minimize the chance for cracks in your cheesecake then, yes.
The water bath does a wonderful job of keeping an even temperature for the cheesecake to bake in.
You will need to wrap your pan in foil so water doesn't leak into your springform pan.
Better yet, use one of the silicone wraps.
I like those way better.
I linked which one I used in the recipe instructions.
This cheesecake has a lot of steps, but oh my, it's worth it.
Last but not least…It's a great time to buy my cookbook.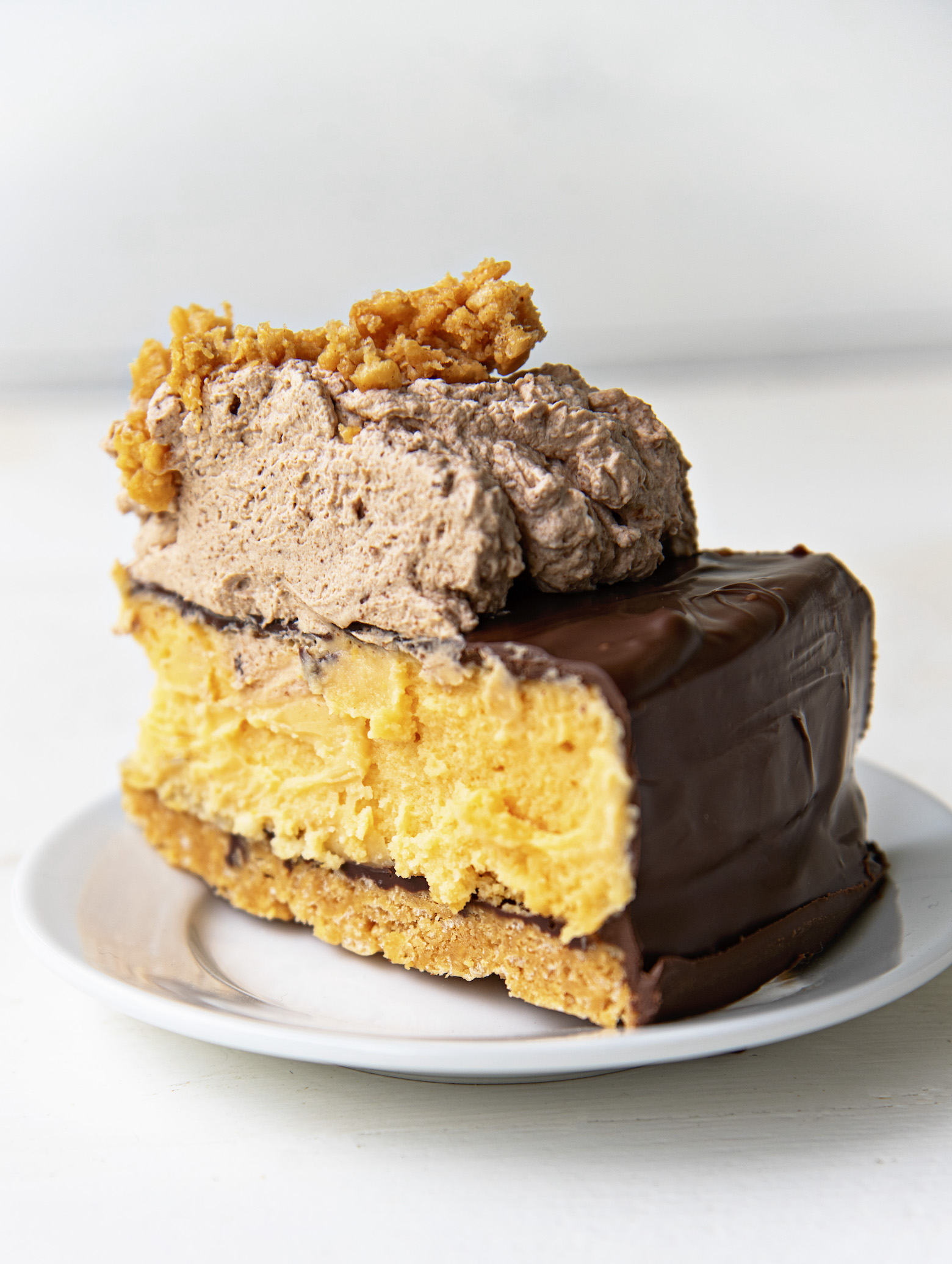 Want More Cheesecake Recipes?
Chocolate Malt French Fry Cheesecake
Chocolate Chip Cookie Dough Cheesecake
Strawberry Pretzel Crusted Cheesecake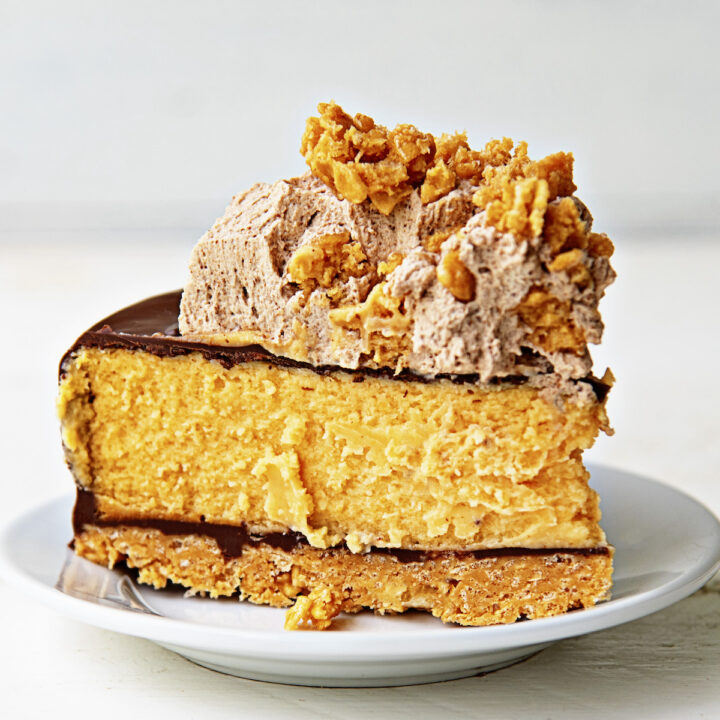 Chocolate Glazed Scotcharoo Cheesecake
Ingredients
For the Peanut Butter Krispies Crust:
1 cup light corn syrup
1 cup granulated sugar
1/4 cup salted butter
1 cup creamy peanut butter (I used Jif)
5 1/2-6 cups Rice Krispies cereal
For the Butterscotch Cheesecake:
2 lbs (four 8oz packages) cream cheese, at room temperature
2 cups granulated sugar
1 TBSP all-purpose flour
3 eggs
1 egg yolk
1 tsp vanilla extract
11 oz (1 package) butterscotch chips, melted
For the Chocolate Glaze:
16 oz finely chopped milk or semisweet chocolate (depending on preference)
4 TBSP vegetable oil
For the Chocolate Butterscotch Whipped Cream:
½ cup heavy whipping cream
3 TBSP powdered sugar
2 oz milk chocolate, melted
2 oz butterscotch chips, melted
Instructions
For the Peanut Butter Krispies Crust:
Spray a sheet pan baking dish with cooking spray. This is going to be a much thinner layer than a regular Scotcharoo. Set aside.
In a large saucepan (has to hold the 6 cups of rice krispies) over low to medium low heat, add the karo syrup, granulated sugar, and butter until the sugar is dissolved and no longer grainy. Don't let it boil. If it starts to boil, immediately move off of the stove and continue to the next step.
Once the mixture is hot… almost boiling, but not actually boiling, remove it from heat and stir in the peanut butter.
Add in the Rice Krispies. Mix until combined. If it appears like the mixture needs more rice krispies, add more, a little at a time.
Work fast because these harden rather quickly.
Dump on to the prepared pan.
Using a spatula or even better a piece of parchment paper press down and make as flat as possible.
Look at the base I have, it's about 1/2 inch in thickness. If you want them thicker, by all means make them thicker.
Once cooled, cut out a 9-inch diameter (the same size as the cheesecake) circle. Keep the scraps to eat and to put on as a garnish. Set aside.
For the Butterscotch Cheesecake:
Line a 9-inch springform pan with baking spray AND line it with a parchment cake circle. Since we do not bake this with a crust you need that parchment paper.
Using a stand mixer with paddle attachment or an electric mixer and large bowl, cream the cheese until soft.Add in the sugar and mix well.
Decrease the mixer speed to low and add the flour.
Add eggs in one at a time scraping bowl down to make sure that there are no lumps.
Add in the egg yolk and beat until fully incorporated.
Beat in the vanilla for 30 seconds.
Add the melted butterscotch chips mix until fully combined.
Pour batter into the prepared pan.
Bake in a water bath at 350F for approx 1 1/2-2 hours. If the cheesecake starts to get too dark, tent with some aluminum foil.
Let cake sit at room temperature until cool.
Then refrigerate for at least 4 hours, preferably overnight.
Release from the springform and make ganache.
For the Chocolate Glaze:
Combine chocolate and oil in a medium heat-proof bowl set over a medium saucepan of barely simmering water; stir until melted and smooth.
Transfer to a small bowl, and let cool about 10 minutes.
Pour about 1/3-1/2 cup on to the top of the cheesecake.
Spread the chocolate out with a offset spatula. We are going to adhere the cheesecake to the crust this way.
Put the Peanut Butter Krispies Crust on top of the chocolate layer.
Carefully flip the cheesecake over onto a cutting board.
Carefully remove the springform bottom and the parchment paper.
Add the remaining chocolate to the top of the cheesecake and glaze both the top and sides of the chocolate. It's going to spill over, That is fine.
Let it set up in room temperature. If that is taking too long move it to the fridge.
Cut away any excess chocolate.
Move to a platter or plate you plan to serve it on.
For the Chocolate Butterscotch Whipped Cream:
Beat the whipped cream on high using a whisk attachment.
Beat until stiff peaks form, add sugar, melted chocolate, and melted butterscotch chips and beat another 30 seconds or until fully combined.
Top the chocolate glazed cheesecake with the whipped cream.
Garnish cheesecake with some of the remaining Peanut Butter Krispies Crust pieces.
Take cheesecake out about 10-15 minutes before serving so the that crust gets softer.