This Orange Vanilla Angel Dessert is super easy to make and is no bake. Perfect for summer with all the flavors of a creamsicle.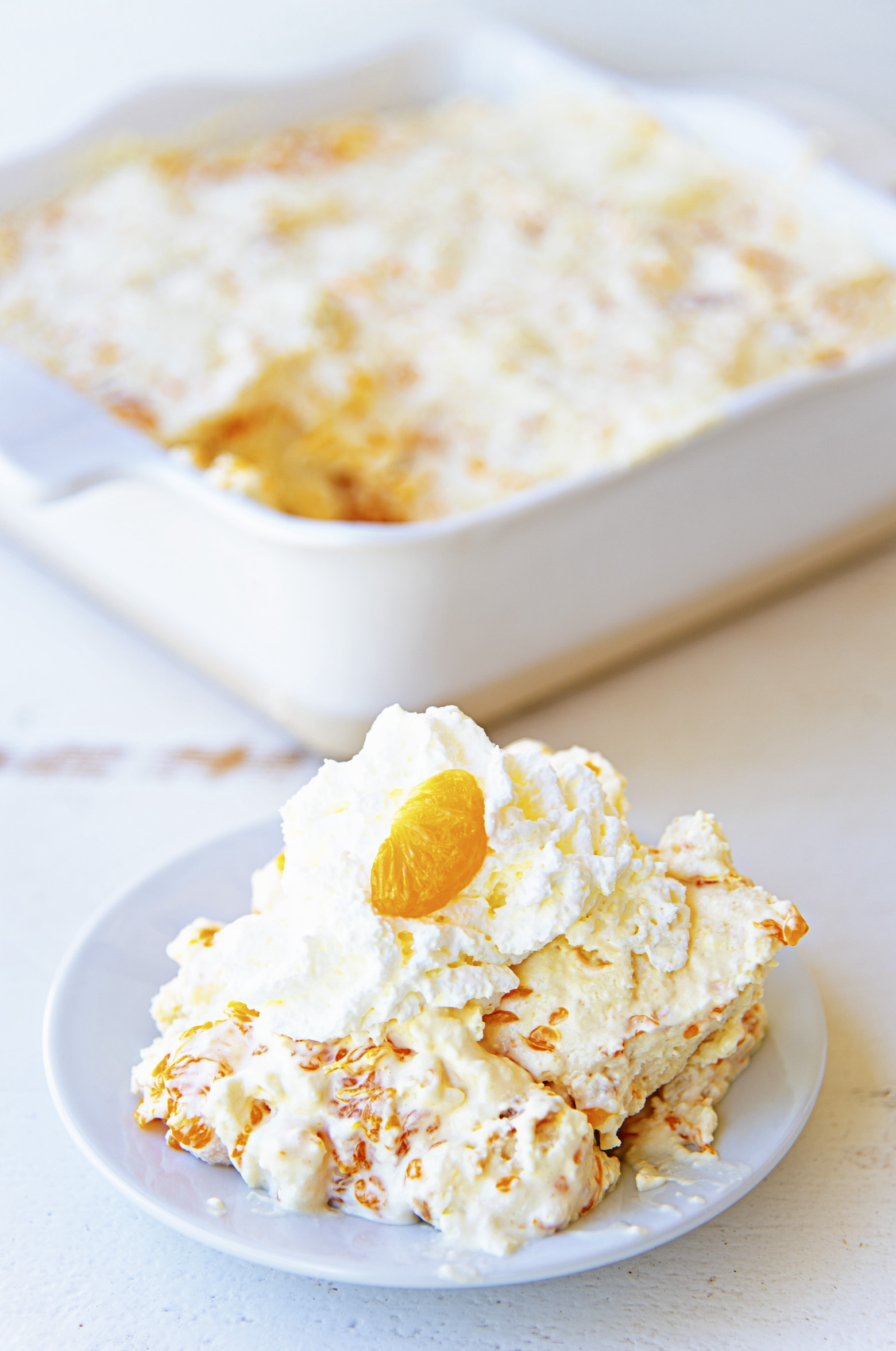 This Orange Vanilla Angel Dessert is perfect for when you don't want to turn on your oven.
A good portion of the US right now is suffering a heat wave.
A few years back when it was a little too warm for me to turn on the oven, I asked readers what they like to make when it's too hot.
And while I got the usual ice cream, popsicles, jello, fruit (okay healthy people), and things along those lines.
One person commented they liked making angel dessert.
To which I asked if she meant angel food cake?
She said yes and no.
That the dessert contained angel food cake but it had cream cheese, fruit filling, and Cool Whip as well.
Sounded good to me.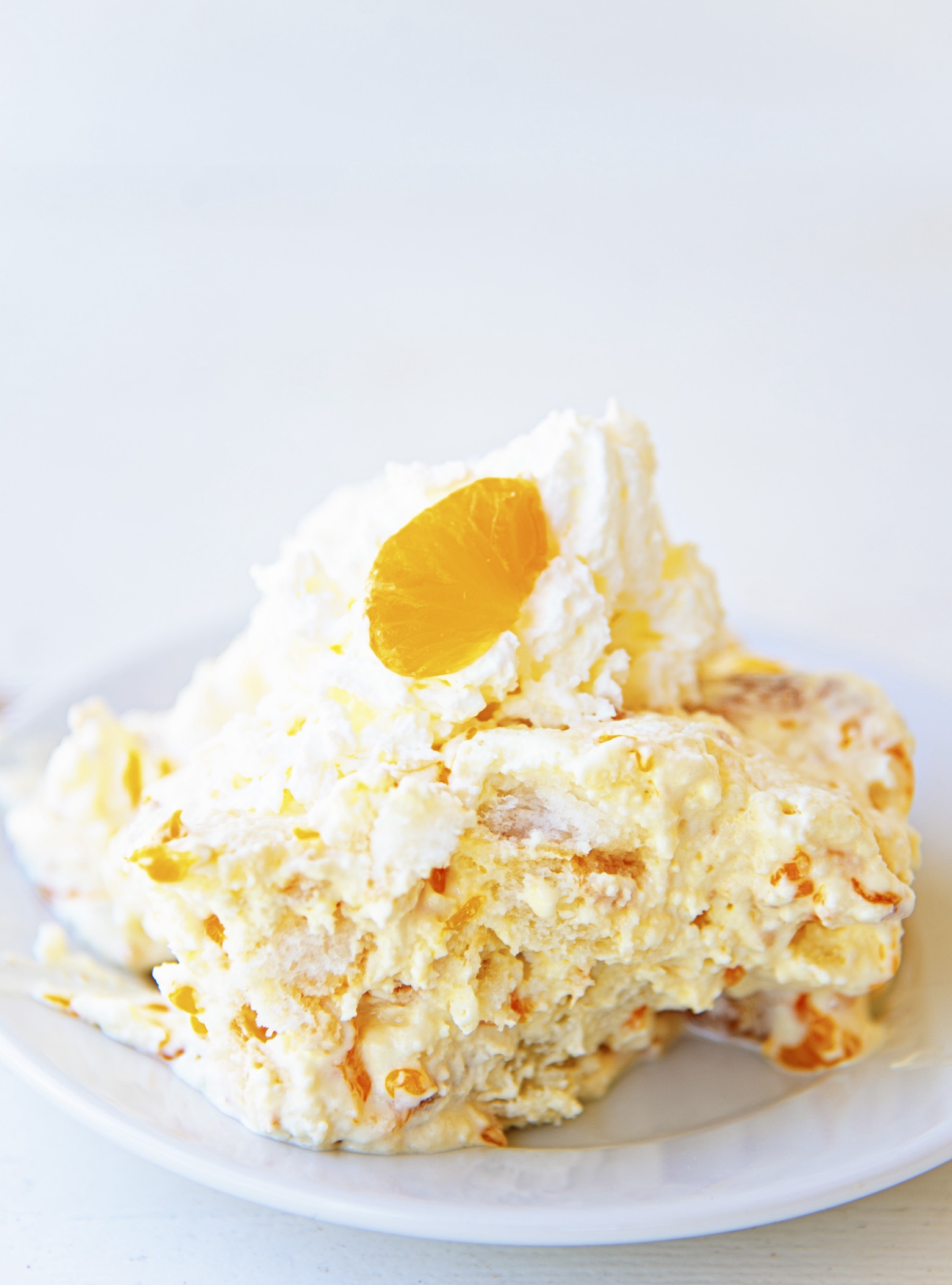 And ever since then I have been making angel desserts.
They are crazy easy to make and when I take them to potlucks I never bring leftovers home.
I will say however, it's one of those not so pretty desserts.
It's one you scoop out.
So you don't get a pretty square or anything like that.
Which once you taste it, you won't care.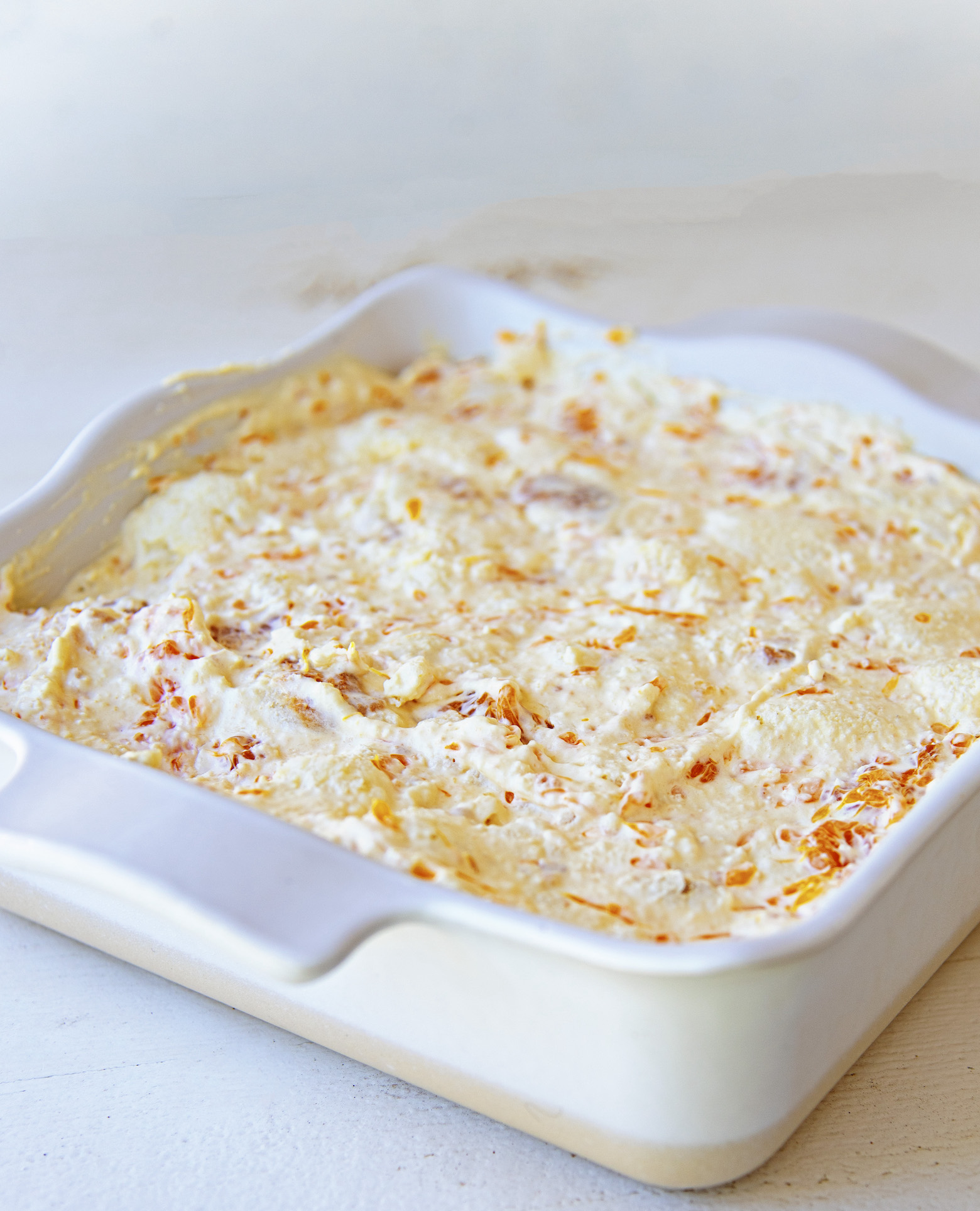 Can you make your own Angel Food Cake for this?
Yes.
I have certainly made Angel Food Cake in the past.
In fact, I've made a Creamsicle Angel Food Cake before.
It would be perfect for this.
But the whole point of this is to not turn on the oven.
Now if heat isn't an issue for you, then by all means make your own angel food cake.
However, truth be told the bakery at my local store makes a very good Angel Food Cake.
Can I use vanilla extract instead of vanilla powder?
Technically yes.
BUT you will not get the ice creamy taste I'm going for.
Vanilla powder (the white powder) gives the vanilla flavor of vanilla ice cream (or at least I think so.
It also is powder and does not add more liquid to a already soft dessert.
I linked where to buy it on Amazon (affiliate link) in the recipe.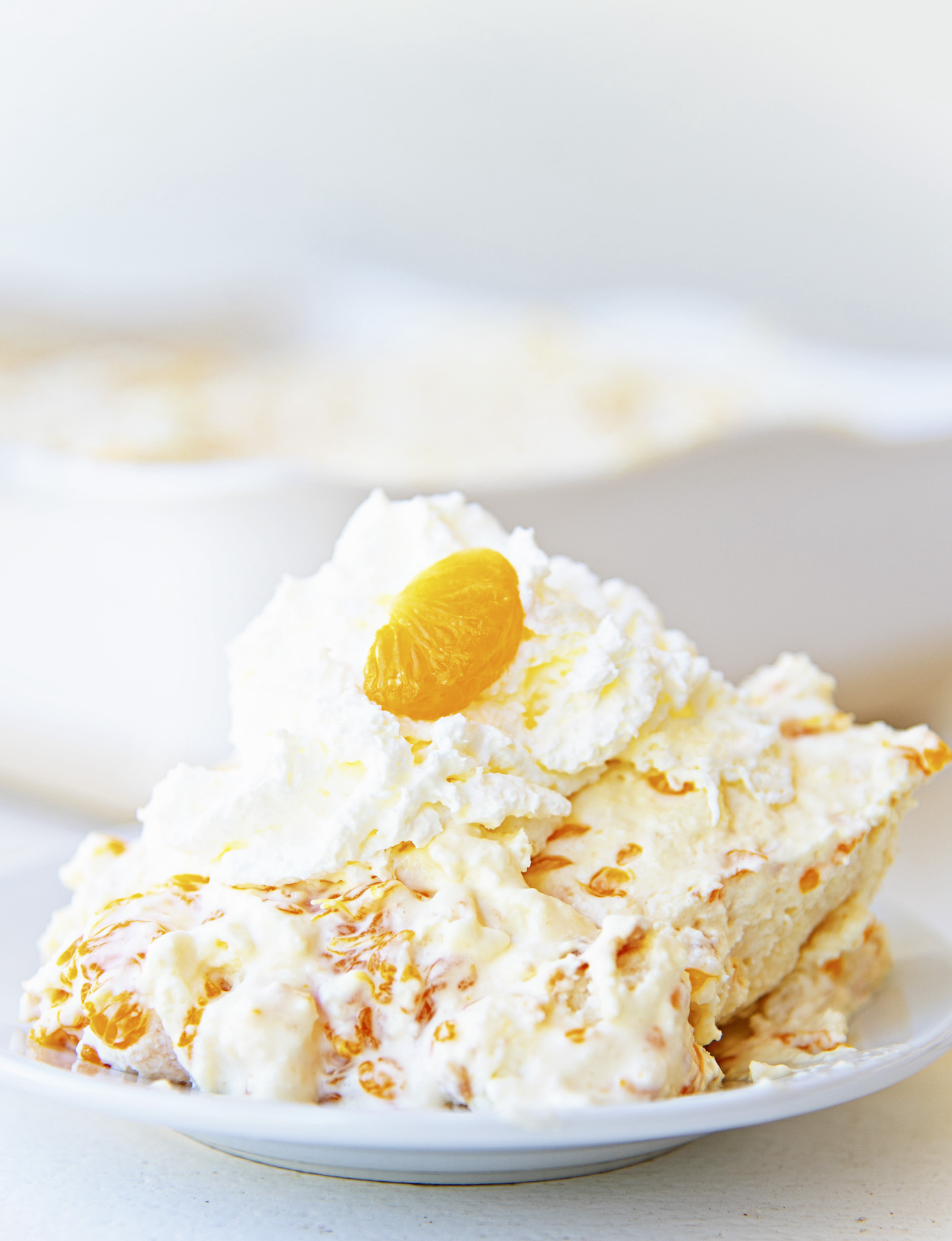 For this one I wanted to pay tribute to one of my favorite ice cream truck treats, the creamsicle.
The combo of orange and vanilla always takes me back to running down the street to get some ice cream.
Which back then was quite an accomplishment.
Because it meant hearing the truck.
Then running to beg for money from your parent.
My mom half the time said no, but dad always said yes, as long as you brought him something back as well.
Which is a fair deal.
Now of course if you were told no, then you had to decide if you wanted to break into your piggy bank and spend your own coin.
And then the running down of the truck.
Which you could never trust that the ice cream man would come to your street…even though he always did.
So you would frantically run through the neighborhood to find him.
Nowadays, I have Instacart bring me my ice cream. 😀
P.S. It's a great day to order my cookbook.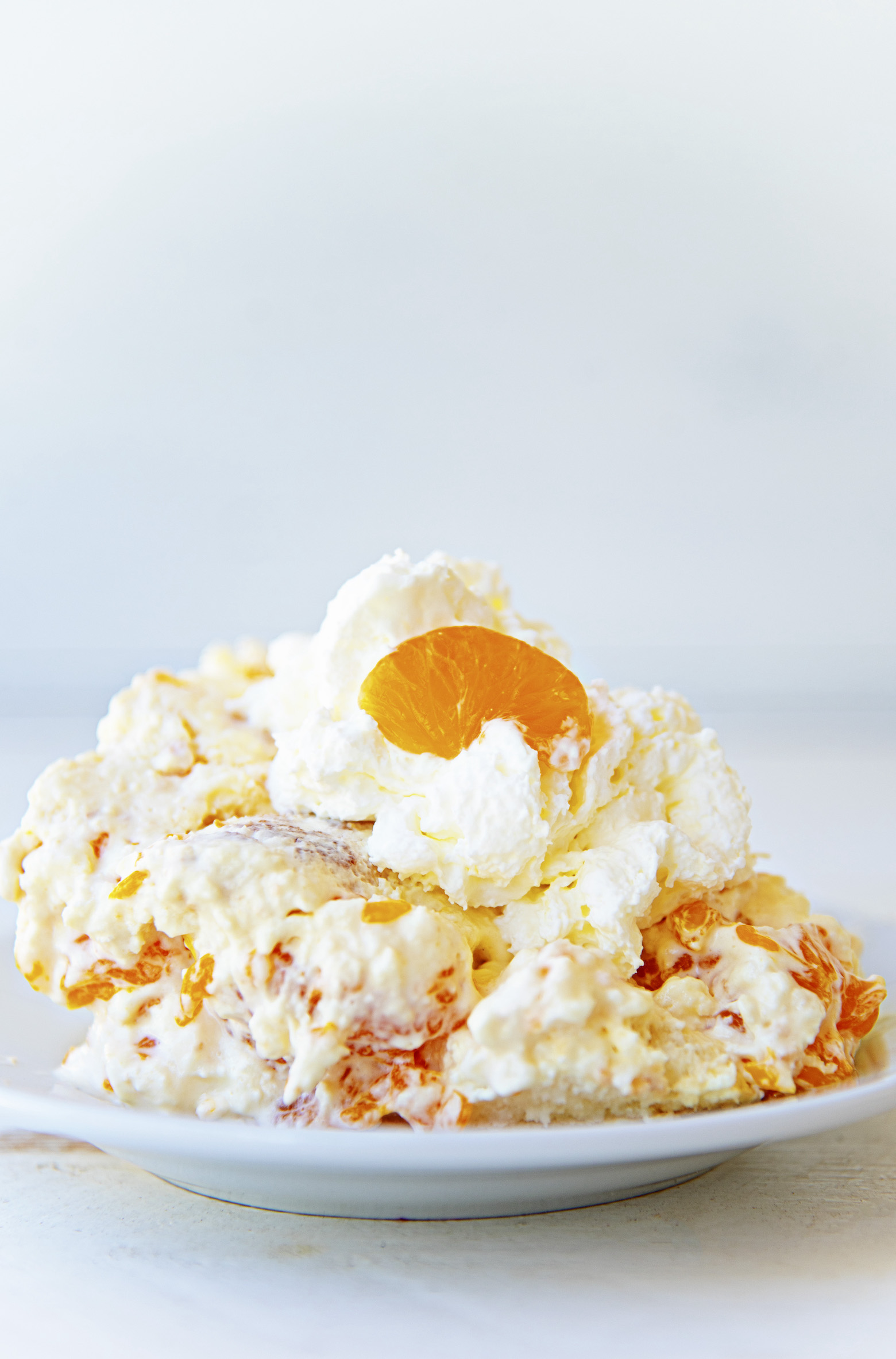 Want More No Bake Desserts?
Lemon Meringue Pie Jello Salad
Sweet Tea and Lemonade Icebox Pie
Mini Drumstick Ice Cream Terrine
Lemon Blueberry Mascarpone Fudge
Strawberry Cream Cheese Pretzel Pie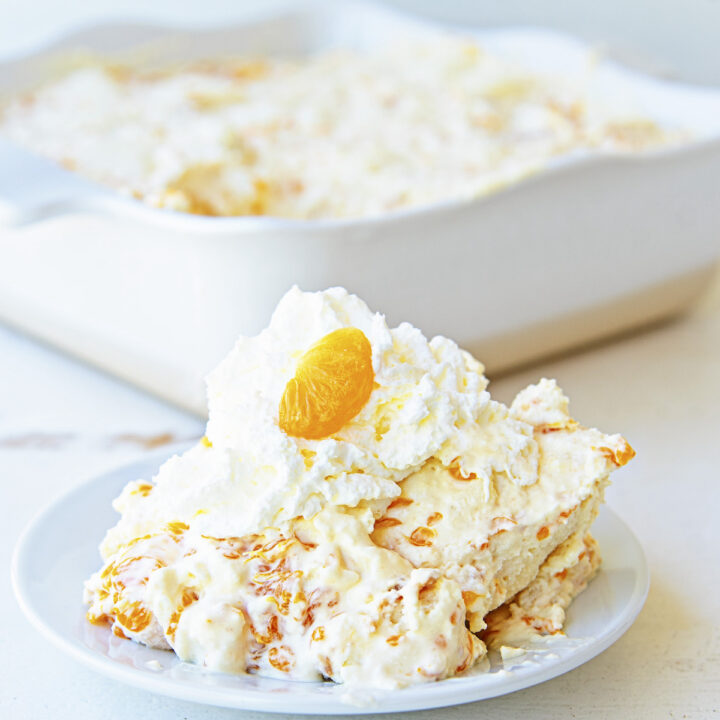 Orange Vanilla Angel Dessert
Ingredients
8 oz cream cheese, at room temperature
1 1/2 cup powdered sugar
1/4 cup frozen orange juice concentrate
8 oz frozen whipped topping (Cool Whip), thawed
1 prepared angel food cake (8 to 10 ounces), cut into 1-inch cubes
2 cups mandarin oranges, drained
Instructions
Using a stand mixer with the paddle attachment, beat cream cheese, powdered sugar, vanilla powder, and frozen orange juice concentrate together until smooth.
Fold in whipped topping, cake cubes, and mandarin oranges.
Spread evenly into an ungreased 13x9-in. dish.
Refrigerate, covered, at least 2 hours before serving.
Serve cold. Top with more whipped cream and oranges if desired.