This Fried Ice Cream Cheesecake has a vanilla ice cream flavored cheesecake in a cornflakes crust with a honey sour cream top.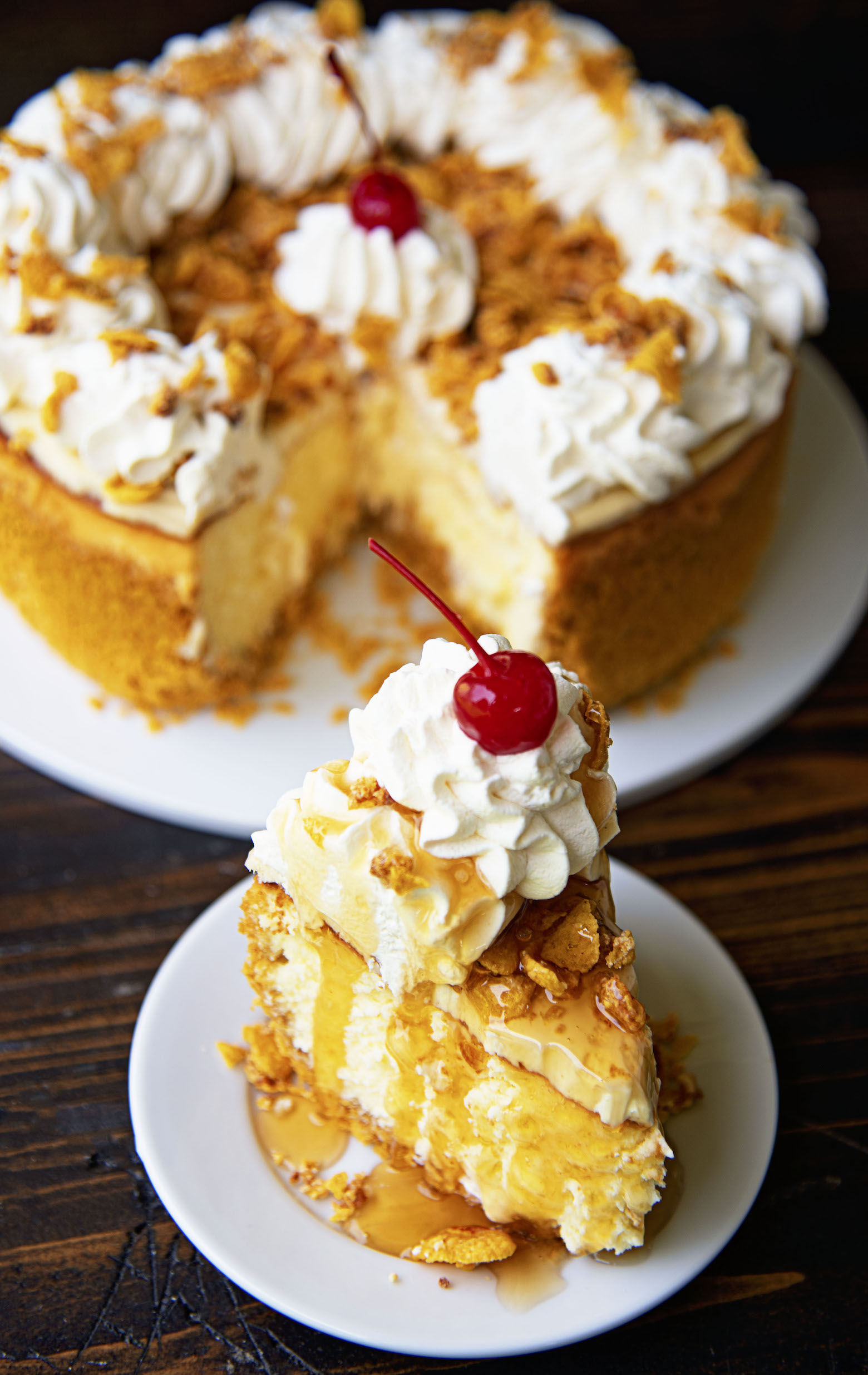 This Fried Ice Cream Cheesecake is inspired by the dessert Deep Fried Ice Cream that you can get at almost any Mexican food restaurant.
If you are not familiar with the dessert, its a ball of vanilla ice cream.
That they roll in a crushed cornflakes with a little cinnamon and sugar.
Some places I hear use a batter then roll it in cornflakes, but I've never had it that way.
It's deep fried (very quickly) and topped with honey, whipped cream, and a cherry on top.
And so I made the crust out of crushed Cornflake cereal, with some powdered sugar, cinnamon, and powdered honey.
Yes, powdered honey.
I LOVE it.
Not only for baking but I use it in my tea, oatmeal, and smoothies as well.
Again, just like with freeze dried fruits, you get a concentrated flavor with none of the moisture.
Or in this case you don't get the sticky.
This recipe will not work if you don't use the powdered honey.
There is a link to what I use (which technically is a sugar and honey mix) in the recipe.
You will use the powdered honey in the crust, the Cornflake Cinnamon Crunch, and the sour cream topping.
And again, I use it in so many things not just baking.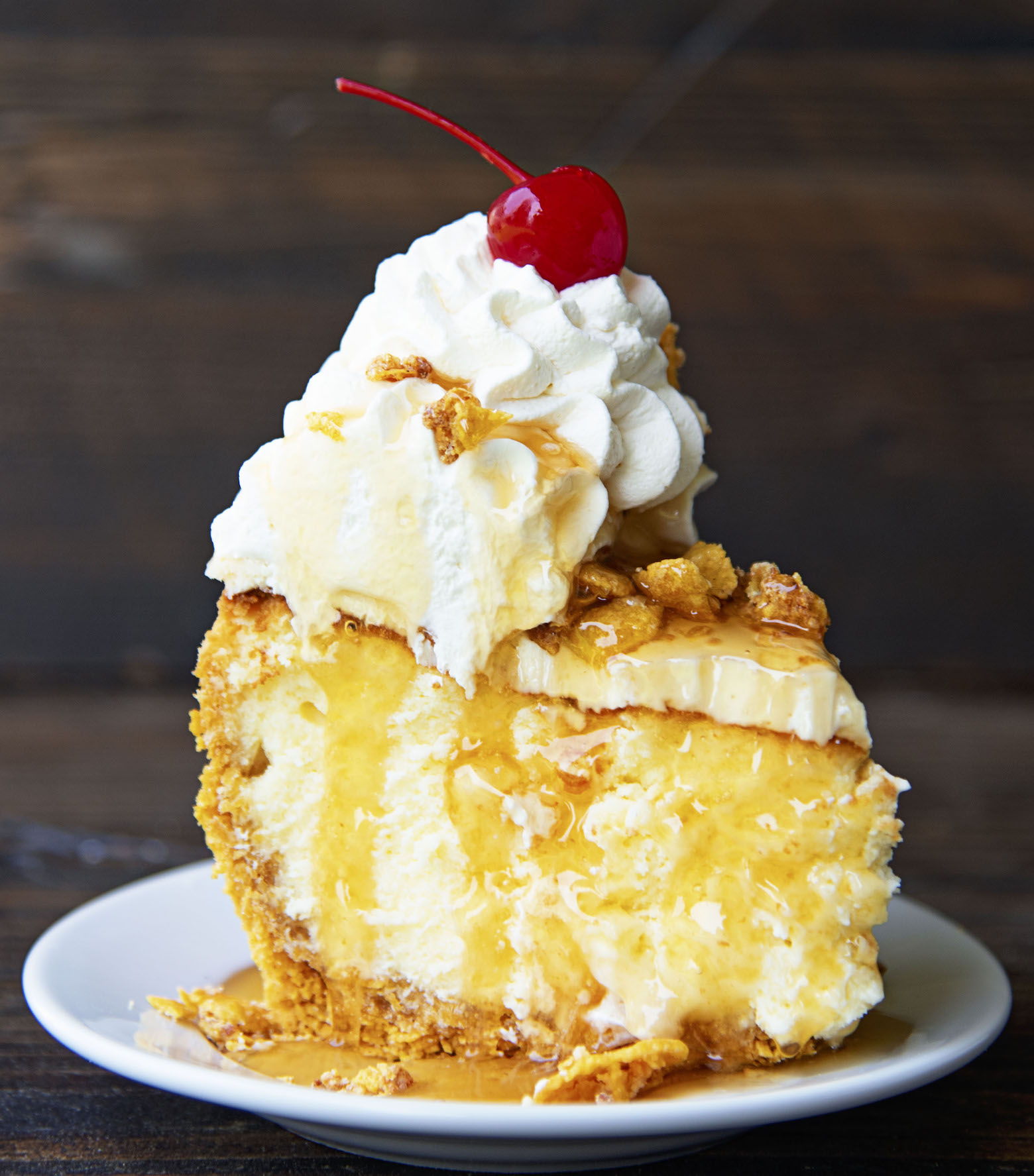 For the cheesecake, that too (sorry), uses a couple odd ingredients that you need to plan ahead for.
One of those things is powdered vanilla.
I made many version of this cake trying to get it to have a more vanilla ice cream flavor and you needed the powdered vanilla.
Again, you can use powdered vanilla in many other baked goods.
So you will use it again.
I linked the small jar (I buy the large because I use so much of it all the time) in the recipe.
Do not confuse it with powdered vanilla beans…those are brown.
The powdered vanilla I use is white.
That is the one you want for this cheesecake.
Tried both kinds and the white kind gives the more ice cream-ish flavor of vanilla.
I also use freeze dried vanilla ice cream.
If you are close to my age you grew up knowing it as Astronaut Ice Cream.
Because that's how the astronauts got their ice cream.
It was a fun novelty.
I use it in the cheesecake because you get little pieces of it and it kind of melts into the cheesecake.
I linked to the kind I used in the recipe.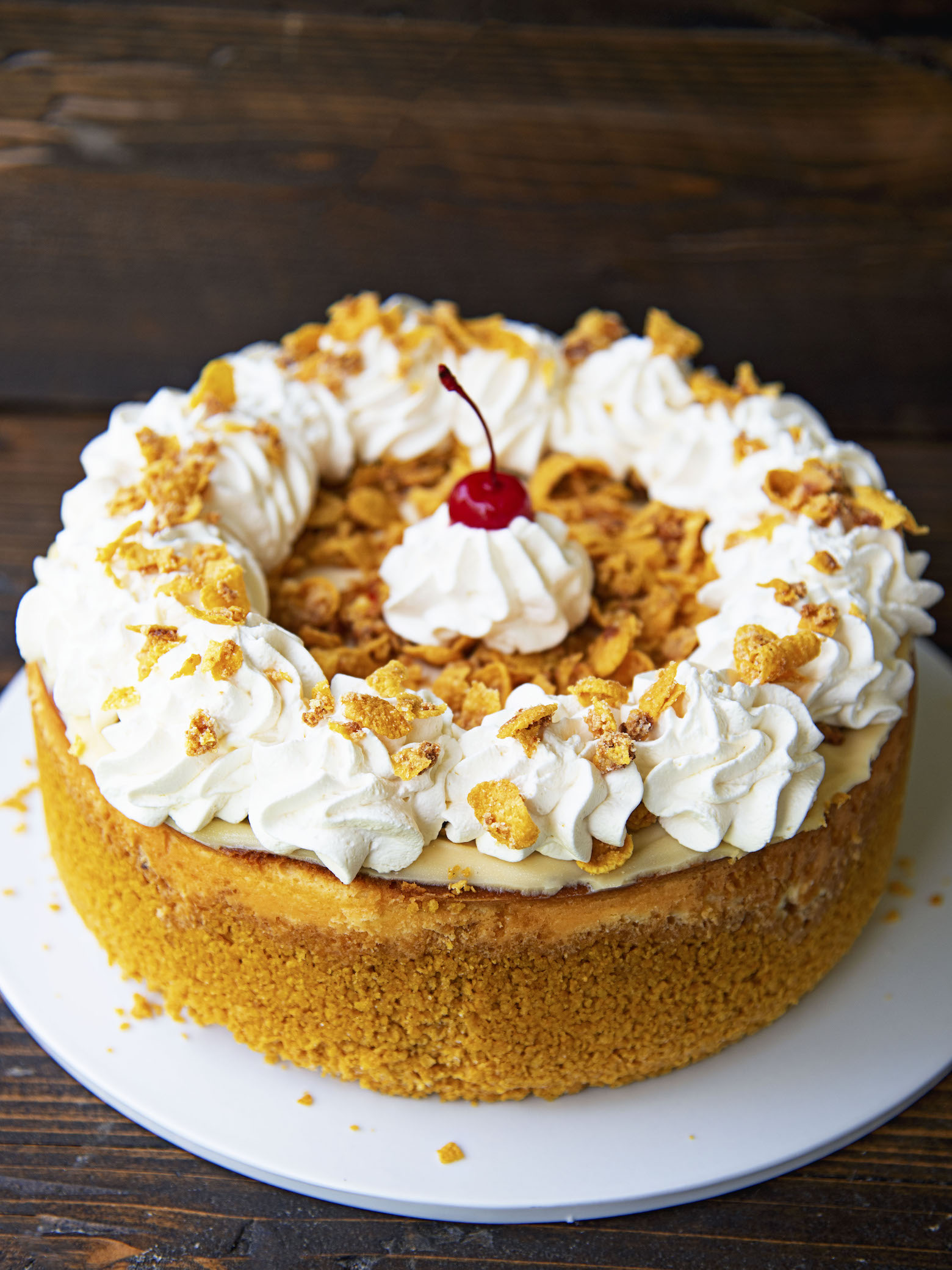 Then there is the Cornflake Cinnamon Crunch.
Which is similar to the Cornflake Crunch that Milk Bar makes.
You will probably have a little extra left over.
I usually sprinkle it on the cheesecake when serving it.
I also just eat it straight out of the bag or sprinkle on ice cream.
The sour cream topping you may think about skipping but don't.
Each component of this cheesecake is there for a reason.
The topping is added at the end of the bake.
You spread it on, after the cheesecake has cooled for 10 minutes.
Then bake for 5 minutes.
You sprinkle some of the Cornflake Cinnamon Crunch on it and bake another 2 minutes.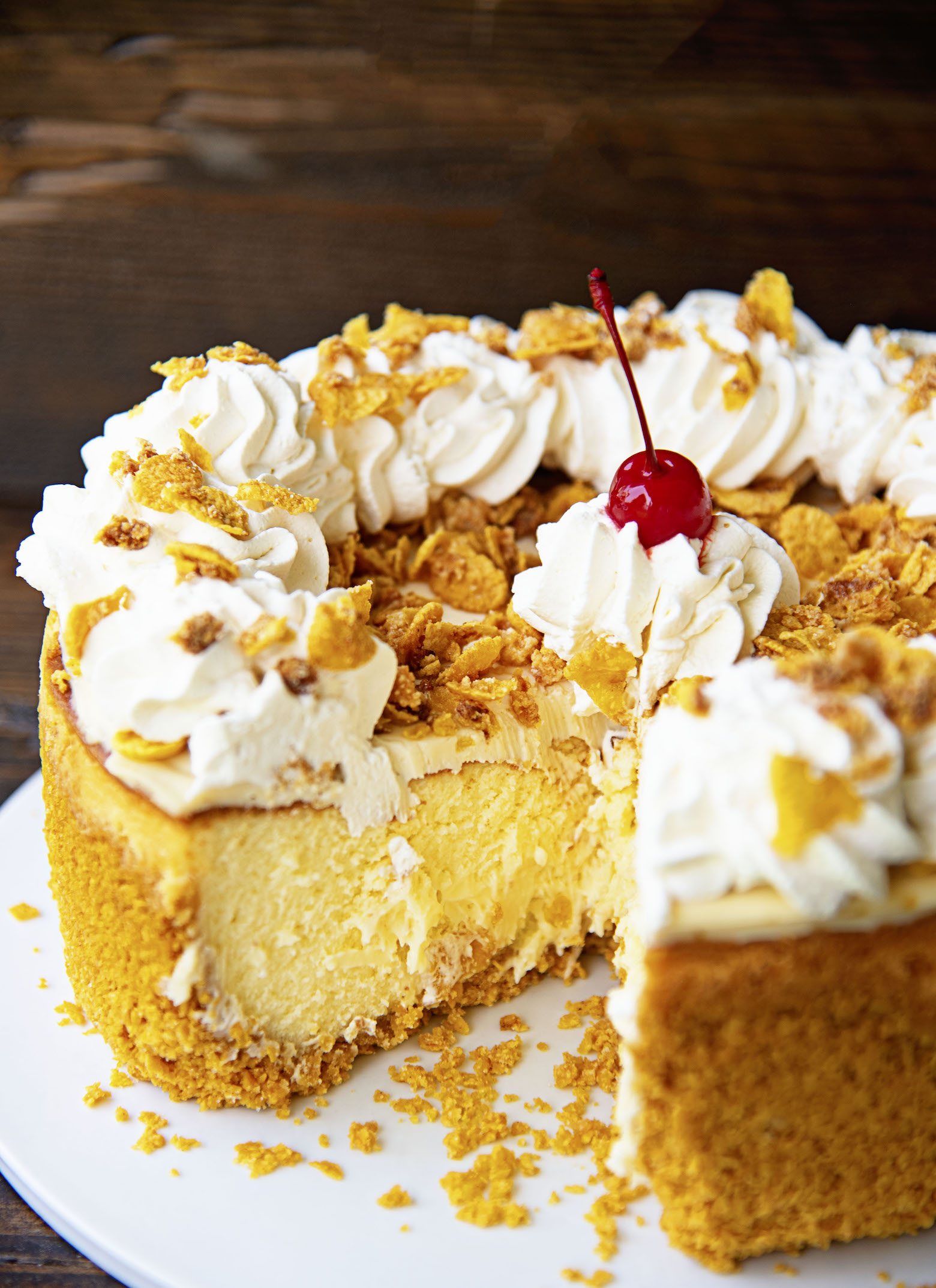 Do you have to use a bain marie (water bath)?
Technically no.
However, if you want a creamy cheesecake then, yes.
If you want to minimize the chance for cracks in your cheesecake then, yes.
The water bath does a wonderful job of keeping an even temperature for the cheesecake to bake in.
You will need to wrap your pan in foil so water doesn't leak into your springform pan.
Better yet, use one of the silicone wraps.
I like those way better.
Again, I linked which one I used in the recipe instructions.
This cheesecake has a lot of steps, but oh my, it's worth it.
Last but not least…It's a great time to buy my cookbook.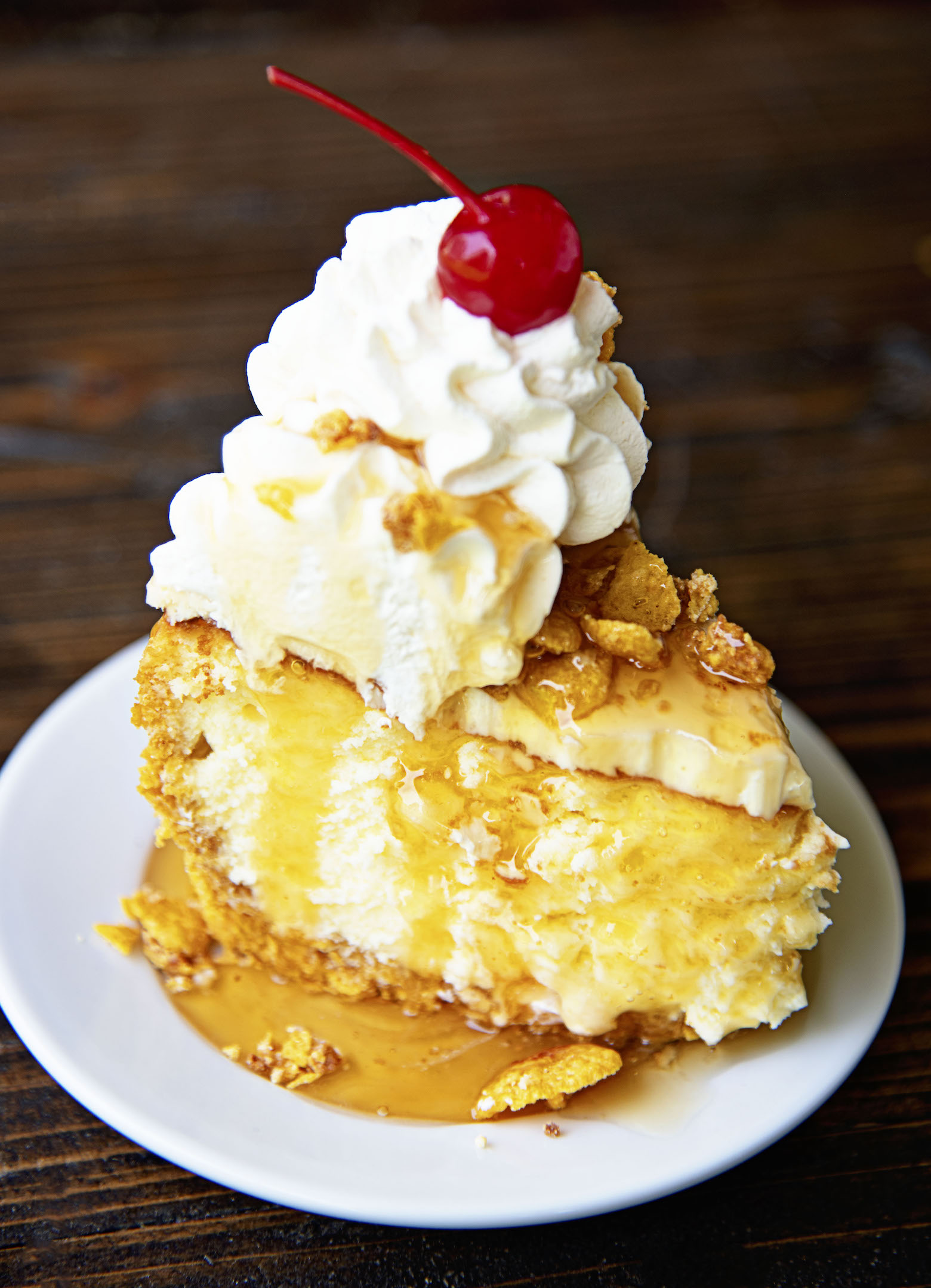 Want More Cheesecake Recipes?
Chocolate Chip Cookie Dough Cheesecake
Strawberry Pretzel Crusted Cheesecake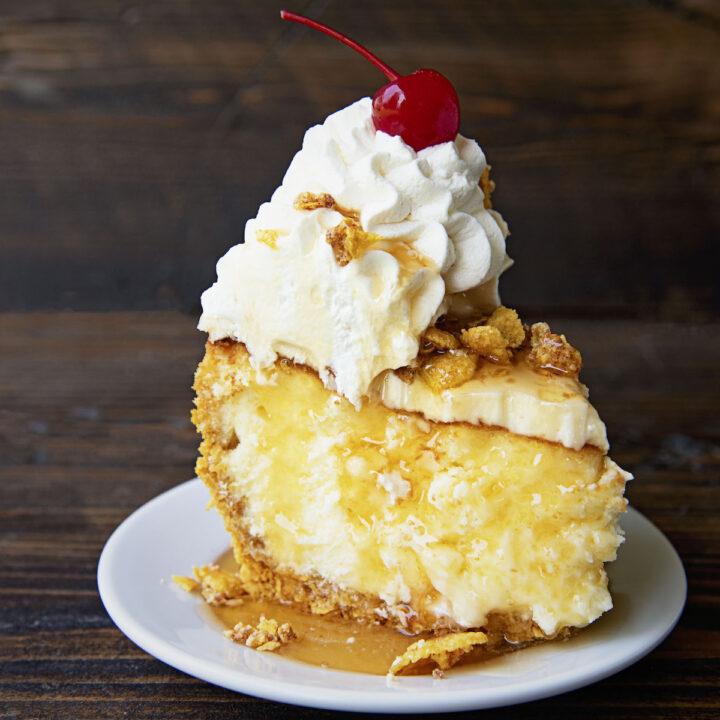 Fried Ice Cream Cheesecake
Ingredients
For the Cornflake Crust:
2 cups finely crushed Cornflake cereal
1/3 cup powdered sugar
1/8 tsp ground cinnamon
8-9 TBSP unsalted butter
pinch of salt
For the Cornflake Cinnamon Crunch:
2 1/2 cups Cornflakes
1/4 cup milk powder
1/2 tsp ground cinnamon
3 TBSP powdered honey
6 TBSP salted butter, melted
For the Filling:
2 1/2 lbs. (FIVE 8 oz packages) cream cheese, at room temperature
2 1/2 cups granulated sugar
2 TBSP flour
5 eggs
2 egg yolks
1 TBSP vanilla extract
For the Honey Sour Cream Top:
1 1/2 cups sour cream
3 TBSP powdered honey
For the Whipped Cream:
2 cups heavy whipping cream
6 TBSP powdered sugar
4 TBSP powdered honey
Honey to drizzle
Instructions
For the Cornflake Crust:
In a large bowl add crushed Cornflakes, powdered sugar, cinnamon, powdered honey, and pinch of salt.
Toss them together.
Add about 8 TBSP melted butter.
Mix until combined.
If it seems like it needs more butter add the remaining TBSP (mine took the full 9 TBSP).
Pour contents into a 9-inch springform pan and press to form a shell. The crust will go high up the sides…you want this.
Bake crust for 10 minutes at 325F. Set aside.
Wrap the bottom and sides of the pan with a large piece of foil and put it in a large roasting pan. I actually use the silicone wrap and LOVE it. If you use the silicone put it on BEFORE you prebake the crust or let the crust cool completely. Or else you will get burnt hands.
For the Cornflake Cinnamon Crunch:
Preheat the oven to 275 degrees (F). Line a baking sheet with parchment paper or a silicone baking mat.
In a medium bowl with clean hands crush the Cornflake cereal. not too finely...just a little.
Add the milk powder, cinnamon, and powdered honey and mix until combined.
Add the butter and stir until the mixture is coated. Small clusters of cornflakes will start to form.
Spread the cornflake mixture out on the prepared pan. Bake for 20 minutes.
Remove the streusel from the oven and allow to cool completely.
For the filling:
Cream the cheese on medium speed until very soft and creamy.
With the mixer running, add the sugar.
Beat until well combined, at least 8 minutes to ensure no lumps.
Stop the mixer and scrape down the bowl.
On low speed add the flour.
Then add the eggs one at a time, stopping the mixer before adding each egg so that shell does not get into the batter. Or better yet break the egg in another dish and bring it over to be extra safe.
Scrape down the bowl at least twice while adding the eggs. Don't skip this.
Add the vanilla extract, vanilla powder, and freeze dried vanilla ice cream and beat until combined.
Pour cheesecake batter into the prepared pan with the crust in it.
Add enough hot water to the roasting pan to come about halfway up the sides of the springform pan.
Bake at 325F for 1 1/2 to 2 hours. Watch very carefully. If you see it getting too brown but still too jiggly then tent with foil.
You want it to just stop jiggling...then it's done.
For the Topping:
Combine all the ingredients.
Spread on top of the baked cheesecake after it has come out of the oven and set for 10 minutes.
Bake cheesecake again for 5.
Immediately pull it out and sprinkle 1 cup Cornflake Cinnamon Crunch on top of the sour cream mixture.
Place back in the oven for two minutes, then remove.
Let cool to room temperature.
Then refrigerate for at least 4 hours, preferably overnight.
For the Whipped Cream:
Using a stand mixer with the whisk attachment beat the heavy cream until soft peaks form.
Add sugar and honey powder and beat until stiff peaks form.
Place in a piping bag and pipe around the cheesecake. With one dab in the middle. Place a cherry on top of the middle whipped cream dab.
Sprinkle the Cornflake Cinnamon Crunch on top of the whipped cream.
Drizzle with honey and more Cornflake Cinnamon Crunch when ready to serve.