This Chocolate Malt French Fry Cheesecake has a brings the flavors of the combo of french fries dipped in a chocolate malt in cheesecake form.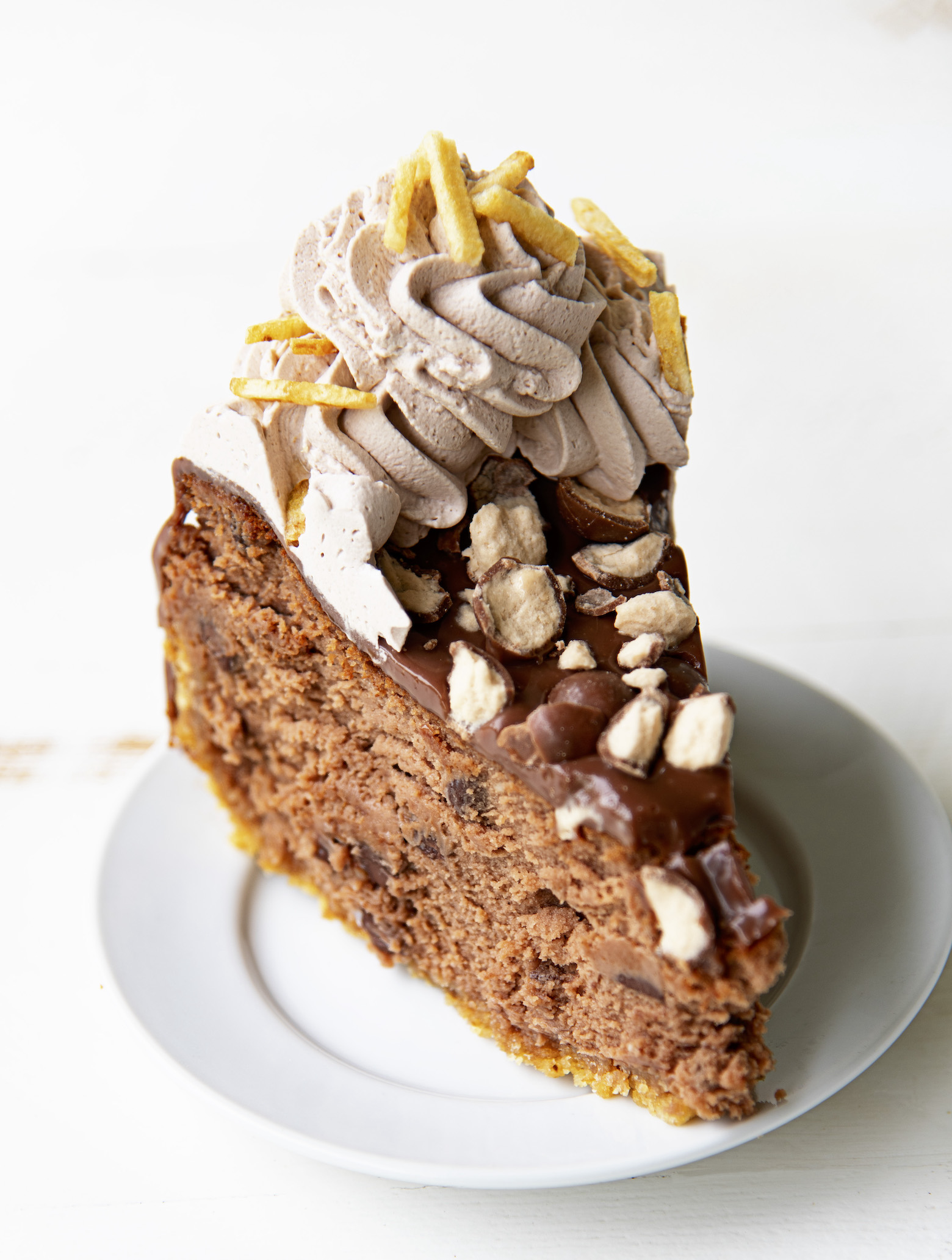 This Chocolate Malt French Fry Cheesecake is my ode to my love of dunking french fries into my chocolate malt.
Really, I dunk them into any milkshake or malt flavor.
Or a Wendy's Frosty.
Which is well, a chocolate malt. 🙂
Darn it all…now I want a Frosty.
Anyway, I love that salty sweet combo.
I remember thinking I was a weirdo for doing it.
Only to find out that a TON of other people do it too.
And now it's an acceptable out in the open kind of thing. 🙂
Which I then turned into a cheesecake.
Because of course I did. 😀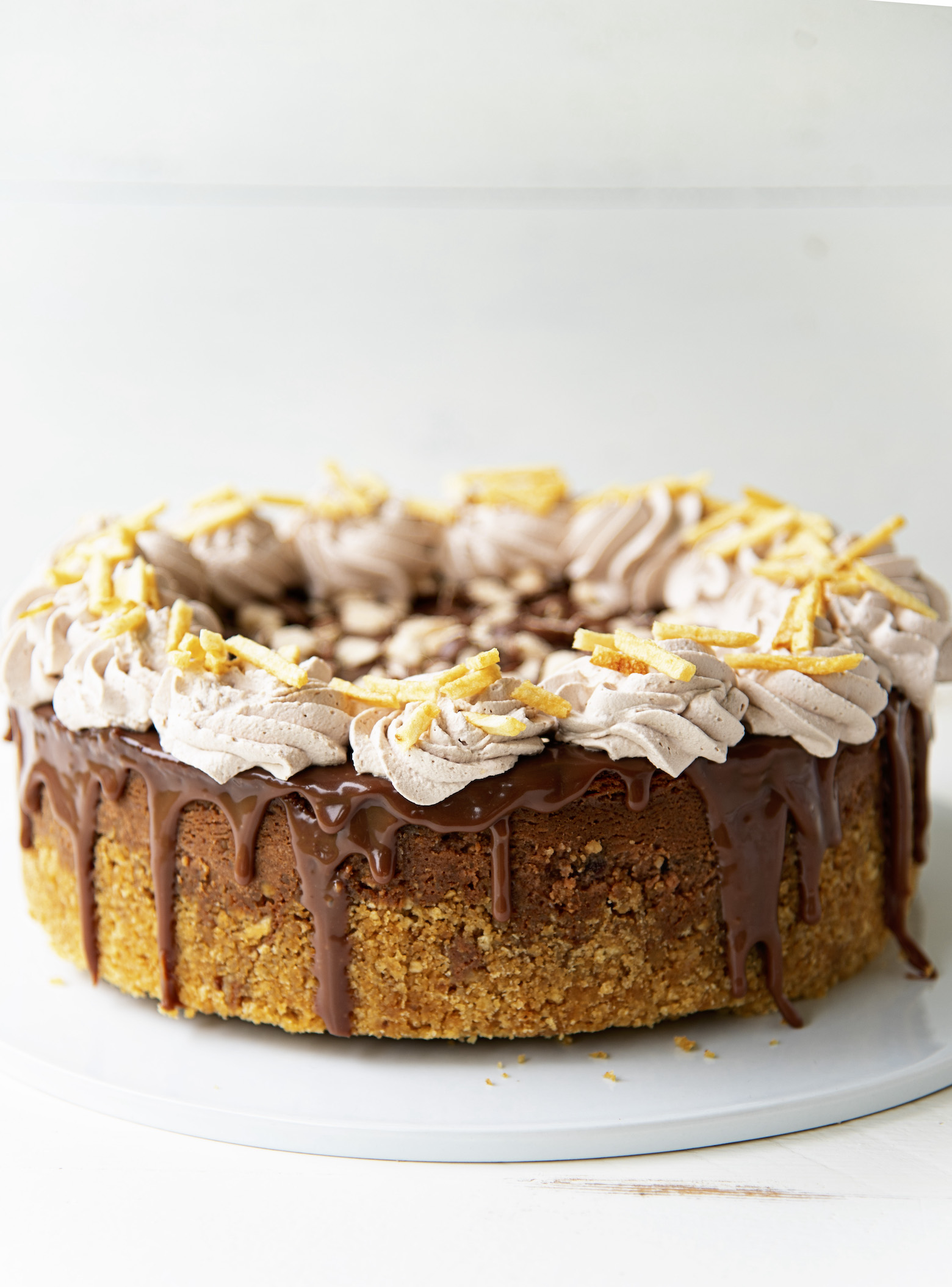 Now the chocolate malt part of this was easy.
They make chocolate malt powder.
You have chocolate.
They make malted chocolate candies.
Fairly easy peasy.
And there is chocolate in this baby.
In the cheesecake.
In a ganache on top.
And in the whipped cream.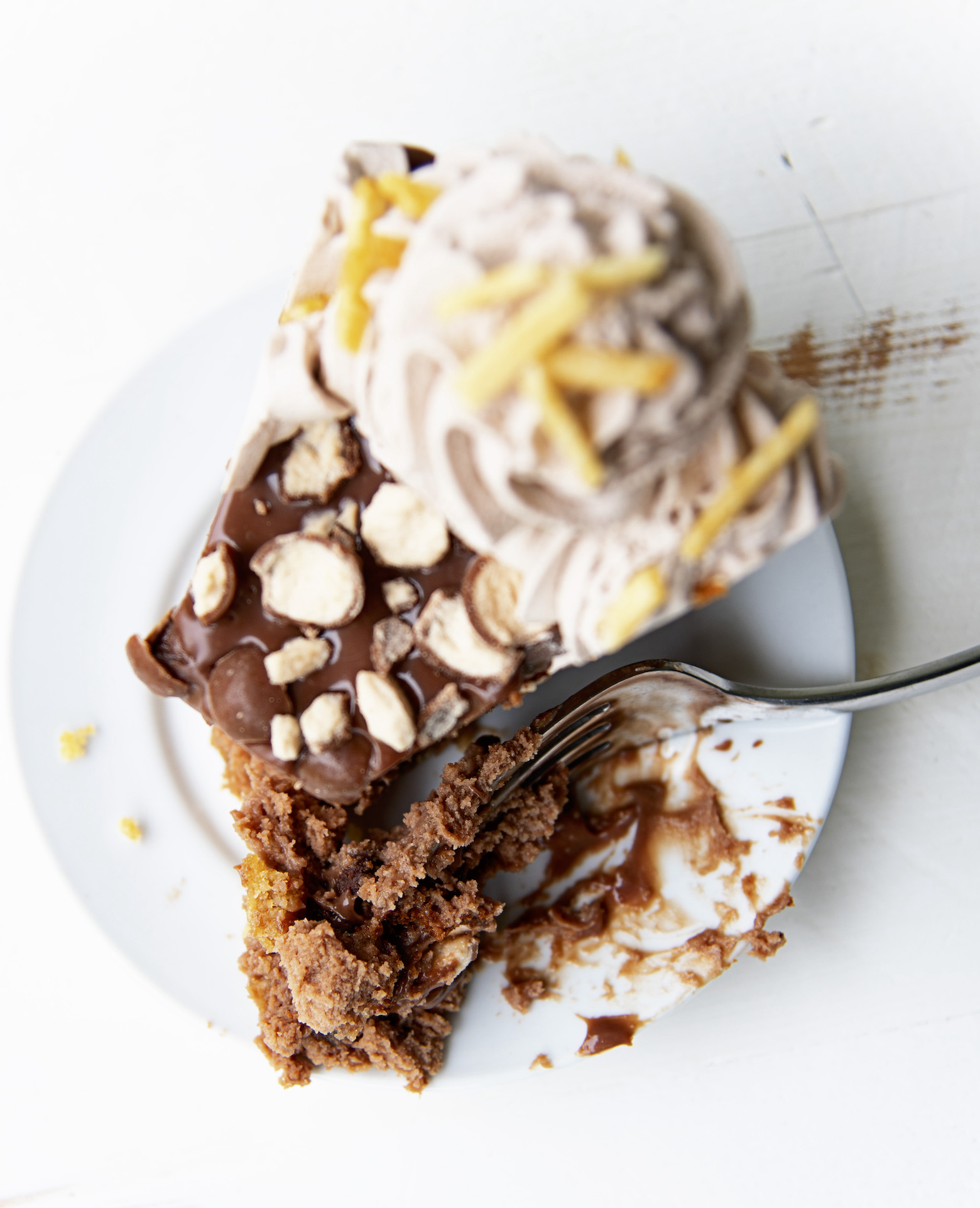 But the french fry part was a tad harder.
I actually did try several crusts.
With fries.
I toasted them.
Deep fried the crust…which kind of worked.
But most people don't own a deep fryer (but you should) so I didn't go that route.
Then I remembered…duh…I already made a donut that was chocolate malt and french fry.
And I used potato sticks as the fries.
It worked great.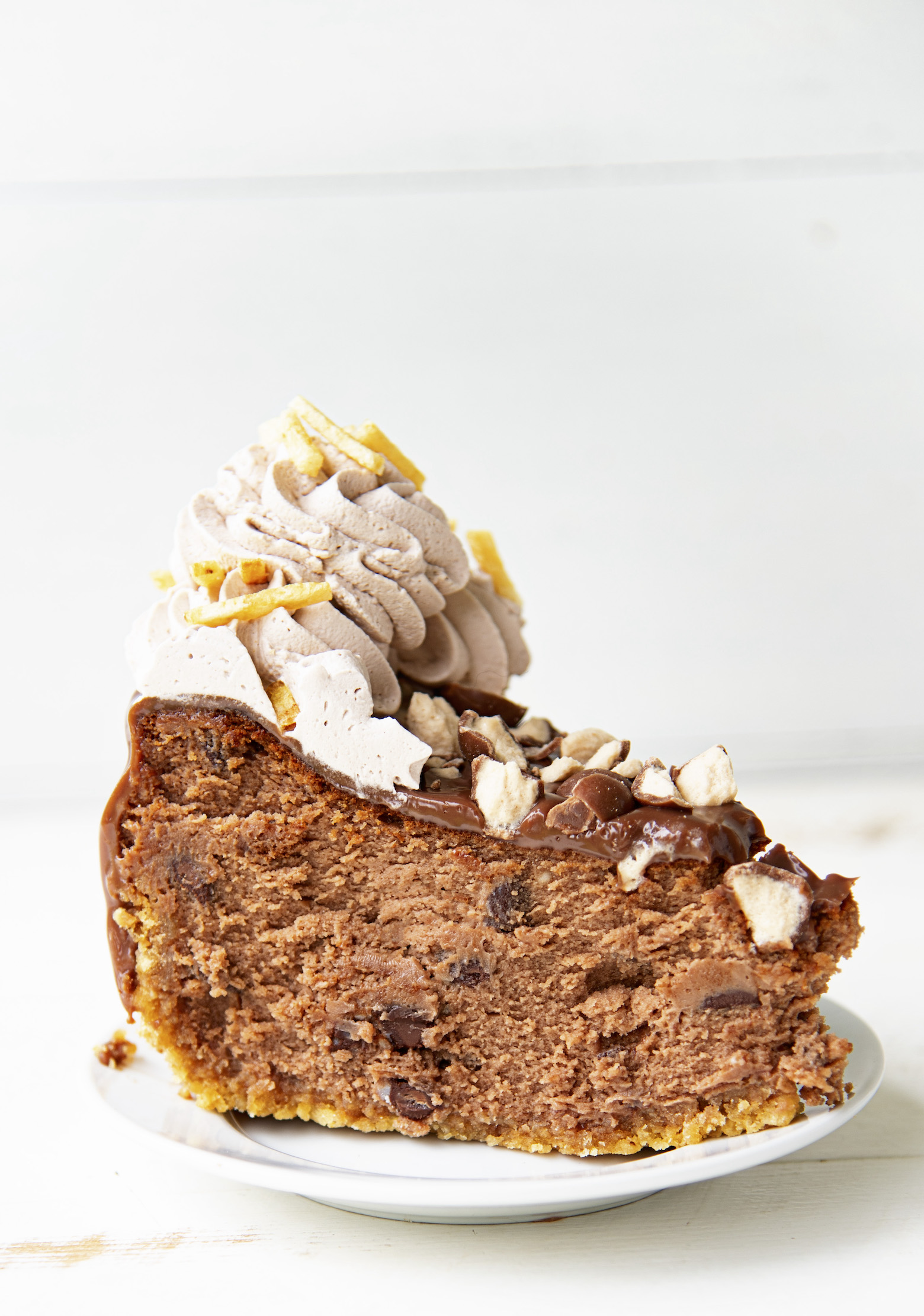 Really thought about adding some chocolate malted milk powder to the chocolate ganache as well but decided not to.
Want more malt flavor?
Feel free to add 2 TBSP to the ganache.
If you can't find chocolate malted milk powder and can only find malted milk powder just use that.
Then add 1 TBSP of unsweetened cocoa powder to it.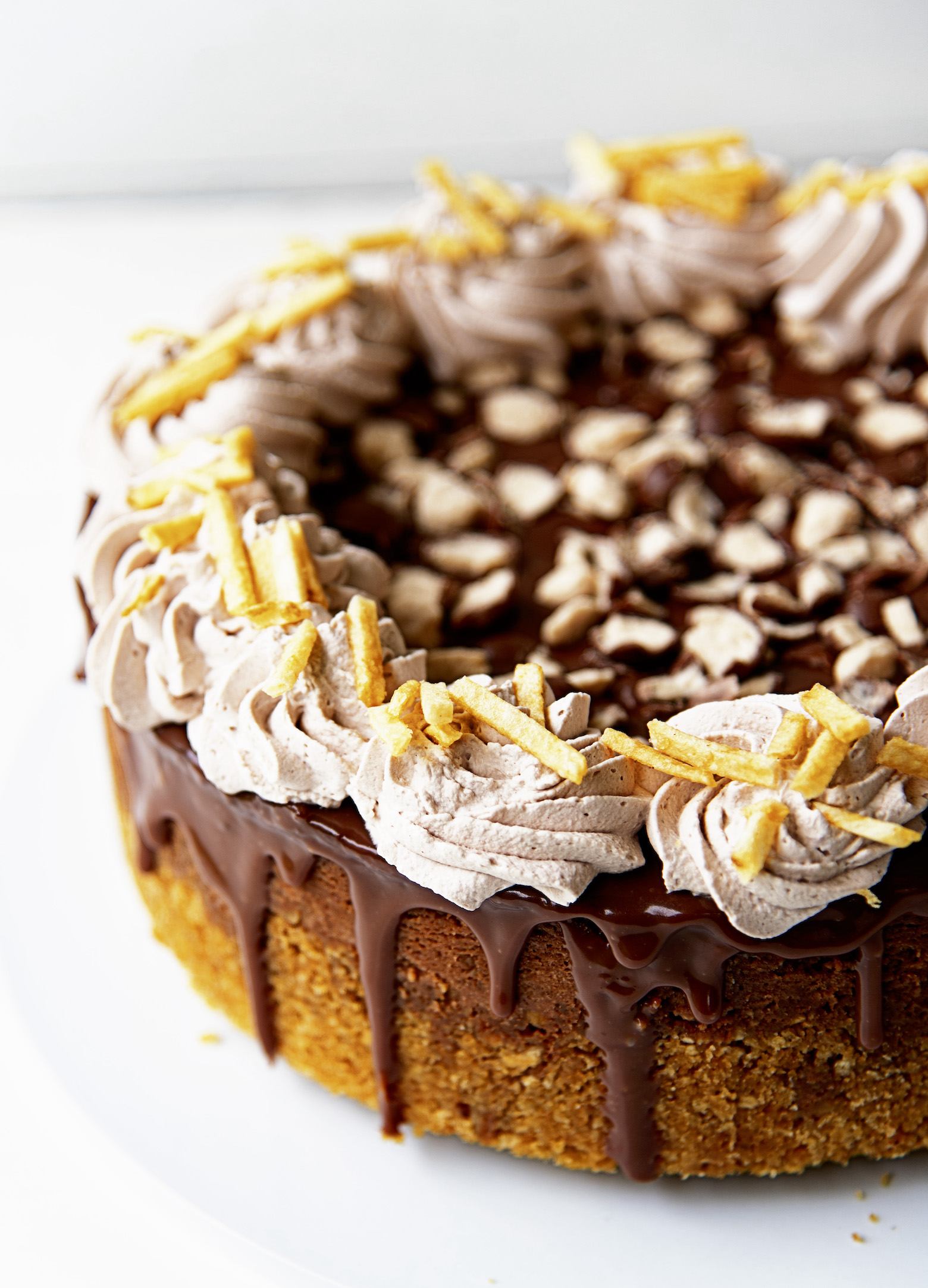 How did it taste?
Fantastic.
My husband doesn't even really like chocolate desserts.
I know, I know.
But he was chocolated to death for many years and kind of got burnt out.
But, boy did he LOVE this cheesecake.
He is also a big fan of salty sweet, so I think that helped a bit too.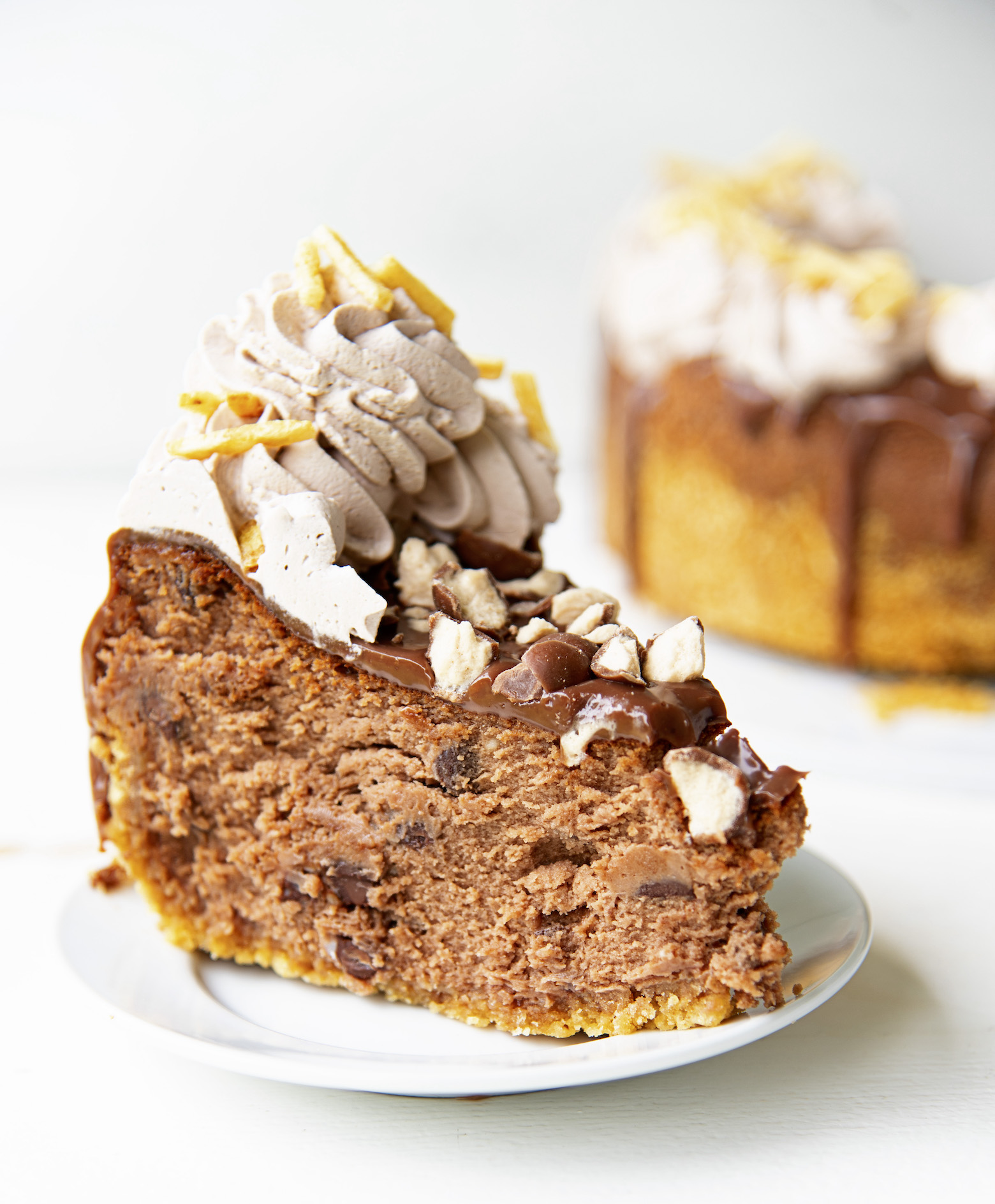 Do you have to use a bain marie (water bath)?
Technically no.
However, if you want a creamy cheesecake then, yes.
If you want to minimize the chance for cracks in your cheesecake then, yes.
The water bath does a wonderful job of keeping an even temperature for the cheesecake to bake in.
You will need to wrap your pan in foil so water doesn't leak into your springform pan.
Better yet, use one of the silicone wraps.
I like those way better.
Again, I linked which one I used in the recipe instructions.
This cheesecake has a lot of steps, but oh my, it's worth it.
Last but not least…It's a great time to buy my cookbook.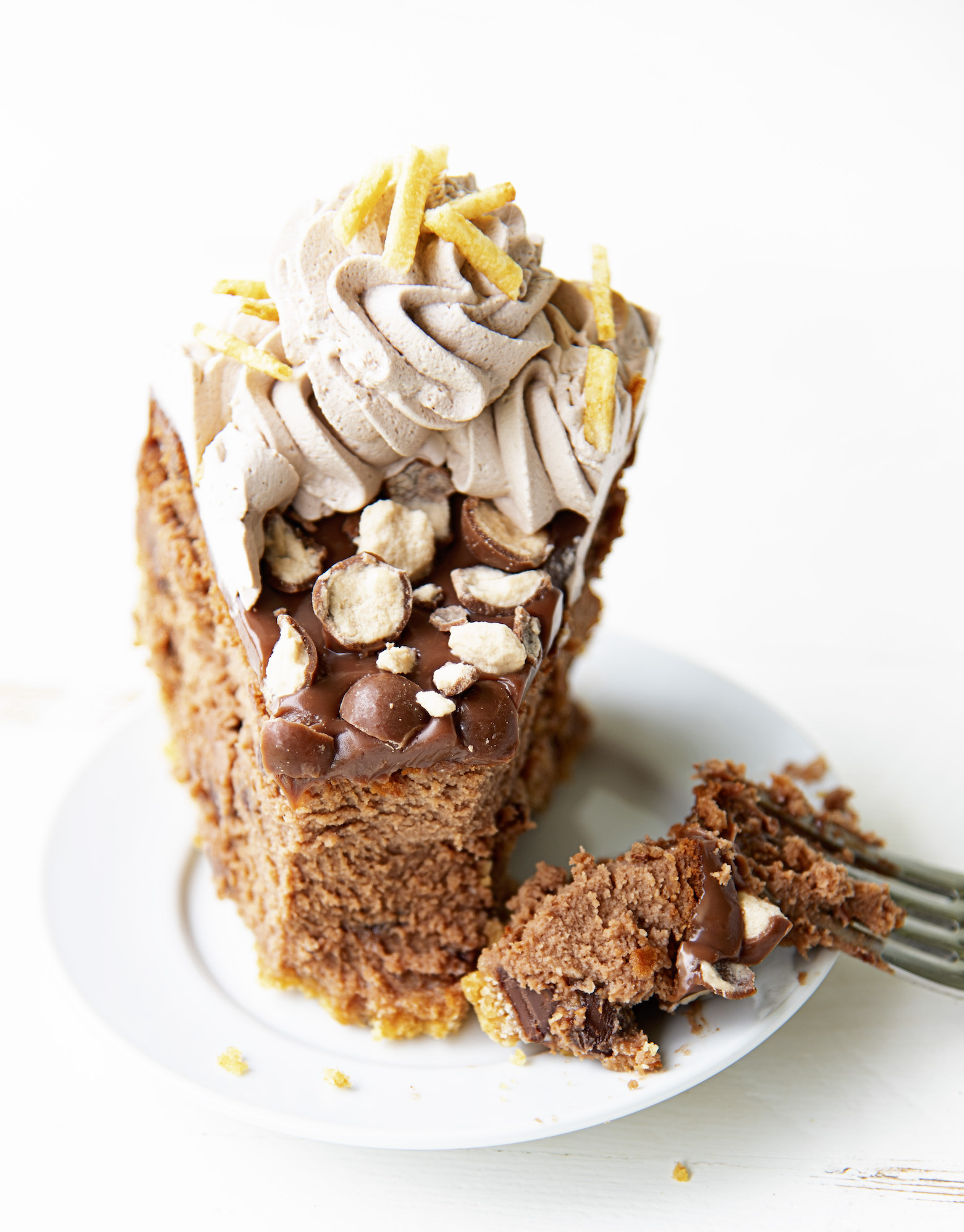 Want More Cheesecake Recipes?
Chocolate Chip Cookie Dough Cheesecake
Strawberry Pretzel Crusted Cheesecake
Chocolate Chip Cookie Cheesecake Sandwiches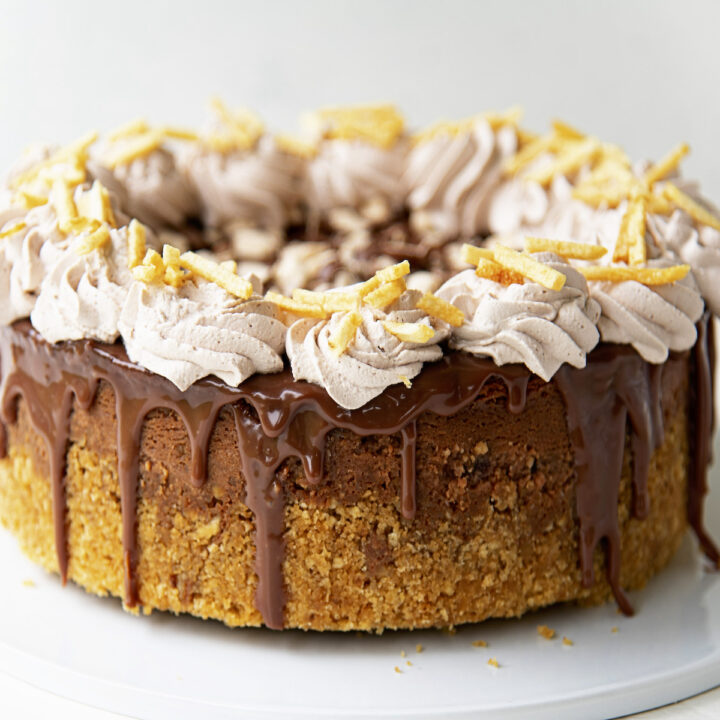 Chocolate Malt French Fry Cheesecake
Ingredients
For the Crust:
1/3 cup powdered sugar
7-8 TBSP unsalted butter
For the Filling:
2 1/2 lbs cream cheese, at room temperature
2 1/4 cups granulated sugar
5 eggs
2 tsp vanilla extract
1/2 cup chocolate malt milk powder( Carnation makes one that is at most stores)
8 oz milk chocolate, melted
1 TBSP all-purpose flour
1 cup chocolate chips
For the Chocolate Ganache:
1 cup heavy cream
2 TBSP light corn syrup
2 cups milk or semisweet chocolate (depending on your preference...I went with milk)
For the Chocolate Malt Whipped Cream:
½ cup heavy whipping cream
3 TBSP powdered sugar
¼ cup chocolate malted milk powder
For the Garnish:
potato sticks
crushed Whoppers candies
Instructions
For the Crust:
In a large bowl add finely crushed potato sticks and powdered sugar.
Add about 7 TBSP melted butter.
Mix until combined.
If it seems like it needs more butter add the remaining TBSP (mine too the full 8 TBSP).
Pour contents into a 9-inch springform pan and press to form a shell. The crust will go very high up the sides…you want this.
Bake crust for 10 minutes at 325F. Set aside.
Wrap the bottom and sides of the pan with a large piece of foil and put it in a large roasting pan. You can also use a silicone cheesecake wrap (that's what I do)
For the Filling:
Cream the cheese until soft.
Add in the sugar and mix well.
Decrease the mixer speed to low and add the flour.
Add eggs in one at a time scraping bowl down to make sure that there are no lumps.
Beat in the vanilla and chocolate malted milk powder for 30 seconds.
Add the melted milk chocolate mix until fully combined.
Toss the chocolate chips into 1 TBSP flour. Coat the chips with the flour (this helps them not sink)
Fold the chips and flour into the cheesecake.
Pour batter into the prepared pan.
Bake in a water bath at 350F for approx 2 hours.
Let cake sit at room temperature.
Then refrigerate for at least 4 hours, preferably overnight.
For the Chocolate Ganache:
Heat the cream and corn syrup in a saucepan or in the microwave, until the mixture begins to steam.
Pour over the chopped chocolate in a bowl. Let sit for 5 minutes. Stir — at first slowly, then more vigorously — until the chocolate is completely melted. If necessary, reheat very briefly to soften any remaining hard bits of chocolate. Flavor to taste (see "tips," below), if desired.
Use ganache while the chocolate is still warm, but has begun to thicken. Reheat if it thickens too much as you work.
Leftover ganache may be stored in the refrigerator, covered, for at least a week. Reheat at a low temperature to make it spreadable or pourable.
For the Chocolate Malt Whipped Cream:
Beat the whipped cream on high using a whisk attachment.
Beat until stiff peaks form, add sugar and chocolate malted milk powder and beat another 30 seconds or until fully combined.
To Assemble the Cheesecake:
Remove cheesecake from the springform pan.
Pour ganache on top of the cheesecake and spread with a spatula until it's smooth. You may not use all tha ganache. I saved some to heat up and serve with the cheesecake when I served it.
Pipe whipped cream on the cheesecake in whatever pattern you want.
Garnish with potato sticks and crushed Whoppers candy if desired.