This Chocolate Chip Cookie Cheesecake Sandwich are mini vanilla ice cream flavored cheesecakes sandwiched between two chocolate chip cookies.
This Chocolate Chip Cookie Cheesecake Sandwich probably should have never been invented.
I feel that way about a few things I make…Salted Pretzel Sticky Buns are a good example as well.
Why do I post something I say shouldn't have been invented?
They should not have been invented because they are addictive.
And portable.
Portable and addictive are a bad combo. 🙂
All joking aside, these turned out fantastic.
Like, so fantastic.
I took one bite and thought where have these been all my life.
The second thought was uh oh. 😛
These are basically a Chipwich but in cheesecake form.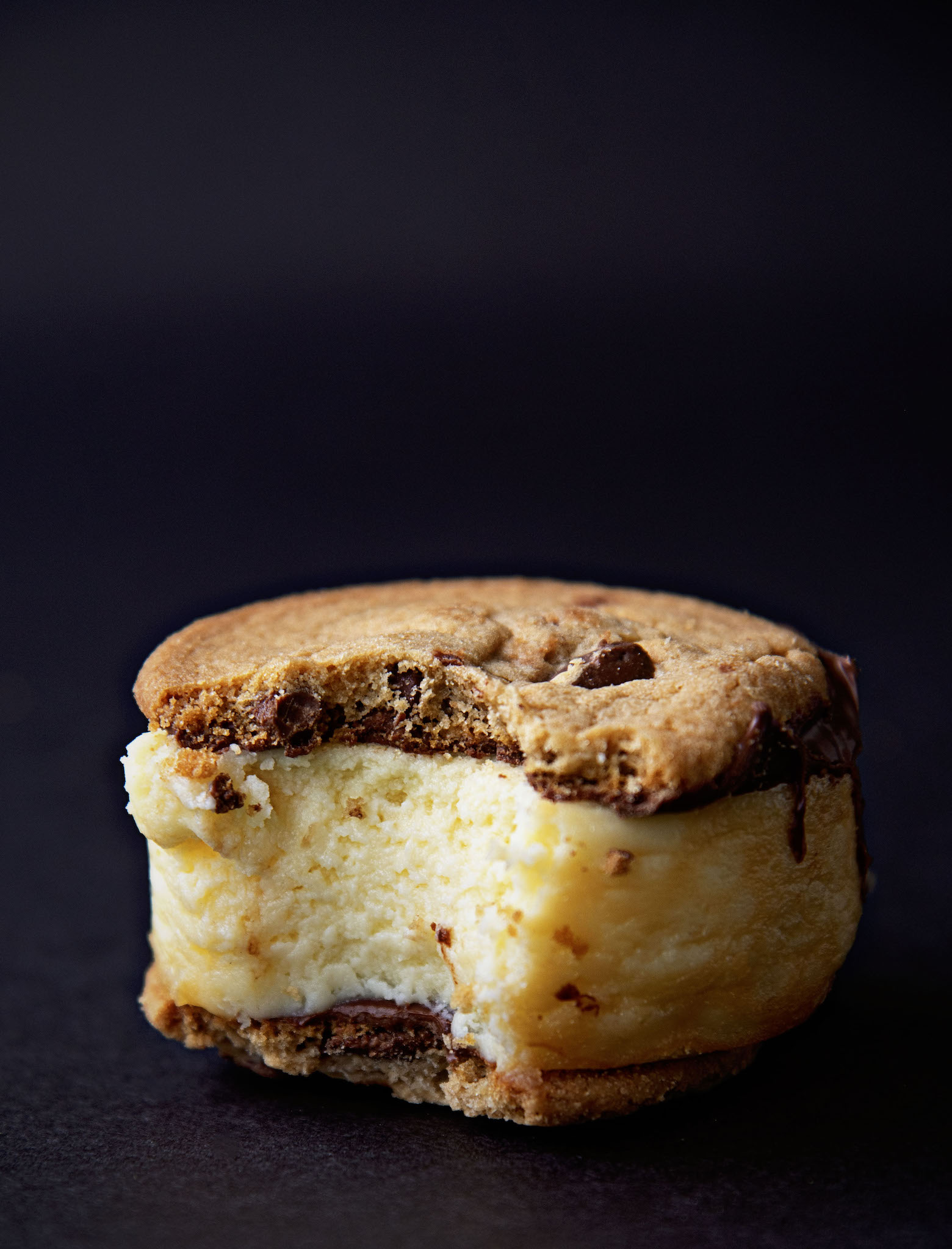 While you do have to turn on the oven to bake them, because they are mini, it only takes 25 minutes.
Which is nice in the warmer months when you don't want your oven on long enough.
And you don't have to bake these in a water bath.
You do however need a special pan for this.
If you don't want to buy the pan you can always bake a full cheesecake and cut out the cheesecake rounds.
I discourage you from trying to bake them in a regular muffin tin.
As they do not get the height and they are not the same size on the top as they are the bottom.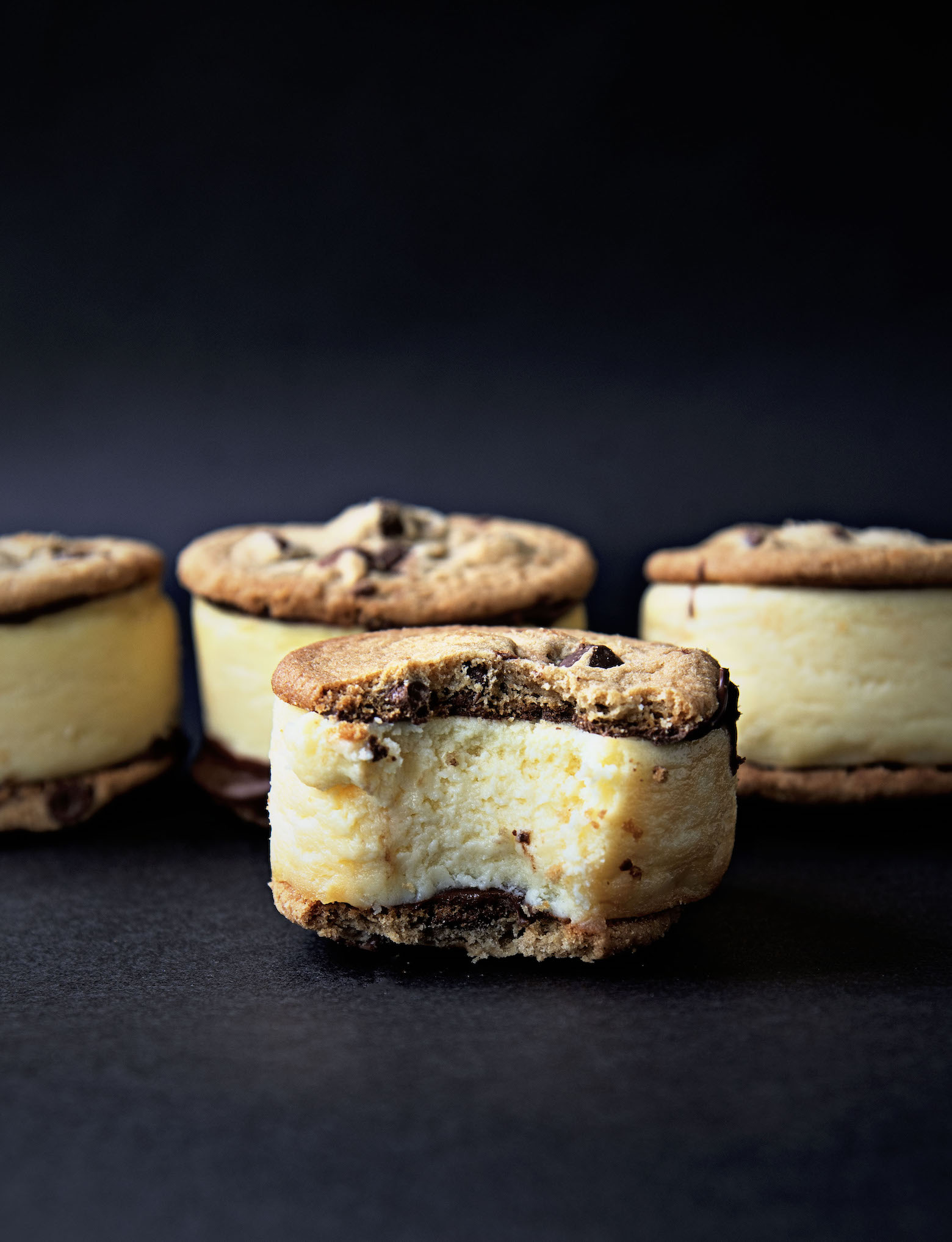 The chocolate chip cookie was quite a quest.
I didn't know what type I wanted.
I just went with store bought because I didn't want to turn the oven on.
I'm trying to make these as warm weather friendly as I can. 🙂
For a bit I felt like Goldilocks trying to find the best fit.
Originally I bought Chips Ahoy.
Which, when did those become so small.
My husband asked me if they were minis.
They were not.
The ones that came from the store bakery were too big. They chewy ones were too soft.
Others were too thick.
Then I found Pepperidge Farm Farmhouse Thin and Crispy Milk Chocolate Chip Cookies.
Not only were those the right size but they were the right thickness.
In my opinion they work the best for these.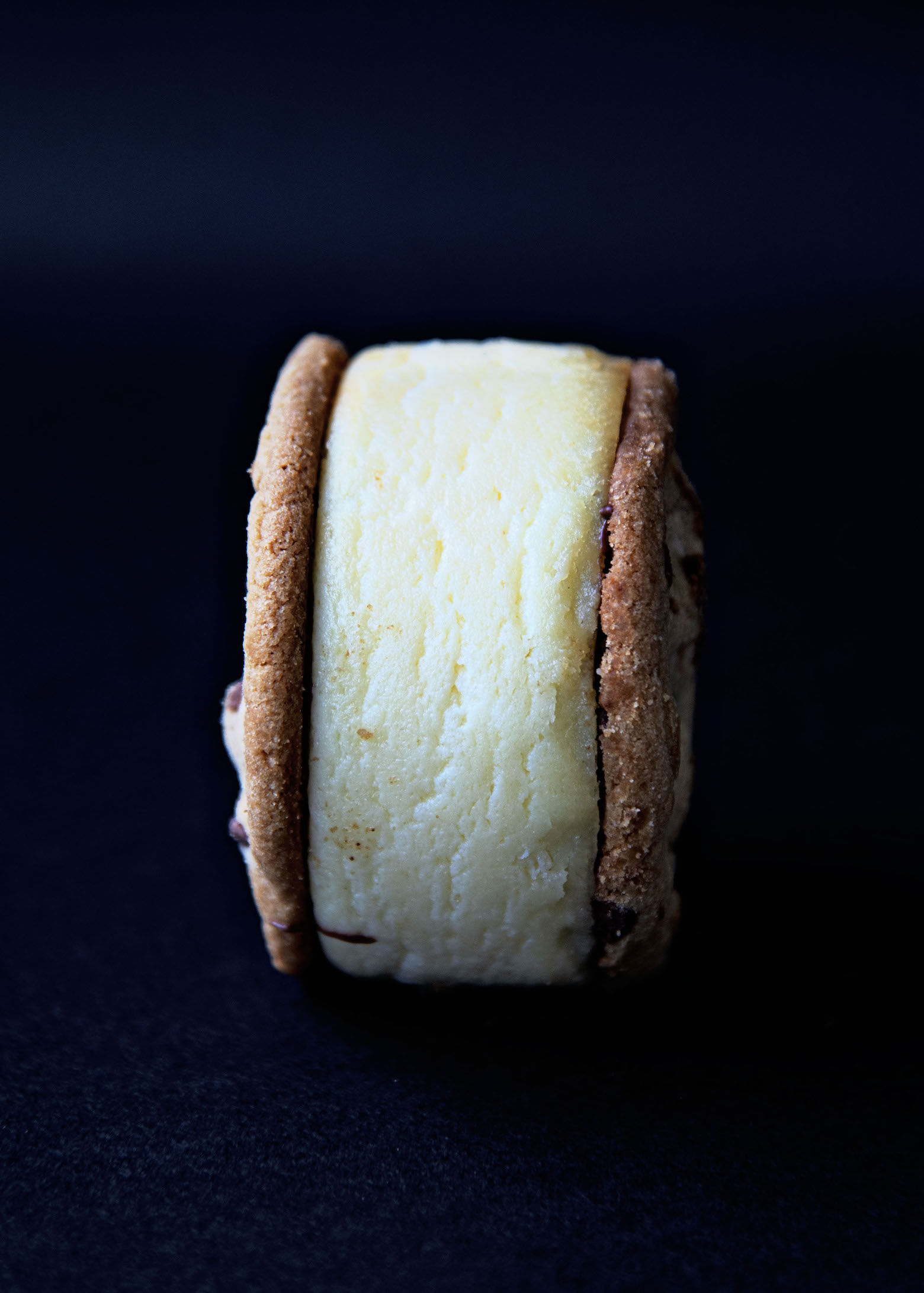 The cheesecake itself is basically a vanilla cheesecake kicked up a bit.
With some powdered vanilla and some crushed up freeze dried vanilla ice cream.
You don't have to use the freeze dried vanilla ice cream but you won't get as much ice cream flavor to you cheesecakes.
You may love me or hate me for inventing these.
My guess will be a combo of both. 😀
And oh yeah, it's a great day to buy my cookbook.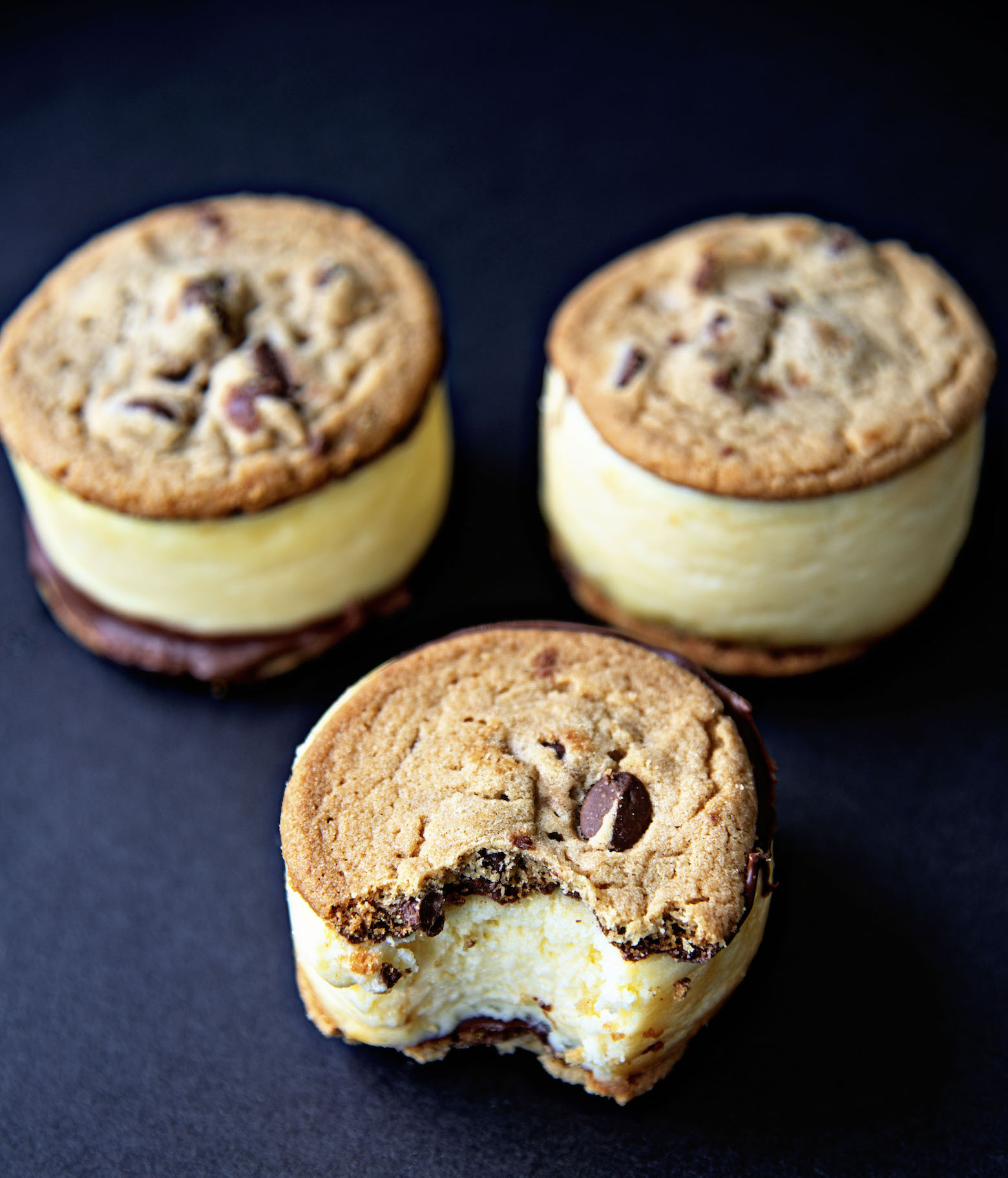 Want More Cheesecake Recipes?
Chocolate Chip Cookie Dough Cheesecake
Strawberry Pretzel Crusted Cheesecake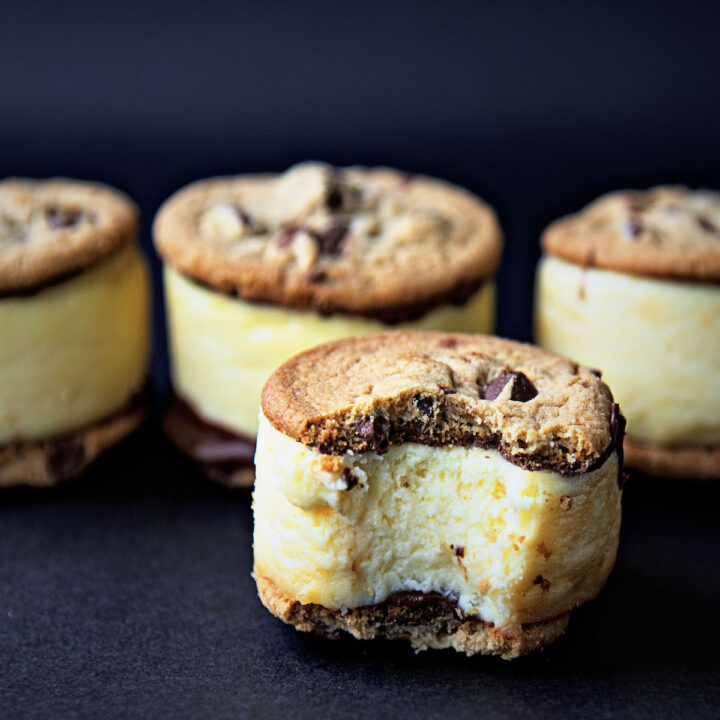 Chocolate Chip Cookie Cheesecake Sandwich
Ingredients
12 Pepperidge Farm Farmhouse Thin and Crispy Milk Chocolate Cookies (or make your own)
6 oz milk chocolate
For the Cheesecakes:
16 oz (two 8oz packages) cream cheese, at room temperature
1 cup granulated sugar
2 eggs
1 egg yolk
2 tsp vanilla extract
1 TBSP flour
Instructions
For the Cheesecakes:
Preheat oven to 350F.
Wrap your pan in aluminum foil so that there is no leakage since the mini cheesecake pan uses a removable bottom.
Spray the pan with baking spray. Make sure to get all the way in the pan.
Using a stand mixer with the paddle attachment, beat together the cream cheese and granulated sugar. You want to do this for at least 5 minutes. To get a smooth cheesecake.
Add the eggs one at a time, scraping down the bowl after incorporating each egg.
Add the egg yolk and scrape down the bowl after incorporating the egg yolk.
Add in the freeze dried vanilla ice cream, vanilla powder, vanilla extract, and the flour and mix until fully combined.
Divide the cheesecake batter between the 6 cups in the pan.
Bake for 25 minutes.
Remove from oven and let cool to room temperature.
Move to fridge and let chill for at least 4 hours.
To Make the Sandwiches:
Melt the 6 oz milk chocolate over a double boiler or in the microwave.
Coat a thin layer of milk chocolate on the bottom side of a chocolate chip cookie.
Then place the cookie on the bottom of the cheesecake.
Take another cookie and coat a thin layer of milk chocolate on the bottom side of the cookie and place it on top of the cheesecake. So that it creates the sandwich.
Repeat until you have 6 sandwiches.