Chocolate Malt and French Fry Donuts are cake donuts glazed with Chocolate Ice Cream Glaze and topped with Shoestring potato chips.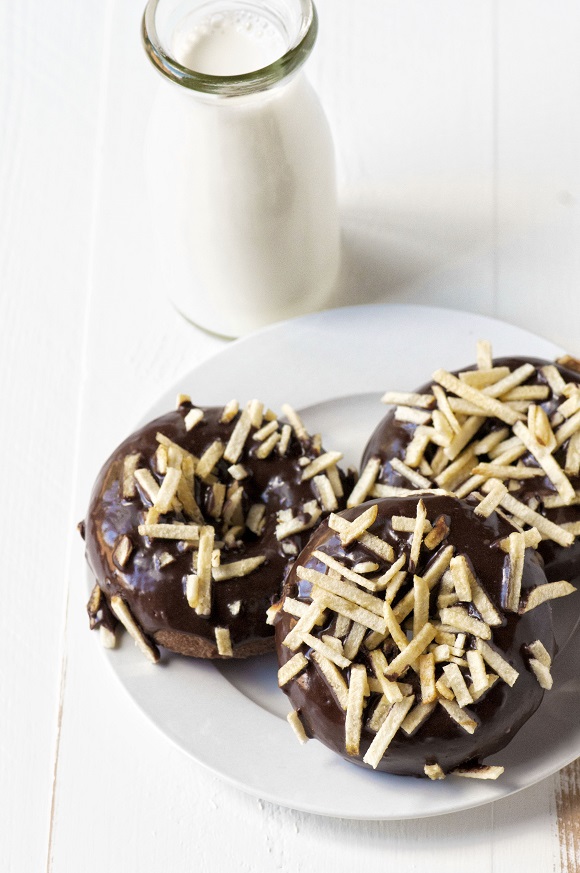 First off just want to address the two most asked questions as of late…no I am not pregnant.
Nor am I stoned. 🙂
I have just been coming up with some odd combos…today's recipe is a good example of that.
When I go on road trips of flights I have a bad habit of buying things like US Magazine or other gossipy type ones.
One thing I always laugh at is their Celebrities: they are just like us category.
Where they have photos of celebs buying groceries, pumping gas, or ordering a Starbucks.
Wow, they are just like me.
Not.
When I was little I used to love to dunk French fries into Wendy's Frostys (and by little I mean like last week).
I thought I was really, really weird.
Which for the record I am.
But I thought I was the only person doing this.
Turns out, lots of people were just like me in doing this…probably even a few celebrities!
So when eyeing some little kids Frosty the other day it got me thinking that I need to figure out how to use those flavors in a dessert.
I also wanted a donut.
Thus the idea began.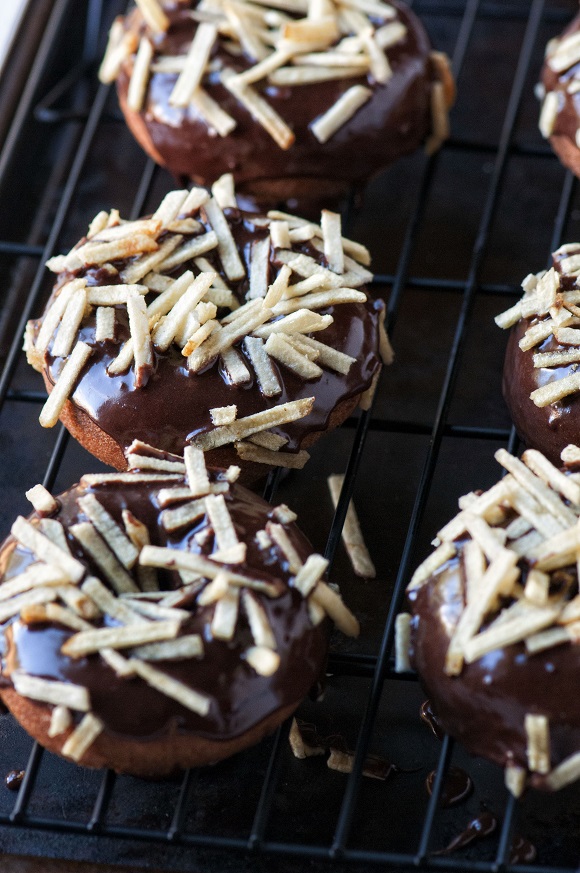 Kita wanted me to do raised donuts.
I really wanted a cake donut.
Which was odd because normally I am a raised girl.
But for some reason I felt that these needed to be cake.
Yes I used melted ice cream because well I was going for ice cream flavor.
I went with the shoestring potato chips because I just felt the fries would get soggy.
Even the chips get soggy after a few hours…so keep that in mind when you are making these that you are going to want to eat them the day of.
Last but not least…it's a great time to order my cookbook.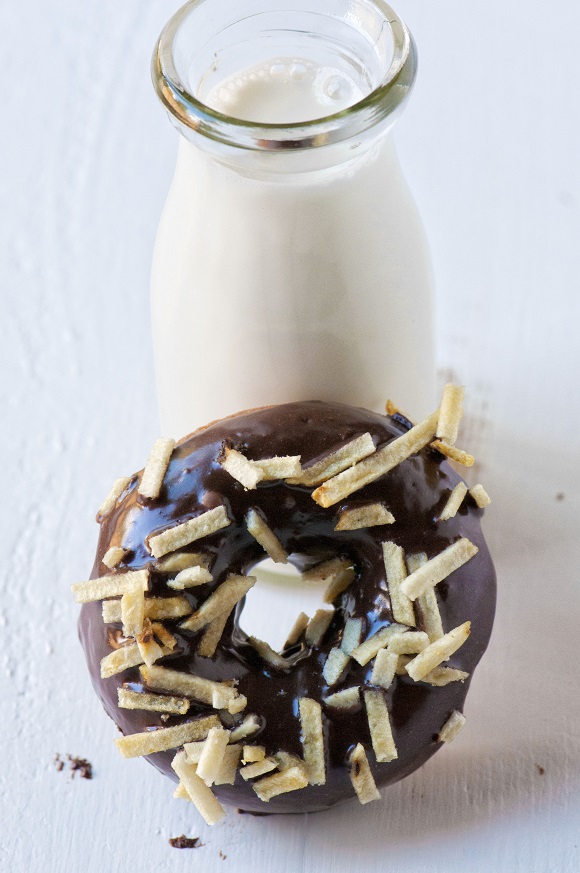 Want more Donut recipes?
Coffee and Donuts Cheesecake Cheeseball
Vanilla Bean Glazed Soft Pretzel Donuts
Glazed Donut Strawberry Shortcake Boozy Milkshake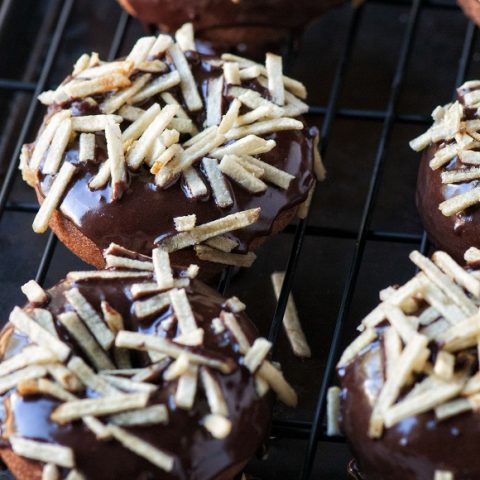 Chocolate Malt and French Fry Donuts
Ingredients
3 cups crush shoestring potato chips (like Pik-Nik)
Glaze:
4 oz. semisweet chocolate chips
1/2 cup (4 ounces) melted chocolate ice cream
2 TBSP light corn syrup
4 TBSP malted milk powder
1 tsp. vanilla
Instructions
In a small saucepan add the melted ice cream and heat until just about to boil.
Add the chocolate chips to the saucepan and remove from heat. Let sit for 5 minutes.
Then whisk together. If all the chips did not melt, heat over low heat until they melt with the ice cream.
Whisk in the corn syrup, malted milk, and vanilla.
Dip one side of donut into chocolate glaze.
Top immediately with potato straws (aka French fries).