This Chocolate Caramel Pretzel Pie has a pretzel pie crust, fluffy chocolate caramel filling and topped with caramel whipped cream.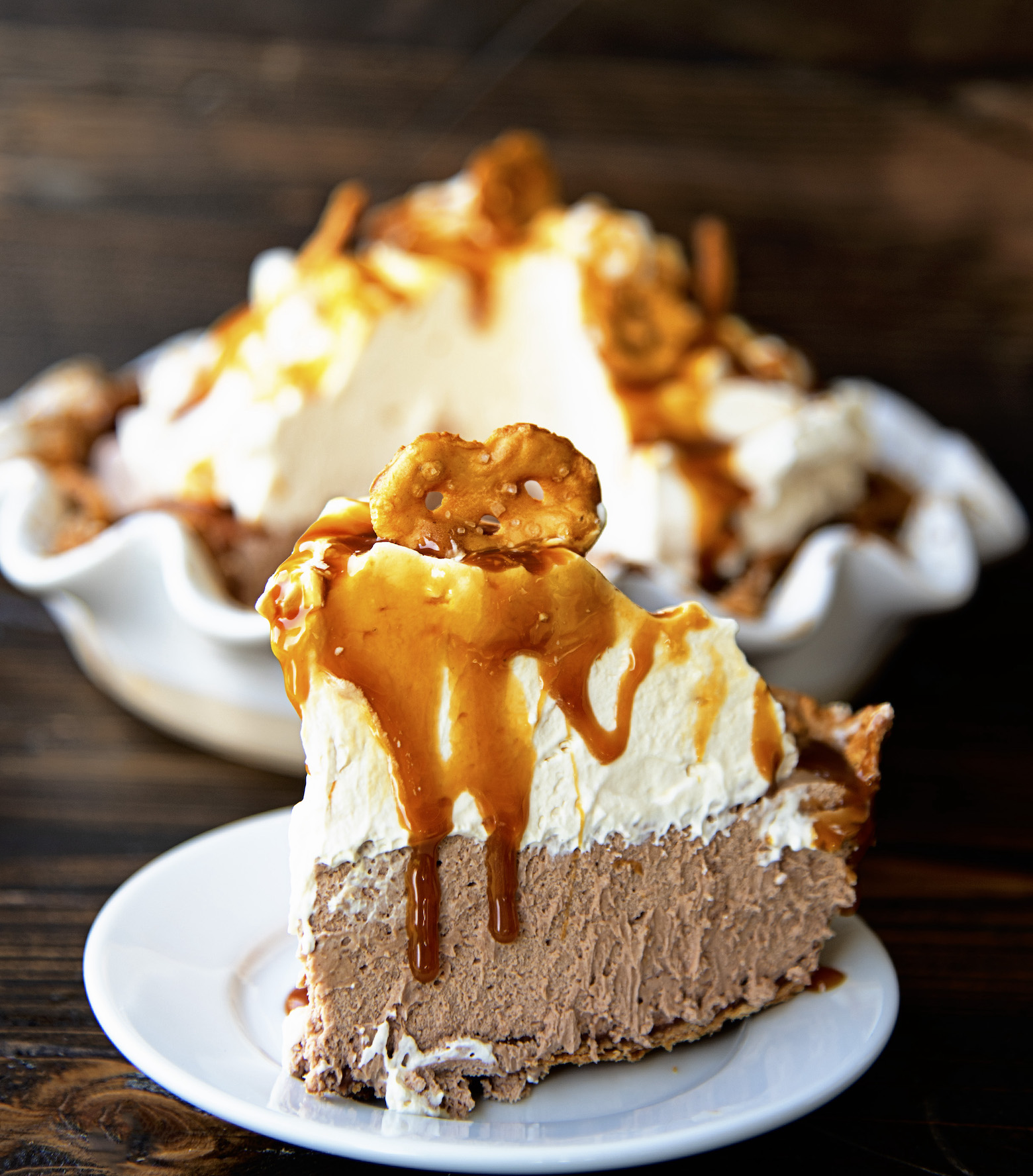 This Chocolate Caramel Pretzel Pie falls into the ugly delicious category.
Oh sure it looks good with the caramel dripping down but it's crust is very not pretty.
But oh so tasty.
I've had the idea to make pie crust into a pretzel ever since I made the Salted Pretzel Stick Buns.
I originally had the idea to make a white chocolate candy cane filling at holiday time.
Which I did.
And it was awesome.
However, it was made for family and I didn't get any photos of it.
I will make it again come this holiday season and put it up on the blog.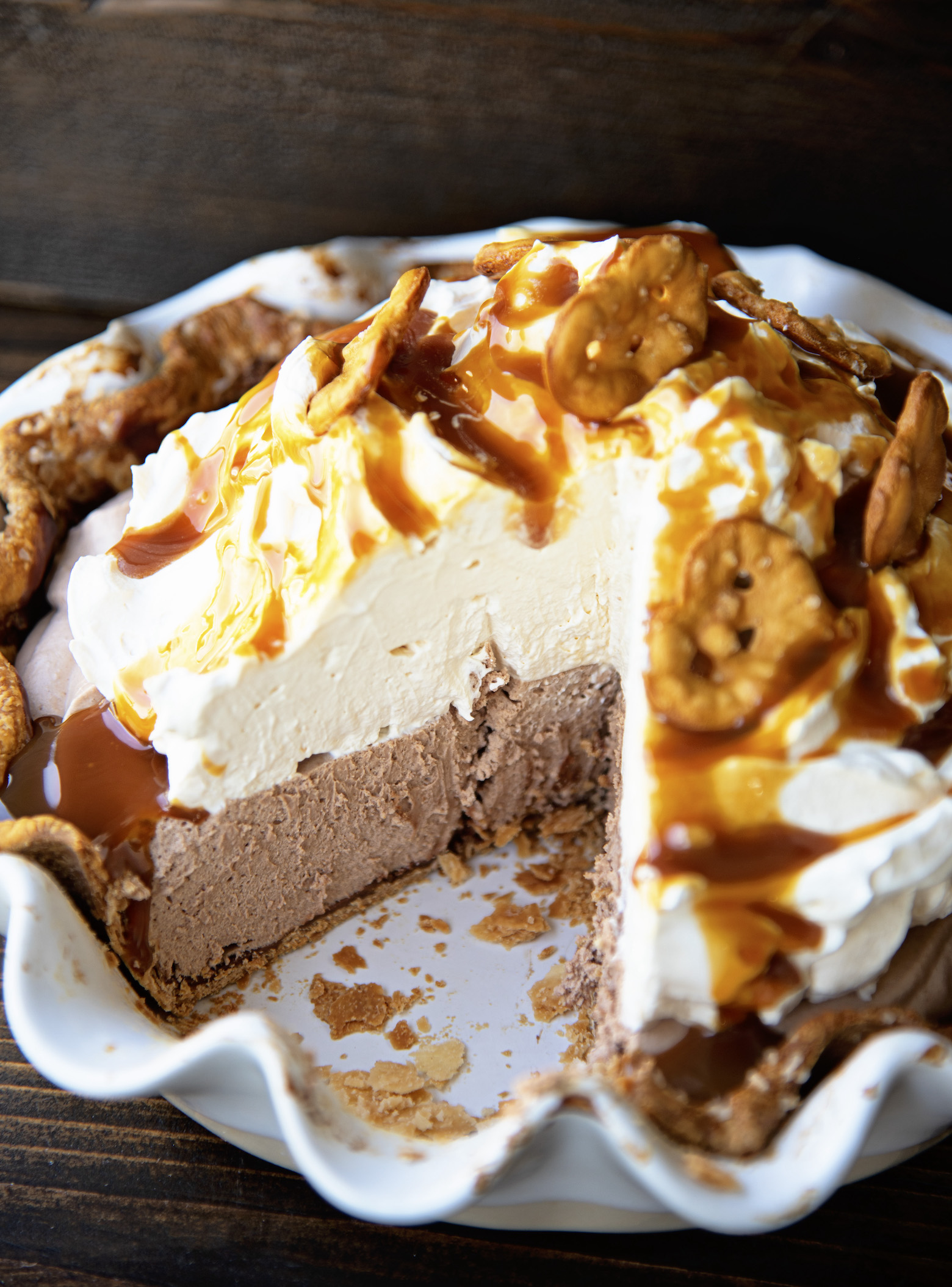 Figuring out how to make it a pretzel crust was an amusing adventures with a lot of fails. 🙂
See, when you make the stick buns you actually roll the dough into a pan of boiling baking soda water very quickly and remove it.
So I thought, gee, I'll do that.
What that resulted in was the pie crust looking similar to Salvador Dali's The Persistence of Memory painting.
Trying to get it to the pie pan was like a I Love Lucy episode.
So then I tried it with the water being warm.
Nope.
Still soggy pie crust dripping and falling apart as I transfer it to the pie pan.
Then I tried it with cool water.
Same result.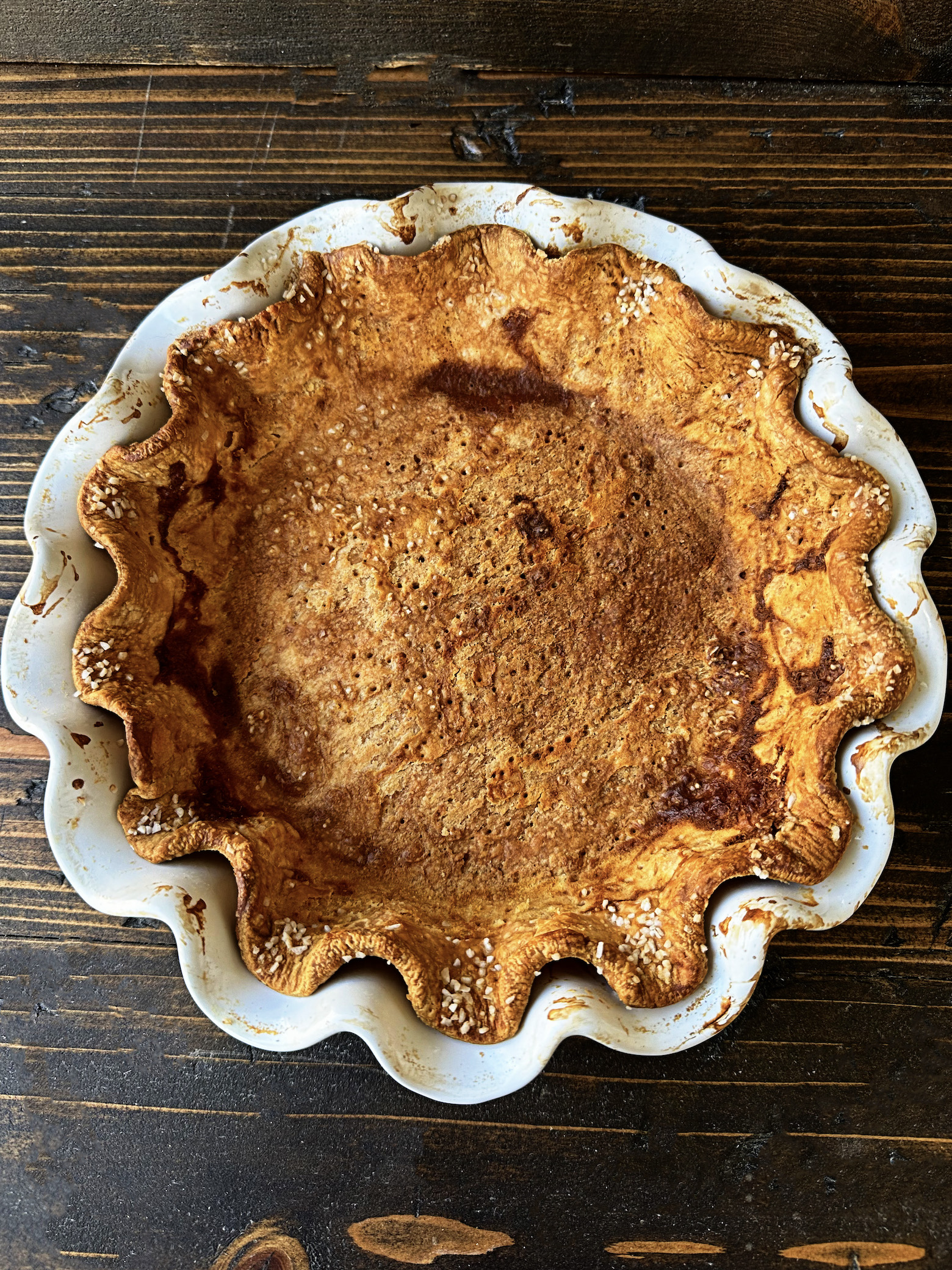 Round two of Peabody vs the pie crust resulted in me rolling out the dough and then freezing it.
Then putting it into the baking soda mixture.
Which worked better than the first way but made for a slimy mess by the time I got it to the pan.
My big issue was always getting it to the pan.
So I figured I have to start with the pie crust in the pan.
Okay, now what?
This time I boiled a larger batch of the baking soda mixture in a giant soup pot.
I let it cool as I froze the pie crust in the pie pan and didn't want it to break going from cold to hot.
Then I dipped the pie crust into the pot and submerged it briefly.
This did actually work.
However, I own Emile Henry pie pans.
I own a lot of them. 😀
And those are very hearty and amazing and you all should own one.
They can go straight from freezer to either oven or microwave.
The pans (all their stuff) is amazing like that.
Pricey but my one from 18 years ago still looks brand new…and it's not because I don't use it.
And it was a pain to have to dip it into the water.
I tried to picture my readers trying to do that and realized that was not going to be doable for most people.
And they could most likely ruin their pie pan if they didn't have an Emile Henry.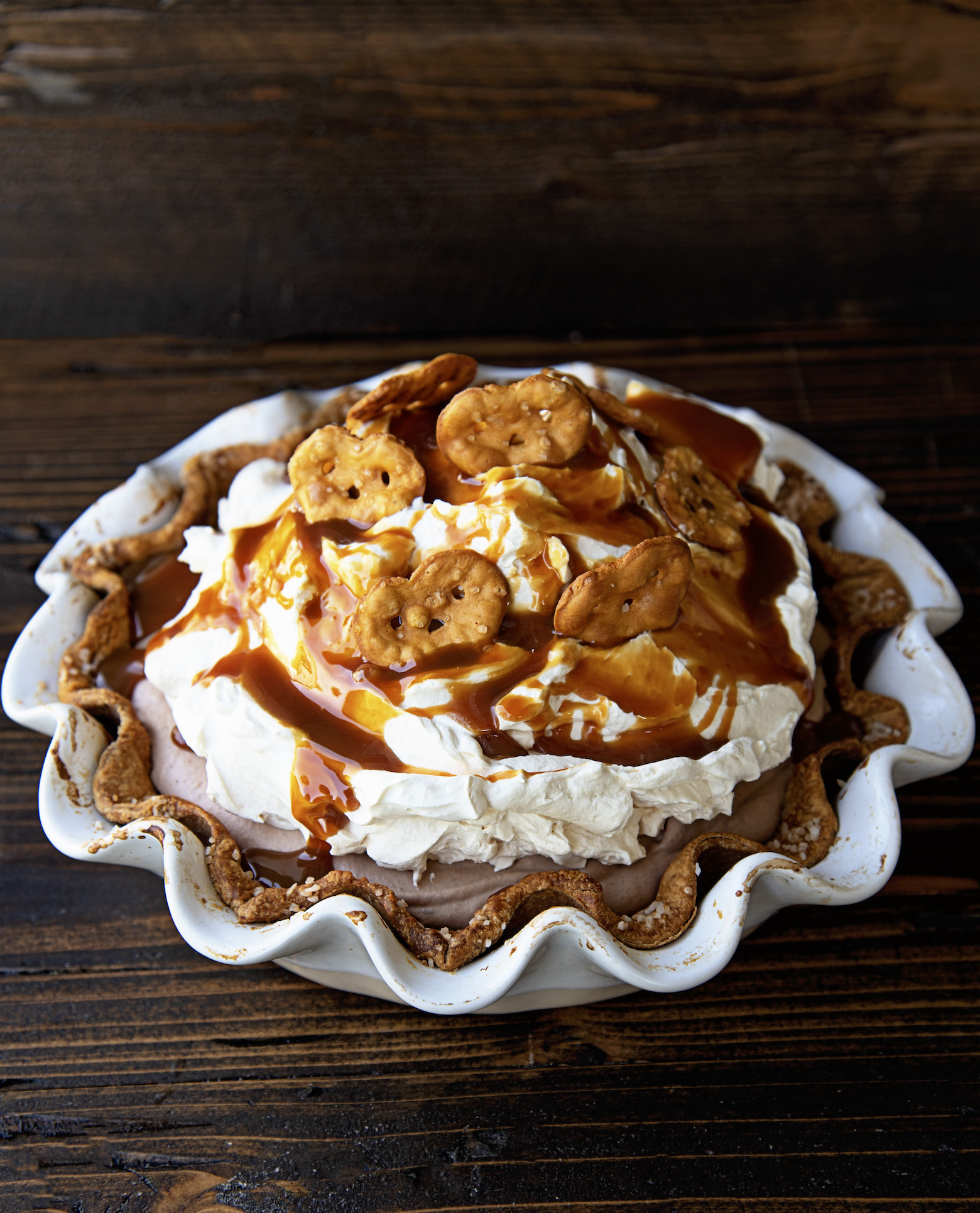 The solution was to brush the baking soda mixture on to the pie.
While it seems so freakin obvious to me now, I was stuck on it having to be submerged for some reason.
I found that I had to brush it a few times.
Testing it with just one brushing did not result in a pretzel like texture.
Three times was the magic number.
Be sure to get pretzel salt.
If you use regular or even sea salt it gets too salty.
So there you have it.
After 60 plus hours of testing I finally did figure out how to do the crust.
And now we are addicted to it.
Like if I have leftover pie crust from anything now, I just roll it out, put on a cookie sheet.
Then brush it with the baking soda mixture a few times and sprinkle with pretzel salt.
They make great pretzel chips.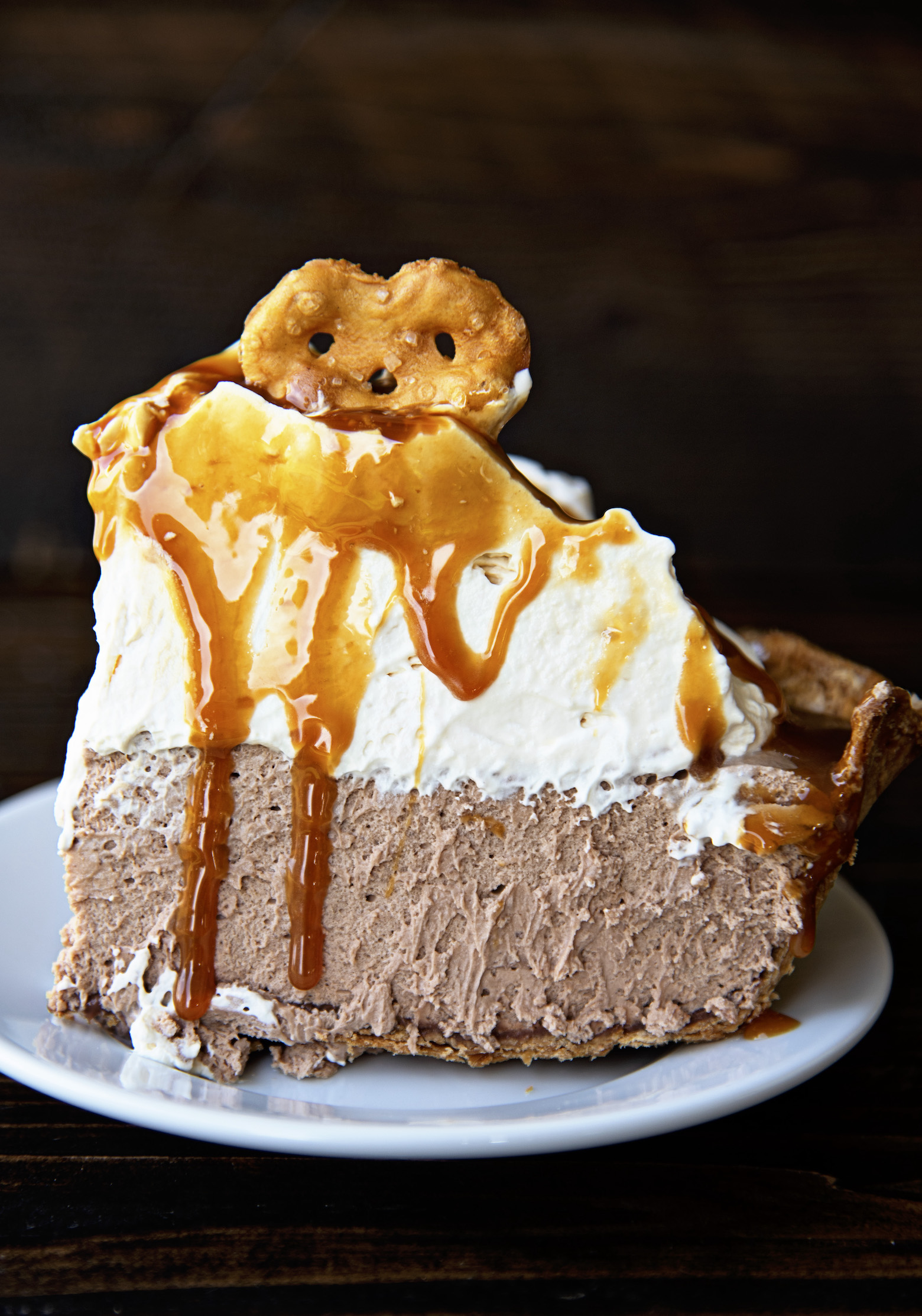 Since the filling isn't baked you will have to blind bake the crust.
To stop the crust from sinking down and shrink too much you have to fill the pie with weight.
Some use pie weights or beans.
But I use the sugar method.
Which is lining the pie with foil and then filling the pie with sugar.
The sugar does not burn.
It does become slightly brown and caramelized (very lightly).
You can reuse it.
I do.
It's what I make most of my cookies with, especially chocolate chip cookies.
In the words of Elle Woods "I think it gives it a little something extra, don't you think?"
The chocolate caramel filing is actually super easy to make.
I made mine with milk chocolate but you can use semi sweet if you prefer.
Just don't go bittersweet.
Yes, that's a lot of whipped cream.
I feel it's the right ratio.
Then again, I'm in the Leslie Knope school of thought when it comes to whipped cream.
I added more caramel sauce to the top of the pie as garnish and for flavor.
Also added little mini pretzels as well.
Last but not least…It's a great time to buy my cookbook.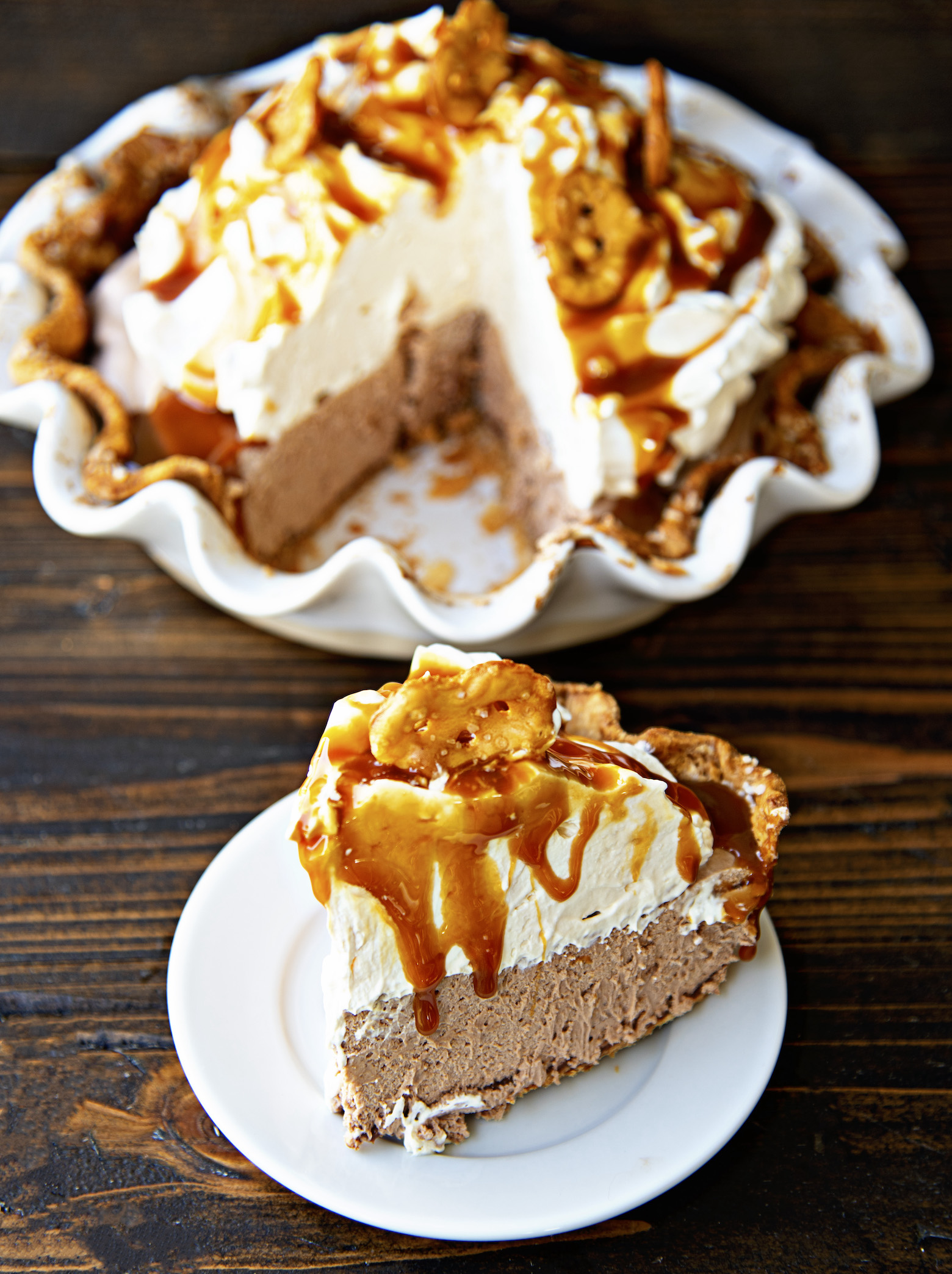 Want More Pie Recipes?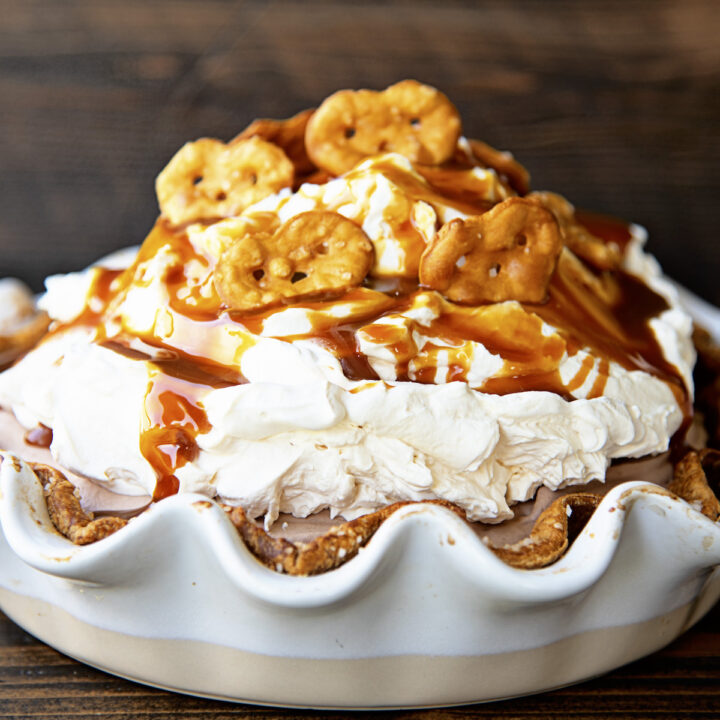 Chocolate Caramel Pretzel Pie
Ingredients
For the Pretzel Pie Crust:
2 cups all-purpose flour
1/2 tsp.salt
2 TBSP granulated sugar
2/3 cup chilled unsalted butter
4 to 5 TBSP ice water
2 cups water
1 TBSP baking soda
2 TBSP pretzel salt
For the Chocolate Caramel Filling:
1 envelope unflavored gelatin
1 cup cold water, divided
1 tsp. vanilla extract
Pinch of salt
1 TBSP unsweetened cocoa powder
8 ounces Milk Chocolate, melted over a double boiler
1/4 cup caramel sauce (store bought or homemade)
1 cup Marshmallow Cream (Fluff)
2 cups heavy whipping cream, whipped
For the Caramel Whipped Cream:
2 cups heavy cream
1/3 cup granulated sugar
1/3 cup caramel sauce (store bought or homemade)
Garnish:
Extra caramel sauce
mini pretzels
Instructions
For the Pretzel Pie Crust:
Using a food processor combine flour, salt, and sugar on and pulse for 30 seconds.
Cut butter into 1/2-inch cubes and add to flour mixture and pulse until mixture looks crumbly, with bits of dough the size of peas, about 1 minute.
Add 4 tablespoons ice water, 1 tablespoon at a time, mixing on low speed for 10 seconds after each addition. After final addition, dough should begin to clump together in a ball. If it doesn't, continue mixing for about 10 seconds longer. (If it still looks too dry, add 1 more tablespoon ice water.) Gently mold dough into a disk, cover in plastic wrap, and refrigerate for at least 1 hour.
Transfer unwrapped dough to a lightly floured surface.
Roll into a 1/8-inch-thick circle large enough to cover bottom and sides of a 9-inch-diameter deep-dish pie pan; do not use a regular (shallow) pan. Transfer dough to pie pan, crimping edges with your fingers or a fork. Prick bottom with a fork.
Bring water and baking soda up to a rolling boil in a saucepan. You want to make sure the baking soda has dissolved.
Using a pastry brush, brush the crust with the baking soda water. Do this as a thin layer. If too thick it just pools at the bottom. If it does pool just dab with a paper towel.
Place pie crust in freezer for 5 minutes.
Brush the pie crust again with the baking soda mixture. And one more time place in freezer for 5 minutes.
Do one final brushing of the baking soda mixture and then sprinkle the pie with pretzel salt. Place in freezer for 5 minutes.
Lightly oil one side of a large piece of heavy duty foil. How large? Large enough to be put into your pie crust with a lot on the sides so that it covers any exposed crust. Normally I don't oil my foil. But because the crust has been brushed with water the foil tends to stick and we don't want that. A thin coat of oil on the side you are going to press into the crust helps with that.
Line the crust with the heavy duty foil, oil side down.
Preheat oven to 350 degrees F. Line the chilled pie dough with aluminum foil and use granulated sugar to fill the whole pie plate. Bake for 40 minutes; carefully remove the foil and sugar and set the sugar and foil aside.
Place the pie crust back into the oven for another 10-15 minutes. You want a brown crust just like you would see on a regular pretzel.
Remove from oven and let cool completely.
For the Chocolate Caramel Filling:
In medium saucepan combine ½ cup cold water and gelatin; let stand 1 minute.
Cook stirring constantly, until gelatin is completely dissolved. Remove from heat.
Stir in vanilla, salt, unsweetened cocoa powder, and remaining water. Whisk until they are fully incorporated.
Using a stand mixer (or hand mixer) beat together the gelatin mixture, melted chocolate, caramel sauce, and marshmallow fluff.
Chill in the bowl until mixture mounds when dropped from spoon (this was about 20 minutes).
Fold in whipped cream.
Mix using a spatula until fully incorporated.
Pour the mixture into the pretzel pie crust.
Spread evenly and place in fridge while you prepare the caramel whipped cream:
For the Caramel Whipped Cream:
Place the sugar into a mixing bowl and add the whipping cream.
Beat (with hand mixer or in a stand mixer) just until the cream reaches stiff peaks.
Add the crushed caramel sauce and whip until fully combined.
Place whipped cream on top of cream pie.
Refrigerate for at least 4 hours.
Top pie with extra caramel sauce and mini pretzels if desired when ready to serve.
Serve cold.