These Monster Cookie Dough Rice Krispie Treats have a rice krispie treat layer, topped with monster cookie dough, and a layer of chocolate.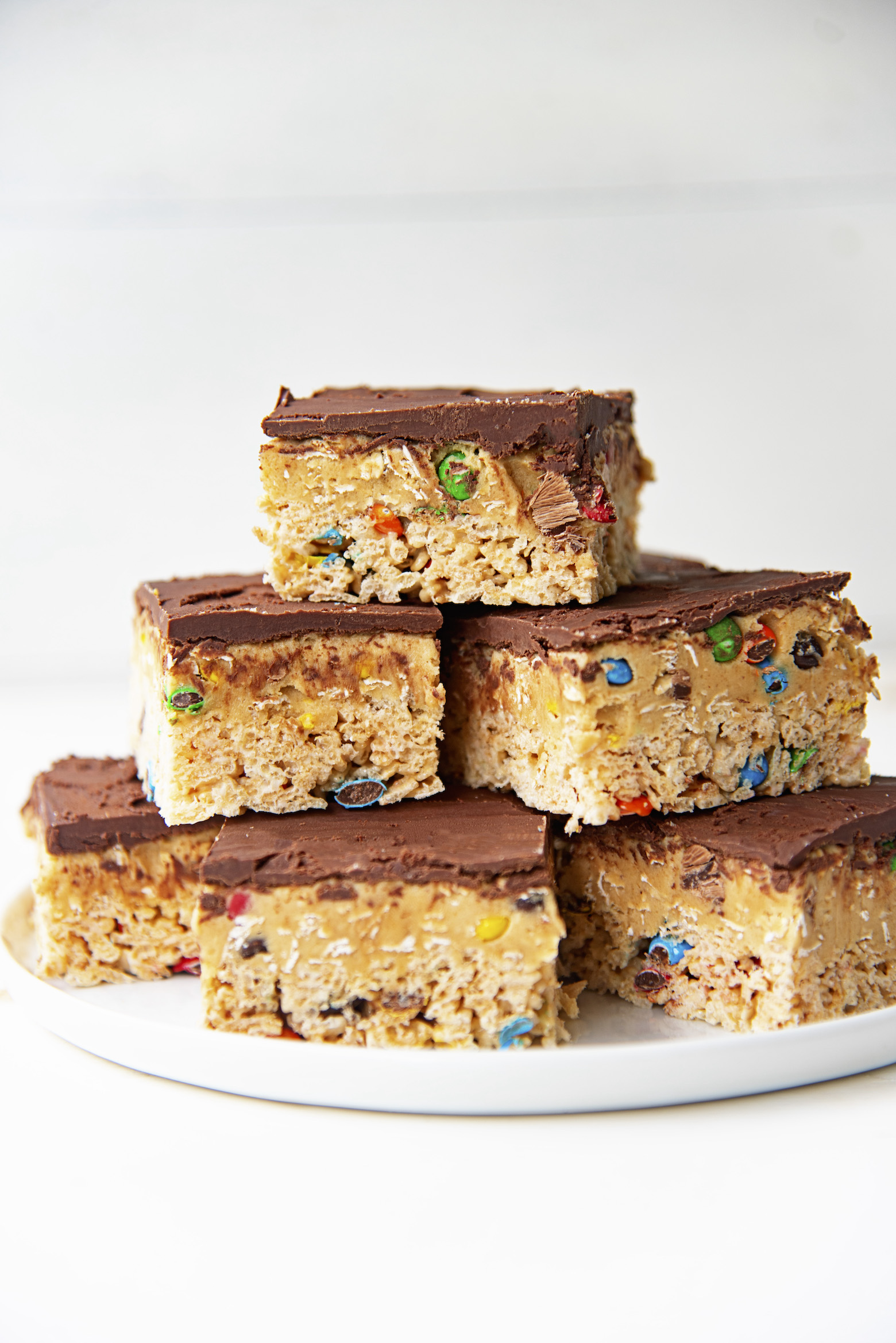 These Monster Cookie Dough Rice Krispie Treats are perfect for summer (though really year round).
As the temperatures heat up my desire to turn the oven on lowers.
And while I can't completely give up baking in the summer, as it's my therapy, it's nice to have alternatives.
Plus, who doesn't love Rice Krispie Treats?
Add some cookie dough and chocolate to it and you have quite the treat.
Perfect to take to potlucks and picnics.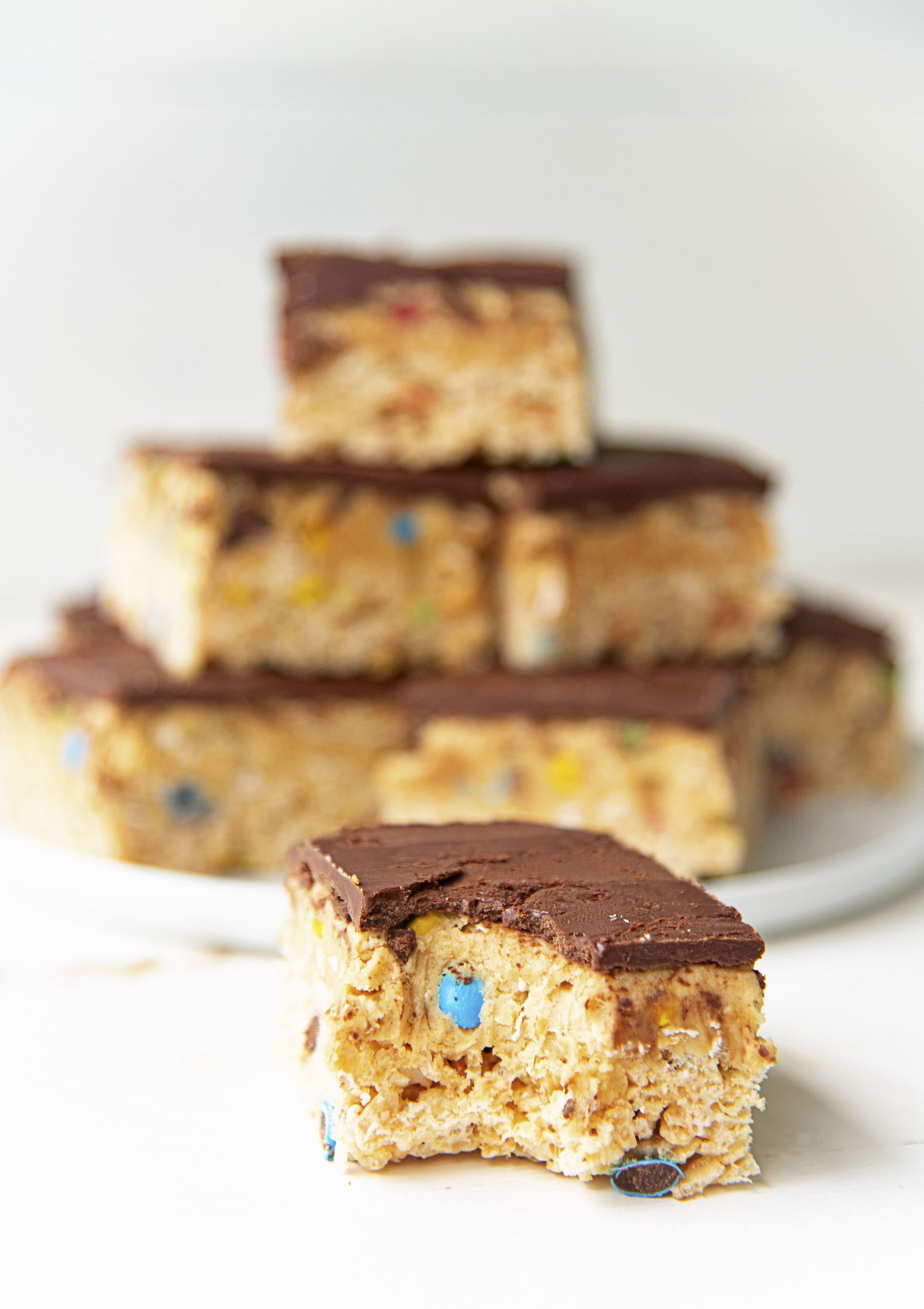 A few years ago I made Monster Cookie Dough Brownies and they were a big hit both here at my house and here on the blog.
But what is a monster cookie?
Not to be confused with Cookie Monster, it is a real cookie.
Consisting of peanut butter, oatmeal, chocolate chips, and M&M's.
Think peanut butter cookie meets oatmeal chocolate chip cookie.
With M&M's thrown in for good measure.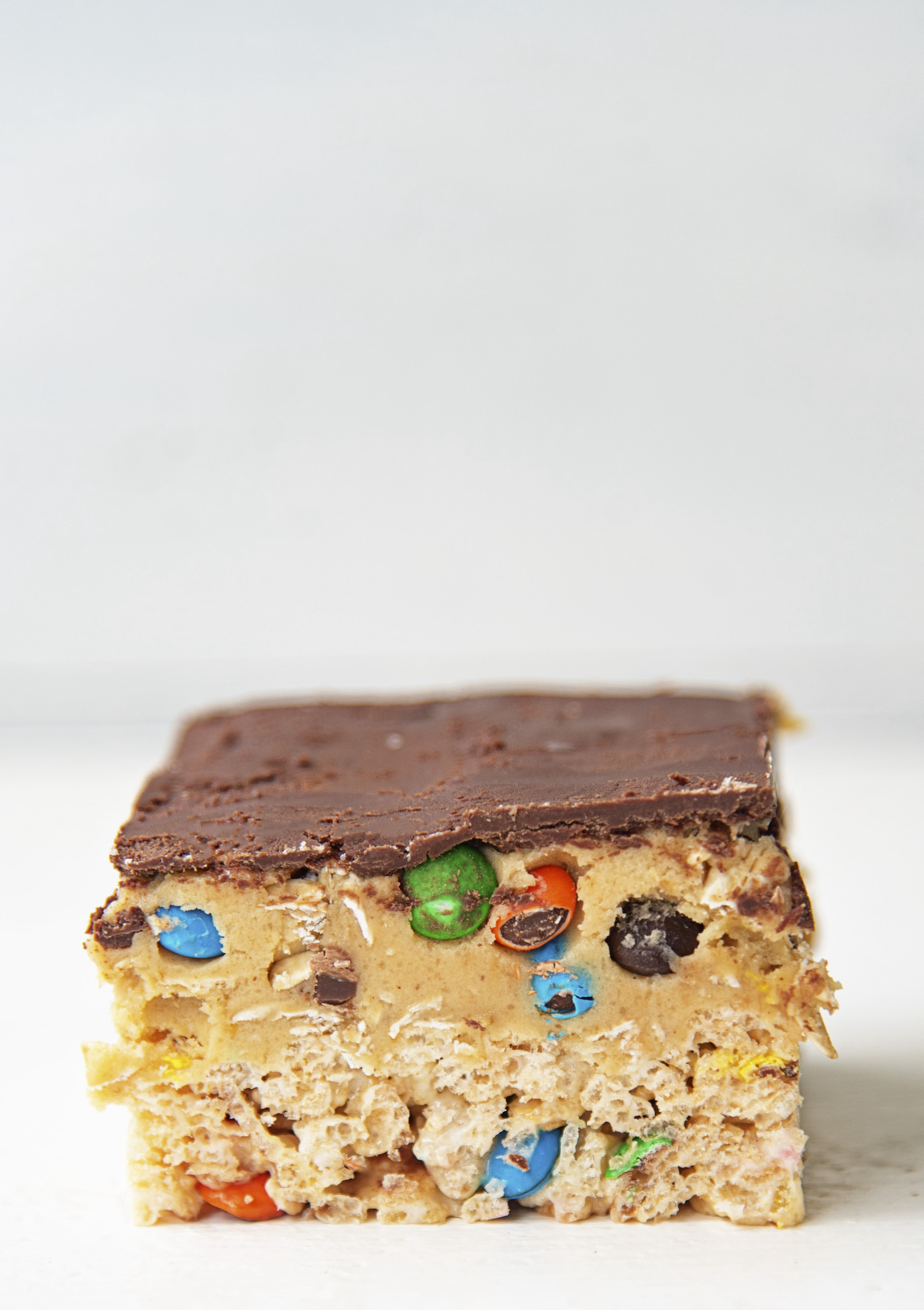 For this recipe you will need heat treated flour.
Which makes it safe for you to eat the cookie dough.
Because you aren't supposed to eat uncooked flour.
Which means I've been living on the edge for years eating it in edible cookie dough. It's relatively simple to do.
I prefer to heat mine in the oven over the microwave.
I know that there is a microwave method but you can't spread it out on a baking sheet in the microwave.
And so it doesn't really cook evenly.
How to cook it in the oven:
Preheat oven to 350 degrees F.
Spread three cups of flour on a baking sheet with sides (like a jelly roll pan) and spread out in a thin layer.
Cook for 5 minutes, then let cool completely before using.
Store in airtight container until ready to use.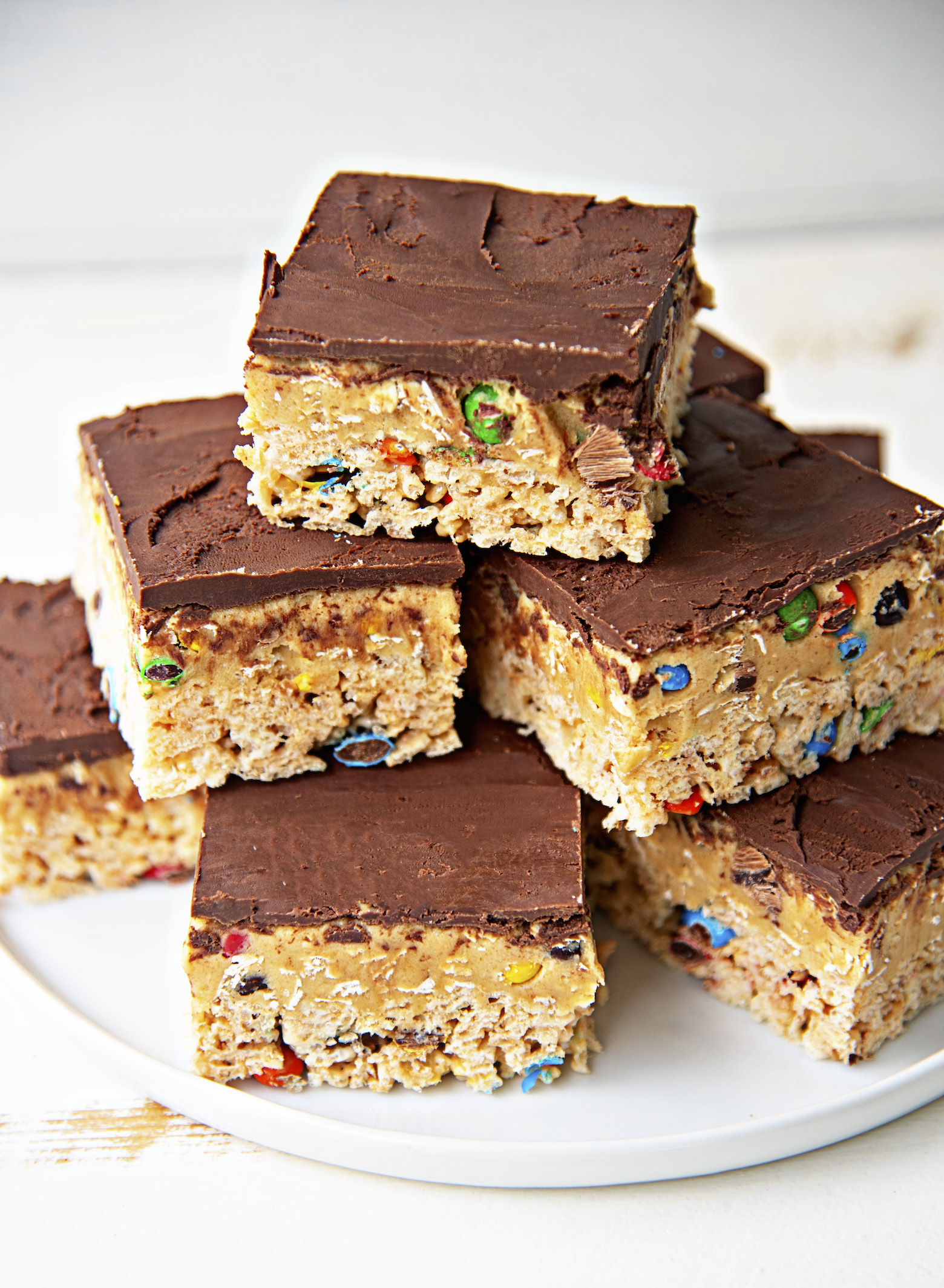 The monster cookie dough layer makes quite a bit.
I used the full amount for the treats.
But often I only use half and then use the other half to make cookie dough truffles.
Which are great over ice cream.
If you like cookie dough then use the full amount.
P.S. It's a great day to buy my cookbook.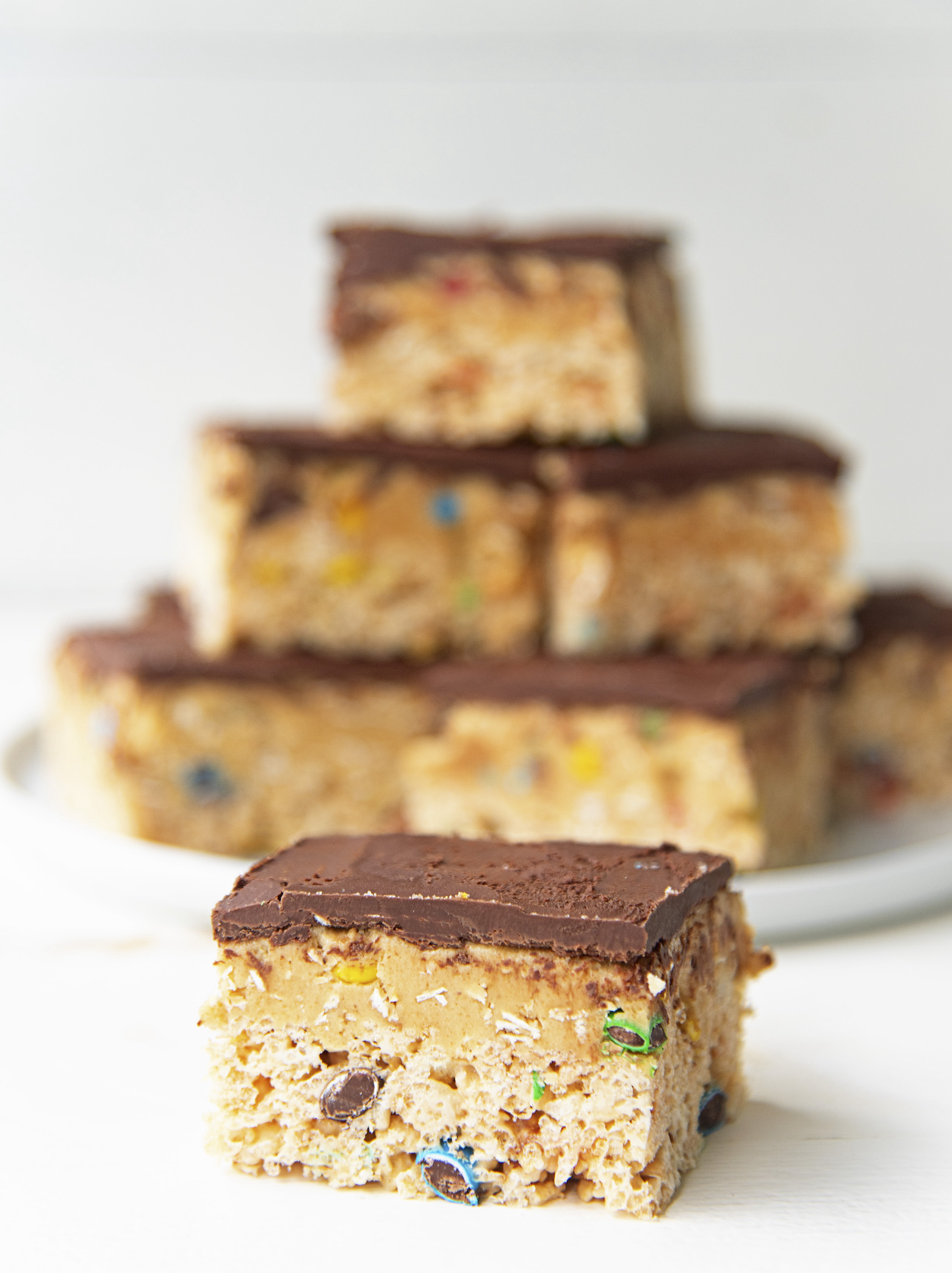 Want More Rice Krispie Recipes?
Cookies and Cream Rice Krispie Treats
Vanilla Bean Rice Krispie Treat Cupcakes
Toasted Marshmallow No Bake Cheesecake in Rice Krispie Treat Crust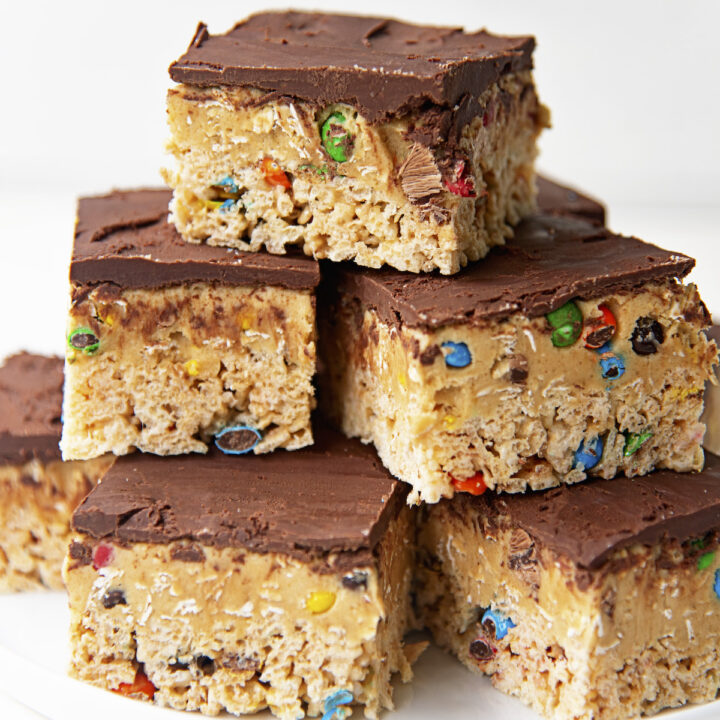 Monster Cookie Dough Rice Krispie Treats
Ingredients
For the Rice Krispie Layer:
3 TBSP unsalted butter
10 ounces mini marshmallows (fresh, not the stale ones hiding in the back of your pantry that you forgot about)
6 cups Rice Krispies Cereal
1/2 cup mini M&M's
For the Monster Cookie Dough Layer:
½ cup unsalted butter, at room temperature (I used Plugra)
½ cup peanut butter (I used Jif)
¾ cup packed brown sugar (I used Imperial)
1 tsp vanilla extract (I used Rodelle)
½ tsp salt
1 1/2 cups all-purpose flour (heat treated)
1 cup oats (I used Quaker)
14 ounces sweetened condensed milk
½ cup chocolate chips
¾ cup mini M&M's
For the Chocolate Topping:
12 oz milk or semisweet chocolate chips (depending on preference)
3 TBSP unsalted butter
Instructions
For the Rice Krispie Layer:
Butter a 9-x-13-inch baking pan. Or be lazy like me and spray it with non-stick baking spray. Set aside.
Over low heat melt butter in a large pot (I like to use my stock pot because I am a messy person).
Once butter has melted, add marshmallows. Continue to cook over low heat while they melt. It may take a little time. Don't turn up the heat to try and make it go quicker, you could end up with burned marshmallows or your treats could end up too hard once they firm up.
When most of the marshmallows have melted and they resemble marshmallow crème with a few lumps, remove from heat and add the cereal and mini M&M's.
Using a wooden spoon, stir, stir, stir some more, until all the cereal is fully coated and other parts of the pot are not hogging all the marshmallows (so evenly coated).
Pour into prepared baking pan.
Take a rubber spatula and either spray it with non-stick spray or simply get some water on it (I just put mine under the faucet real quick).
Using the spatula, press the cereal/marshmallow mixture down into the pan, attempting to create a flat, even surface.
For the cookie dough:
Using a stand mixer (or a bowl and beaters), cream together the butter, peanut butter, and sugar until light and fluffy, about 3 minutes.
Beat in vanilla.
With speed on low, slowly add flour, salt, alternating with condensed milk, beating well after each addition.
Fold in oats, chocolate chips, and M&M's.
This makes a pretty large amount. I usually do half of the cookie dough for the treats and then use the other half to make cookie truffles (aka just roll into bite size balls....great on ice cream).
Break cookie dough into pieces and sprinkle over the rice krispie treat layer.
It's going to be easier to pat it down than it is to spread.
Once evenly distributed, place into freezer.
For the Chocolate Layer:
In a microwave safe bowl combine chocolate and butter in a medium heat-proof bowl set over a medium saucepan of barely simmering water; stir until melted and smooth.
Spread the chocolate coating over the top of the Rice Krispie Treats like you are frosting them.
Let the chocolate top firm up, about 30 minutes depending on how cool it is in your house.
Cut into squares. Some would say 2-inch. But whatever size you would like works.