These Fruit Pizza Pudding Shots are based off of the dessert using sugar cookie cups, cheesecake pudding, vodka, and topped with fresh fruit.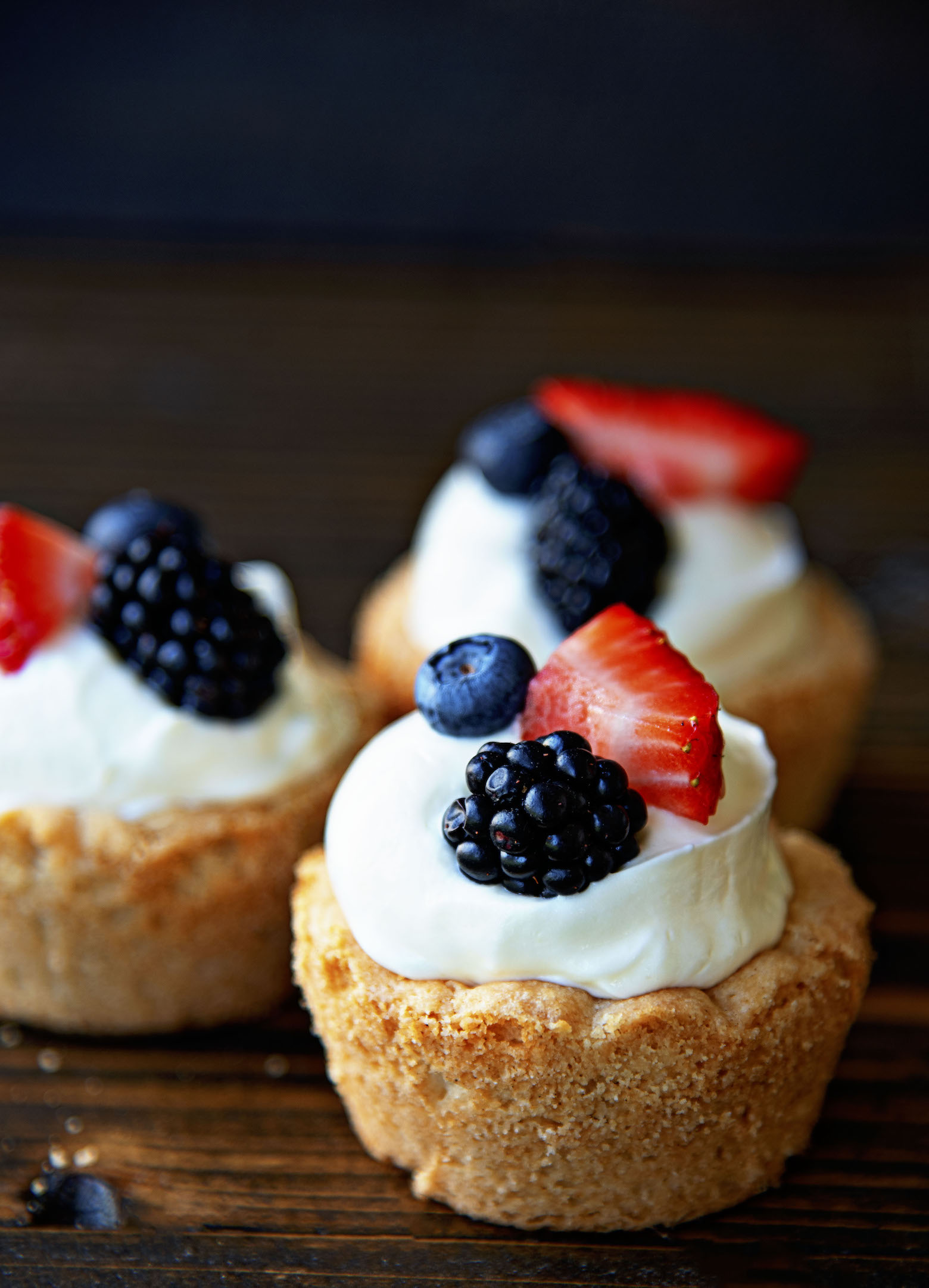 Okay, so you are probably saying, Peabody, those Fruit Pizza Pudding Shots don't look like pizza.
And they don't.
But, they are inspired by pizza.
Well, fruit pizza.
If you have no idea what fruit pizza is, then you are most likely younger than me.
Fruit Pizza was a big thing when I was a kid and in my teens.
It was sugar cookie dough the size of a pizza.
So one giant sugar cookie.
That was covered in a cream cheese spread that was basically eggless cheesecake.
Then topped with fresh fruit.
And I always associate summer with it.
Especially Memorial Day and 4th of July.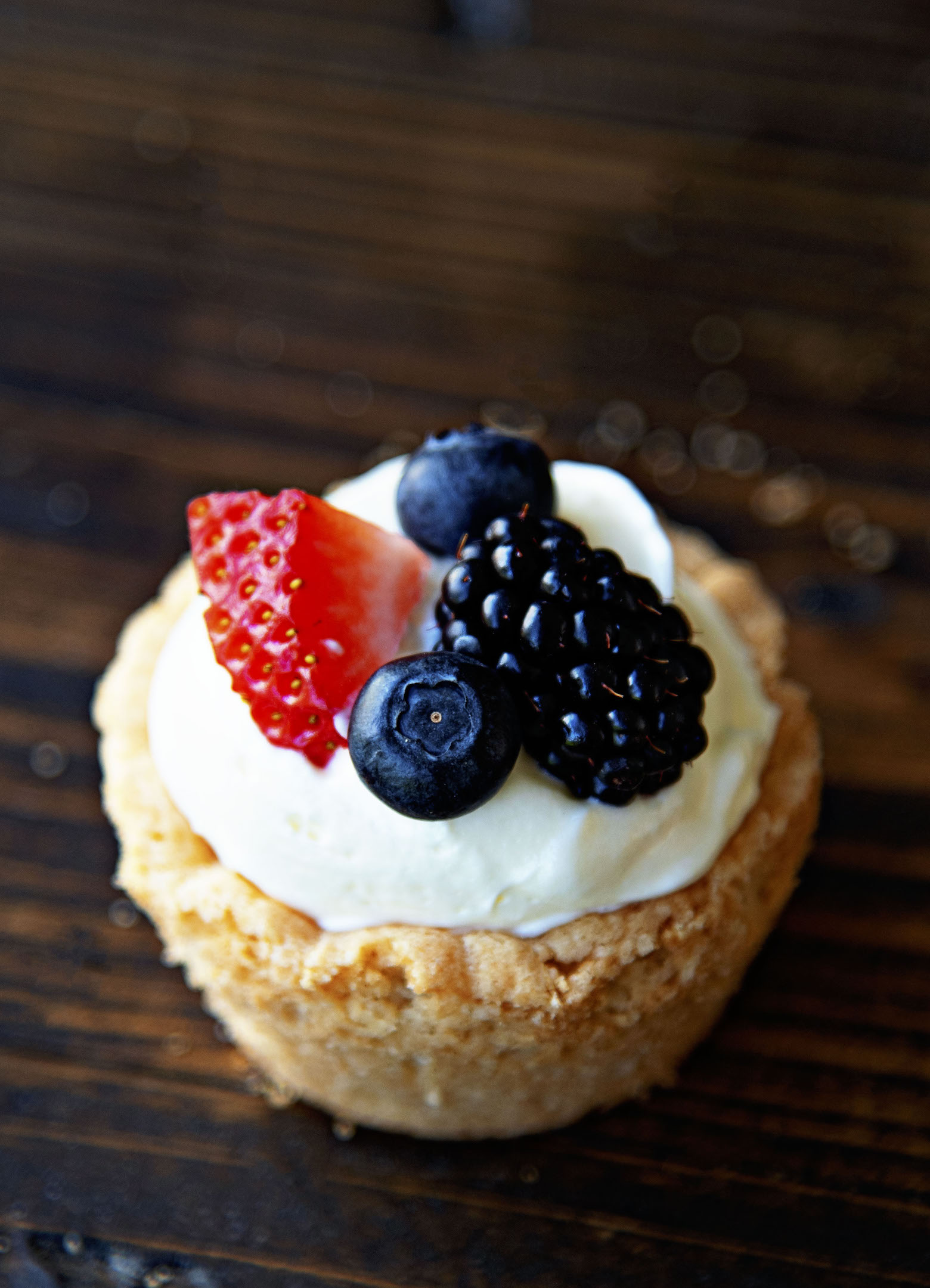 My friend's mom always brought the fruit pizza to all the parties/BBQs.
On Memorial Day and 4th of July she would make a rectangle shaped one and arrange the fruit like the flag.
Just like the flag cakes it had the white frosting (cream cheese in this case), blueberry stars, and red (usually strawberries) stripes.
I've been feeling extra nostalgic as of late and for some reason and craving fruit pizza.
But really it's been done so many ways before I wanted to do something different.
Then while staring blankly at the Jello section at the grocery store I glanced down and saw cheesecake pudding.
And a light bulb went off.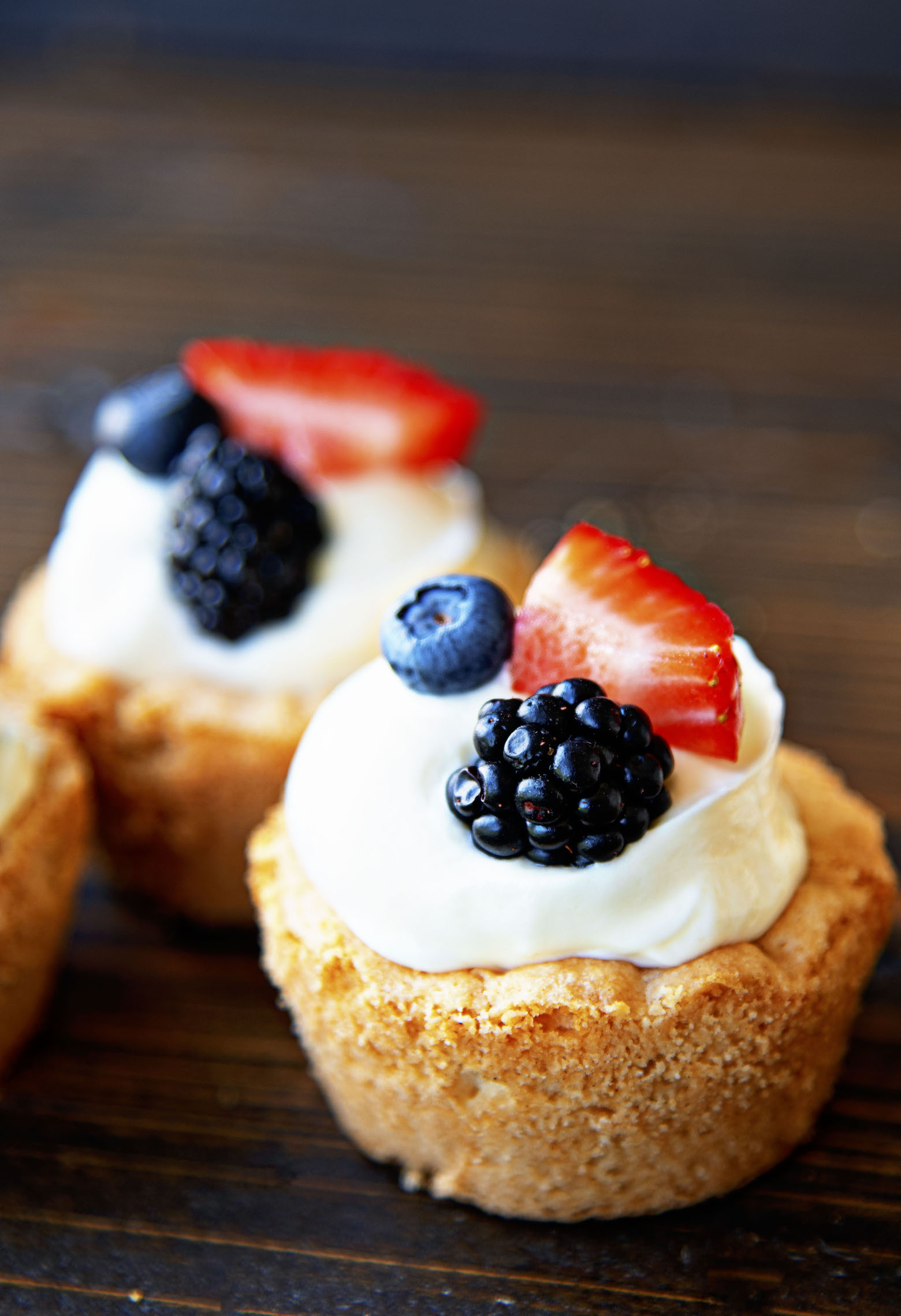 Note that these use a regular size muffin pan.
These are tiny little shots.
They are really meant to be more of a dessert with some booze in them.
Which, if you don't want to make it boozy just skip the vodka and just add the same amount of milk as you would vodka.
If the pudding sits long enough in the cup it will make the dough soft.
That's fine.
It's a sugar cookie.
Soft sugar cookies are good. I suggest serving them with spoons and everyone eat the pudding and fruit first and finish off with the cookie.
Or at least that's how we ate them.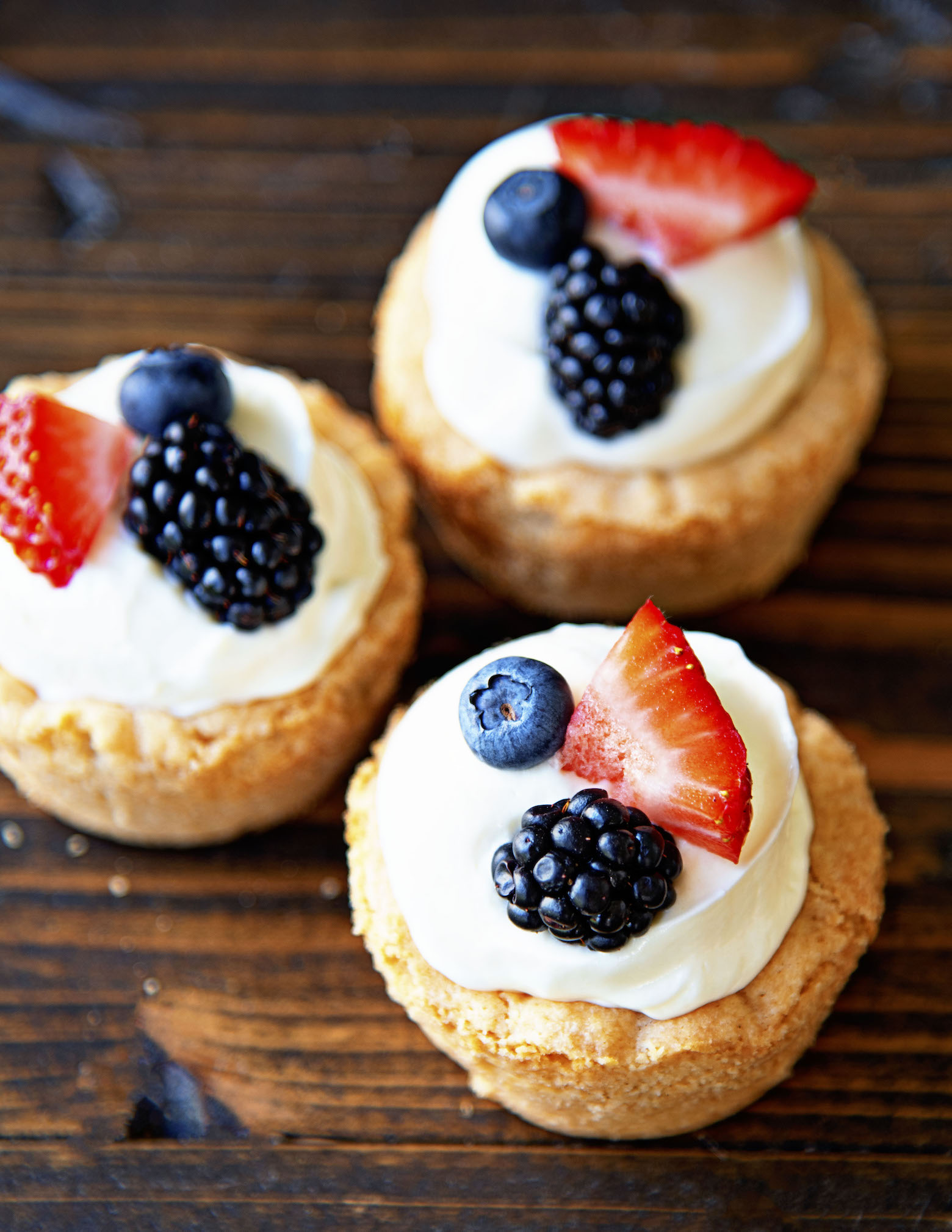 Tips For Making Pudding Shots:
Remember when using any alcohol that is more than 80 proof can make your pudding shots runny.
Most vodkas run at 80 proof and that is usually the highest alcohol content booze I use so you should be fine.
But always good to check.
Don't skip the Cool Whip.
Many people ask can they use whipped cream instead.
Yes, you can.
However, make sure that you do not use the kind out of a can.
That will not hold up.
I've always made mine with Cool Whip just because I feel it holds it shape better in pudding shots.
Be sure to chill them for at least 30 minutes.
While I say to chill them for at least 30 minutes I usually end up chilling them for much longer.
Often I make up the pudding the night before and place it into an airtight container and then scoop the day of the party.
Saves time on the day of the party.
P.S. It's a great day to buy my cookbook Holy Sweet!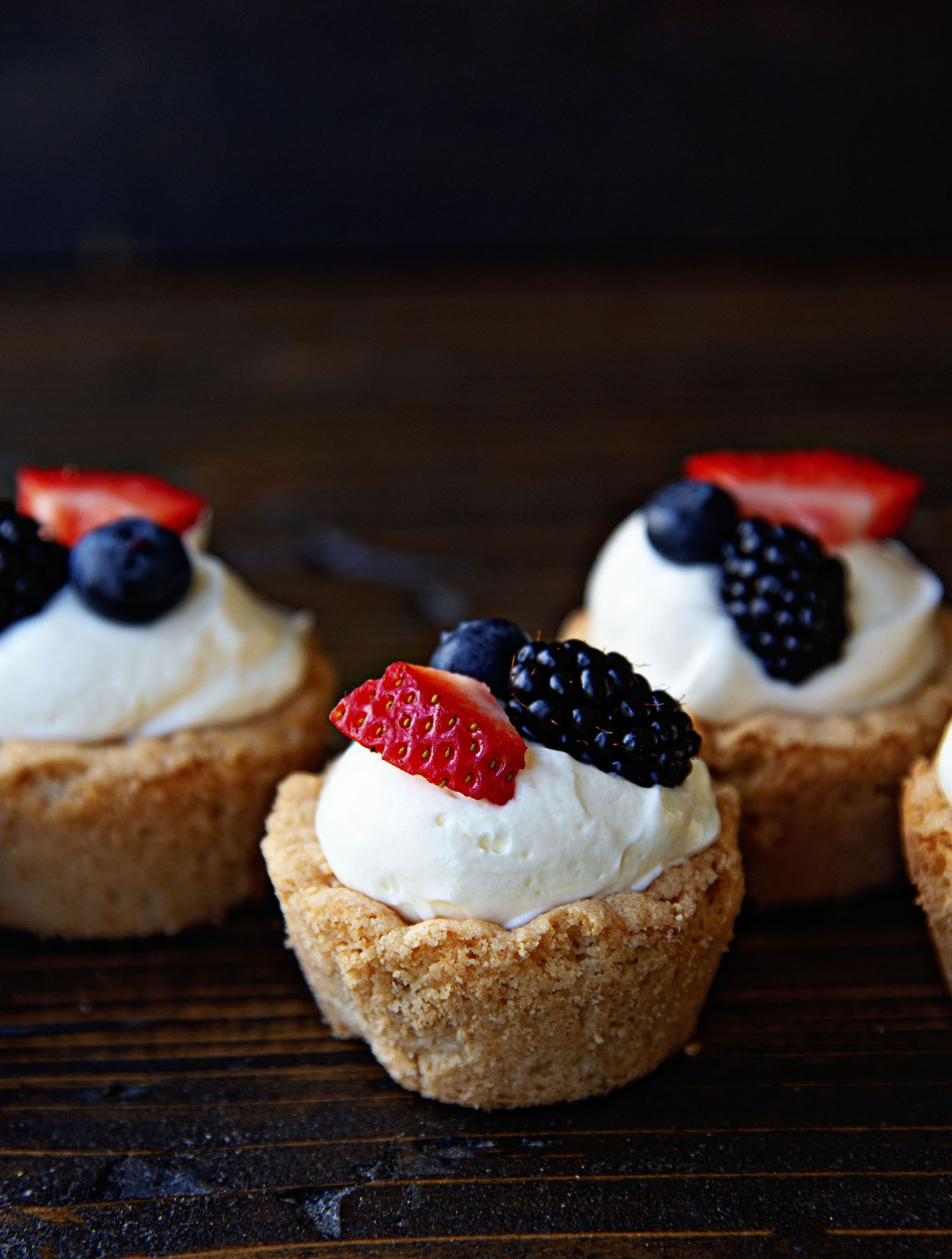 Want More Pudding Shots?
Chocolate Frosty Pudding Shots
Circus Animal Cookie Pudding Shots
Drumstick Ice Cream Pudding Shots
Pineapple Upside Down Cake Pudding Shots
Frosted Lemonade Pudding Shots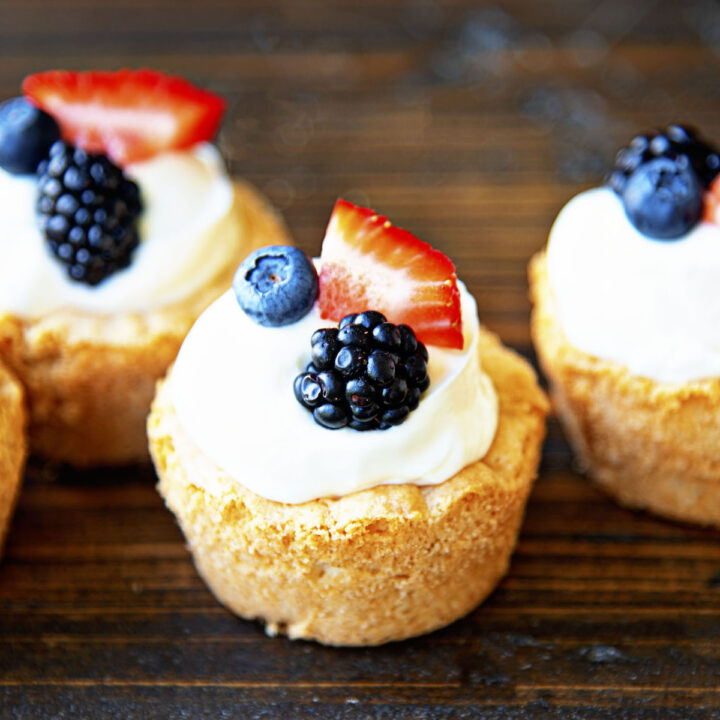 Fruit Pizza Pudding Shots
Ingredients
For the Sugar Cookie Cups:
16 oz sugar cookie dough, store bought
For the Pudding:
3.4 oz Cheesecake Instant Pudding
1 1/2 cups whole milk
1/2 cup vanilla vodka
8 oz Cool Whip (thawed)
For the Garnish:
fresh fruit of your choice (I used strawberries, blackberries, and blueberries)
Instructions
For the Cookie Cups:
Preheat the oven to 350 degrees.
Grease a muffin pan or spray with nonstick baking spray. This is a regular sized muffin pan not mini.
Slice the cookie dough into 12 even slices. Place a slice into the bottom of each round.Bake for 13-15 minutes until the middle is cooked. Remove from the oven and use a small cup to gently press down to make a cup shape.
Let cool for a couple of minutes and remove the cookie cups while still warm.
For the Pudding:
In a large mixing bowl, whisk together the pudding mix, whole milk, and vodka.
Whisk together until it starts to get thick, about 3 minutes.
Fold in the thawed Cool Whip.
Then whisk until smooth.
Cover the bowl with plastic wrap and place in fridge for at least 30 minutes.
Evenly divide the pudding between shot glasses.
Place in fridge for 3 hours.
Top with fresh fruit of your choice when ready to serve.