These Circus Animal Cookie Pudding Shots have the cookies blended right into the pudding mix with a little vodka for an adult twist.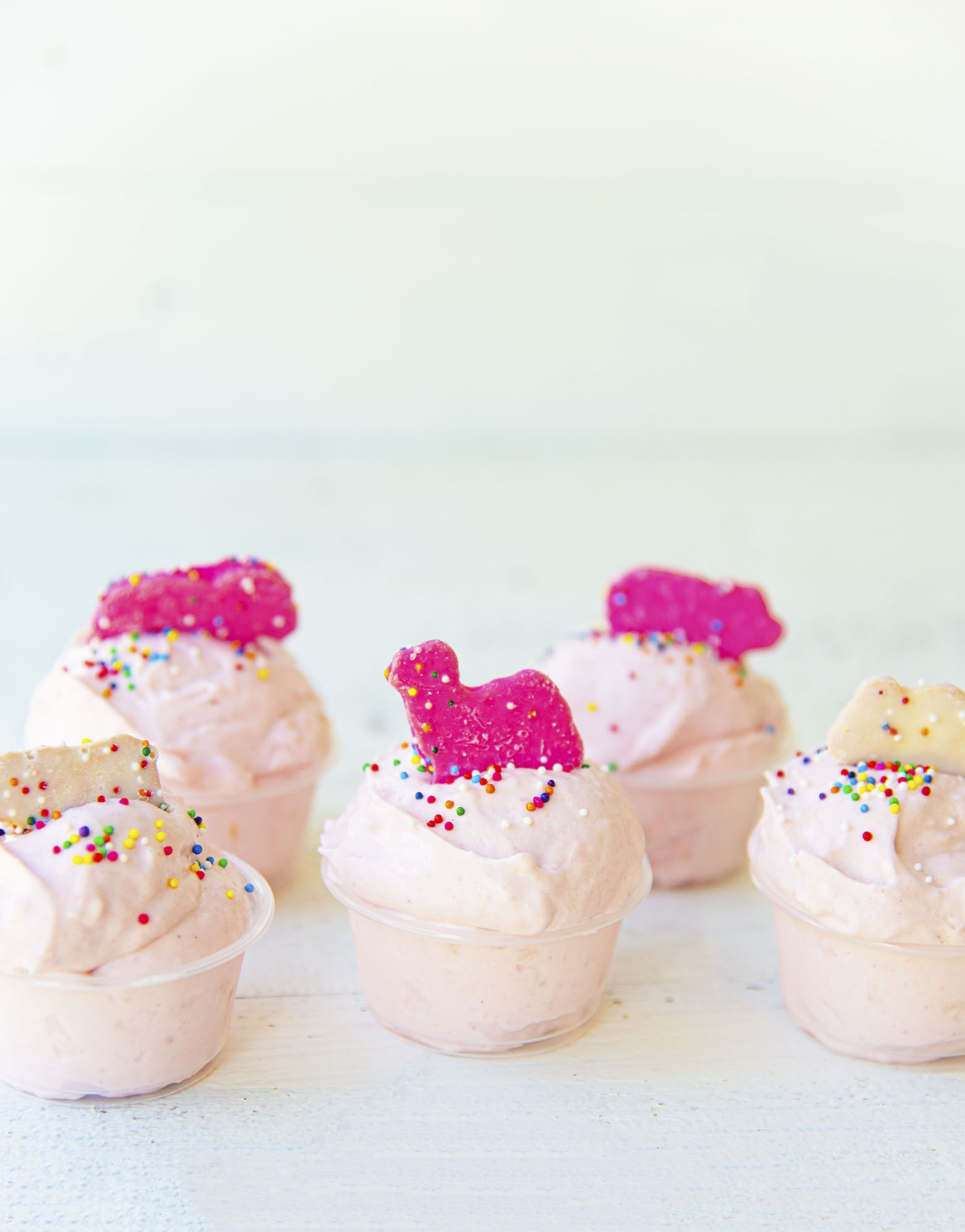 While on Pinterest the other day I saw someone had made pudding pops using Circus Animal Cookies.
Since I have been on a pudding shot kick as of late I thought oh yes, let's try the pops as shots.
After all, my obsession with Circus Animal Cookies is well known on this blog.
So it only makes sense to turn it into a shot.
And while I don't think it would make a good Jello shot as a pudding shot it does. 🙂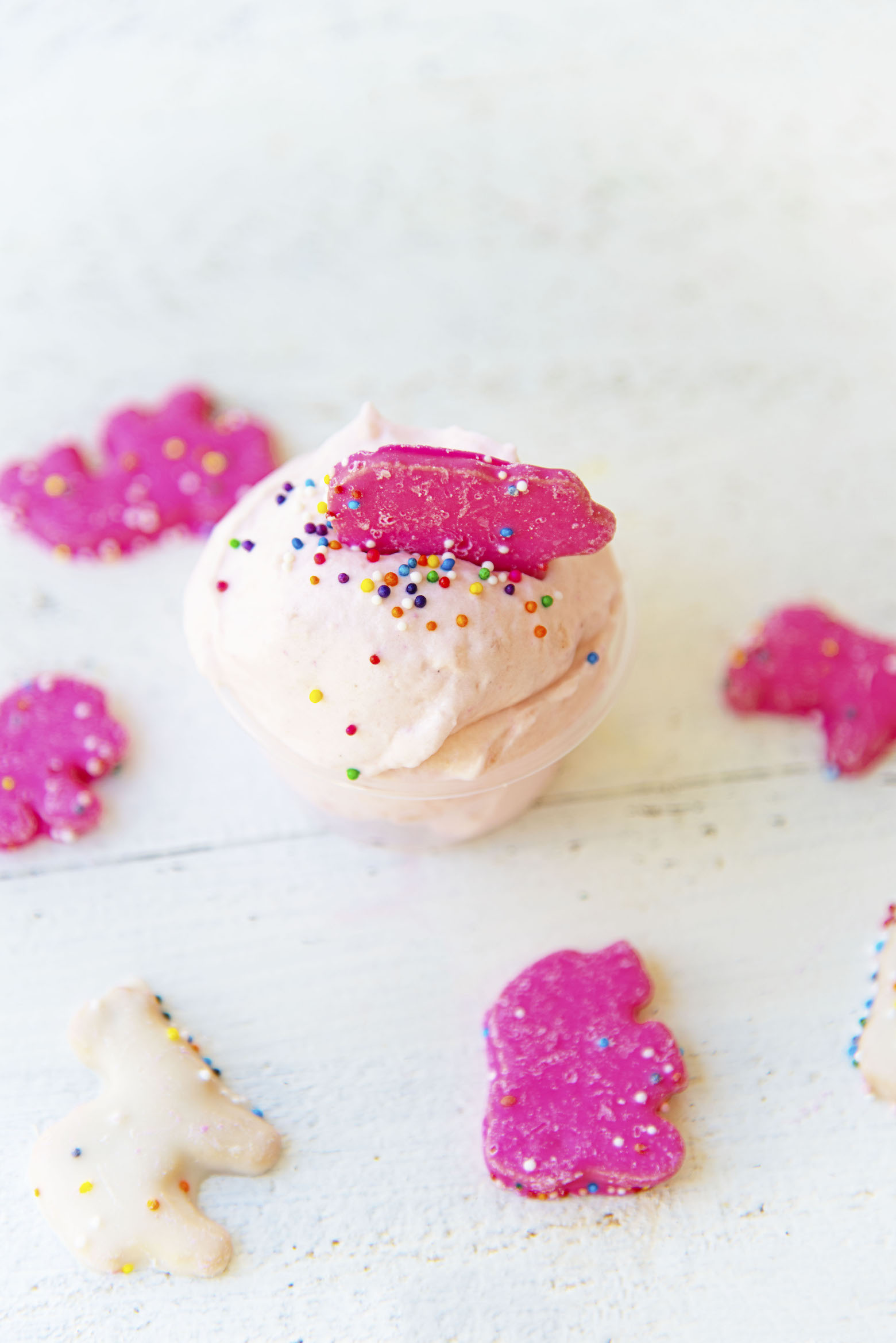 I think that's what I like about pudding shots.
They fill in the gaps of all the Jello shots flavors I wanted to make but couldn't really figure out how to.
Like a banana split.
Because banana jello doesn't exist.
Sure I could use unflavored gelatin (and still might).
But for now it seems best just to use some banana pudding for it. 🙂
In case you haven't guessed, I'll be making banana split pudding shots soon.
Probably this weekend as by Monday it's suppose to be 108F. 108F!
We average the low to mid 70's in June (and July for that matter).
And we have no idea how to cope with 108F.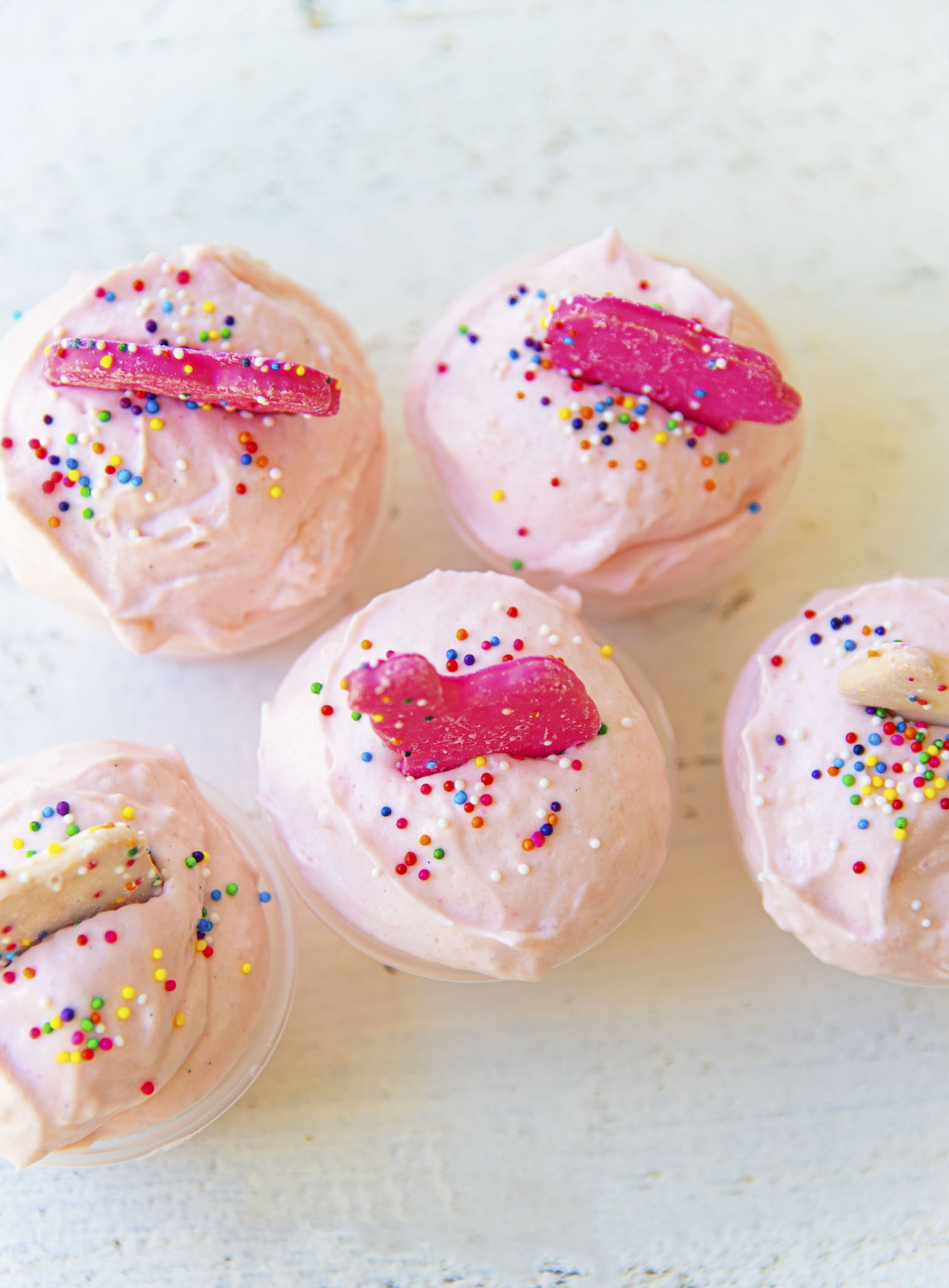 I chose to use a white chocolate pudding for these Circus Animal Cookie Pudding Shots.
Godiva in fact (yes, they make pudding mixes).
But vanilla pudding would work as well if you can't find it at the store.
My local grocery store carries it so I think it's pretty easy to find.
I chose vanilla vodka but something like whipped cream vodka would work too.
You could use straight vodka but I think that might overwhelm the flavor of these.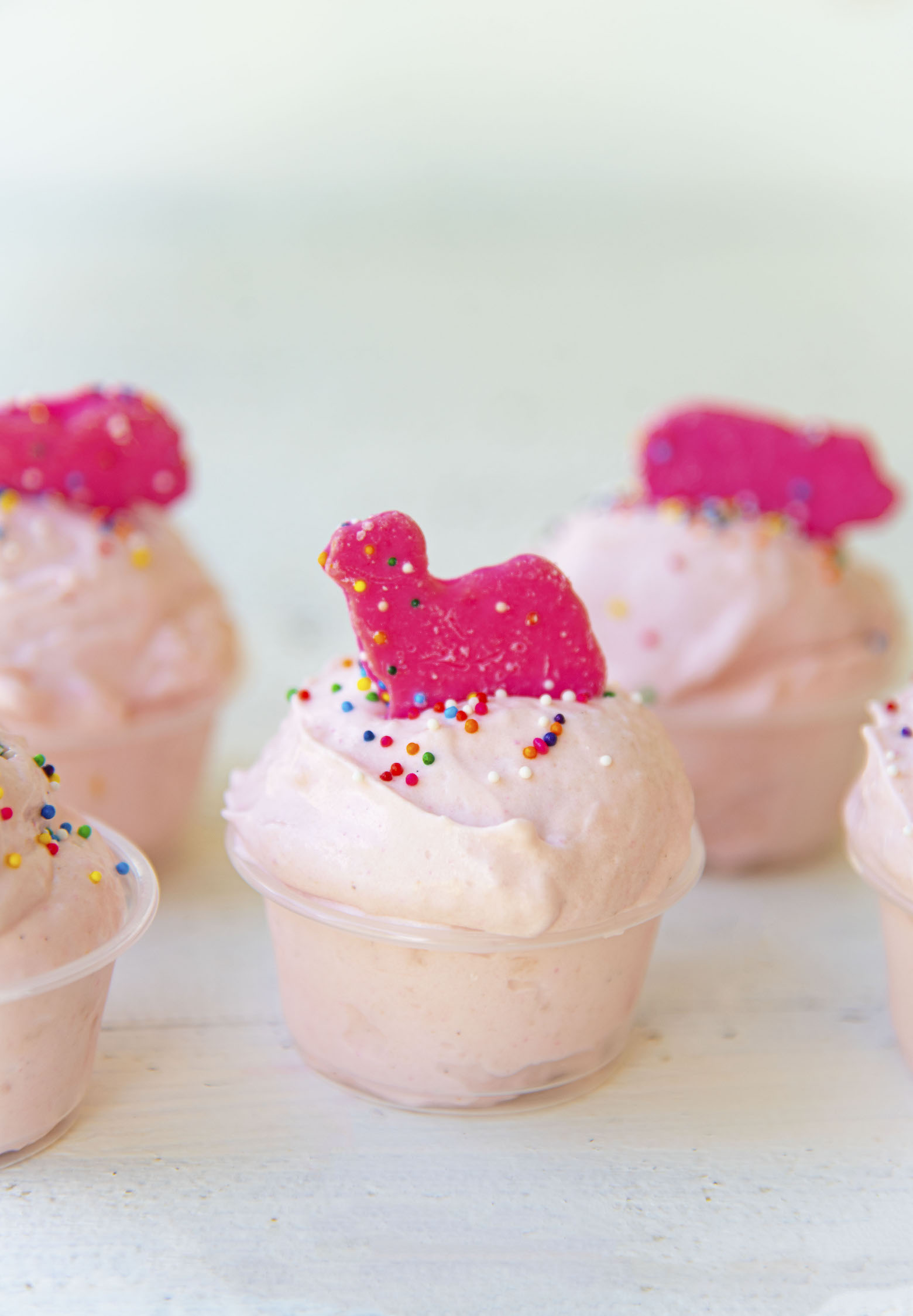 The color of these are a light pale pink.
If you wanted a stronger pink color you could certainly add some pink food gel coloring to them.
Either way, be sure to top them with an extra cookie…or two and sprinkles of course.
It's a great day to order my cookbook.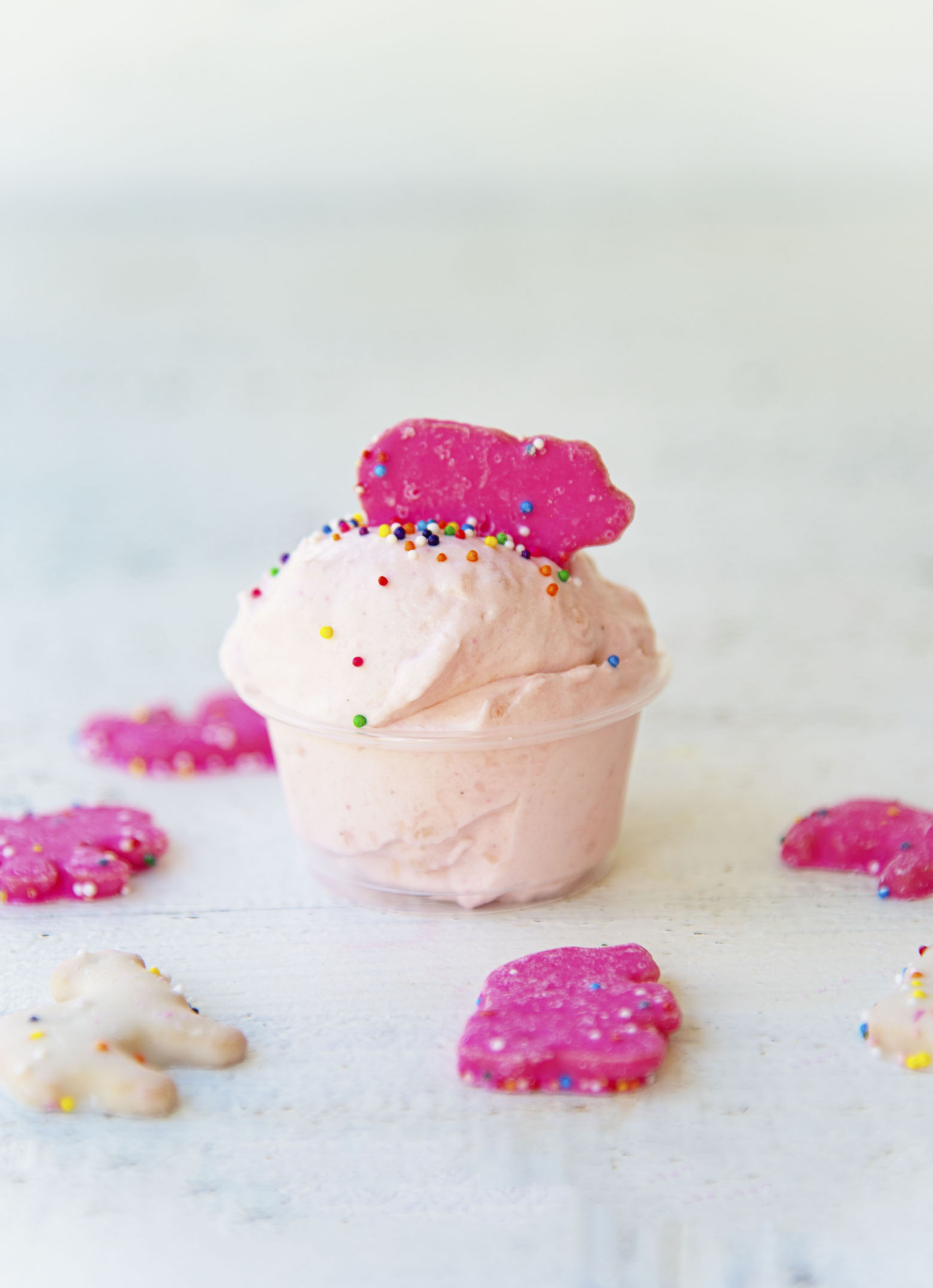 Want More Shots?
Chocolate Frosty Pudding Shots
Strawberry Pina Colada Jello Shots
Drumstick Ice Cream Pudding Shots
Strawberry Frosted Pop Tart Jello Shots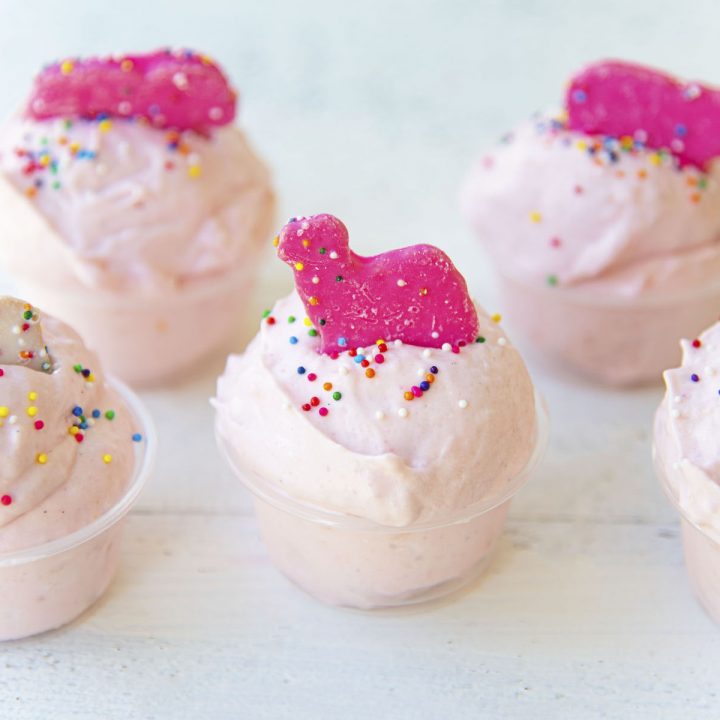 Circus Animal Cookie Pudding Shots
Ingredients
2 cups Circus Animal Cookies, divided
1 1/2 cups whole milk
3.4 oz White Chocolate Pudding
1/2 cup vanilla vodka
4 oz Cool Whip (thawed)
Circus Animal Cookies for garnish
sprinkles for garnish
Instructions
Using 1 1/2 cups of the Circus Cookies, crush the cookies in a large Ziplock bag.
Place the crush cookies into a container with the milk. Let sit for 2 hours until the cookies get a little soggy (they blend better that way).
Once the cookies have soaked in the milk for while, add the mixture to a blender and blend on high until there are no visible cookie pieces and the mixture is smooth.
In a large mixing bowl, whisk together the pudding mix, the cookie milk, and the vodka.
Whisk together until it starts to get thick, about 3 minutes.
Fold in the thawed Cool Whip.
Then whisk until smooth.
Cover the bowl with plastic wrap and place in fridge for at least 30 minutes.
Take the remaining 1/2 cup Circus Animal Cookies and break them into pieces. Fold into the pudding.
Evenly divide the pudding between shot glasses. I did so using a small ice cream scoop.
Top with sprinkles and extra cookies.