These Pineapple Upside Down Cake Pudding Shots are made with vanilla pudding, brown sugar, pineapple, cake mix, and vodka.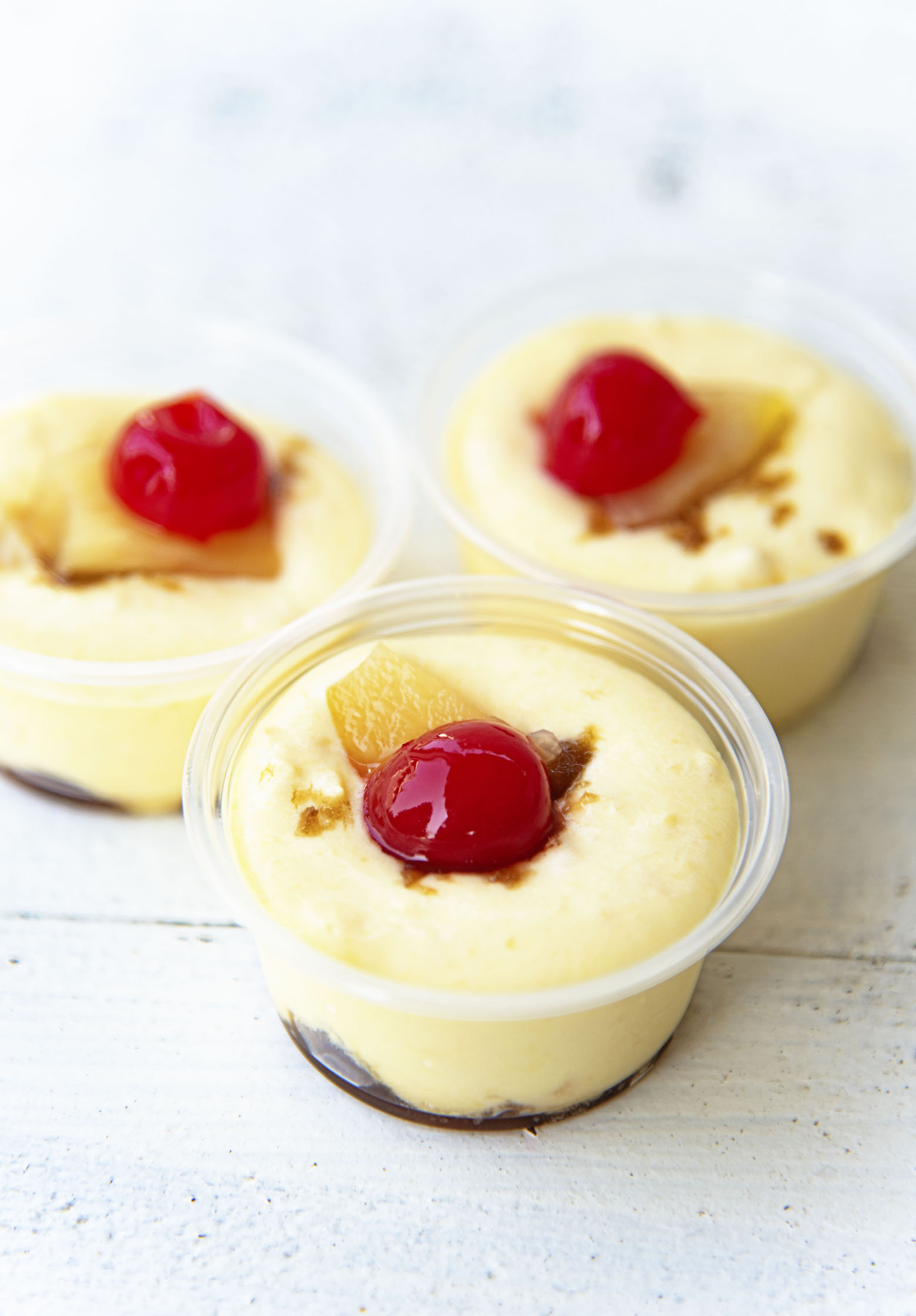 Been on a huge pineapple upside down cake kick lately.
So I would expect for you to see a few more recipes with this flavor profile.
I already made it in fudge form.
And while I have thought about making it as a jello shot, pudding shots made more sense.
Especially when using cake mix.
Which I feel is totally necessary in making these taste the cake part.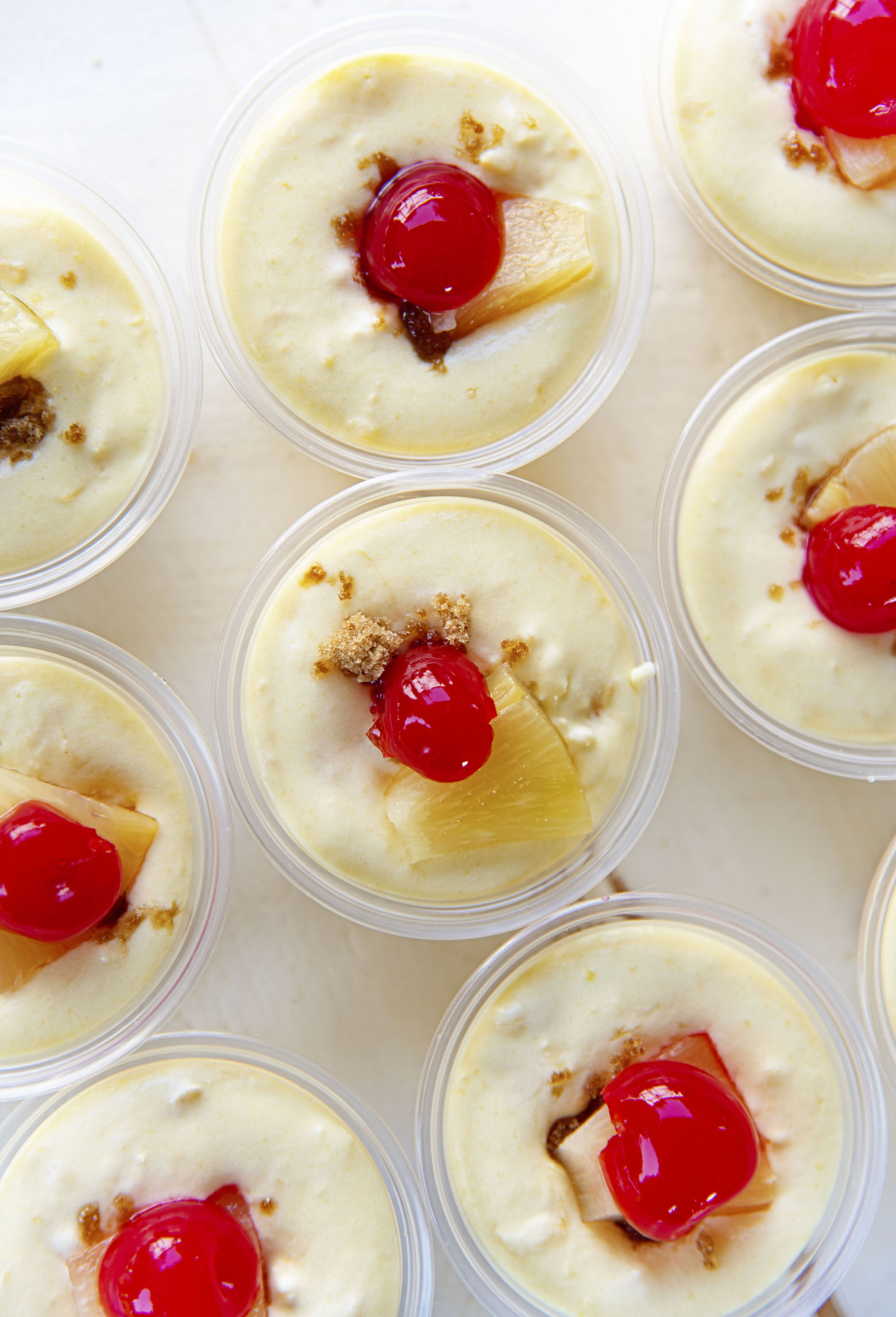 These Pineapple Upside Down Cake Pudding Shots start with a vanilla pudding base.
Then you add in whole milk and vodka.
If you want to use cake vodka you can.
Whipped cream flavored vodka can work too.
But I just went with plain because that's what was in the house.
Then mix in the yellow cake mix.
Make sure that you are using the dry mix and not a cake mix where you added eggs and oil.
Using dry cake mix (and four) makes some people nervous so feel free to heat treat it if you prefer.
I personally don't but I know a lot of people who do.
Then you add Buttery Sweet Dough Bakery Emulsion which helps give it the cake flavor as well.
I use this flavoring a lot when making cake batter flavored baked goods.
Then you fold in the crushed pineapple.
Be sure to drain it as best you can as you do not want the extra moisture.
The bottoms of the pudding shots have some brown sugar.
They are finished by adding a little more brown sugar, a wedge of pineapple, and a half of a maraschino cherry.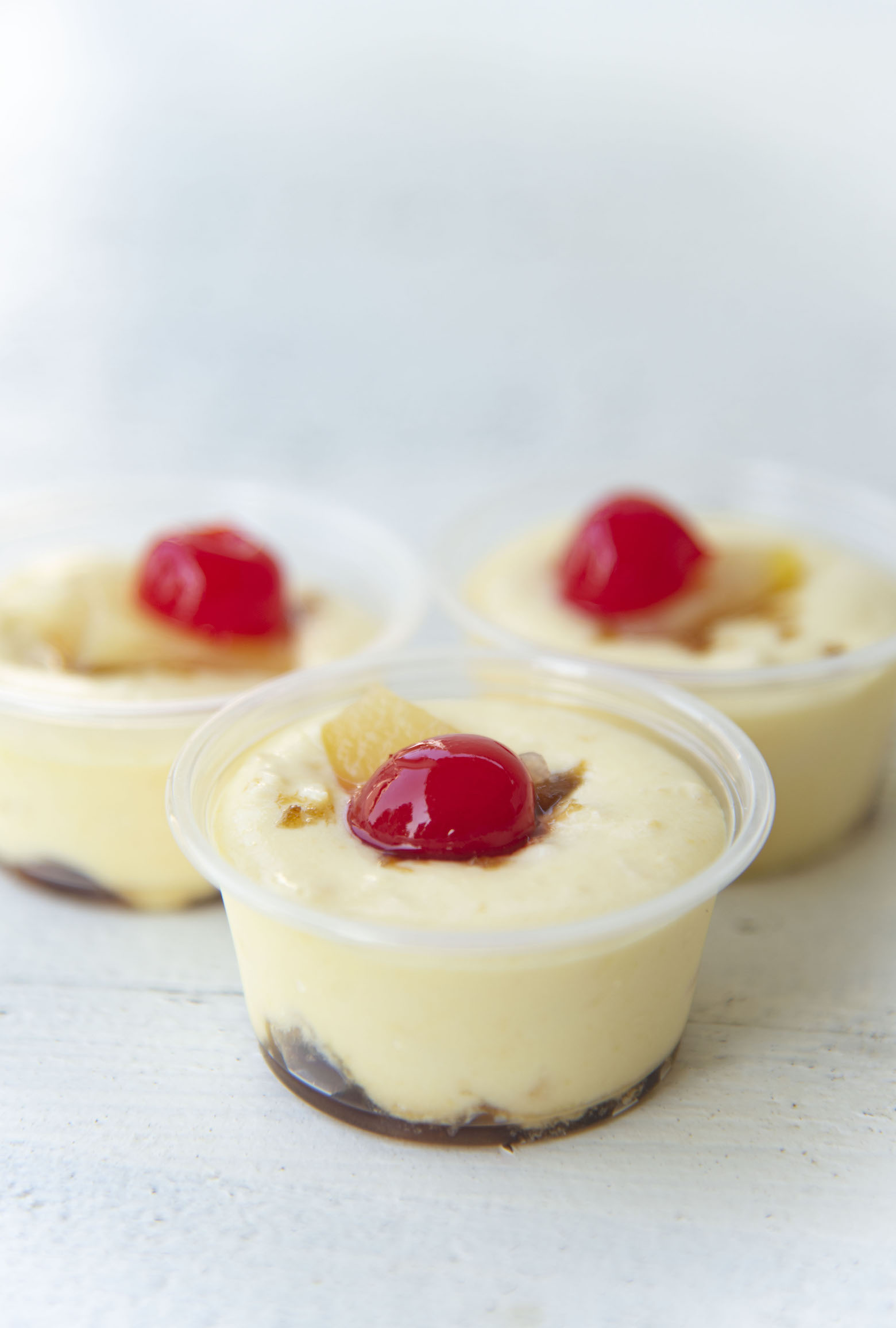 If you are a Pineapple Upside Down Cake fan then these pudding shots will be right up your alley.
It's a great day to order my cookbook.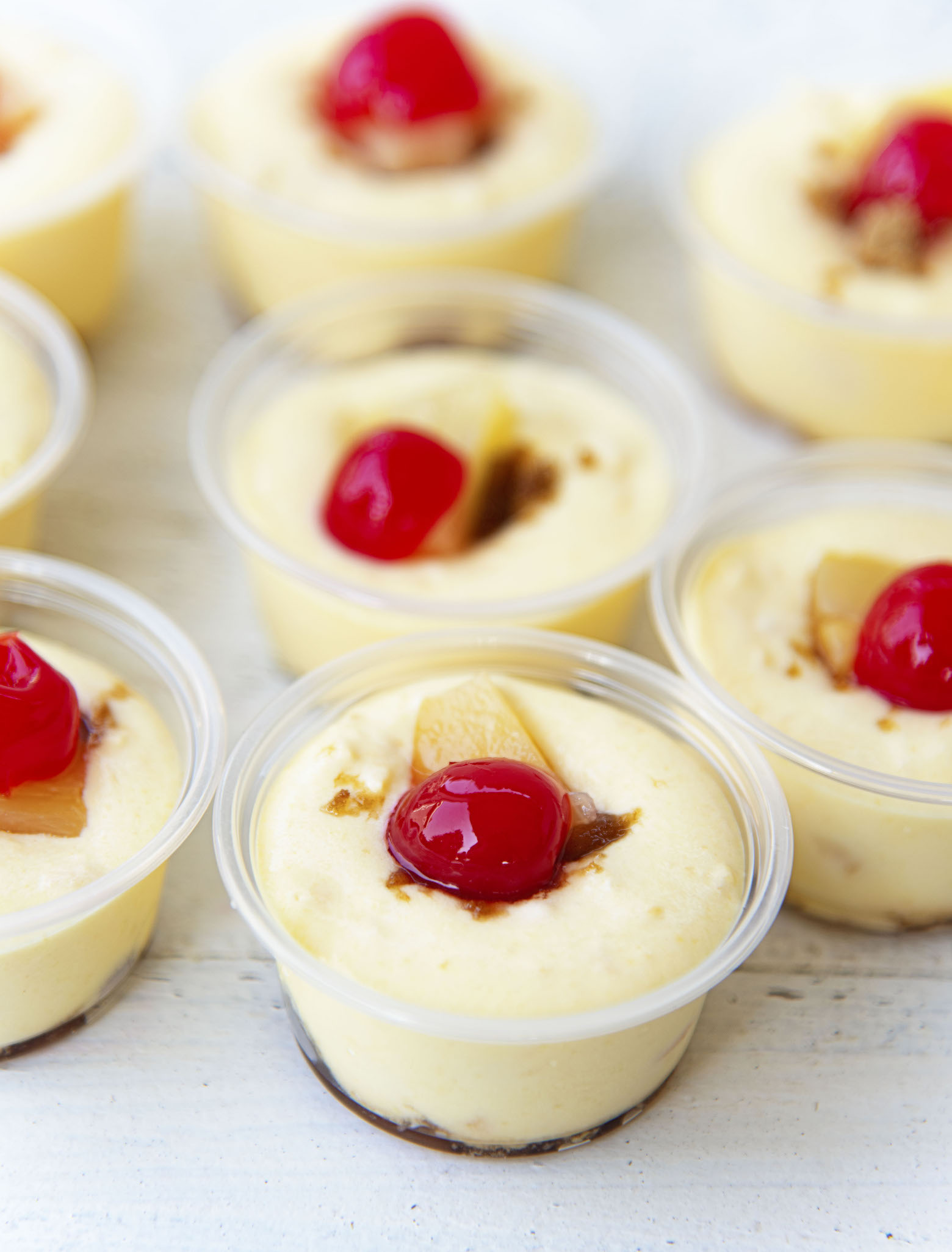 Want More Shots?
Circus Animal Cookie Pudding Shots
Drumstick Ice Cream Pudding Shots
Chocolate Frosty Pudding Shots
Strawberry Pina Colada Jello Shots
Blue Hawaiian Rainbow Jello Shots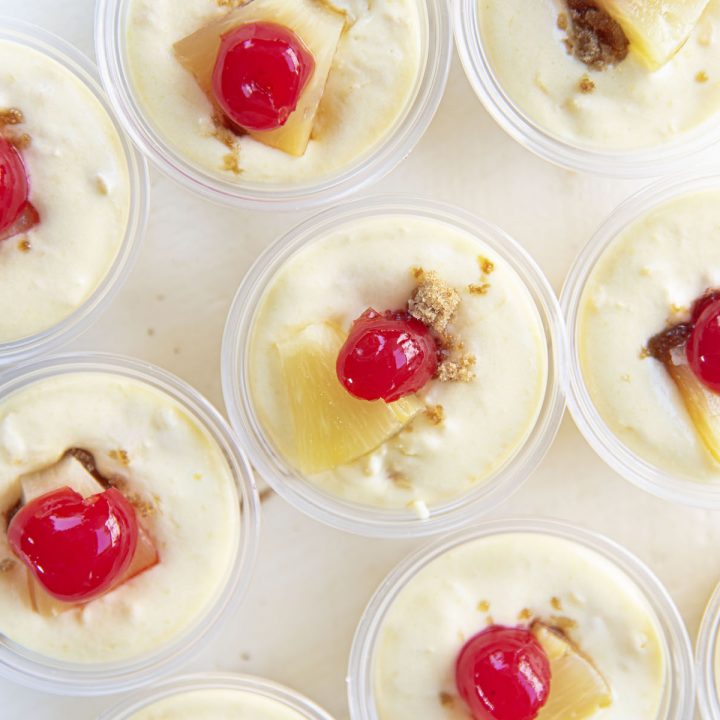 Pineapple Upside Down Cake Pudding Shots
Ingredients
For the Bottom of the Cups:
10 tsp brown sugar
For the Pudding:
3.4 oz instant vanilla pudding
1 cup whole milk
1 cup vodka
1/2 cup yellow cake mix (heat treated)
1 cup crushed pineapple, drained
8 oz Cool Whip (thawed)
Pineapple to garnish
Brown sugar to garnish
Maraschino cherries to garnish
Instructions
For the Bottom:
Place a little bit more than 1/2 tsp. brown sugar at the bottom of each cup.
For the Pudding:
In a large mixing bowl, whisk together the pudding mix, whole milk, and vodka.
Whisk together until it starts to get thick, about 3 minutes.
.Fold in the thawed Cool Whip.
Then whisk until smooth.
Whisk in the yellow cake mix.
Fold in the crushed pineapple.
Cover the bowl with plastic wrap and place in fridge for at least 30 minutes.
Evenly divide the pudding between shot glasses.
Top with a sprinkle of brown sugar, a piece of pineapple, and half a maraschino cherry.
If you need to take them somewhere than I suggest 2oz plastic cups with lids.