These Frosted Lemonade Pudding Shots are a boozy pudding version of the Chick-fil-A beverage that everyone loves.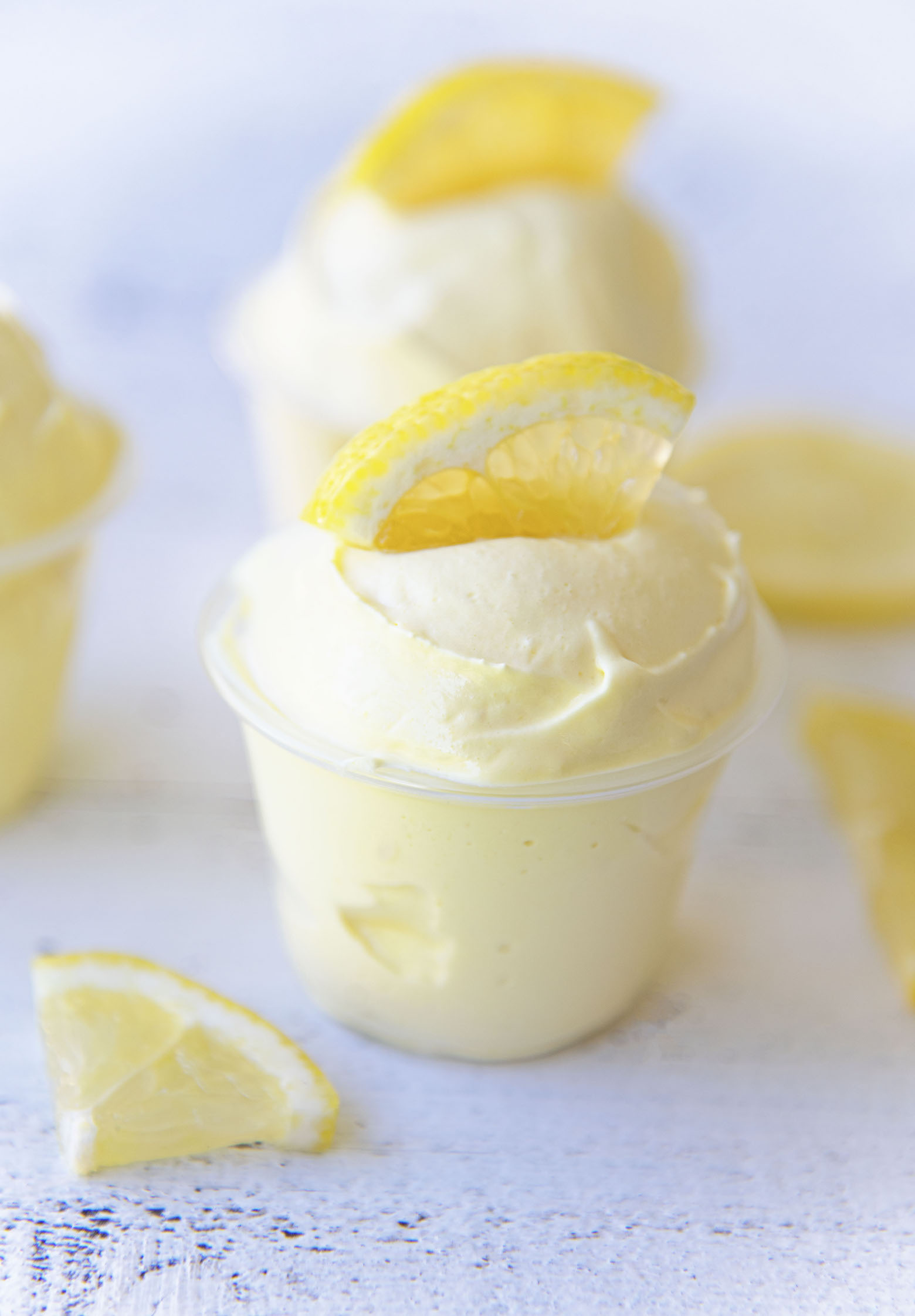 These Frosted Lemonade Pudding Shots are an ode to one of the best beverages around.
The Chick-fil-A Frosted Lemonade.
Which is the genius creation of mixing lemonade with vanilla ice cream.
Technically, it's a shake.
But when you call it a frosted lemonade it sounds better for you. 😀
Oh, I'm not throwing back a large shake.
I'm just throwing back a creamy lemonade.
Sure, tell yourself that.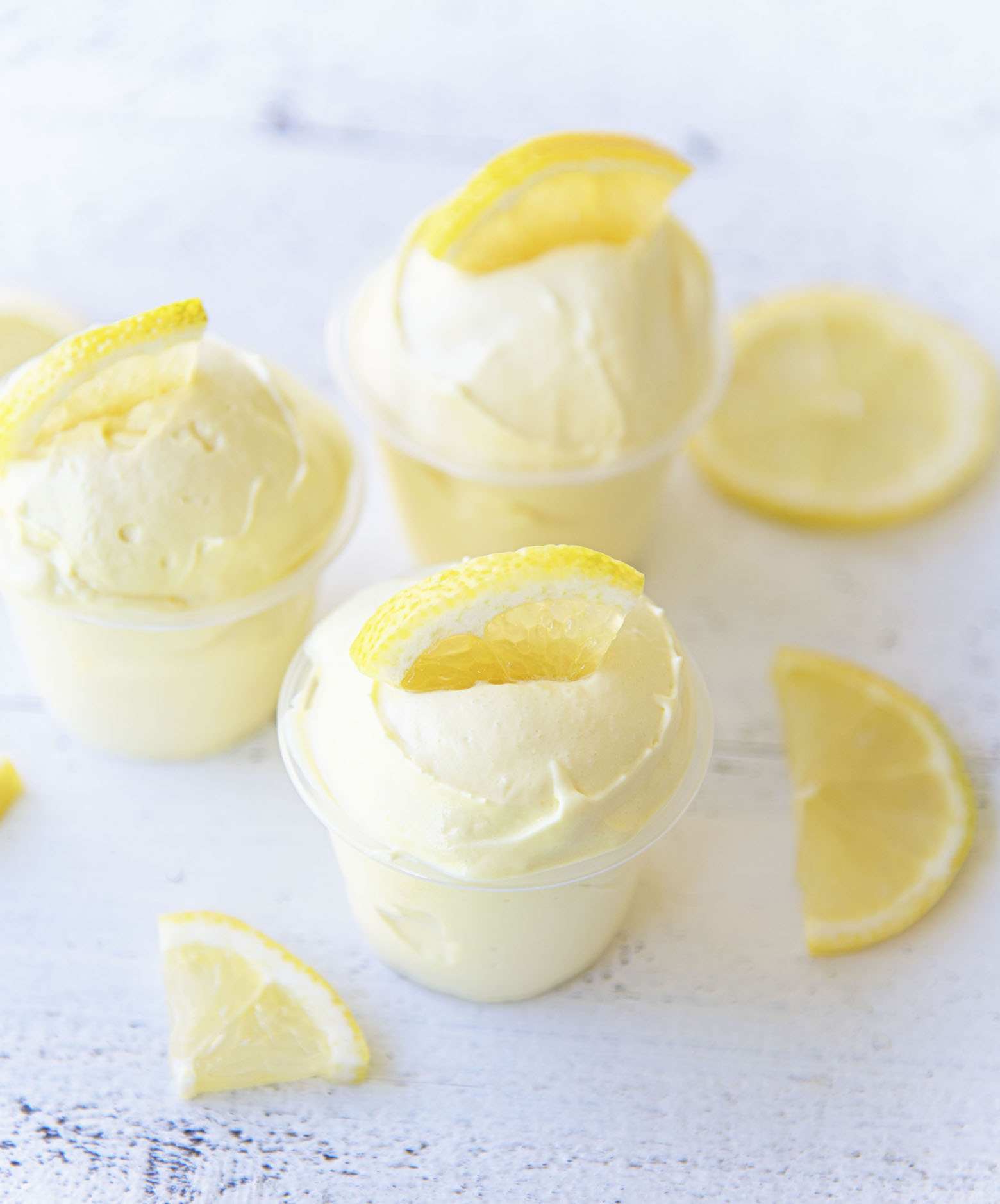 Call it whatever you want, it's delicious.
How could it not be?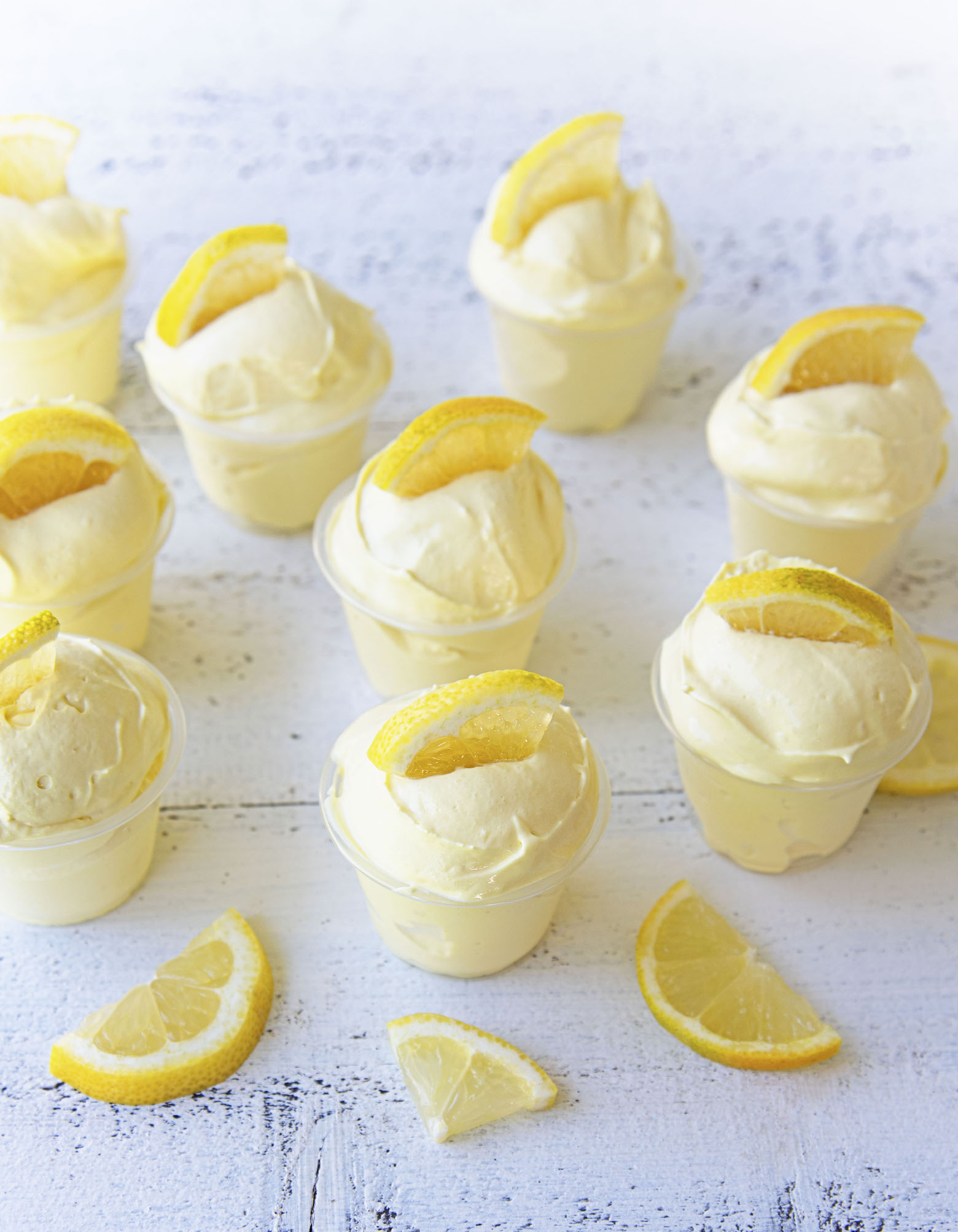 Ingredients Needed:
Sonic Vanilla Shake Instant Pudding: Can you use just plain vanilla pudding? Technically, yes. But the vanilla shake pudding that they make is just perfect for this.
Vanilla Soft Serve Ice Cream Mix: I use ice cream mix in a lot of my recipes. It really adds something nice to the recipes.
Powdered Lemonade: You can use whatever brand you prefer. I used Country Time because that's what I grew up on. I use the powder so that it doesn't water down the pudding shots. DO NOT use sugar free.
Fresh Lemon Juice: Even though we are using a lemonade mix these need the addition of fresh lemon juice to really give them a nice tart flavor.
Milk: You need to use whole milk for this recipe. The pudding needs to be extra creamy and skim or 2% just won't do it.
Vodka: Any plain vodka will do. I wouldn't use the good stuff for pudding shots. But that's up to you. If you want you can use a vanilla vodka or whipped cream vodka as well.
Cool Whip: People groan at this usually. But Cool Whip is what works best. I have tried making pudding shots with real whipped cream and they just don't work out.
Sliced lemons: For garnish.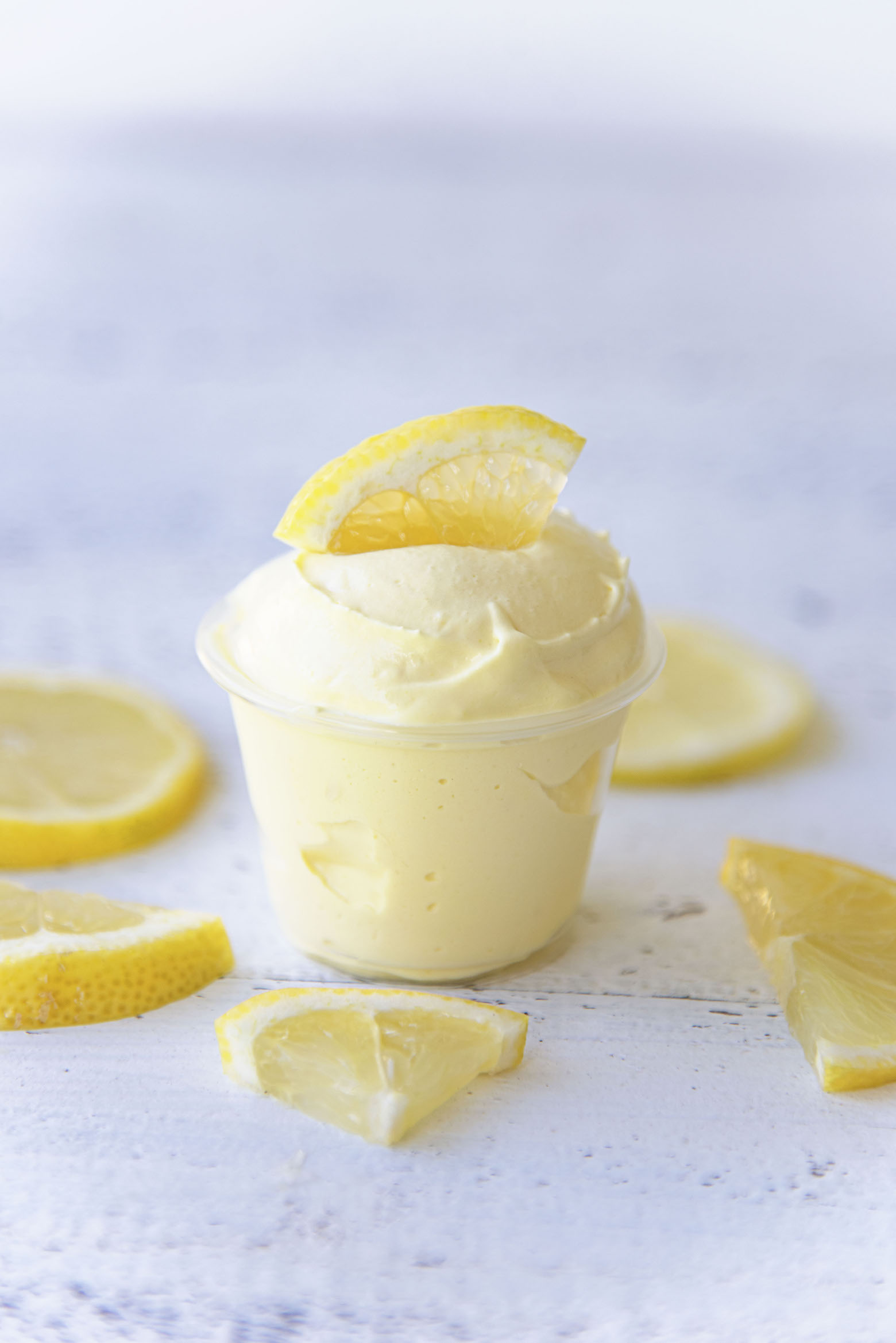 Recipe Variations:
Strawberry Lemonade: Substitute powdered strawberry lemonade for the lemonade. Add 3 TBSP crushed freeze dried strawberries.
Pink Lemonade: Substitute powdered pink lemonade for the lemonade. Add 3 TBSP crushed freeze dried raspberries.
Black Cherry Lemonade: Substitute powdered black cherry lemonade for the lemonade. Add 3 TBSP crushed freeze dried cherries.
Whatever you chose just make sure that you are NOT using sugar free lemonade mix.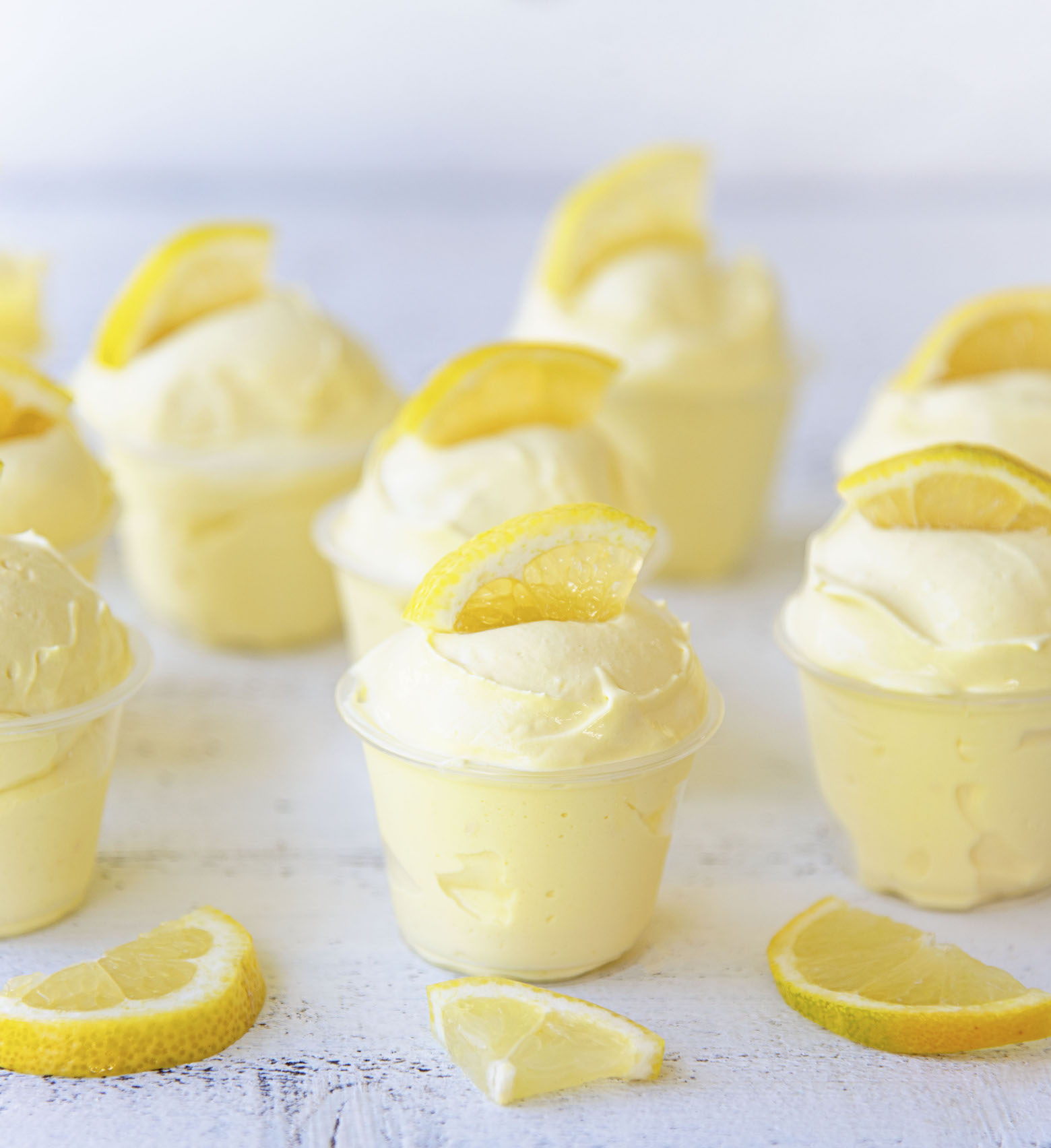 Tips For Making Pudding Shots:
Remember when using any alcohol that is more than 80 proof can make your pudding shots runny.
Most vodkas run at 80 proof and that is usually the highest alcohol content booze I use so you should be fine.
But always good to check.
Don't skip the Cool Whip.
Many people ask can they use whipped cream instead.
Yes, you can.
However, make sure that you do not use the kind out of a can.
That will not hold up.
I've always made mine with Cool Whip just because I feel it holds it shape better in pudding shots.
Be sure to chill them for at least 30 minutes.
While I say to chill them for at least 30 minutes I usually end up chilling them for much longer.
Often I make up the pudding the night before and place it into an airtight container and then scoop the day of the party.
Saves time on the day of the party.
P.S. It's a great day to buy my cookbook Holy Sweet!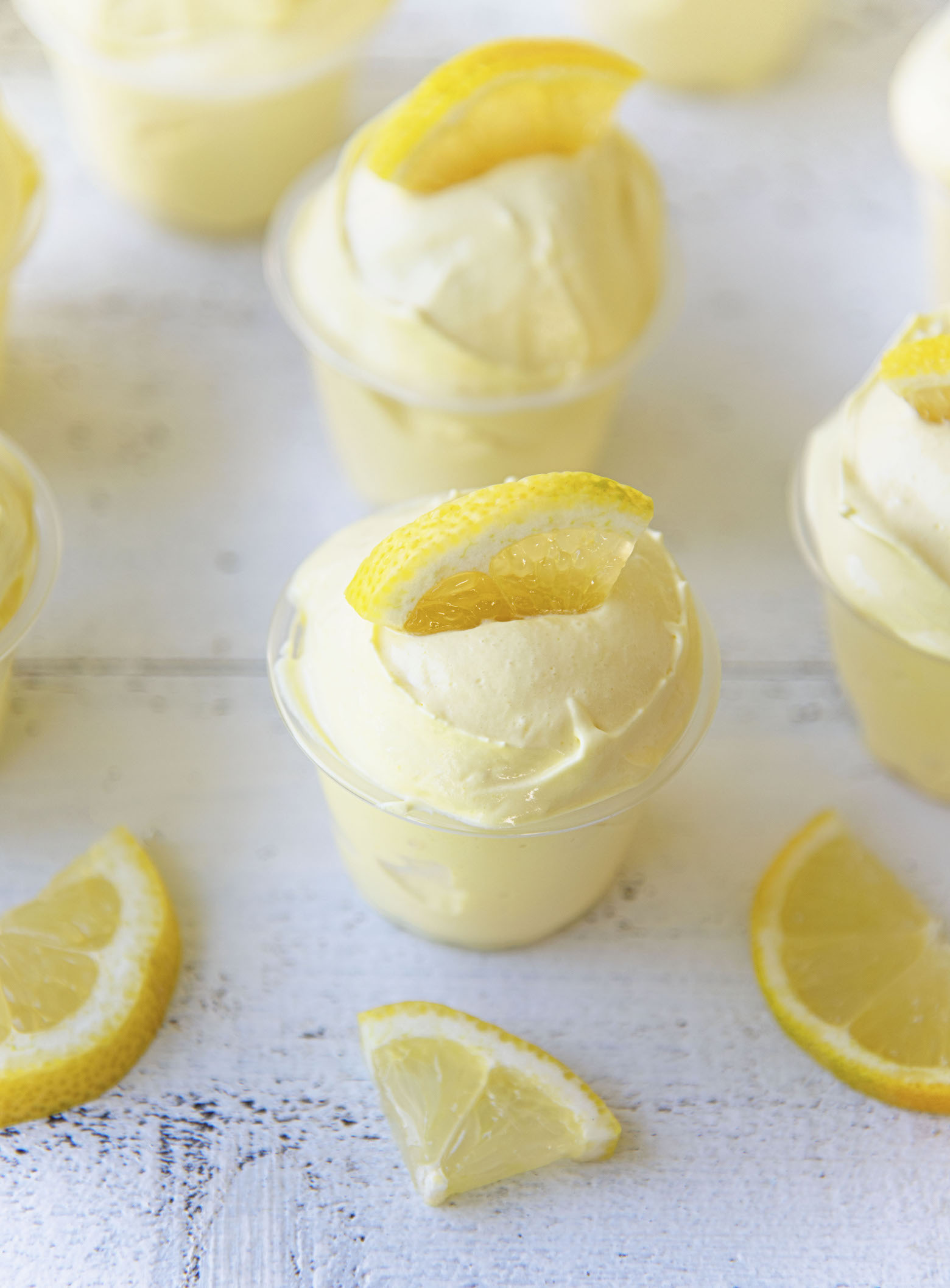 Want More Pudding Shots?
Circus Animal Cookie Pudding Shots
Drumstick Ice Cream Pudding Shots
Chocolate Frosty Pudding Shots
Pineapple Upside Down Cake Pudding Shots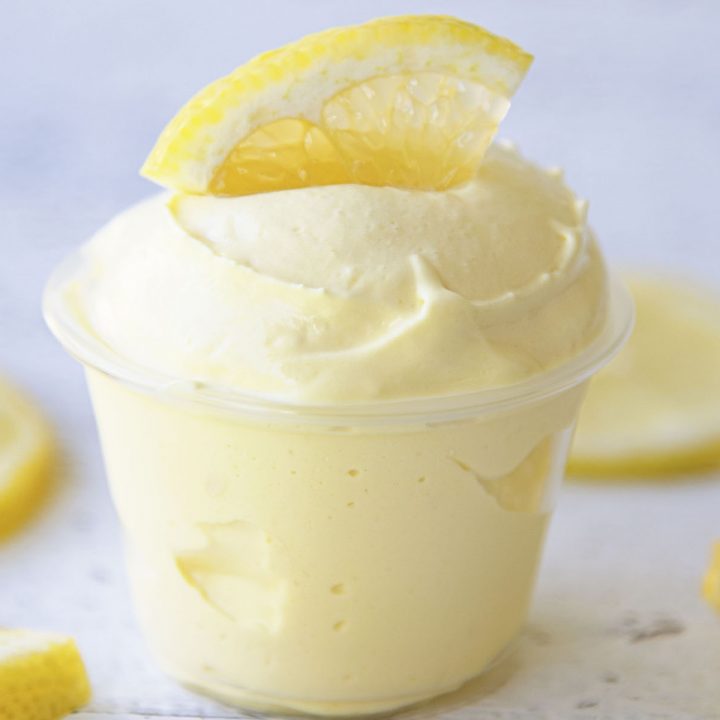 Frosted Lemonade Pudding Shots
Ingredients
For the Pudding:
1/2 cup powdered lemonade mix
1/4 fresh cup lemon juice
1 1/2 cups whole milk
1/2 cup vodka
8 oz Cool Whip (thawed)
Instructions
In a large mixing bowl, whisk together the pudding mix, vanilla soft serve mix, milk, powdered lemonade, lemon juice, and vodka.
Whisk together until it starts to get thick, about 3 minutes.
Fold in the thawed Cool Whip.
Then whisk until smooth.
Cover the bowl with plastic wrap and place in fridge for at least 30 minutes.
Evenly divide the pudding between shot cups.
Scoop two small ice cream scoops into the shot cups.
Top with a small piece of lemon or a lemon candy piece.