Stroopwafel Cheesecake Bites have a mini stroopwafel bottom with brown sugar stroopwafel liqueur cheesecake filling and whipped cream.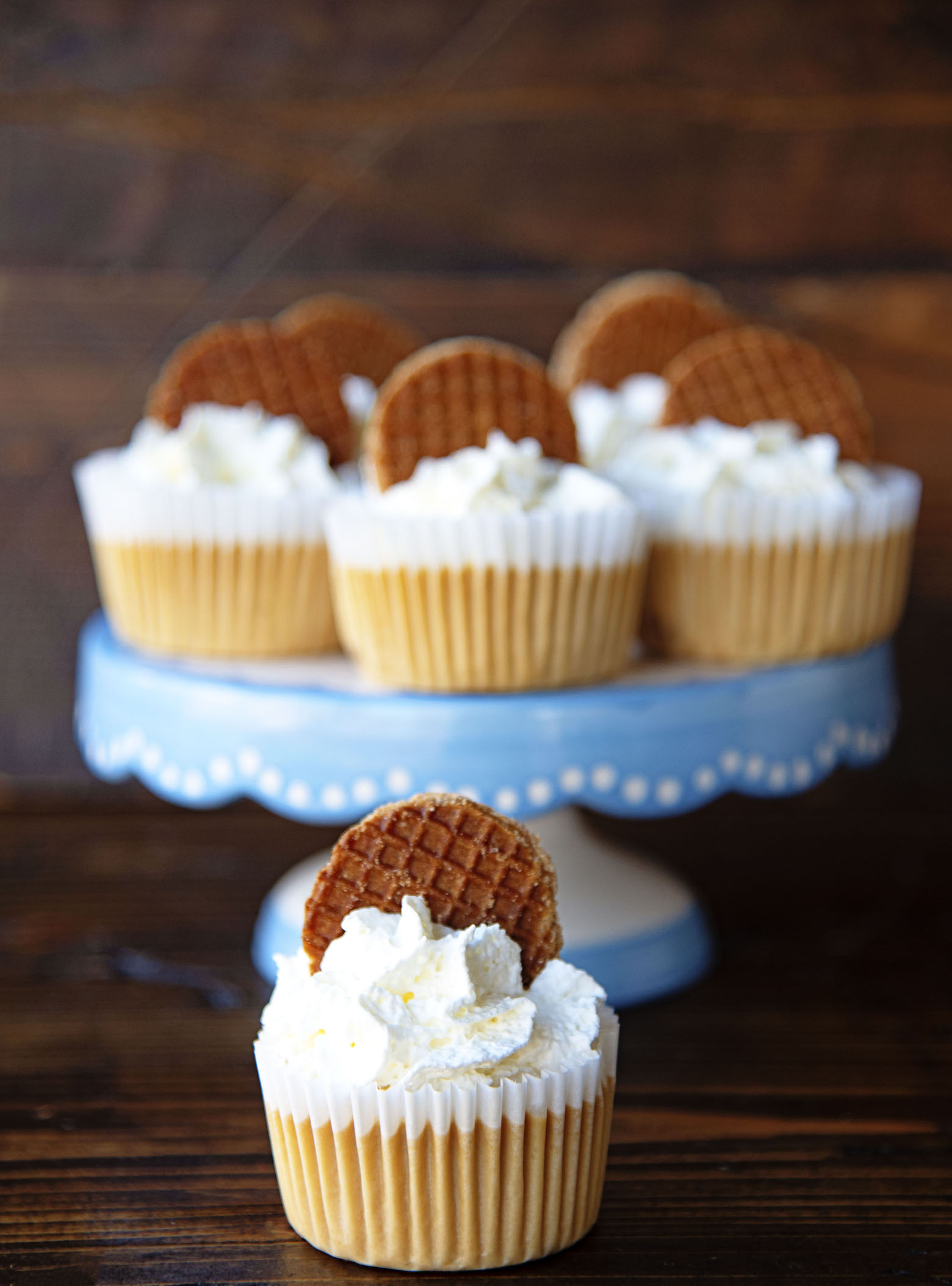 These Stroopwafel Cheesecake Bites were made with a friend in mind.
She is Dutch and each year at Christmas her mom and her make homemade ones.
And they are so yummy.
If you have never heard of a stroopwafel you are missing out.
What is a stroopwafel?
It's a thin, round waffle cookie made from two layers of sweet baked dough held together by caramel filling.
If you watch British Bake Off it was one of the technical challenges.
One they all failed at.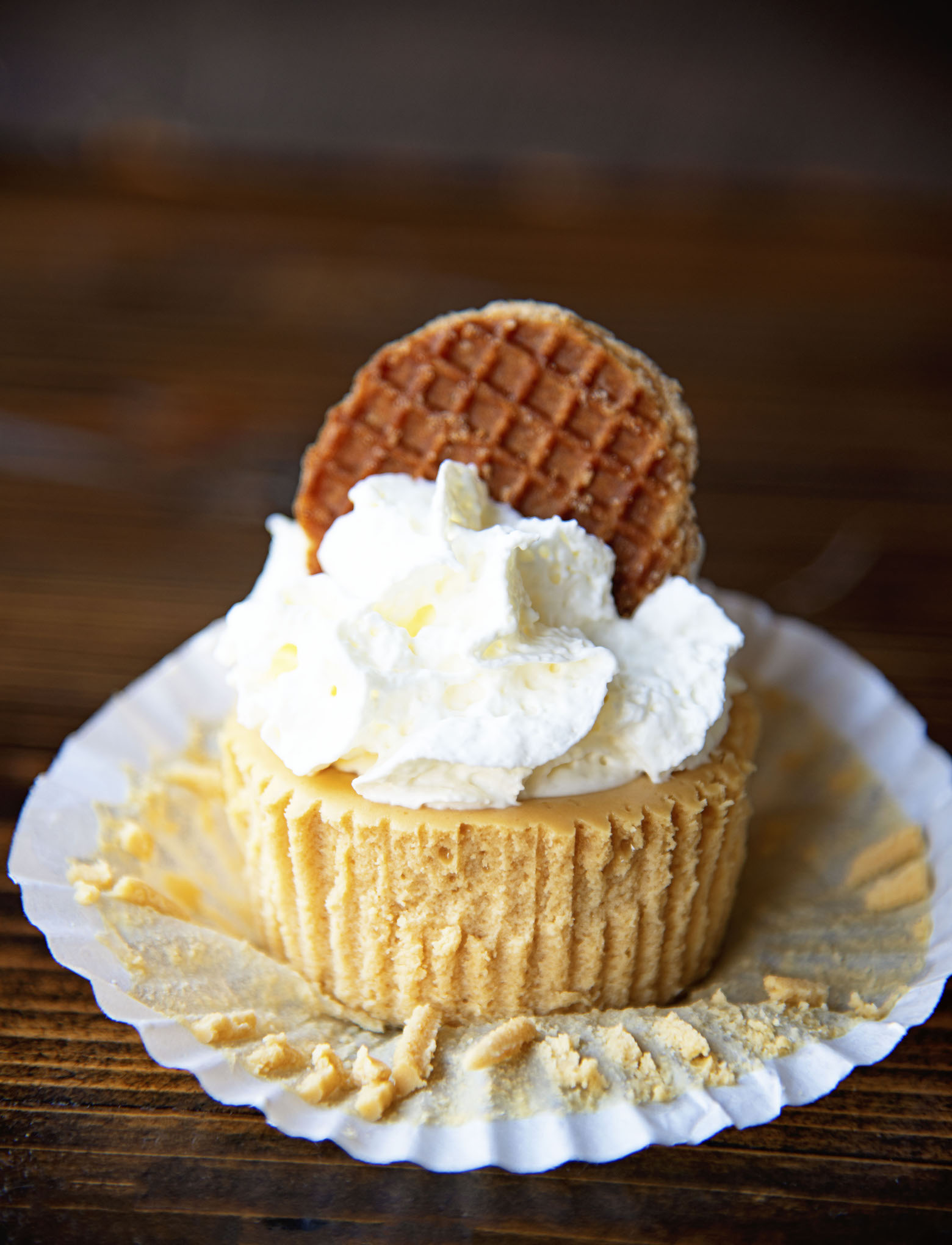 I first discovered the cookie when I was teaching 6th grade.
We had a foods of the world day since in Arizona 6th grade social studies is world studies.
The students brought in foods from one or more of their families heritage.
One of my students brought in stroopwafels. She explained how her grandmother, who lived with them, put them over her cup of tea each afternoon.
And that the hot tea would soften up the caramel in the cookie making them extra yummy.
Which they are extra yummy when placed over a cup of hot tea to warm them.
I'm sure you can microwave them a little to heat them but there is something so quaint about heating them up over a hot beverage.
Not too long after discovering the cookie, Cost Plus World Market started carrying them around Christmas time.
Back then, and for the longest time, I just ate them.
Nothing wrong with that. 😀
But then I discovered they made a stroopwafel liqueur.
And that opened up a lot more possibilities.
I made hot chocolate and cupcakes out of it.
And now cheesecake bites.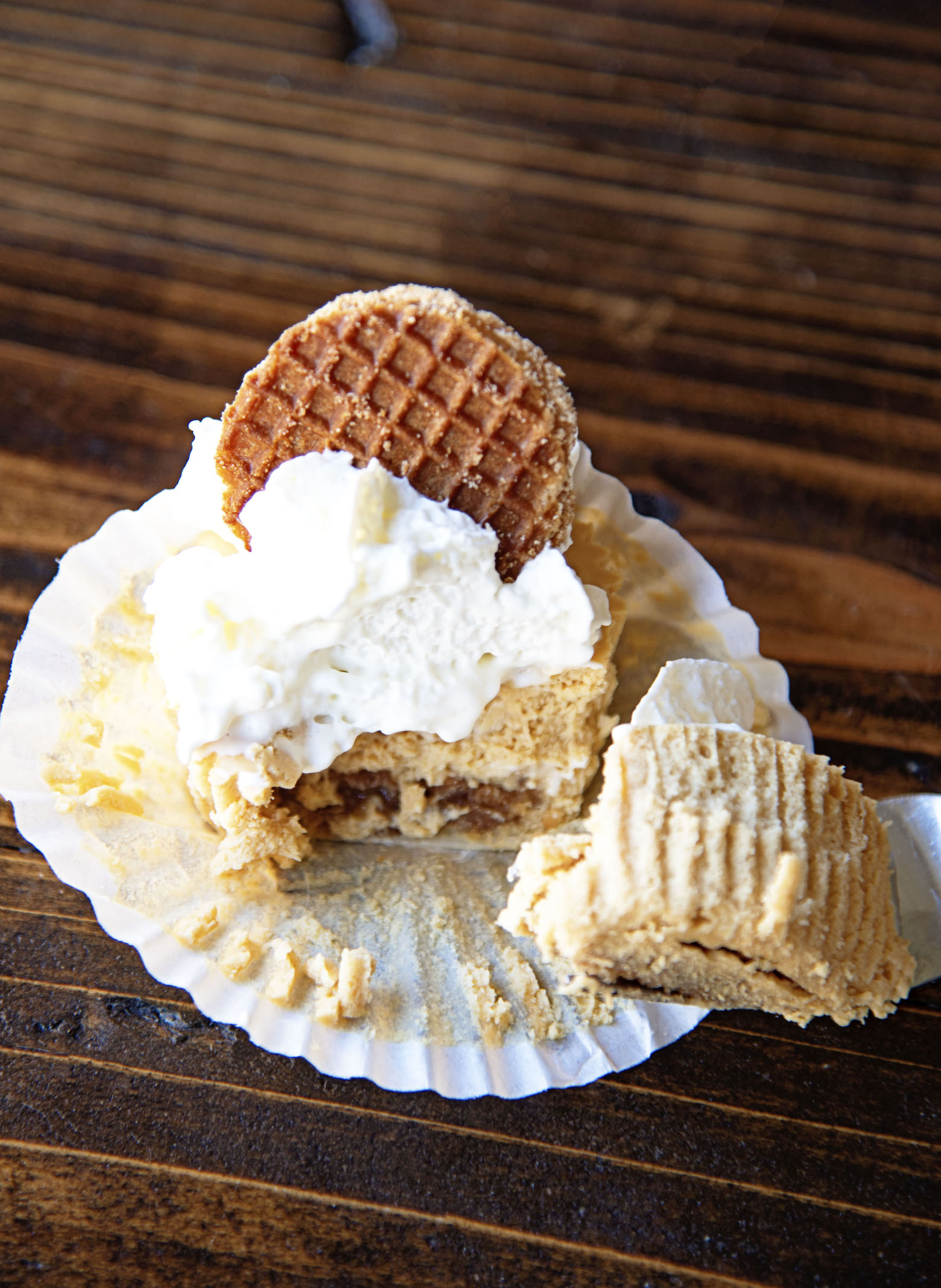 These cheesecake bites have a mini cookie bottom.
I linked where to get the mini cookies on Amazon in the recipe.
You can sometimes get them year round, though they are normally full sized.
At holiday time I buy mine at Sprouts (if you have one in your area).
You can always buy the full size ones and cut out the smaller size.
Then eat all the leftover pieces.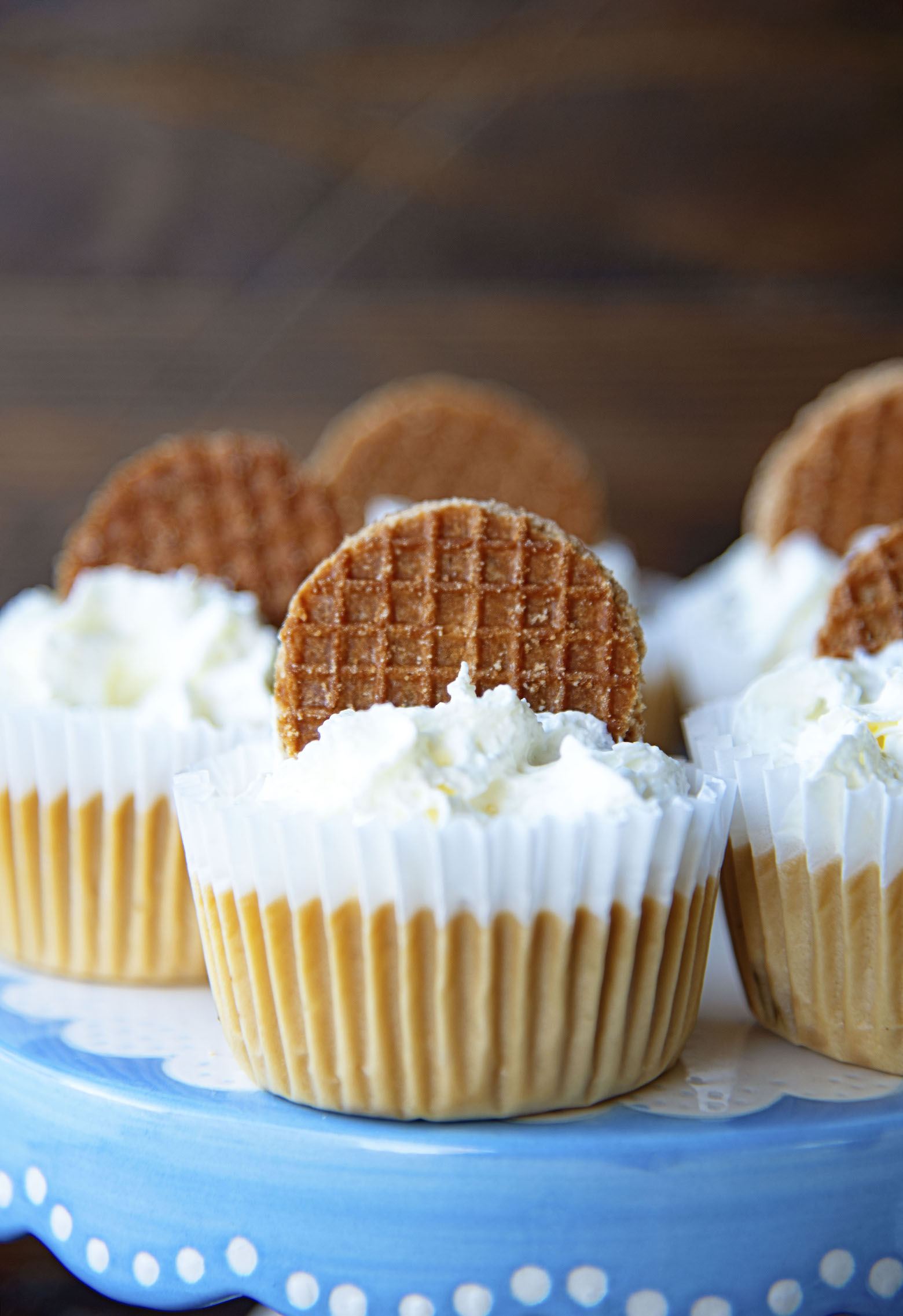 The cheesecake filling is brown sugar based with a touch of molasses and uses the liqueur.
I have a link to the makers of the liqueur so you can see who carries it around you.
Top with a brown sugar whipped cream.
Or, to sound like Ina Garten, store bought is fine. 😀
P.S. It's a great day to buy my cookbook Holy Sweet!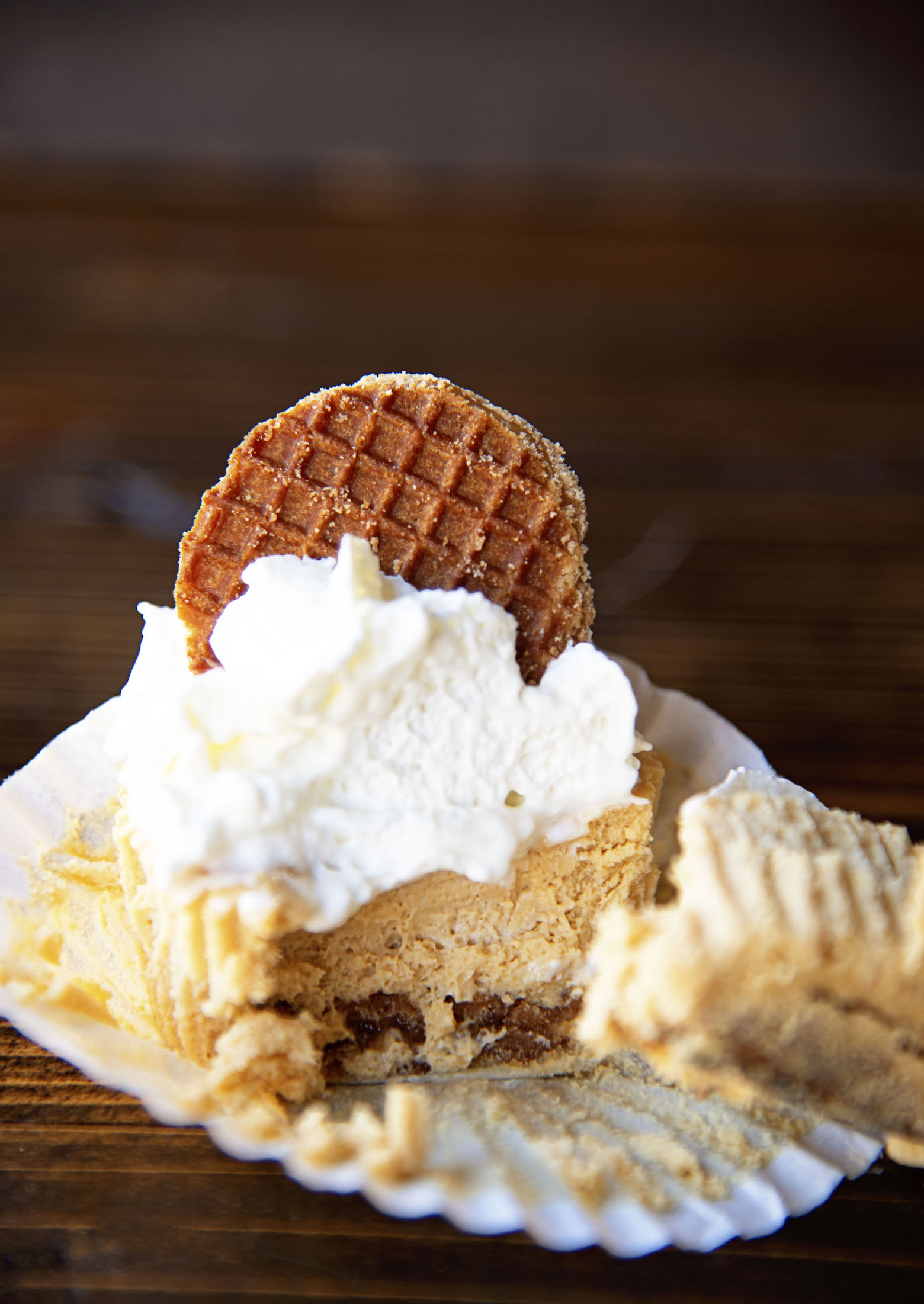 Want More Cheesecake Cups?
Sugar Cookie Dough Cheesecake Cups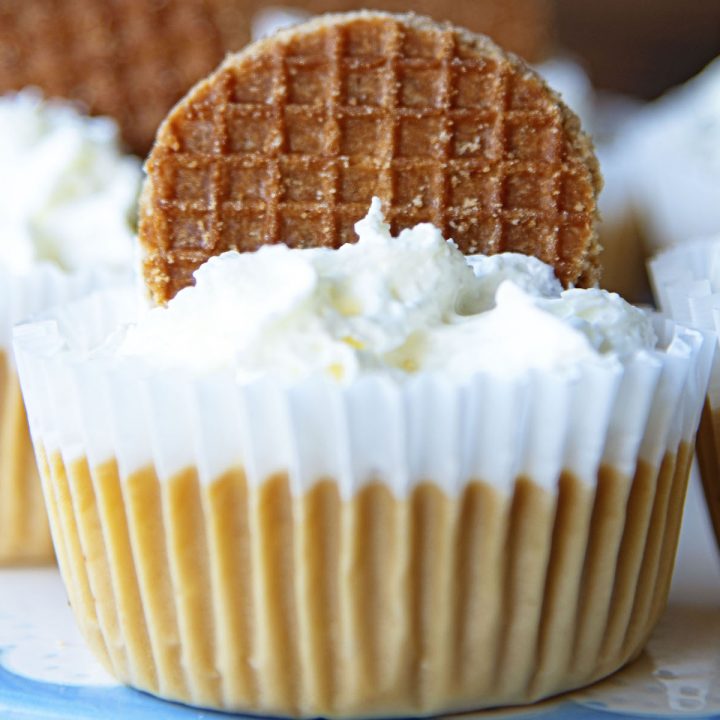 Stroopwafel Cheesecake Bites
Ingredients
For the Cheesecake Bites:
16 ounces cream cheese, at room temperature
1 cup brown sugar
3 TBSP molasses
1 ½ TBSP flour
3 eggs
12 mini stroopwafels , plus more for garnish
For the Brown Sugar Whipped Cream:
1/2 cup heavy whipping cream
3 TBSP brown sugar
Instructions
Preheat oven to 275F.
Place 12 liners into a muffin pan. Set aside.
Place one mini stroopwafel at the bottom of each muffin cup.
Using a stand mixer with the paddle attachment cream the cheese on medium speed until very soft and creamy, about 3 minutes.
With the mixer running, add the sugar. Beat until well combined.
Stop the mixer and scrape down the bowl.
Add in the molasses and beat for another 30 seconds.
On low speed add the flour.
Then add the eggs one at a time, scraping down after each addition.
Scrape down the bowl at least twice while adding the eggs.
Add the Stroopwafel liqueur. Scrape down the bowl.
Using an ice cream scoop, fill the muffin cups.
Bake for 22 minutes. Rotating the pan halfway through.
Let cool to room temperature then move to fridge and chill for at least 2 hours.
For the Brown Sugar Whipped Cream:
Add the the ingredients to a bowl of a stand mixer and whip together on high in mixer with whisk attachment until stiff peaks form.
Pipe onto the cheesecake bites.
Top with mini stroopwafels if desired.