Bomb Pop Cheesecake Cups: Fun, portable, and perfect sized mini cheesecake cups in the flavors of a Bomb Pop popsicle: Blue Raspberry, Lime, and Cherry.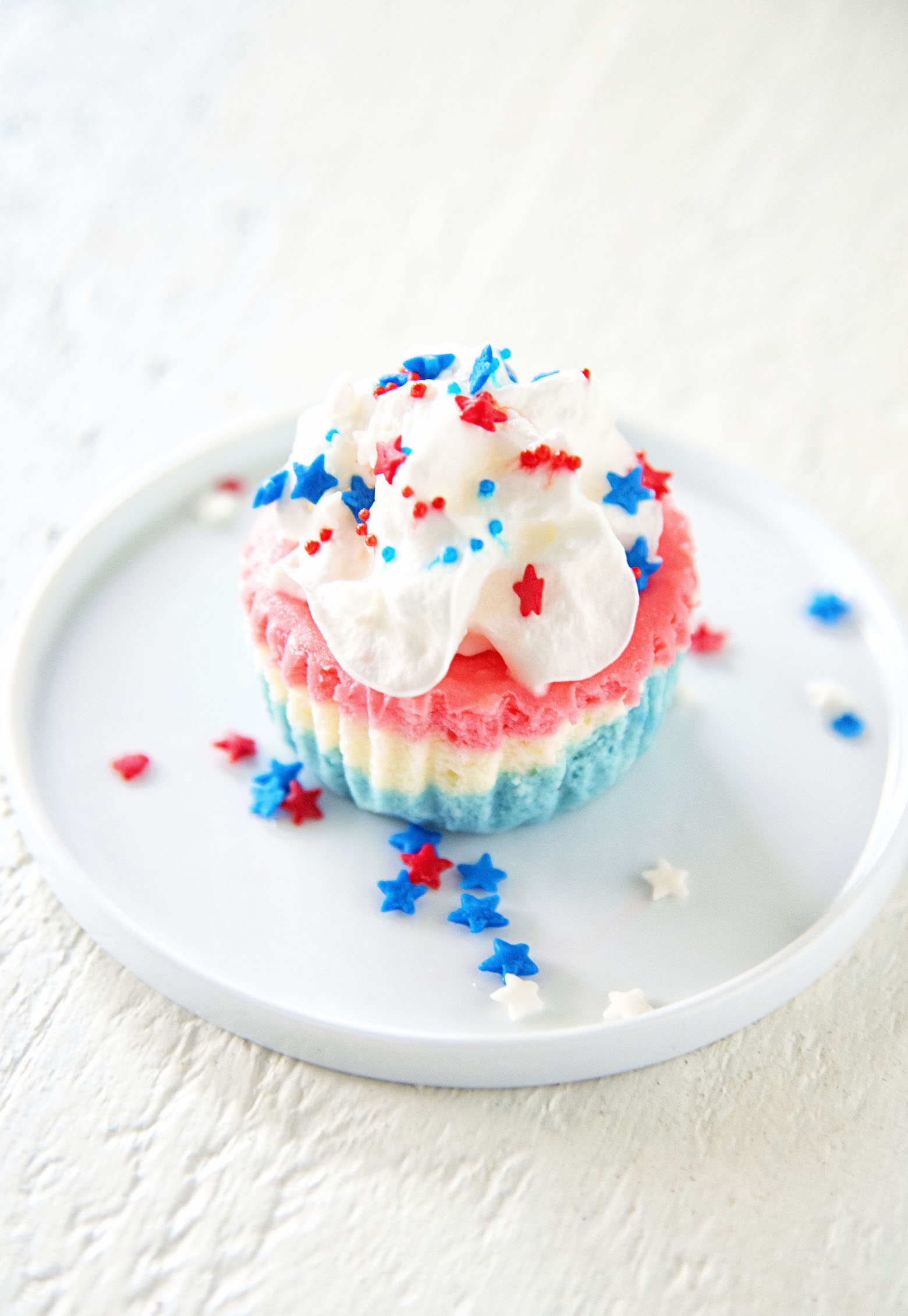 This post and recipe was created for #SummerDessertWeek! I was sent samples by some of the sponsor companies but as always opinions, bad grammar, and overuse of emojis are 100% mine.
In this post I used Sweets and Treats fun Patriotic Star Sprinkles. I received them for free but was not monetarily compensated for this post. They have lots of cute sprinkles and cupcake liners you should go and check out.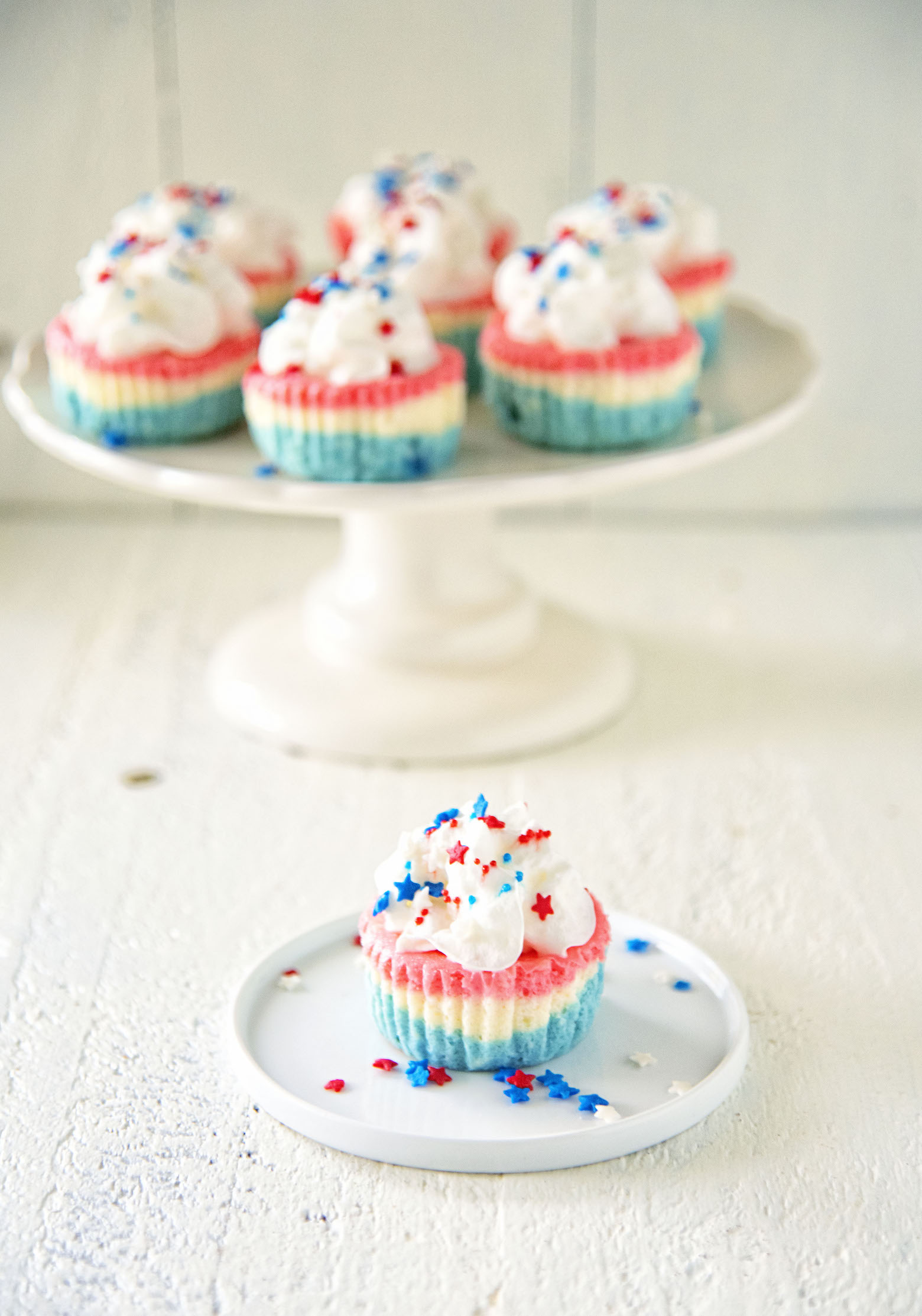 It's day four of #SummerDessertWeek and I am paying tribute to the Ice Cream Man.
I really miss the days of having to run down the ice cream man.
It's a great concept to force children to get a little exercise. 😛
We kind of need them for adults. 🙂
I could eat a whole lot more ice cream if I had to run down the street for it…especially my street because it's super long. 😀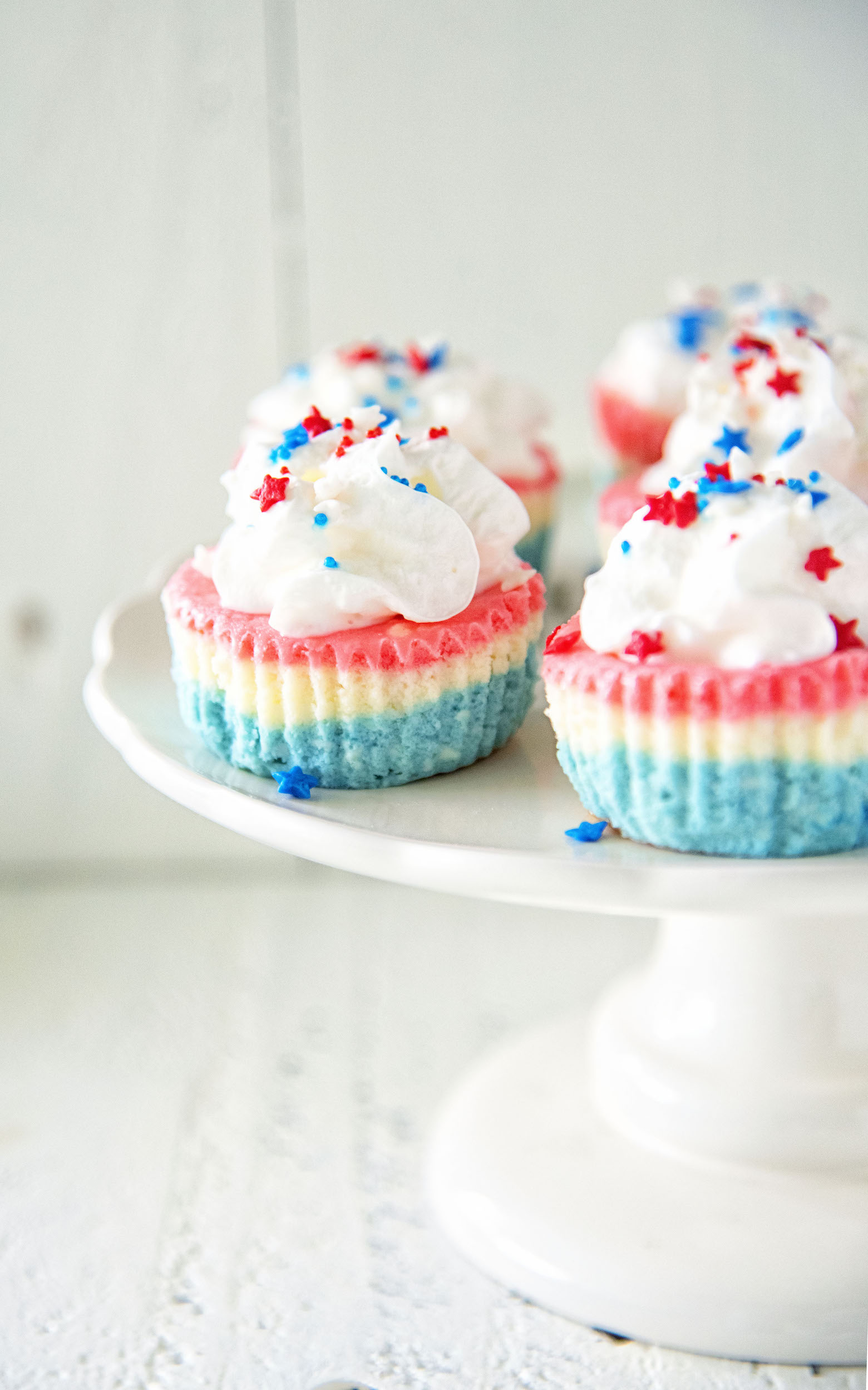 I remember the sheer excitement in summer time when you would hear the music.
Running out of your house and trying to figure out where it was in your neighborhood and if it was coming closer or further away from your house.
If you think about it not only did you get exercise to chase it down but you learned directional life skills as well.
The hardest part for me was picking which treat to get.
I lived in Phoenix so there was not the option of getting more than one and saving it for later as it would melt before you got home.
I rotated usually between Creamsicle, Drumsticks, and Bomb Pops.
Super hot days always called for Bomb Pops.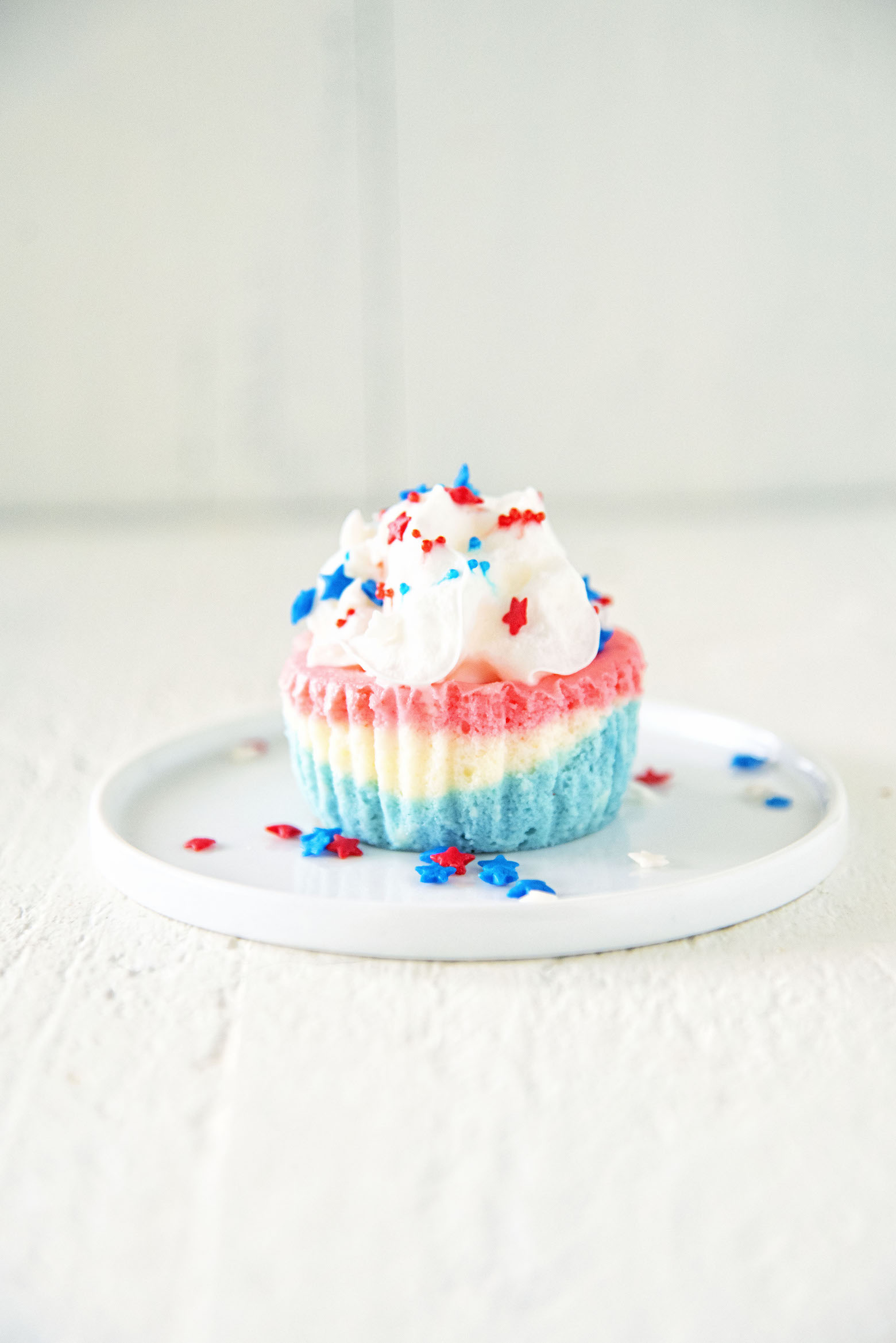 They were such a fun shape and I loved all the colors.
I remember when I found out what the three flavors were…I had only ever guessed cherry correct.
But the other two were blue raspberry and lime.
Now they come in a variety of flavors but I'm nostalgic for the originals.
Instead of just making a cheesecake I decided to make cheesecake cups.
They work so much better for potlucks as they are portable.
No one wants to have to carry a plate and a fork around to eat cheesecake especially when you can just pop one of these in your mouth.
These are not only true to color but flavor.
There is a blue raspberry layer, a lime layer, and a cherry layer.
All topped with whipped cream and sprinkles.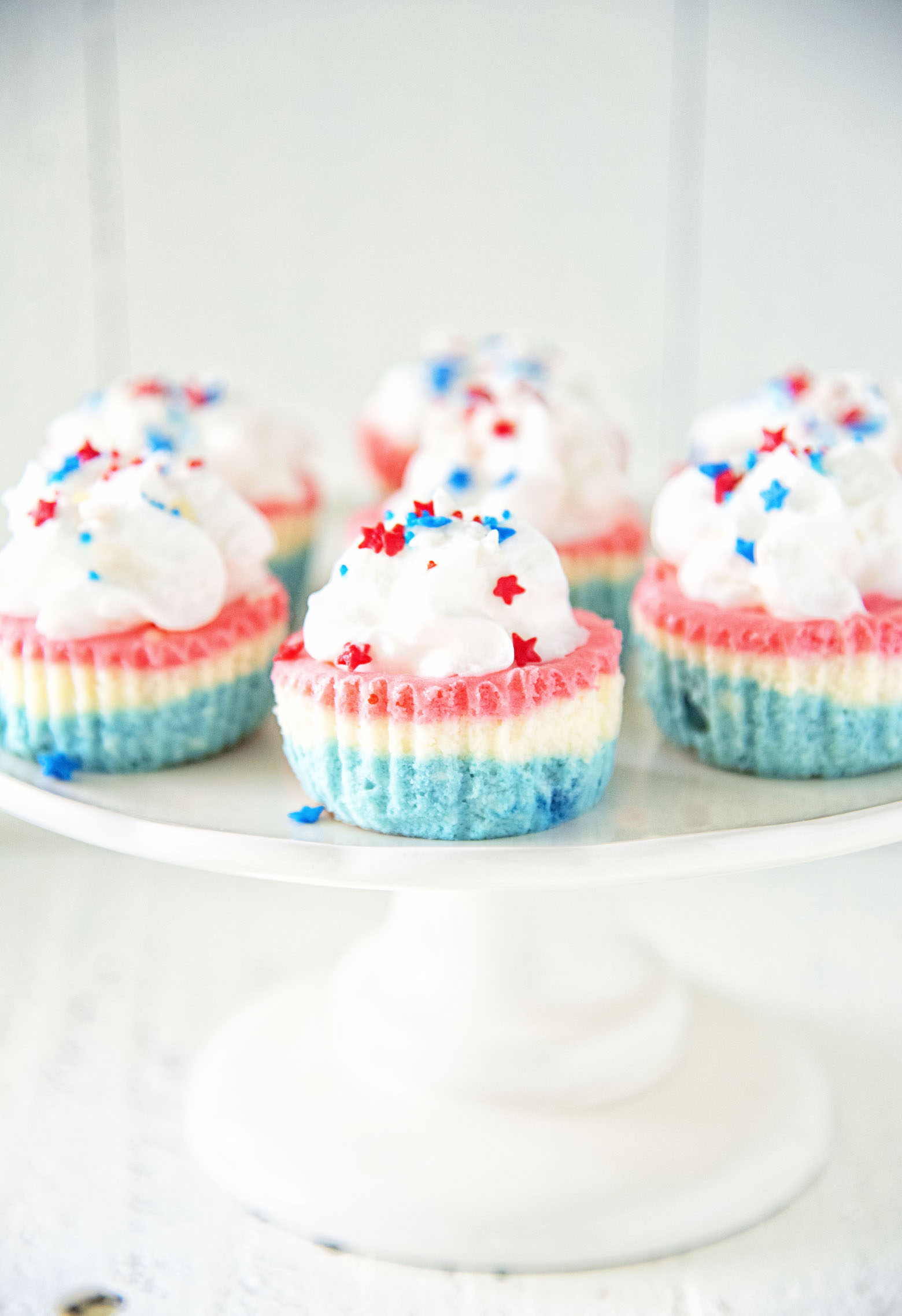 Check out the amazing #SummerDessertWeek recipes from our bloggers today!
Ice Cream & Frozen Desserts:
Summertime Pies:
Sweet Summertime Cakes and Cupcakes:
No Bake Treats:
Baked Desserts:
Candies: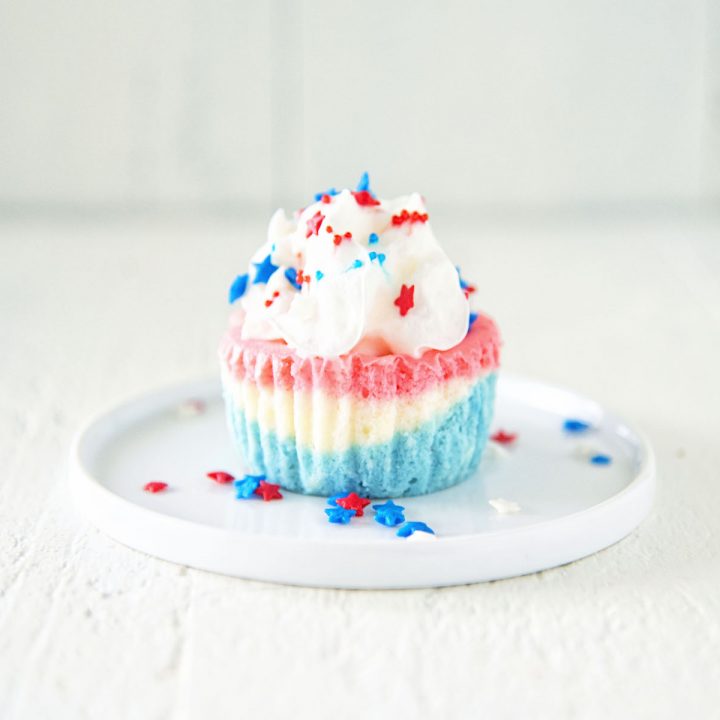 Bomb Pop Cheesecake Cups
Ingredients
16 ounces cream cheese, at room temperature
½ cup granulated sugar
2 eggs
½ cup sour cream
12 vanilla sandwich cookies
red and blue food coloring
Instructions
Preheat oven to 275F.

Line muffin tin with cupcake liners (preferably white).

Place cookie at the bottom of each cupcake. Set aside.

Using a stand mixer, beat cream cheese and sugar on medium-high speed for about 5 minutes.

Add eggs, one at a time, beating for about 1 minutes. Scrape down the bowl after each addition.

Add the sour cream and beat until incorporated.

Divide cheesecake batter into three equal bowls.
Add blue food coloring and two drops of blue raspberry flavoring to one bowl and mix until fully combined with the cheesecake batter.
Add red food coloring and two drops of cherry flavoring to one bowl and mix until fully combined with the cheesecake batter.
Add two drops of lime flavoring to one bowl and mix until fully combined with the cheesecake batter.
Using a mini cookie scoop place a blue scoop on top of each cookie. Even out with the back of a spoon.
Add a white scoop to each cup. Even out with spoon.
And top with red scoop to each cup. Even out with spoon.

Bake for 22 minutes, rotating half way through.

Remove from oven and let cool to room temperature.

Chill in fridge in muffin tins for at least 4 hours or overnight.

Recipe makes about 12.
Welcome to the 3rd Annual #SummerDessertWeek event hosted by Angie from Big Bear's Wife. This week-long summer time event is filled with some down right amazing sweet recipes from fantastic bloggers and we've got some great giveaways from our generous sponsors for y'all too!! We can't wait to share all of these summer-themed desserts with you and celebrate sweet, sweet summertime all week long!
There are 45 incredible bloggers participating in this year's #SummerDessertWeek event! Thanks to those bloggers, we have over 168 summer time sweet treat recipes being shared this week! Grab a few recipes to try out and don't forget to enter the giveaway below! Scroll down to take a look!
PRIZE #1
Dixie Crystals is giving away one (1)Keurig® K-Select® Coffee Maker
PRIZE #2
Prize #2 — Adam's Extract is giving away – 1 Gift Pack – including Adams Poundcake Kit, Adams Best, Adams Lemon Extract, Adams Natural Food Color, and Adams Cinnamon Sugar
PRIZE #3
Prize #3 —Wilton is giving away a Wilton Gift Pack – including – Bake and Bring Geometric Print Non-Stick 13 x 9 -inch Oblong Pan, Bake and Bring Geometric Print Non-Stick 8-inch Square Cake Pan, Bake and Bring Geometric Print Non-Stick 8-inch Round Cake Pan, Peach Cobbler Candy Melts Candy, Blueberry Lemonade Candy Melts Candy, Orange Crème Candy Melts Candy, Key Lime Pie Decorating Icing Pouch with Tips, Orange Crème Decorating Icing Pouch with Tips, Pop Art Triangle and Solid Cupcake Liners, Geometric Print and Solid Green Cupcake Liners, Balloon Dog Icing Decorations, Assorted Brights and Pastels Sprinkles, Blue Sprinkles Tackle Box, Coral Sprinkles Tackle Box, DIY-Lish Mermaid Kit, DIY-Lish Candy Lollipop Kit and Disposable Decorating Bags with 1M Tips
PRIZE #4
Prize #4 — Sweets & Treats Boutique is giving away 1 (one) baking supply box including an assortment of sprinkles and cupcake liners as well as one of Love From The Oven's recent cookbooks!
PRIZE #5
Prize #5 —
Anolon is giving one (1) winner an Anolon Advanced Graphite 9″ Round Springform Pan & an Anolon Advanced Graphite 9″ Square Springform Pan
a Rafflecopter giveaway
Giveaway open to US Residents 18 years or older.

All entries will be verified.

No PO Boxes Please. Prizes will be sent directly from sponsors to winners, bloggers are not responsible for prizes. This giveaway runs from July 7th – July 14th at 12AMEST. Winners will be selected soon afterward and contacted by e-mail. Winners will have 48 hours to respond or a new winner will be chosen. There are a total of 5 (five) prizes and therefore we will have a total of 5 (five) winners.

No purchase necessary. Void where prohibited by law.
Disclaimer:
These posts and recipes are part of the week-long event, #SummerDessertWeek but all opinions are 100% mine! We would like to Thank our amazing sponsors:
Dixie Crystals, Adam's Extract,

Wilton

,

Sweets and Treats Shop

and Anolon !
These wonderful sponsors provided the prize packs for our giveaways and also sent samples and products to the #SummerDessertWeek bloggers to use in their recipes.