This Apple Onion Whiskey Flatbread has a sweet and sour apple onion whiskey jam topped with Irish cheddar cheese.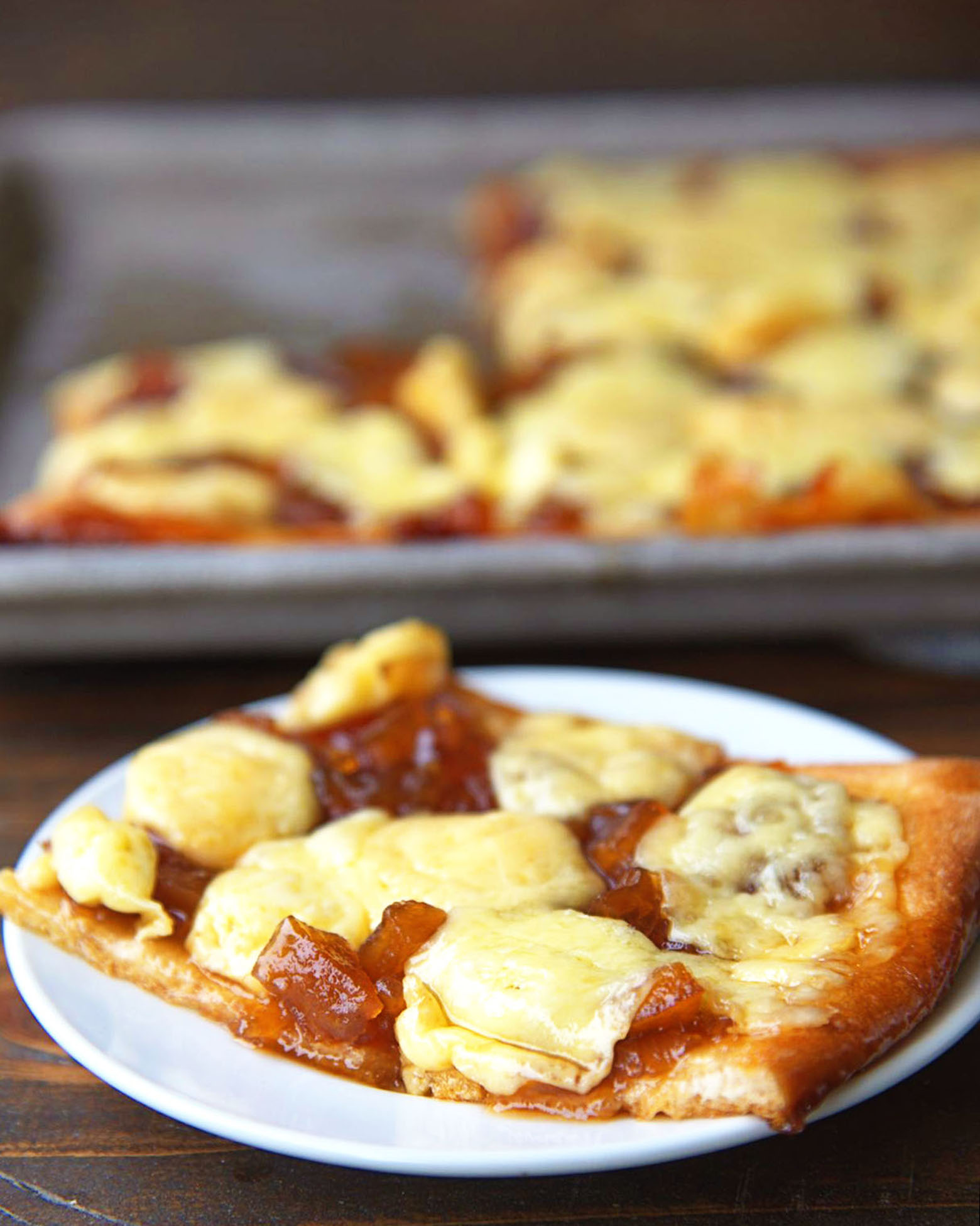 This Apple Onion Whiskey Flatbread is just another recipe in my continued obsession with flatbread with savory fruit jams.
I've been making them for so long.
Almost every party I have I serve some sort of flatbread.
And it always is a big hit.
But it wasn't until a few years ago that I started putting the recipes on the blog.
Because someone asked me to.
I fully admit I have so many variations that are not on the blog.
But as we roll into fruit season I will do my best to post them as I make them.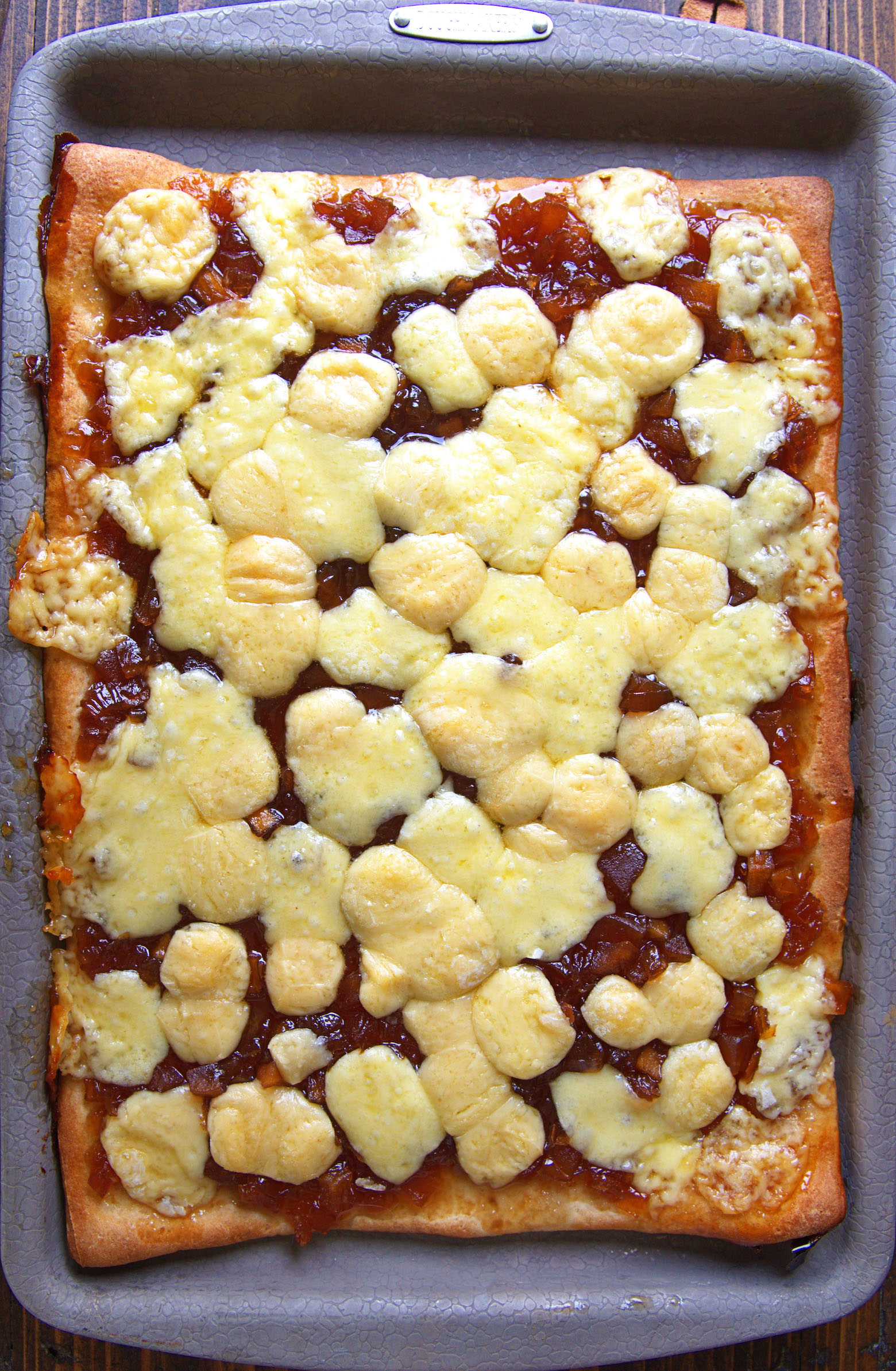 While apples are, in most people's minds, a fall fruit, it is definitely one of the fresh fruits you can get year round.
And so I do make quite a few apple onion jams.
They vary based on my mood.
With St. Patrick's Day this week I decided to go the whiskey route.
And to use an Irish cheddar.
In my case, I used Kerrygold Dubliner.
Lots of flavor and Costco carries it in bulk.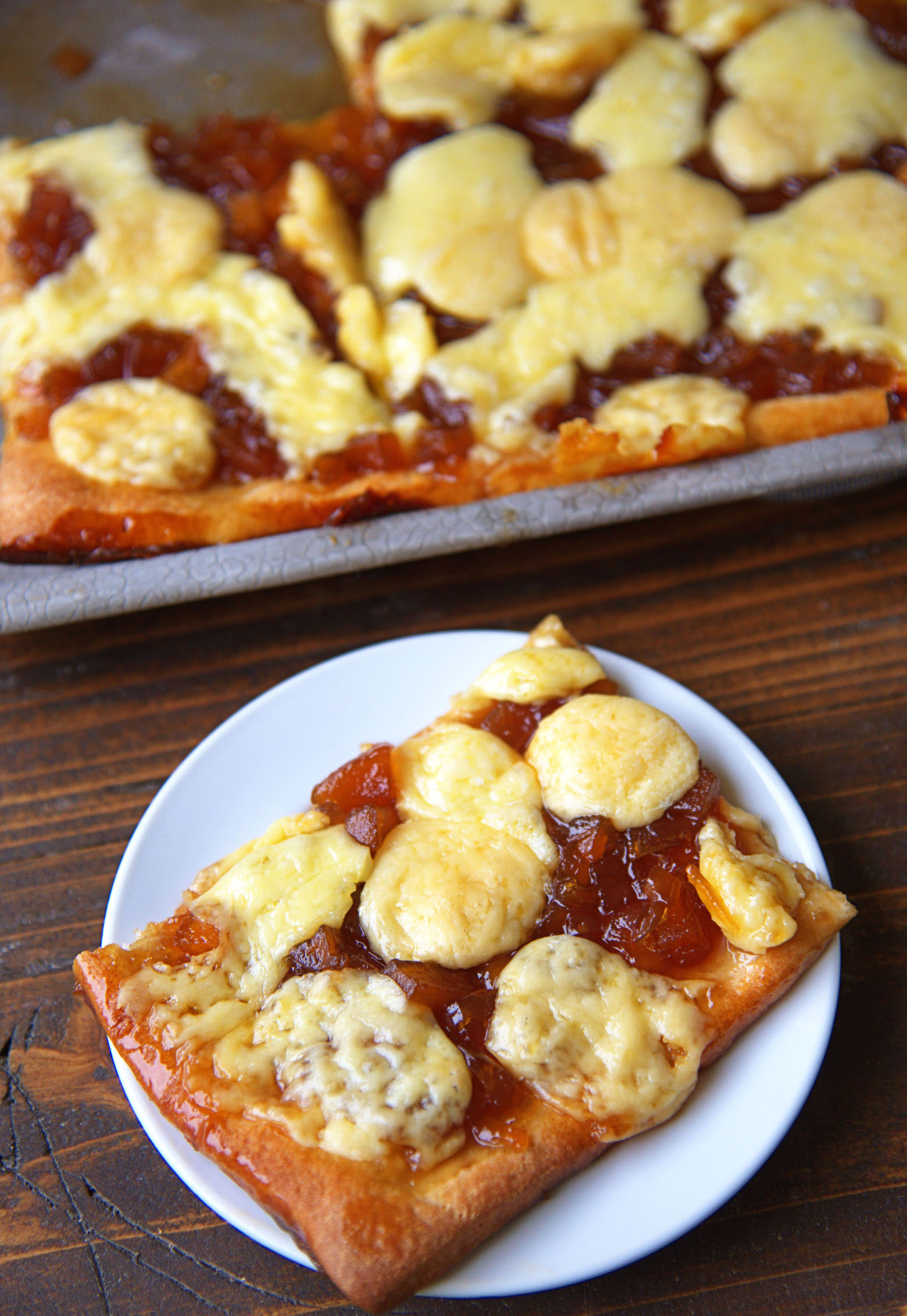 I used an Irish whiskey (Jameson) but whatever whiskey you want to use is fine.
You can even use an apple flavored whiskey if you like to compliment the apples even more.
Don't want to use the whiskey?
Just simply swap out the whiskey for some apple juice.
Want to use a different cheese?
Feel free.
My flatbreads really are about what I'm craving at the time. 🙂
One thing to note about when making the apple jam is that the apples will keep their shape.
A lot of my fruit jams the fruit almost melts into the jam.
While the apple do get smaller they will stay whole for the most part.
So keep that in mind when you are chopping them up for the jam.
Ask yourself how big of a piece do you want to be eating when you take a bite.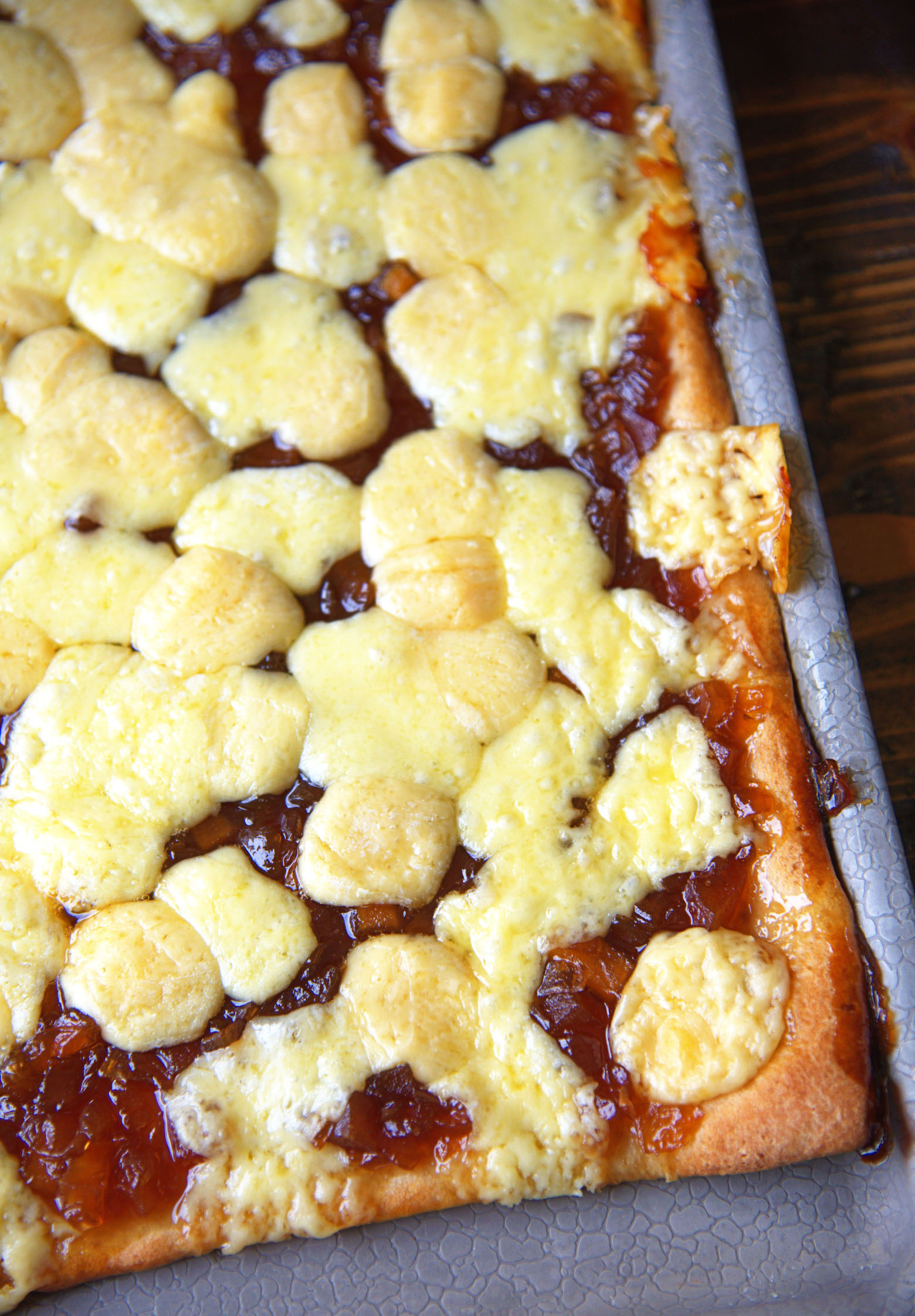 So while everyone is eating corn beef and cabbage why not change it up and make this flatbread instead?
It's definitely a keeper that you will want to make all year long.
And oh yeah, it's a great day to buy my cookbook.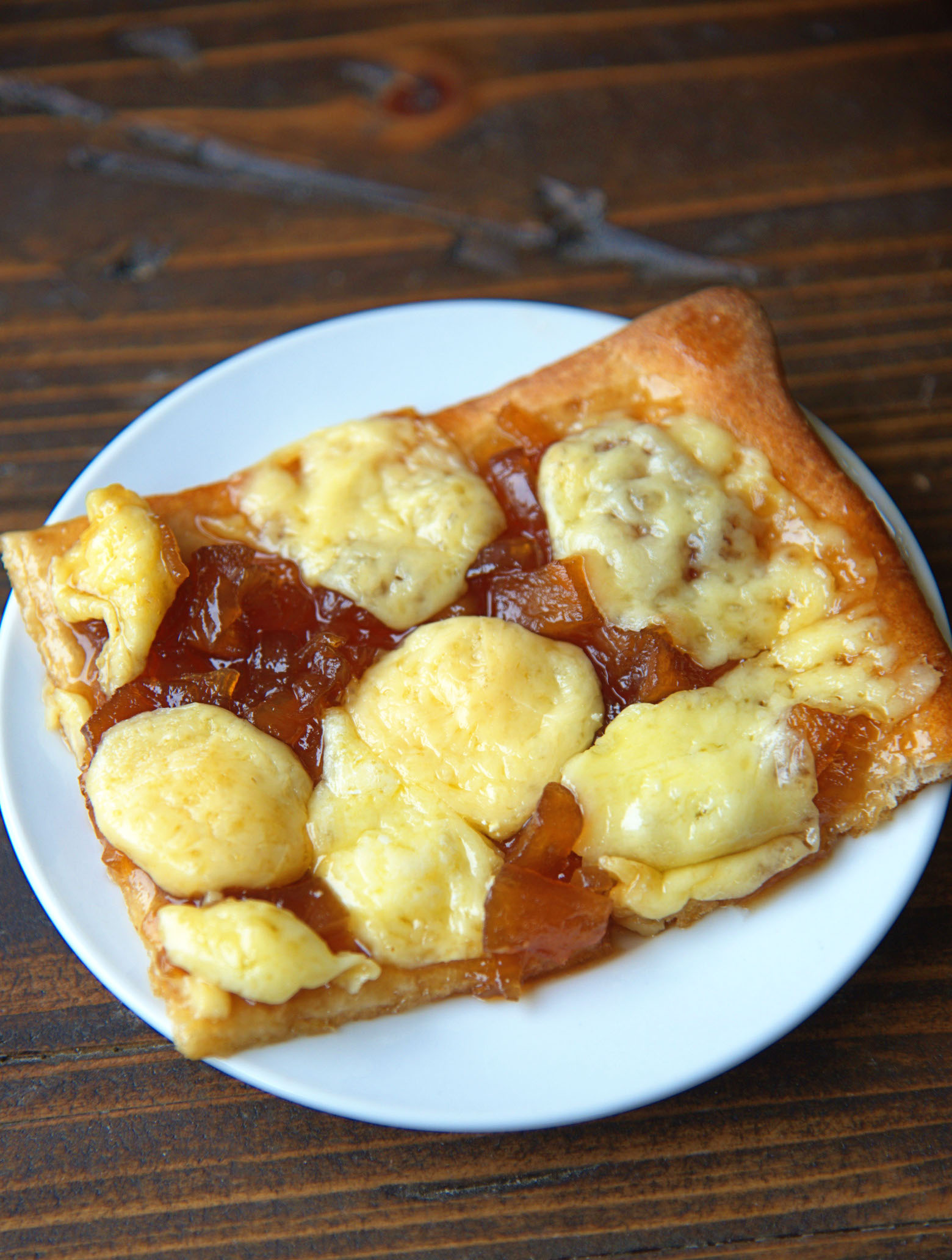 Want More Flatbread Recipes?
Gorgonzola Walnut Pear Flatbread
Strawberry Balsamic Jam Flatbread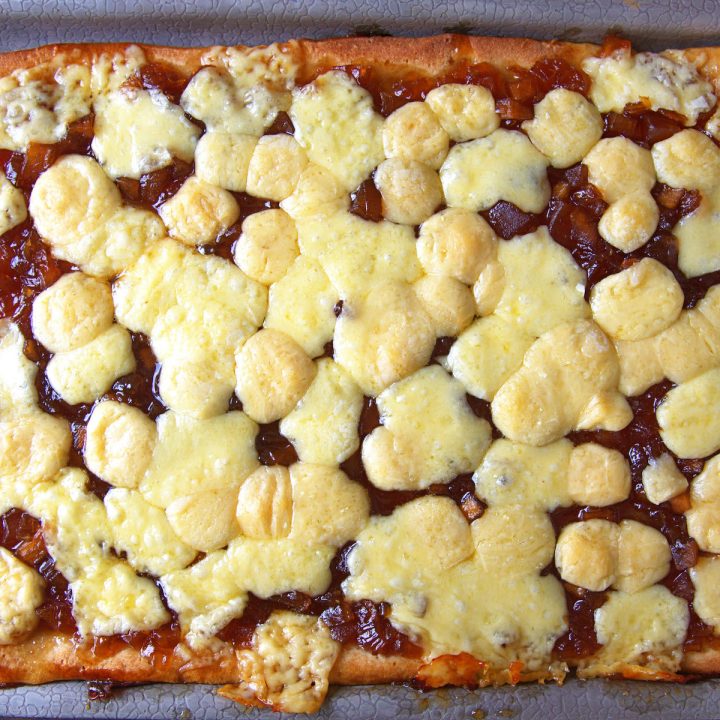 Apple Onion Whiskey Flatbread
Ingredients
1 batch pizza dough (recipe follows)
2 cups Irish Cheddar (I used Kerrygold Dubliner)
Apple Onion Whiskey Jam (recipe follows)
For the Pizza Dough:
3/4 cup warm water (105°F to 115°F)
1 envelope active dry yeast (I used Red Star Yeast)
2 cups (or more) all-purpose flour
1 tsp. granulated sugar
3/4 tsp. salt
3 TBSP olive oil
For the Apple Onion Whiskey Jam:
1 TBSP oil
2 large sweet onions (such as Walla Walla or Maui)
3 cups apples, peeled and diced (I used Pink Ladies)
1/2 cup apple cider vinegar
1 cup brown sugar
1/2 cup whiskey (or apple juice)
Instructions
To make the dough:
Pour 3/4 cup warm water into small bowl; stir in yeast.
Let stand until yeast dissolves, about 5 minutes.
Brush large bowl lightly with olive oil.
Mix 2 cups flour, sugar, and salt in processor.
Add yeast mixture and 3 tablespoons oil; process until dough forms a sticky ball. Transfer to lightly floured surface. KNEAD dough until smooth, adding more flour by tablespoonfuls if dough is very sticky, about 1 minute.
Transfer to prepared bowl; turn dough in bowl to coat with oil.
Cover bowl with plastic wrap and let dough rise in warm draft-free area until doubled in volume, about 1 hour.
Punch down dough.
Roll out dough...cut into a rectangle or leave rustic.
For the Apple Onion Whiskey Jam:
In a large sauté pan over medium heat add 1 TBSP oil and onions and cook until tender and become translucent in color.
Add the remaining ingredients and reduce to a low simmer.
Let the ingredients cook down, stirring about every 10 minutes, until they for a syrup or jam like consistency, this will take about an hour or so.
To make the flatbread:
Preheat oven to 375F
On a lightly floured surface pat out dough evenly with your fingers, keeping hands flat and lifting and turning dough over several times, into a 9-inch round. (Do not handle dough more than necessary. If dough is sticky, dust it lightly with flour.)
Dust a baker's peel or rimless baking sheet with flour and carefully transfer dough to it.
Jerk peel or baking sheet once or twice and, if dough is sticking, lift dough and sprinkle flour underneath it, reshaping dough if necessary.
If you do not have a peel...the back of a cookie sheet works in a pinch.
Bake WITHOUT topping for 5 minutes.
Remove from oven and spread on jam.
Sprinkle the cheese cubes over the jam and place back into oven for another 10 minutes until things get bubbly.
You are going to want to watch this since the sauce has a higher sugar content and can burn.