These Sugar Cookie Dough Cheesecake Cups are filled with sugar cookie dough truffles and cheesecake all on top of a sugar cookie base.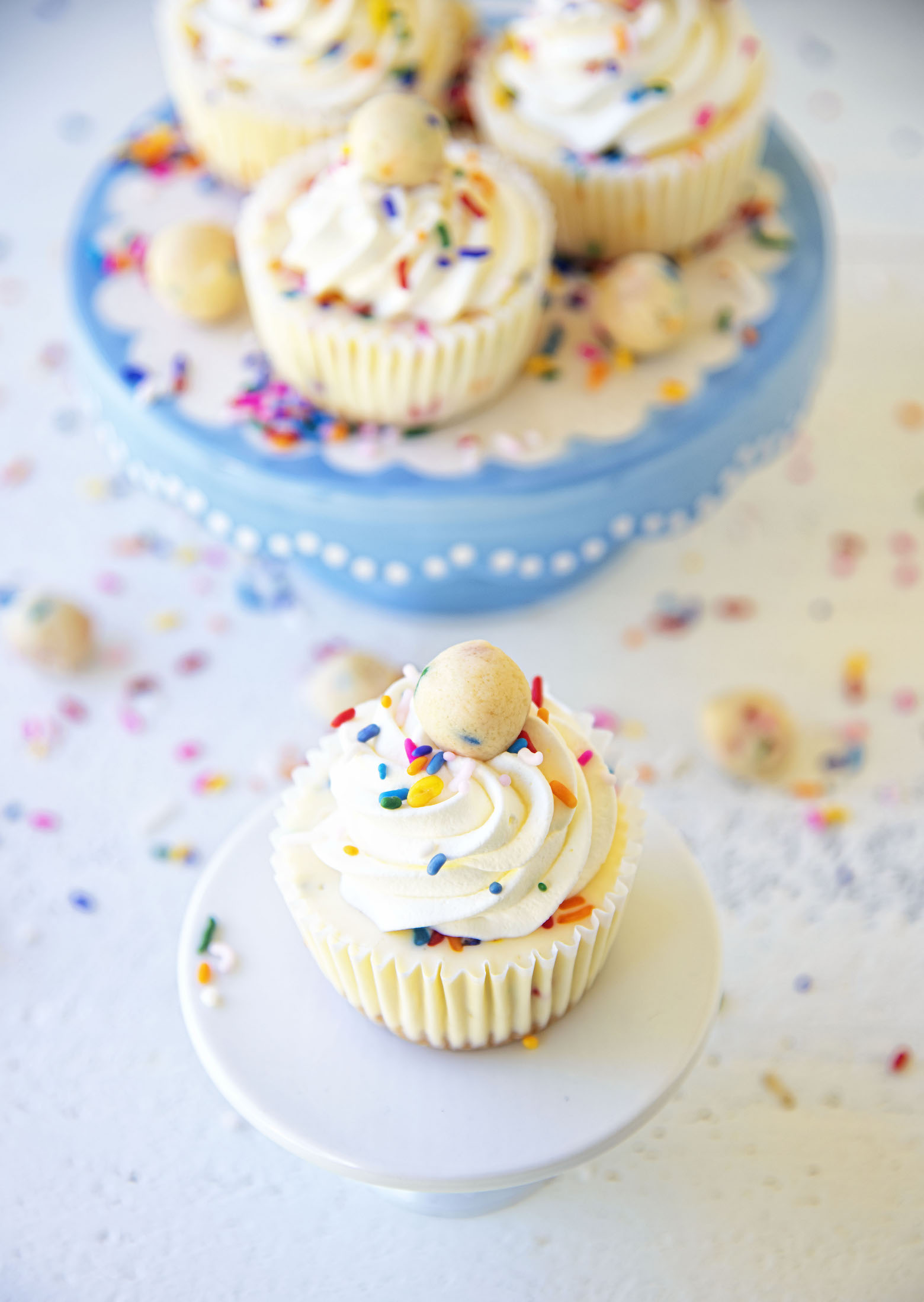 There are so many things that I think oh people are going to love this.
And then they don't. I don't mean they hate it or anything.
I just mean that it doesn't really get repinned on Pinterest or have a lot of traffic.
Ironically that was the case for any bread recipe I did.
Right up until COVID.
And then for the first two months my most popular recipes were bread…the more complicated the better.
In case you are wondering where we are in the pandemic…Jell-O shots are what has the most traffic right now. 😀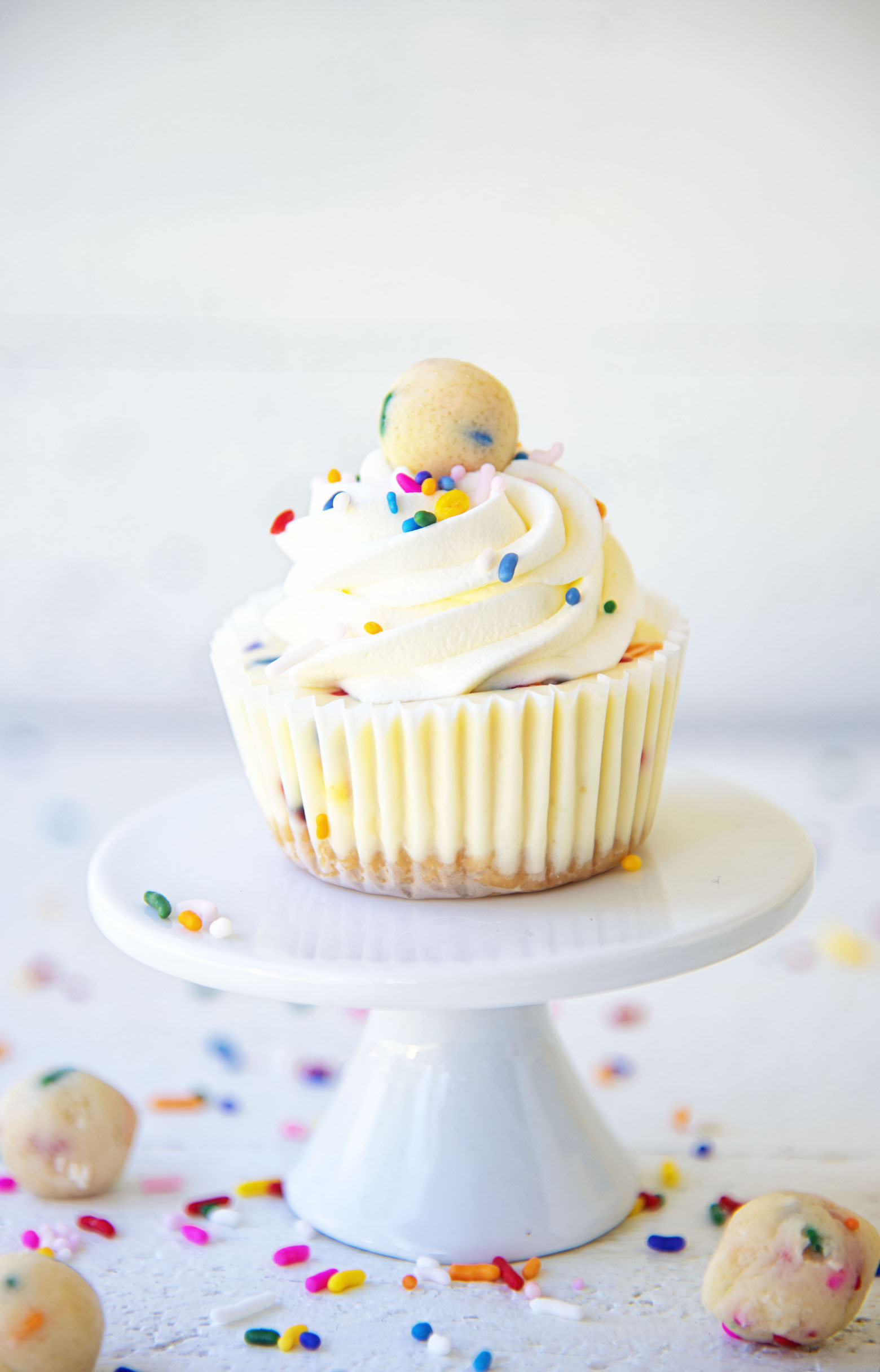 For years the most popular recipe on my blog was a Chocolate Graham Cracker Cake.
It's still one of the top ten recipes on my blog as far as traffic goes.
It's from 2006 and the photos are dreadful.
And yet, people flock to it.
For the record the most popular recipe on my blog of all time Croissant Bread Pudding with Pecan Toffee Sauce.
Which that one makes sense because it is one of the best desserts ever.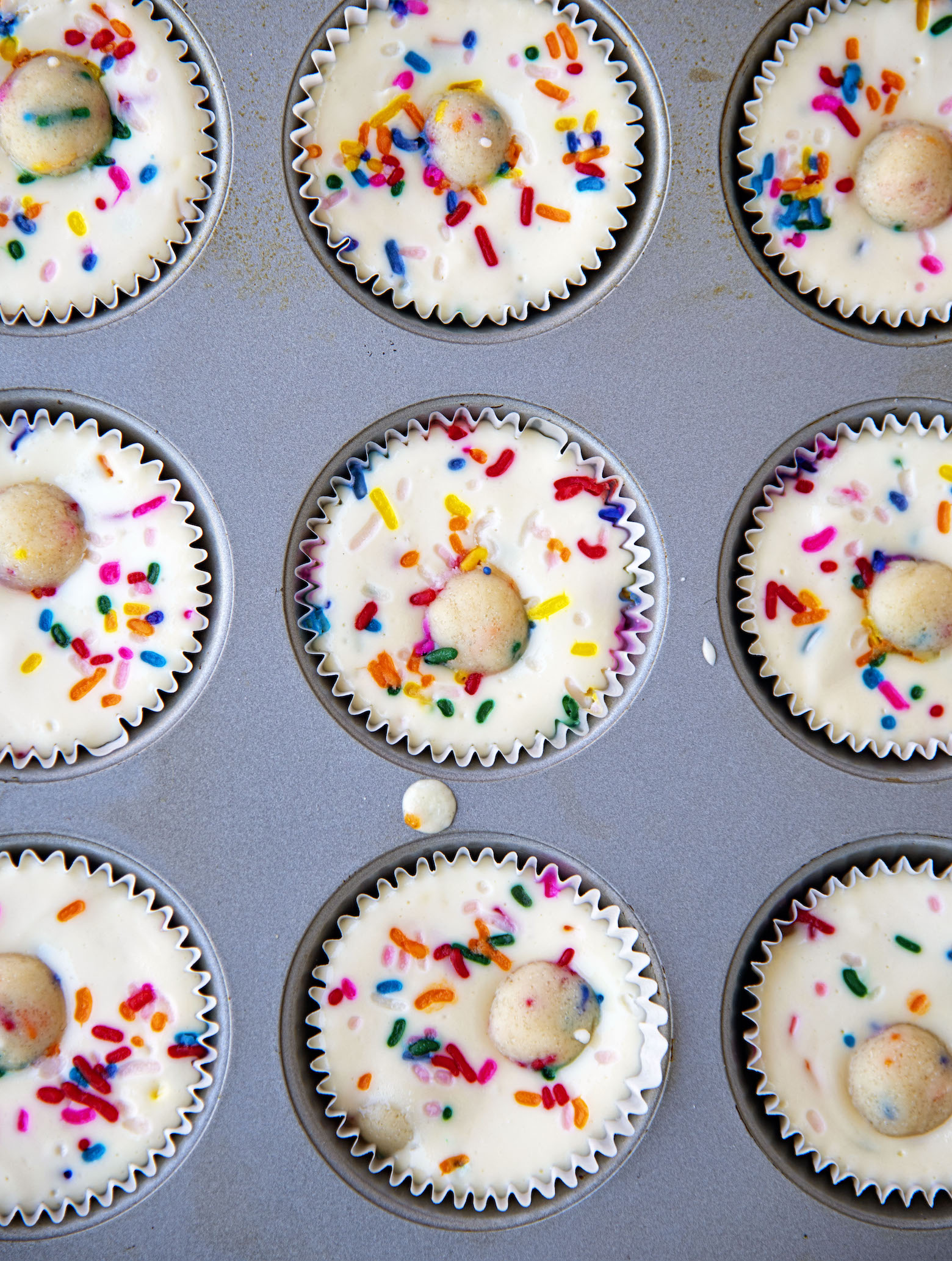 Last week I was shocked to wake up to a TON of traffic coming to my blog.
August isn't exactly a big month for a baking blog.
It's supposed to be in the mid 90's here next week and even though it's my job to bake…I won't be baking!
Jell-O shots? Yes.
Baking? No.
I was super curious as to what recipe could possibly have taken off.
Figured it would have been something with booze. 🙂
But it was not.
It was my Sugar Cookie Crumb Cake.
Which is a holiday recipe.
It's a good recipe, don't get me wrong, just not one I thought would be so popular in the beginning of August. 😀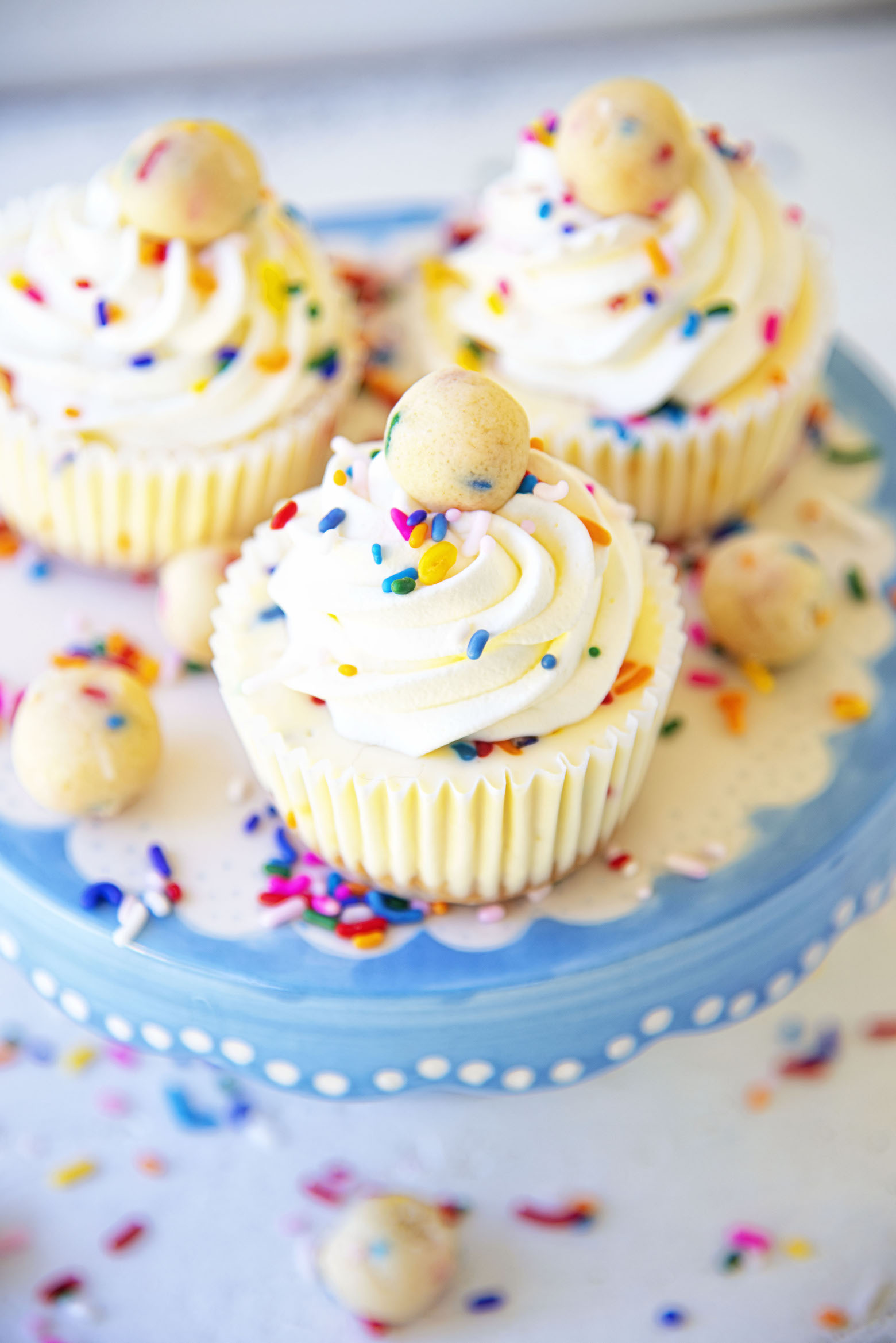 That caused me to want sugar cookies.
It's not that hard though to get me to want sugar cookies. 🙂
The hubby however wanted cheesecake.
The Great British Bake Off is to blame for that since they were making cheesecakes at the time.
I did not want to make a full cheesecake and so these Sugar Cookie Dough Cheesecake Cups came to life.
Now, I did make my own sugar cookies to use as a base simply because of the size needed to fit in the muffin tin.
But if you can find sugar cookies that fit that are store bought I say go for it.
You will also have leftover sugar cookie dough truffles that's okay….just eat them.
And of course you can never go wrong with adding sprinkles.
Last but not least…it's a great time to order my cookbook. 😀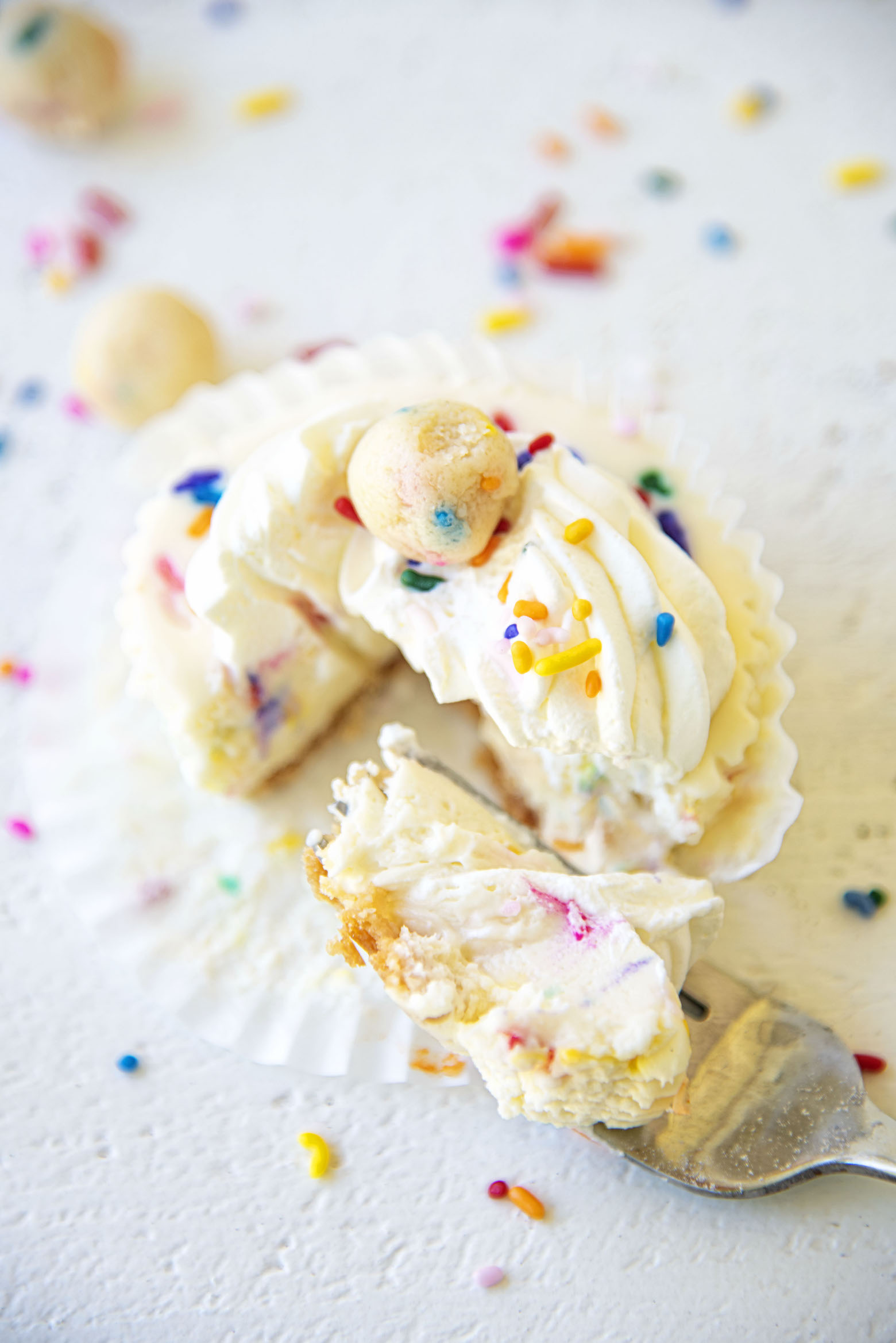 Want More Sugar Cookie Recipes?
Sugar Cookie Cheesecake Cheeseball
Sprinkle Sugar Cookie Cheesecake Bars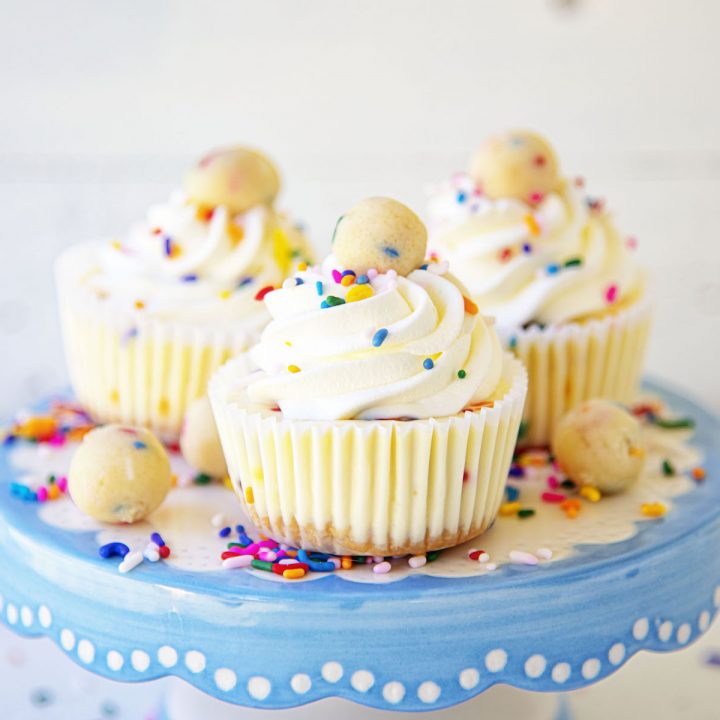 Sugar Cookie Dough Cheesecake Cups
Ingredients
For the Sugar Cookie Dough Truffles:
1/4 cup unsalted butter, at room temperature
1/3 cup granulated sugar
1/4 tsp. vanilla extract
½ tsp. salt
1 cup all-purpose flour
7 oz. (1/2 can) sweetened condensed milk
1/3 cup sprinkles
For the Cookie Base:
1/4 cup unsalted butter, at room temperature
1/8 cup granulated sugar
1/2 tsp. vanilla extract
1/2 cup all-purpose flour
1 tsp cornstarch
For the Cheesecake:
16 ounces cream cheese, at room temperature
½ cup granulated sugar
2 eggs
1/4 tsp. vanilla extract
½ cup sour cream
1/2 cup sprinkles
Instructions
For the Sugar Cookie Dough Truffles:
Using a stand mixer (or a bowl and beaters), cream together the butter and sugar until light and fluffy, about 3 minutes.
Beat in vanilla and Buttery Sweet Dough Bakery Emulsion.
With speed on low, slowly add flour, alternating with condensed milk, beat well after each addition.
Mix in the sprinkles.
Shape balls into 1-inch balls.
Place in a bowl and cover with plastic wrap.
Freeze until needed.
For the Cookies:
Preheat oven to 300° F.
Using a stand mixer with a paddle attachment cream together the butter and sugar until light and fluffy, about three minutes.
Add the vanilla bean paste and beat for another 30 seconds.
Add in flour, ½ cup at a time with mixer on low.
Repeat until all the flour is gone.
Add cornstarch and mix until combined.
Let mixer run on low until dough forms.
Divide dough in half.
Sprinkle flat surface lightly with flour.
Roll out the cookie to ¼-inch thickness.
Cut with floured 1 3/4-inch round cookie cutters.
You will get 12-14 cookies.
Place 1 inch apart on ungreased baking sheets.
Bake for 20-22 minutes.
For the Cheesecake Cups:
Preheat oven to 275F.
Line muffin tin with cupcake liners (preferably white).
Place a sugar cookie at the bottom of each cupcake. Set aside.
Using a stand mixer, beat cream cheese and sugar on medium-high speed for about 5 minutes.
Add eggs, one at a time, beating for about 1 minutes. Scrape down the bowl after each addition.
Add in the extracts and mix until fully combined.
Add the sour cream and beat until incorporated.
Fold in the sprinkles.
Place two cookie dough truffles at bottom of the cup on top of the sugar cookie base.
Fill until the top of the cup as cheesecakes stay the same height.
Add one sugar cookie dough truffle on top as well as extra sprinkles if desired...but come on, why wouldn't you add more sprinkles.
Bake for 22 minutes, rotating half way through.
Remove from oven and let cool to room temperature.
Chill in fridge in muffin tins for at least 4 hours or overnight.
Recipe makes about 12.