These Stroopwafel Cupcakes are made with a brown sugar molasses cupcake, brushed with Stroopwafel liqueur, and frosted with brown sugar buttercream.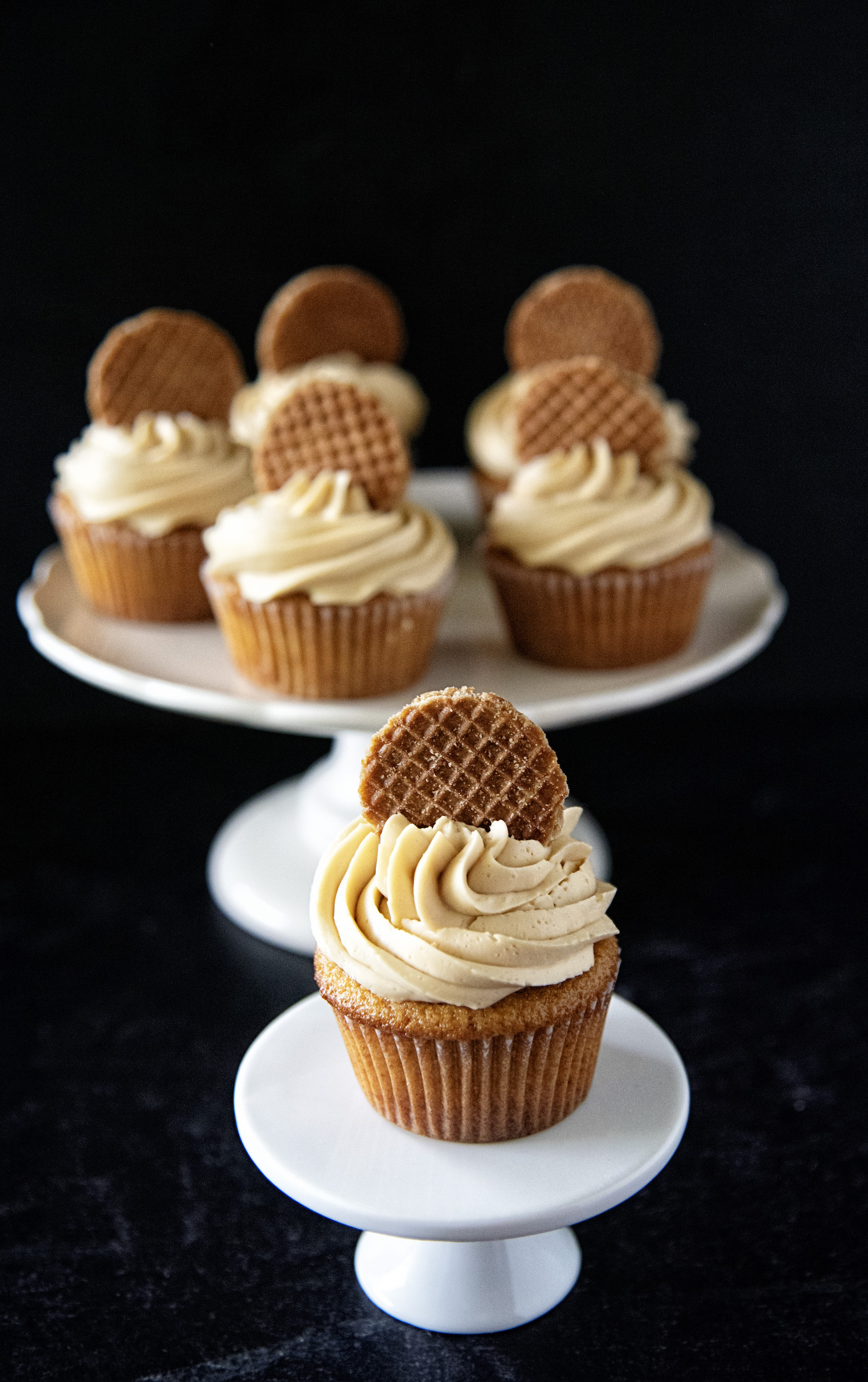 While my Christmas tree always goes up in November when it comes down is always a mystery.
So much so that we have Valentine and Easter ornaments for it if I want it up well into the year.
Last year I took it down fairly quickly in January.
Which was probably the earliest I ever had taken it down.
But this year I think it's going to be extended.
Christmas is in just a little over two weeks away.
I still don't have all my holiday decor up and I feel like three weeks (if I'm going to New Years) isn't enough time.
And I'm seriously considering keeping my kitchen gingerbread themed all year round because it just makes me smile so much.
But we shall see.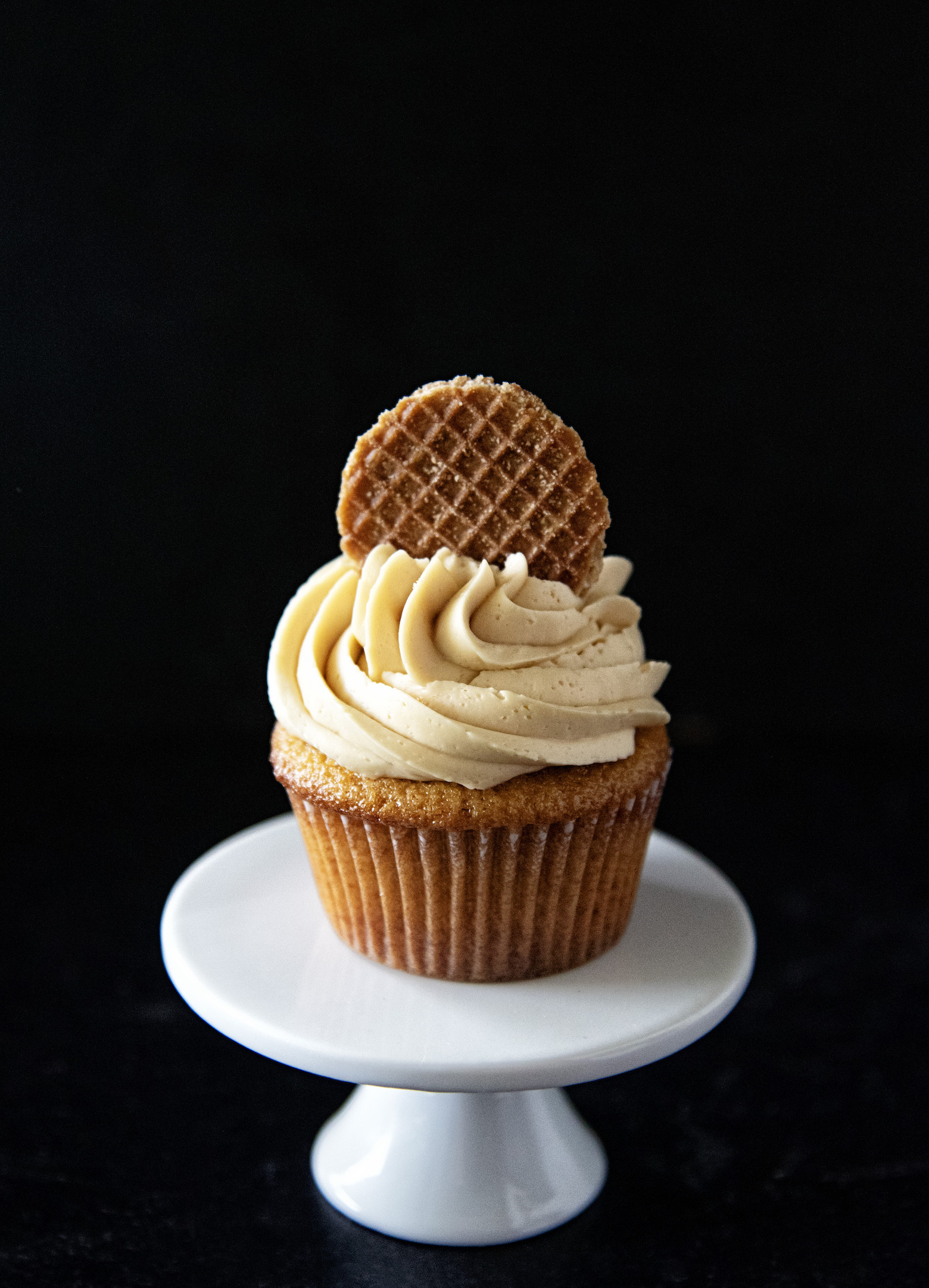 I have wanted to make these Stroopwafel cupcakes for awhile now, ever since I found the Stroopwafel liqueur.
The kind I buy is Van Meers Stroopwafel Liqueur.
I find it at my Total Wine store but I also saw a different brand at World Market.
Even if you don't make these cupcakes it's worth getting just to put in your coffee or hot chocolate.
What is a Stroopwafel?
Good question.
It's a Dutch cookie that is made of two crispy thin wafers and then it's filled with a syrup that is sandwiched between the two layers.
They are actually a HUGE pain in the butt to make.
Which is why I always buy mine.
I am however lucky that my friend Marie and her mother make them each year at Christmas time and so I sometimes get fresh, authentic ones.
Often they are served laid out a top of your coffee or tea cup so that the steam from the hot beverage steams the caramel making it soft and gooey.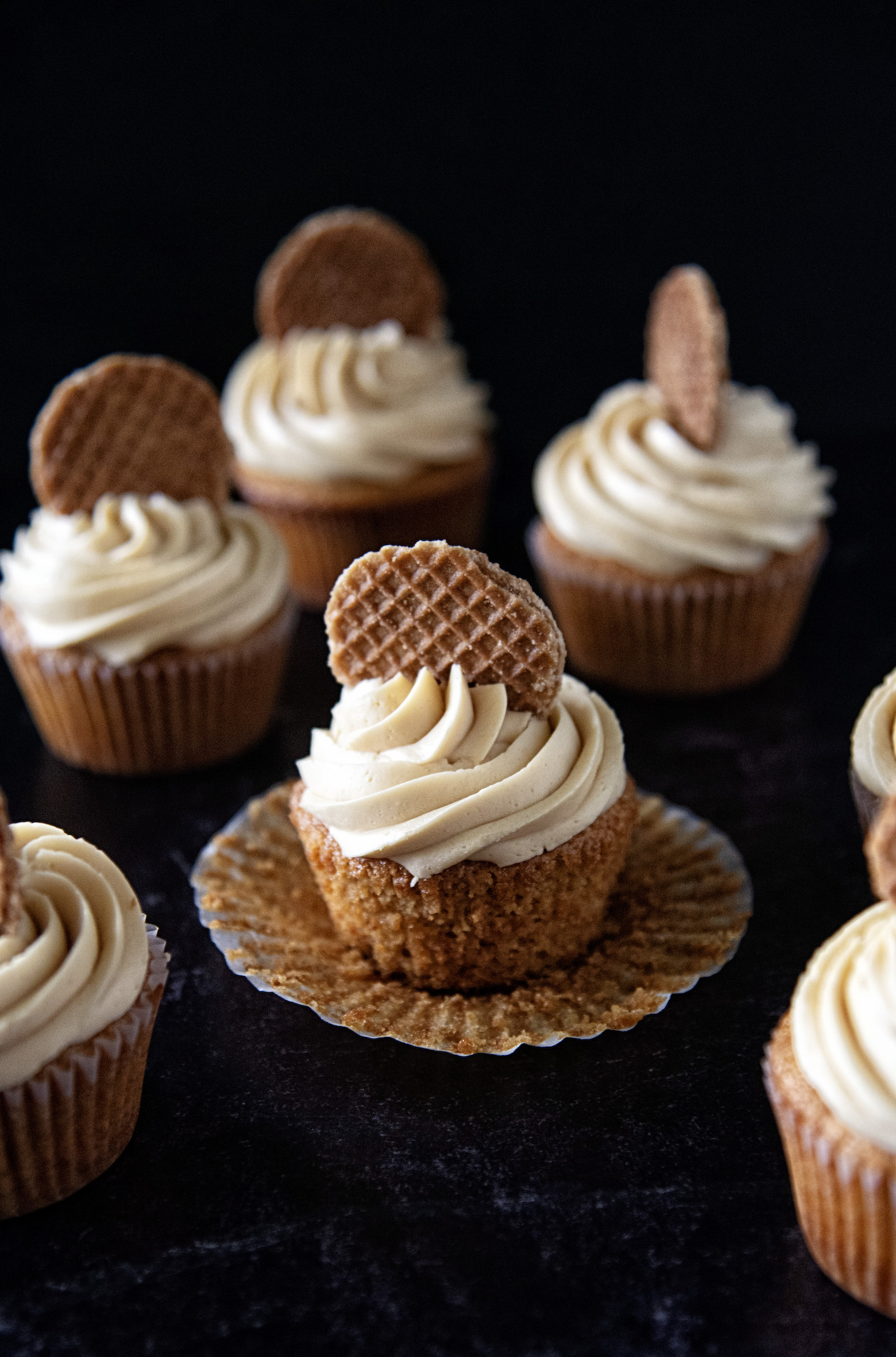 Trying to figure out how to turn it into a cupcake was a little harder than I thought.
The cookie is brown sugar based as well as a splash of molasses and cinnamon so the cupcakes needed to have that as a base.
A lot of people see molasses and assume gingerbread but the key to gingerbread is the ginger.
Since there is no ginger in these there is not gingerbread taste.
You have the option of brushing the warm cupcakes with the Stroopwafel liqueur.
I highly suggest doing that for more Stroopwafel flavor.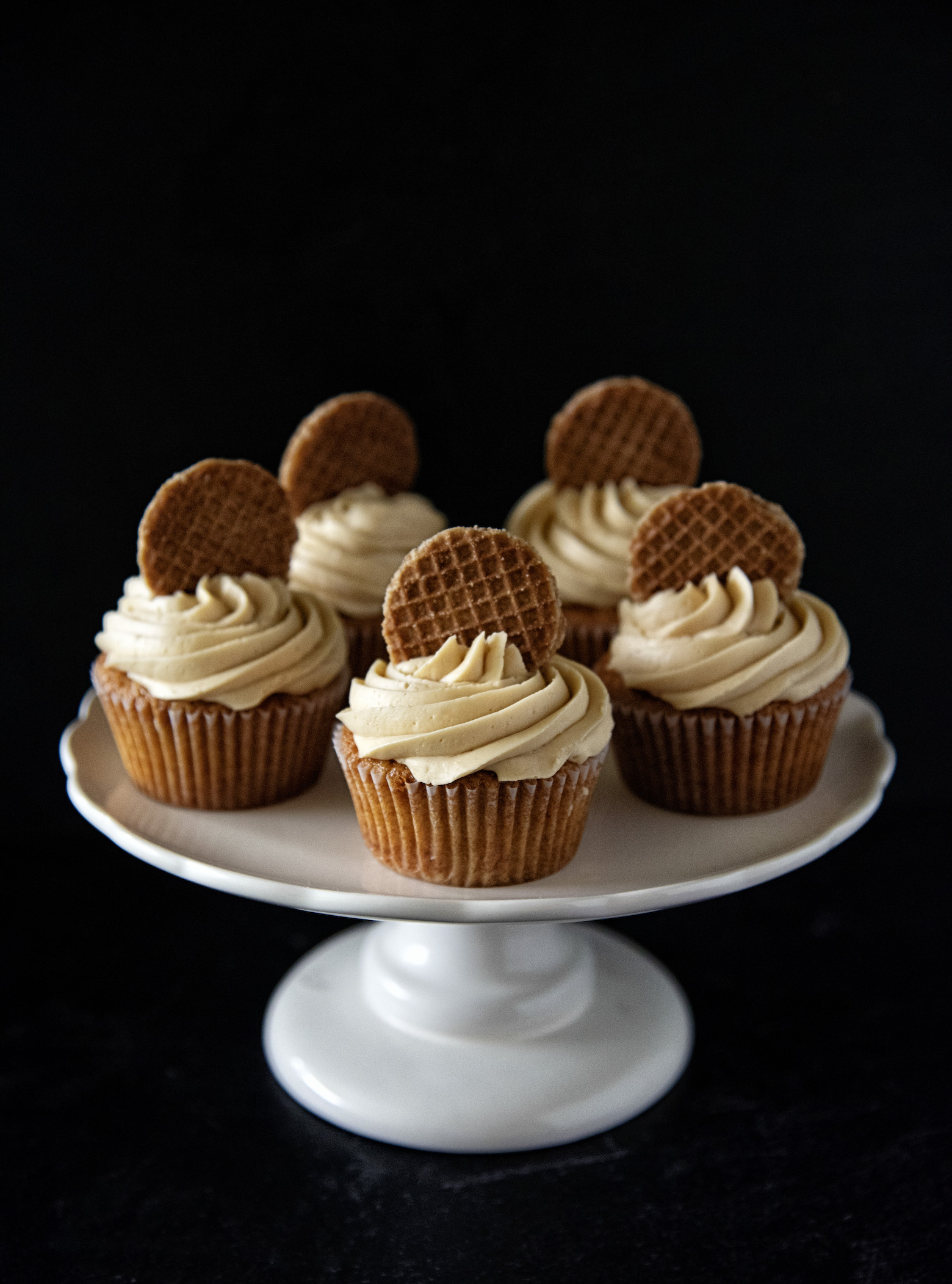 The frosting is made using a brown sugar Swiss meringue buttercream.
Having never made one before and I just adapted the white sugar based Swiss meringue recipe for the Stroopwafel cupcakes.
For sure I will be using this type of buttercream in a whole lot of recipes from now on…I absolutely love it.
Top the cupcakes with mini Stroopwafels as a garnish which you can find them at most stores this time of year.
If you can only find the bigger ones then just cut off some pieces of them and top the cupcakes with the pieces.
P.S. It's a great day to buy my cookbook Holy Sweet!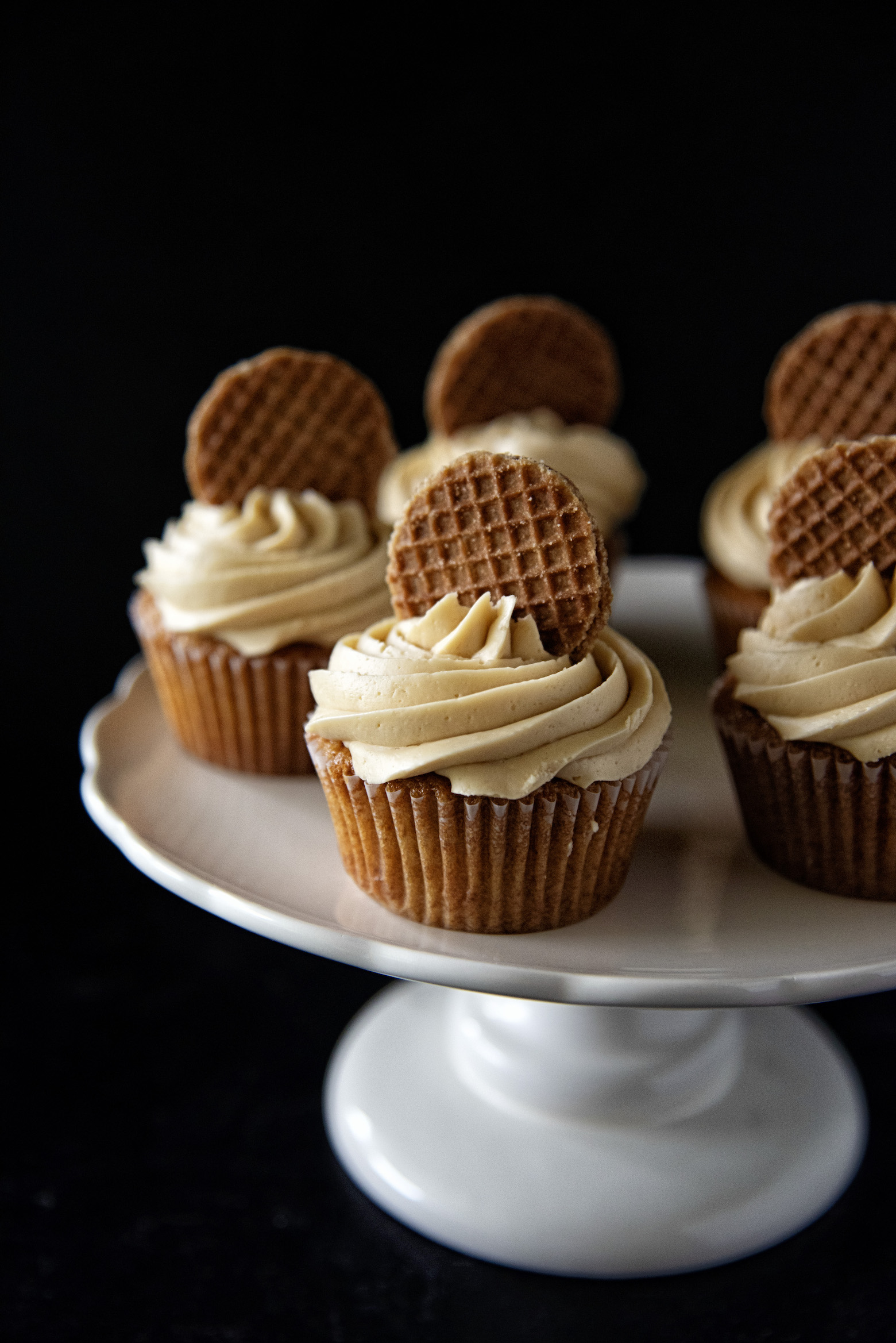 Want More Cupcake recipes?
Peppermint Mocha Latte Cupcakes
White Chocolate Dipped Orange Cranberry Cupcakes
Peppermint Bark Red Velvet Cupcakes
Orange Glazed Bourbon Soaked Fruitcake Cupcakes
Chocolate Glazed Rocky Road Cupcakes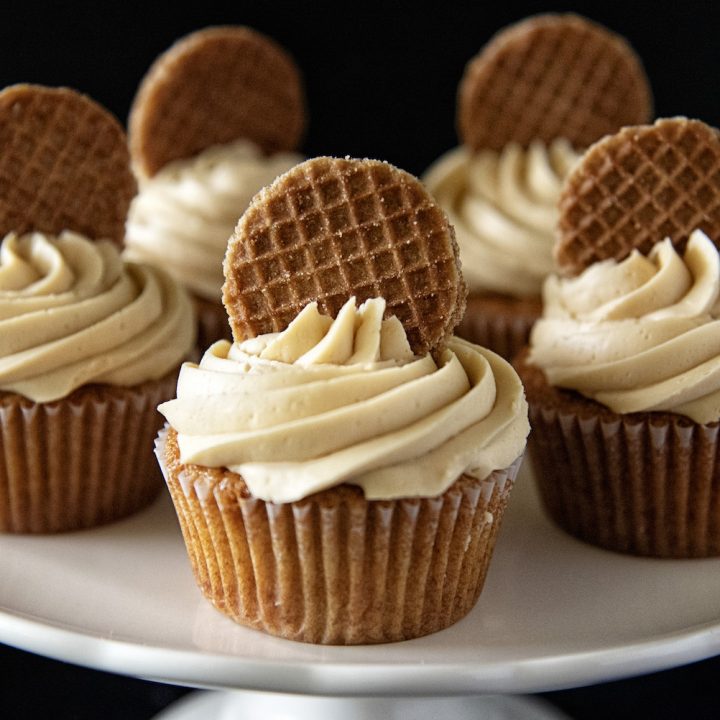 Stroopwafel Cupcakes
Ingredients
For the Cupcakes:
12 TBSP unsalted butter
4 large eggs
1/2 cup sour cream
1/2 cup whole milk
1 tsp. vanilla extract
1/2 tsp. ground cinnamon
1/3 cup molasses
1 tsp. Salt
2 cups all-purpose flour
1/3 cup granulated sugar
2 tsp. baking powder
1 cup brown sugar
Stroopwafel liqueur
For the Frosting:
5 egg whites

1-1/4 packed cup brown sugar

1/4 tsp. salt

28 TBSP (3 1/2 sticks) unsalted butter , at room temperature
3 TBSP Stroopwafel liqueur
Instructions
For the Cupcakes:
Preheat oven to 350F.
Place cupcake liners into two standard muffin tins.
Melt the butter in a microwave at 60% power for 1 1/2- 2 minutes.
Keep the butter warm do not allowed to sit and cool off.
Using the stand mixer with the paddle attachment, beat the eggs on medium low speed for two minutes until light yellow and lately foamy.
Increase the mixer speed to medium high. Pour the warm butter into the eggs slowly, so that the mixture tempers and the eggs do not scramble. Once the butter is added, reduce the speed to medium low.
With the mixer running, add the sour cream, milk, molasses, vanilla, and salt. Mix for one minute until well combined.
Add the flour, granulated sugar, cinnamon, baking powder, and brown sugar to the batter.
Mix on medium until just combined, 10 to 20 seconds.
Scrape down the bowl sides and bottom and then mix for another 30 seconds. Scoop the batter into the prepared baking cups, filling them 2/3 of the way.
Bake in the middle of the oven for 20 to 25 minutes, rotating the pan halfway through. The cupcakes are done with the center spring back when you touch them.
Remove the cupcakes from the oven.
While warm brush about a teaspoon of Stroopwafel liqueur on each cupcake.
Let cool completely while you make the frosting.
For the Frosting:
Place the egg whites, salt, and brown sugar in the metal bowl of a stand mixer and set over a small pot of simmering water (the bowl should not touch the water).
Heat, stirring occasionally, until mixture is 150-160F.
Transfer bowl to stand mixer and beat on high speed with a whisk attachment to medium stiff peaks, about 8 minutes.
Reduce mixer speed to medium low and add butter a tablespoon at a time, letting it incorporate into the meringue for few moments before adding more. At this point you might start to panic because it looks curdled or not coming together. Don't worry, just keep adding butter.
Add Stroopwafel liqueur and beat on high for 1-2 minutes until smooth and creamy.
Frost the cupcakes and top with a mini Stroopwafel if desired.