This Fruit Punch Gelatin Mold has pineapple gelatin, Hawaiian Punch, crushed pineapple, cream cheese, and Cool Whip.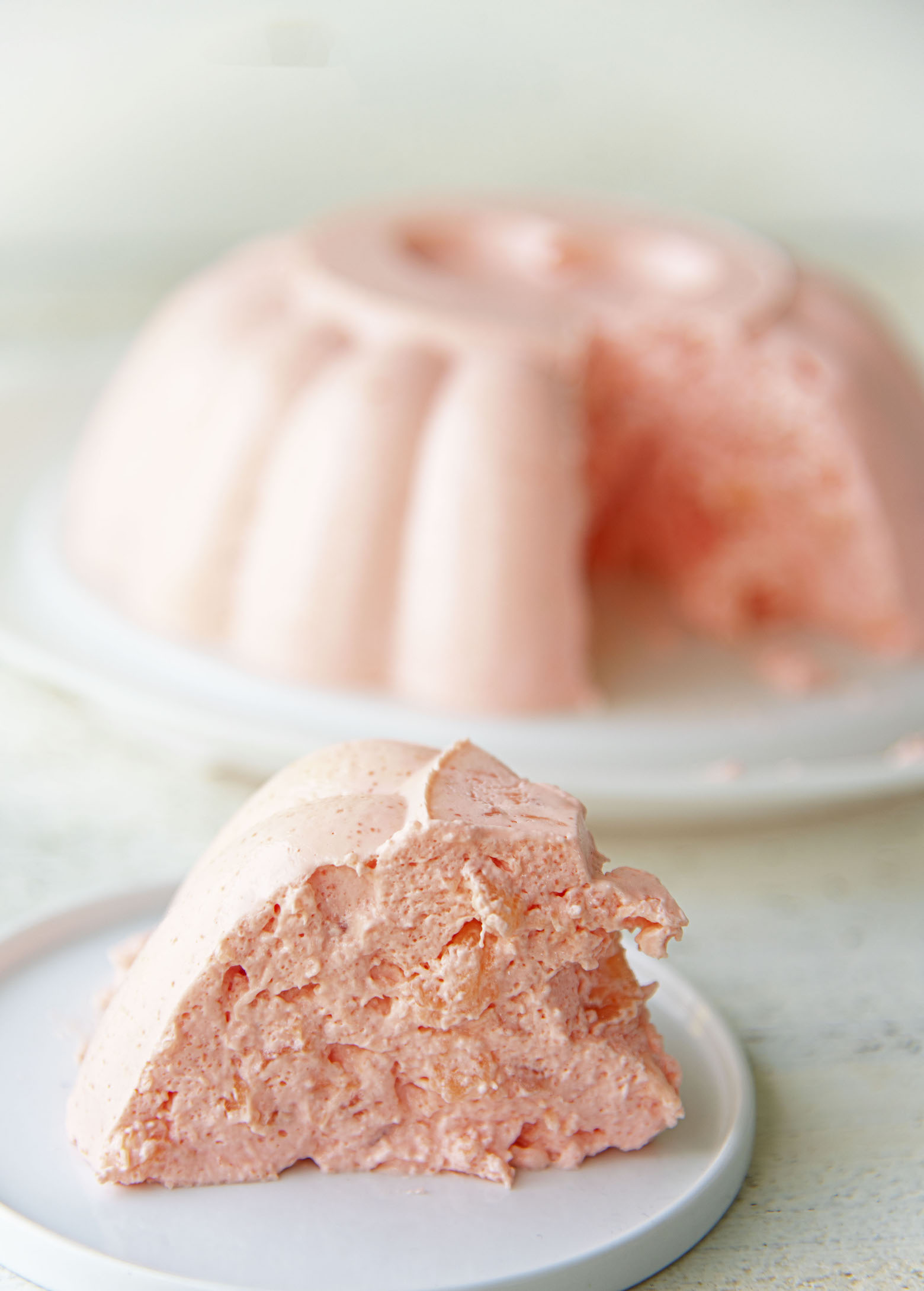 Add this Fruit Punch Gelatin Mold to my ever growing collection of gelatin mold recipes. 🙂
I can't help it, I love a gelatin mold.
Or gelatin salad.
Whatever you prefer.
I know not everyone enjoys referring to food as mold. 😛
And I'm not the only one who loves a Jello mold.
Almost everyone does.
Pretty much if people are over at my house for a meal, there is some sort of gelatin mold out there.
People always politely take a scoop.
And then I watch them take more and more of it once they have tasted it.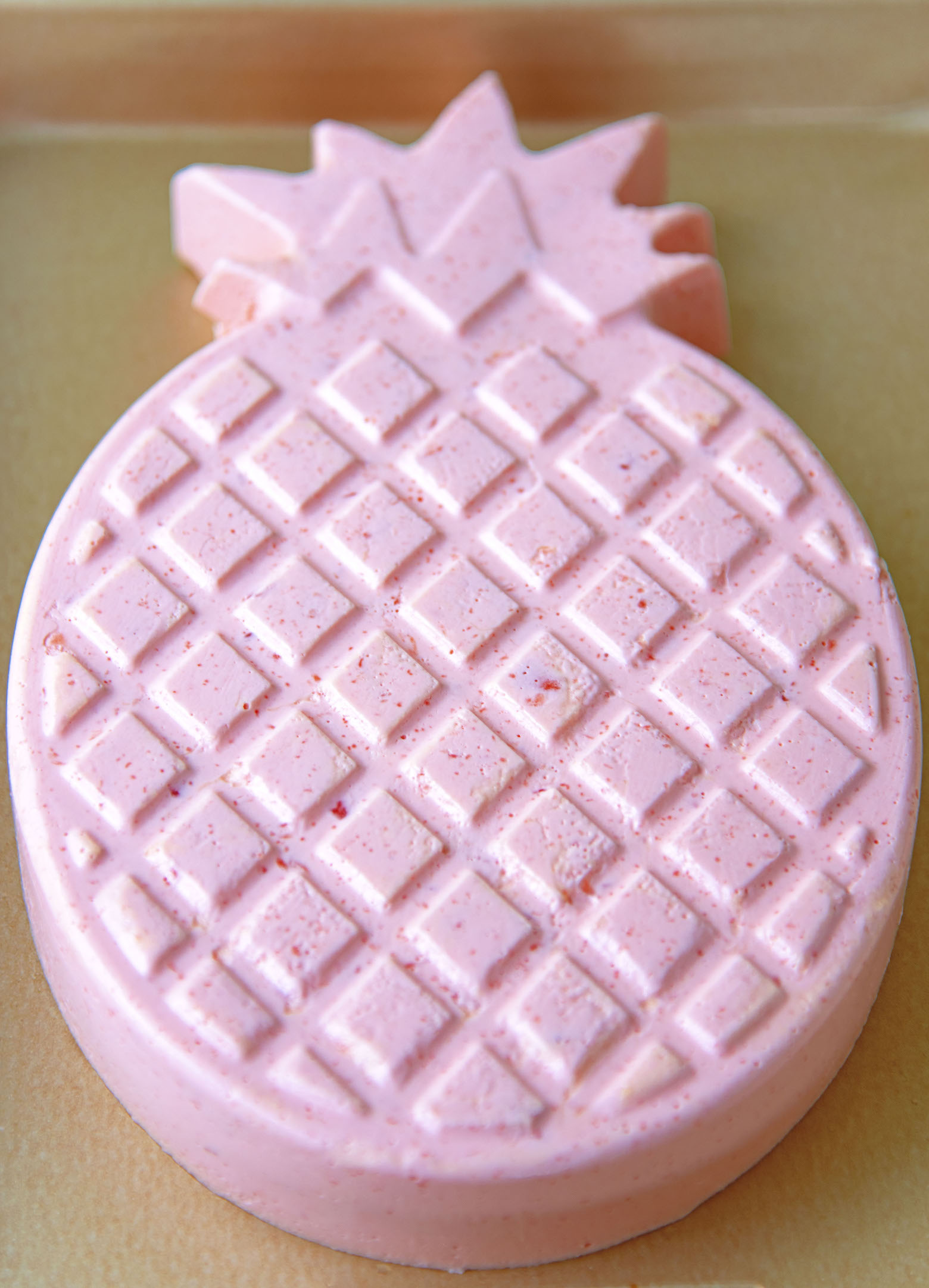 The other thing I love is Hawaiian Punch.
I love a lot of their flavors but the original red is my favorite.
My husband's favorite too.
I've always wanted to try it in gelatin form so I gave it a go.
So glad I did.
We LOVED it.
So much so that as you can see I've made it at twice (actually more but just twice for this post).
I made it first in the more traditional mold.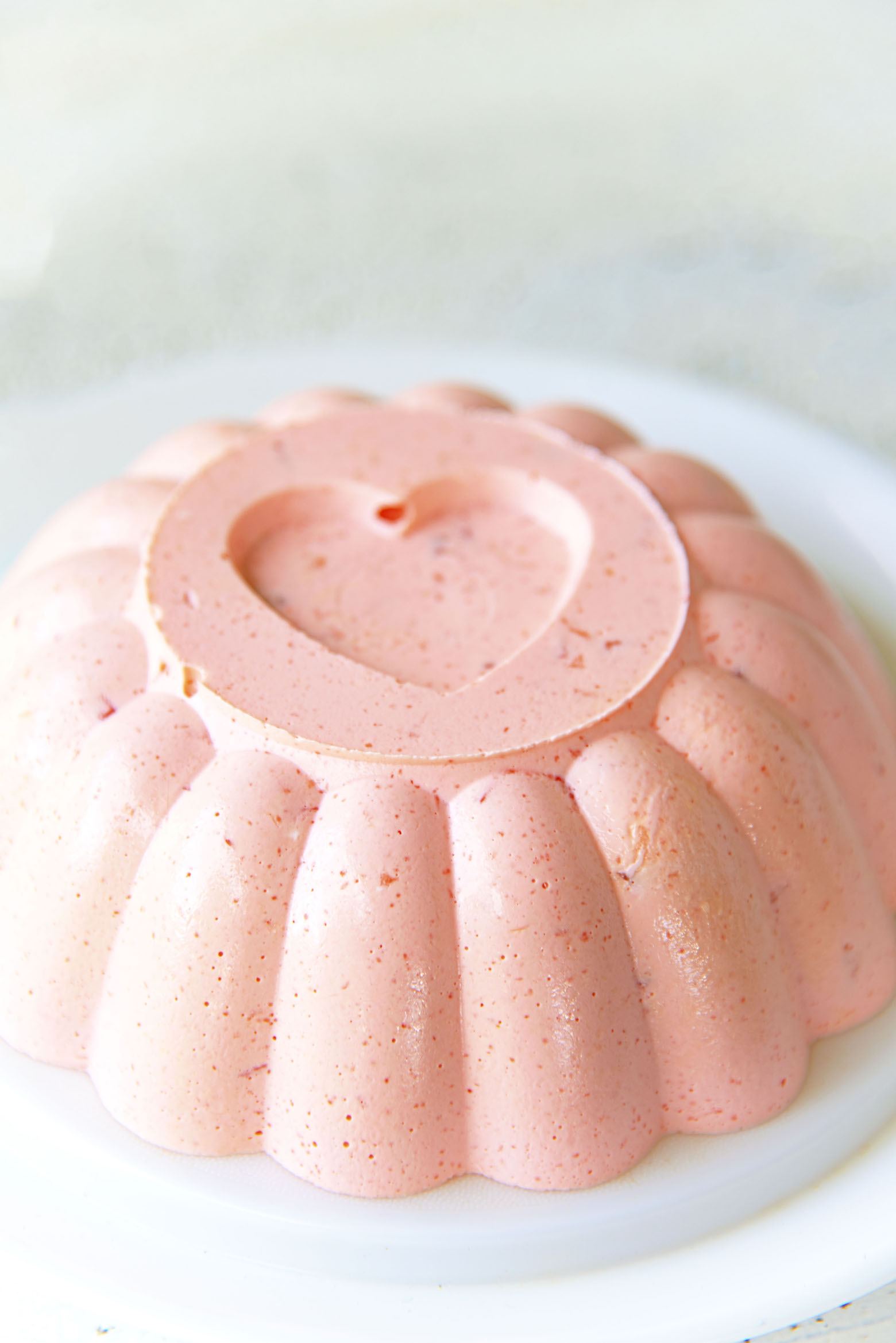 Then I found a silicone pineapple mold.
Which is for cakes but really can be used for anything.
I thought since this used a pineapple jello that it would be perfect.
And there is crushed pineapple in the recipe.
Plus, a lot of people think pineapple when they hear Hawaii.
You can however skip the molds altogether and just make in a 10-10-inch pan.
I rarely find pineapple gelatin at the store (sometimes in the summer) so I do buy it online.
You can buy it here on Amazon (affiliate link) like I do.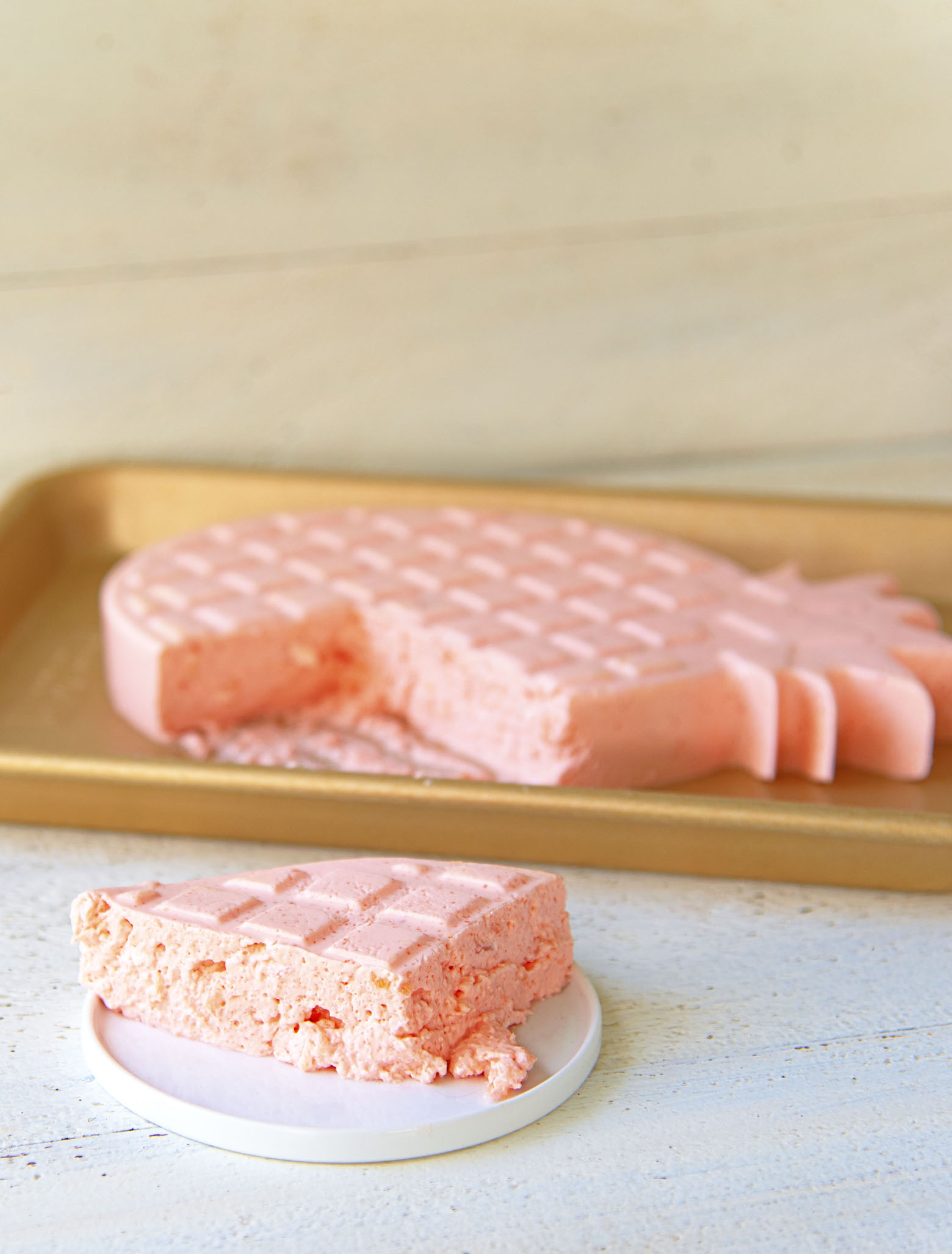 Tips for Unmolding Gelatin Molds
Before unmolding a gelatin mold be certain that gelatin is completely firm.
This usually requires several hours in the fridge.
Once gelatin is firm, dip a small pointed knife in warm water and run tip of it around top edge of mold to loosen.
Or moisten tips of fingers and gently pull gelatin from top edge of mold.
Some prefer the finger method because they knife can cut off parts of the design in your mold if you are not careful.
Pat a chilled plate or cake stand with a wet towel.
The wet surfaces make it easier to slide the gelatin into the center of the plate after it has been unmolded.
Dip mold in warm water that is in a pan larger than the mold you are using.
Do not use hot water as it will melt the jello.
Working quickly, dip the mold just to the rim in the warm water for about 10 seconds.
Lift the mold from the water, holding it upright.
Shake slightly to loosen the gelatin from the mold.
Invert the plate on the mold.
Always unmold gelatin on a chilled or cold plate or platter as a warm plate will melt the gelatin.
Then invert plate and mold together.
Lift off mold carefully.
If your gelatin mold doesn't release easily, dip the mold in warm water again.
You may end up with a little melting like I did with mine this time but better to have a little melt then a broken mold.
If necessary, move mold to center of plate.
P.S. It's a great day to buy my cookbook Holy Sweet!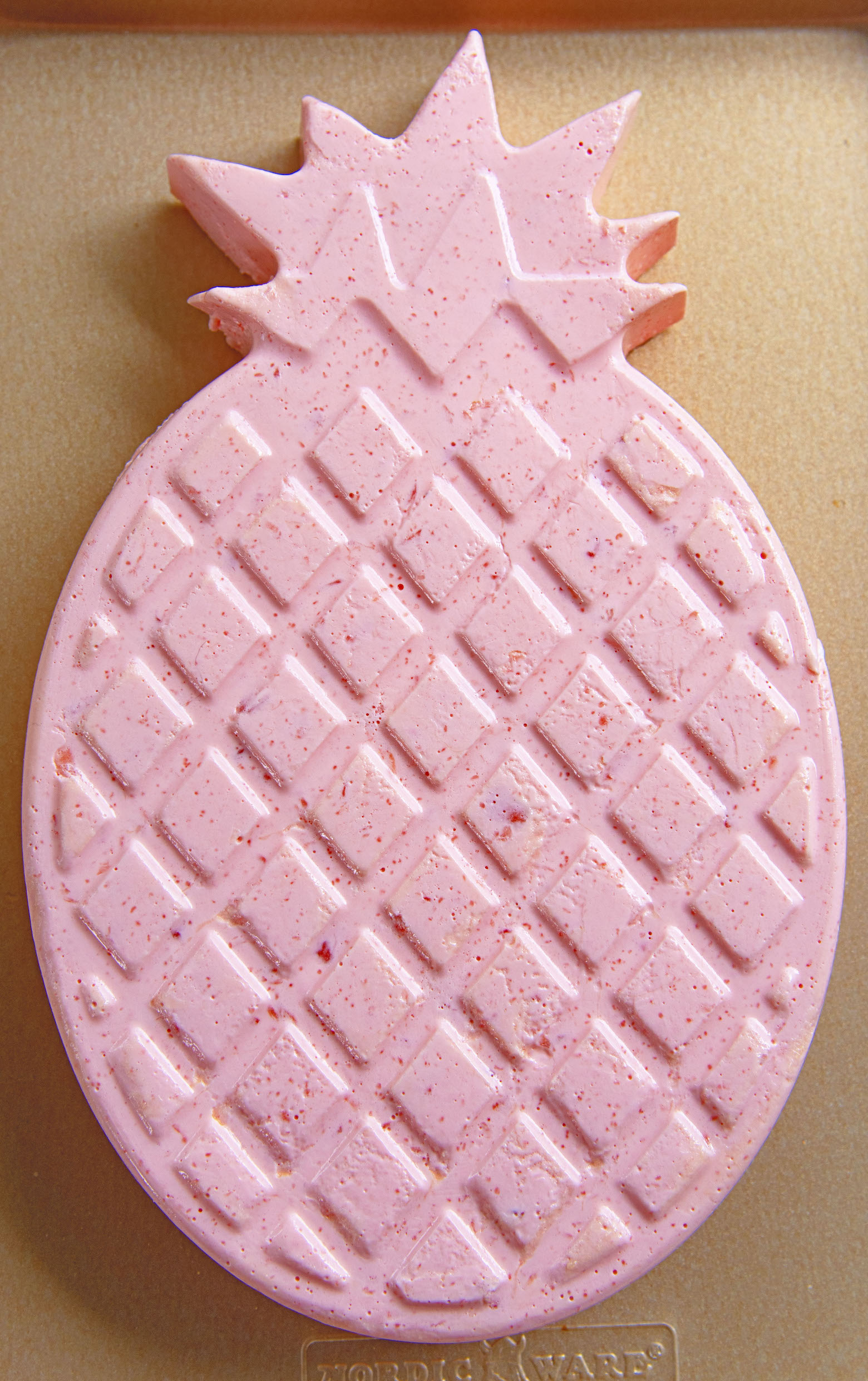 Want more Gelatin Mold recipes?
Strawberry Prosecco Gelatin Mold
Lemon Meringue Pie Gelatin Mold
Creamsicle Marshmallow Gelatin Salad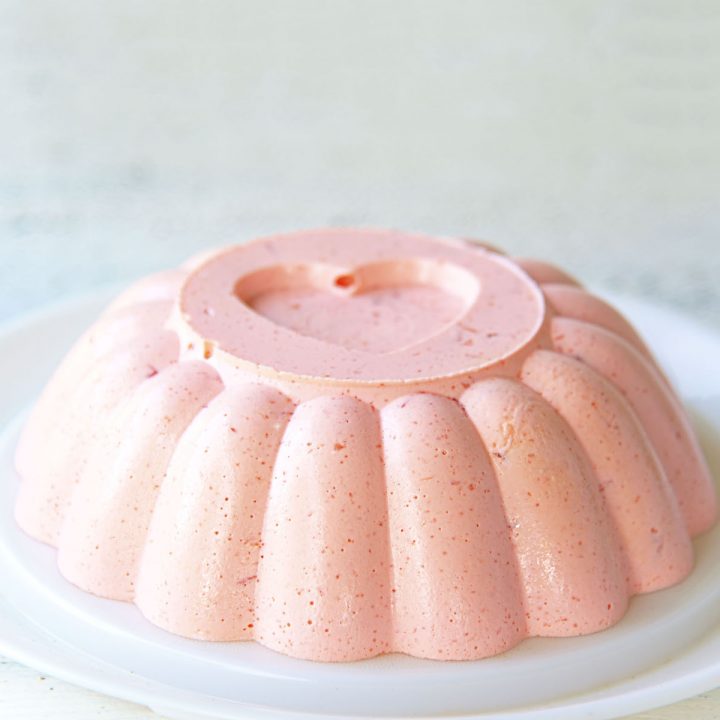 Fruit Punch Gelatin Mold
Ingredients
2 (3 ounce) package Island Pineapple gelatin
2 cups Hawaiian Punch Fruit Juicy Red, divided
1 (8 ounce) package cream cheese, at room temperature
1 (8 ounce) can crush pineapple, drained
1 (8 ounce) carton of Cool Whip (or whipped cream)
Instructions
Bring 1 cup Hawaiian Punch Fruit Juicy Red to a boil.
Pour gelatin into a large mixing bowl and add the boiling punch.
Let gelatin dissolve completely.
In a mixing bowl, beat the cream cheese until fluffy.
Stir in gelatin and beat until smooth.I usually put it in the blender to fully mix.
Add crushed pineapple and remaining Hawaiian Punch Fruit Juicy Red and mix until incorporated.
Chill the mixture in refrigerator for about 30-40 minutes, so that when you lift it with a spoon it is clumpy.
Fold in the Cool Whip.
Pour into a 10-x-10 -inch pan, 6 quart Bundt pan, or pineapple mold.
Refrigerate for 3-4 hours or until firm.