This Butterscotch Glazed Pumpkin Bread is a spiced pumpkin bread with butterscotch chips all covered in a butterscotch glaze.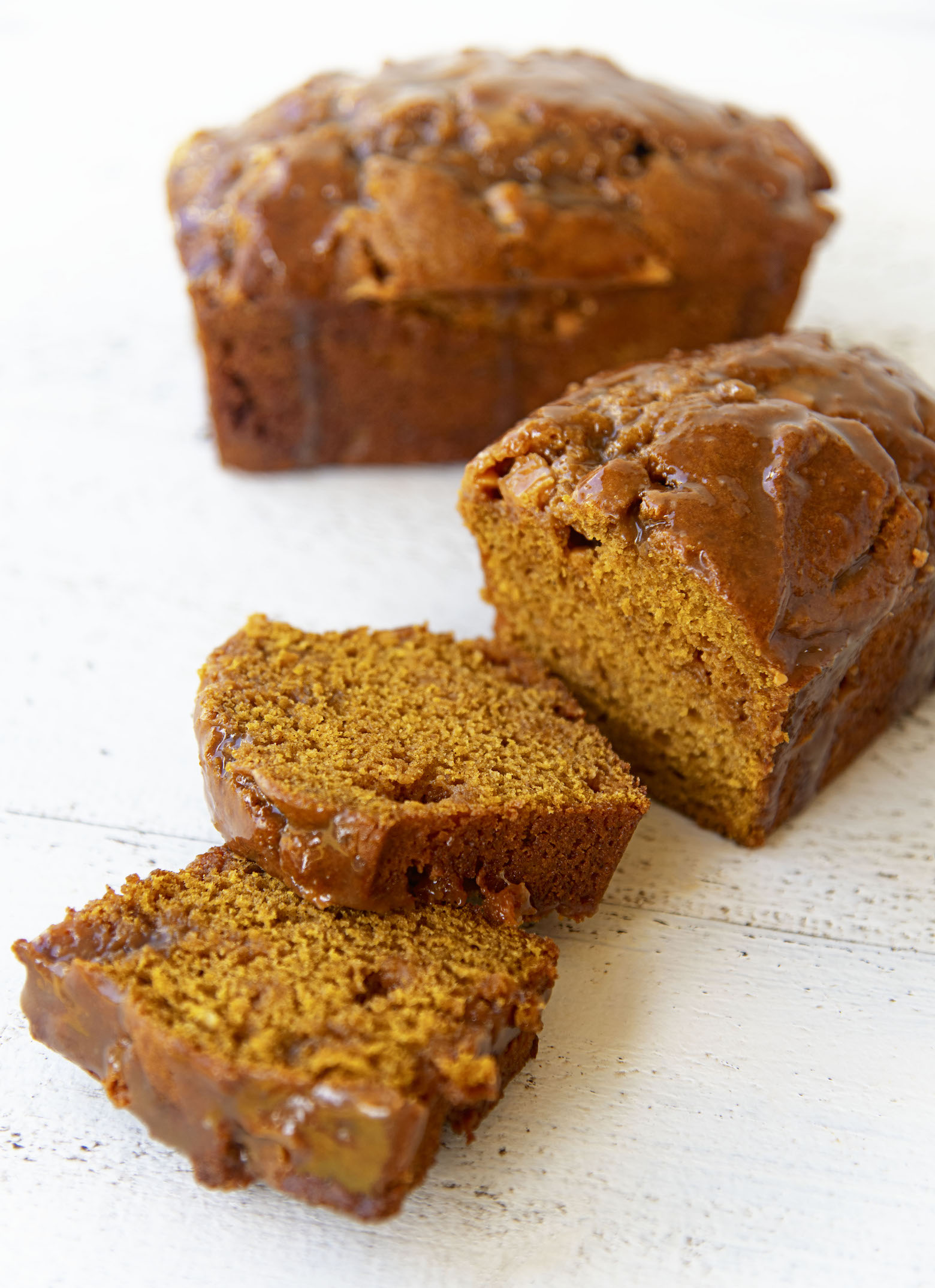 This Butterscotch Glazed Pumpkin Bread starts off my fall baking season.
I know, it's not fall yet.
But to food bloggers it is.
And to pumpkin spice latte drinkers it is.
This time of year is controversial for no real reason.
It's that time of year where the summer lovers get super upset that pumpkin spice lattes are out.
And Halloween candy is starting to be put on the shelves.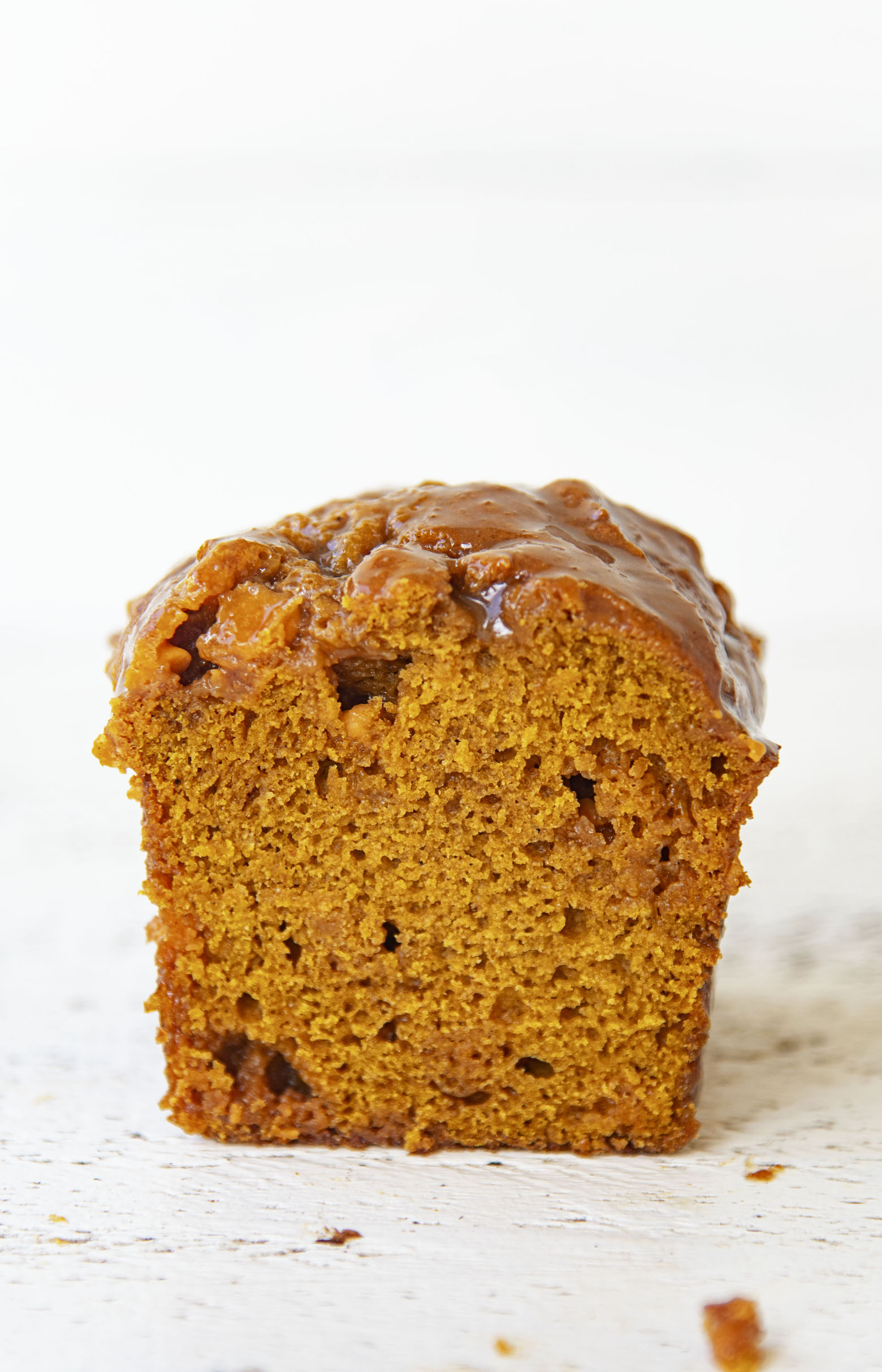 I have yet to figure out why there is such hate about what a person is drinking.
People don't seem to care what coffee flavor someone is drinking in March…why do you care now?
And mad at Halloween candy?
How can you be mad at Halloween candy.
It's the best.
All of your favorite candies in miniature form.
It used to be the only time of year that I could get mini gummy bears.
I can get them year round now but still.
None of these things are taking your summer away.
You know what is taking your summer away?
The rotation of the Earth.
Good luck on stopping that.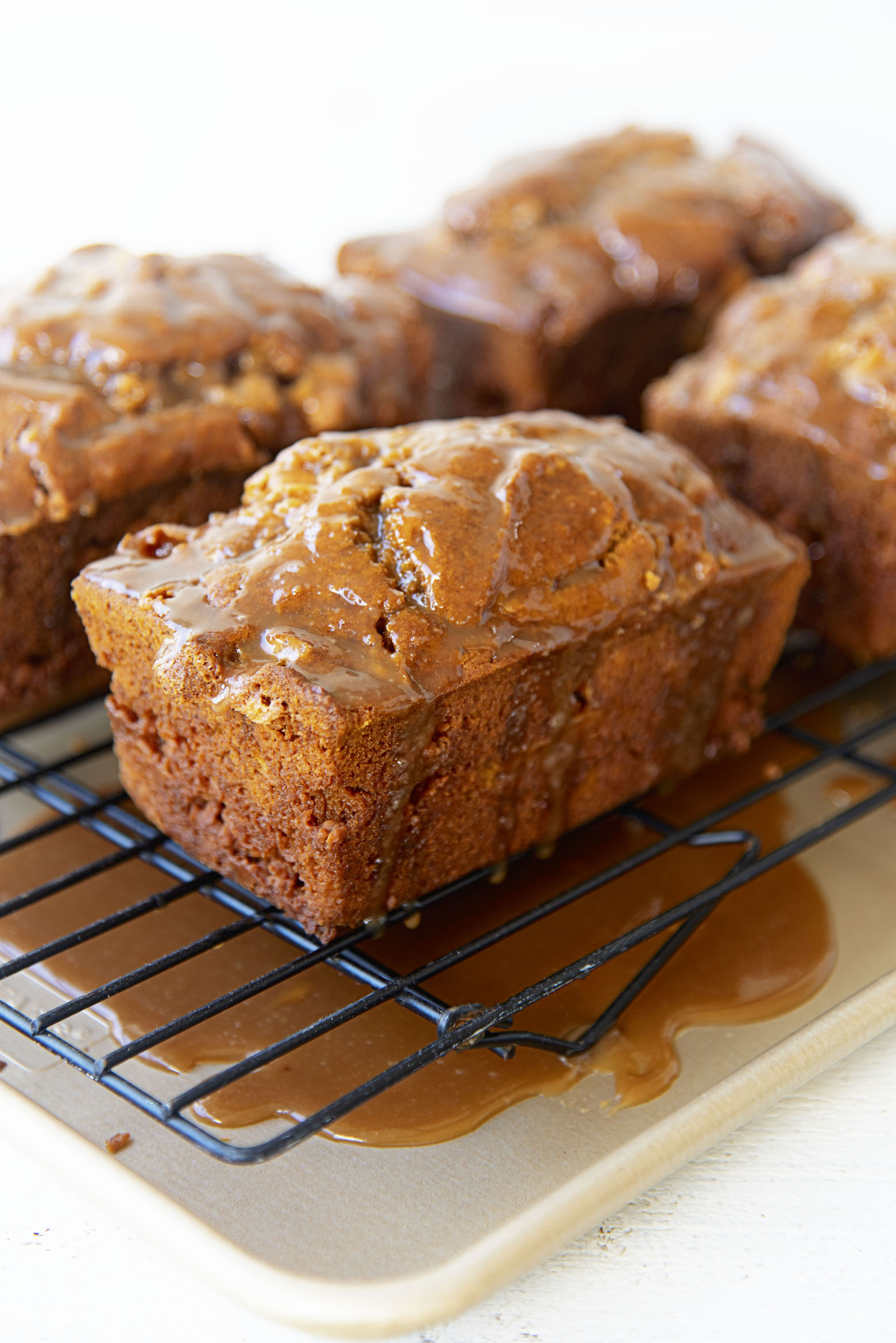 So let's talk pumpkin bread.
I'm calling this bread.
But really it's more like cake.
Feel free to call it either.
But when you call something bread it sounds healthier. 😀
Both my husband and I love butterscotch chips.
I have a pumpkin butterscotch walnut muffin that I love so I figured it was time to make a bread-ish version.
If butterscotch chips are not your thing you can leave them out.
Though I really do suggest using them.
They melt into the bread making little pockets of butterscotch goodness.
Yummy.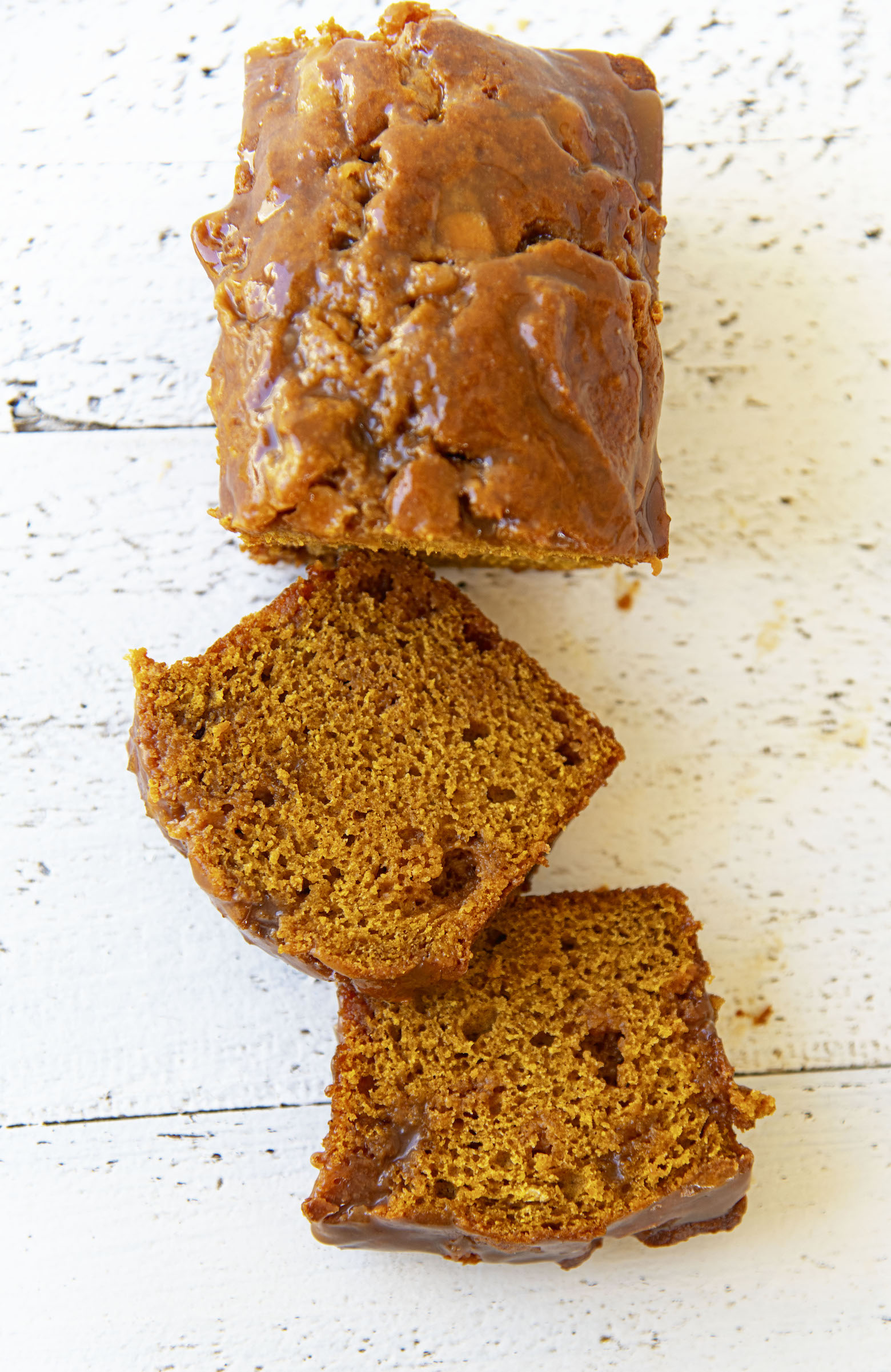 The glaze is a little sticky.
Think sticky toffee pudding sauce if you will.
I love it with this bread.
It would be great with ice cream.
Because all bread needs ice cream…right?
Can you make this without the glaze?
Sure.
But why would you?
I did make these as mini loaves.
I have not made it as a large loaf but if you want to do that you can adjust your baking time.
If I had to I would guess at least an hour.
But mini loaves are so fun and make it easy to share with friends and neighbors.
Can you freeze these?
If you want to freeze these you can.
But you want to freeze them without the glaze on them.
When you are ready to use them you can make the glaze and glaze the breads.
P.S. It's a great day to buy my cookbook Holy Sweet!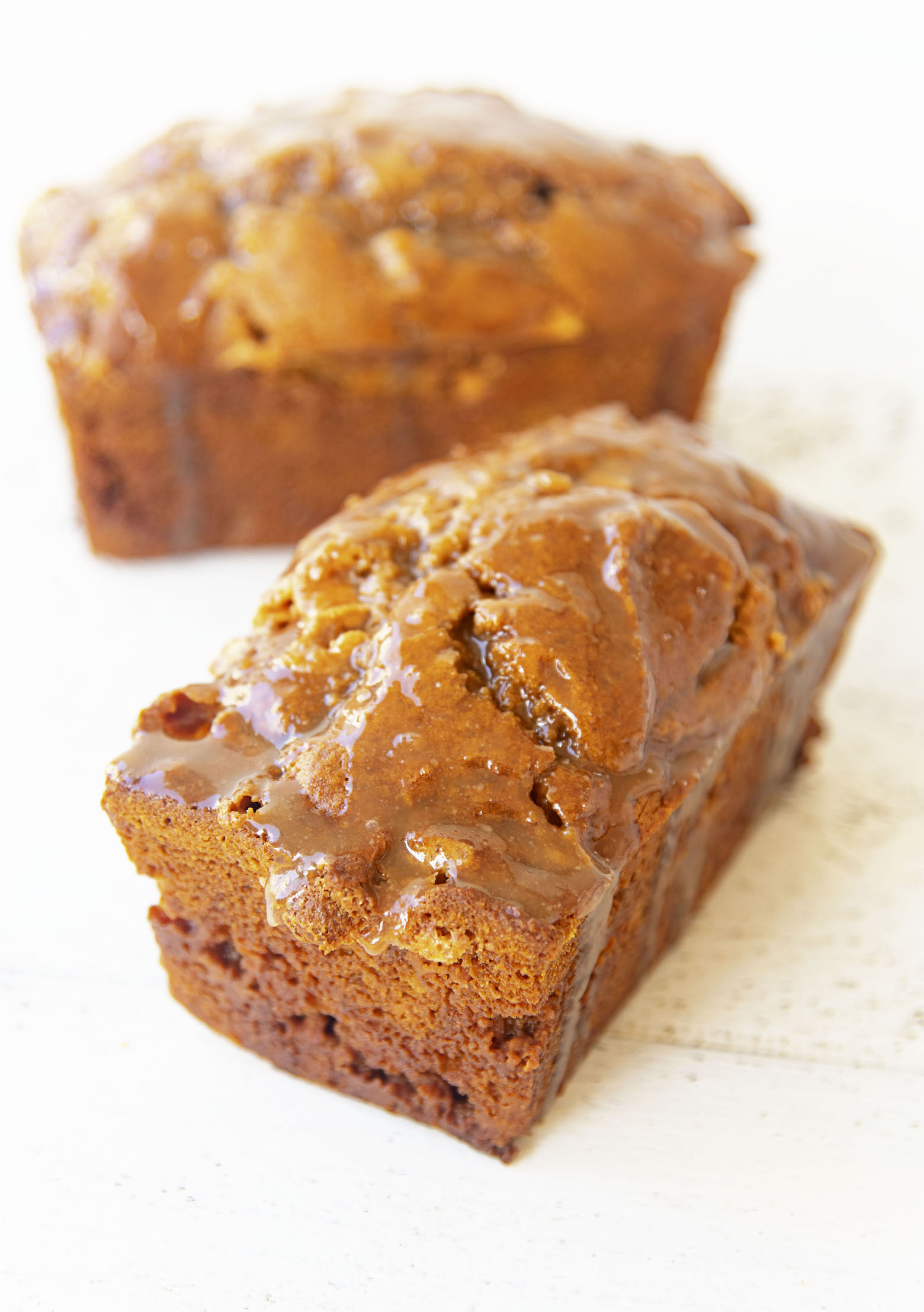 Want More Pumpkin Recipes?
Pumpkin Spice Latte Russian Tea Cake Cookies
Salted Caramel Frosted Pumpkin Cupcakes
Chocolate Cinnamon Frosted Pumpkin Cupcakes
Mini Pumpkin Toffee Bundt Cake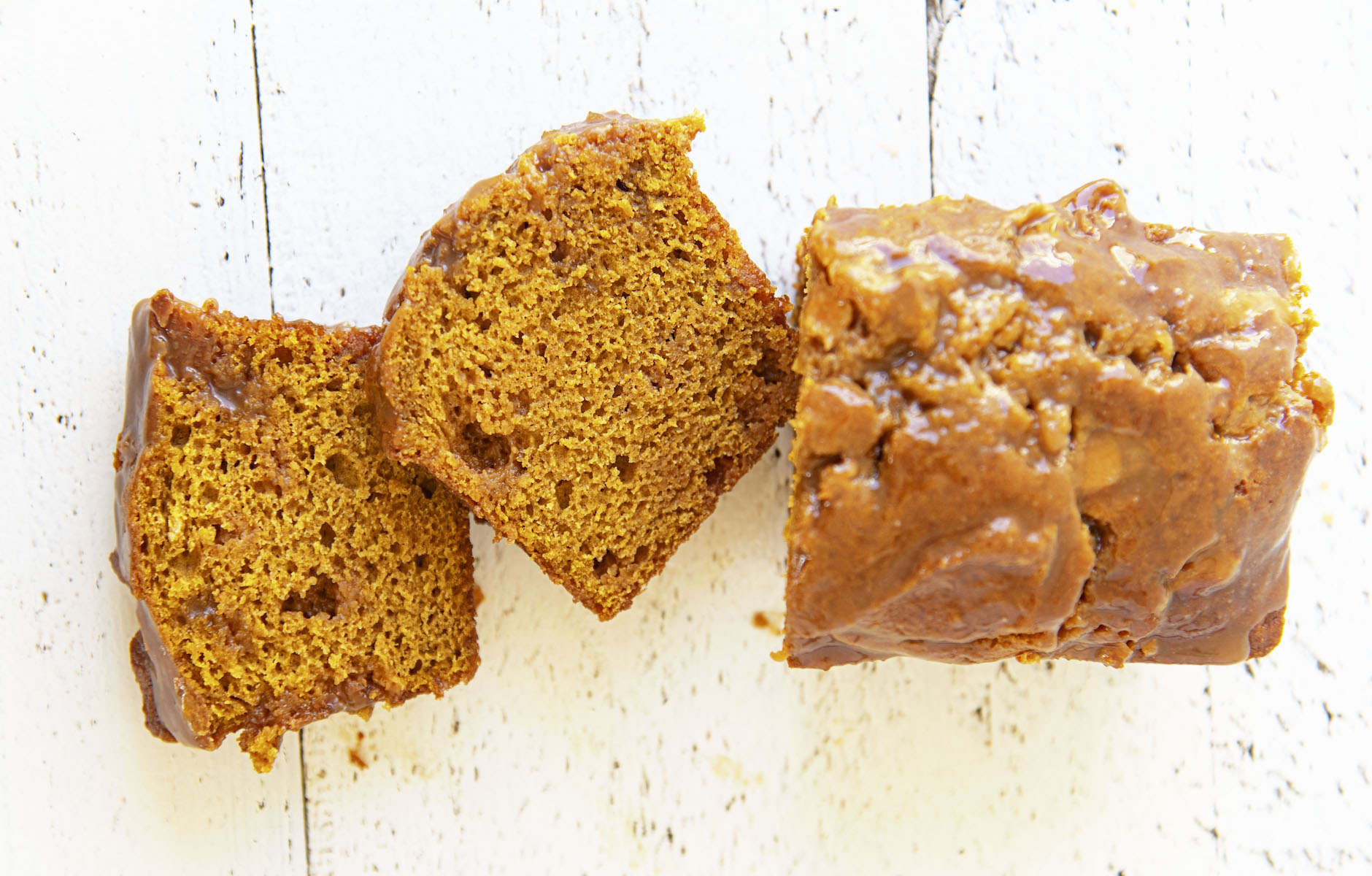 Butterscotch Glazed Pumpkin Bread
Ingredients
For the Pumpkin Bread:
3 cups all-purpose flour
2 tsp. baking powder
1 tsp. baking soda
1/2 tsp. salt
2 ½ tsp. pumpkin pie spice
8 ounces unsalted butter, at room temperature
1 cup granulated sugar
1 cup packed brown sugar
5 large eggs
1 can (15 ounces) solid pack pumpkin
1 ½ tsp. vanilla bean paste
12 oz butterscotch chips
For the Butterscotch Glaze:
1 cup brown sugar
1/2 cup light corn syrup
3 tbsp unsalted butter
1 1/2 tsp kosher salt
1/2 cup heavy cream
1 TBSP bourbon
Instructions
For the Pumpkin Bread:
Heat oven to 325F.
Grease and flour 4 mini loaf pans
In a medium bowl, combine flour, baking powder, soda, salt, and spice; set aside.
Using a stand mixer with the paddle attachment cream the butter and sugars until light and fluffy.
Beat in eggs, one at a time, scraping down the bowl's sides and bottom after each addition.
Beat in pumpkin and vanilla.
Slowly beat in dry ingredients.
Continue beating on medium speed until smooth and well blended.
Fold in the butterscotch chips doing your best to distribute them evenly.
Divide batter among the four mini loaf pans.
The mini loaf pans they take about 45 minutes…but watch and see as every oven is different), or until a wooden toothpick or cake tester comes out clean when inserted in center.
Cool for 15 minutes in the pan on a rack; invert onto a serving plate to cool completely and then glaze.
For the Glaze:
Bring the brown sugar, corn syrup, butter, and salt to a boil in heavy bottom skillet, whisking to dissolve sugar.
Boil until for about 3 minutes until syrupy and slightly reduced.
Remove from heat, add cream and bourbon and stir until smooth.
Set aside too cool and thicken.
Once glaze is thickened pour over the pumpkin breads.