These Winter Sun Jello Shots bring sunshine to dark days of winter made with vodka, triple sec, rosemary, lemon lime soda, and orange jello.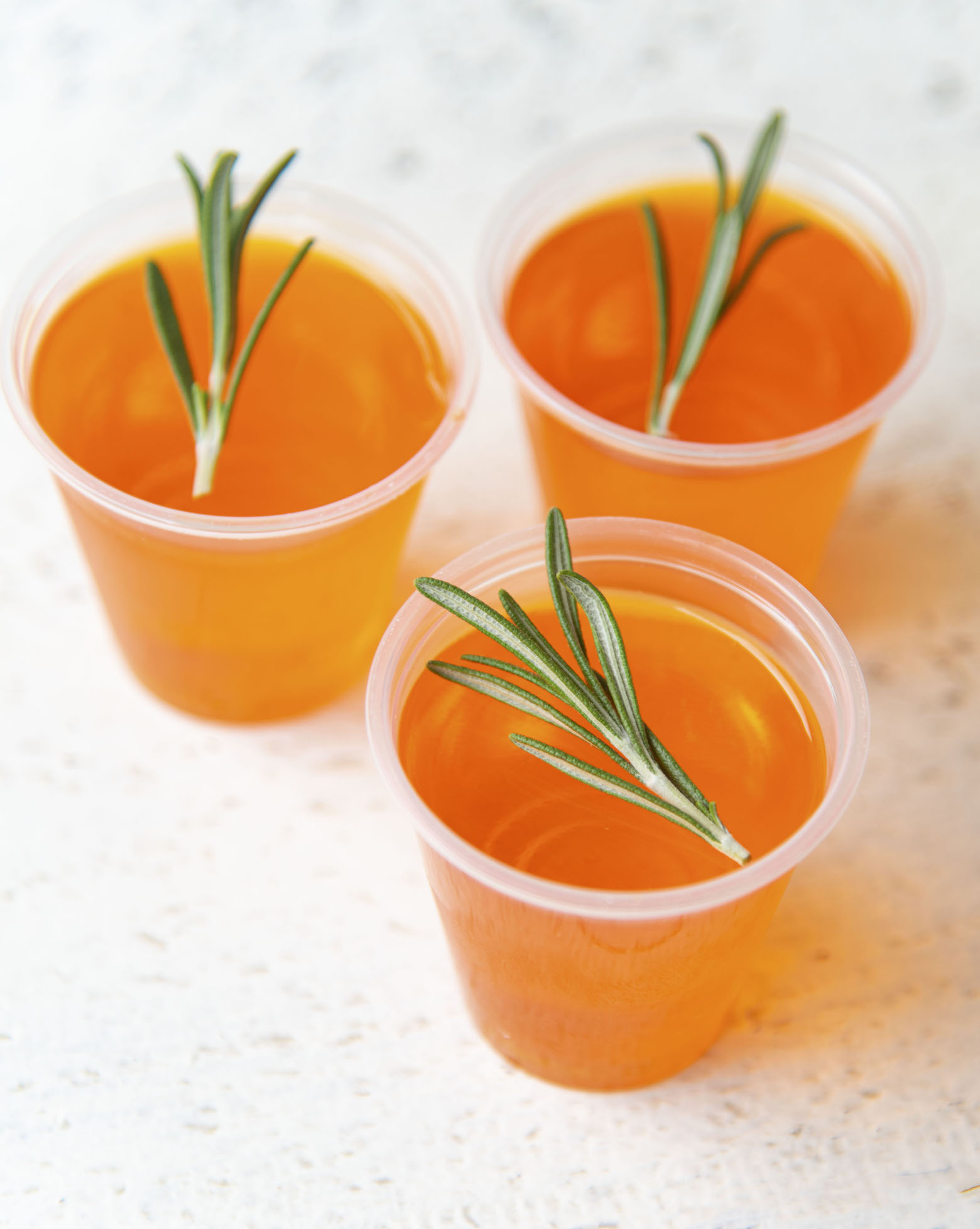 If you watched the world news last night you would see that the Pacific Northwest made the news.
It's never for anything good to make the world news.
If it is for something good it's only on the last 2 minutes of the show.
Because that's the only time they have any good news to share.
But the PNW has some major flooding going on.
Major.
I lucked out where I live but many others were not so lucky.
We also have more rain in the forecast.
Joy.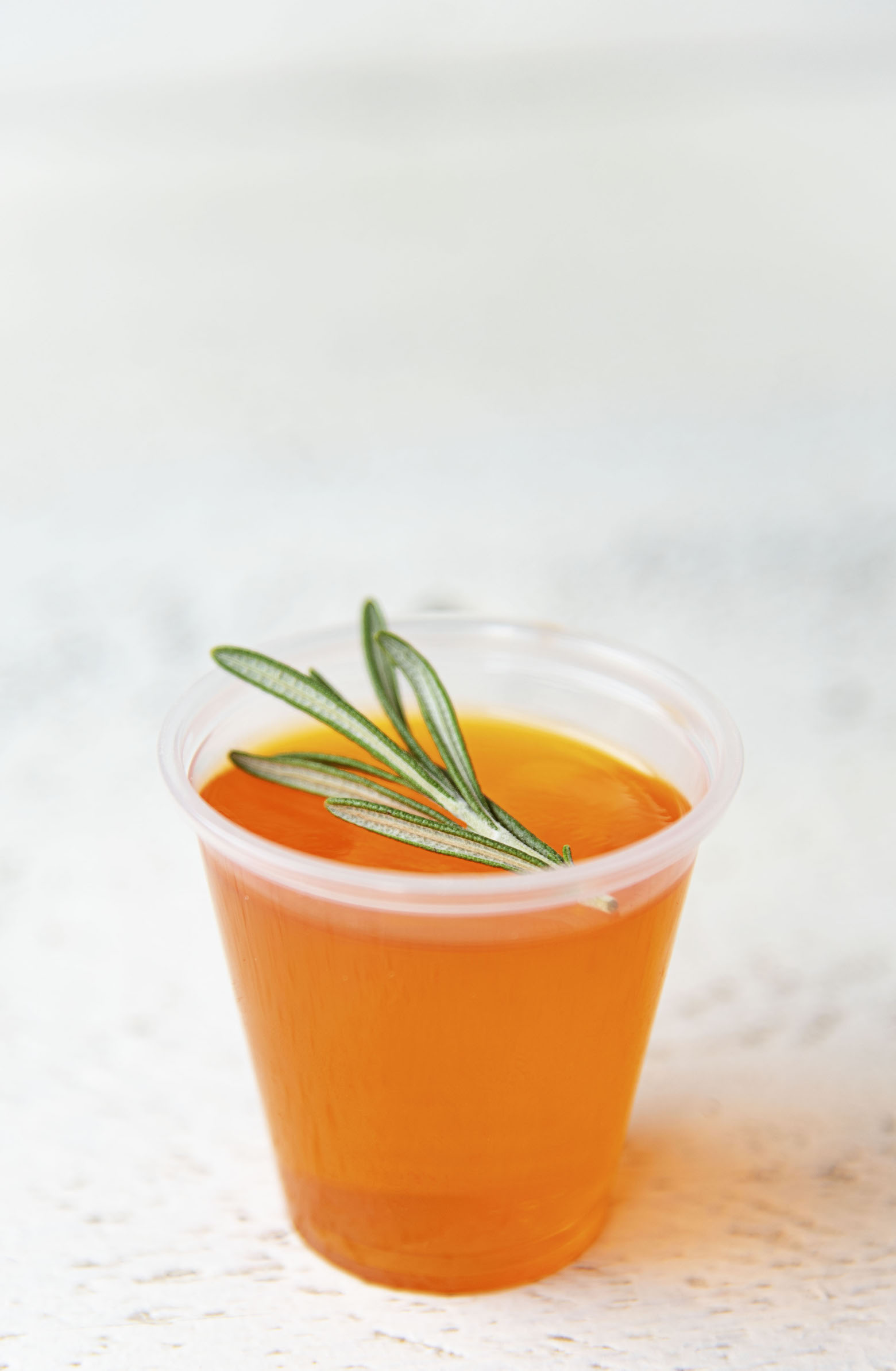 Back in 2015 I made a cocktail called the Winter Sun Cocktail Cooler.
Ironically because we were having so much rain that I titled the post "Send a Boat".
It's ironic because a lot of people did have to get rescued by boat this time.
I made the cocktail back then for the same reason I made Winter Sun Jello Shots this time around.
To bring a little sunshine to our lives…even if it was in booze form.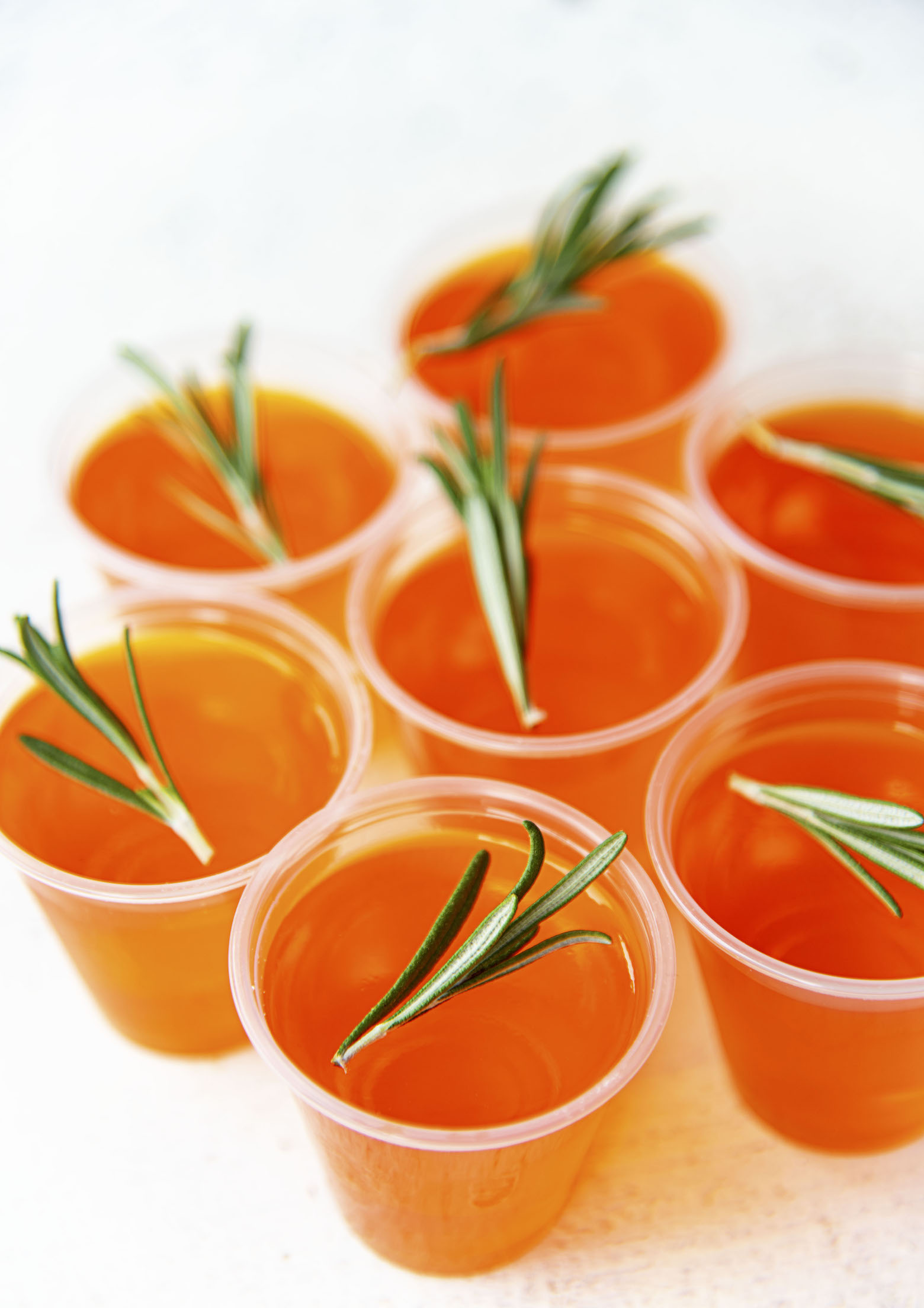 The recipe is citrus based because we think of sunshine when we think citrus.
I used orange jello (the original cocktail used orange juice).
And I used lemon lime soda.
So you have three different types of citrus happening at the same time.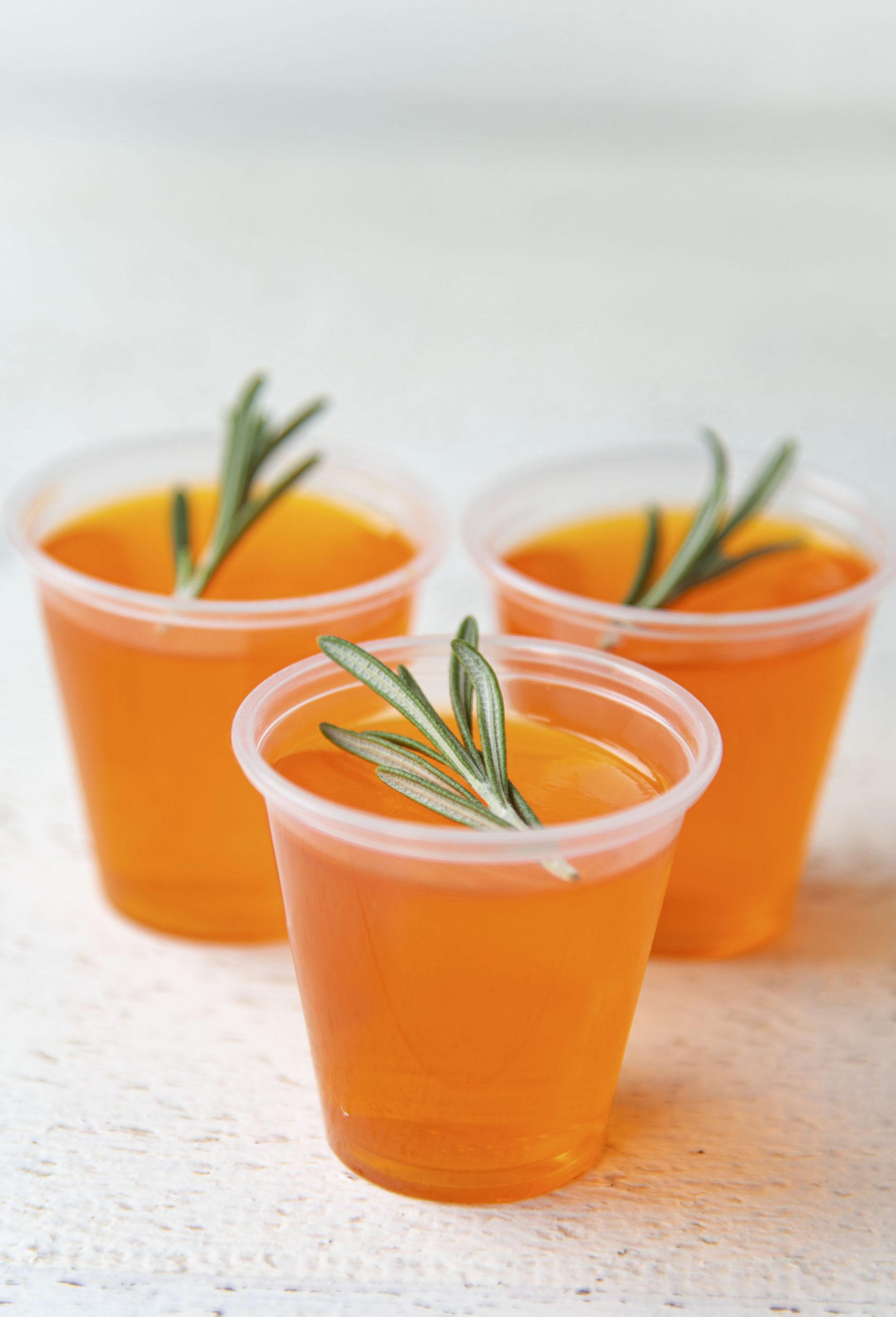 I also added the rosemary to the jello shot. In the original it was there more for garnish.
It isn't a super strong flavor as you only simmer it for a few minutes.
You can skip it if you hate rosemary.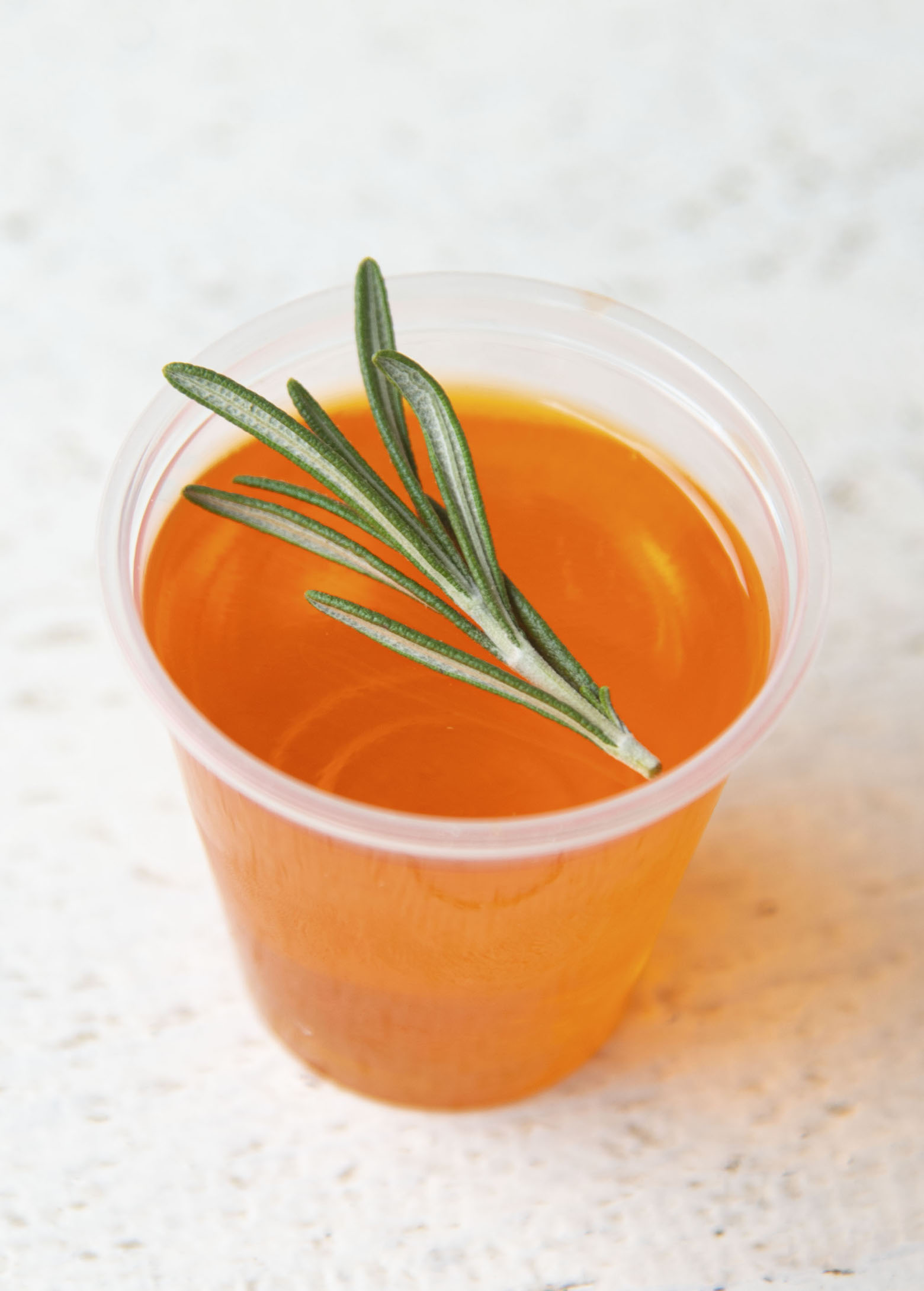 Things to remember when making Jello Shots.
When throwing a party, you'll probably want to prepare 4-6 Jello Shots for each guest.
This batch uses 6 ounces of gelatin and so you will get around 18-20 Jello shots.
If doing a half recipe and only using 3 ounces of gelatin you will only get 8-10 Jello shots depending on how you pour.
If using a garnish, don't place the garnish on the jello shot until just ready to serve.
And as always it's a great day to order my cookbook.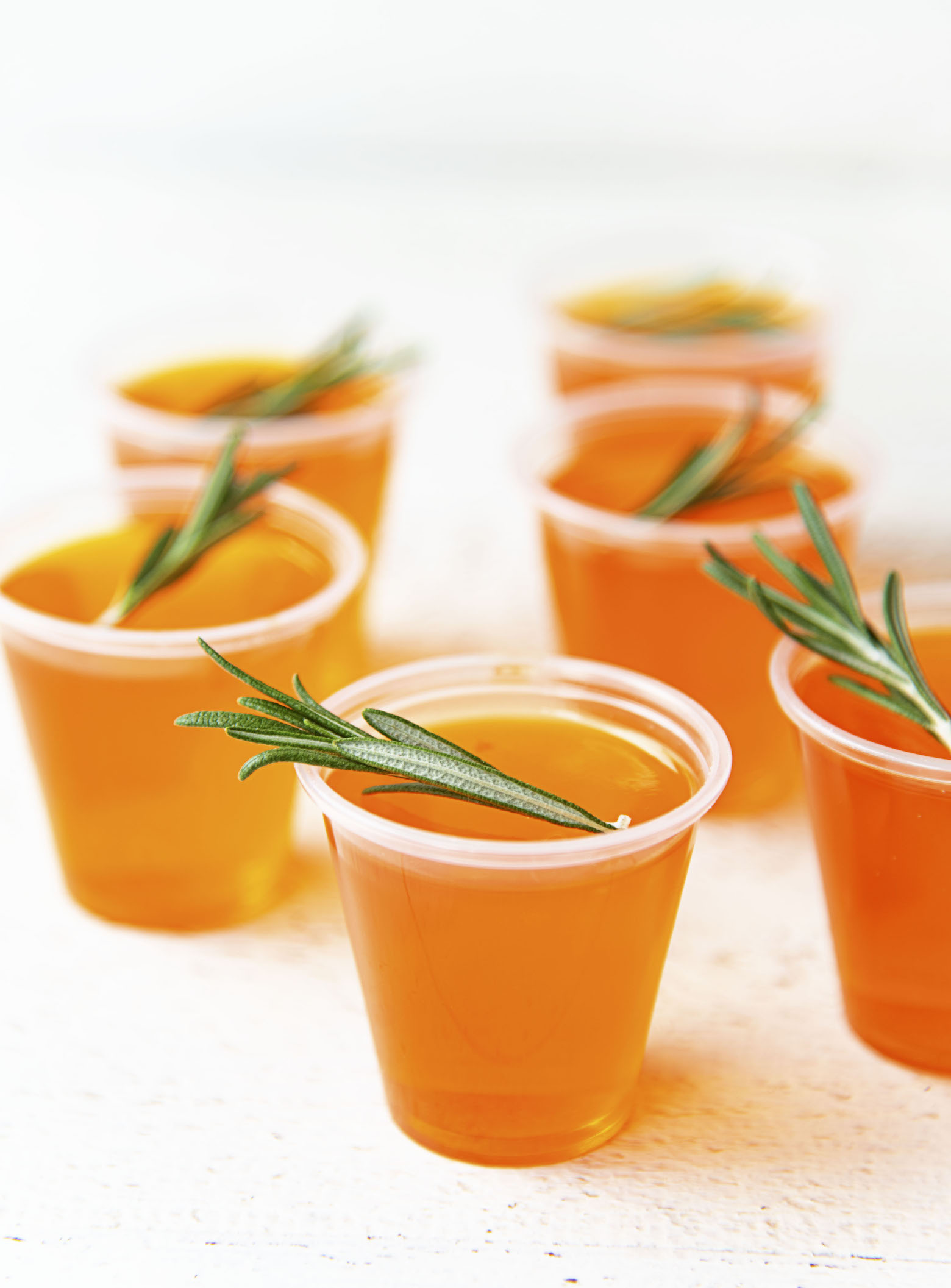 Want More Jello Shot Recipes?
Strawberry Pina Colada Jello Shots
Apple Cider Moscow Mule Jello Shots
Blue Hawaiian Rainbow Jello Shots
Cinnamon Candied Apple Jello Shots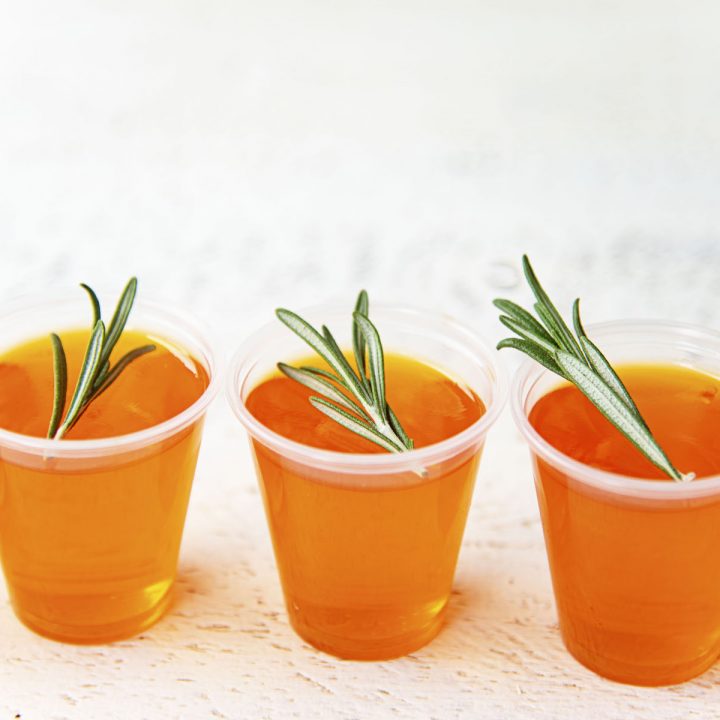 Winter Sun Jello Shots
Ingredients
1 1/2 cups water
1 large sprig of rosemary
2 (3 oz) packages Orange Jello
3/4 cup vodka
1/4 cup orange liqueur
1 1/2 cups lemon lime soda
rosemary sprigs for garnish
Instructions
Bring 1 1/2 cups water and rosemary sprig to a simmer.
Once you start to smell the scent of the rosemary in the water turn up the heat to high.
Bring the water to a boil.
Remove the sprig of rosemary.
Empty gelatin powder into a large mixing bowl and add the boiling rosemary water.
Continue stirring for two minutes or until the jello is completely dissolved.
Add in the vodka, orange liqueur, and lemon lime soda.
Stir until mixed and pour into 2oz. cups filled 1/2 to 3/4 of the way.
Let set up in fridge for at least 4 hours.
Garnish with a rosemary sprig if desired.