This Snickers Apple Salad Pie has chopped up snickers inside and a peanut chocolate chip crumb top and covered in caramel sauce.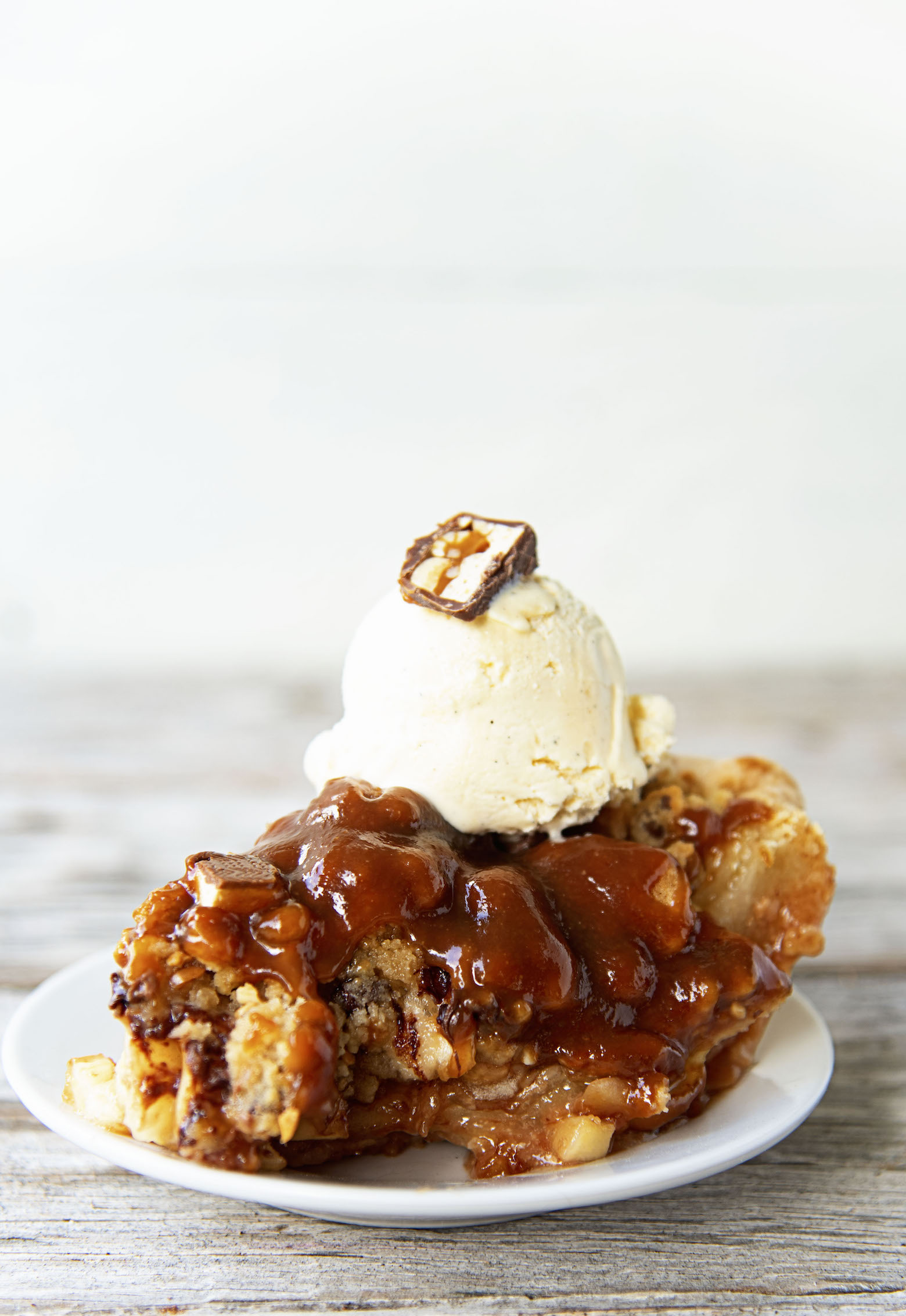 I've been planning on making this Snickers Apple Salad Pie for quite some time now.
But something always happens.
Usually it's my husband and I eating the Snickers before it comes time to bake the pie. 🙂
That happens more times than I would care to admit.
This pie is based off of the Snickers Apple Salad.
Which the basic salad consists of fresh cut apples, vanilla pudding mix, whipped cream, and chopped up Snickers.
Aka the world's most perfect salad.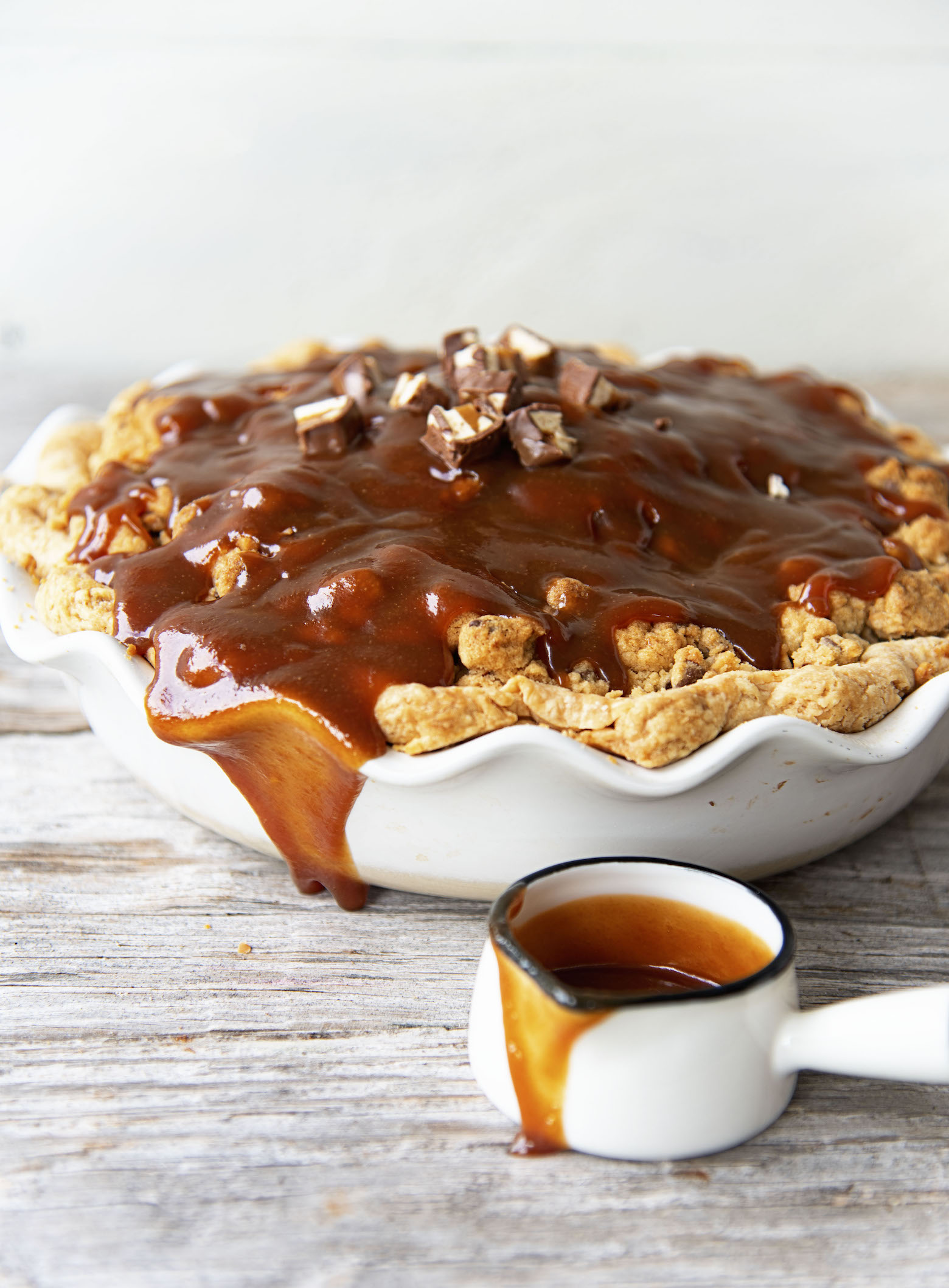 And I loved it.
But it was very shallow.
I also did not use the vanilla pudding mix.
The tart also only used 2 apples.
But not this pie.
This pie uses 3 1/2 pounds of apples.
Yes, you should weigh them.
If you don't own a food scale yet and like to bake you really should get one.
You can pick one up for a little over $10.
So it's not a big investment but can make a huge impact in your baking.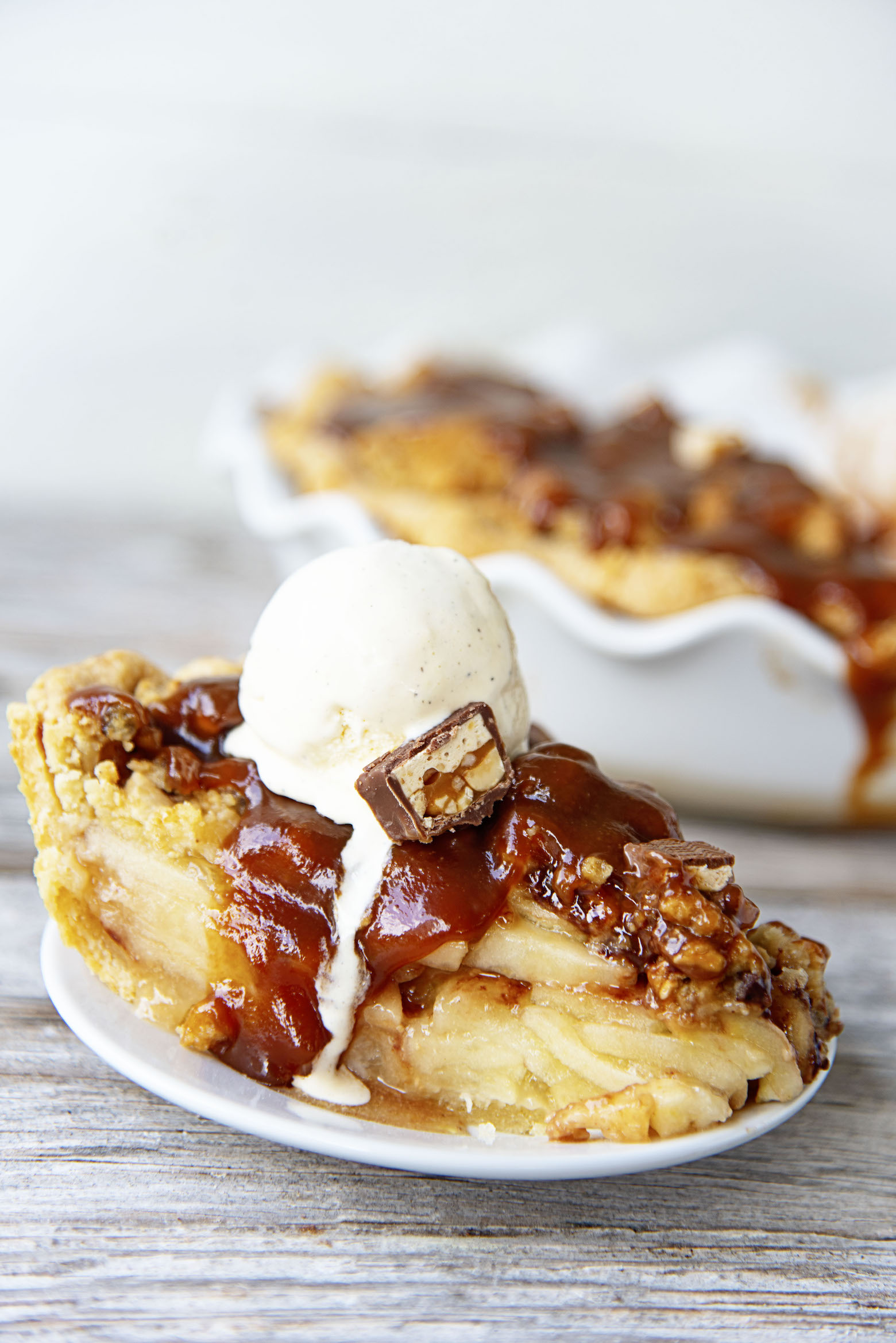 Because this pie is on the sweet side I suggest using a tart apple.
What?
A pie with candy bar pieces in it is sweet? 😛
I ended up using a Bramley apple.
Because that is what my friend grows on his farm. 🙂
That and British Bake Off starts tomorrow.
See Bramley apples are the number one baking apple in the UK.
So I was getting into the spirit of things.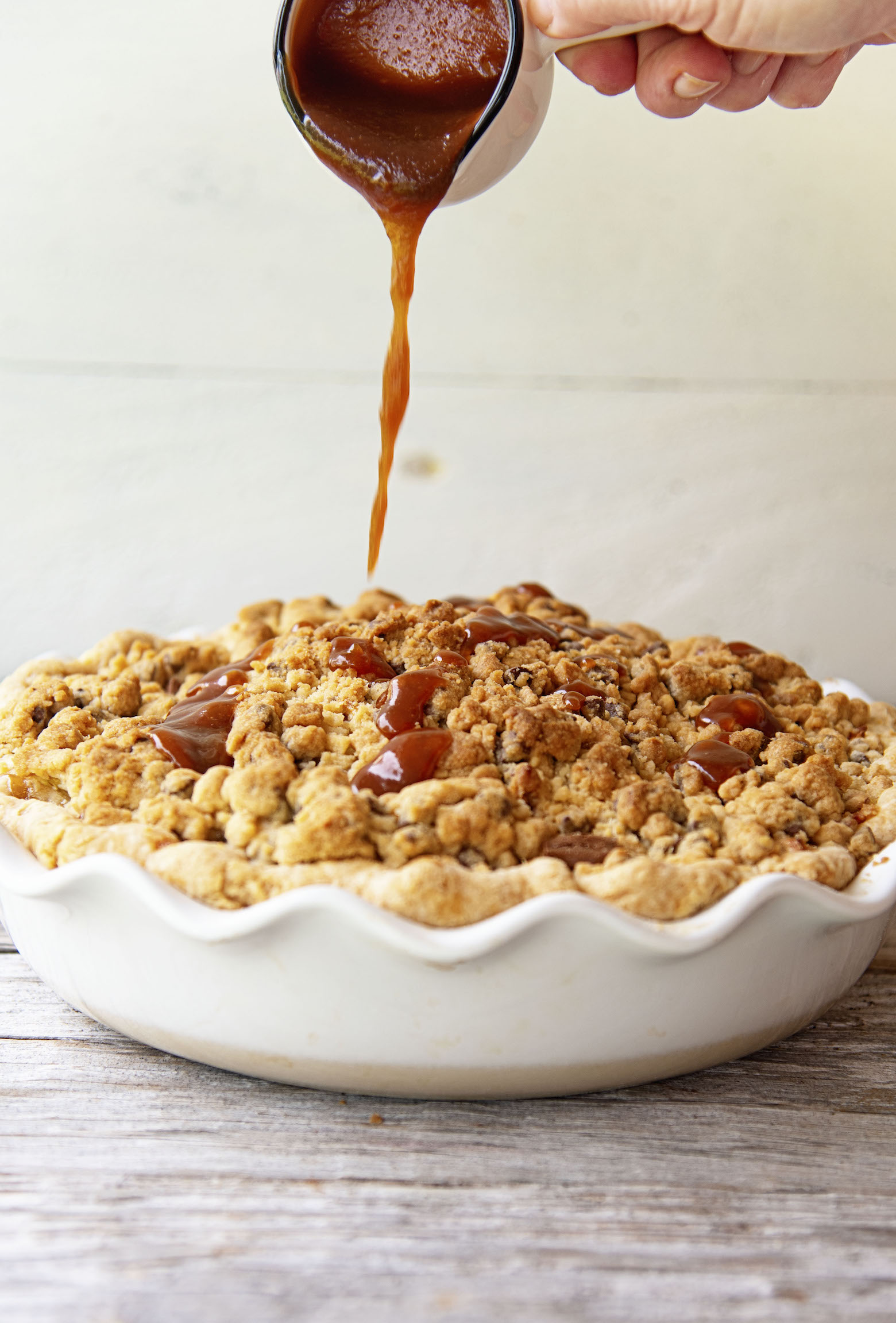 Bramley apples are very similar to the Granny Smith apple.
Both are tart and can hold their shape in a pie.
Bramley's however are MUCH larger in size.
So you use less of them.
Which is why you need a scale so you can measure out how many of them make up 3 and a half pounds of apples.
Obviously this pie is overkill.
But in the best way.
There are Snickers pieces in the pie.
The crumb has chocolate chips and peanuts in it.
Then smothered in vanilla pudding caramel sauce.
Don't forget to top with vanilla ice cream. 😀
And as always it's a great day to order my cookbook.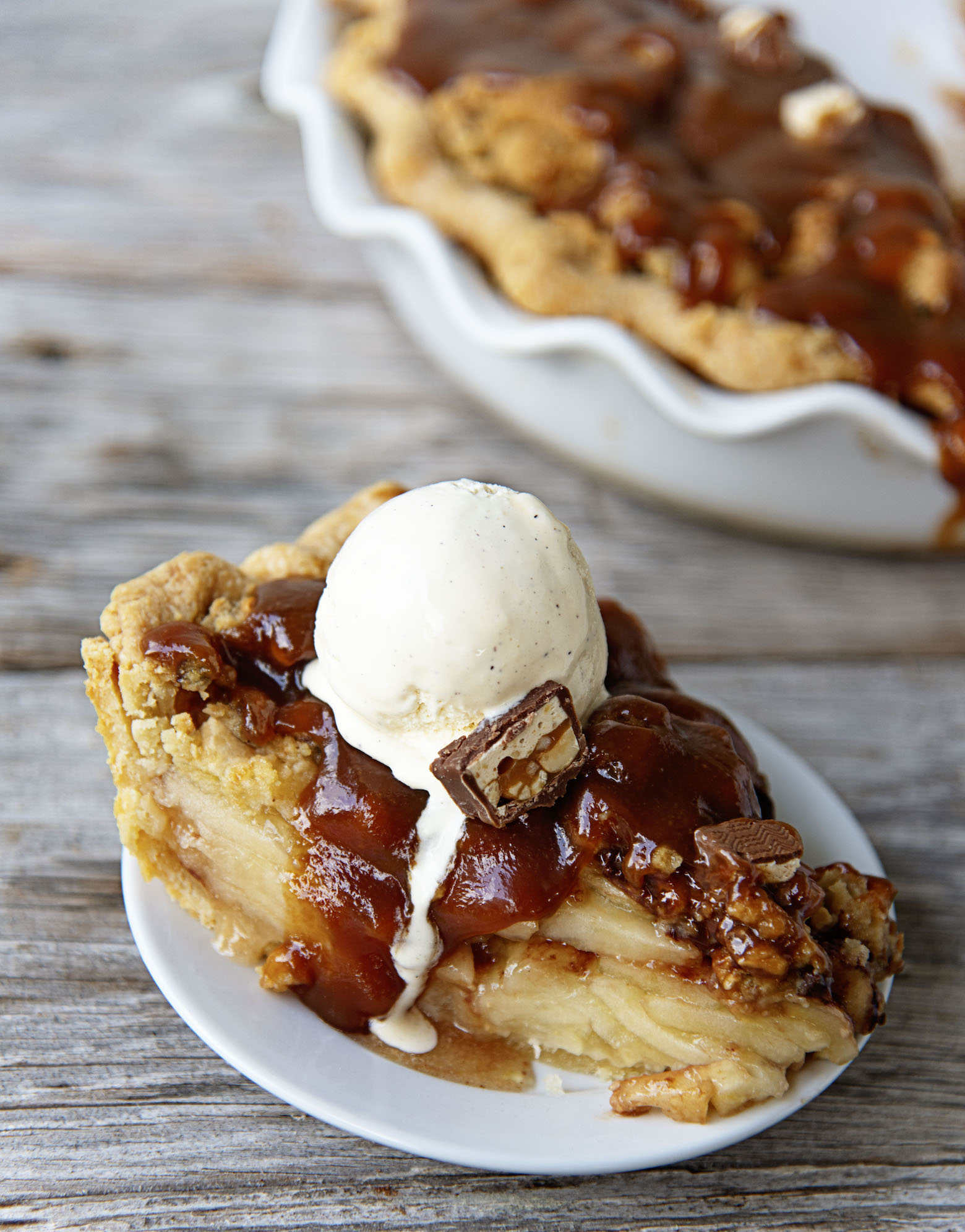 Want More Apple Pie Recipes?
Oatmeal Crumble Caramel Apple Pie
Caramel Apple Whiskey Crumb Pie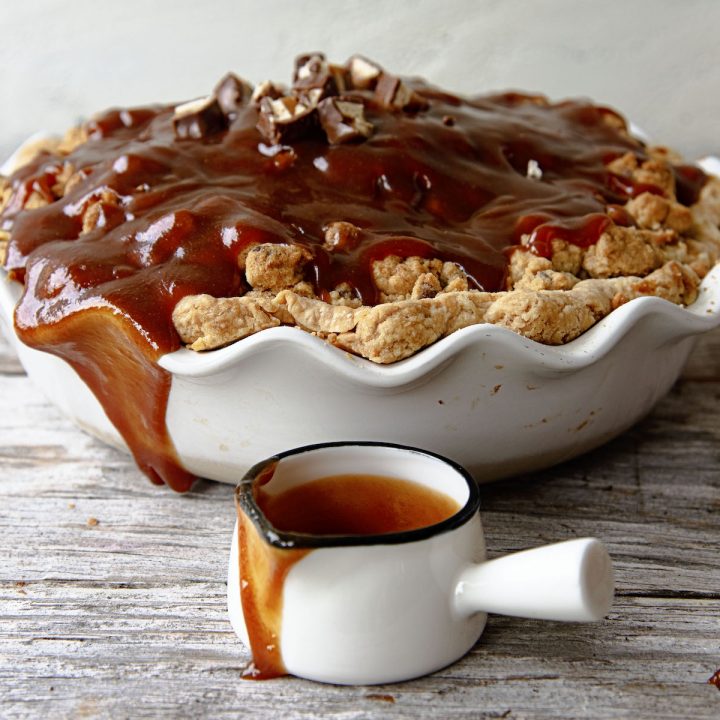 Snickers Apple Salad Pie
Ingredients
For the Crust:
2 cups all-purpose flour
1/2 tsp.salt
2 TBSP granulated sugar
2/3 cup chilled unsalted butter
4 to 5 TBSP ice water
For the Crumb Topping:
1/3 cup brown sugar
1/4 tsp. salt
1 cup all-purpose flour
1/2 cup chilled unsalted butter
1/4 cup mini chocolate chips
1/4 cup chopped peanuts
For the Filling:
3 and 1/2 pounds (roughly 5 cups) sliced apples
1/2 cup granulated sugar
1 TBSP plus 1 tsp.cornstarch
1 tsp. dry pectin or an extra 1/2 tsp. cornstarch
1/4 tsp. kosher salt
1/3 cup vanilla pudding mix (dry)
1 cup finely chopped Snickers candy bars
For the Vanilla Pudding Caramel Sauce:
2 cups granulated sugar
1/2 cup water
1 tsp. fresh lemon juice
2 cups heavy cream
1/4 cup vanilla pudding mix
½ tsp salt
Instructions
Preheat oven to 350F.
For the Crust:
Using a food processor combine flour, salt, and sugar on and pulse for 30 seconds.
Cut butter into 1/2-inch cubes and add to flour mixture and pulse until mixture looks crumbly, with bits of dough the size of peas, about 1 minute.
Add 4 tablespoons ice water, 1 tablespoon at a time, mixing on low speed for 10 seconds after each addition. After final addition, dough should begin to clump together in a ball. If it doesn't, continue mixing for about 10 seconds longer. (If it still looks too dry, add 1 more tablespoon ice water.) Gently mold dough into a disk, cover in plastic wrap, and refrigerate for at least 1 hour.
Transfer unwrapped dough to a lightly floured surface.
Roll into a 1/8-inch-thick circle large enough to cover bottom and sides of a 9-inch-diameter deep-dish pie pan; do not use a regular (shallow) pan. Transfer dough to pie pan, crimping edges with your fingers or a fork. Prick bottom with a fork.
For the Crumb:
In a food processor fitted with a metal blade, process sugar, salt, and flour for about 1 minute.
Cut butter into small pieces and add to sugar-flour mixture. Pulse 10 to 15 times until mixture is crumbly.
Add in the mini chocolate chips and nuts and pulse one time.
Remove from processor and refrigerate topping, covered, until ready to use.
For the Filling:
In a large bowl, combine the sugar, cornstarch, pectin (if using), salt, and vanilla pudding mix.
Add the apples and toss to combine.
Put 1/3 the mixture into the prepared pie pan.
Sprinkle half the Snickers pieces over the apples.
Put another 1/3 of the apples on top of that.
Sprinkle the remaining Snickers pieces over those apples.
Top with the remaining 1/3 of the apple mixture.
Sprinkle the crumb topping over the top of the filling.
Place the pie on a baking sheet, place in the oven, and bake for 30 minutes.
Tent the pie with aluminum foil and bake for an additional 30 minutes.
Remove the foil and bake for an additional 10-20 minutes or until the pie is evenly golden brown.
Remove from oven and cool on wire rack before adding the caramel sauce.
For the Vanilla Pudding Caramel Sauce:
Combine the sugar, water, and lemon juice in a heavy bottomed saucepan over medium heat. Cook, gently swirling the pan occasionally, until the sugar dissolves and starts to turn color.
Increase the heat to thigh and boil until the syrup turns a deep amber color, 4 to 5 minutes.
Watch carefully, as it can burn quickly.
Immediately remove the pan from the heat and pour in the cream, vanilla pudding mix, and salt.
Use a long-handled wooden spoon to carefully stir in the cream, as caramel has a tendency to hiss and splash as the cold cream hits it.
Place the pan over low heat and cook, stirring constantly, until the caramel thickens, 5 to 7 minutes.
The mixture should be the consistency of very thick cream. Let boiling sauce cool until it is just warm before pouring over the pie. You will not use the full amount of the caramel sauce. Save the rest to drizzle over the pie when serving it with ice cream.