This Snickers Apple Tart is a twist on a southern potluck salad turned into a yummy tart filled with apples and Snickers candy bars.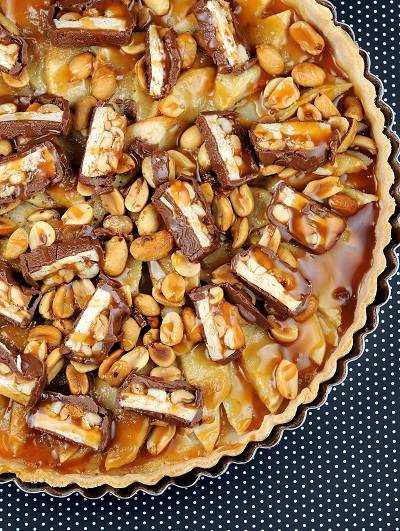 I went to a potluck in the south once and looked down at a concoction that I had not seen before.
And the woman next to me said "oh that's salad" and I said "it has Snickers in it" and she said "yes, it's Snicker Apple Salad".
Oh well of course.
I put Snickers in all of my salads…don't you?
I thought she was crazy until I ate it.
Apples.
Good.
Snickers.
Good.
Whipped Cream.
Good.
Back in those days that's all they put in the salad.
I guess if Waldorf can be a salad and that Strawberry Pretzel thing…this can too.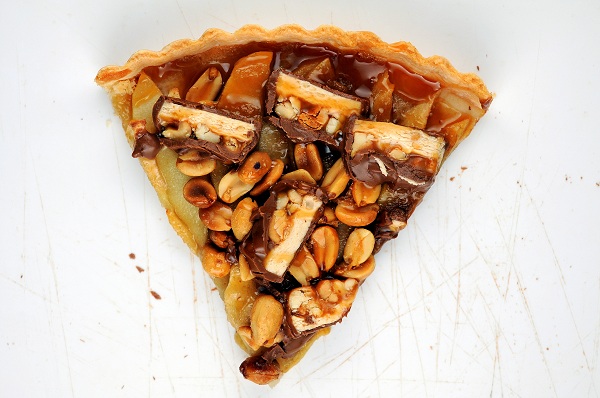 I have been craving apple pie like crazy lately.
I've tried to ignore it almost breaking down and eating a Hostess apple pie when I got gas the other day (don't judge).
But I clearly needed to feed the apple pie beast within me.
Since I tend to do things with a twist on here I decided to do a twist on the salad into tart form.
Making this Snickers Apple Tart.
And gotta say yum!
Now it's not apple pie-y apple pie but it's good all the same.
And hey…it's salad.
You can eat it whenever. 😀
P.S. It's a great day to buy my cookbook.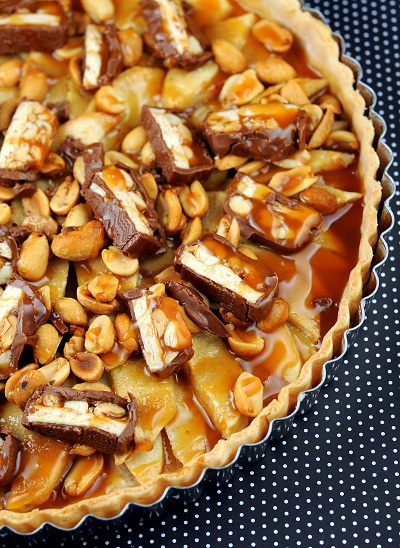 Want More Apple Recipes?
Salted Caramel Apple Fritter Bread
Caramel Apple White Chocolate Fudge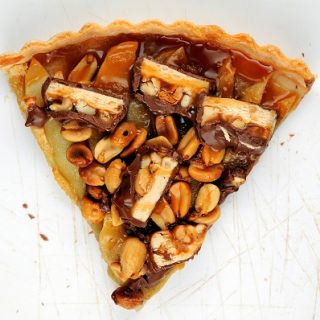 Snickers Apple Tart
Ingredients
1 premade pie crust
2 large granny smith apples, peeled and sliced
2 Snickers bars, chopped
¼ cup unsalted, dry roasted peanuts
¼ cup heavy whipping cream
4 TBSP brown sugar
1/3 cup caramel sauce
Instructions
Preheat oven to 350F.
Roll out pie crust and press into tart shell. Poke holes with fork. Bake for 8 minutes.
Arrange apples in a pattern of your choice.
Mix together the whipped cream and brown sugar and drizzle over apples.
Sprinkle peanuts on top of that.
Bake for about 25-30 minutes.
Remove from oven and immediately put Snickers pieces on top to get a little melty.
Drizzle with caramel sauce.