Oatmeal Crumble Caramel Apple Pie: Apples sautéed in a apple cider caramel sauce with traditional pie crust bottom but topped with a oatmeal crumble top.
When I moved into my house I inherited fruit trees.
Which were fun at first but the plum tree gave me so many plums that they just dropped fruit all the time.
Fruit on the ground and dogs don't mix so well.
I was constantly picking plums up.
Our apple trees didn't produce much and what they did produce were really small and so I didn't do anything with them.
My husband decided this year not to water our fruit trees.
Keep in mind it does rain here in Seattle. 🙂
In hopes I think of them dying off.
The plum tree produced zero fruit this year.
I think bugs got it.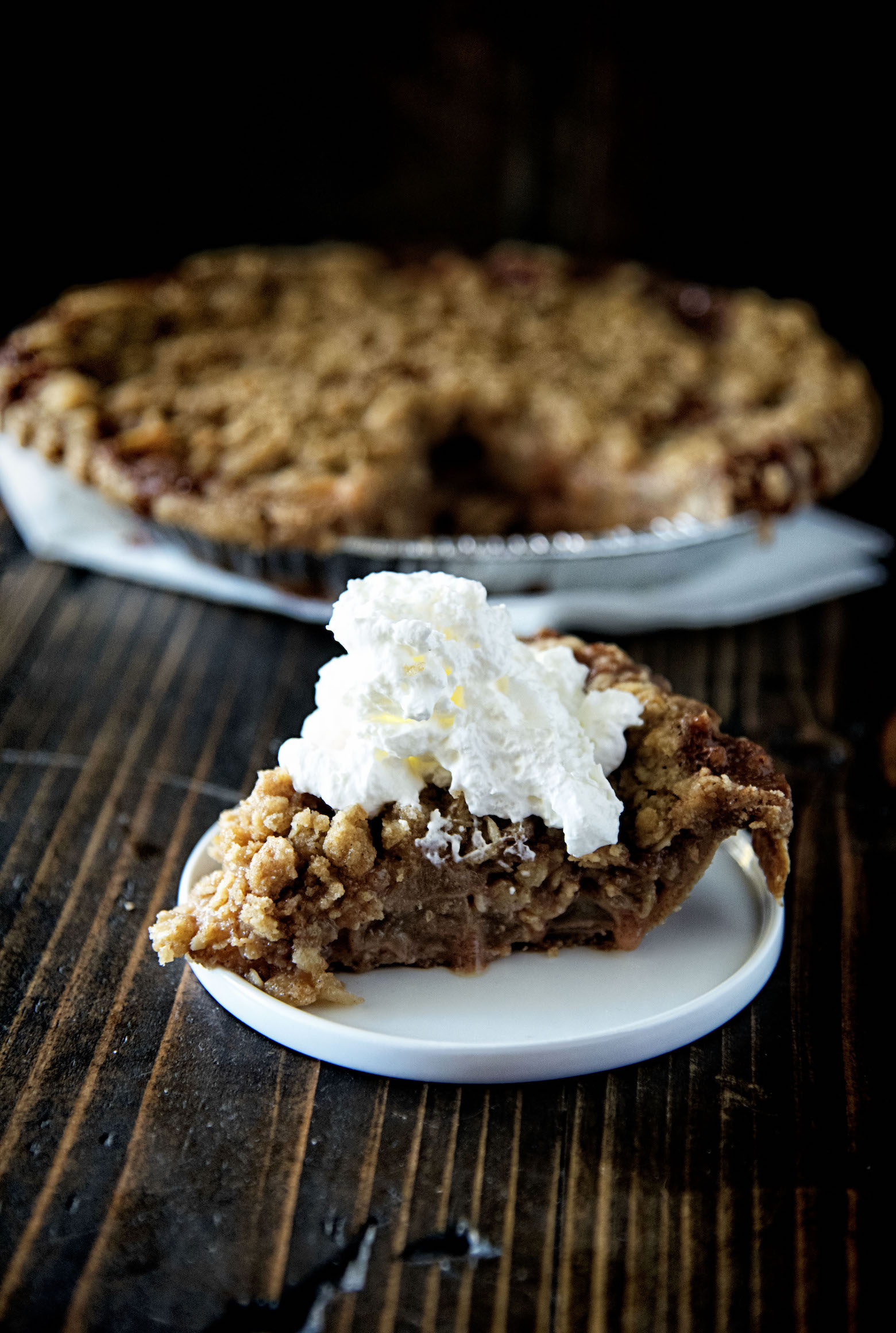 But my apple trees apparently LOVED being ignored.
Because wow did they produce apples.
Like hundreds and hundreds of apples.
Big, beautiful apples.
That don't seem to have bugs and are perfect.
We also have no idea what kind they are.
I asked on Instagram and got a ton of different suggestion.
Whatever.
They are sweet enough to eat but tart enough for pies.
And so a pie I made.
You will also see many, many more apple recipes because they just keep producing and producing.
This Oatmeal Crumble Caramel Apple Pie is the best of both worlds because you get pie crust and you get a crumble top.
The caramel that the apples bake in is super yummy and I'm spoiled to having apple pie this way now.
And as always wash your hands and be sure to order my cookbook.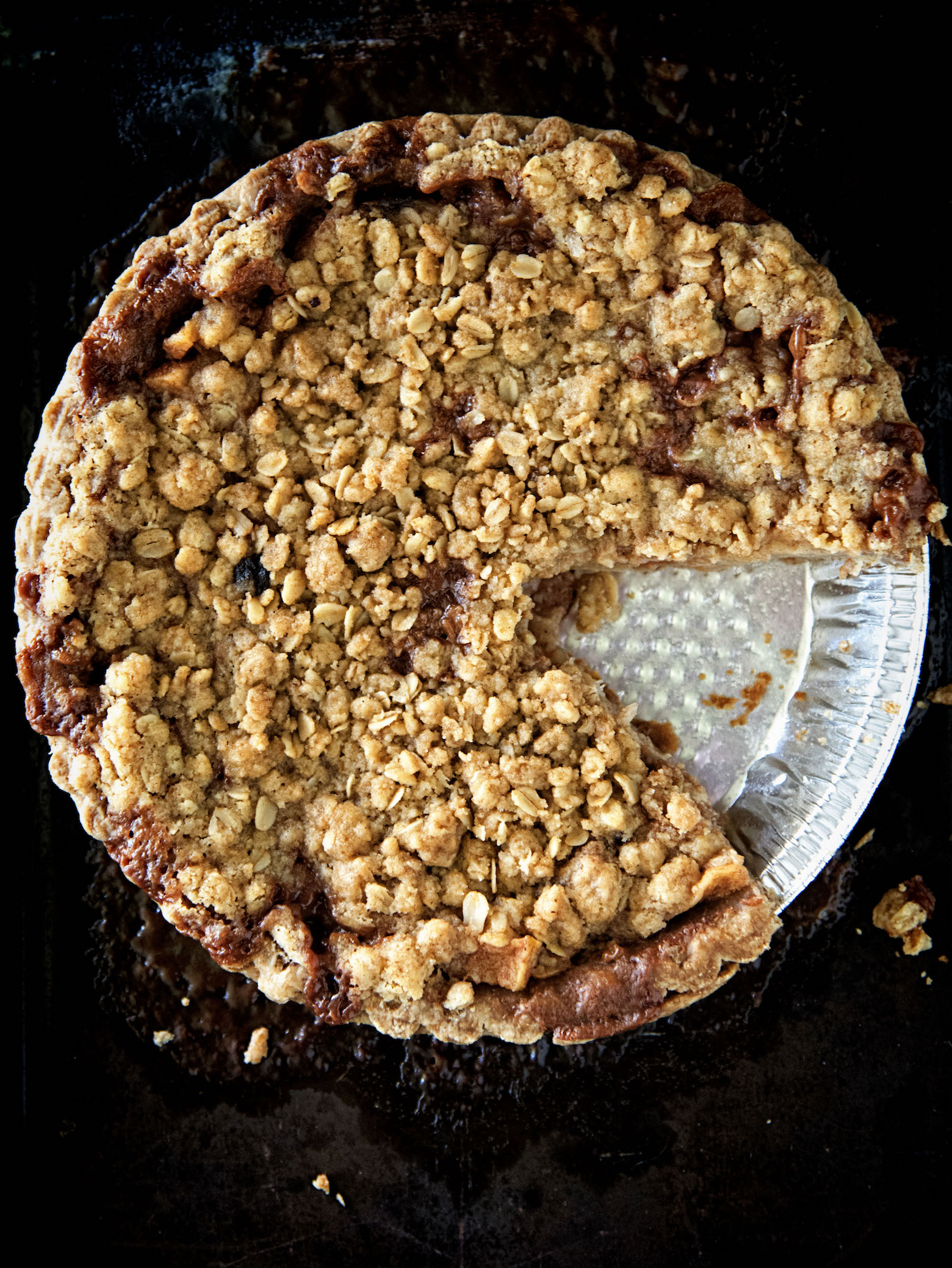 Want More Pie Recipes?
Cinnamon Toast Crunch Apple Slice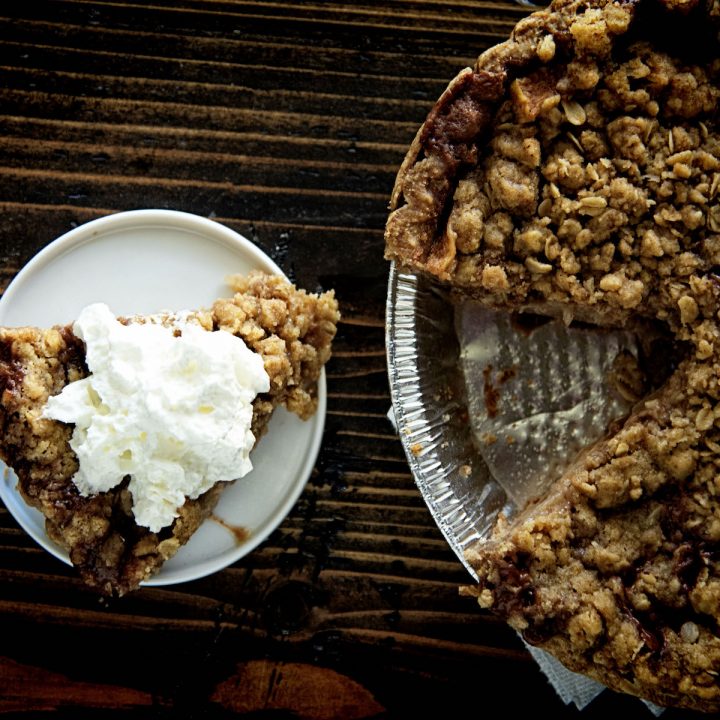 Oatmeal Crumble Caramel Apple Pie
Ingredients
1 pie crust (I just bought one but feel free to make your own)
For the crumb topping:
3/4 cup oatmeal
1/3 cup granulated sugar
3 TBSP dark brown sugar, packed
1/2 tsp. ground cinnamon
1/4 tsp. salt
1/3 cup all-purpose flour
6 TBSP chilled unsalted butter (I used Plugra), cut into 24 pieces
For the filling:
6 medium apples peeled, cored, and sliced about ¼-inch thick
1/2 cup unsalted butter
1 TBSP apple pie spice
1 TBSP cinnamon
Pinch of salt
1 cup granulated sugar
3/4 cup apple cider
1/2 cup heavy cream
Instructions
Preheat oven to 350F.
For the crumble:
In a bowl (or food processor) combine the both sugars, oatmeal, cinnamon, salt, and flour.
Cut in the butter (by hand, pastry cutter, or using the food processor) until crumbly.Refrigerate until ready to use.
For the filling:
Melt the butter for the filling in a large pot over medium-high heat and sauté the apples for 5-8 minutes.
Transfer the apples to a baking leaving as much of the liquid behind as possible.
Make sure to spread the apples out evenly.
Add the sugar, cinnamon, apple pie spice, salt, and apple cider to the pot, simmering for at least 5 minutes.
Add the cream and cook another 5-10 minutes more, until it is thick as pourable caramel.
Return the apples to the pot and stir to coat.
Roll out the pie dough onto a lightly floured surface and then transfer it to a deep dish pie plate, crimping the edges.
Pour the filling into the pie plate, sprinkle the crumb topping over, and put in the oven on a baking sheet for 50-60 minutes, until the filling is bubbling and the topping has browned.
Serve warm or room temperature.