This Caramel Apple Whiskey Crumb Pie is a decadent caramel apple pie spiked with apple whiskey and has both a crust and a crumble!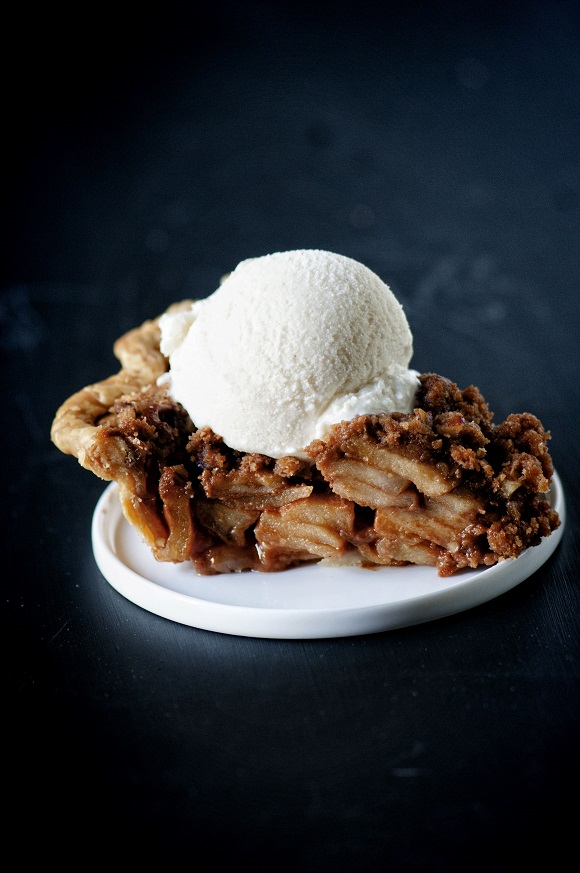 This Caramel Apple Whiskey Crumb Pie is quite possibly the best apple pie I've ever made.
If you follow this site you know I don't throw the word best around often…so trust me on this. This is the best apple pie…at least for me.
It's awesome because it has a pie crust bottom and a crumble on top since I can never decide between the two.
You make a caramel sauce out of apple whiskey, butter, and sugar….oh, twist my arm.
I discovered a new apple that I am in LOVE with for baking. It's called a piñata.
When Kita (Pass the Sushi) was here last weekend for the International Food Bloggers Conference (IFBC) we went to a dinner put on by Stemilt to meet the growers and the dinner featured their apple and pears.
One of those apples was their piñata.
They had them all over the table so on the way out the said be sure to take a couple.
Most of the people in attendance were not local so they took one.
I took 6 and made Kita take a couple as well and we stuffed them in my purse (it's okay I asked).
I had a lovely embarrassing moment when I had to take all the apples out of the purse to get to my wallet to pay for parking to which they guy let me know they don't accept apples as payment. Ha!
As if I would give that man my apples.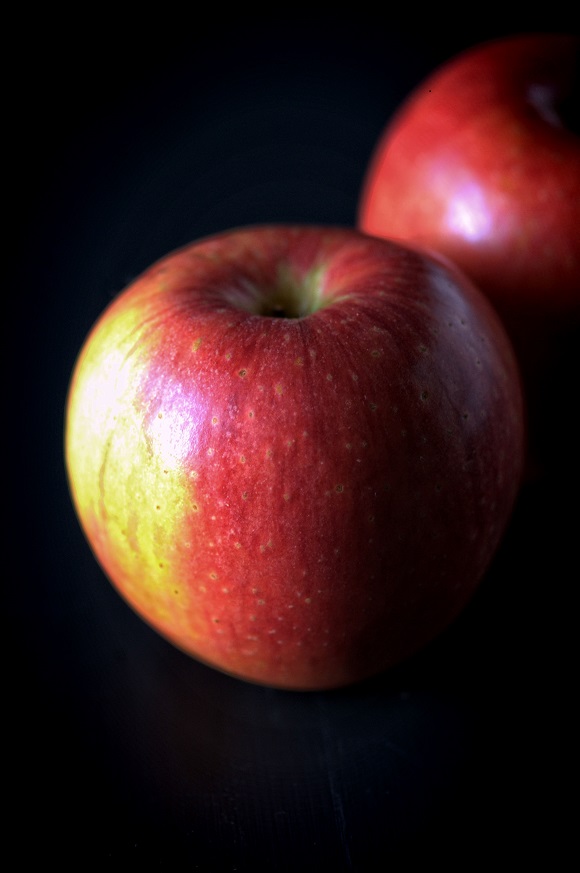 Kita asked me what I was going to do with all the apples I was hoarding and I told her I was going to make a pie.
She looked at me and said "this weekend?" and I said yes.
Which no, it didn't happen last weekend.
See, my husband was kind enough to get the plague weeks ago and share it with me.
I can't remember the last time I was this sick.
Like I was sick for weeks, and weeks.
But I rallied for IFBC and for Kita coming because well, it's IFBC, but oh, I paid for it dearly being in bed pretty much every day after the conference until this Sunday.
I almost felt human that day and so I set out to make the pie I had intended on.
I'm sure Kita is hating on me for not making this pie while she was here…but we were a little busy and I was kind of dying.
I don't make apple anything often because I eat it.
I've already had three slices of this pie…and I made it yesterday and didn't get to cut into it (for photo reasons) until today…so yes, I had three pieces of pie today.
They were small slices…I swear. 😀
If you can't find the Piñata apple then use whatever baking apple you like.
And no Stemilt didn't pay me to make something with their apples…though clearly they should…I mean look at that pie! 😉
P.S. It's a great day to buy my cookbook Holy Sweet!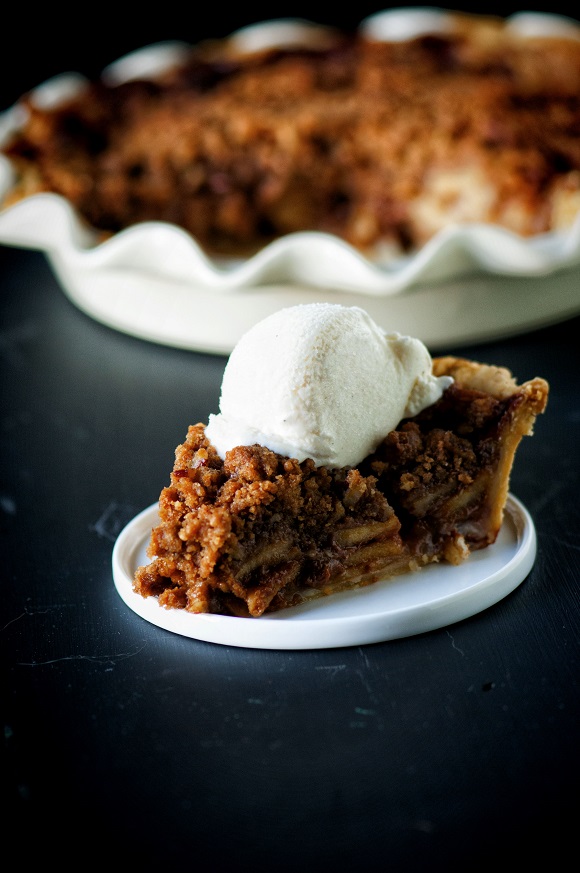 Want More Apple Recipes?
Cinnamon Toast Crunch Apple Slice
Cinnamon Sugar Apple Babka Buns
Salted Caramel Apple Fritter Bread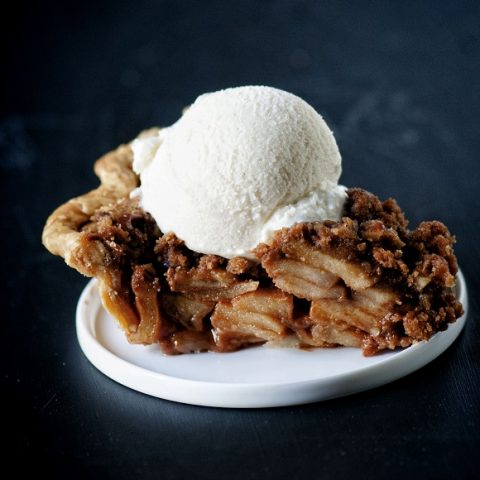 Caramel Apple Whiskey Crumb Pie
Ingredients
1 pie crust (I just bought one but feel free to make your own)
For the crumb topping:
1/2 cup pecans, chopped
1/3 cup granulated sugar (I used Imperial)
3 TBSP dark brown sugar, packed
1/2 tsp. ground cinnamon
1/4 tsp. salt
1/3 cup all-purpose flour
6 TBSP chilled unsalted butter (I used Plugra), cut into 24 pieces
For the filling:
6 medium apples (I used Piñata), peeled, cored, and sliced about ¼-inch thick
1/2 cup unsalted butter (I used Plugra)
3 TBSP ground cinnamon
Pinch of salt
1 cup granulated sugar
3/4 cup Apple Whiskey (I used Crown Royal)
1/2 cup heavy cream (I like Darigold 40%)
Instructions
In a bowl (or food processor) combine the both sugars, cinnamon, salt, and flour.
Cut in the butter (by hand, pastry cutter, or using the food processor) until crumbly and stir in the pecans.
Refrigerate until ready to use.
For the filling:
Melt the butter for the filling in a large pot over medium-high heat and sauté the apples for 5-8 minutes.
Transfer the apples to a baking leaving as much of the liquid behind as possible.
Make sure to spread the apples out evenly.
Add the sugar, cinnamon, salt, and whiskey to the pot, simmering for at least 5 minutes until much of the alcohol burns off.
Add the cream and cook another 5-10 minutes more, until it is thick as pourable caramel.
Return the apples to the pot and stir to coat.
Roll out the pie dough onto a lightly floured surface and then transfer it to a deep dish pie plate, crimping the edges.
Pour the filling into the pie plate, sprinkle the crumb topping over, and put in the oven on a baking sheet for 50-60 minutes at 350F until the filling is bubbling and the topping has browned.
Serve warm or room temperature.