This Pineapple Upside Down Jello Mold has all the flavors of a pineapple upside down cake but in a light and fluffy jello mold form.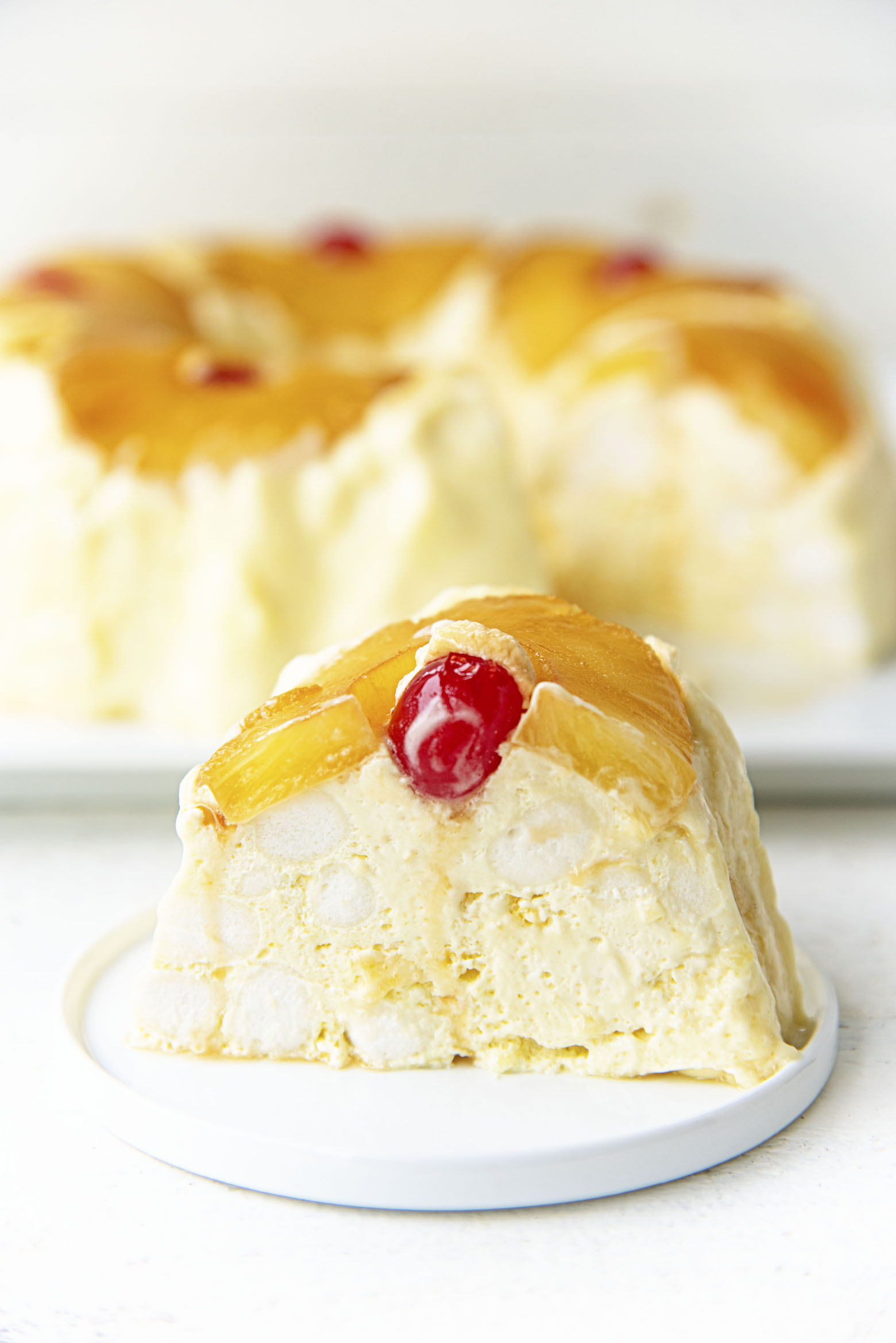 I lived in Arizona for many, many years.
So you think I would have remembered.
Remembered how hot it is once you hit triple digits.
And while I was smart and didn't turn on the oven.
Did not realize how quickly it would melt my jello mold.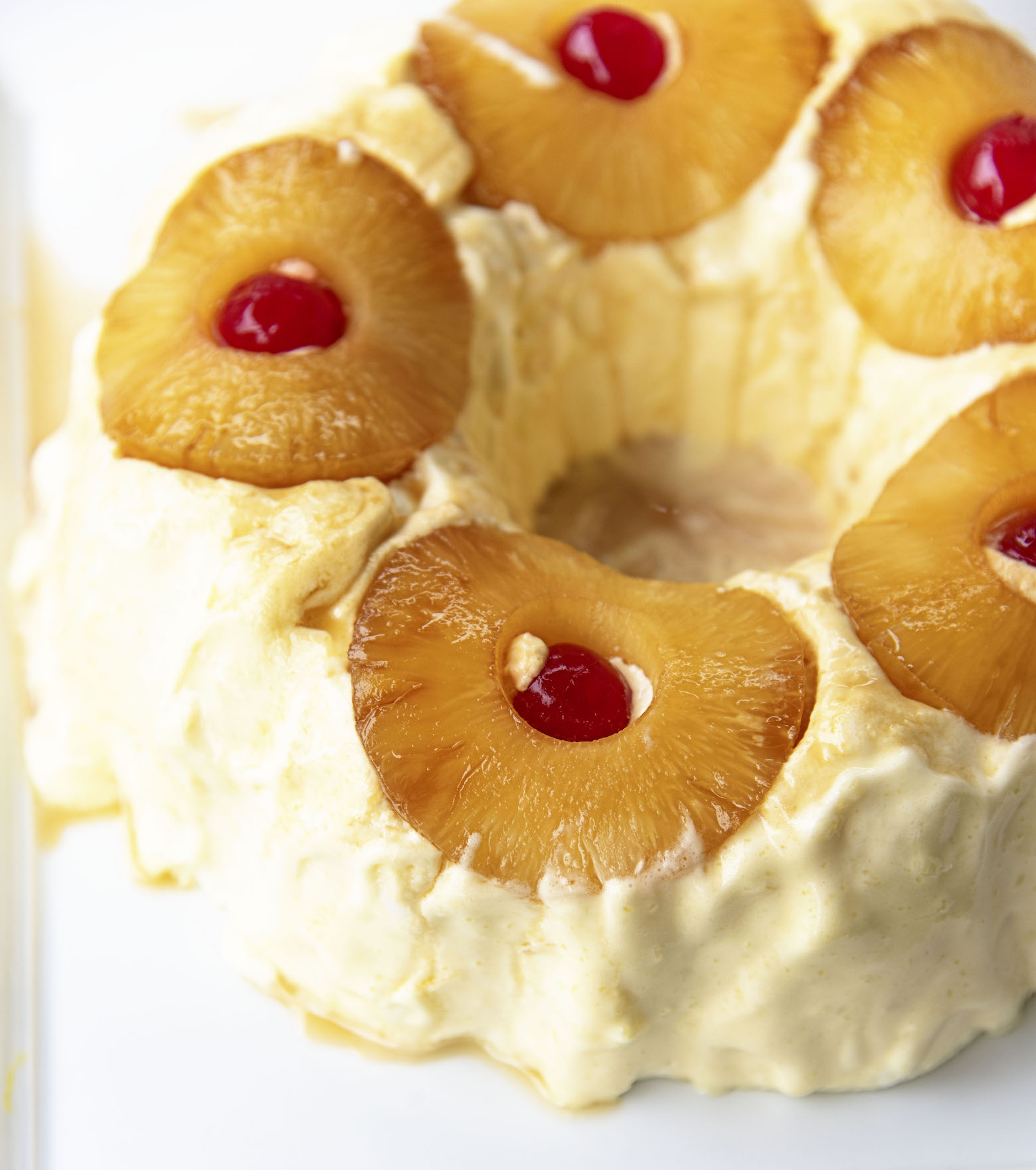 I take all the pictures for my blog outside because my house gets no light.
So I set everything up.
Released the Pineapple Upside Down Jello Mold from it's pan and put it on a plate.
Went back inside to get my camera.
And it had already melted…a lot.
Oops.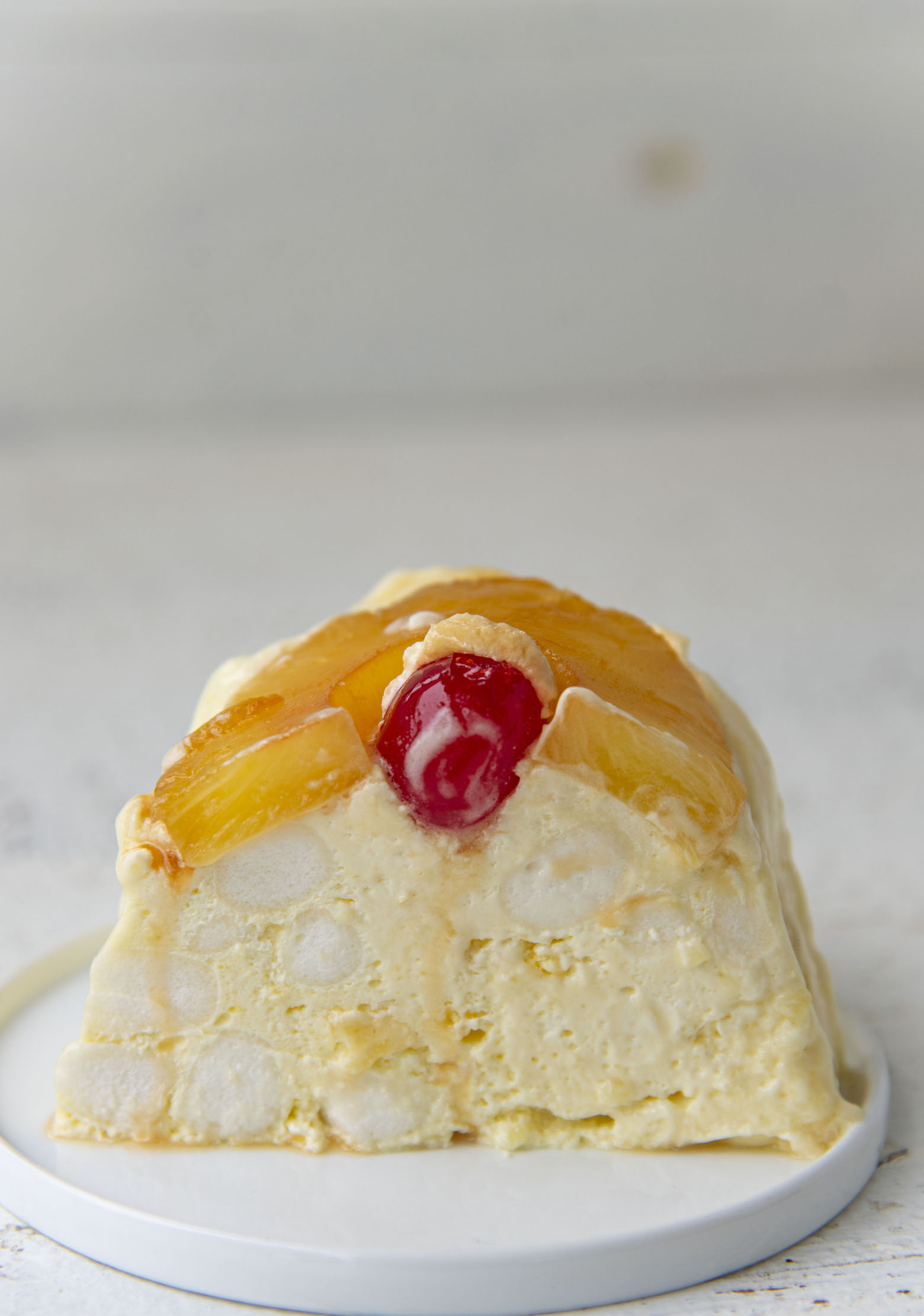 So hopefully yours won't look as melty as mine did.
It looked great when I first released it.
The brown sugar does breakdown and form a sauce just like it does in the cake.
This recipe uses 1/3 of a cup of dry yellow cake mix.
Some people like to heat treat theirs due to fear of getting sick.
I don't heat treat and have not had issues but everyone is different.
The recipe also uses Buttery Sweet Dough Bakery Emulsion which is an extract that gives it a little bit of a cake flavor.
There is a link where to get that in the recipe.
This is a very tasty jello mold and I'm glad that my little experiment worked out.
Because I get ideas and sometimes they don't always work out how you think they will.
But this turned out even better.
Even if it did melt the second I went to photograph it thanks to the heatwave.
It's a great day to order my cookbook.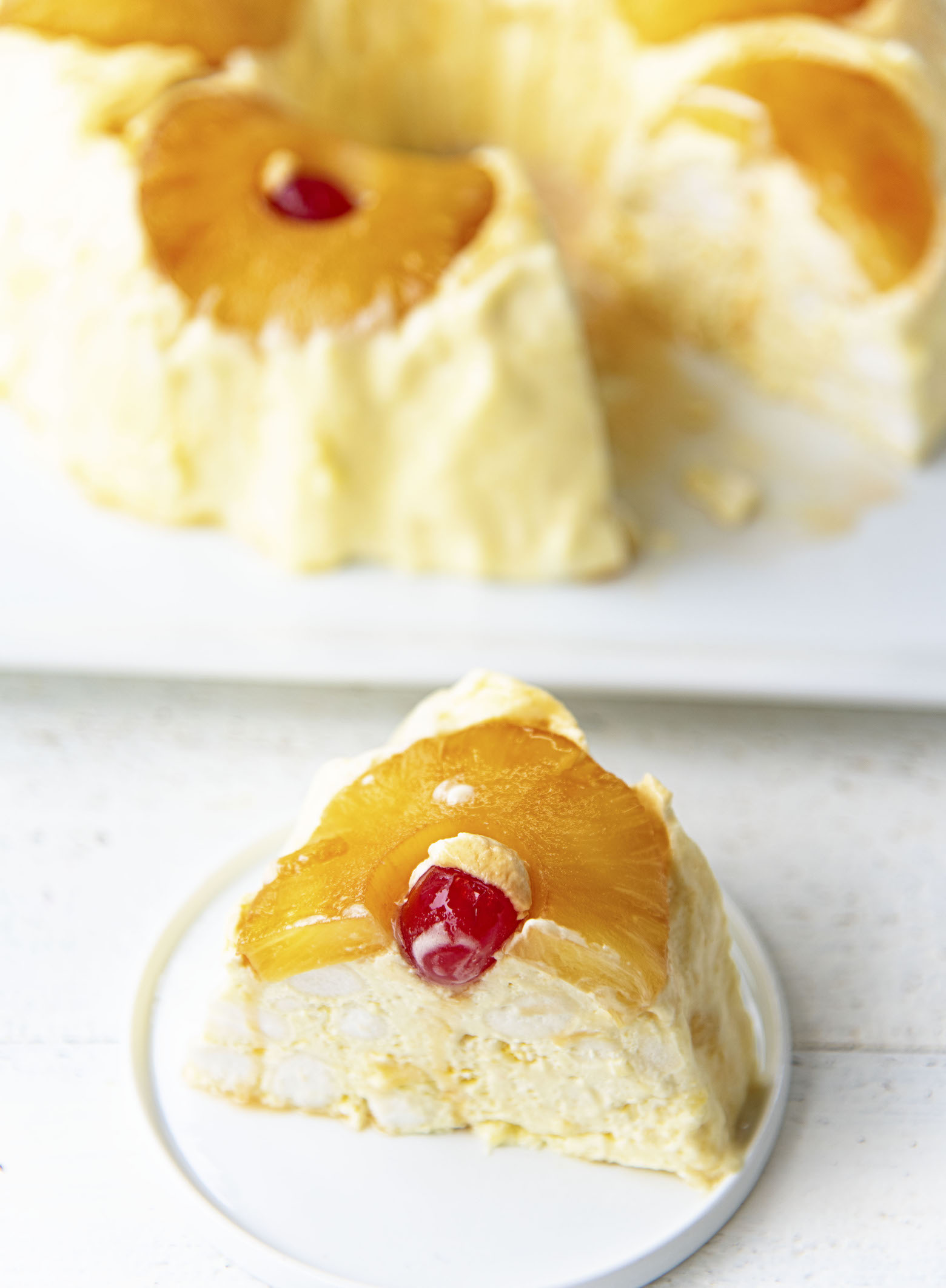 Want more Jello Mold recipes?
Creamsicle Marshmallow Jell-O Salad
Cherry Coke Float Jell-O Salad
Cranberry Marshmallow Jell-O Salad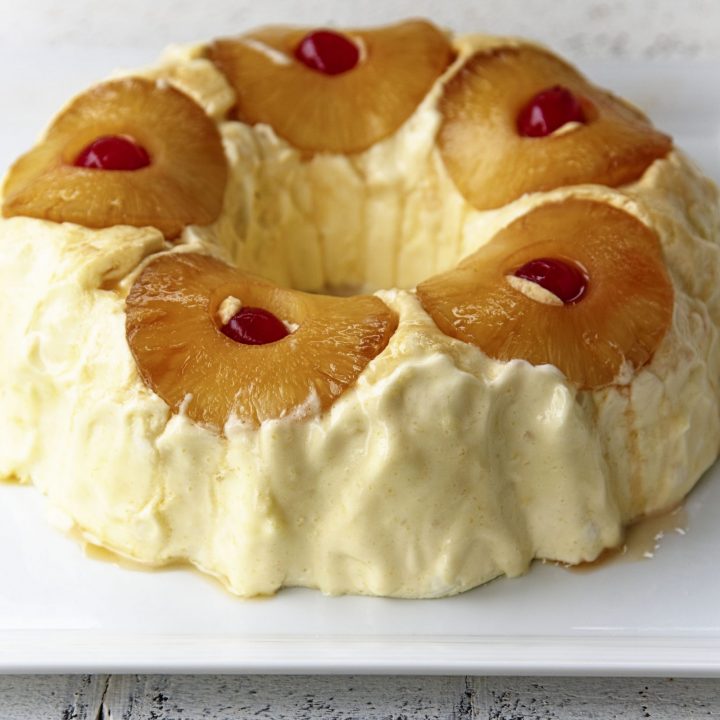 Pineapple Upside Down Jello Mold
Ingredients
1 (6 ounce) package island pineapple Jello
1 cup boiling water
1 (8 ounce) package cream cheese, at room temperature
1 (8 ounce) can crush pineapple, drained
1 cup cream soda
1/3 cup dry yellow cake mix (heat treated)
5 pineapple rings, drained
1/2 cup brown sugar
5 maraschino cherries (no stem)
2 cups mini marshmallows
1 (8 ounce) carton of Cool Whip (or whipped cream)
Instructions
In a medium bowl dissolve Jello in the boiling water.
In a mixing bowl, beat the cream cheese until fluffy.
Stir in Jello and beat until smooth.I usually put it in the blender to fully mix.
Add Buttery Sweet Dough Bakery Emulsion, crushed pineapple, cream soda, and cake mix and mix until incorporated and smooth. Do you best to get rid of any lumps from the cake mix.
Chill the mixture in refrigerator for about 30-40 minutes, so that when you lift it with a spoon it is clumpy.
Fold in the Cool Whip and mini marshmallows.
Take the brown sugar and place it on a plate.
Coat the pineapple rings in the brown sugar.
Place the pineapple rings evenly spaced (best you can do) around the bottom of a Bundt pan.
Put a maraschino cherry in the middle of each brown sugar coated pineapple ring.
Mix the remaining brown sugar that was on the plate into the jello mixture and mix until fully combined.
Scoop the jello mixture on top of the pineapple rings.
Refrigerate for 3-4 hours or until firm.
Remove from fridge and invert onto a plate. You will need to run a knife around it to loosen it.