This Green Garlic Cauliflower Soup with Brown Butter Garlic Quinoa is a creamy soup that is sure to help you get all your veggies in.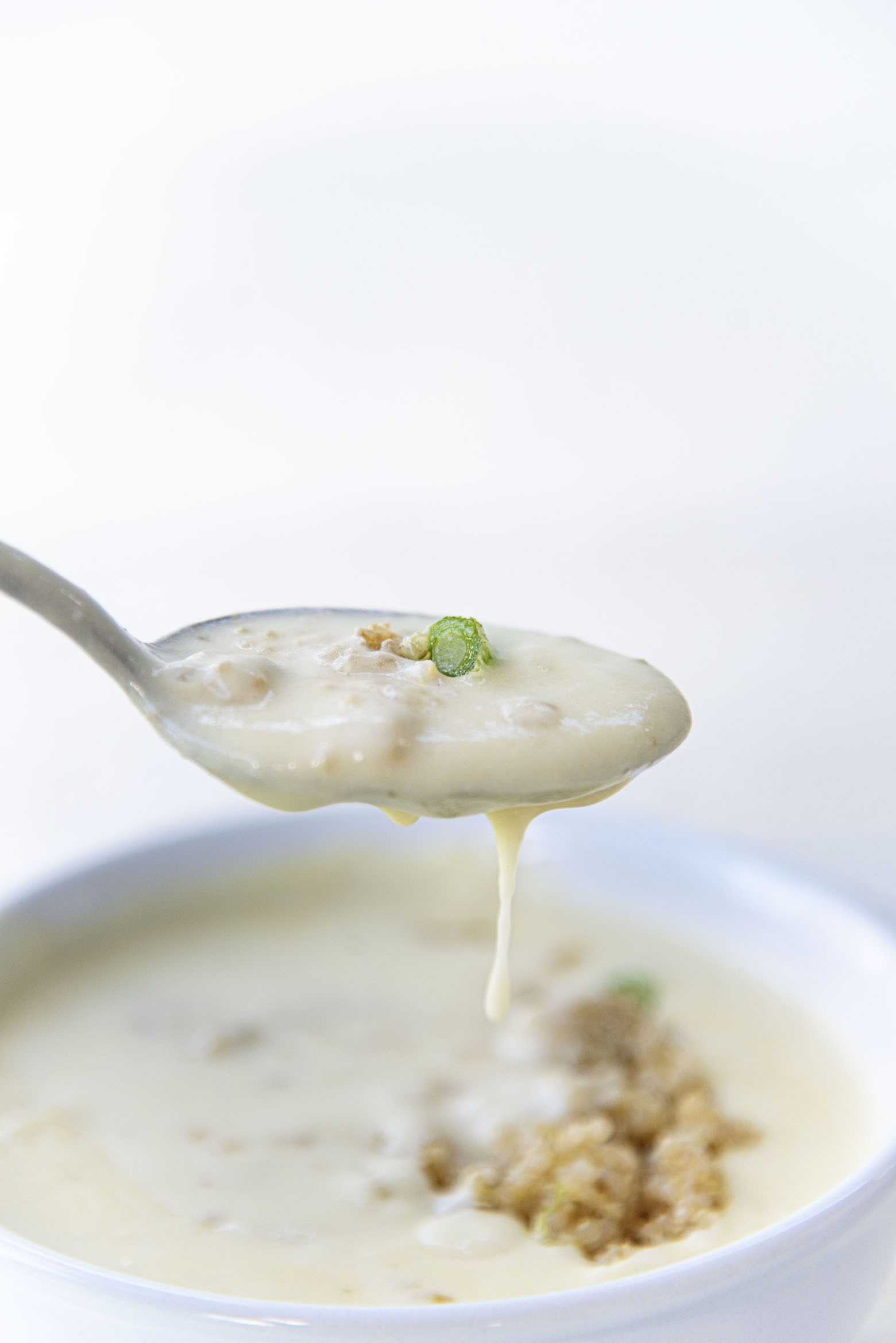 I live out among farmland.
And ever since we moved out this way four years ago now I have been looking for a CSA.
What's a CSA?
It's Community Supported Agriculture.
You make a financial commitment to the farmer to grow crops.
In return each week or every other week depending on what plan you choose you get a box of produce.
You don't get any say in what you get but that's part of the fun.
As you end up getting veggies you most likely have never heard of before.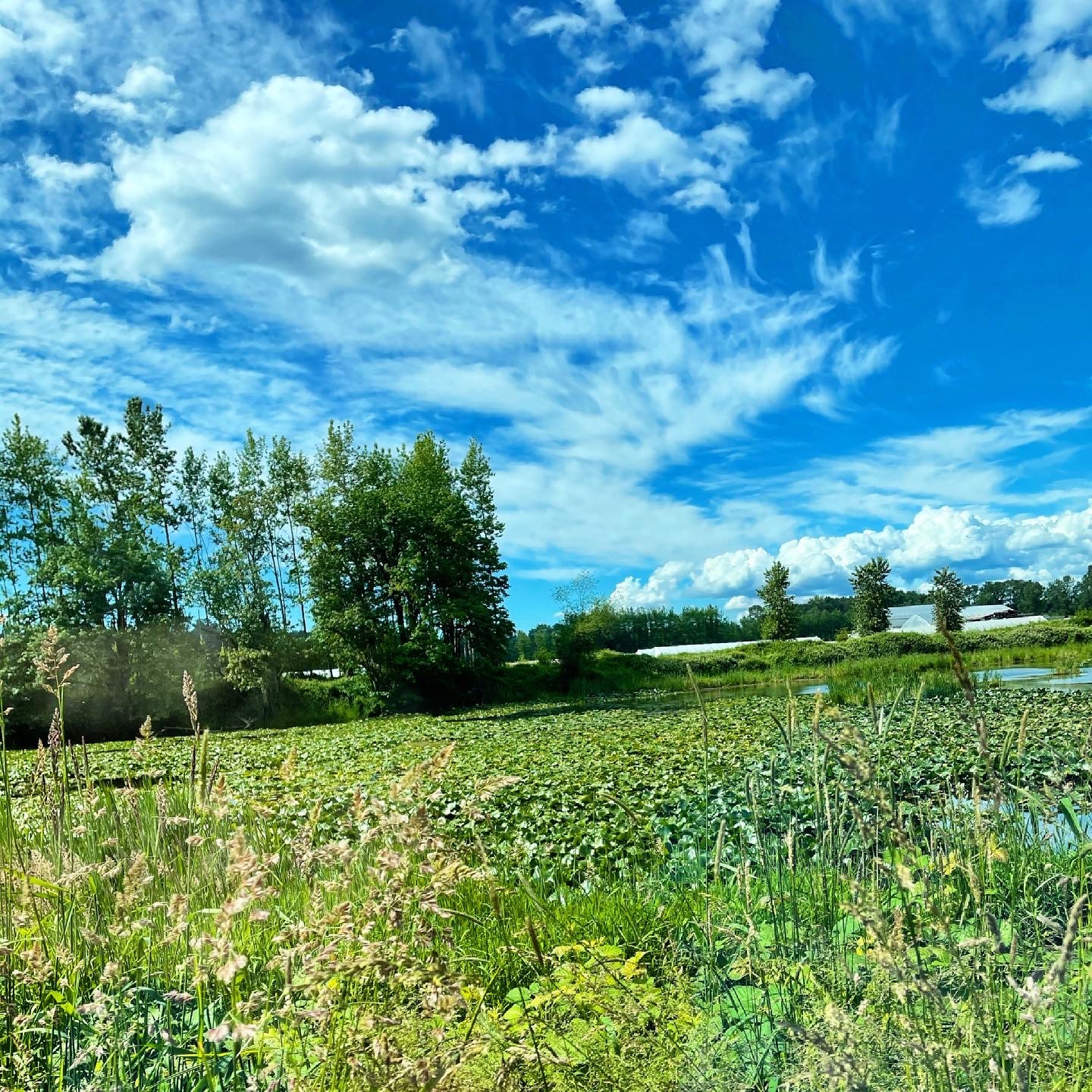 Even though I had farms everywhere not all of them do CSA's.
Mostly because they only do one or two crops.
Example on my street I have a Christmas Tree Farm, Apple Farm, Raspberry Farm, Corn Farm, and several Pumpkin Patches.
Which are all great.
But they don't provide you with a variety of veggies.
This year I lucked out and found a great farm. It has a female farmer which is rare.
They are super organized and we have a recipe group.
There is an unboxing video each week telling you what is in the box, how to store it, and ideas for what to do with it.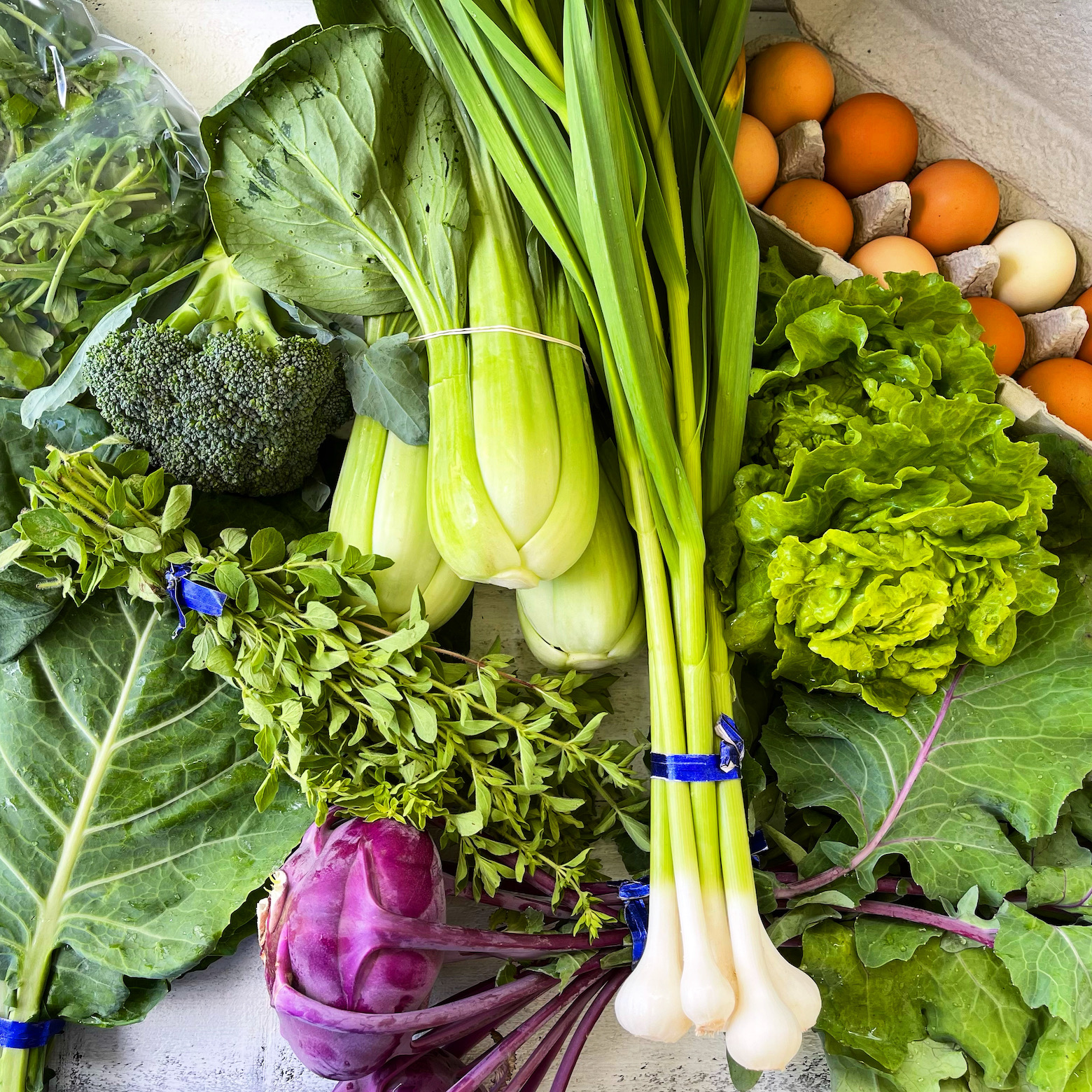 They also tell you which veggies to use first based on their longevity.
I also order eggs separately from the farm as well.
My CSA started this week.
It runs until mid-November.
Which is amazing because it offers up a variety of produce.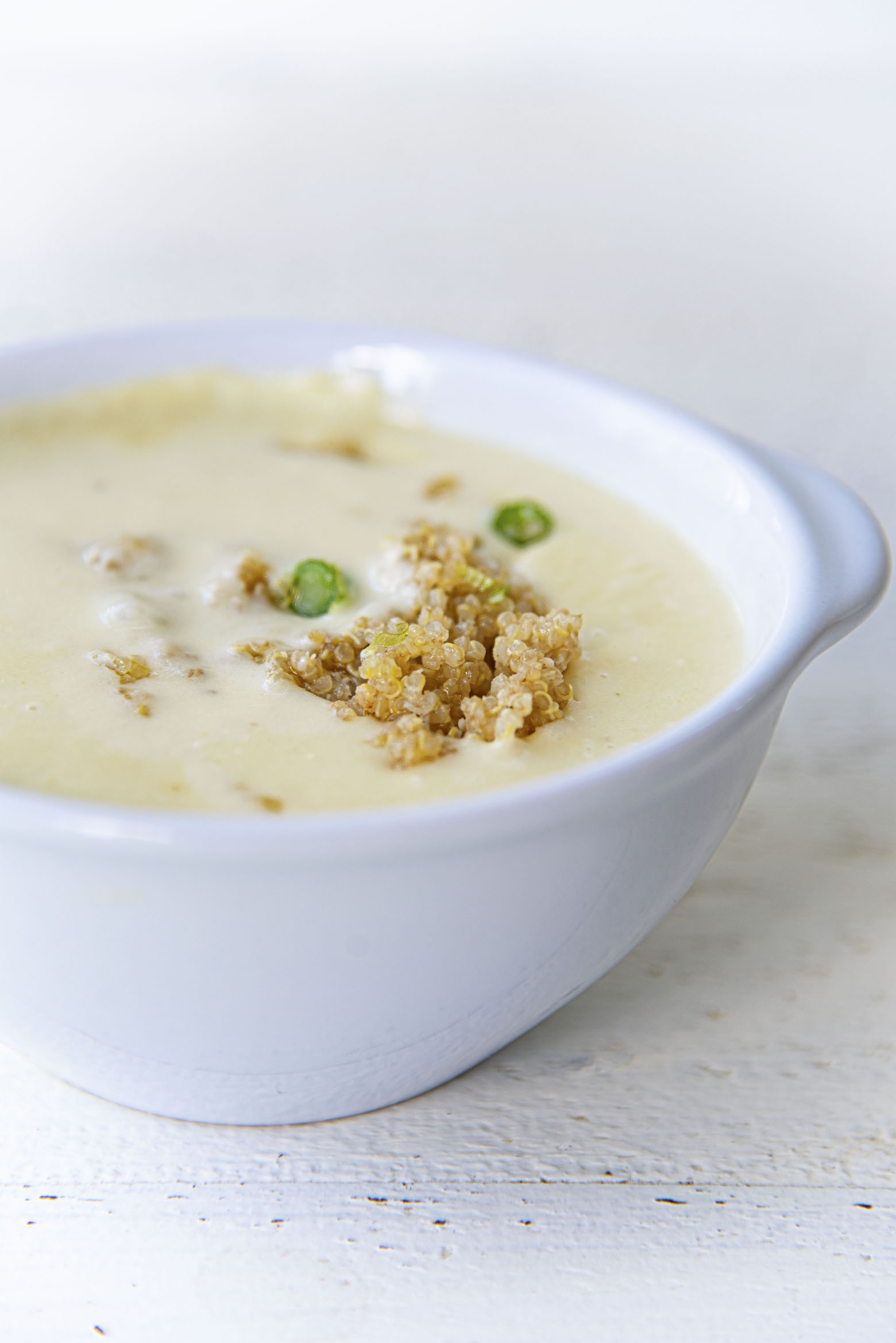 This first week my box included Green Garlic (it's what looks like green onions in the photo above).
Also known as Spring Garlic.
It's simply garlic that hasn't matured yet.
It is far more mild than the garlic you know.
Which means if you can't get ahold of green garlic, like many won't be able to, you will want to adjust the amount of garlic in this recipe.
Or if you are a garlic lover you might not want to. 🙂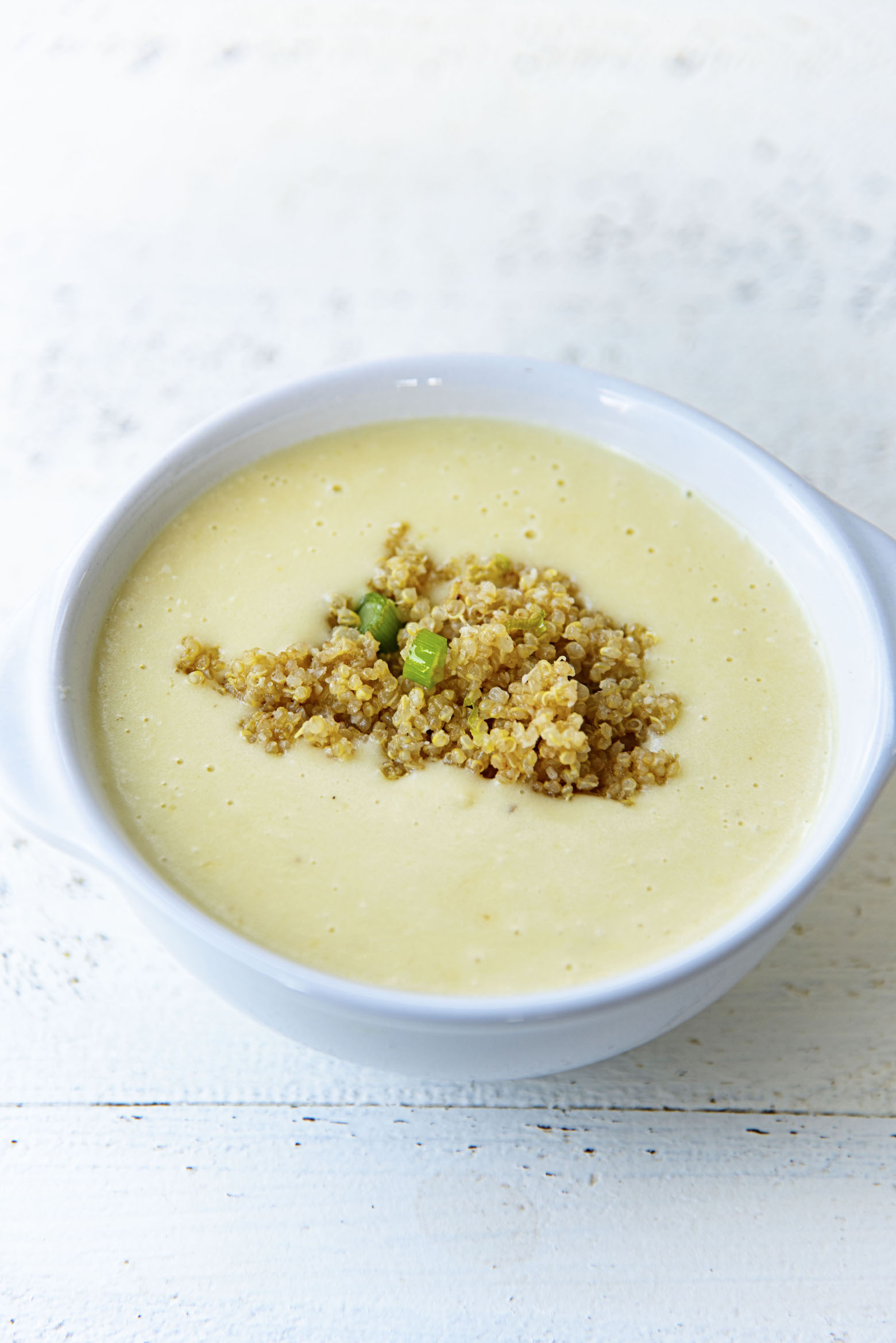 I chose to make a Green Garlic Cauliflower Soup with Brown Butter Garlic Quinoa with my green garlic.
The smell alone while cooking it is worth making it.
You don't have to have the quinoa but I added it for a little protein and some more fiber.
If you are vegan you can sub out the heavy cream for cashew cream and saute the garlic in oil for the quinoa.
Also you can omit the cheese or use nutritional yeast.
Get ready for quite a few veggie recipes coming your way.
Last but not least…it's a great time to order my cookbook. 😀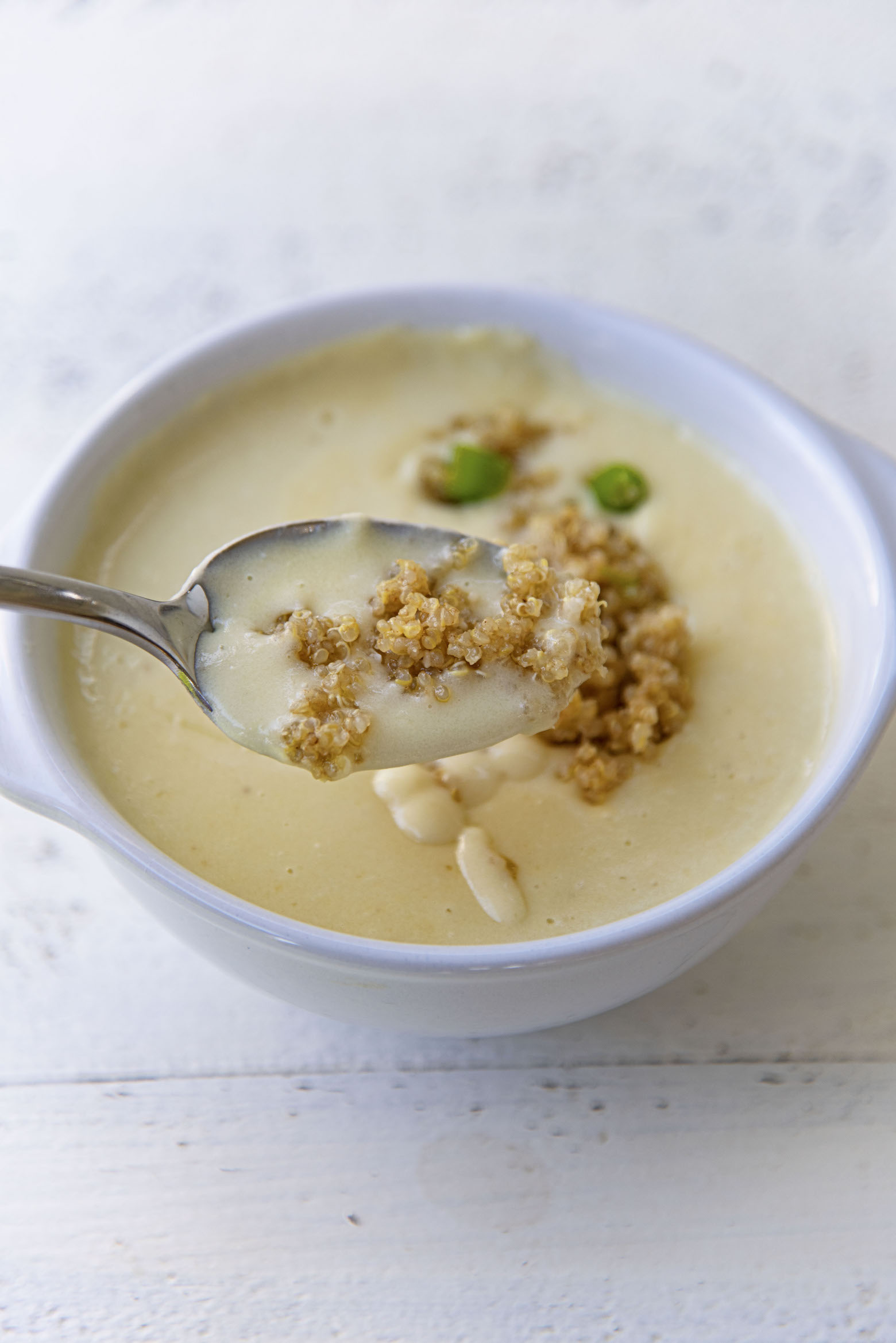 Want More Soup Recipes?
Vegetarian Vegetable No-Beef Soup
Chickenless-Chicken Noodle Soup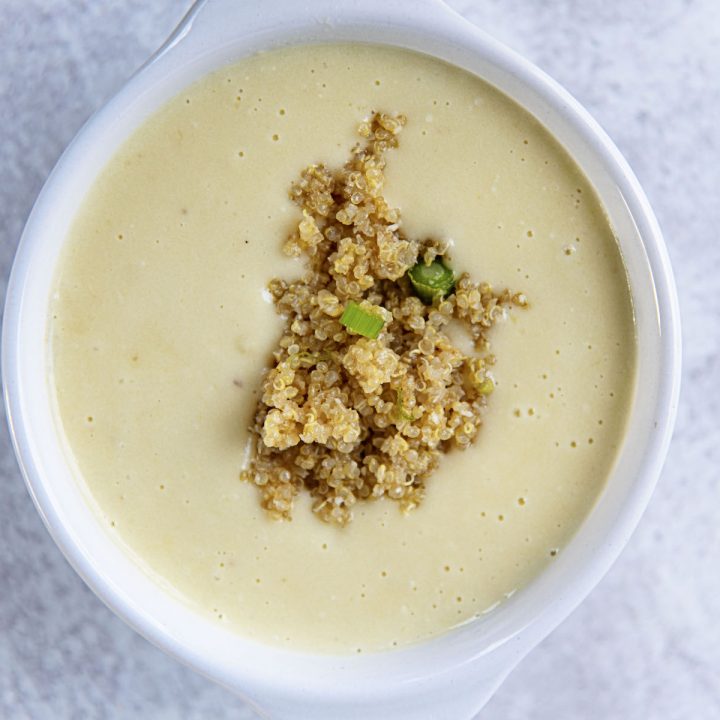 Green Garlic Cauliflower Soup
Ingredients
For the Soup:
2 TBSP vegetable oil
1/2 cup sweet onion, diced
3 bulbs of green garlic with a few parts of the green as well (if you don't have green garlic you can sub regular garlic but will want to use way less as green garlic is far more mild than mature garlic)
2 cups cauliflower, finely chopped
1 small potato, peeled and diced
4 cups vegetable stock or chickenless chicken broth
2 tsp miso paste
1 cup heavy cream
1 cup finely grated parmesan cheese
Salt + pepper to taste
For the Quinoa:
1/4 cup unsalted butter
1 bulb of green garlic finely diced
1/2 cup cooked quinoa
Instructions
For the Soup:
Heat the oil over medium heat.
To a stock pot add onions and garlic, cook until onions are slightly wilted.
Add potatoes and cauliflower, stir to coat with oil. Cook 5 minutes.
Add stock and bring to a boil. Reduce heat and simmer until potatoes are soft(about 30 minutes). Allow to cool slightly.
Add the miso paste and add soup to a food processor or heavy duty blender.
Puree soup in food processor. Be careful as it will be very hot.
Add cream and gently reheat soup back on the stovetop.
Stir in cheese and adjust seasoning. If too thick, thin with stock.
For the Quinoa:
Heat the butter over medium heat until it starts to brown.
Add the finely diced green garlic and cook for 30 seconds.
Add the cooked quinoa and stir until the quinoa is warm and covered in brown butter and garlic.
To serve:
Ladle soup into a bowl and top with a couple spoonfuls of quinoa.
Notes
Inspired by Simply Quinoa