These Watermelon Lemonade Jello Shots are made with watermelon Jolly Rancher gelatin, watermelon juice, lemonade, Pucker, and vodka.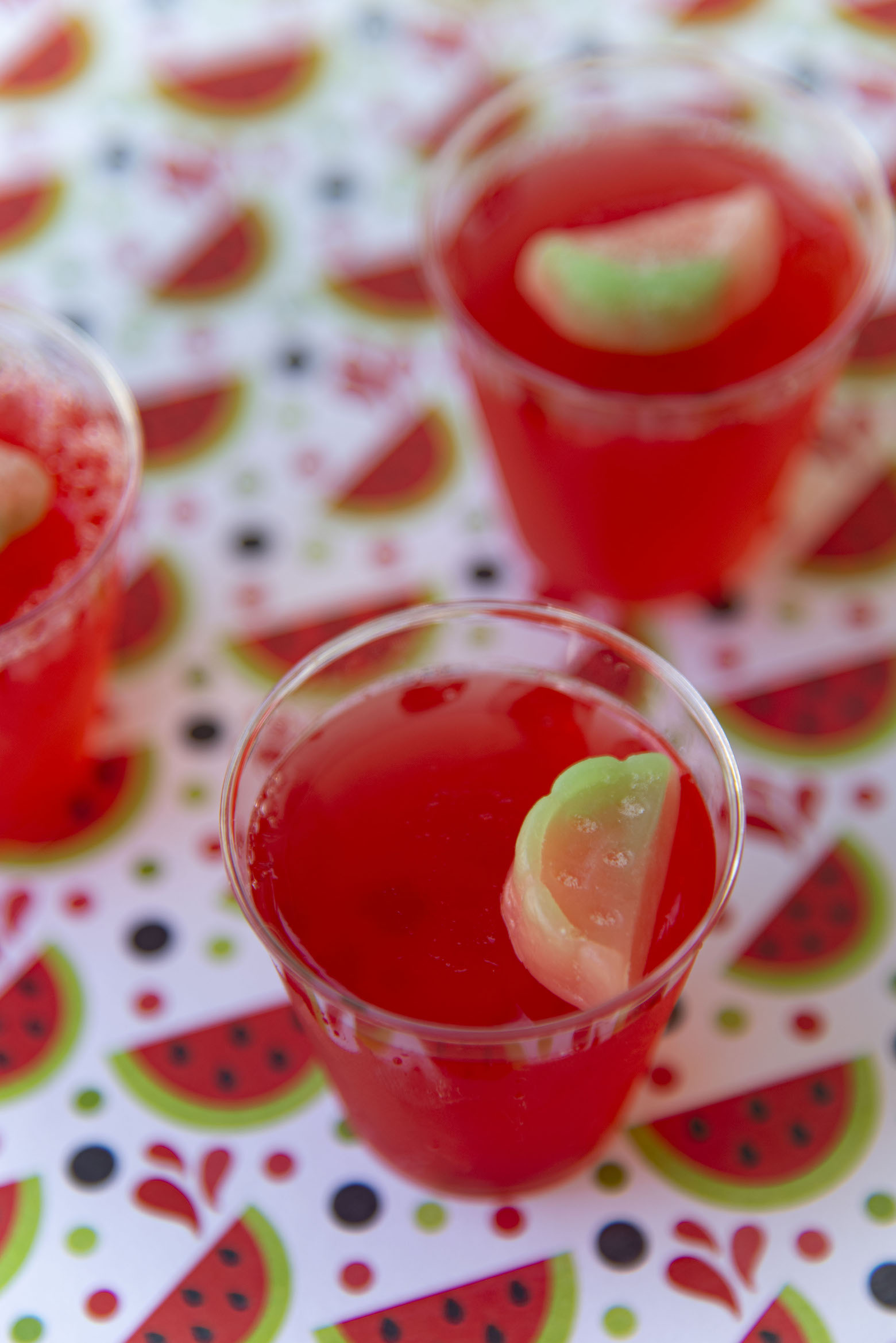 Last year I first discovered watermelon lemonade by mistake.
I was using a grocery shopping service during the pandemic and checked that I wanted Strawberry Lemonade.
Even though I put not to substitute if they didn't have it, the shopper still contacted me.
Asked if I wanted Watermelon Lemonade instead.
I said, that's a thing?
It is.
I said yes just out of curiosity and now it's one of my favorite summertime drinks.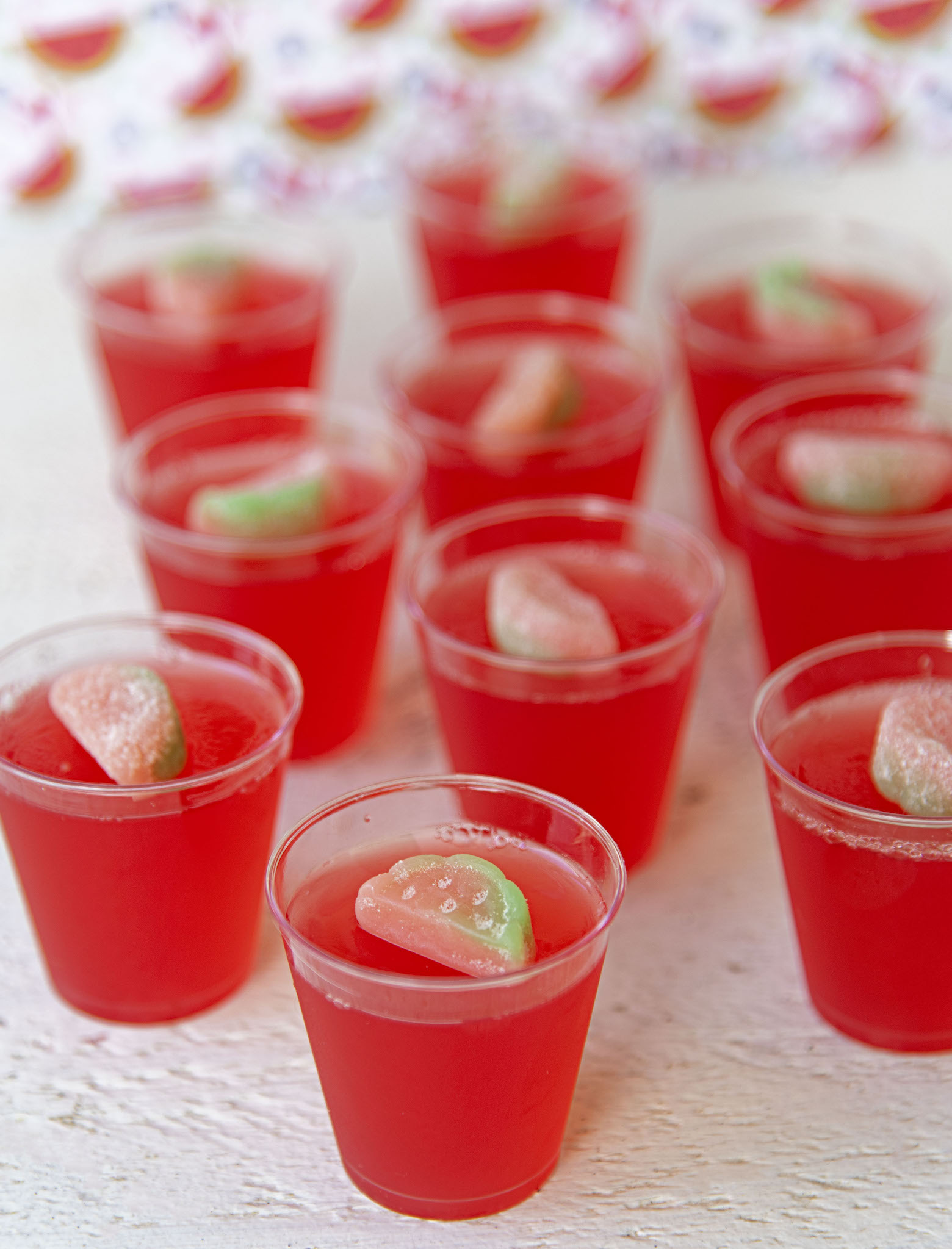 So, of course, with summer just around the corner (and unofficially here) I decided to make them into a jello shot.
Just like I do with just about every drink I make.
These Watermelon Lemonade Jello Shots fall into the dangerous category.
Because you kind of forget there is booze in there.
Which is good, and bad.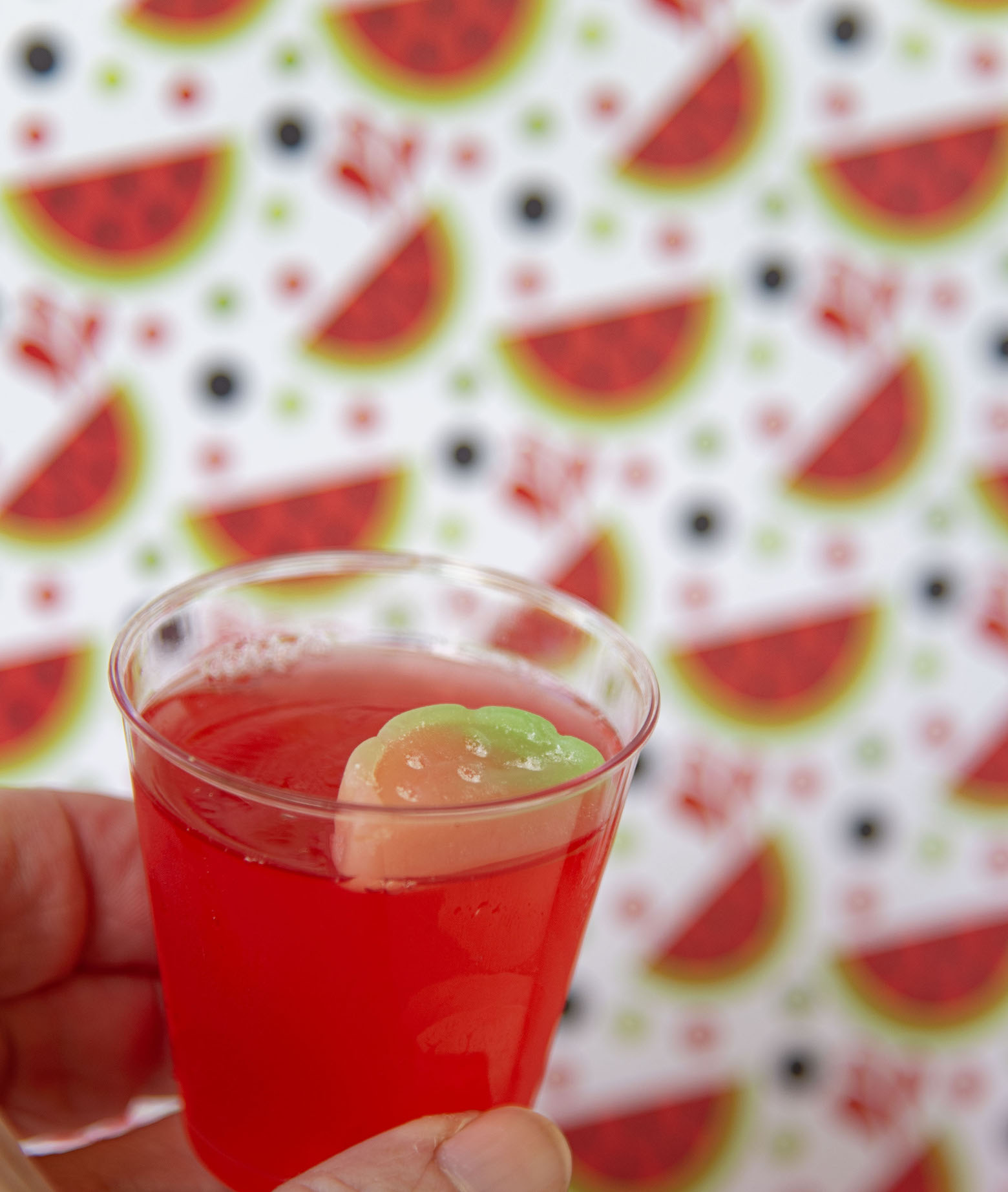 I chose to use the Jolly Rancher Watermelon Gelatin instead of just plain watermelon jello.
Mostly because I love Jolly Rancher Watermelon flavor but also because it is on the more sour side.
And I think it compliments the lemonade really well.
These jello shots also call for kind of a specialty item, watermelon juice.
If you cannot find it then just use 1 cup of water or 1 cup of lemonade instead.
But if you can find it, I do think it adds to the jello shot.
You can use any watermelon schnapps you want.
I just happened to have Pucker.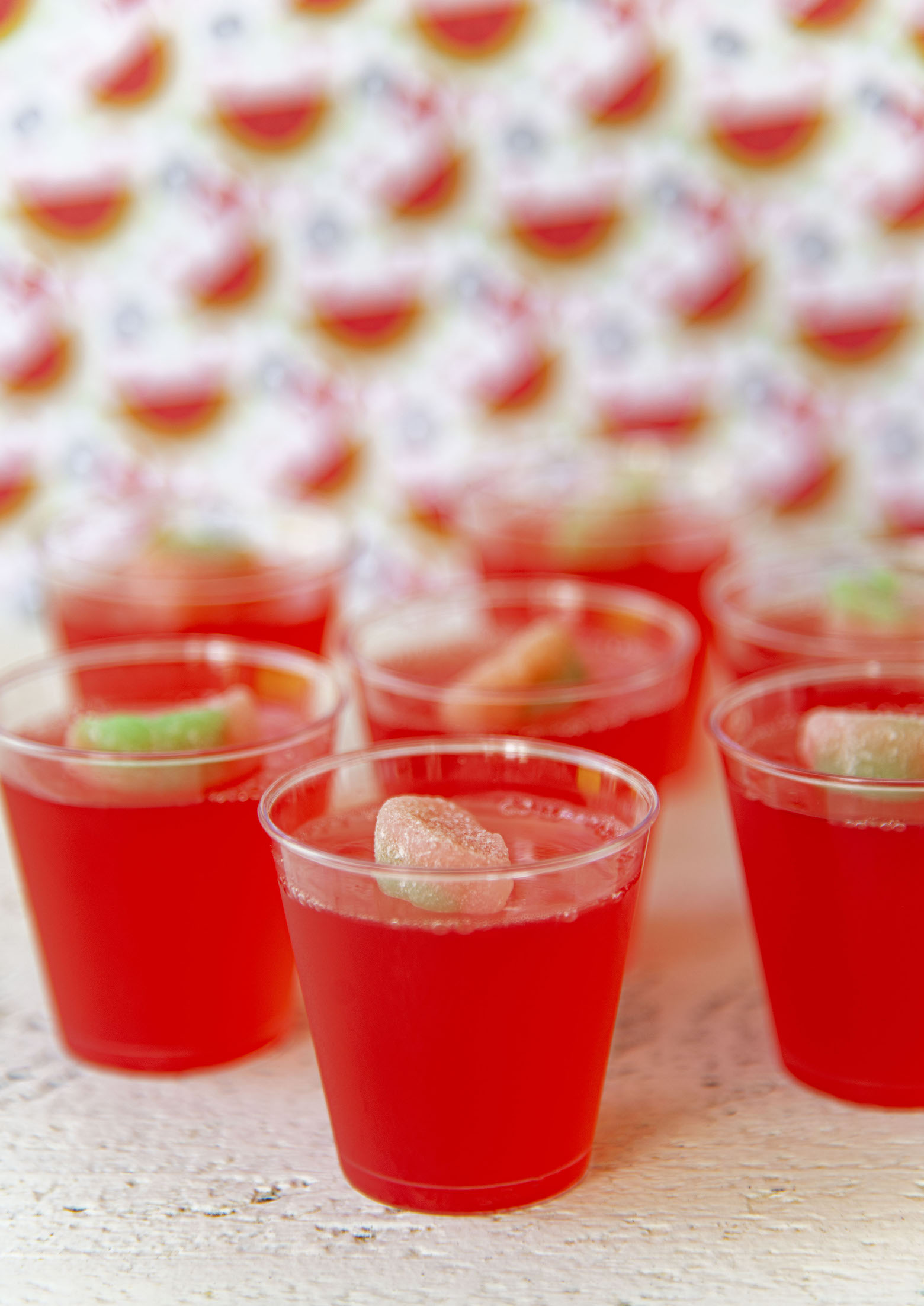 Again, because I like the sour flavor it adds to the shots.
Jello shots are fantastic to have at parties, since as long as they are covered (most cups come with lids) you can make them two days ahead of time.
Which is great when you don't want to fuss with cocktails while at your own party.
It's a great day to order my cookbook…or 8 copies of my cookbook. 😀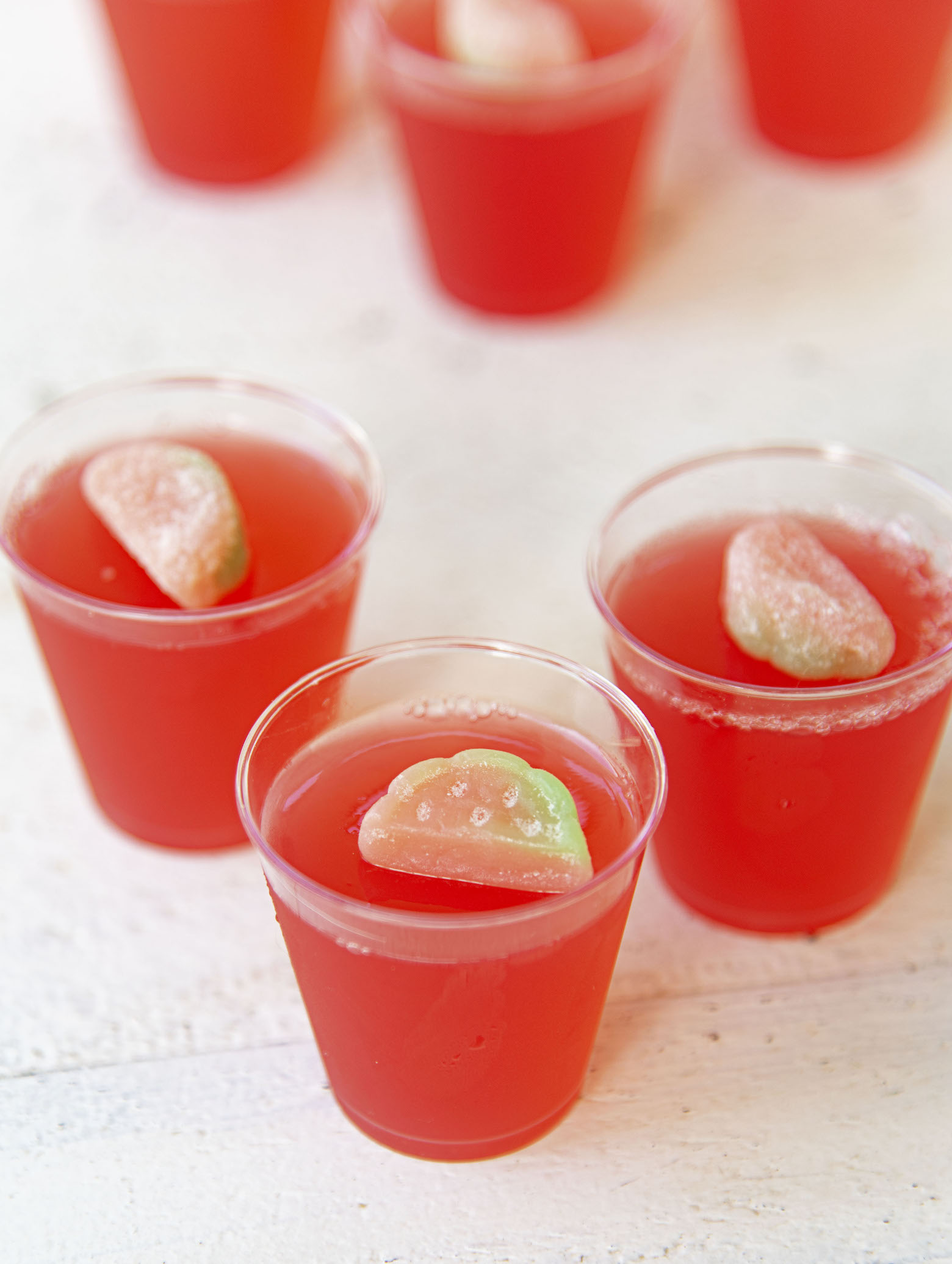 Want More Jello Shots?
Strawberry Pina Colada Jello Shots
Blue Hawaiian Rainbow Jello Shots
Fruit Punch Moonshine Jello Shots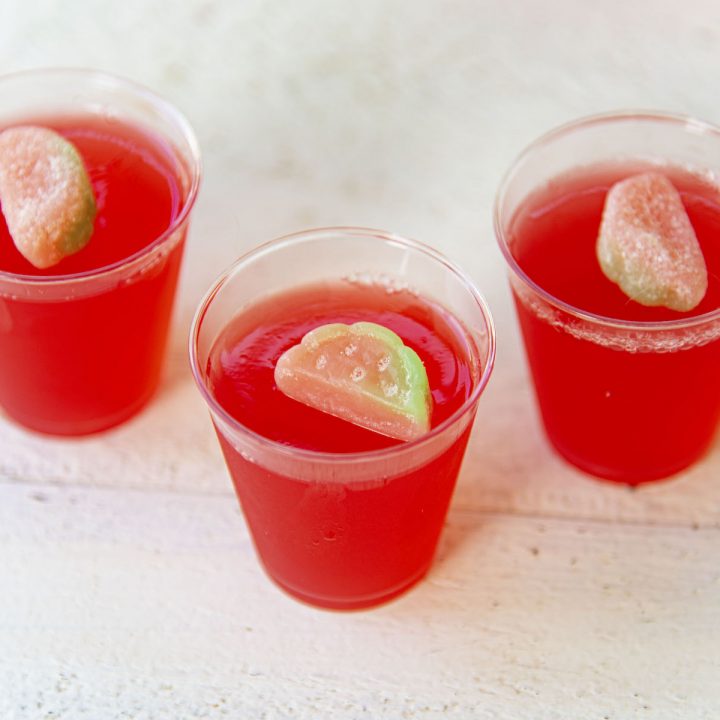 Watermelon Lemonade Jello Shots
Ingredients
1 cup watermelon juice (I used Simply Watermelon)
2 cups lemonade (I used Simply Lemonade)
1/2 cup Watermelon Pucker Schnapps
1/2 cup vodka
Sour Patch Watermelons as garnish, optional
Instructions
Bring 1 cup watermelon juice to a boil.
Empty gelatin powder into a large mixing bowl and add the boiling watermelon juice.
Continue stirring for two minutes or until the jello is completely dissolved.
Add in the lemonade, Watermelon Pucker Schnapps, and vodka.
Stir until mixed and pour into 2oz. cups filled 1/2 to 3/4 of the way.
Place in fridge and let set up for at least 2 hours, preferably at least 4.
Top with a sour candy watermelon gummy if desired.
These can be made two days ahead of your event. If you do make them ahead I would not add the candy watermelon garnish until right before serving.