This Apple Cinnamon Bun Cookie Cobbler is not only easy but highly addictive. So yummy you won't want to share.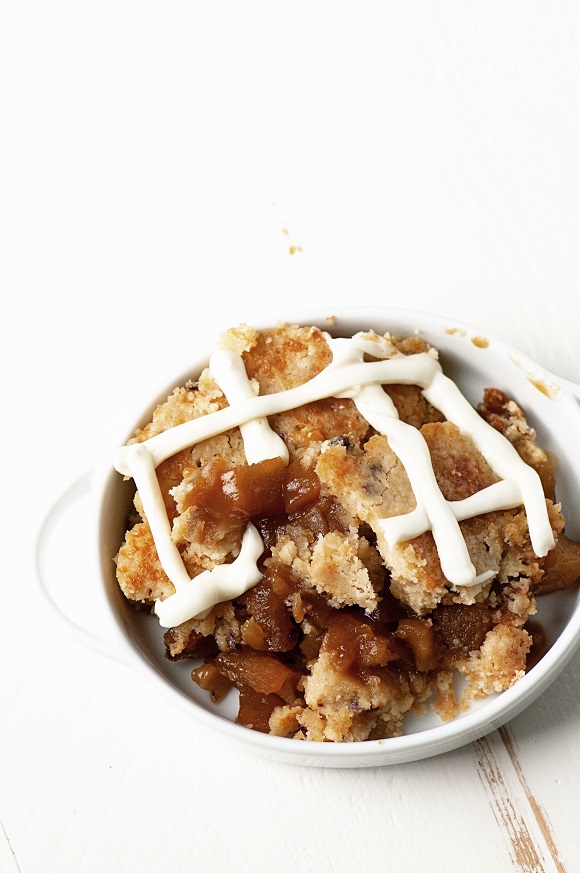 I've said it before and I'll say it again, I don't make apple desserts that often because I eat them.
This Apple Cinnamon Bun Cookie Cobbler, which is really more a dump cake than cobbler, is case in point.
You know that I hate when bloggers say that they ate the whole pan (when really they only took a bite) but other than one scoop, I literally at the whole pan.
Now, not in one sitting, but yeah, the whole pan.
Often I ate it for breakfast…because fruit. 🙂
I had found a Caramel Apple Cookie Mix a couple years ago and made a cobbler out of that and that was amazing.
So when I came across a Cinnamon Bun Cookie Mix I knew what had to be done.
The picture on the box showed them frosted.
Silly me, didn't think to check if frosting came with it I just assumed it did.
It does not.
Which is fine because I just made mine own and that is better anyway.
Because whenever you can add cream cheese frosting to a baked good, you should totally do it.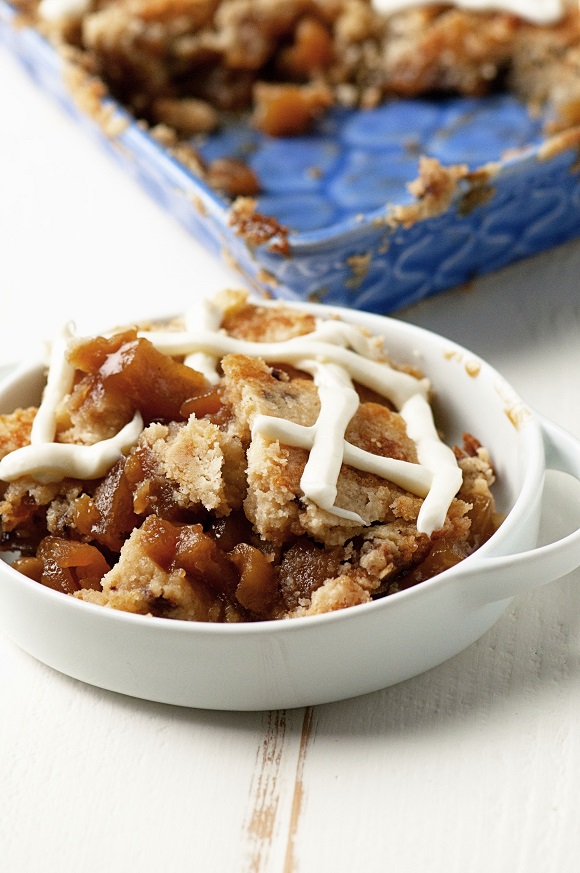 I'm calling it a cobbler because you do have to cook the apples.
Otherwise it's really a dump cake…which just means it's super easy to make.
Bonus.
Now you may be seeing this and thinking this is a box mix, why on Earth are you using Plugra European Style Butter for it?
Because it calls for a cup and anytime a recipe calls for a lot of butter means that the butter flavor it going to be coming through…which means I want Plugra.
Also, because this recipe has so few ingredients it really does make a difference.
What if I cannot find the cookie mix?
If you cannot find the cookie mix just buy a sugar cookie mix and add a tsp. of cinnamon and ½ cup of cinnamon chips and you should be fine.
But whatever you do…make…this…cobbler.
No, seriously, make this cobbler.
It's a great day to order my cookbook.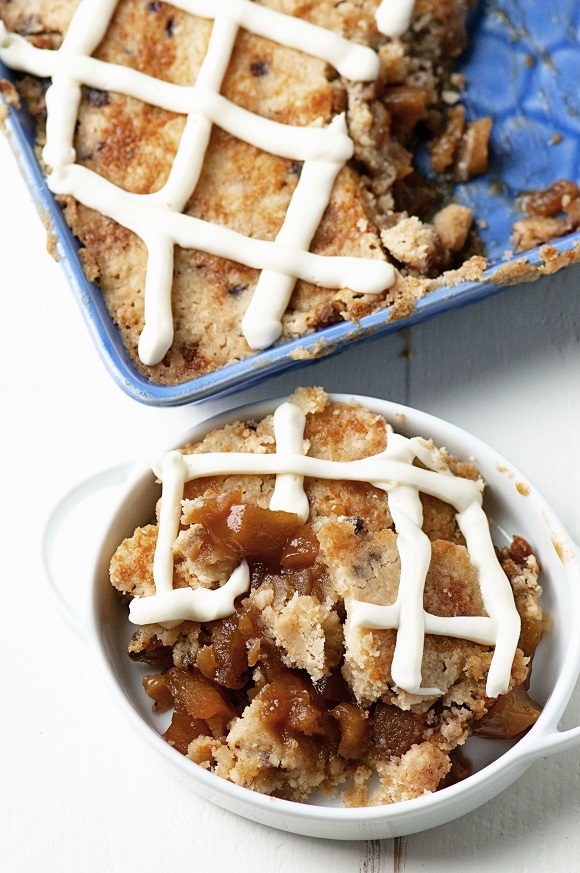 Want more recipes? Try these:
Mixed Berry Oatmeal Cookie Cobbler
Iced Oatmeal Cookie Apple Cobbler
Cherry Toaster Strudel Cobbler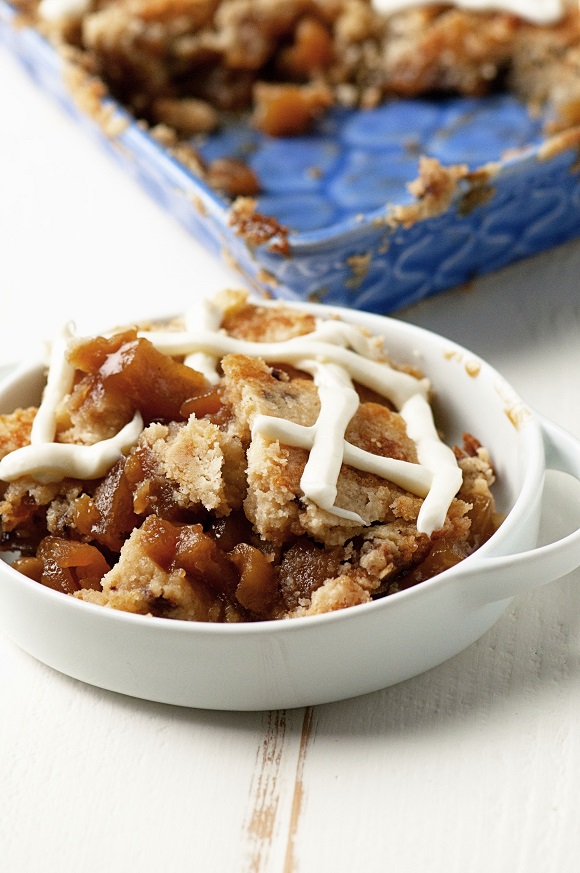 Apple Cinnamon Bun Cookie Cobbler
Ingredients
For the cobbler:
5 large apples (I chose Honeycrisp), peeled and diced
2/3 cup granulated sugar
1 tsp. lemon juice
2 ¼ cups Cinnamon Bun Cookie Mix (or sugar cookie mix with 1 tsp. cinnamon and ½ cup cinnamon chips if can't find)
1 cup unsalted butter, melted (I used Plugra)
For the Cream Cheese frosting:
4 oz. cream cheese, at room temperature
1 cup powdered sugar
¼ tsp. vanilla extract
Milk to thin
Instructions
For the cobbler:In a large sauté pan over medium heat add apples, sugar, and lemon juice.
Let it cook down so that the apples are tender.Spray 9-x-13-inch baking dish with baking spray or use butter. I baked mine in an 8-x-8 for visual effect (aka I like that pan for photos).
Pour apple mixture into pan.
Sprinkle cookie mix over the top of the apples.
Pour melted butter over the cookie mix.
Bake at 350F for 45 minutes or until top is golden brown.
For the frosting:
Using a stand mixer with paddle attachment mix the cream cheese until smooth.
With the mixer on low speed, add the powdered sugar a half cup at a time until smooth and creamy.
Beat in the vanilla extract.
Thin with milk if needed.
Top with cream cheese frosting.
I chose to just do a crisscross pattern and not cover the whole dessert…but again that was for visual effect.