This Banana Split Dump Cake is filled with cherries, strawberries, pineapple, vanilla ice cream, banana bread and cake mix, and sprinkles.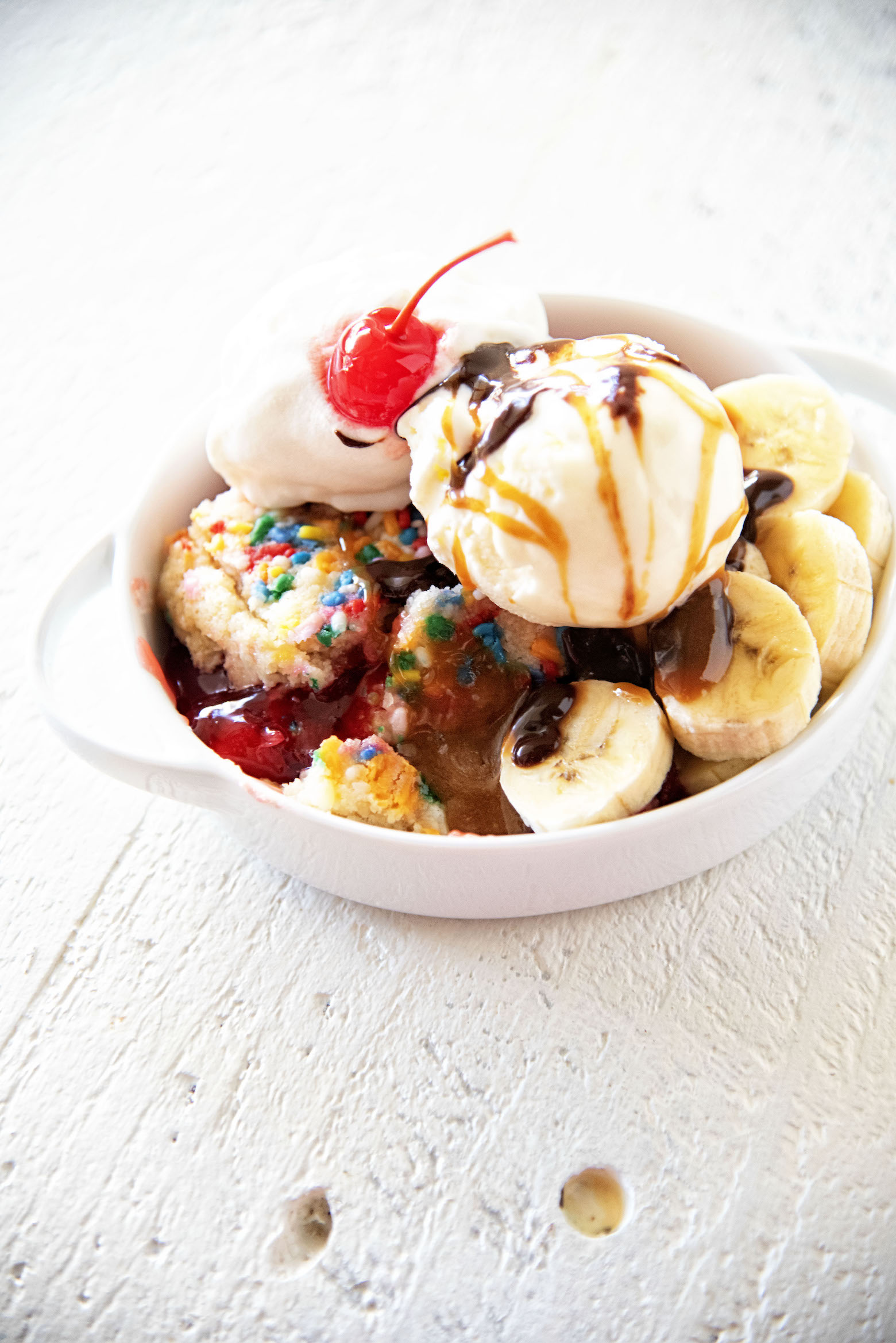 So I made this Banana Split Dump Cake recipe more times than I like to admit.
I've had the idea in my head for quite some time.
But I finally feel I have it to where I like it.
I have tried it with the bananas in the actual fruit mix.
Hated that.
With banana pudding.
Not good.
Tried it with all banana nut mix.
Eh.
With all cake mix.
Not quite right.
But the combo of mixing the two works great.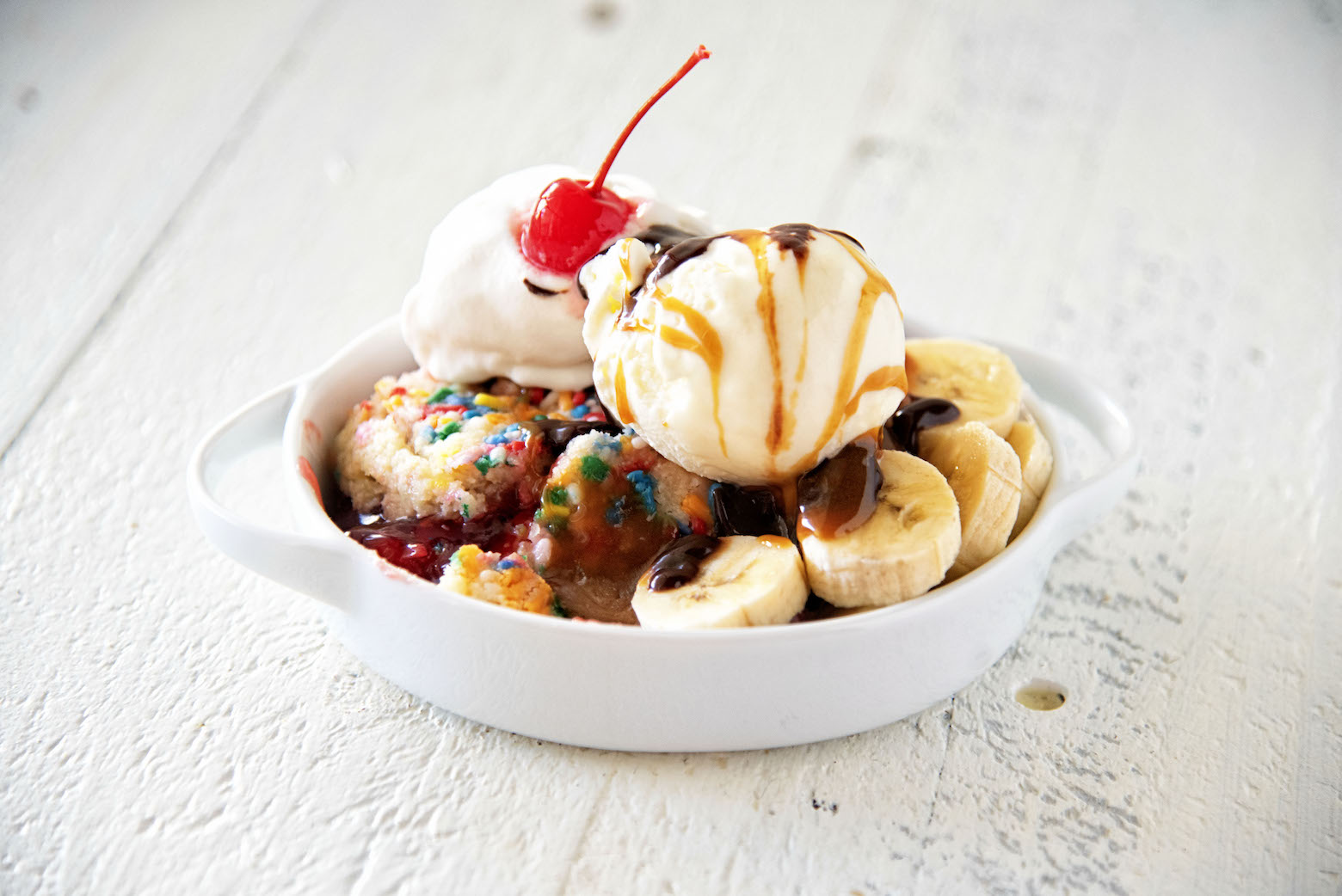 The big break through however was the adding of the vanilla ice cream on top of the fruit.
And then you sprinkle the cake/banana nut mix right on top of it.
The mix clings to the ice cream and gives it a really yummy flavor when it bakes up.
Everyone does a banana split a little different but the ones I make have vanilla ice cream.
Strawberry sauce, pineapple sauce, and usually hot fudge and caramel sauce.
I experimented with adding the fudge and caramel right into the cake but at the end of the day putting it on afterwards works best.
P.S. It's a great day to buy my cookbook Holy Sweet!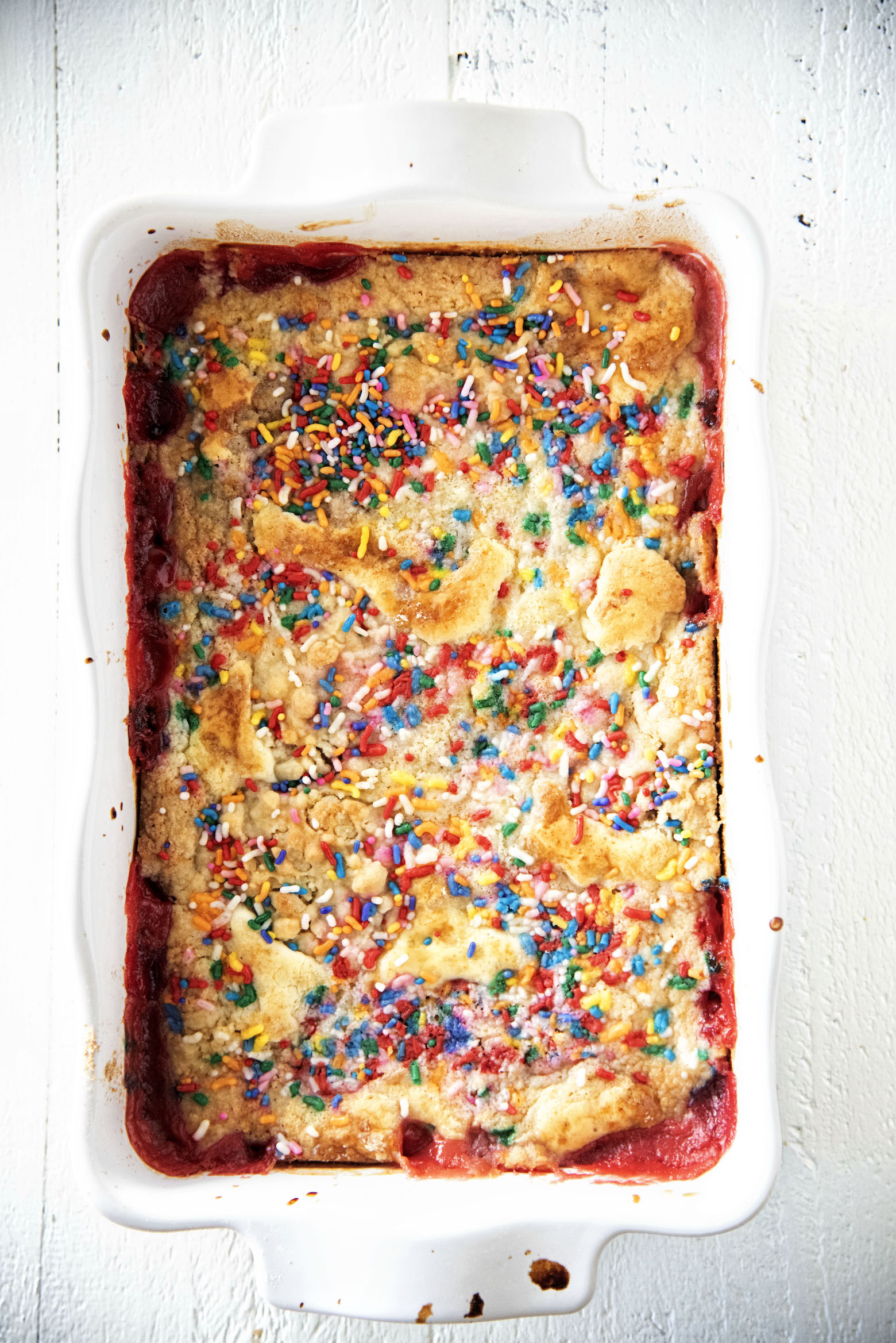 If you are a fan of dump cake, try some of my others: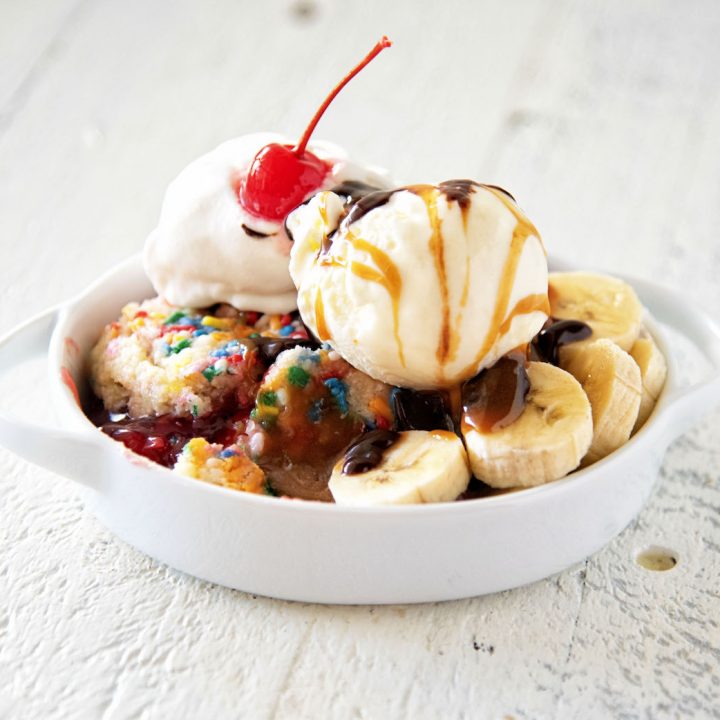 Banana Split Dump Cake
Ingredients
For the Cake:
1 (20 oz) can crushed pineapple, undrained
1 (21 oz) can prepared cherry pie filling
2 cups vanilla ice cream
2 cups white cake mix (not prepared)
2 sticks unsalted butter, melted
1/2 cup rainbow sprinkles
To Top With:
vanilla ice cream
whipped cream
banana slices
hot fudge
caramel sauce
maraschino cherries
Instructions
For the cake:

Preheat oven to 325F.

Butter a 9 by 13-inch baking pan.

Dump undrained pineapple baking dish or pan and spread it out evenly.

Using a spoon, dump globs of cherry pie filling evenly on top of the pineapple.

Do the same with the strawberry pie filling.

Scoop vanilla ice cream into 10 even-ish scoops over the pie filling.* See notes
Mix together the 2 cups of cake mix with the banana nut mix.

Sprinkle the cake mix evenly over the fruit and ice cream layers.

Pour butter evenly over cake mix.

Bake for 40 minutes.

Remove from oven and add the sprinkles on top.

Place back in oven and bake for another 10-20 minutes depending on your oven.

Remove from oven and let cool for 20 minutes.

To serve:
Scoop out a serving of the cake.
Top with ice cream, whipped cream, sliced banana, hot fudge, and caramel sauce. And top with a cherry.