This Peach Blackberry Oatmeal Cookie Cobbler made with canned peach pie filling, blackberries, oatmeal cookie mix, pecans, and butter.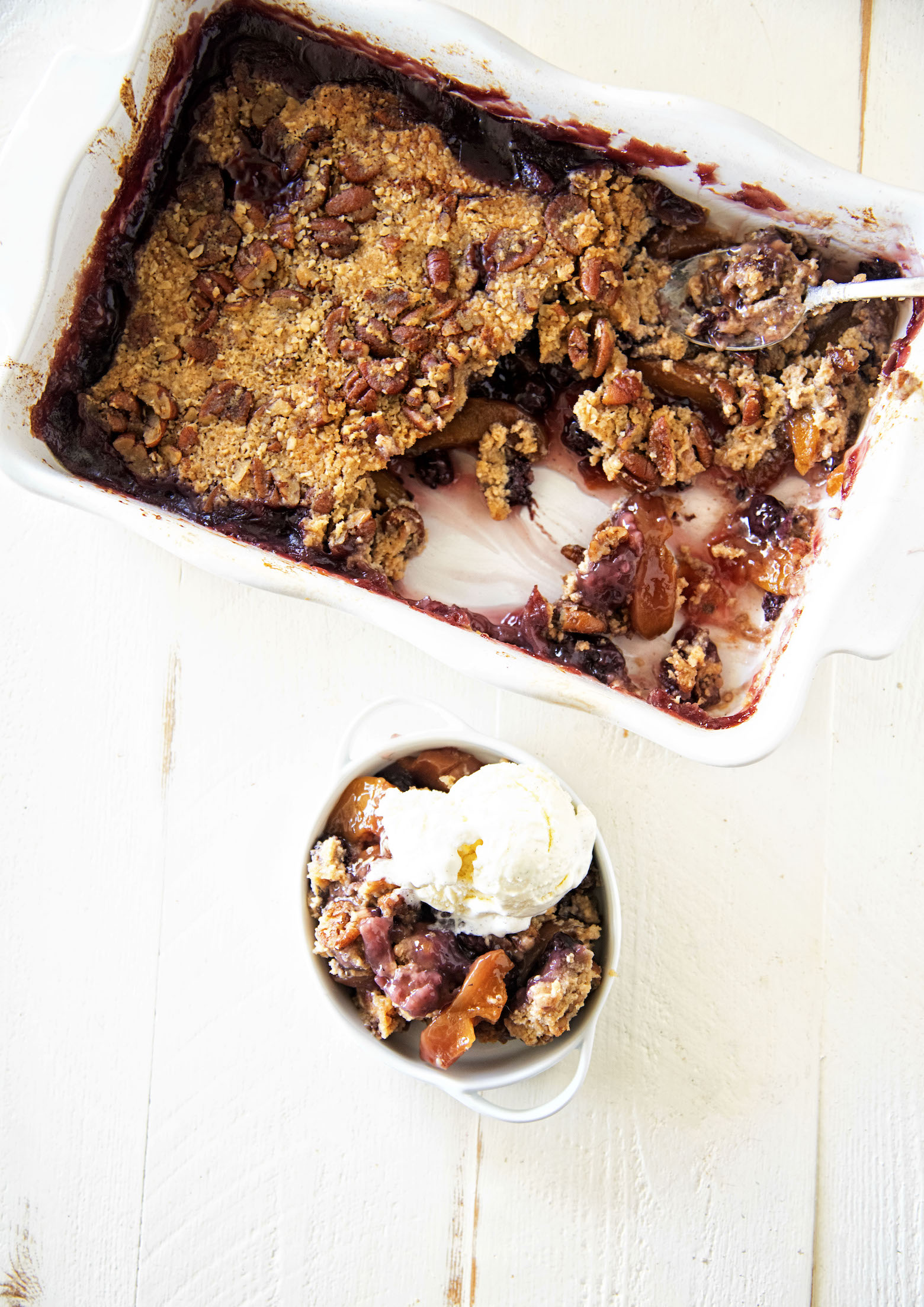 Things are mighty hectic around here.
Each time when I think things might get to slow down…life laughs at me and speeds up instead.
I currently have NINE dogs in my house.
NINE.
I'm watching my ex-husband's senior lab and his cavalier.
The senior lab has dementia and is not taking his dad being gone very well.
He is also waking up in the middle of the night confused and upset. 🙁
We didn't think there would be an issue because he is over here often for day time pet sitting.
Poor guy.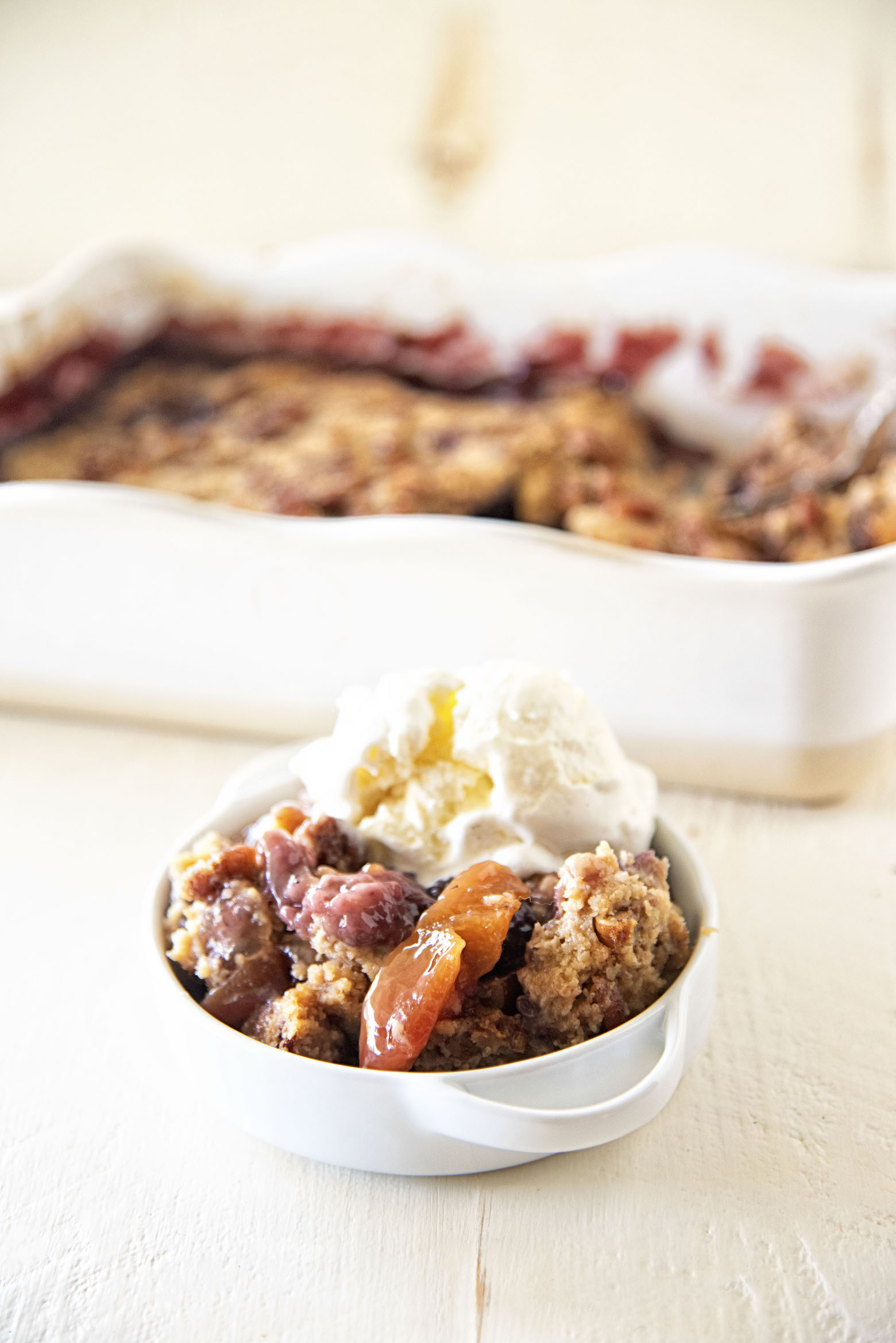 Then my own dogs were having issues.
Banjo is recovering from his Old Dog Vestibular Disease that came on suddenly.
Mickey is randomly limping and they gave him some anti-inflammatory for.
Our Penny had a dental and lost 5 teeth, so she is sore.
And our Georgia goes in next week to discuss her Syringomyelia (spinal disease) progression.
Yay.
Not.
But last weekend was fun.
We got to have a party where The Seattle Barkery Treat Truck came again.
It's a food truck for dogs.
Yes, that's a real thing.
And it's awesome.
Just like last time we threw a party for the people as well.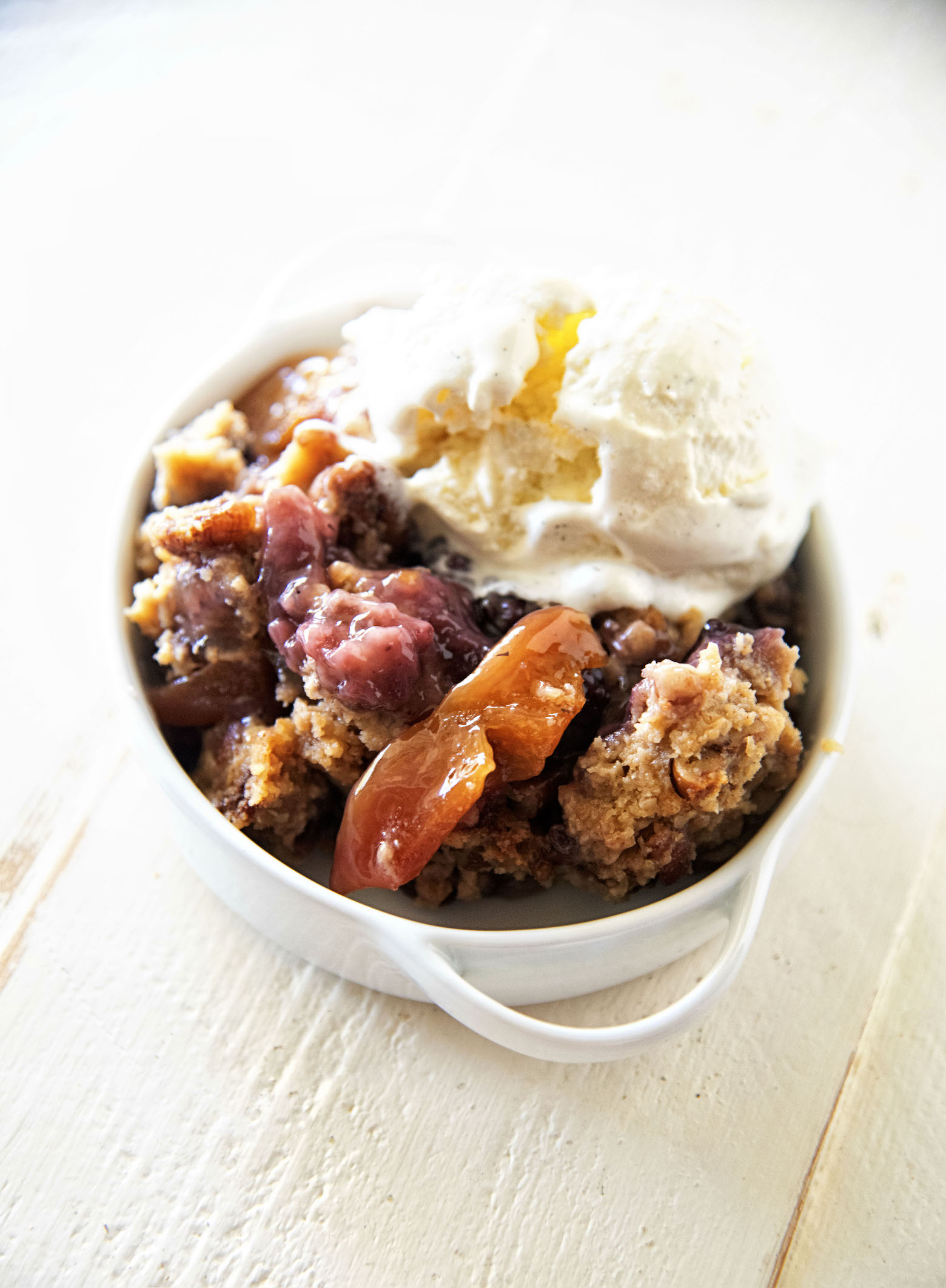 This year we chose to do a build your own grilled cheese bar.
Served with Tomato Cheddar Soup.
We had so many combos you could make.
And of course, there was dessert.
I made just a vanilla cake with cream cheese frosting.
It was rainbow inside because we had a rainbow bridge theme for all the dogs who have come and gone.
I made just good ol' brownies.
And this Peach Blackberry Oatmeal Cookie Cobbler.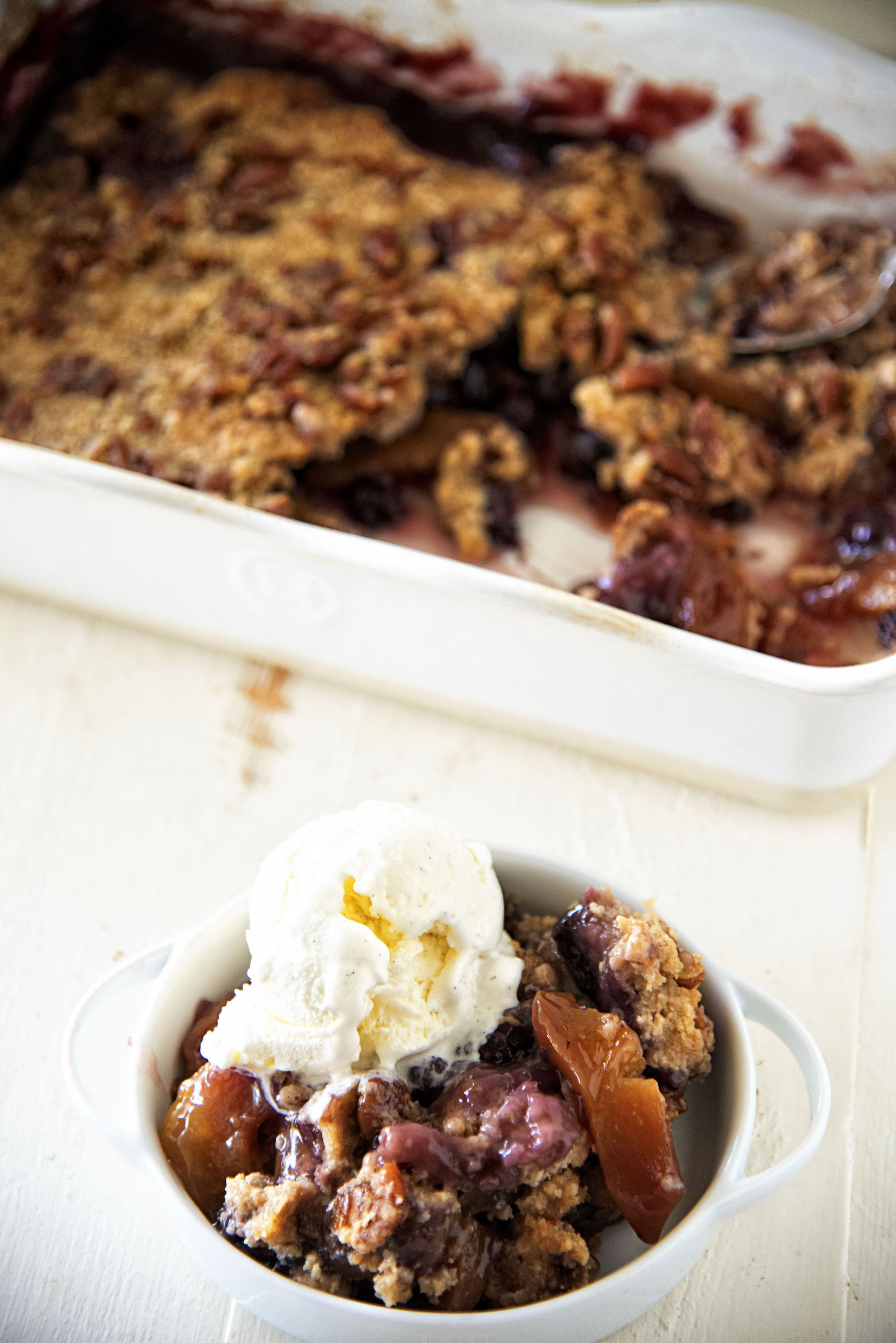 I'm calling it a cobbler but it really is dump cake.
I use can fruit even though it is both peach and blackberry season.
You can easily make your own pie filling and use fresh blackberries if you want.
But I wanted to make a recipe that I could use year round and so I went with canned.
Plus, life has been hectic and I wanted easy darn it all. 😀
It's a great day to order my cookbook.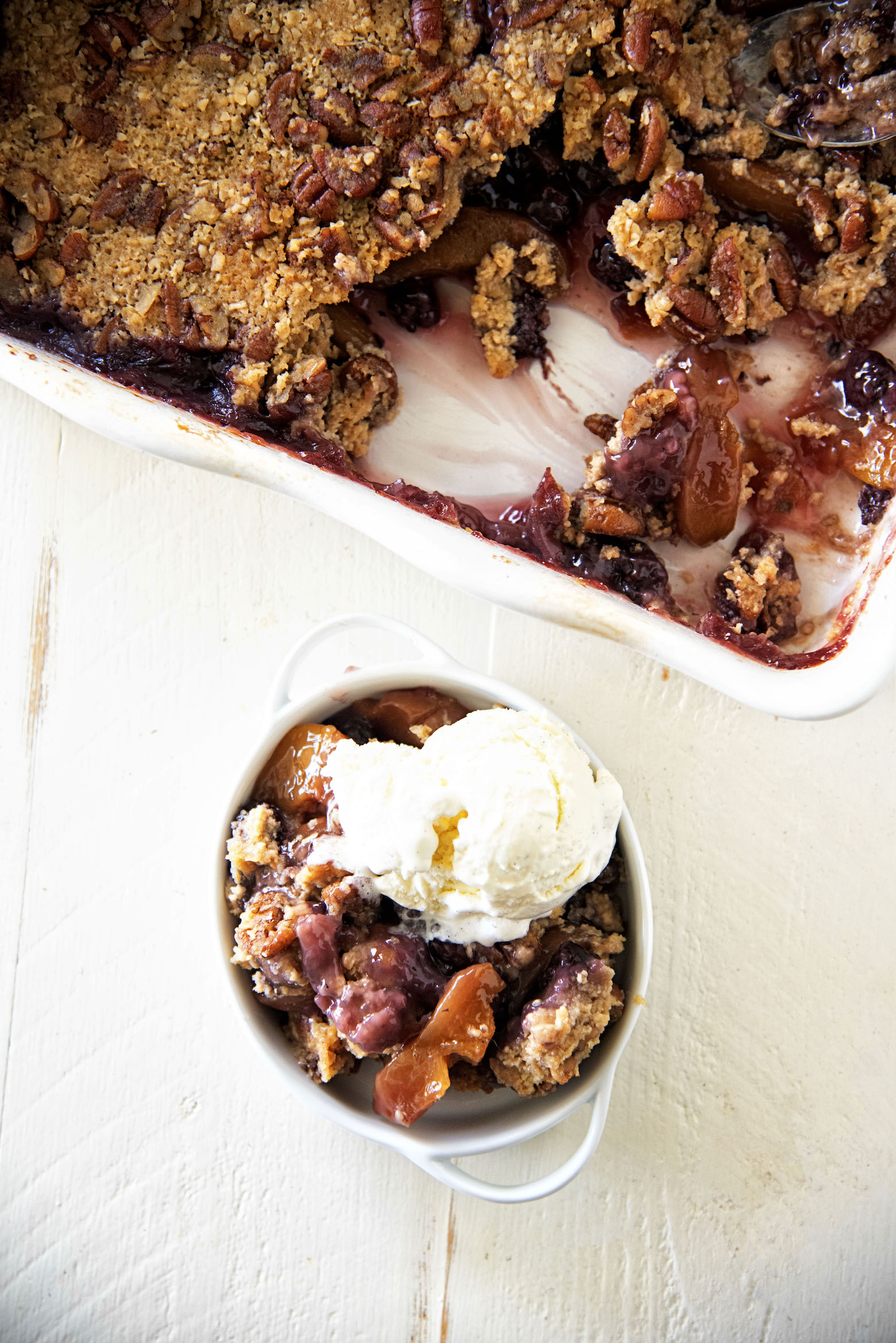 Want more recipes?
Cherry Limeade Biscuit Cobbler
Mixed Berry Oatmeal Cookie Cobbler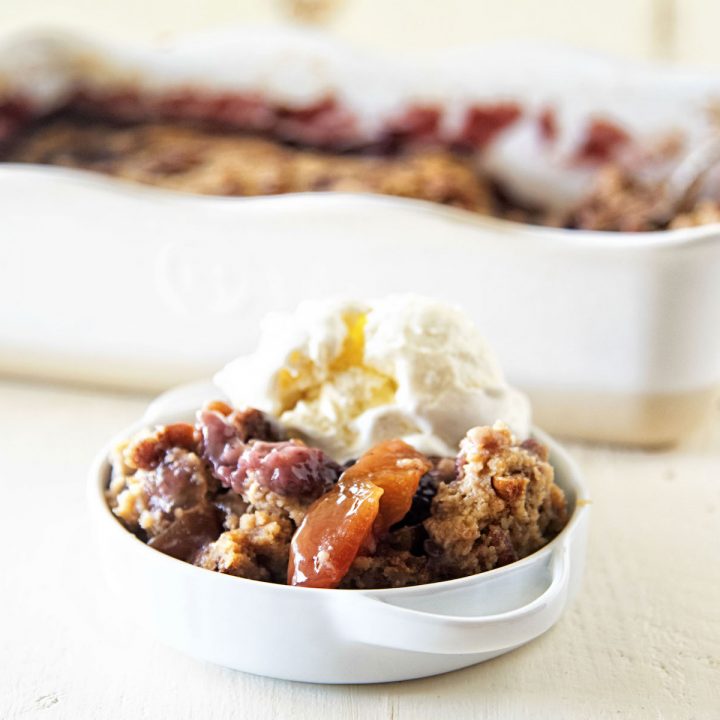 Peach Blackberry Oatmeal Cookie Cobbler
Ingredients
3 cups Oatmeal Cookie Mix (I used Betty Crocker)
1 cup unsalted butter, melted
1 cup pecans, chopped
Instructions
Spray 9-x-13-inch baking dish with baking spray or use butter.
Dump the two cans of peach pie filling and 1 can of blackberries into the prepared pan.
Mix the berries and peach pie filling together until evenly distributed.
Sprinkle cookie mix over the top of the peach-blackberry mixture.
Top with chopped pecans.
Pour melted butter over the cookie mix and pecans.
Bake at 350F for 45 minutes or until top is golden brown.
Serve with ice cream.