This Samoas Chocolate Coconut Cream Pie has a shortbread crust filled with chocolate pastry cream and caramel toasted coconut pastry cream.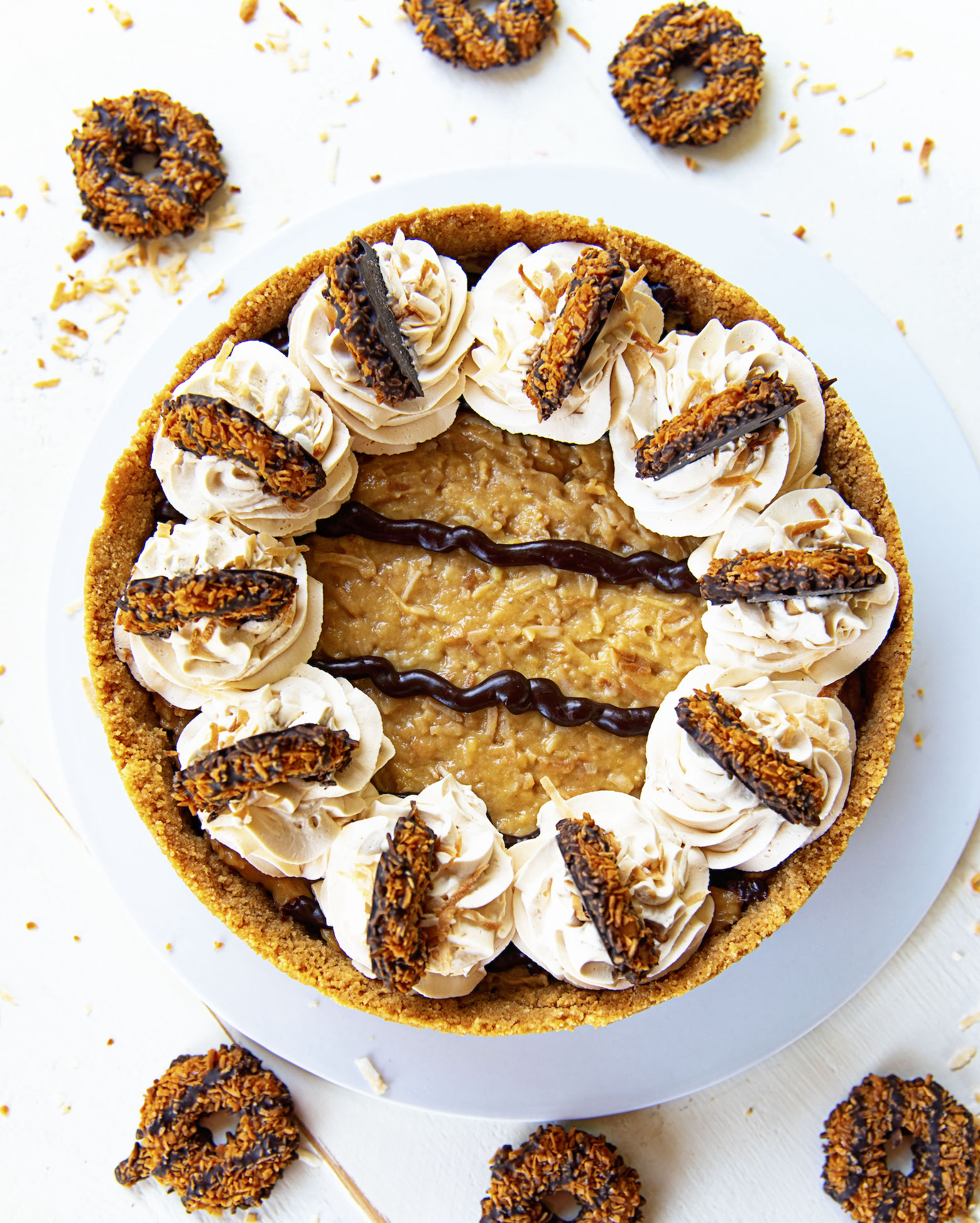 This Samoas Chocolate Coconut Cream Pie with Shortbread Crust has been in my little notebook I keep by my bed for a few years now.
Often I wake up in the middle of the night and have an idea about a recipe.
And I don't want to lose that idea.
I'm at that age where I won't remember in the morning.
I found that if I email myself it just gets buried and I forget about it.
But when I write it down all in one spot that I'm able to find it again. 🙂
The process of just writing it down helps too.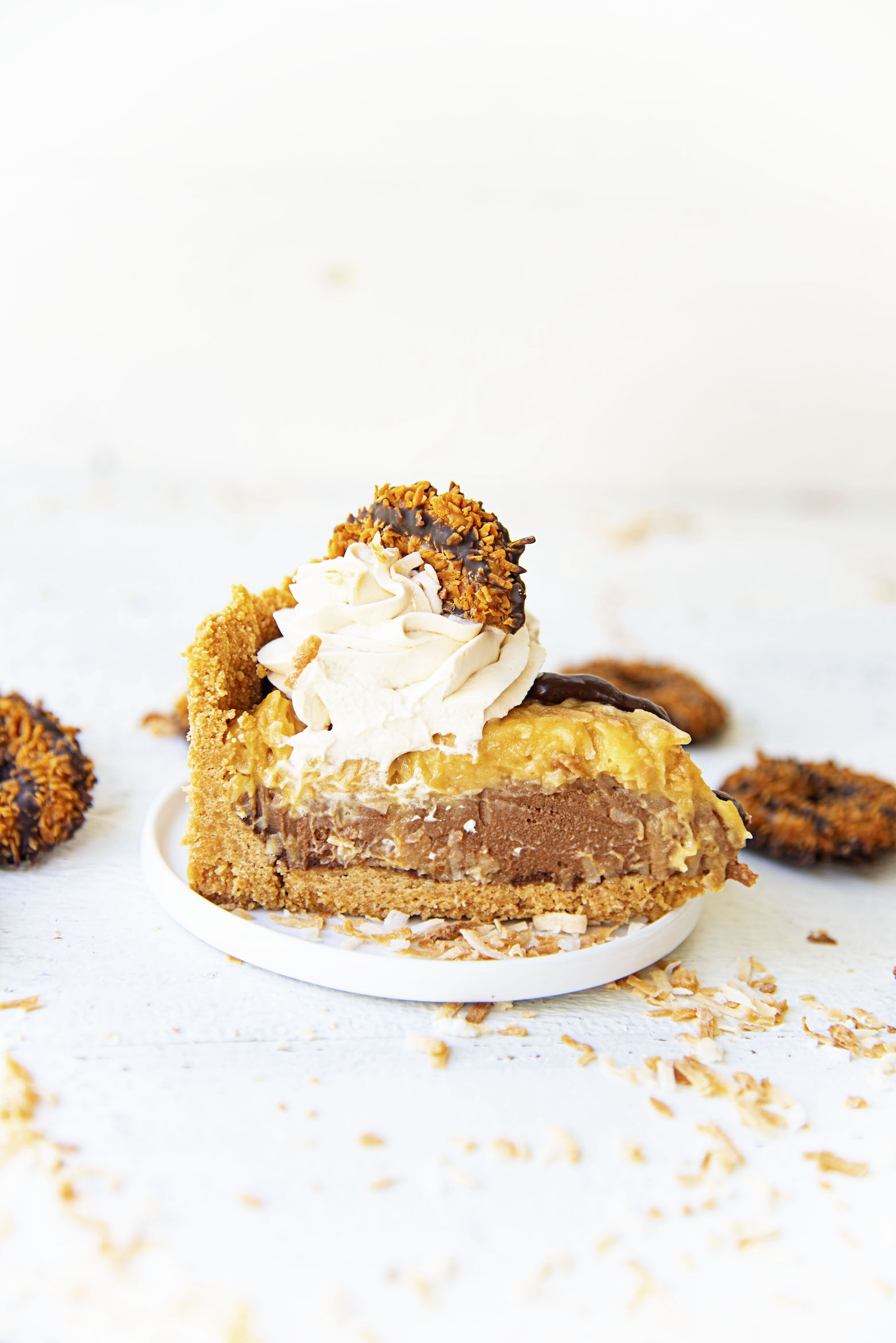 There it sat.
Mostly because I just could not decide how I wanted to make it.
Would the crust be like regular pie crust with maybe some toasted coconut in it?
Perhaps it would have brown butter.
But in the end since Samoas is a cookie after all a cookie crust seemed like the best idea.
I ended up using Trefoils, which are the Girl Scouts shortbread cookie.
But you could use a Lorna Doone or the likes.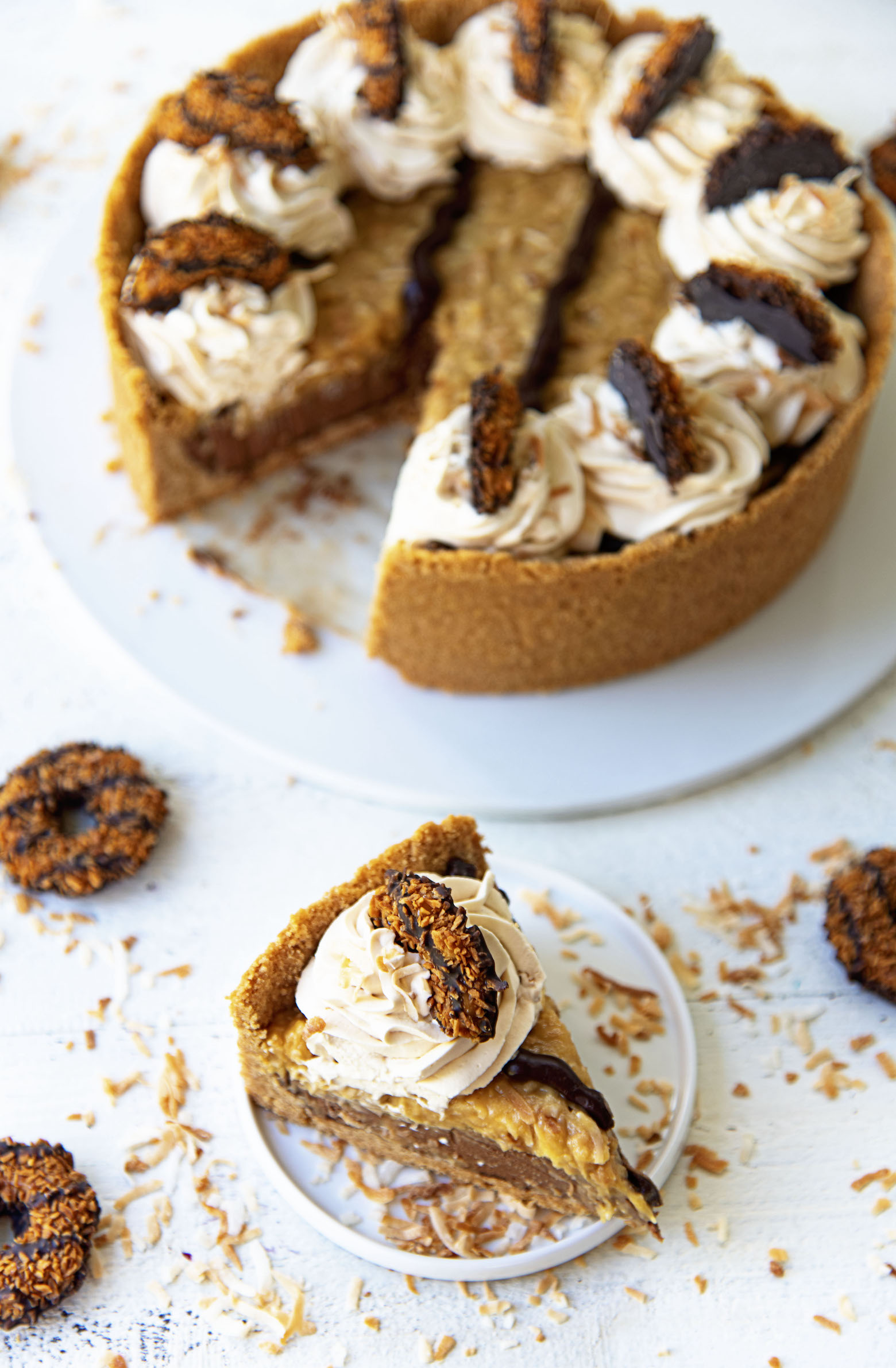 However, when I make cookie crust in a traditional pie pan the first piece almost always is a throwaway.
And by throwaway I mean one I eat and no one sees. 😀
So I decided this time to use a springform pan and that worked really well for this recipe.
Then came the filling.
Did I make it all caramel and coconut flavored and then somehow cover the pie in chocolate?
Or maybe mix the chocolate, caramel, and toasted coconut all into one giant pastry cream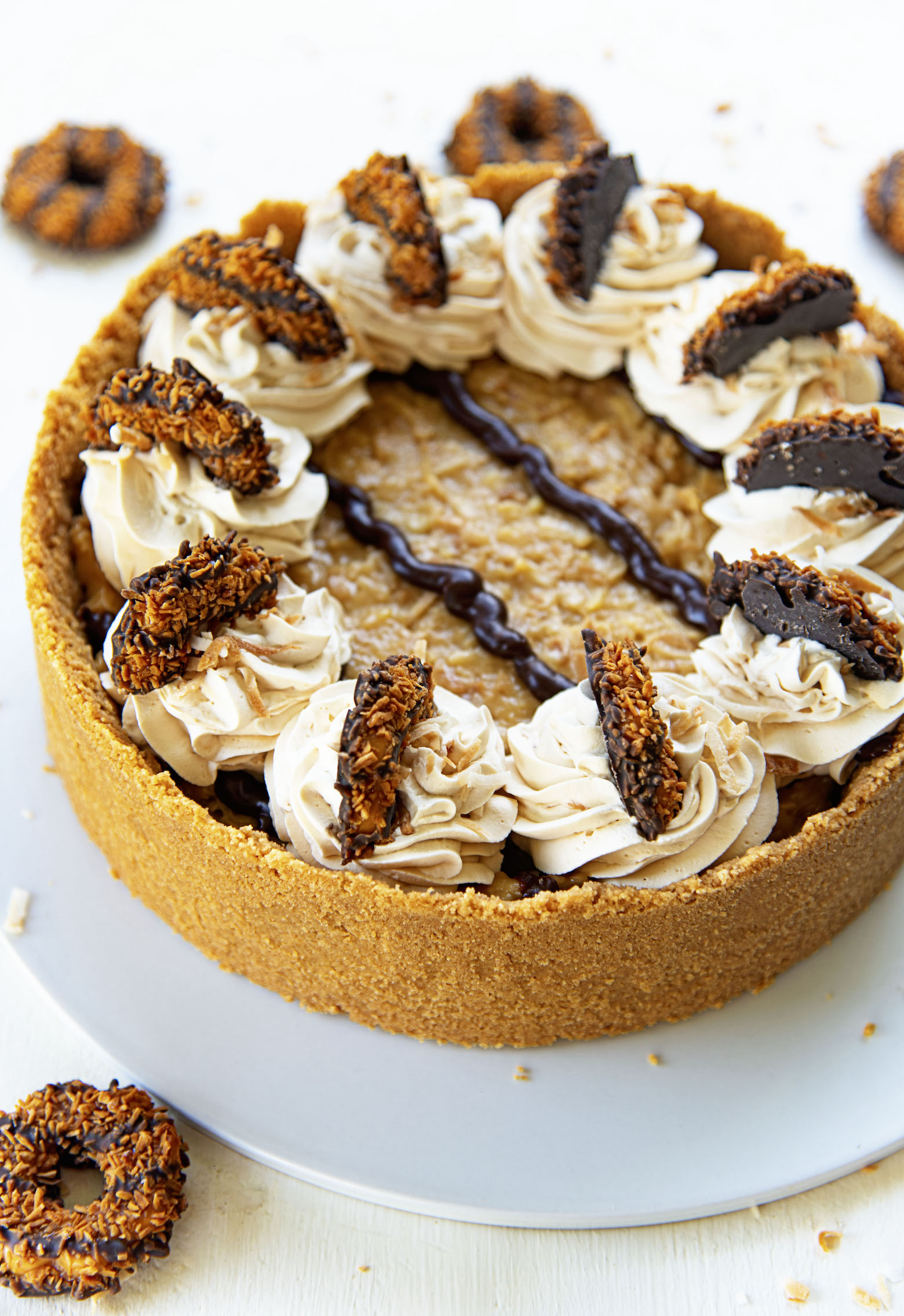 In the end I settled on having a chocolate pastry cream layer.
Then a layer of caramel and toasted coconut pastry cream.
I think it was the right choice. 😀
Top it with some semisweet chocolate stripes (totally optional).
Then some caramel whipped cream.
And, of course, you can't have a Samoas pie without some actual Samoas.
P.S. It's a great day to buy my cookbook.
Want More Girl Scout Inspired Recipes?
Thin Mint Oreo Bailey's Irish Cream Milkshake
Samoas Mascarpone Filled Layer Cake
Easy Samoas Cookie Bark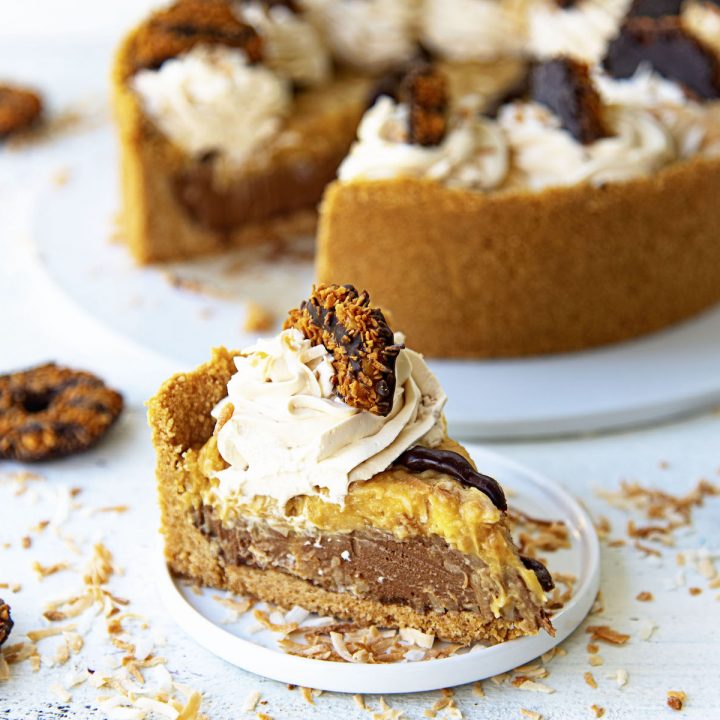 Samoas Chocolate Coconut Cream Pie
Ingredients
For the Crust:
4 1/2 cups crushed shortbread cookie crumbs (I used Girl Scout Trefoils)
1/2 cup powdered sugar

15-16 TBSP melted unsalted butter

pinch of salt
For the Pastry Cream:
1 cup milk
1 cup heavy cream
6 egg yolks
1/2 cup granulated sugar
1/4 cup corn starch
Pinch of salt
For the Chocolate Ganache:
8 oz. semisweet chocolate, finely chopped
¾ cup heavy cream
2 TBSP unsalted butter
1 TBSP corn syrup
pinch of salt
For the Caramel Toasted Coconut Layer:
1 cup caramel sauce
1 cup toasted coconut
For the Chocolate Stripes:
2 oz semisweet chocolate, melted
For the Caramel Whipped Cream:
1/4 cup powdered sugar
1 cup heavy cream
1/4 cup caramel sauce
Instructions
For the Crust:
In a large bowl add the shortbread crumbs and powdered sugar.
Add 12 TBSP butter and salt. Keep adding 1 TBSP at a time so that when you bunch it up in your fingers it holds together.
Mix until combined.
If it seems like it needs more butter add the remaining TBSP (mine took the full 10 TBSP).
Pour contents into a 9-inch springform pan that has been sprayed with baking spray and press to form a shell. The crust will go very high up the sides…you want this.
Place on a baking sheet as butter will leak out of a pan...that's okay.
Bake crust for 20 minutes at 325 F.
Remove from oven and set aside to cool.
For the pastry cream:
In a saucepan, combine the milk and heavy cream. Bring to a simmer.
In the bowl of a stand mixer fit with the whisk attachment, combine the egg yolks, sugar, corn starch, and salt. Whisk on high until light and fluffy.
Turn the mixer speed to medium and carefully pour the hot milk/cream mixture down the sides of the bowl into the egg yolk mixture. Whisk until fully combined.
Transfer the custard back to the saucepan, scraping the sides of the bowl to get all the cornstarch into the saucepan.
Whisk over medium/low heat until the mixture thickens, to the consistency of mayo
Transfer to a large shallow bowl or I use a cake pan. Cover with plastic wrap, making sure that the wrap touches the surface of the cream to keep a skin from forming.
Refrigerate until cold, about 2 hours.
To make the Chocolate Ganache:
Place the chocolate chips and pinch of salt in a medium sized heat safe bowl and set aside.
Combine the butter, corn syrup, and infused cream in a saucepan over medium-high heat and bring the mixture to a simmer.
Pour the infused cream mixture over the chocolate and allow to sit for about a minute.
Whisk until the mixture is smooth.
Cover with plastic wrap and have it come to room temperature.
To assemble the pie:
Spoon ¼ cup of the Chocolate Ganache into the crust and spread it evenly along the bottom and sides of the pie crust. This will help it from becoming soggy when the cream filling goes in.
Chill in fridge for 15 minutes.
Divide the pastry cream equally into two different bowls.
Stir 1 cup Chocolate Ganache into one of the pastry cream bowls and whisk until mixture is smooth.
Pour into the prepared ganache lined pie shell and spread it into an even layer.
To the remaining pastry cream add the 1 cup caramel sauce and 1 cup toasted coconut and mix until fully combined.
Pour that on top of the chocolate layer and carefully spread it to cover all of the chocolate layer.
Chill the pie until it is set, about 2 hours.
Take the 2 oz melted semisweet chocolate and make stripes across the top of the caramel toasted coconut layer.
For the Caramel Whipped Cream:
Place the sugar into a mixing bowl and add the whipping cream.
Whisk just until the cream reaches stiff peaks.
Add the caramel sauce and whisk until fully combined and stiff enough to be able to pipe onto pie.
Place whipped cream on top of cream pie and add Samoas cookies and extra toasted coconut for garnish if desired.