This Citrus Sunshine Carrot Cake is filled with carrots, candied orange peel, fresh oranges, candied ginger, and freeze dried pineapple. All served with a Orange Marmalade Swiss Meringue Buttercream.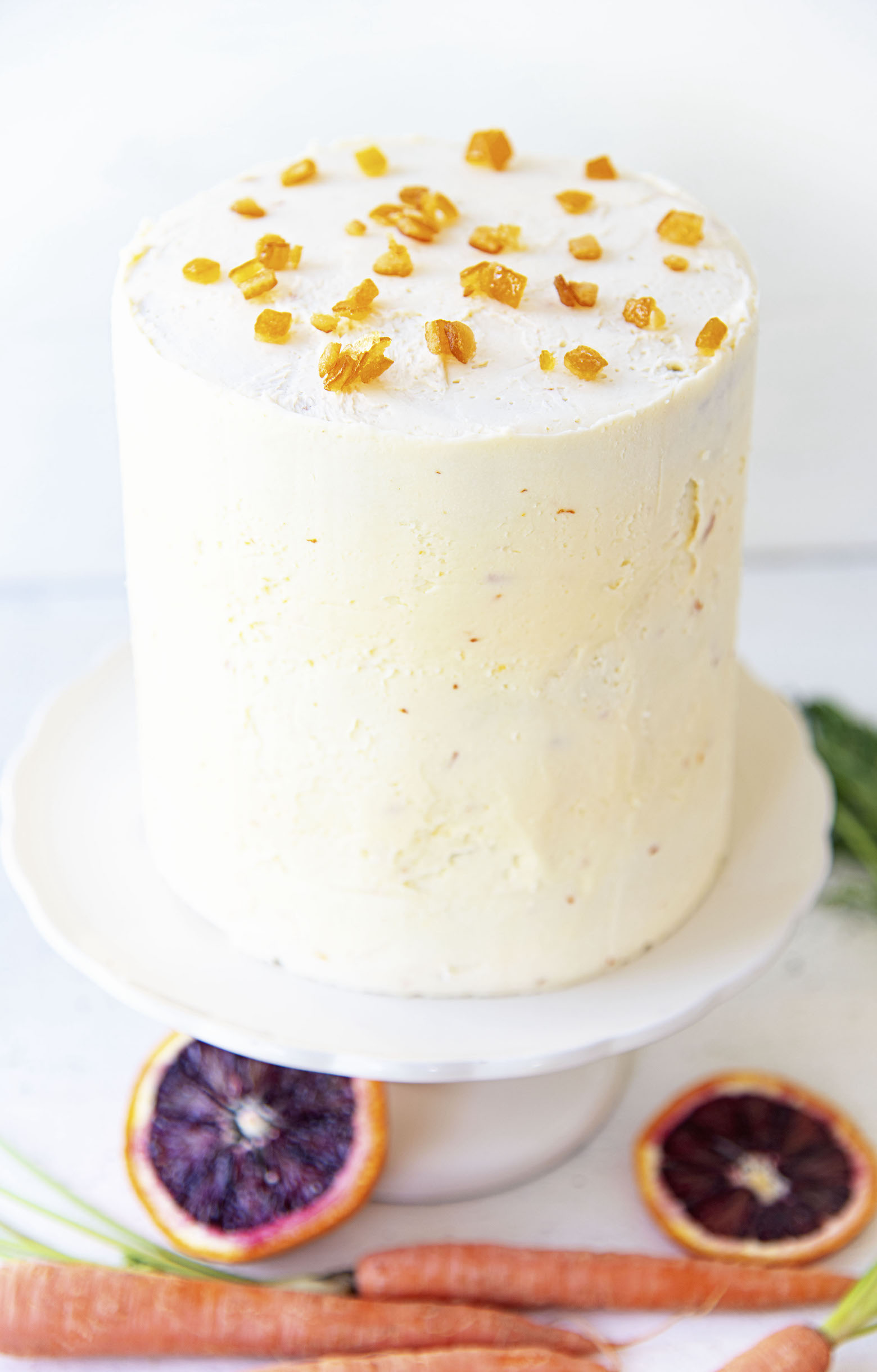 On a particularly gloomy Seattle day a few weeks ago I felt I needed some sunshine.
Since I wasn't going to get it from the weather I needed it from someplace else.
From a Citrus Sunshine Carrot Cake.
And it did deliver.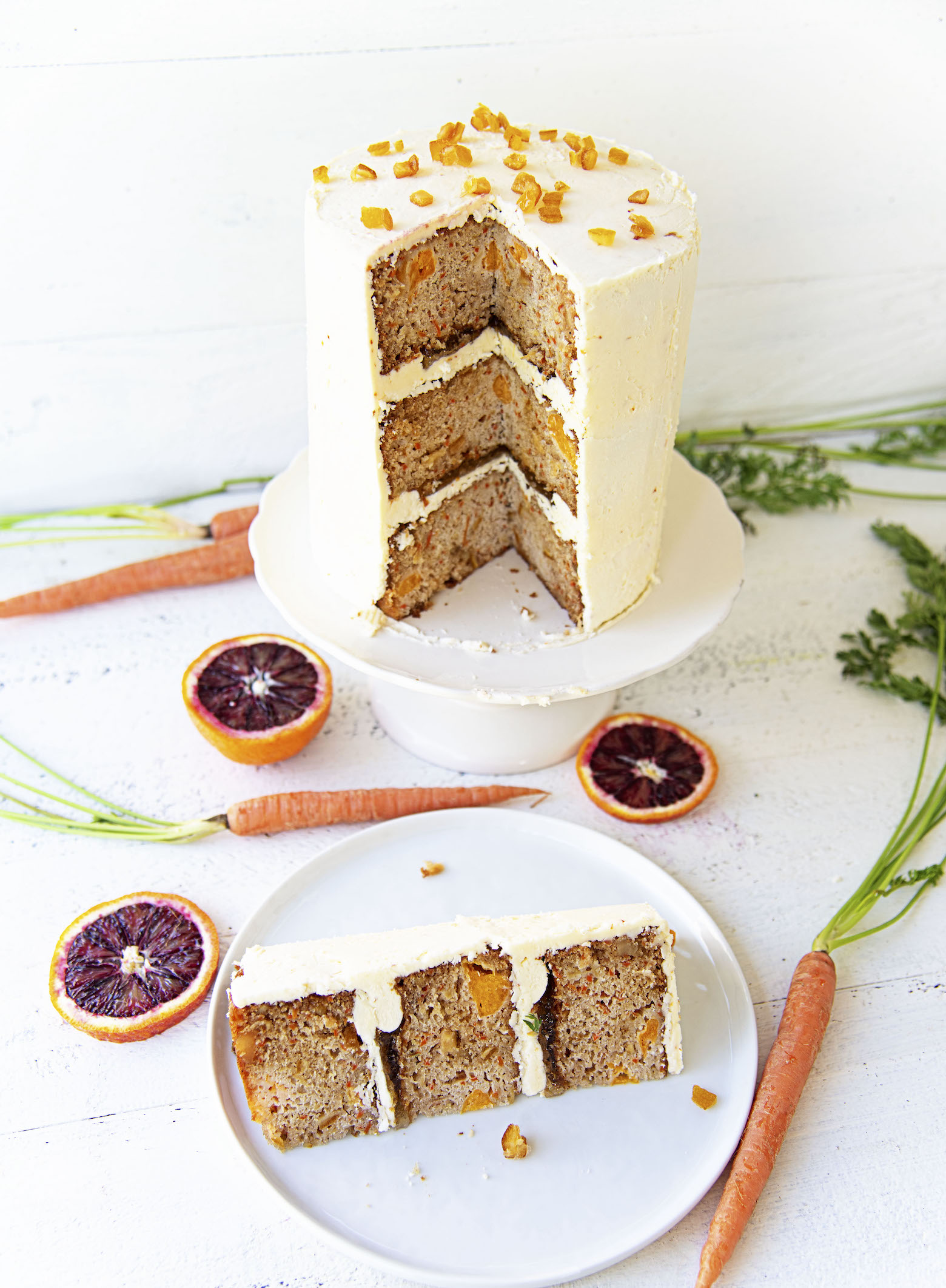 While this cake has carrots in it this is definitely not your average carrot cake.
It has fresh oranges in it.
And pineapple.
Both canned and freeze dried.
Not to be confused with dried pineapple.
The cake has both candied ginger and orange peel in it.
I used gingerbread spice to give it a little kick.
And it has layers of orange marmalade on top of the orange marmalade Swiss Meringue Buttercream.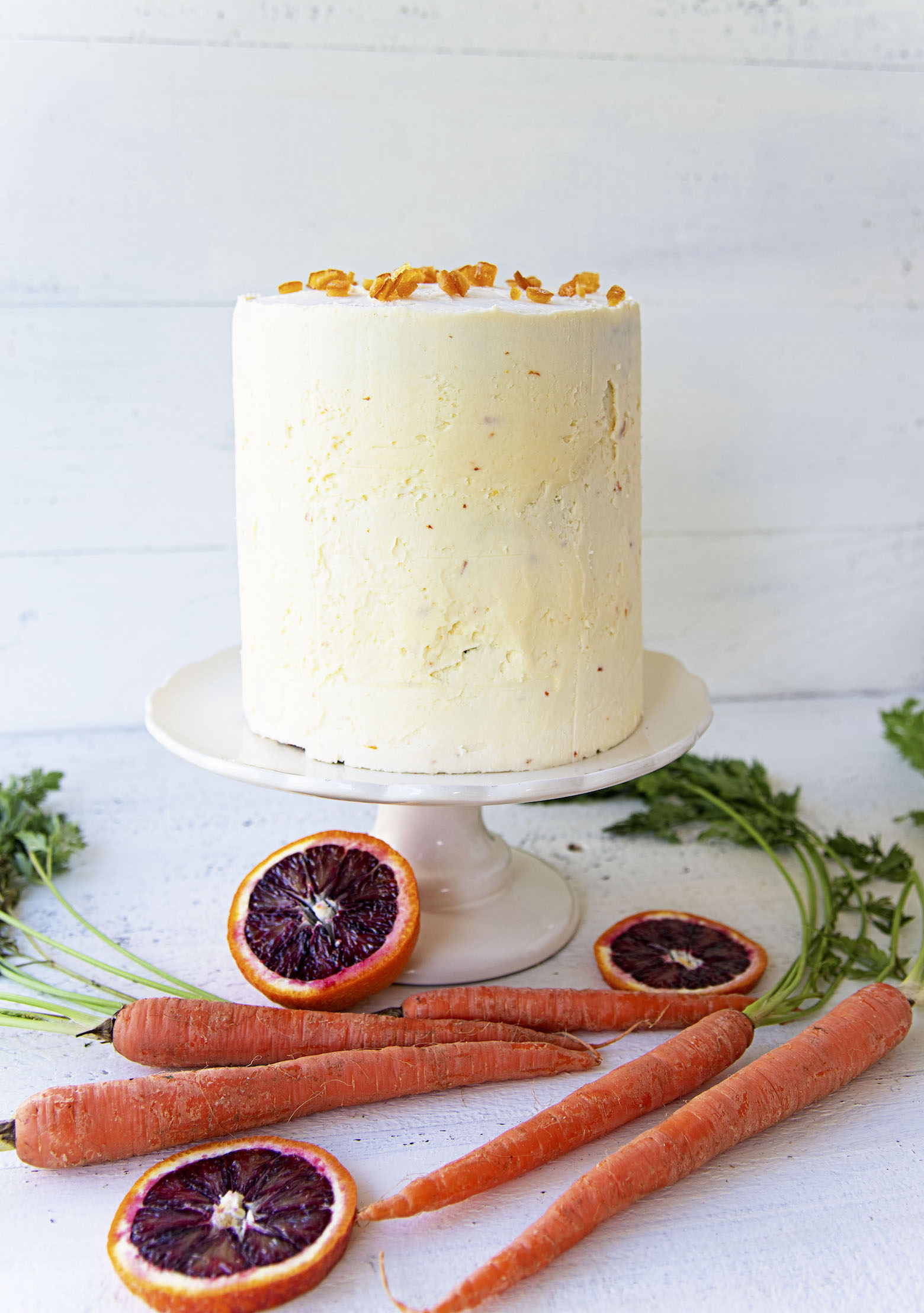 This cake has a lot going on .
A lot.
I know that there are a lot of you out there that like cream cheese frosting.
Feel free to swap the buttercream for the cream cheese.
I just wanted something a little different for my different carrot cake.
P.S. It's a great day to buy my cookbook.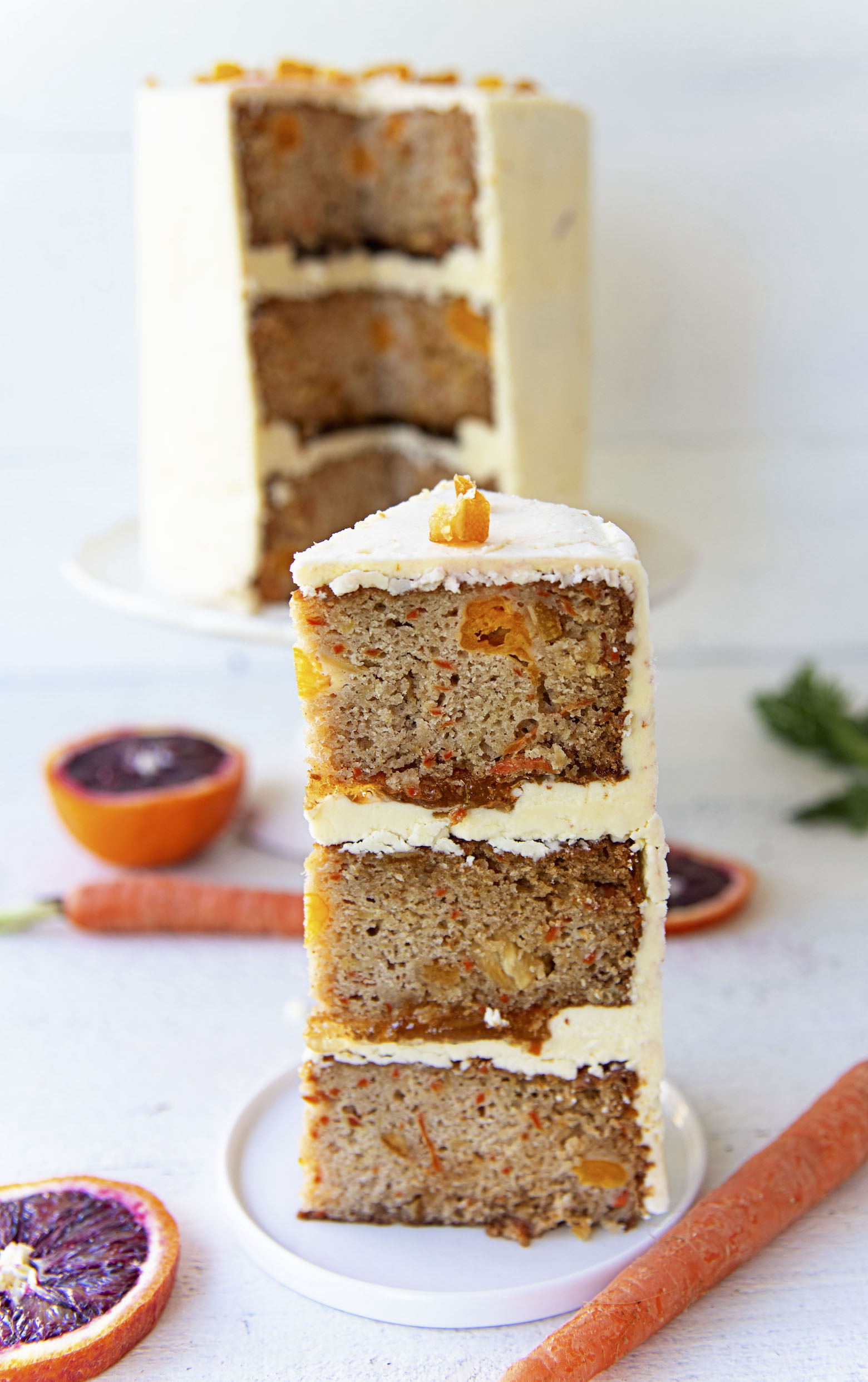 Want More Cake Recipes?
Chocolate Salted Caramel Popcorn Layer Cake
Strawberry Lemonade Layer Cake
Chocolate Peanut Butter Stout Layer Cake
Vanilla Cheesecake Funfetti Pink Ombre Layer Cake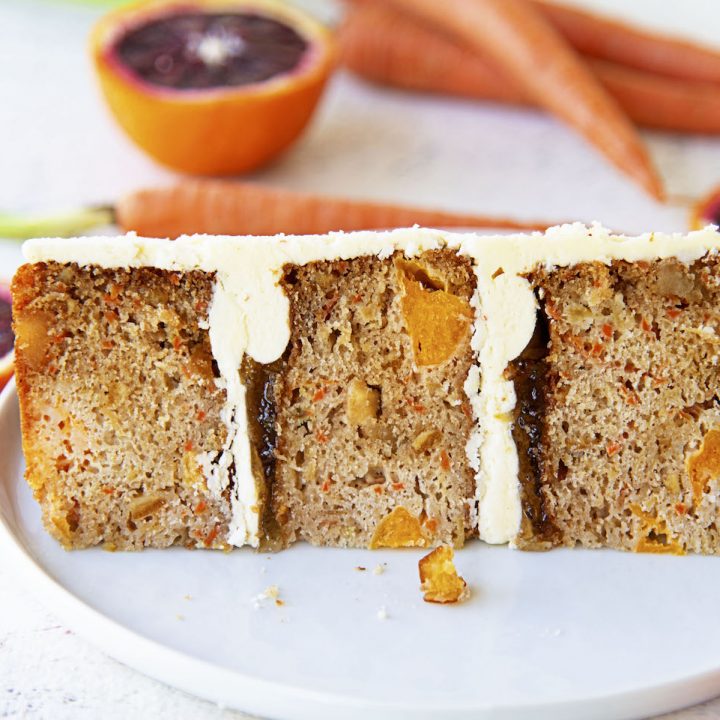 Citrus Sunshine Carrot Cake with Orange Marmalade Buttercream
Ingredients
For the Carrot Cake:
3⅓ cups all-purpose flour
2⅓ cups granulated sugar
1/2 cup candied ginger
1/2 cup candied orange peel
1/2 cup freeze dried pineapple
2 tsp. gingerbread spice
2 tsp. baking soda
1½ tsp. kosher salt
2 tsp.baking powder
4 cups finely grated carrot
1 8-ounce can crushed pineapple, drained
1 cup fresh oranges peeled and segmented (I used navel and blood oranges)
4 large eggs, lightly beaten
1 cup canola oil
2 tsp. vanilla extract
For the Orange Marmalade Swiss Meringue Buttercream:
1 cup egg whites (about 7 large eggs whites)
2 cups granulated sugar
3 cups (6 sticks) unsalted butter, at room temperature, cubed
1 tsp pure vanilla extract
pinch of salt
1 2/3 cup orange marmalade, divided
Instructions
For the cake:
Preheat oven to 350°F.
Spray 3 (9-inch or 6-inch) round cake pans with baking spray with flour.
Line bottom of pans with parchment paper, and spray pans again.In a large bowl, stir together flour, sugar, candied orange peel, candied ginger, freeze dried pineapple, gingerbread spice, baking soda, baking powder, and salt.
Add carrot, pineapple, oranges, eggs, oil, and vanilla, stirring until well combined.
Divide batter among prepared pans.
Bake until a wooden pick inserted in center comes out clean, about 25 minutes if using 9-inch rounds. About 40 minutes for 6-inch cake rounds.
Let cool in pans for 10 minutes.
Remove from pans, and let cool completely on wire racks.
For the Buttercream:
Place the egg whites and sugar in the metal bowl of a stand mixer and set over a small pot of simmering water (the bowl should not touch the water).
Heat, stirring occasionally, until mixture is 160F or hot to the touch.
Transfer bowl to stand mixer and beat on high speed with a whisk attachment to medium stiff peaks, about 8 minutes.
Reduce mixer speed to medium low and add butter a tablespoon at a time, letting it incorporate into the meringue for few moments before adding more.
Add vanilla extract, 1 cup orange marmalade, and salt and beat on high for 1-2 minutes until smooth and creamy.
Place a cake layer on cake plate and pipe 3/4 cup of buttercream.
Spread a 1/3 cup orange marmalade on top of the frosted layer.
Place second layer on top of the orange marmalade and push down slightly until you see the marmalade come to the sides.
Pipe another 3/4 cup of the buttercream followed by the remaining orange marmalade.
Top with the last cake layer.
Frost the cake with a crumb coat layer and let set up for 30 minutes in fridge.
Remove from fridge and frost the cake.
Garnish with candied orange peel if desired.