This Cheetos Three Cheese Cheeseball is made with cream cheese, Cheetos mac and cheese powder, three types of cheese, and lots of Cheetos.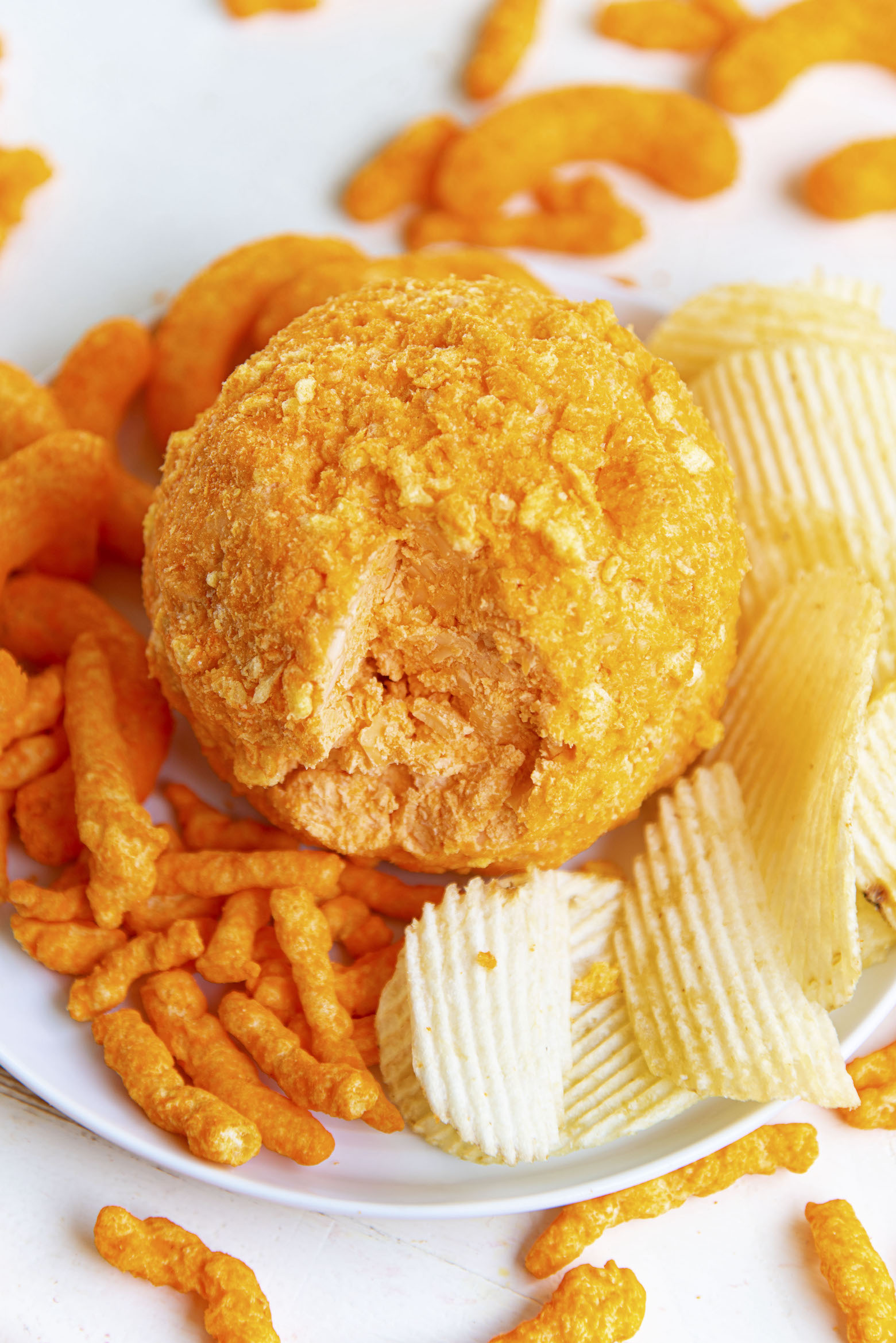 Yes, that's a lot of orange.
A lot.
Like I'm pretty sure this Cheetos Three Cheese Cheeseball side hustle is working as a traffic cone on the weekends.
But Cheetos would not be Cheetos without that color.
There probably should be a paint color out there called Cheetos orange.
And everyone would know exactly what color that is.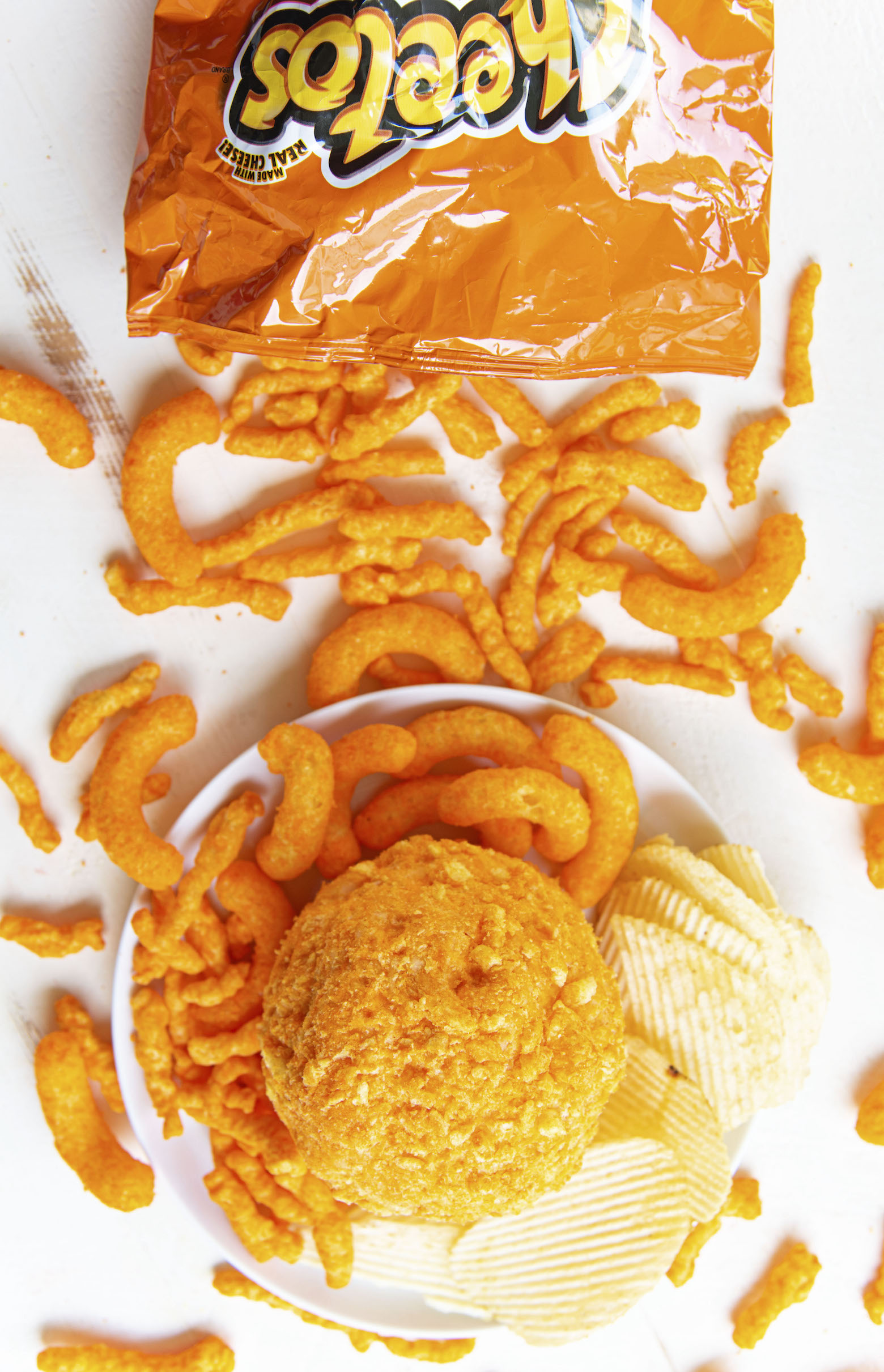 Literally the day after I posted my Cheetos Deviled Eggs my friend Erin of The Spiffy Cookie posted that she was hosting an event for National Cheese Doodle Day.
Yes, they really do have a day for basically everything. 😀
I told her dang I wish I knew this was a thing because I would of held out and posted the deviled eggs for it.
But then I just decided the world needed a Cheetos cheeseball.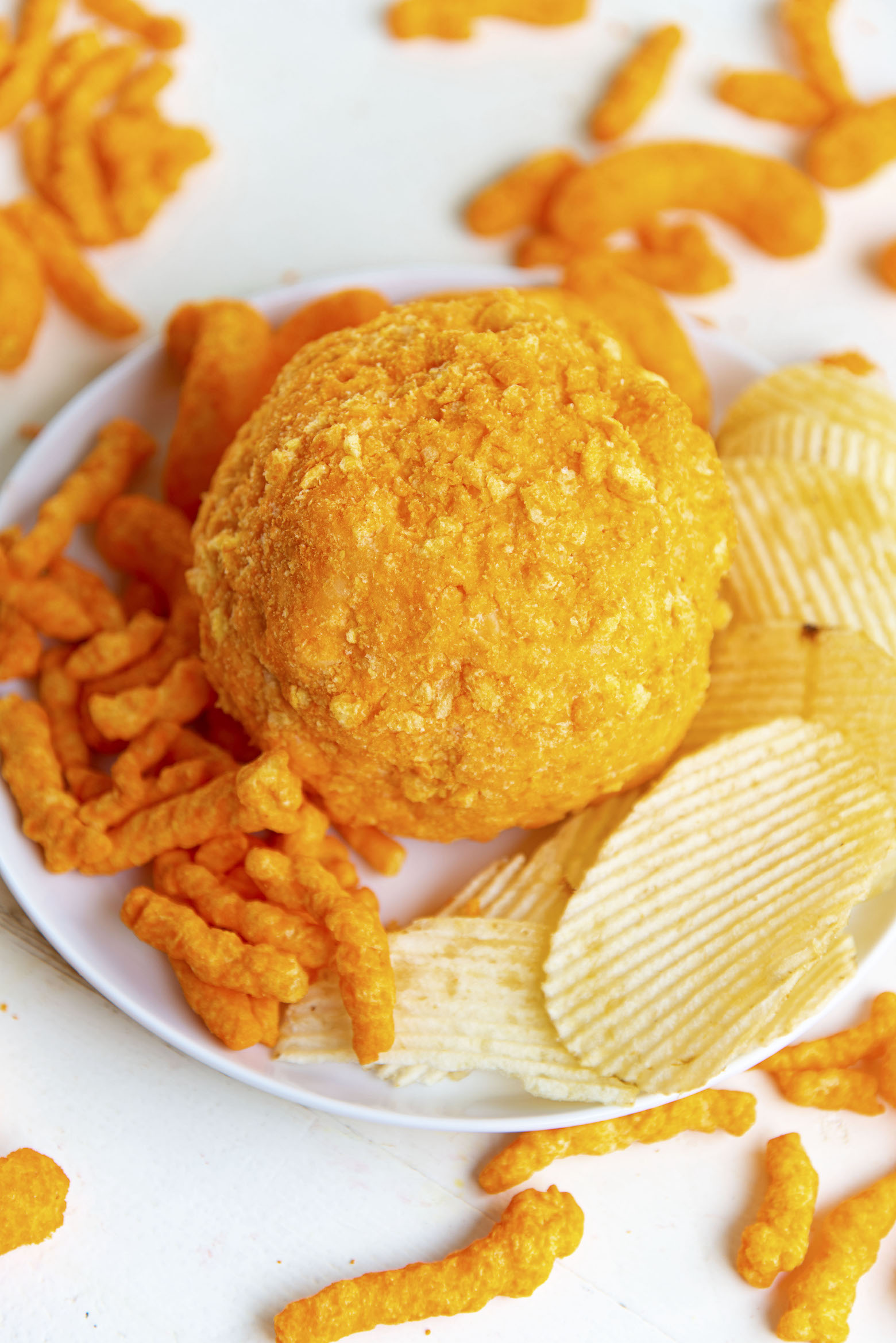 Now, if you Google it then you will find a Cheetos cheeseball.
Most of them are using flaming hot Cheetos.
Which if that is your thing totally go for it.
But almost all of the cheeseballs only rolled their cheeseball in the Cheetos.
Which didn't seem like a Cheetos cheeseball to me at all.
I want my cheeseball to taste like the cheese doodle snack that it is.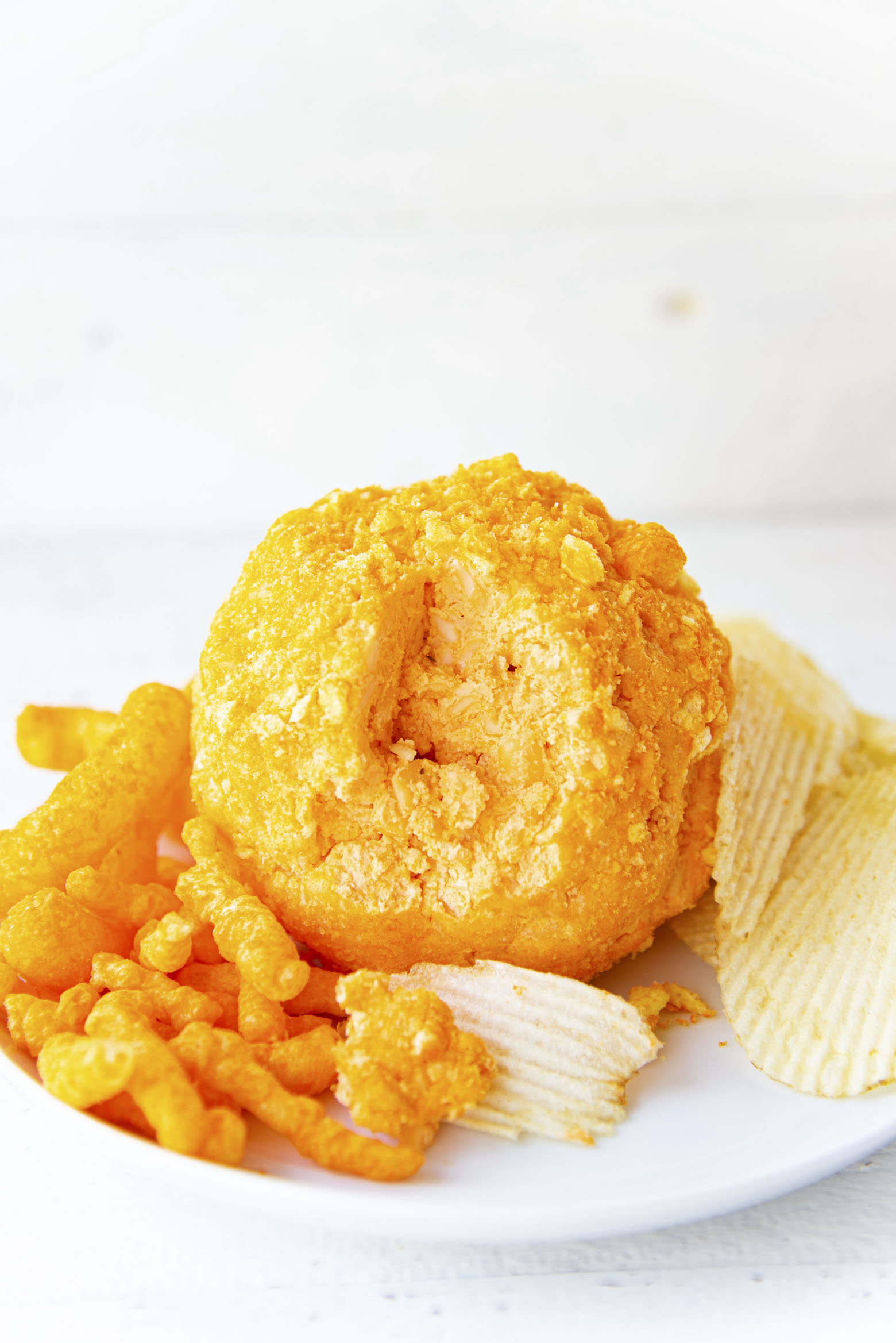 Which is why mine uses the Cheetos Mac n' Cheese cheese packet.
It really does make a difference. I used two types of Cheetos in the cheeseball as well.
The Puffs are in the actually ball.
And you roll the cheeseball into the Crunchy pieces.
So break out the Cheese doodles and turn those fingers orange.
P.S. It's a great day to buy my cookbook Holy Sweet!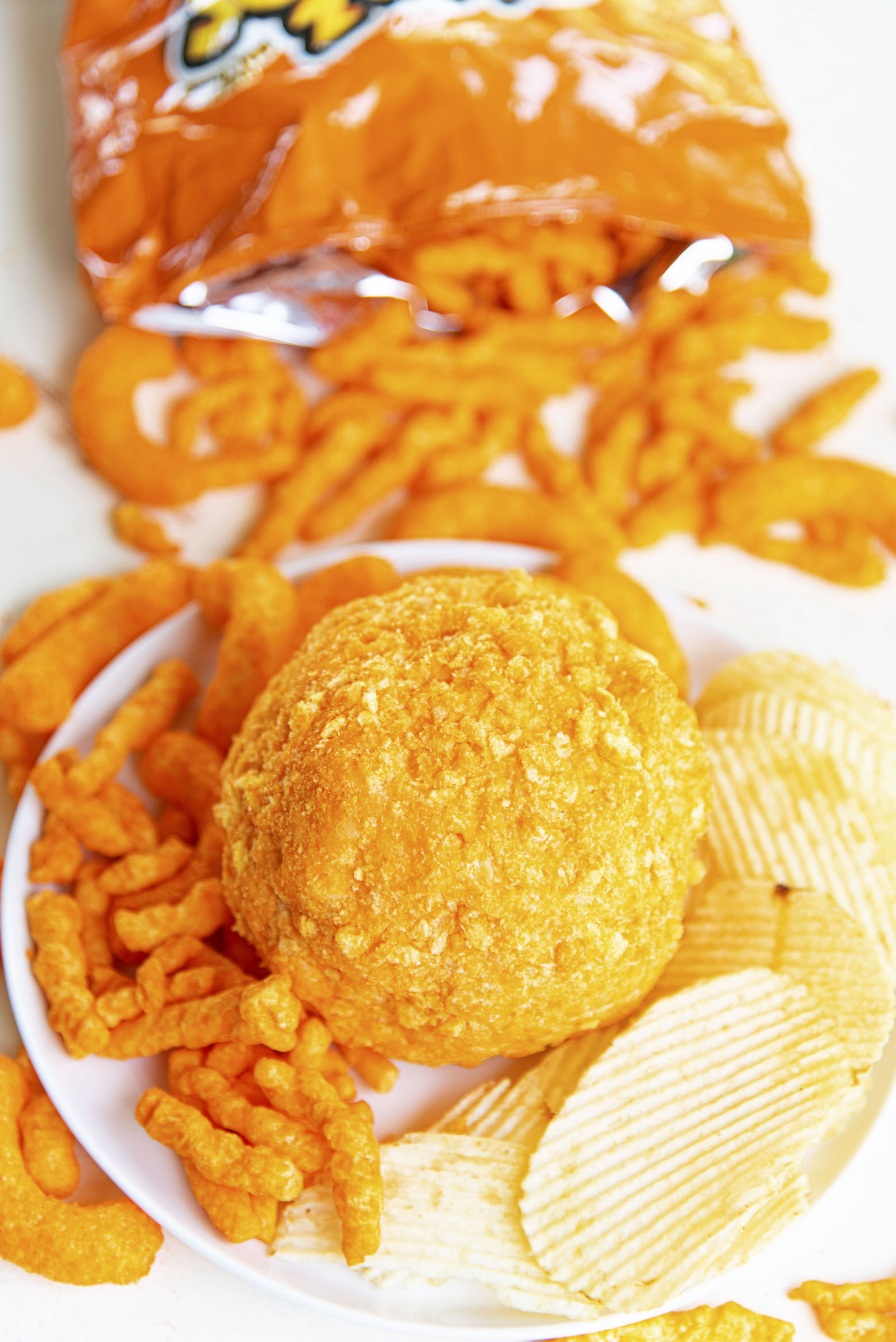 Want More Cheeseballs?
Cake Batter Cheesecake Cheeseball
Sugar Cookie Cheesecake Cheeseball
Gingerbread Cheesecake Cheeseball
Circus Animal Cookie Cheesecake Cheeseball
Strawberry Pretzel Cheesecake Cheeseball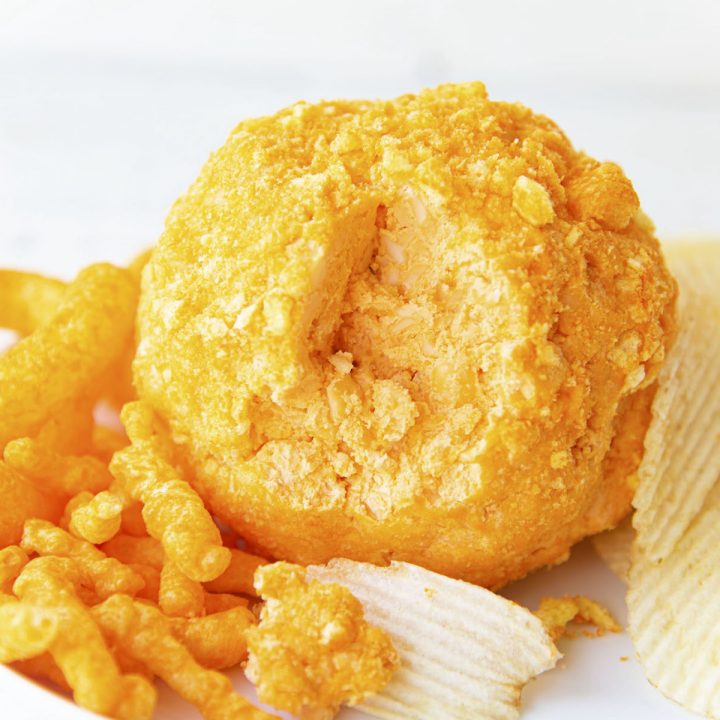 Cheetos Three Cheese Cheeseball
Ingredients
16 oz cream cheese , at room temperature
2 cups Tillamook Triple Cheddar Cheese Blend
1 packet Cheetos Mac n' Cheese powdered cheese
1/2 tsp kosher salt
1/4 tsp pepper
2 cups Cheetos Puffs
2 cups Cheetos Crunchy, crushed (you will roll the cheeseball in these)
Instructions
Place cream cheese in a mixing bowl and mix until smooth.
Add cheese, packet of powdered cheese, salt, and pepper and mix well to combine.
Add the 2 cups of Cheetos Puffs and mix on low speed just until incorporated.
Use a rubber spatula to scrape the sides of the bowl and gather the mixture into one lump and use your hands and form the mixture into a round ball. Yes, your hands will get messy.
Place the Crunchy Cheetos pieces on a plate.
Hold the cheese ball in one hand and use the other hand to scoop the Cheetos onto the outside of the ball, pressing them in gently and turning the ball to coat all sides.
Cover the cheeseball in cling wrap and refrigerate for about 1 hour to allow it to firm up.
Take it out of the refrigerator about 20 minutes before serving to allow it to soften just slightly. Serve with crackers, chips, more Cheetos, or even vegetables.
Check out even more recipes to celebrate #NationalCheeseDoodleDay
Black Bean and Cheetos Crunch Wrap from Magical Ingredients
Cheetos Cheddar Arancini from The Spiffy Cookie
Cheetos Pork Chops from A Day in the Life on the Farm
Chocolate Puff Corn from In Katrina's Kitchen