This Strawberry Pretzel Cheesecake Cheeseball is a cheese ball that is based on the Strawberry Pretzel Salad I grew up having at potlucks.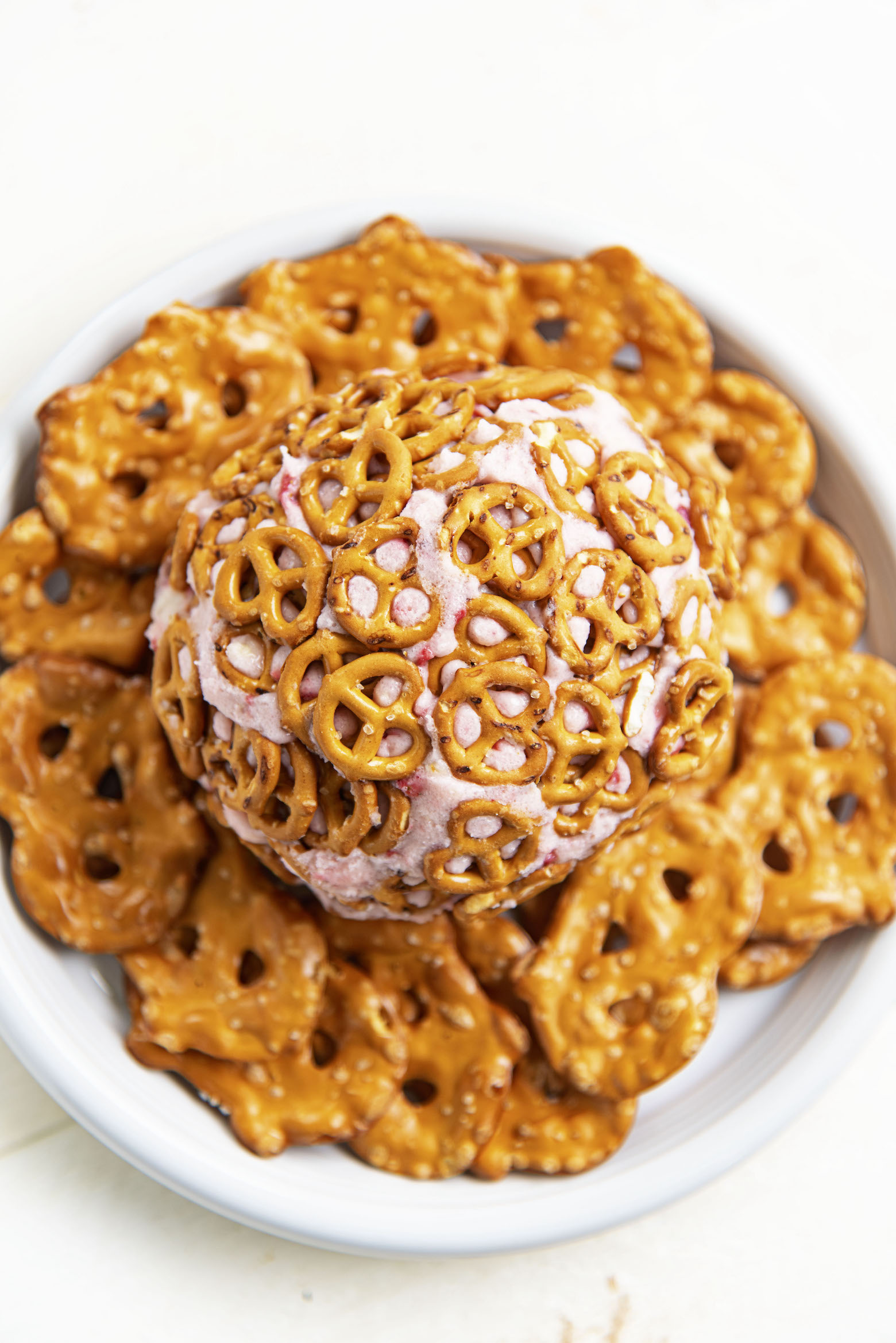 My husband's birthday usually falls on the same weekend as a certain popular football game.
And so we started combining the two and having people over to watch the game.
That was until we got our dog Mickey.
Mickey was not a fan of people in his house and would loudly let them know it.
While most people could put their dog in another room that would stress Mickey out.
And he had several conditions that were made worse by stress.
We learned the hard way that putting him in another room or kennel resulted in an ER visit.
So we stopped having guest over.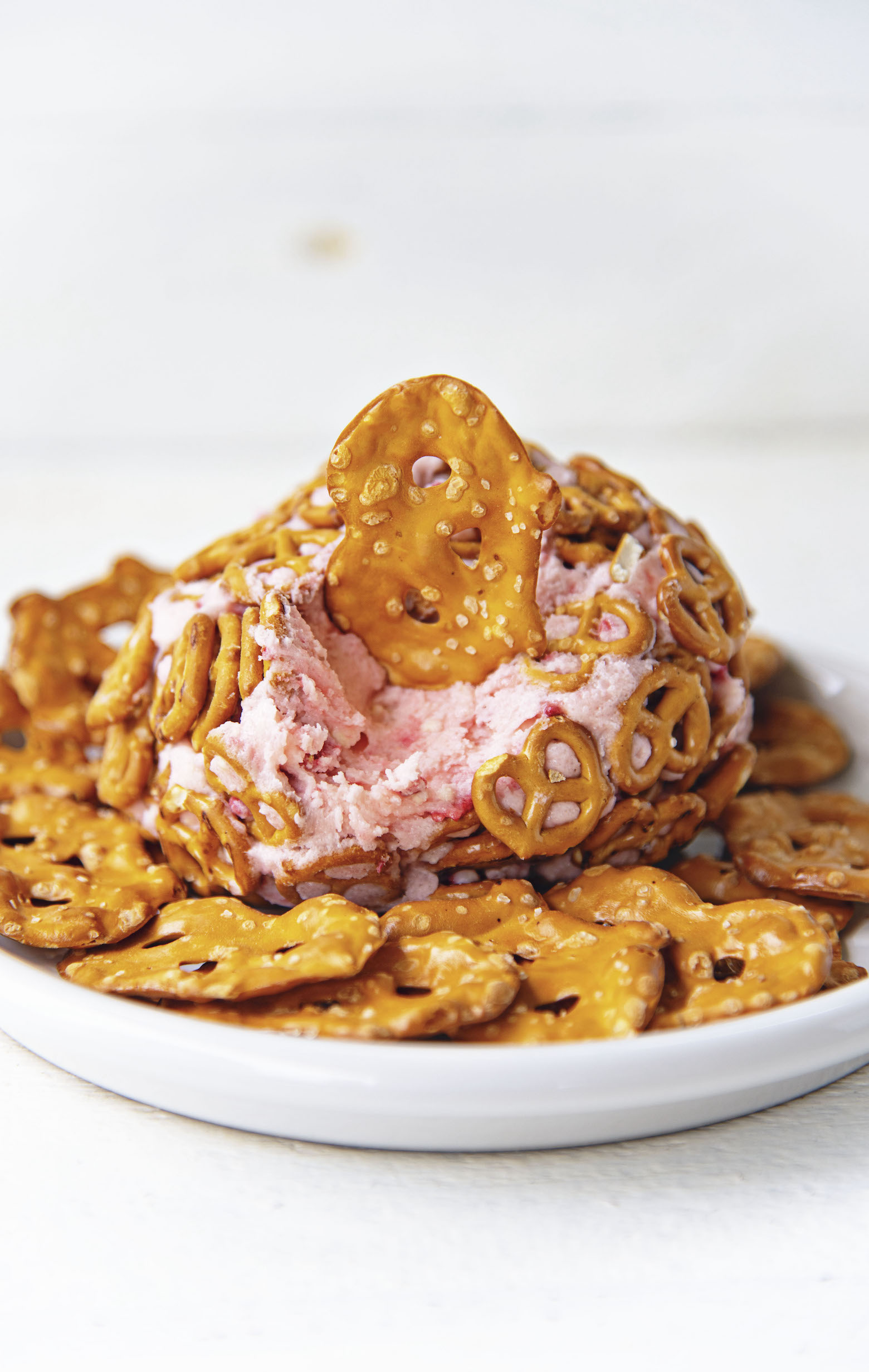 When we did have the parties I started making dessert cheeseballs.
They were a big hit and it is just a given if you invite me to a party I show up with one now.
Because if I don't people pout.
This year no people were gathering but I still had the need to make a cheeseball.
This time a Strawberry Pretzel Cheesecake Cheeseball.
Not to be confused with the Strawberry Cream Cheese Pretzel Pie I made or the cupcakes.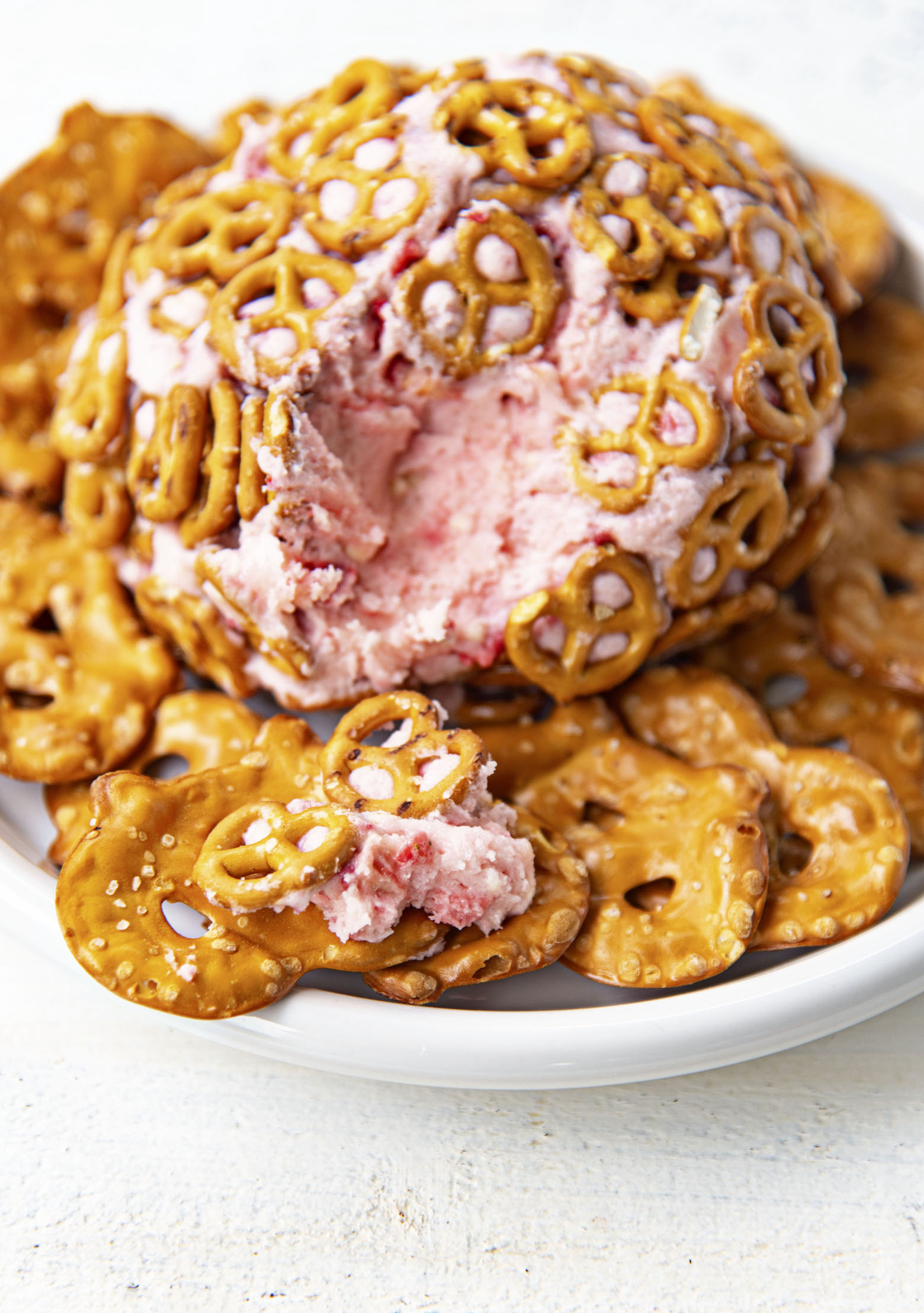 This cheeseball is based off of the old fashioned strawberry pretzel salad that I grew up eating at every potluck I ever went to.
It had a pretzel base.
Then a layer of sweetened cream cheese similar to a cheesecake flavor.
Then a layer of strawberry gelatin and fresh strawberries.
It was probably my first introduction to salty sweet food combos.
And I loved it.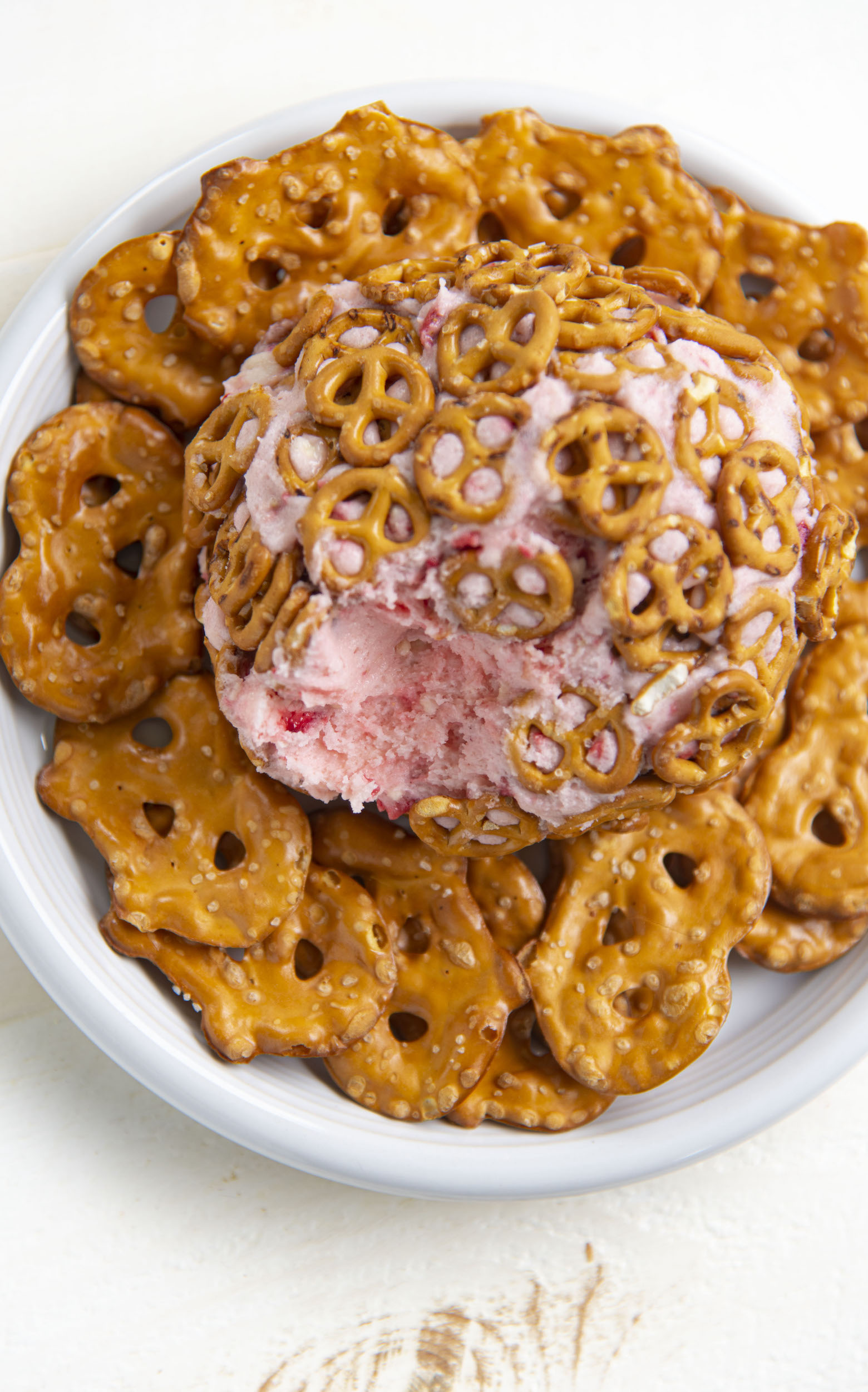 My cheeseballs are made for a party.
The kind of party with a lot of people.
If you don't plan on having a lot of people over then I would half the recipe.
You can use whatever your favorite strawberry gelatin is.
I went with the Starburst All Pink because I love it.
Pretty sure someone will ask if you can use fresh strawberries instead of freeze dried.
In this case, I would not.
Simply because it would make the cheeseball too soggy.
P.S. It's a great day to buy my cookbook Holy Sweet!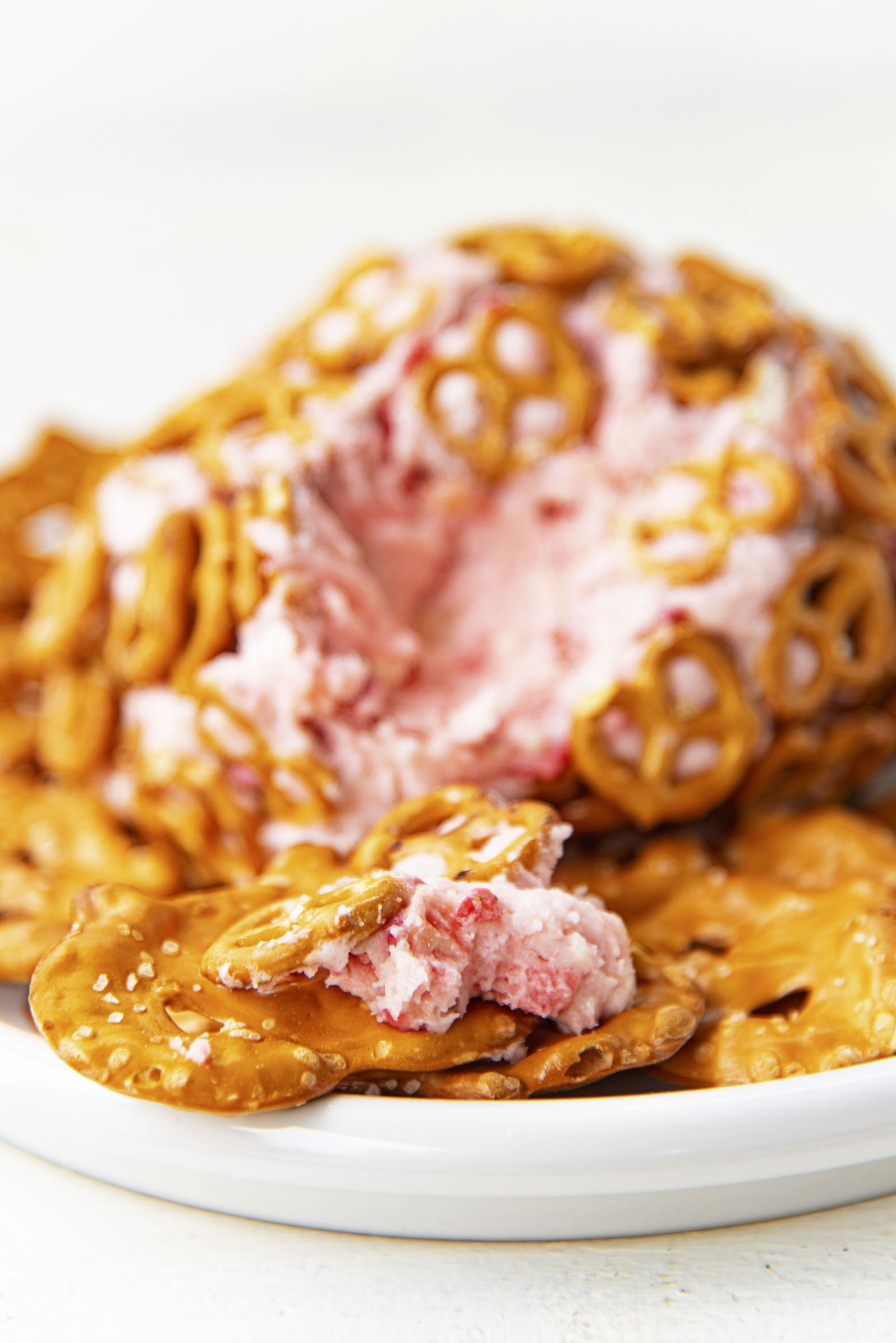 Want More Cheesecake Cheeseball Recipes?
Banana Split Cheesecake Cheeseball
Sugar Cookie Cheesecake Cheeseball
Gingerbread Cheesecake Cheeseball
Circus Animal Cookie Cheesecake Cheeseball
Cake Batter Cheesecake Cheeseball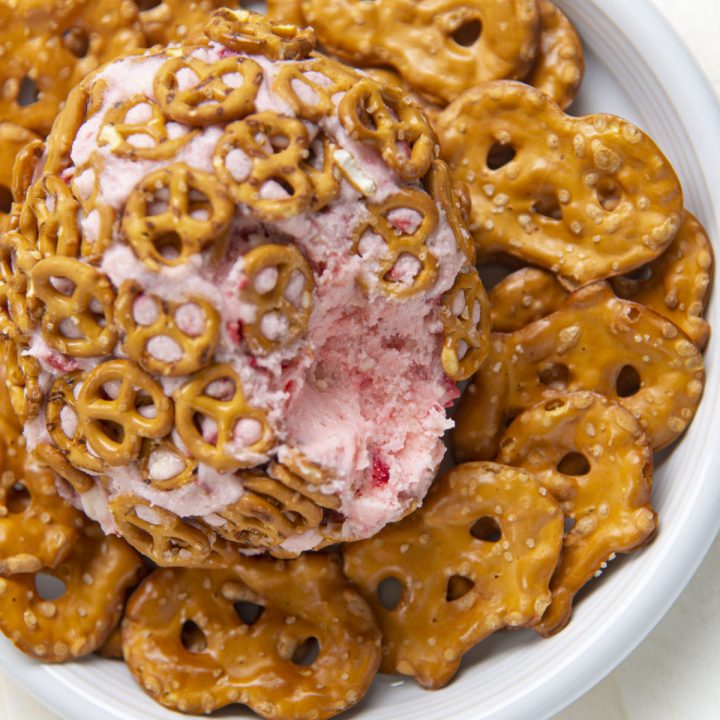 Strawberry Pretzel Cheesecake Cheeseball
Yield:
1 LARGE cheeseball or 2 small-ish cheeseballs
Ingredients
16 oz. cream cheese, at room temperature
1 cup unsalted butter, at room temperature
2 cups powdered sugar
1/2 tsp. vanilla extract
About 1 cup mini pretzels or crushed regular sized pretzels for rolling the ball in
Instructions
Using a stand mixer with a paddle attachment beat together the cream cheese and the butter until fully incorporated.
Add the gelatin, powdered sugar, and vanilla extract and beat until fully incorporated.
Beat in freeze dried strawberries until somewhat evenly distributed.
Lay out a piece of plastic wrap and scoop the cream cheese mixture onto it.
Do your best to form a ball, then wrap up the ball in the plastic wrap. Do an extra layer of plastic wrap to help it keep its shape.
Freeze for about 2 hours.
Take the ball out of the freezer and unwrap.
Place the pretzel pieces in a low shallow baking dish or jelly roll pan (I find a plate too small).
Roll the ball in the pretzel pieces making sure you cover as much of it as you can.
Wrap the ball back up into some plastic wrap and place in the fridge.
If not serving that day, place back in the freezer and then take out an hour before serving to come up to room temperature.
Serve with pretzel chips.