These Coffee Chocolate Chip and Glazed Donut Cupcakes have a coffee chocolate chip cupcake base topped with coffee buttercream and a glazed donut hole.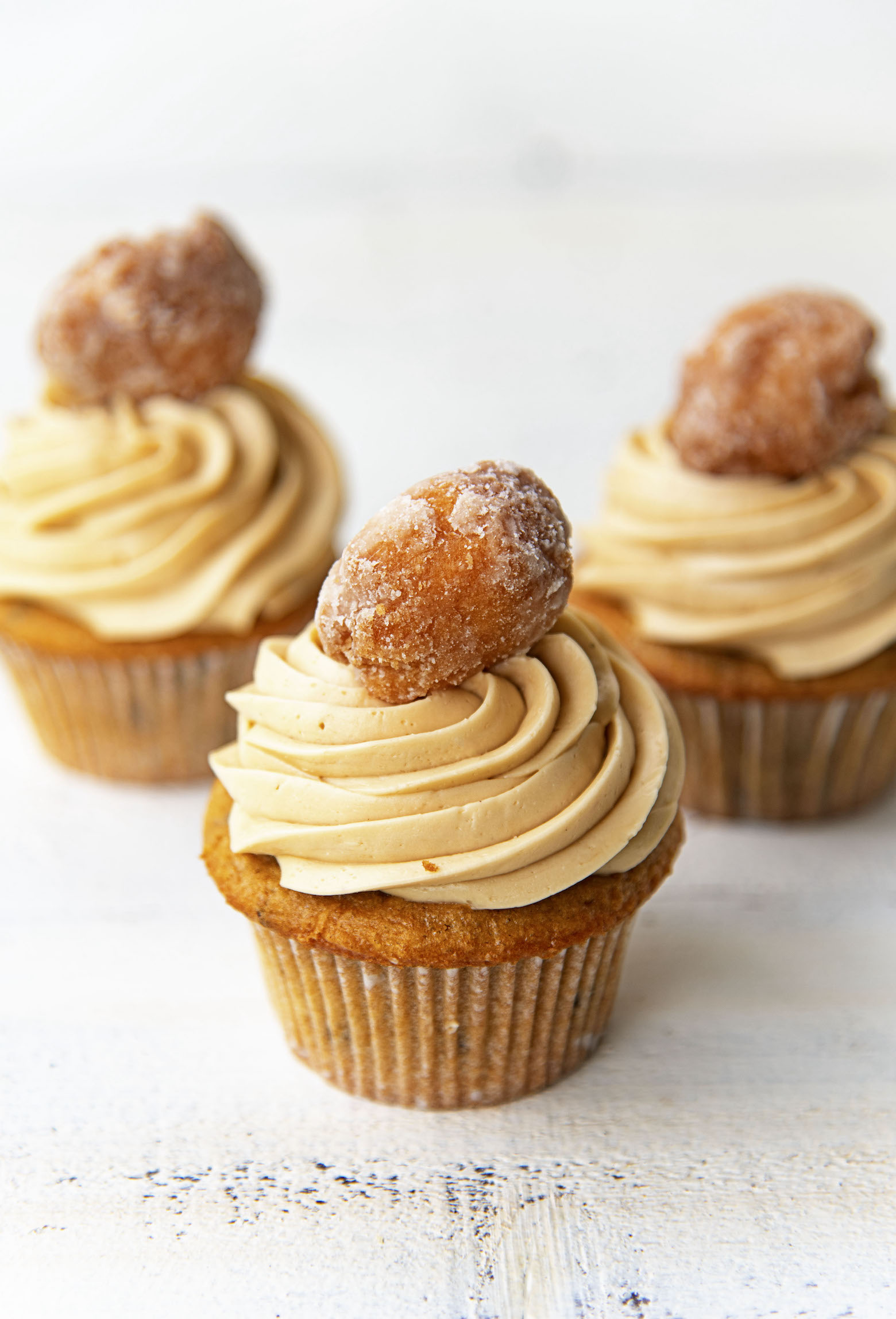 Ah coffee and donuts.
A combo that is a classic.
So why not make it into a cupcake?
Coffee Chocolate Chip and Glazed Donut Cupcakes to be exact.
These cupcakes have a coffee and chocolate chip base.
That is topped with a coffee flavored Swiss Meringue Buttercream.
And then topped with a glazed donut hole.
You can use whatever donut flavor you want.
I am just a glazed donut girl.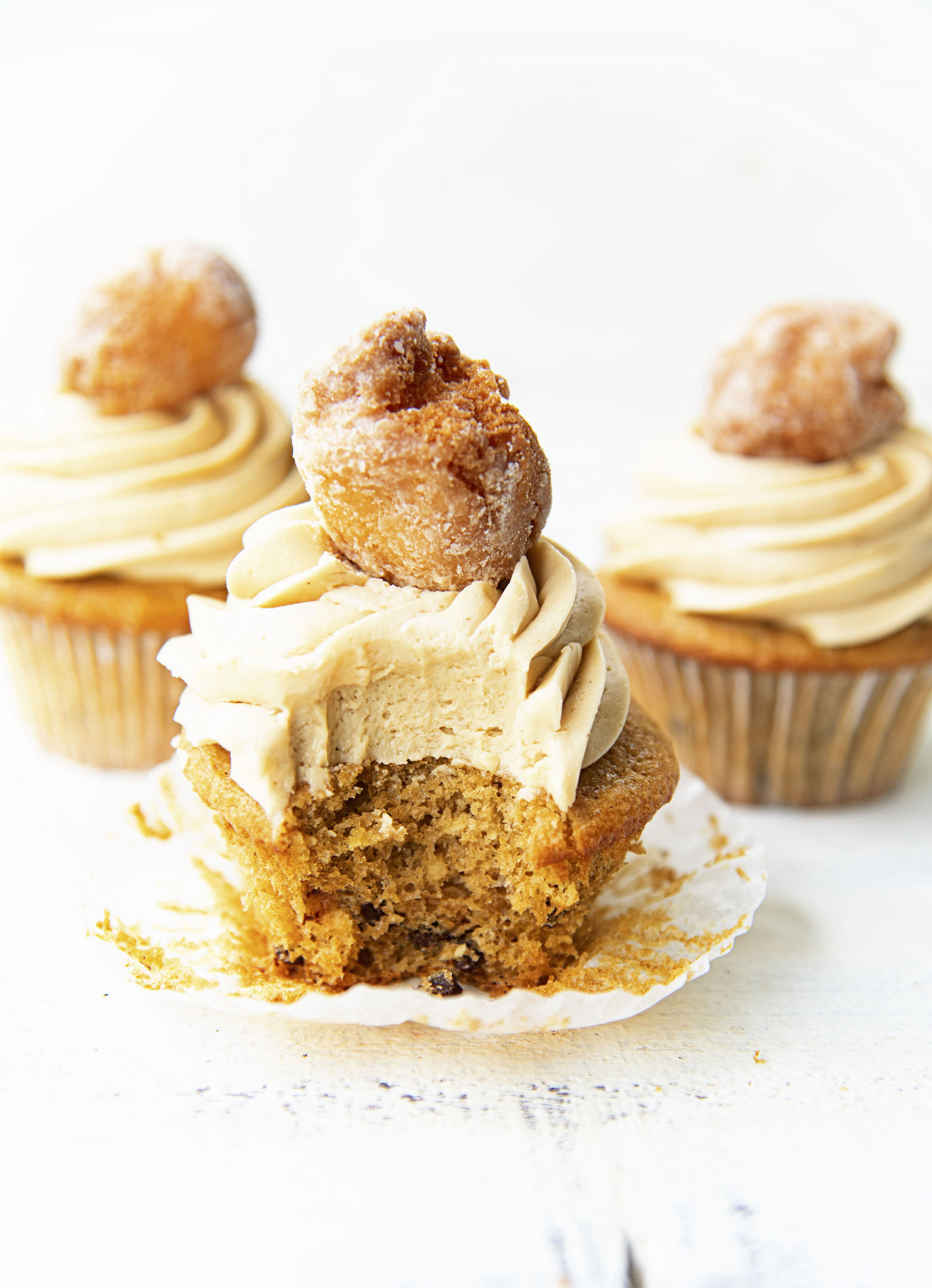 Tips for making perfect Swiss Meringue Buttercream:
Swiss Meringue Buttercream seems to scare people for many reasons.
First off you need a thermometer.
Which seems to scare people for some reason. You may see some recipes say you can eyeball the meringue mixture when it's in the saucepan I HIGHLY suggest you use a thermometer.
The other thing that scares people is how the frosting looks for most of the process. It makes people think they messed up when they did not.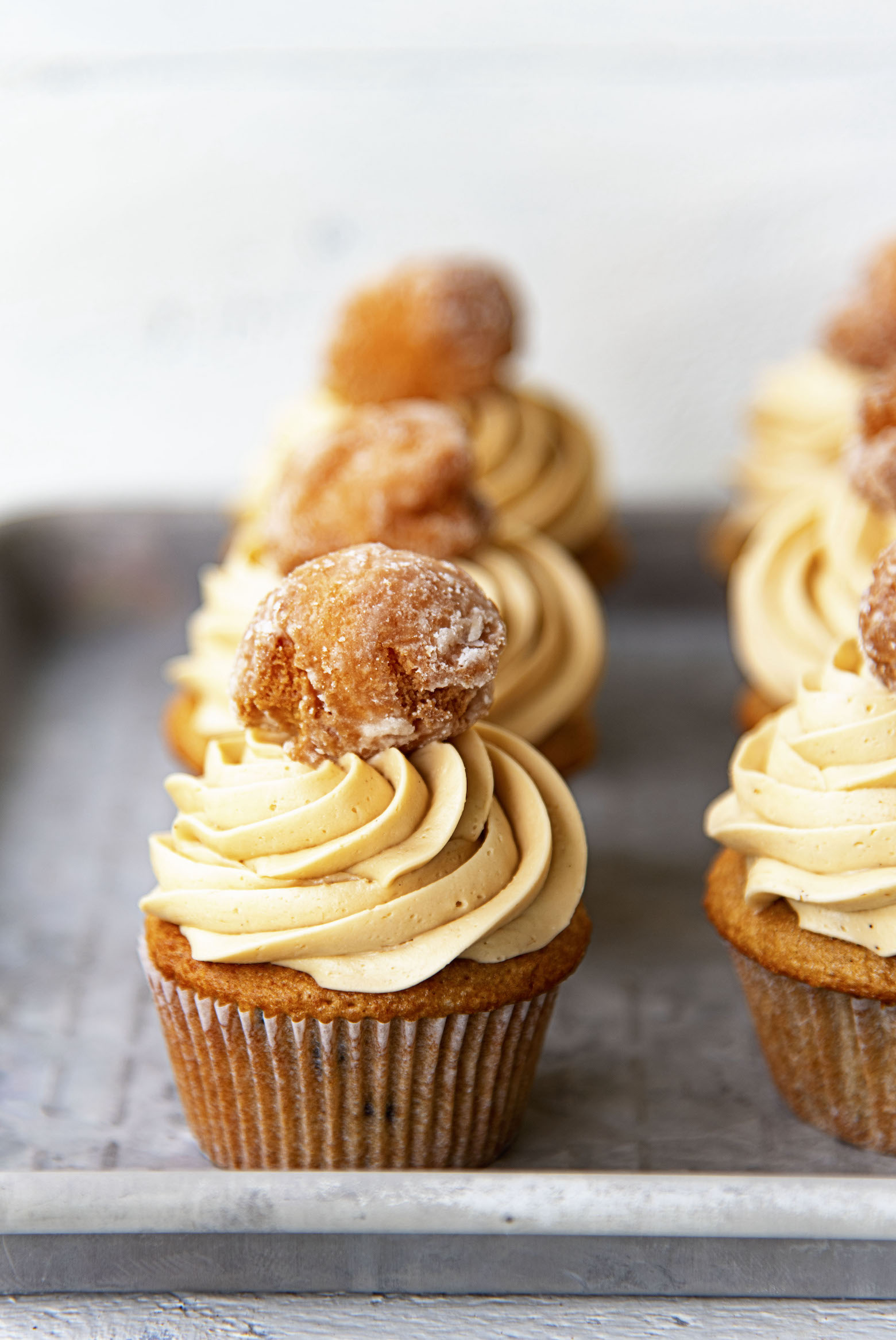 So let's see how to be more successful with it.
Start with a SUPER clean bowl.
The base of the frosting is a meringue. And meringues can not have any fat in them or they don't get fluffy.
So a clean bowl is super important.
This includes making sure there is NO yolk in your egg white mixture.
If there is than your meringue will not turn out.
The best way to ensure you don't have eggs in your mixture is to to separate the eggs one at a time into separate bowls and then pour the whites in as you go along.
It's kind of a pain but worth the time spent doing it.
Otherwise you could just be wasting a lot of ingredients.
Make sure your meringue is no longer warm.
If you add butter to a warm meringue you are going to get a gloppy soup of a frosting.
However, if that does happen just place it in the fridge for about 15 minutes.
That will firm the butter back up. Proceed as if that didn't happen. 😀
The butter will look curdled for quite some time.
When you are adding the butter to the meringue mixture at first the butter does not incorporate smoothly.
And you will panic. I used to panic so much when first making this frosting.
But I learned over time to relax and remember it will all come together. Because it does.
P.S. It's a great day to buy my cookbook Holy Sweet!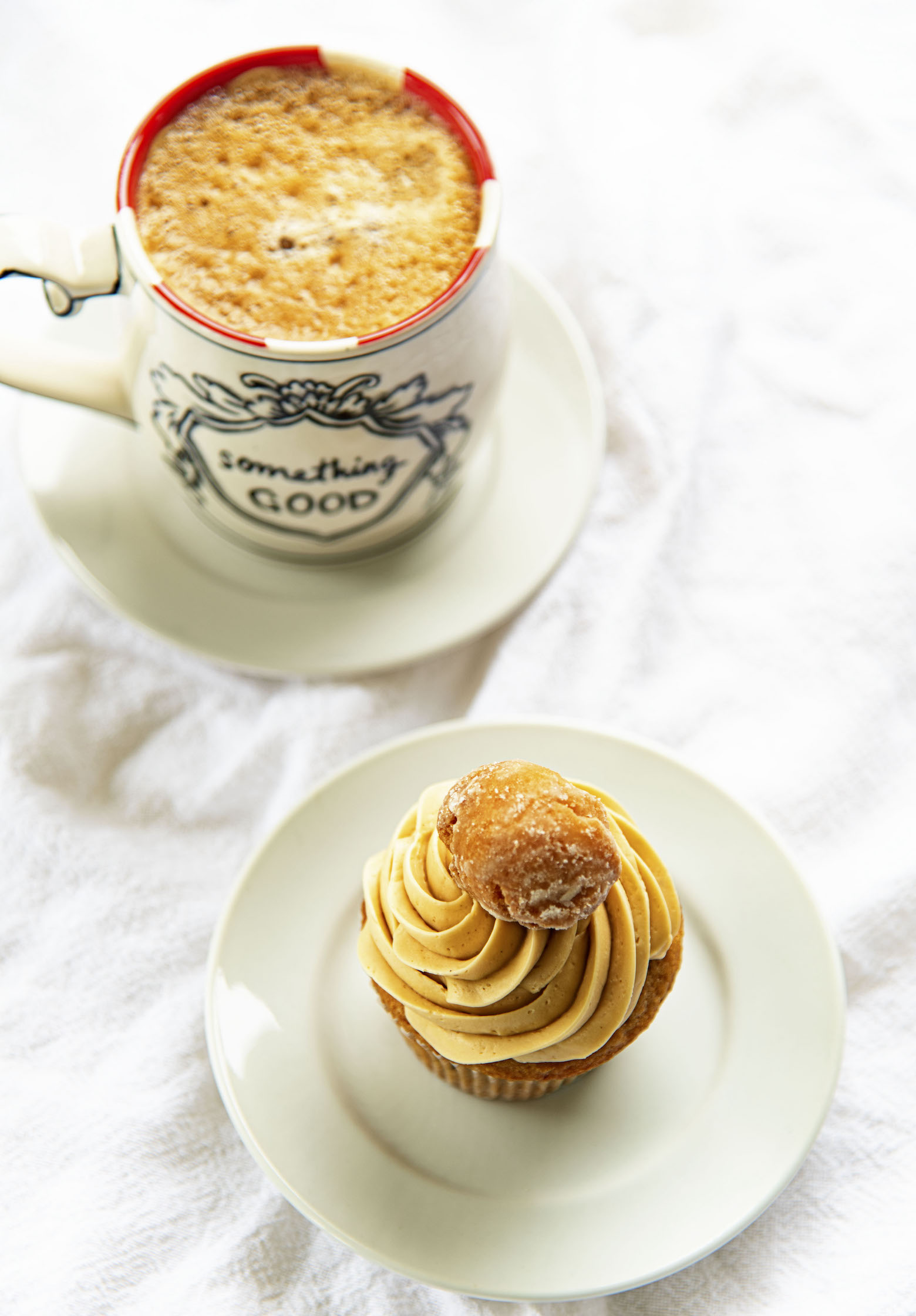 Want More Cupcake Recipes?
Chocolate Root Beer Float Cupcakes
Strawberry Pretzel Cream Cheese Cupcakes
Dark Chocolate Butterfinger Cupcakes
Strawberry Buttercream Neapolitan Cupcakes
Coffee Chocolate Chip and Glazed Donut Cupcakes
Ingredients
For the Cupcakes:
2 ¾ cups all-purpose flour
2 ½ tsp baking powder
1 tsp salt
2 tsp powdered coffee (I used Starbucks Via)
1 cup whole milk
1 TBSP vanilla extract
2 1/2 cups granulated sugar
1 cup vegetable oil
4 large eggs
3/4 cup sour cream
1 1/2 cups mini semisweet chocolate chips
For the frosting:
1 cup (about 9) egg whites
2 cups granulated sugar
3 cups unsalted butter, cubed and at room temperature
1/4 tsp. salt
2 tsp. powdered coffee
1 tsp vanilla extract
24 Glazed Donut Holes (for garnish)
Instructions
For the Cupcakes:
Preheat the oven to 350 F.
Line two 12-cup muffin tins with cupcake liners and set aside.
Sift together the flour, baking powder, salt, and powdered coffee and set aside.
Combine the milk and vanilla in a measuring bowl with a spout and set aside.
Combine the sugar, oil, and eggs in the bowl of a stand mixer fitted with the paddle attachment and beat on medium speed until well combined and slightly thickened.
Mix in the sour cream on medium speed until just combined.
Add half the sifted dry ingredients and mix on low until halfway combined.
Add half the milk and vanilla mixture and mix until just combined.
Add the other half of the flour mixture, beat, then add the rest of the milk mixture, and beat until just combined. Don't overmix.
Fold in the chocolate chips.
Fill 24 cupcake liners three-quarters full and bake for 19 to 21 minutes, or until a pick comes out almost clean and the center springs back slightly.
Cool the cupcakes in the pan for 10 minutes and then transfer to a wire rack to cool completely before frosting.
For the Frosting:
Place the egg whites and sugar in the metal bowl of a stand mixer and set over a small pot of simmering water (the bowl should not touch the water).
Heat, stirring occasionally, until mixture is 160F or hot to the touch.
Transfer bowl to stand mixer and beat on high speed with a whisk attachment to medium stiff peaks, about 8 minutes.
Reduce mixer speed to medium low and add butter a tablespoon at a time, letting it incorporate into the meringue for few moments before adding more. It will looks curdled and you will freak out. Don't worry it comes together when you continue to beat it.
Add the powdered coffee, vanilla extract, and salt and beat on high for 1-2 minutes until smooth and creamy.
Pipe frosting onto cupcakes and place a glazed donut hole on top of each cupcake.