Sugar Cookie lover? Cheesecake lover? This simple and amazing Sugar Cookie Cheesecake Cheeseball will be the hit of the party!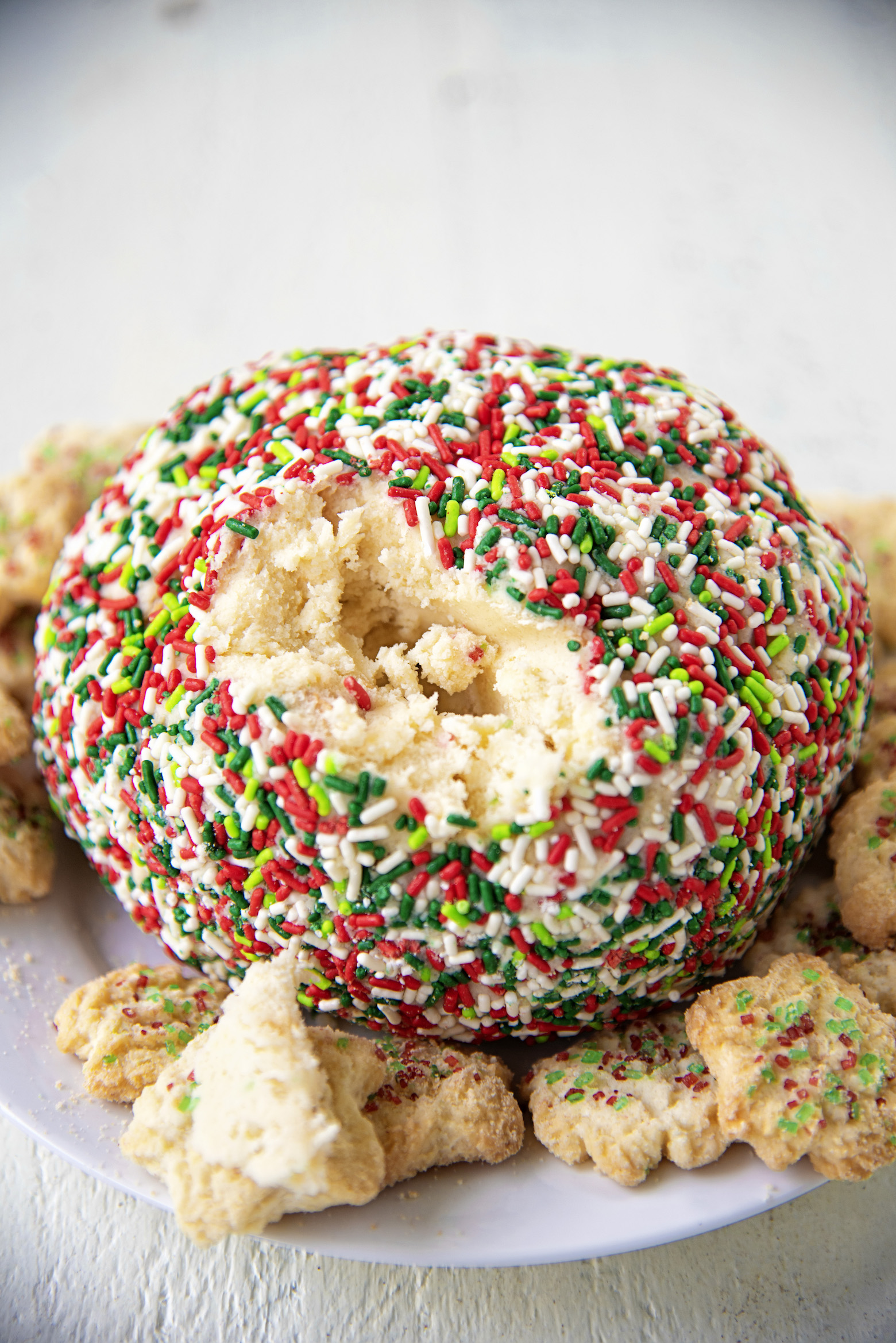 It's the season of parties…which I kind of wish it wasn't.
Because it's all crammed into a few weeks at a time.
How I wish more people would switch to having parties in January or August.
When people have less going on.
This year thanks to the cough that will not die I have missed out on the parties I was supposed to attend.
In fact, other than my hockey team's annual Ugly Sweater Game and drinking afterwards, I haven't done anything in the party realm.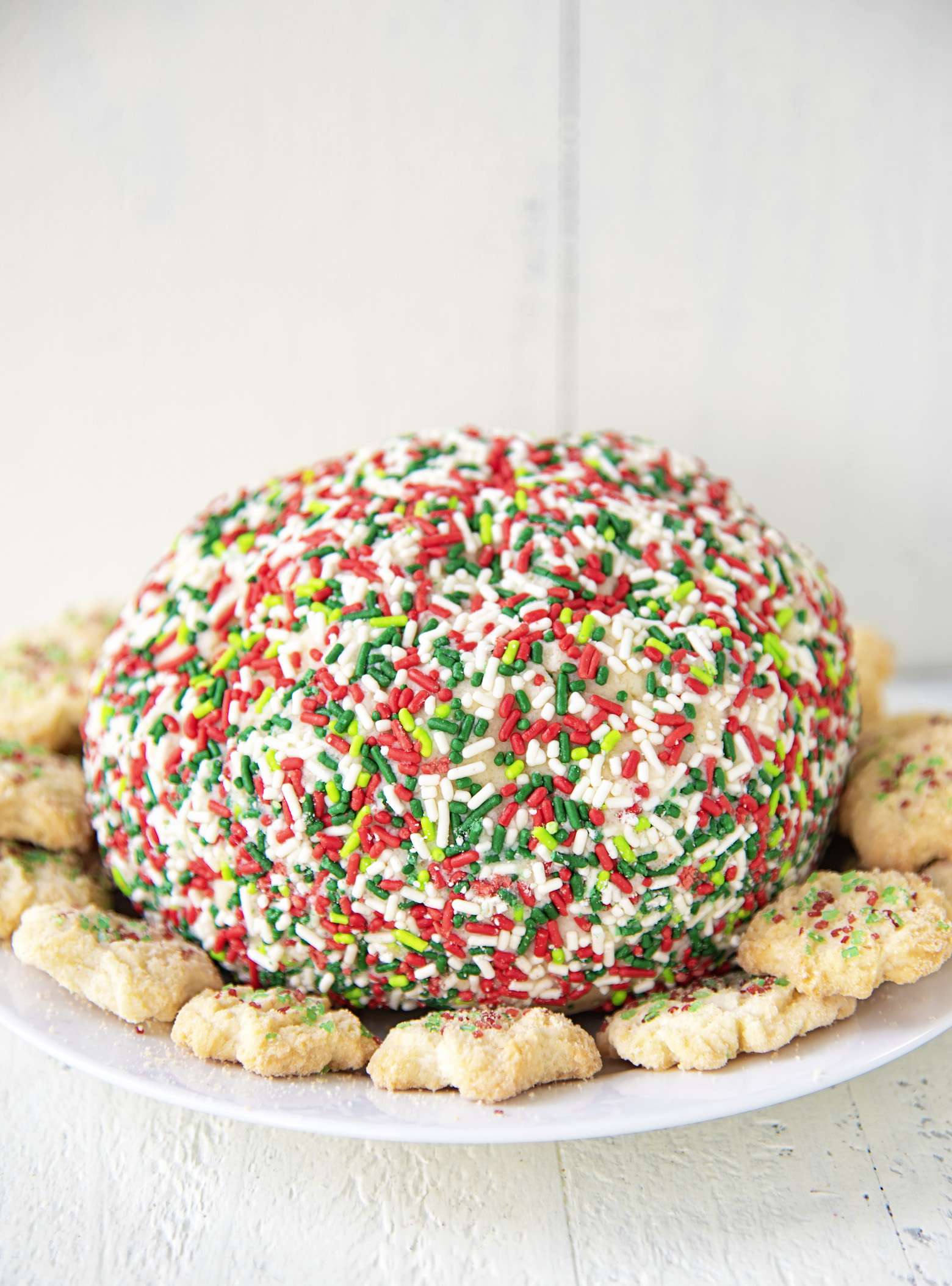 But just because I wasn't going to the party I still had friends ask if I could provide a treat for their party.
Which as long as they don't care that it's missing a piece I'm all for.
Because between baking for the blog and now a cookbook I have a lot of baked goods.
Especially because I have been rebaking a lot of things for the cookbook because number one I'm testing the recipes over and over.
And number two because my oven was messed up for so long that I want to make sure the bake times are correct.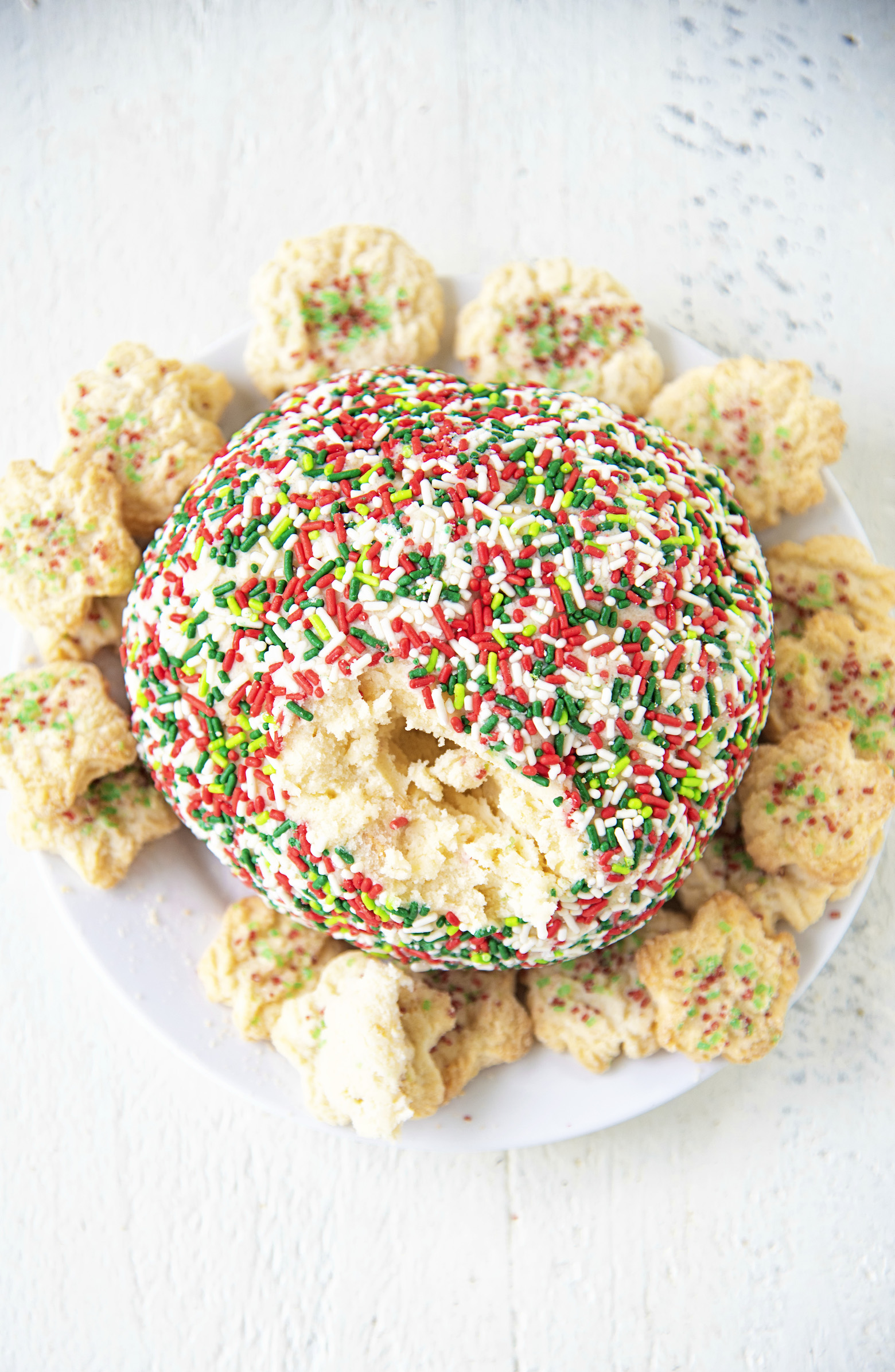 One thing people do ask for each year (and actually year round) is a cheesecake cheeseball.
I make them often (yes, there is one in the cookbook) and my Cake Batter Cheesecake Cheeseball is one of my most popular recipes on Pinterest.
Since I love sugar cookies so much I was rather surprised that I have not already made a Sugar Cookie Cheesecake Cheeseball.
But I have one now and that's all that matters.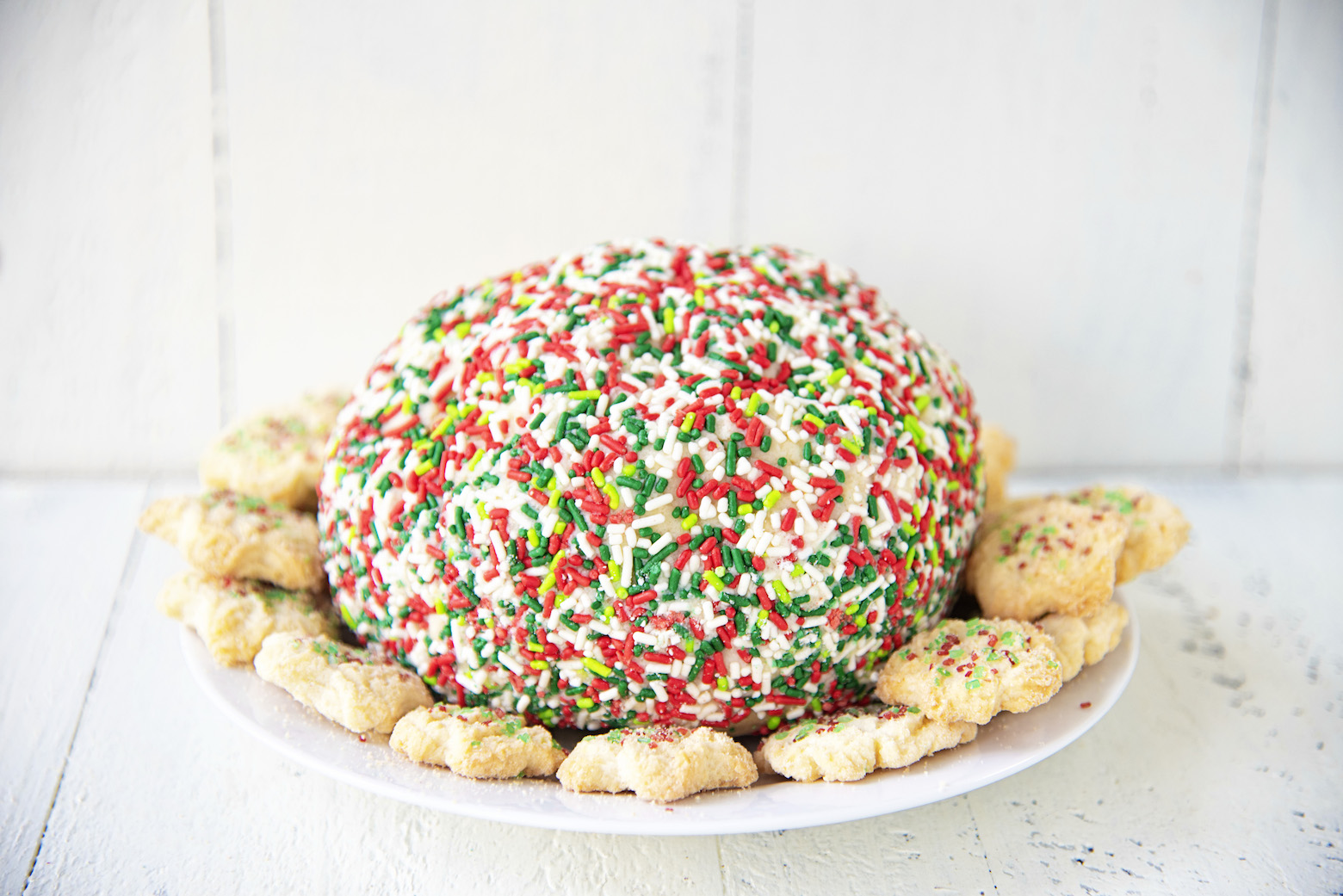 This recipe calls for the Buttery Sweet Dough Bakery Emulsion.
The link to buy is in the recipe…it's an Amazon affiliate link.
You don't have to have it but it does help add a little more sugar cookie flavor.
But with the addition of the sugar cookie mix AND sugar cookies you will be just fine without.
Make sure to roll your cheeseball in sprinkles because they make everything better.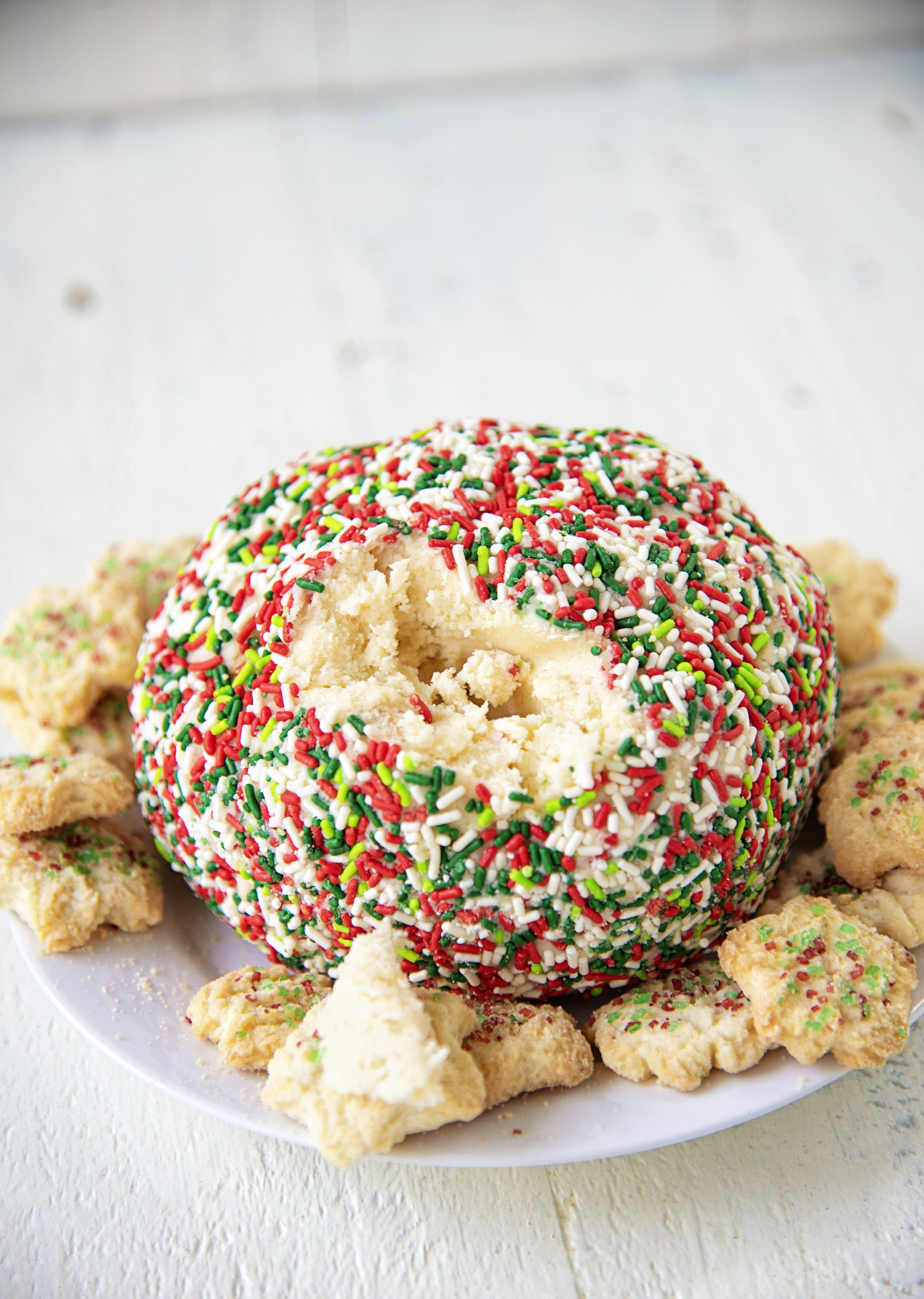 Want More Sugar Cookie Flavored Recipes?
Sprinkle Sugar Cookie Cheesecake Bars
White Chocolate Sugar Cookie Fudge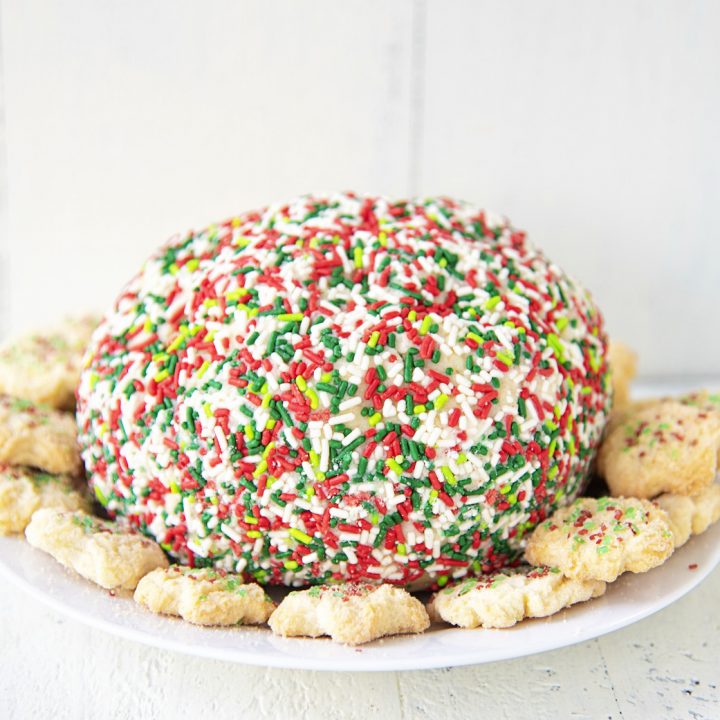 Sugar Cookie Cheesecake Cheeseball
Ingredients
16 oz. cream cheese, at room temperature
1 cup unsalted butter, at room temperature
1 package (about 3 cups) Sugar Cookie Mix (dry and heat treated)
½ tsp. vanilla extract
1 ½ cups powdered sugar
1 cup sugar cookies, finely crushed
sprinkles for decorating
Instructions
Using a stand mixer with a paddle attachment beat together the cream cheese and the butter until fully incorporated.
Add the cookie mix, sugar, Buttery Sweet Dough Bakery Emulsion, and vanilla extract and beat until fully incorporated.
With the mixer on slow, add the sugar cookie pieces, and mix until the cookies are distributed as evenly as possible.
Lay out a piece of plastic wrap and scoop the cream cheese mixture onto it.
Do your best to form a ball, then wrap up the ball in the plastic wrap. Do an extra layer of plastic wrap to help it keep its shape.
Freeze for about 2 hours.
Take the ball out of the freezer and unwrap.
Place the sprinkles in a low shallow baking dish or jelly roll pan (I find a plate too small).
Roll the ball in the sprinkles making sure you cover as much of it as you can.
Wrap the ball back up into some plastic wrap and place in the fridge.
If not serving that day, place back in the freezer and then take out an hour before serving to come up to room temperature.
Serve with assorted cookies.