Cake batter lover? Cheesecake lover? This simple and amazing Cake Batter Cheesecake Cheeseball will be the hit of the party!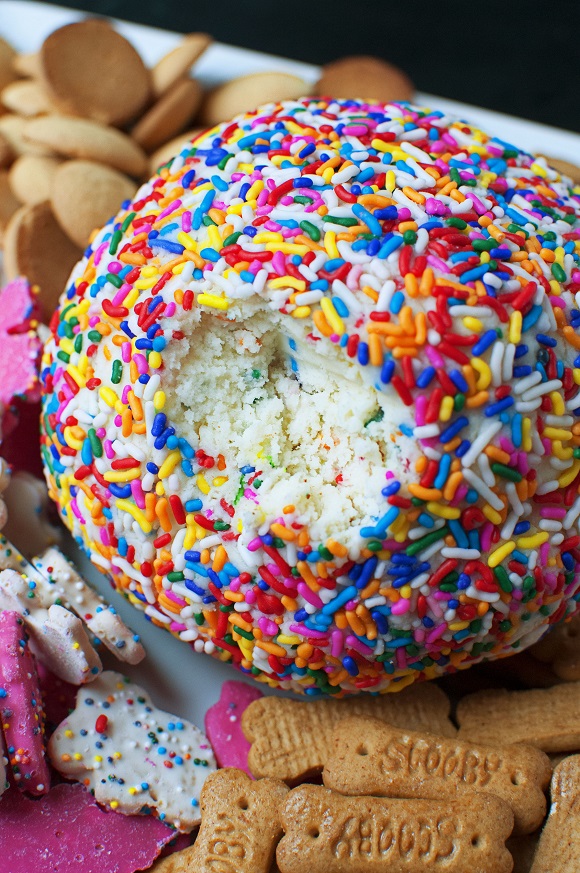 The Seahawks lost yesterday and many a person in the Seattle area (and elsewhere I am sure) were crushed.
Now I had nothing but hockey players over at my house on Super Bowl Sunday so the response when we lost was "well that's a bummer" followed up with "our games next Sunday, right?"
So not a lot of heartache going on there.
Heartburn maybe, but not heartache. 🙂
I was playing hostess this year and so I didn't even really notice much of the game other than when people would boo I knew the other team scored and when they cheered the Seahawks had scored.
And when they were all saying awww it was because Puppy Bowl was on.
Which we were all bummed to learn that Puppy Bowl had a fantasy league that we didn't know about and wanted to get in on.
Next year I guess.
This years Super Bowl fell on my husband's birthday.
Normally we play hockey each year in the morning (and we did that again) but then we go to someone else's for Super Bowl.
But this year since it was on MDP's birthday that meant we had his two teens and his former stepson for the day as well.
And they weren't real keen on going to someone else's house so we decided to have people over here.
Which was nice as we were forced to clean that house then. 😀
So we figured why not just have some of the guys from the hockey team come on over since we have a good amount of seating and a nice TV for watching sports.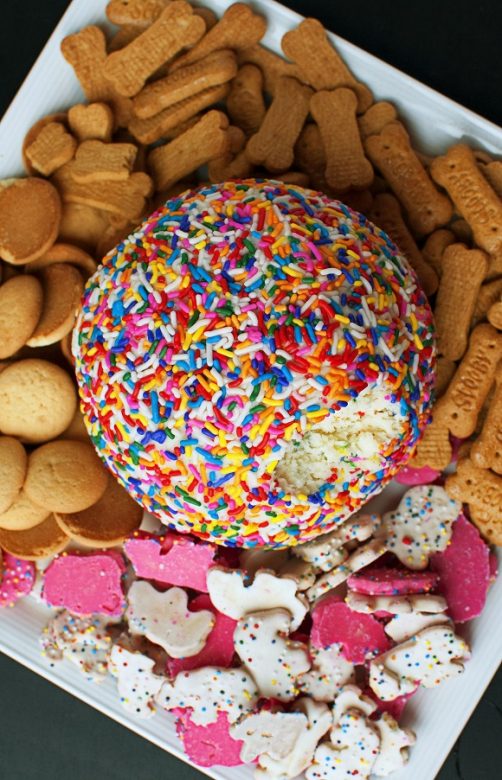 It was a nice little gathering.
I was impressed that they ate 3 pounds of bacon wrapped little smokies.
3 pounds of meatballs.
2 pounds chicken wings.
Tater tot poutine.
Cupcakes (that matched the birthday cake).
Chips.
Trail mix,.
Brownies.
And this Cake Batter Cheesecake Cheeseball that ended up being the surprise hit of the party.
It was originally going to be an Oreo Cheesecake Cheeseball but I thought to myself if I'm going to be the one with all the leftovers and no one eats this I'm going to want cake batter flavor…that and I wanted something that could help contribute to the Year of Sprinkles.
The guys described it part cheesecake, part cake, part frosting…all good.
And it is.
I served it with Circus Animal Cookies (my favorite with it), Scooby Snacks (which are graham crackers not real dog bones), and vanilla wafers.
This is now a permanent fixture on my party serving list!
You will see in the recipe you need to heat treat the cake mix.
Cake mix should be heat treated to kill any potential bacteria in raw flour, you can quickly heat treat it by spreading it out onto a baking sheet and toasting it at 350°F for 5 minutes.
Last but not least…it's a great time to order my cookbook. 😀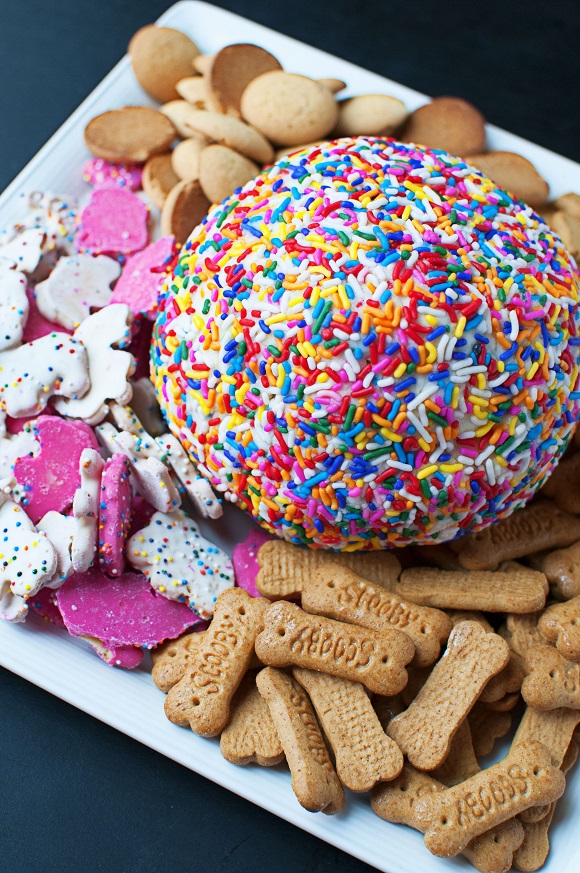 Want More Cake Batter Recipes?
Giant Cinnamon Roll with Cake Batter Frosting
Crumb Topped Cake Batter Blondies
Vanilla Cake Batter Swirl Cookies
Cake Batter Rice Krispie Treats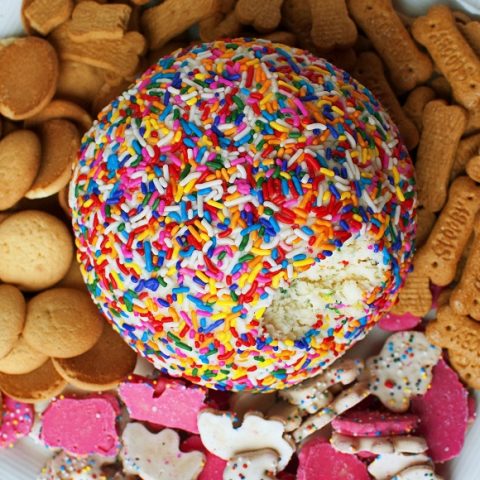 Cake Batter Cheesecake Cheeseball
Ingredients
16 oz. cream cheese, at room temperature
1 cup unsalted butter, at room temperature
1 package (about 3 cups) Funfetti cake mix (heat treated)
½ tsp. vanilla extract
1 ½ cups powdered sugar
Instructions
Using a stand mixer with a paddle attachment beat together the cream cheese and the butter until fully incorporated.
Add the cake mix, sugar, and vanilla extract and beat until fully incorporated.
Beat in ½ cup sprinkles until somewhat evenly distributed.
Lay out a piece of plastic wrap and scoop the cream cheese mixture onto it.
Do your best to form a ball, then wrap up the ball in the plastic wrap. Do an extra layer of plastic wrap to help it keep its shape.
Freeze for about 2 hours.
Take the ball out of the freezer and unwrap.
Place the sprinkles in a low shallow baking dish or jelly roll pan (I find a plate too small).
Roll the ball in the sprinkles making sure you cover as much of it as you can.
Wrap the ball back up into some plastic wrap and place in the fridge.
If not serving that day, place back in the freezer and then take out an hour before serving to come up to room temperature.
Serve with assorted cookies.