This Red Swedish Fish Cocktail uses real Swedish fish infused into vodka with a berry liqueur and cherry juice.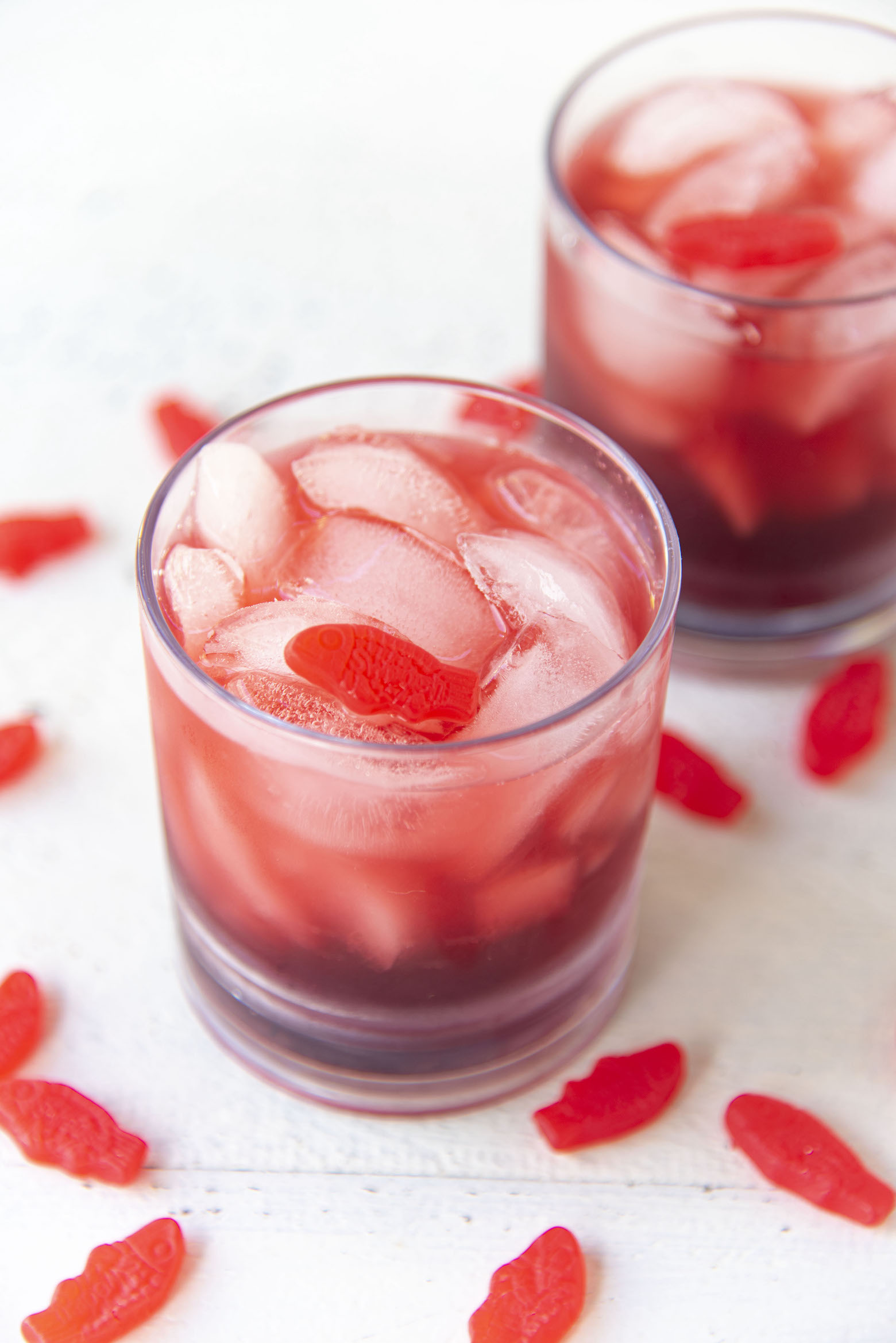 Longtime readers know that Swedish Fish is one of my top 5 of all time favorite candies.
A few years ago when wanting to make Swedish fish flavored fudge it started a discussion as to what flavor are Swedish fish?
The red flavor that is.
Some people heard a rumor it was lingonberry.
Others said a mix of cherry and lingonberry.
I think it's a mix of the lingonberry and cherry with lingonberry being the predominant flavor.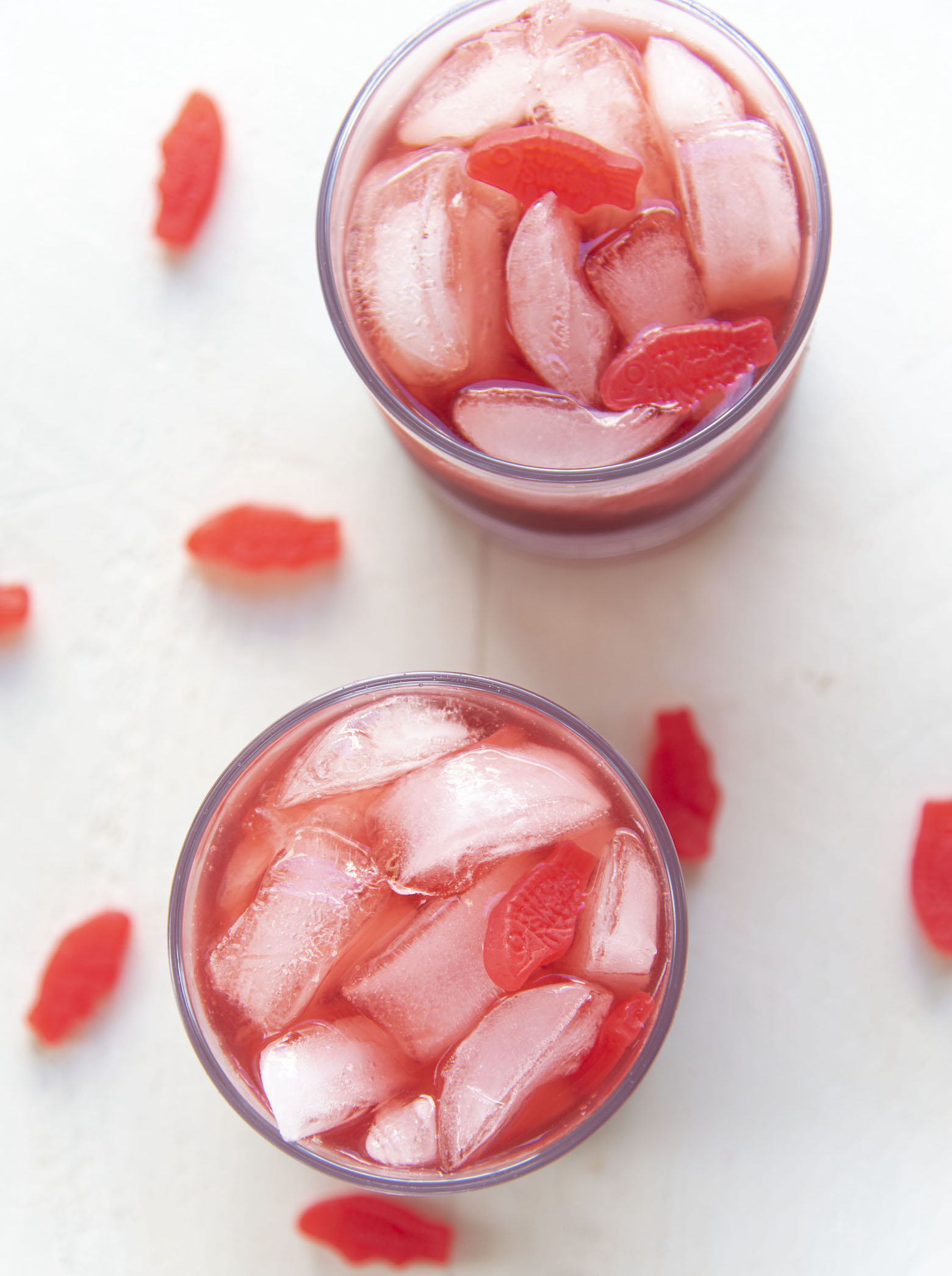 In looking for the flavor I found Wizard labs carried a red fish flavoring which comes very close to the actual flavor.
I used that in my fudge and caramels.
But not everyone wants to search down specialty ingredients.
And you can find Swedish fish almost anywhere.
Heck they even made Swedish Fish Oreos one time.
Those were interesting.
If you are the type of person who wants to make a Red Swedish Fish Cocktail you probably already have some in your house. 🙂
I know I do.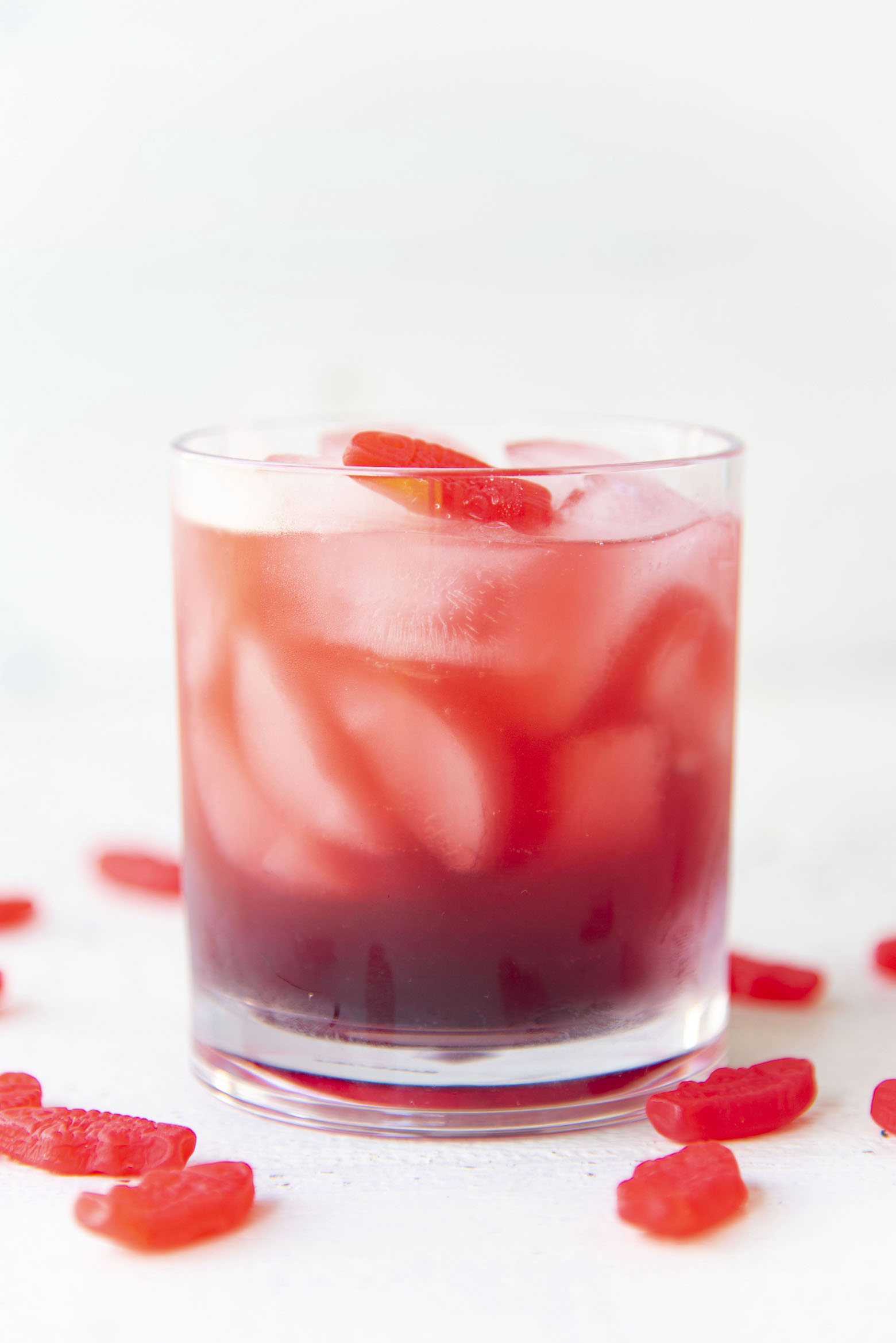 To make this cocktail you are going to have to go to the extra step of infusing the Swedish fish into the vodka.
Years ago Pinnacle Vodka made a Red Fish flavor but sadly the no longer carry it.
So infuse we must.
Which is basically just letting them dissolve overnight in the vodka.
You can discard or eat the fish…your choice.
And they are Vegan so that's a plus (yes, Swedish fish are vegan!).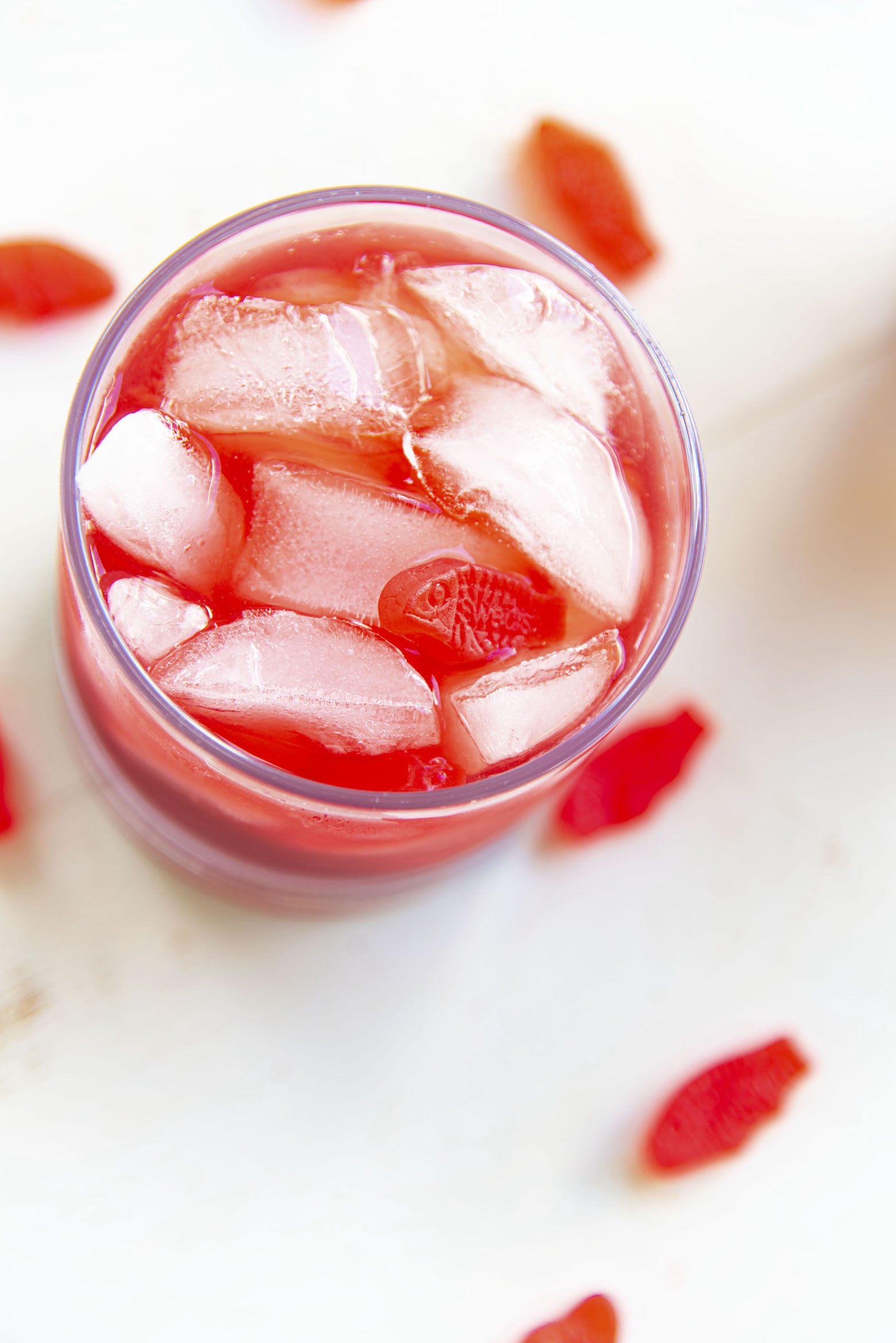 Ideally I would have liked to have used a Lingonberry liqueur in this.
Which they do make.
But I could not find.
Our stores do carry a Loganberry liqueur and that is what I used.
If you can find either of those I say go for a raspberry liqueur.
So cheers to all the Swedish Fish lovers out there!
And last but not least it's a great day to buy my cookbook.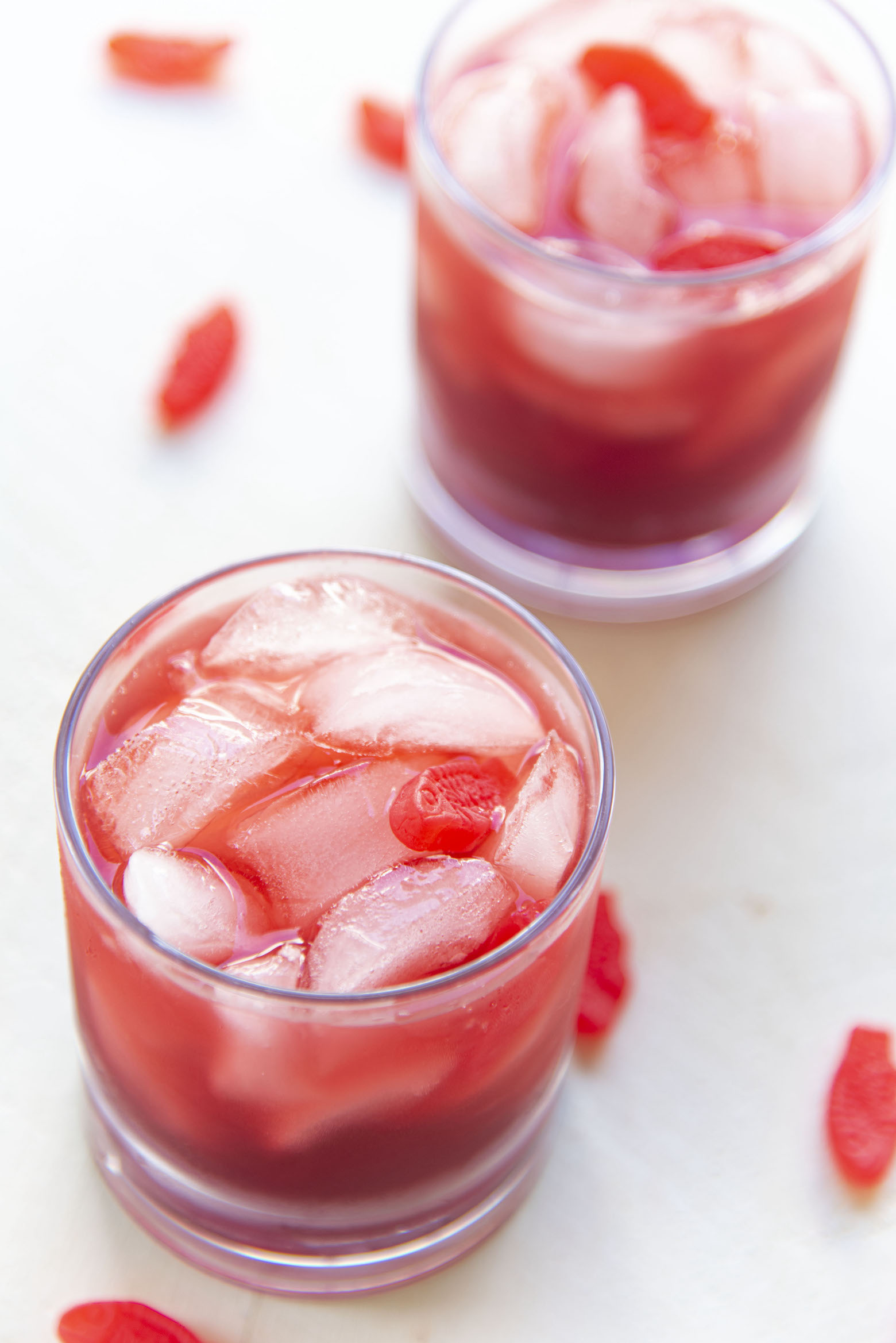 Want More Cocktail Recipes?
Meyer Lemon-Lime Drop Cocktail
Raspberry Lemonade Sorbet Cocktail
Boozy Huckleberry Lemonade Sipper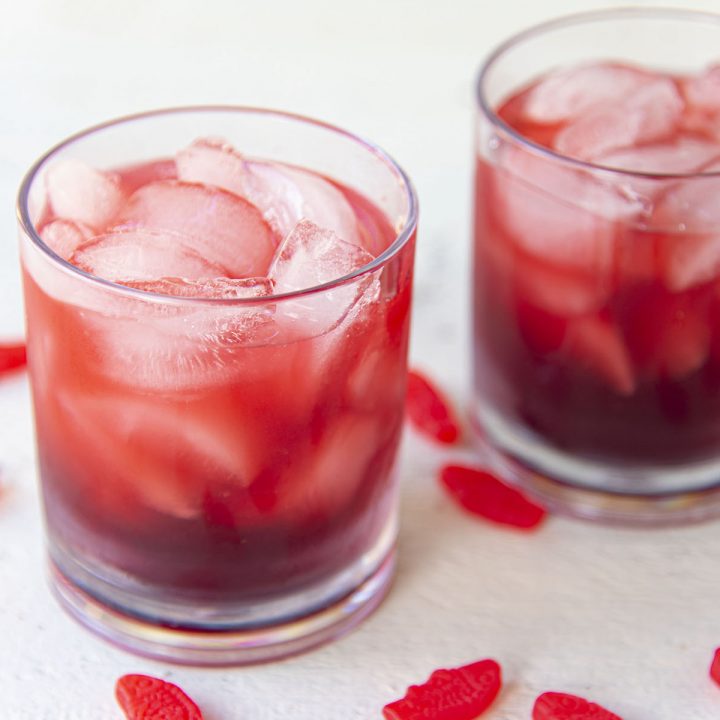 Red Swedish Fish Cocktail
Ingredients
1 cup red Swedish fish (full size or mini)
1 cup vodka
1/2 cup cherry juice
1/4 cup Loganberry Liqueur (or raspberry liqueur)
Instructions
The night before you make the cocktail add the Swedish Fish and the vodka in a airtight container.
Shake the container from time to time to agitate the fish.
The next morning you should have a pink colored vodka. The fish don't really dissolve so strain the vodka out and discard the fish. Or eat them. 🙂
Fill glasses to slightly above rim with cubed ice.
Add all ingredients to the glass and stir slowly.
Garnish with Swedish Fish if desired.