This Easy Vegetarian Reuben Casserole has layers of cheese, pickles, beets, and thousand island dressing all baked with marble rye bread.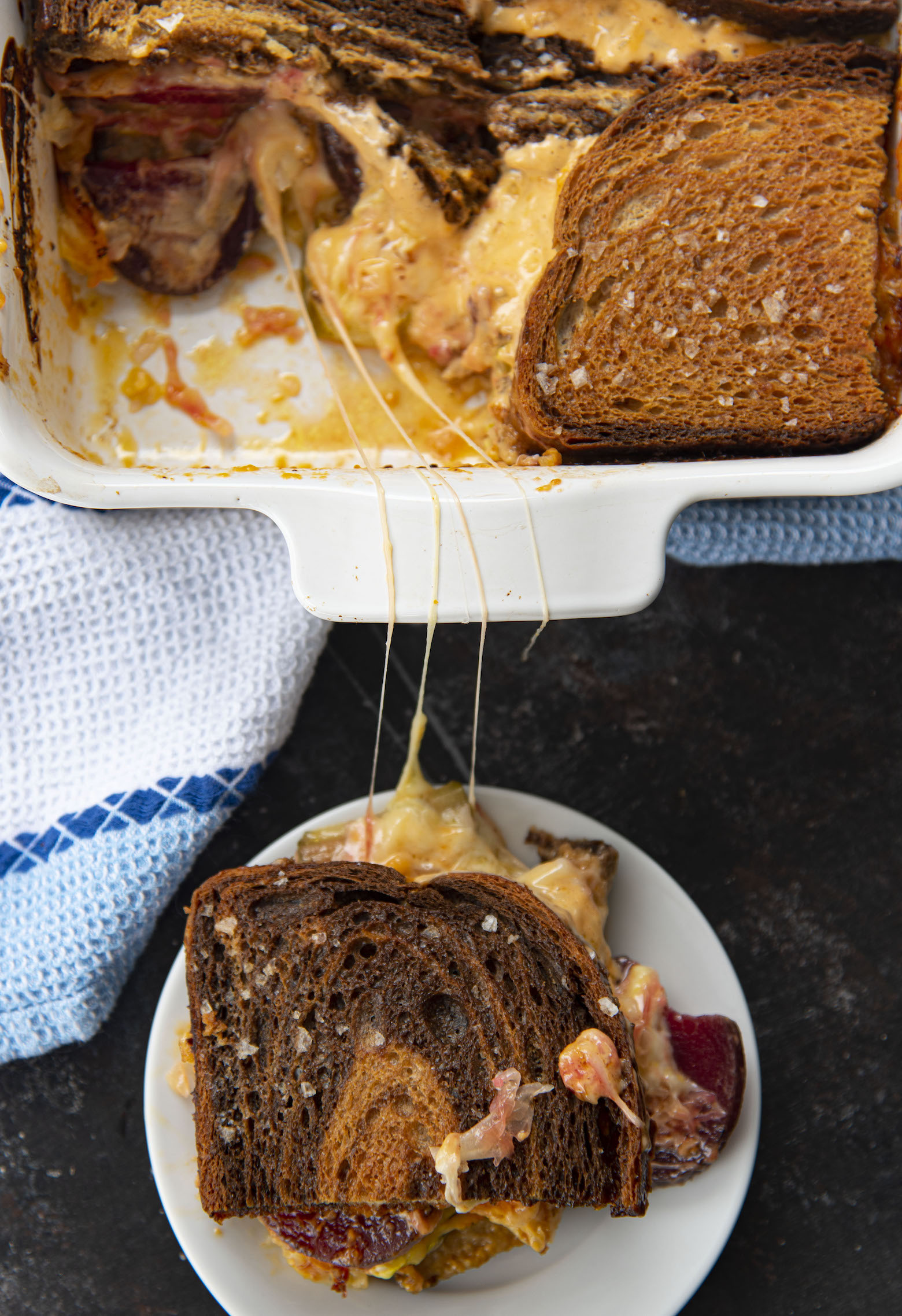 What do you eat is probably the most asked question I get from friends since giving up meat.
I think they picture me eating a pile of green beans or a salad at every meal.
Don't get me wrong…I love a good salad, but I don't eat a salad every day.
Mostly I just make meals I use to and substitute the meat out.
Sometimes that is easier than said than done.
But I try.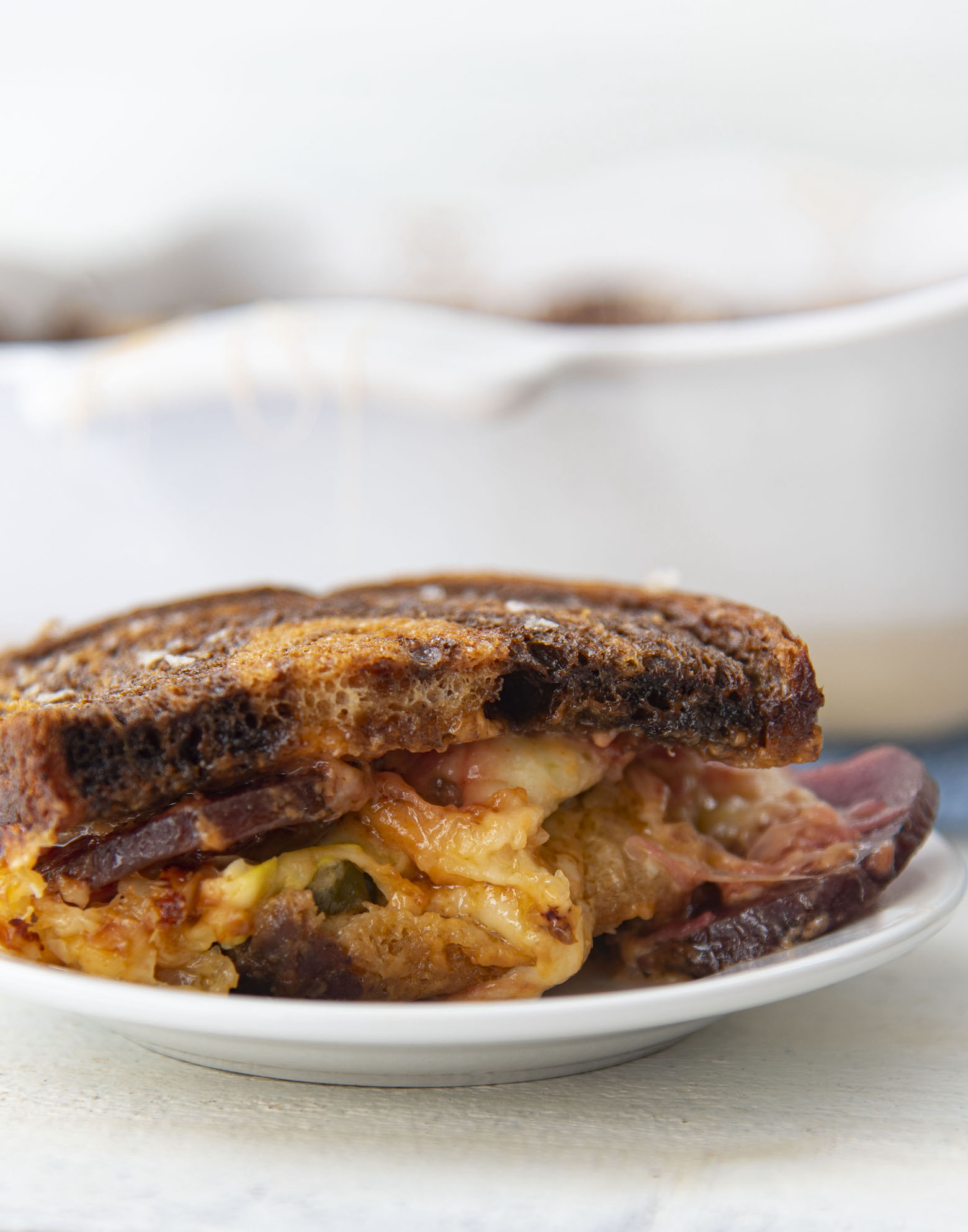 My husband came home from work one day and commented that he had a beet Reuben and it was really good.
It sounded good and it had me searching.
Searching to see if I could make the beets like pastrami.
And you can.
But honestly I have tried this both ways and you just don't notice that much of a difference.
So you can cure your beets if you want to but you don't have to.
And if you are a meat eater you can of course add pastrami.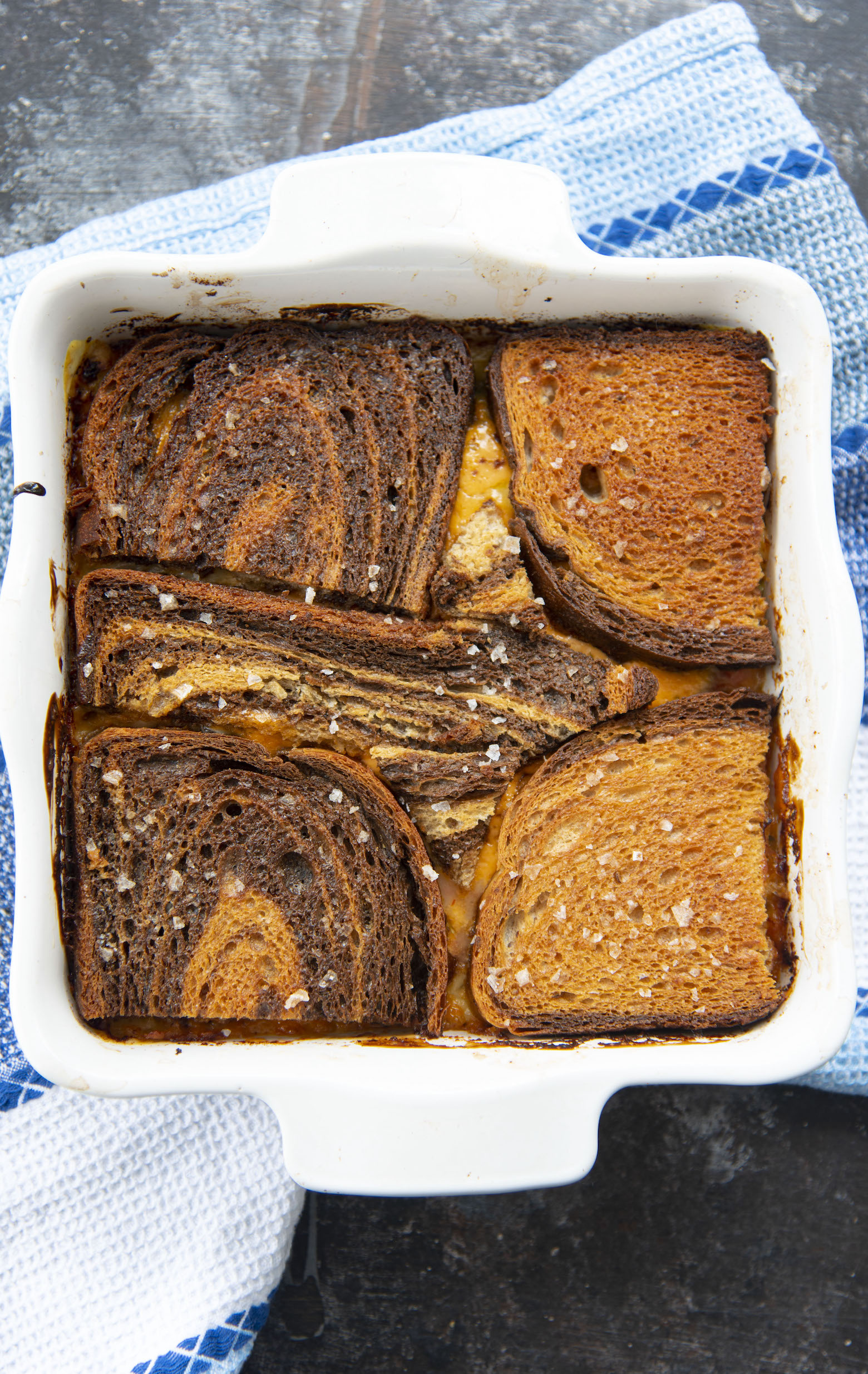 My Grilled Cheese Tomato Soup Casserole was super popular.
So I decided instead of just recreating the sandwich my husband had I could make it into a Easy Vegetarian Reuben Casserole.
Which is now part of our monthly dinner rotation.
We both like pickles with our Reubens but if you are not a pickle fan you can certainly omit them.
You can also swap around the cheeses.
Though I fully suggest that you keep at least one layer Swiss.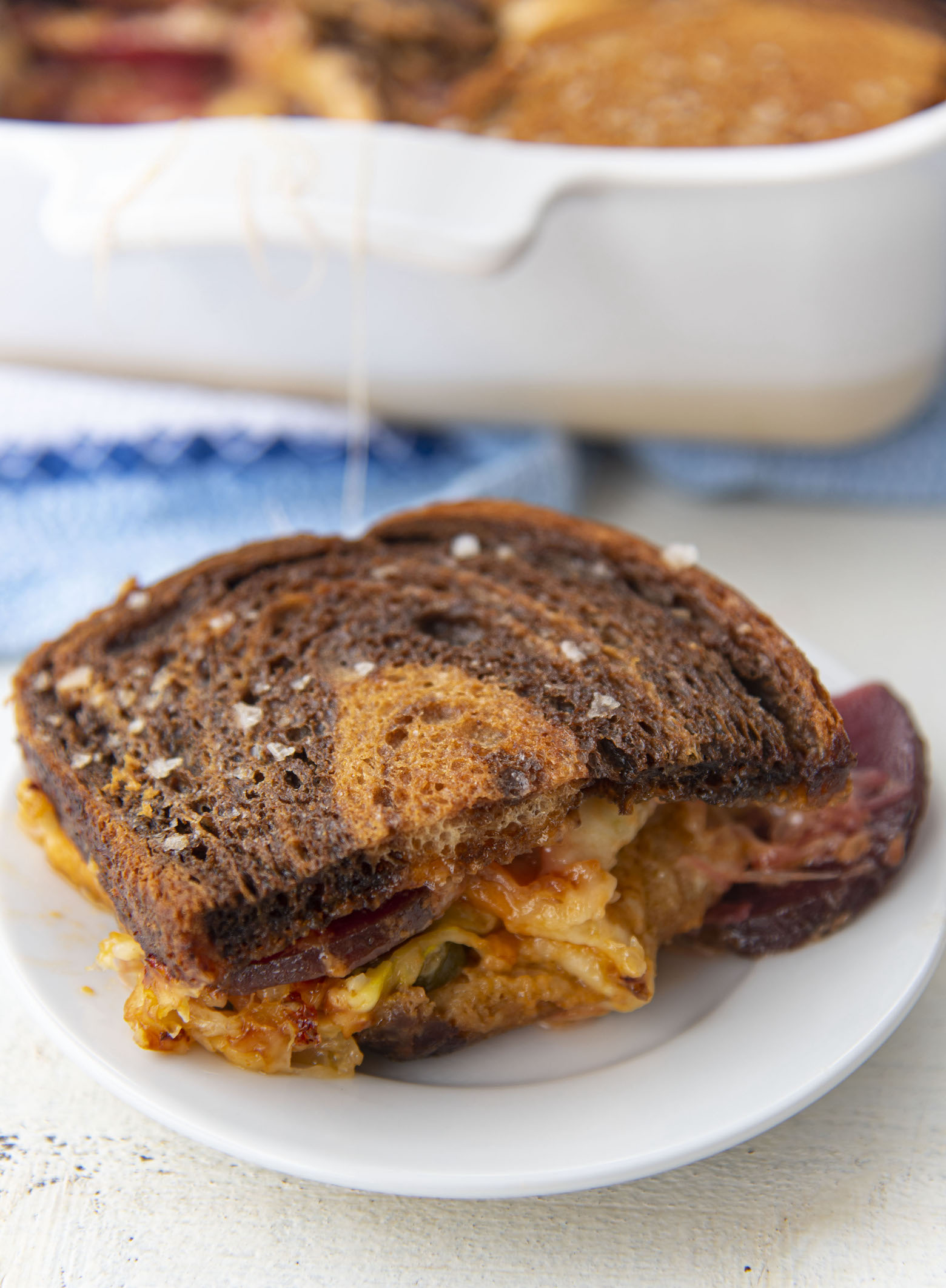 As far as bread goes I went with the marbled rye mostly because of the photos.
We normally eat a Jewish Rye which has a little more caraway seed flavor.
But that's really a preference thing.
P.S. It's a great day to buy my cookbook Holy Sweet!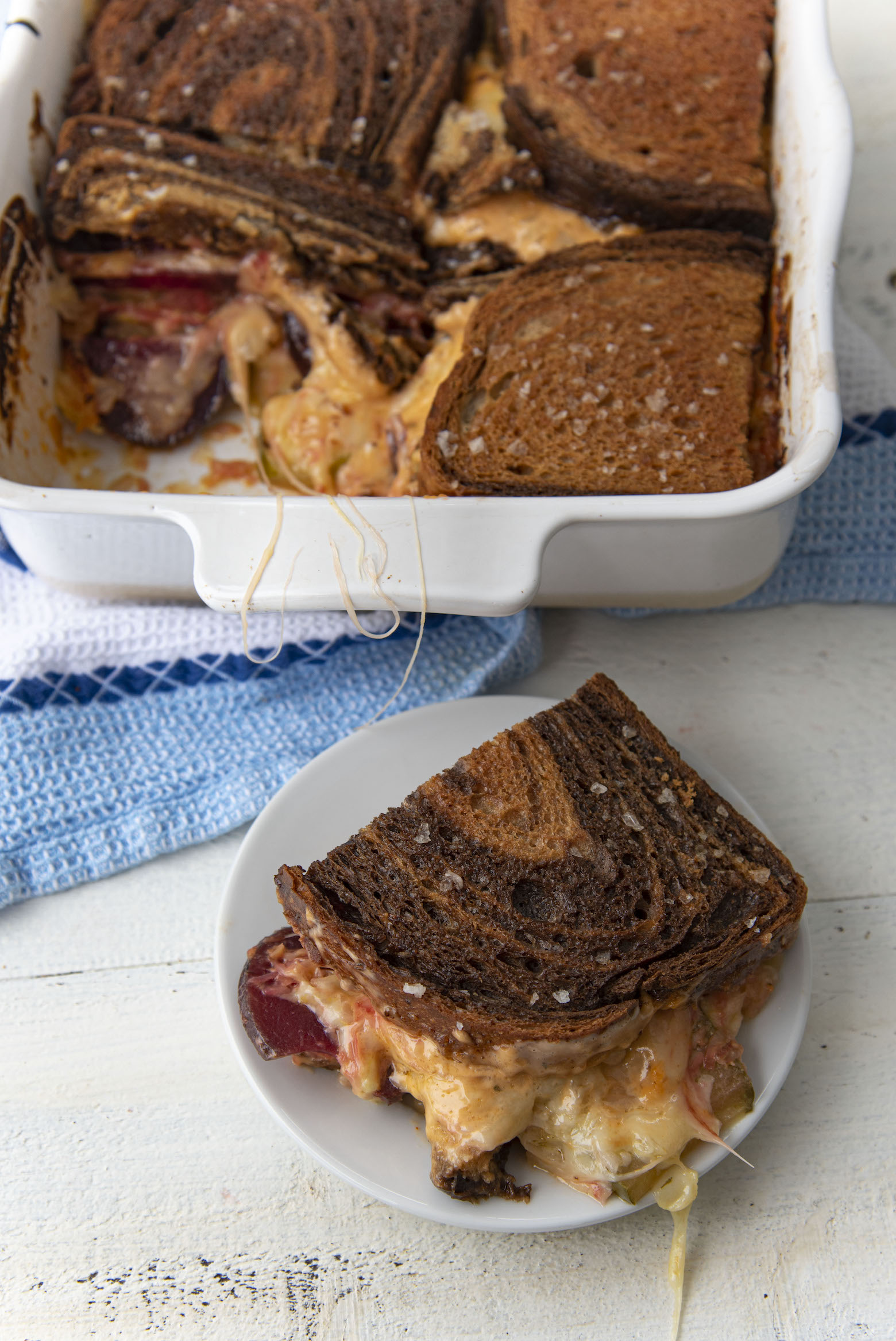 Want More Vegetarian Meal Ideas?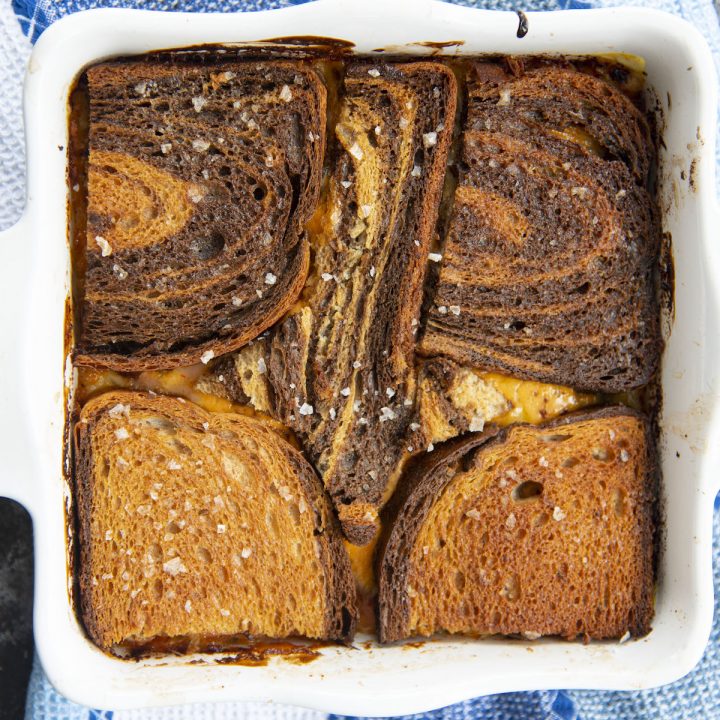 Easy Vegetarian Reuben Casserole
Ingredients
12 slices marble rye bread
1/2 cup unsalted butter
1 cup thousand island dressing
12 slices swiss cheese
1 cup sauerkraut
6 slices slice white cheddar cheese
2 cooked medium beets thinly sliced
12 thinly sliced dill pickles (I used Stackers)
Salt and pepper to taste
Instructions
Preheat oven to 400F.
Take half of the butter and spread it on six of the slices of marble rye bread.
Cut the slices of bread into rectangles and squares (save the leftover odd shaped ones for croutons) and place them in a single layer, butter side down, in the bottom of a 9 x 13 inch baking dish.
Spread half the thousand island dressing evenly over the bread slices in the baking dish.
Layer 6 slices of Swiss cheese on top of the dressing.
Spread the sauerkraut evenly on top of the Swiss cheese.
Layer 6 slices of white cheddar cheese on top of the sauerkraut.
Layer the sliced pickles on top of the cheddar.
Top with a layer of the beets.
Spread the remaining thousand island dressing over the beets and then cover that with the remaining 6 slices of Swiss cheese.
Spread the remaining six slices of bread with butter and cut them to fit into the dish.
Place the pieces of bread on top of the cheese and bake for 30-33 minutes. You want the bread browned.
Sprinkle with sea salt and serve warm.