This Crispy Sesame Cashew Tofu is a mashup of my two favorite Chinese food dinners of sesame tofu and cashew tofu.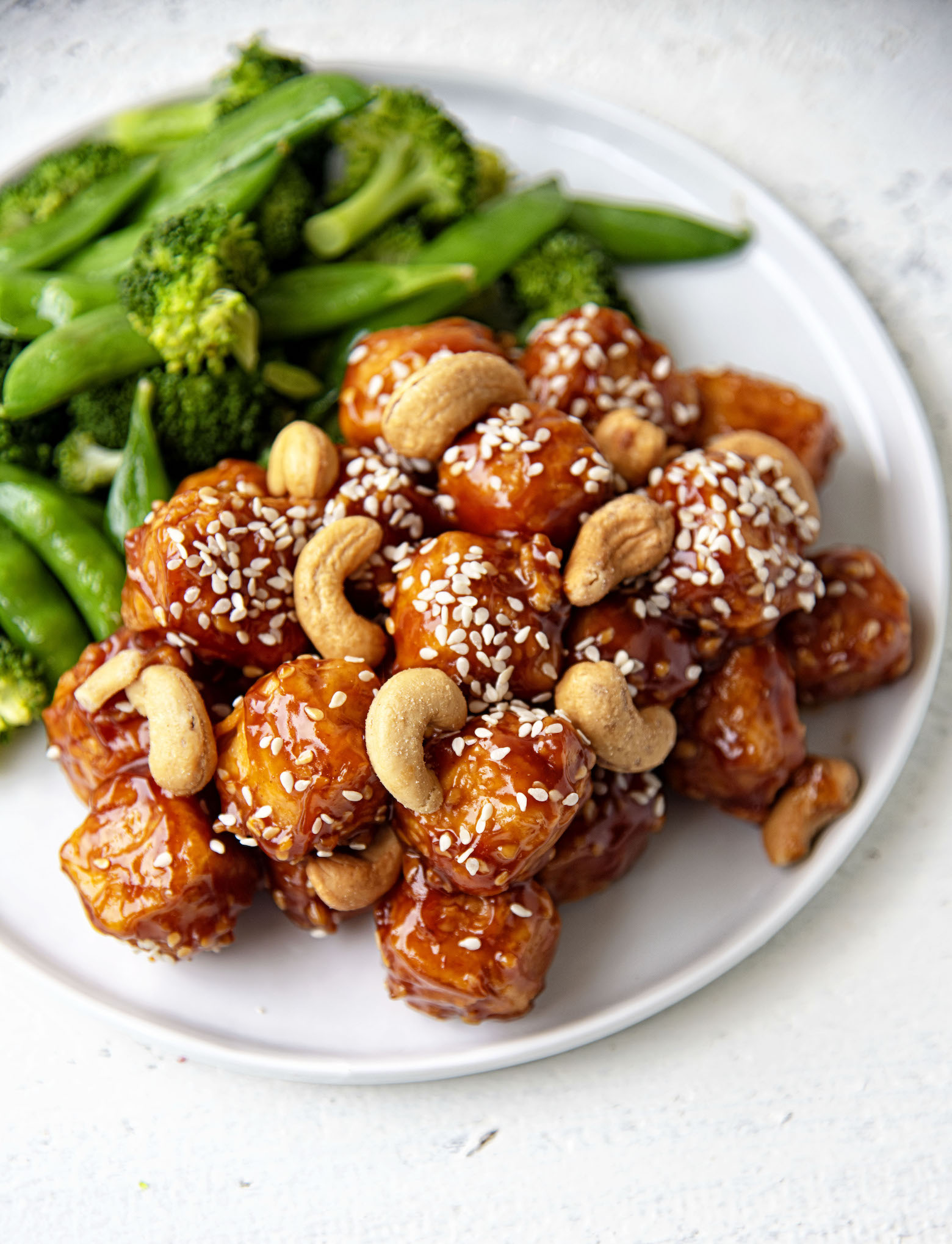 This is my least favorite time of year.
No one wants to bake or make fun food.
Everyone is on yet another attempt at a lifestyle change aka diet.
A change that having been both a WW leader, an aerobics instructor, and a former diet slave knows has little chance of sticking.
Sorry for the truth bomb.
It also my least time of year because we get things in Seattle called Atmospheric River.
Which is exactly what is sounds like.
A giant river dumping on you from the sky.
It's special.
Especially for trying to take photos.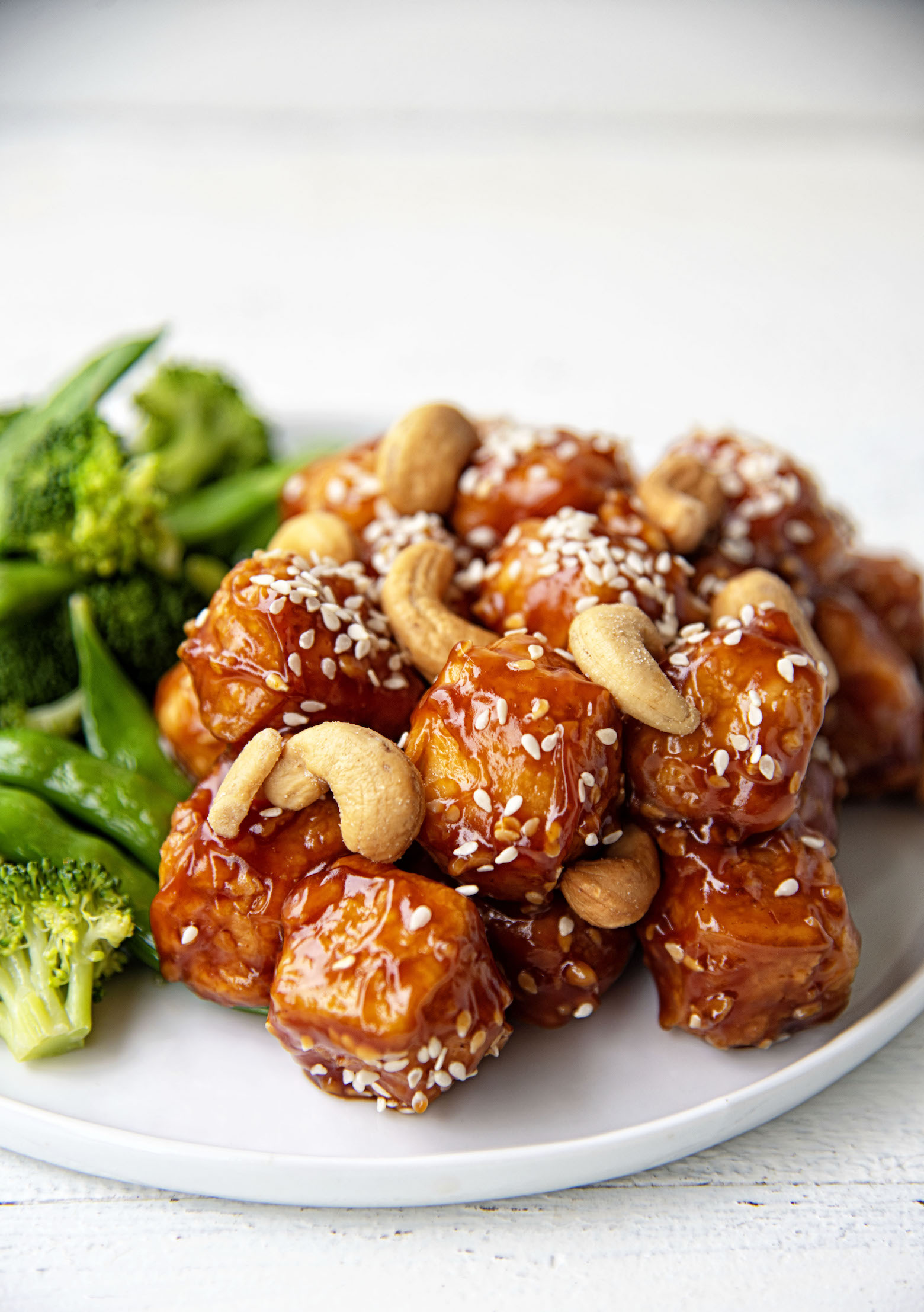 While I never have featured diet food on this site I do plan on photographing more of our Vegetarian meals we eat.
I rarely do mostly because I make the meal and we eat it.
But I have so many people wanting to go meatless for at least one day a week or more asking me what we eat.
So I'm going to work on showcasing that more.
Now that doesn't meaning necessarily what people consider healthy food.
I mean the tofu is deep fried.
Like chicken.
But you will notice that the other half of the plate are veggies.
We eat a lot of those.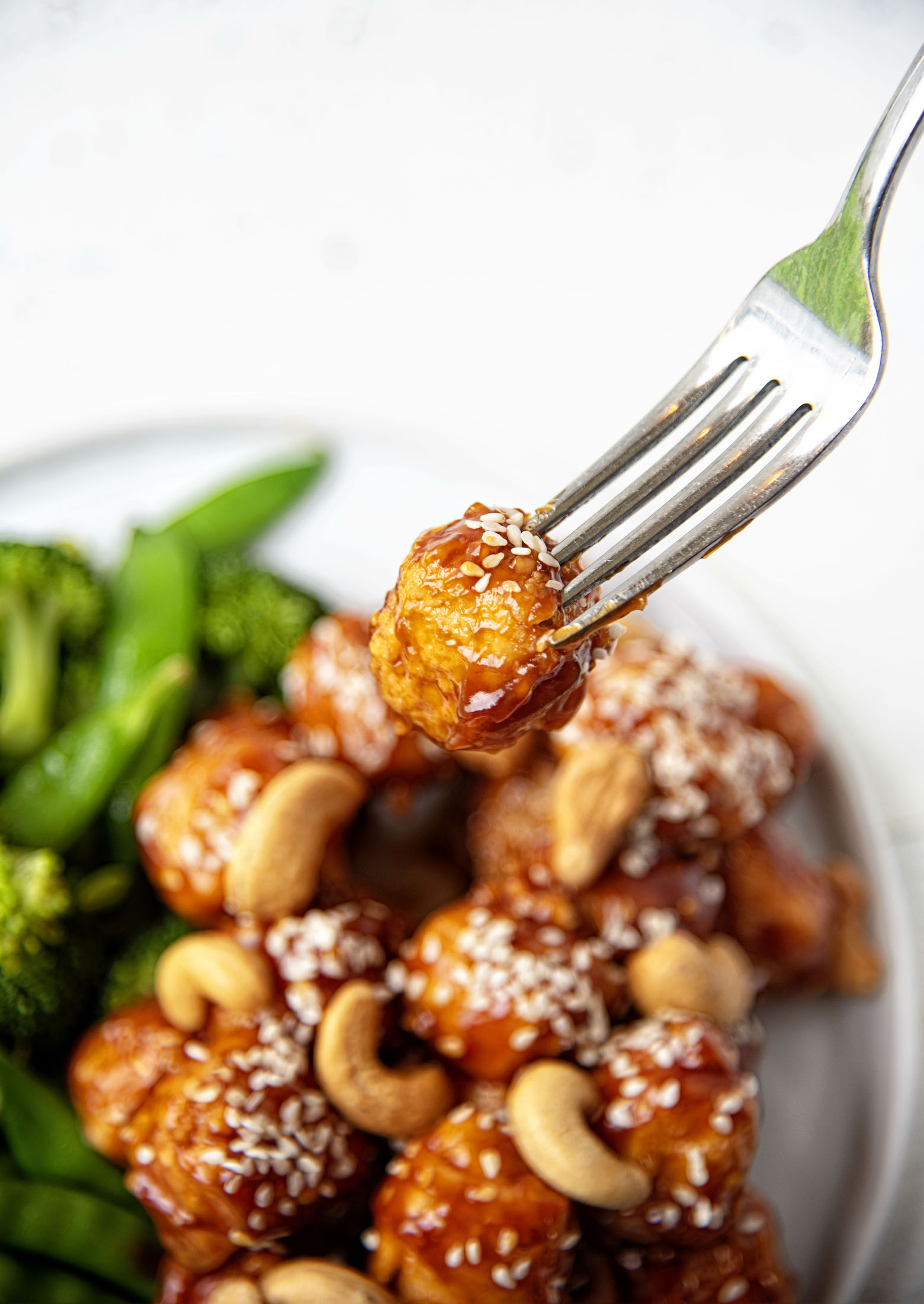 My husband and I love Chinese food.
And we are SUPER fortunate that our Chinese food place will make any of their dishes with tofu instead of meat.
One of the owners is vegetarian and she loves that both my husband and me are vegetarian.
As much as we have been trying to get takeout from there, eating out can be pricey.
Because we order three meals basically.
Sesame Tofu, Vegetarian Fried Rice, and Cashew Nut Tofu.
Which by the time we are done gets us spending about $40.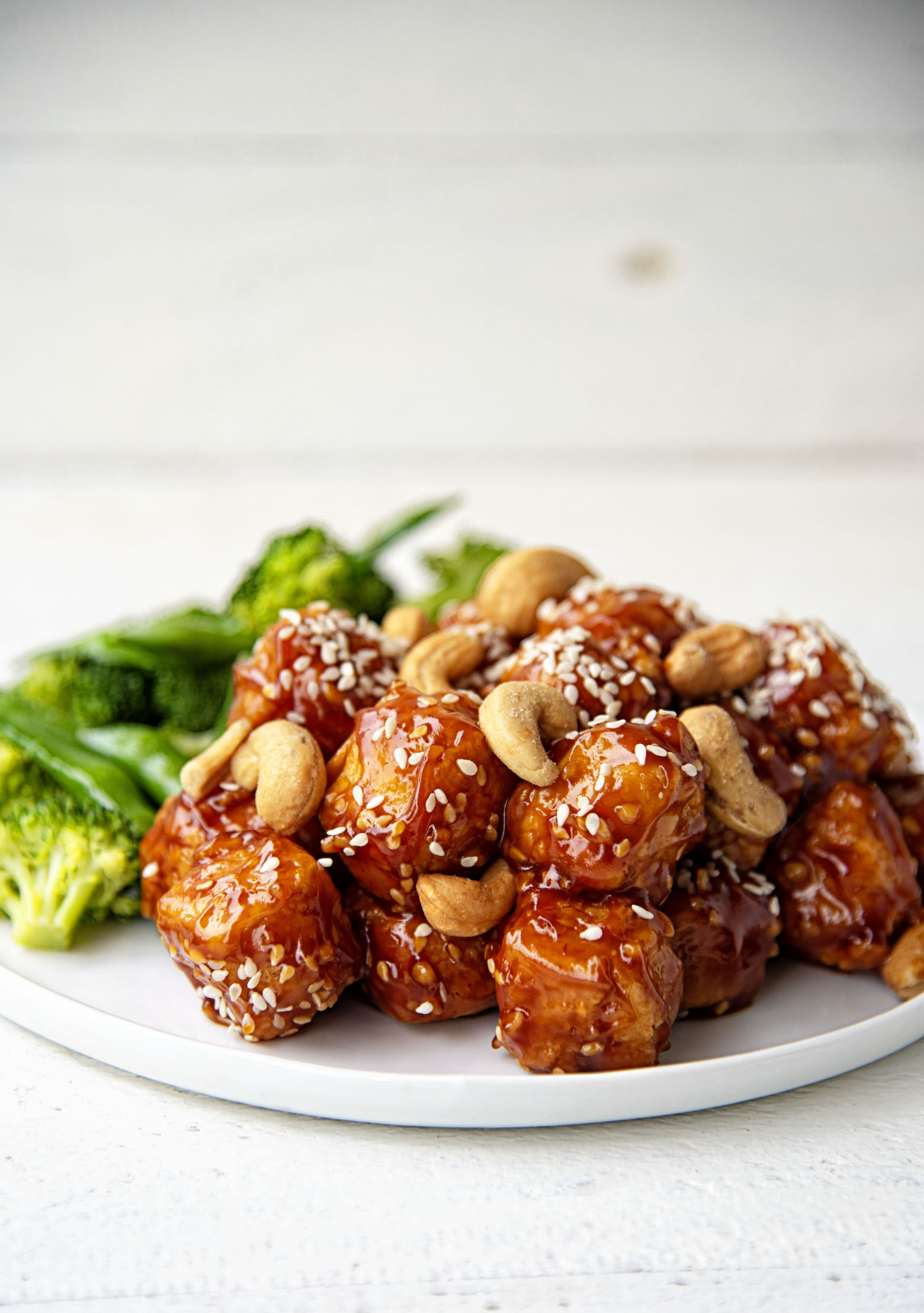 So I set out to make some of my own.
A combo of my two favorites.
Resulting in Crispy Sesame Cashew Tofu.
Which I must say was super tasty and is now in our diner rotation.
Especially since it's about $10 to make.
P.S. It's a great day to buy my cookbook Holy Sweet!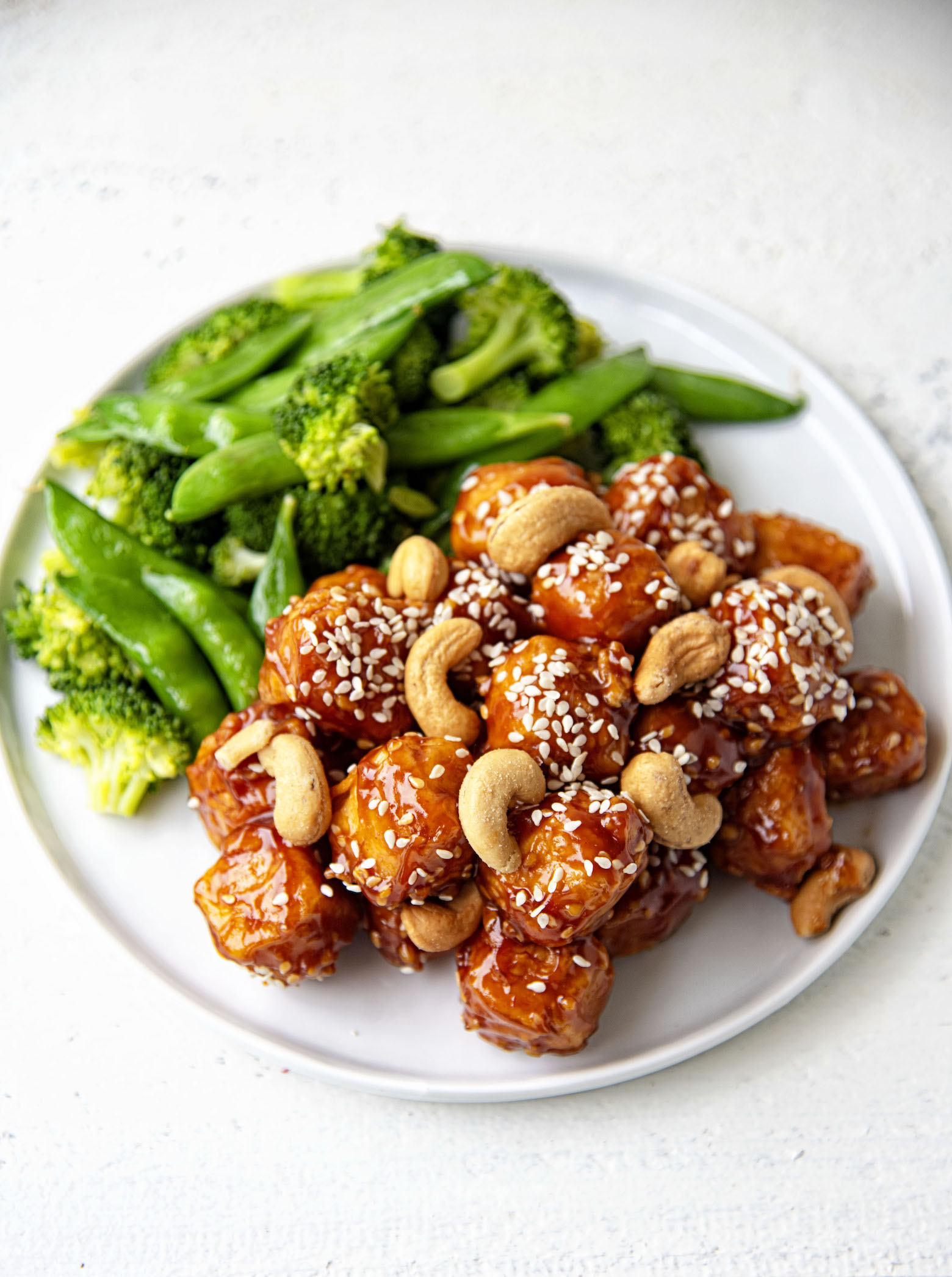 Want More Vegetarian Dinner Recipes?
Alpine Dijon Macaroni and Cheese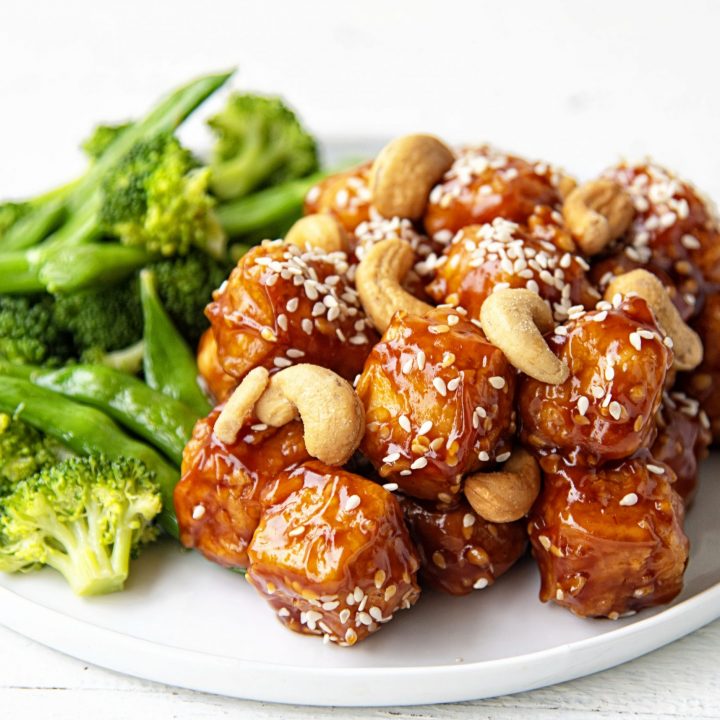 Crispy Sesame Cashew Tofu
Ingredients
For the Tofu:
1 container extra firm tofu
1/3 cup cornstarch
3/4 cup all-purpose flour
3/4 tsp salt
2 eggs, whisked
1/4 cup oil for frying (neutral-flavored) or enough to fill a frier
For the Sauce:
1 tsp vegetable oil
1 tsp fresh garlic
1/3 cup honey
1/3 cup soy sauce
1/2 cup ketchup
3 TBSP brown sugar
2 TBSP rice vinegar
1 TBSP toasted sesame oil
2 tsp cornstarch
2 tablespoons sesame seeds
1 cup salted cashews
Instructions
Place tofu between several layers of paper towels, both on the bottom and the top.
Press the tofu squeezing out as much liquid as possible. Seriously, this is a super important step. The tofu won't get crispy if you have wet tofu.
Mix together cornstarch, all-purpose flour,and salt in a large bowl. Place into a larger freezer bag.
Cut tofu into even 1/2 inch sized cubes and dip into egg mixture.
Then place the tofu in the bag of cornstarch/flour mixture.
Shake the bag with the tofu until all of the tofu is covered with the cornstarch/flour mixture.
Heat oil to 370°F (190°C) in a deep fryer or on medium-high in a large frying pan, and add coated tofu once the oil is hot.
Using a pot to deep fry fill with about 2 inches of oil and heat until it reaches 370° F (188° C).
Place the coated tofu in the hot oil using a spoon or tongs so that the oil doesn't splash on you.
Cook for about 3-4 minutes until golden brown. (You may need to use a spatula to break apart any pieces that have stuck together.)
In a medium bowl combine the honey, soy sauce, ketchup, brown sugar, rice vinegar, sesame oil and 2 teaspoons of cornstarch in a bowl.
Heat the teaspoon of oil in a large pan over medium heat.
Add the garlic and cook for 30 seconds. Add the honey sauce mixture and bring to a simmer.
Cook for 3-4 minutes or until just thickened.
Add the crispy tofu to the pan and toss to coat with the sauce. Sprinkle with sesame seeds and cashews, then serve with veggies of your choice.
Notes
Sauce from Dinner at the Zoo