These Tofu Sheet Pan Fajitas are a great way to get a rainbow of veggies in as well as go meatless by subbing tofu for meat.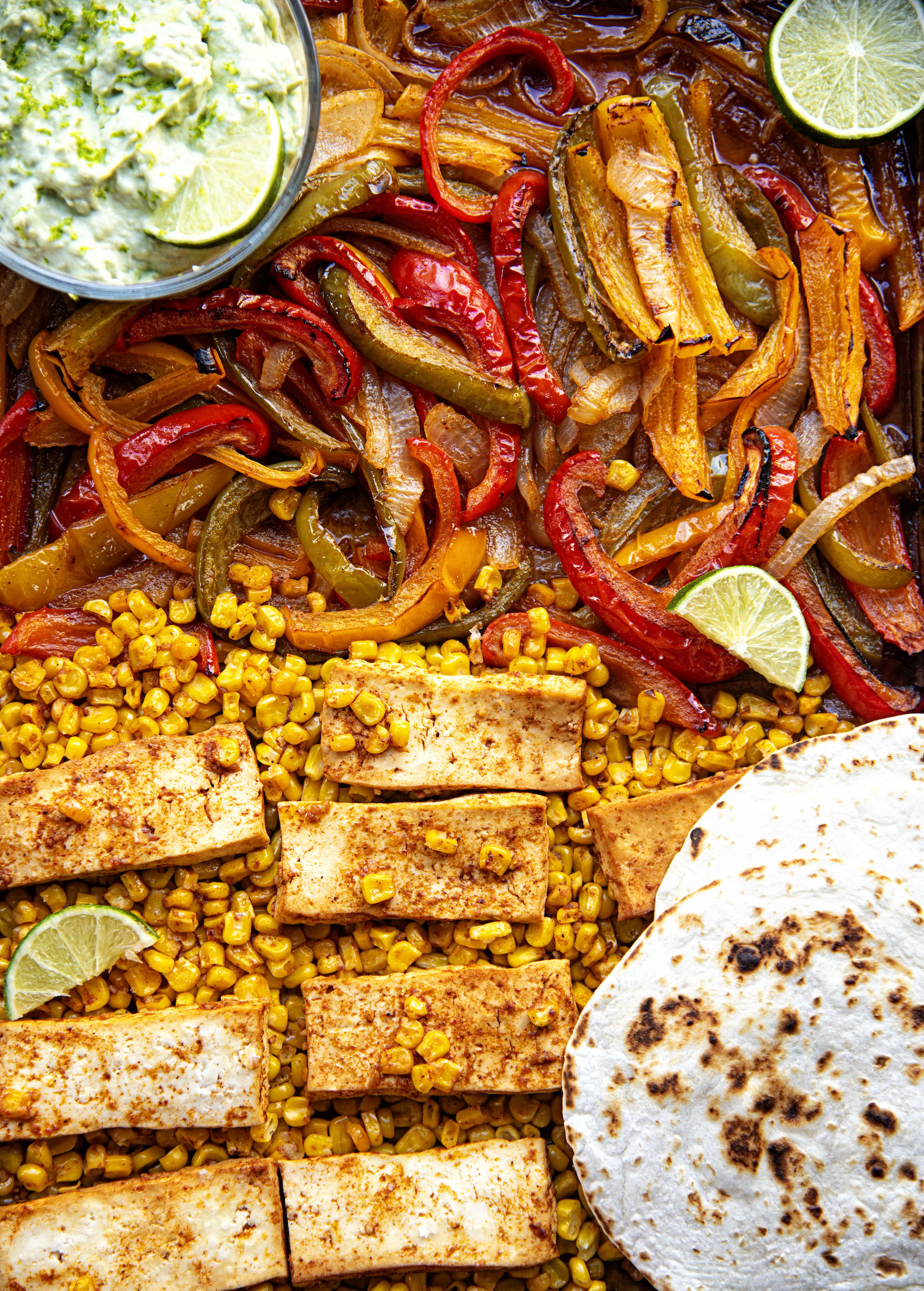 So I don't make a lot of Mexican food.
Because I'm allergic to a lot of Mexican food.
Which was super fun when living in Arizona.
So my husband doesn't get it very often unless he is out with other people.
I'm always looking for Mexican flavors with little heat.
See, I'm allergic to capsaicin.
It's what makes things spicy.
I'm also allergic to raw tomatoes and raw onions.
Which is in most everything at Mexican food.
I normally get a kids quesadilla. 🙂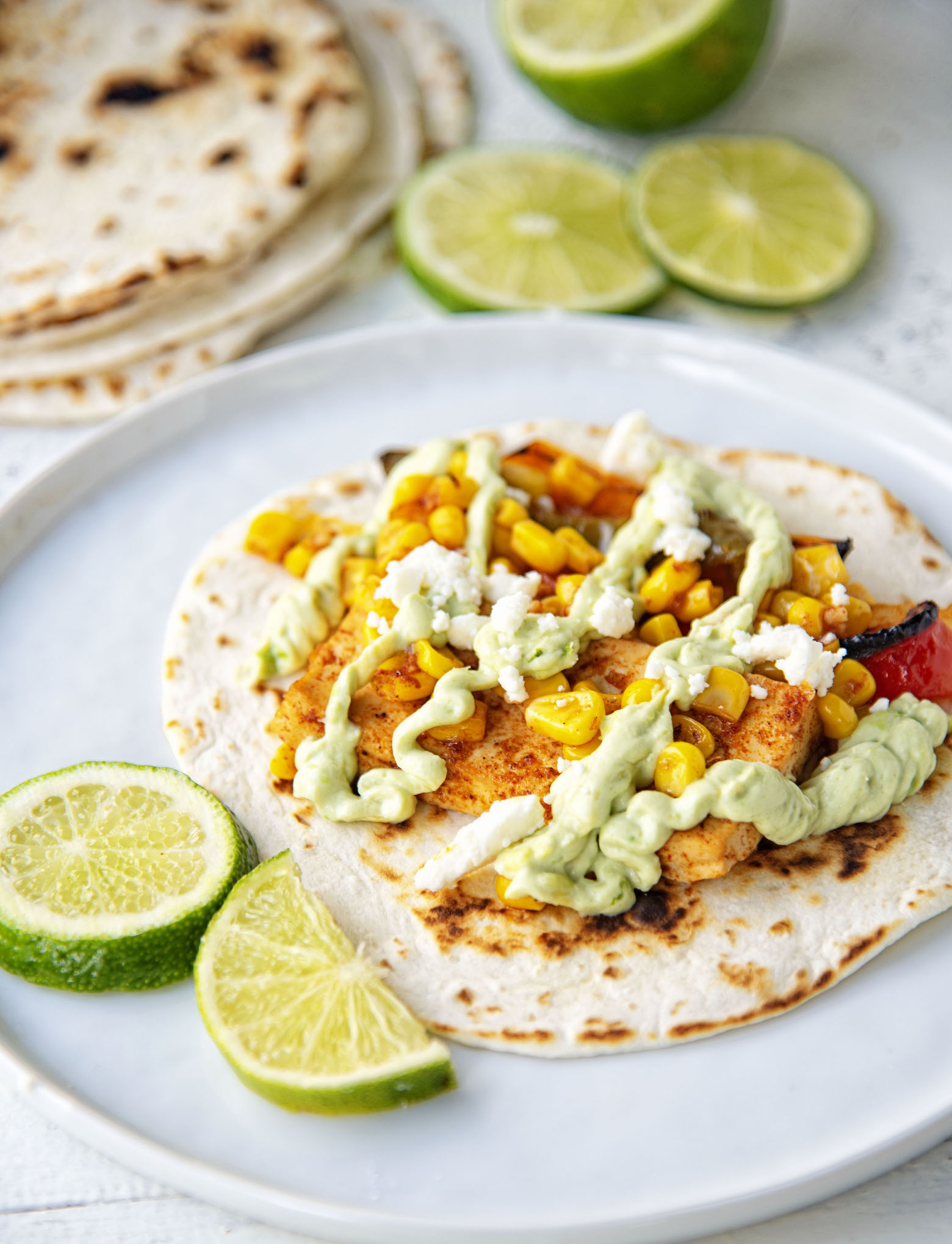 But I can make most of Jessica's (How Sweet Eats) recipes.
She isn't usually super spicy and if she is I just modify it.
Jessica posted shrimp fajitas the other day and it reminded me that I couldn't even think of that last time I had fajitas.
Since my husband and I don't eat meat (shrimp included) I figured I would give it a try with tofu.
Which worked out really well.
I did add corn to mine because I can actually eat the corn.
I can't eat the peppers and onions.
But the hubby can.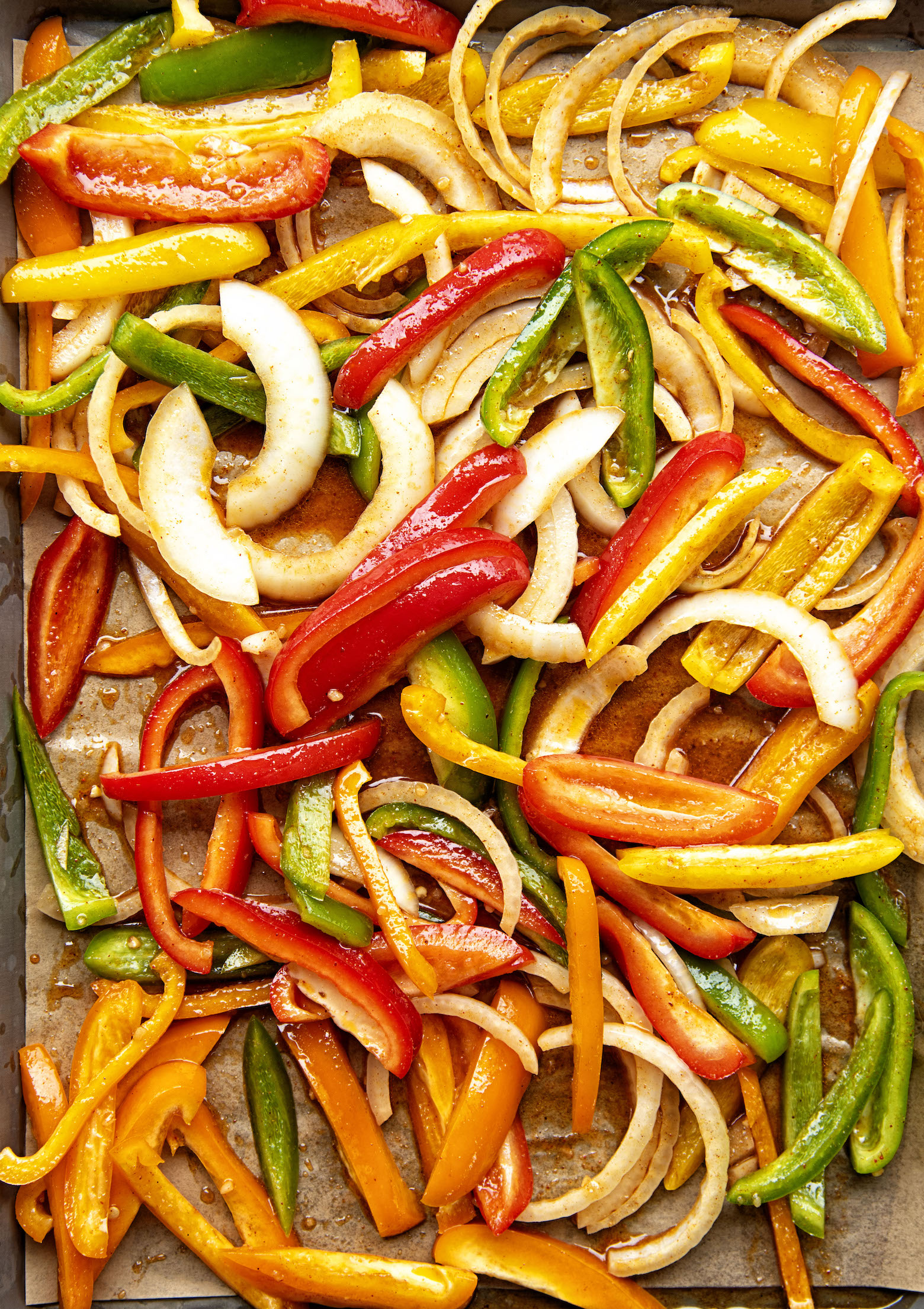 The original recipe called for a lime crema but I added avocado to mine.
Because, we love avocado.
If you are not an avocado fan go on over to her site to see how to make the crema without.
These were definitely a hit and will now be in our rotation for dinners.
If you are a fajita lover and looking to give up meat now and then (or forever) these Tofu Sheet Pan Fajitas are a great option for you!
P.S. It's a great day to buy my cookbook Holy Sweet!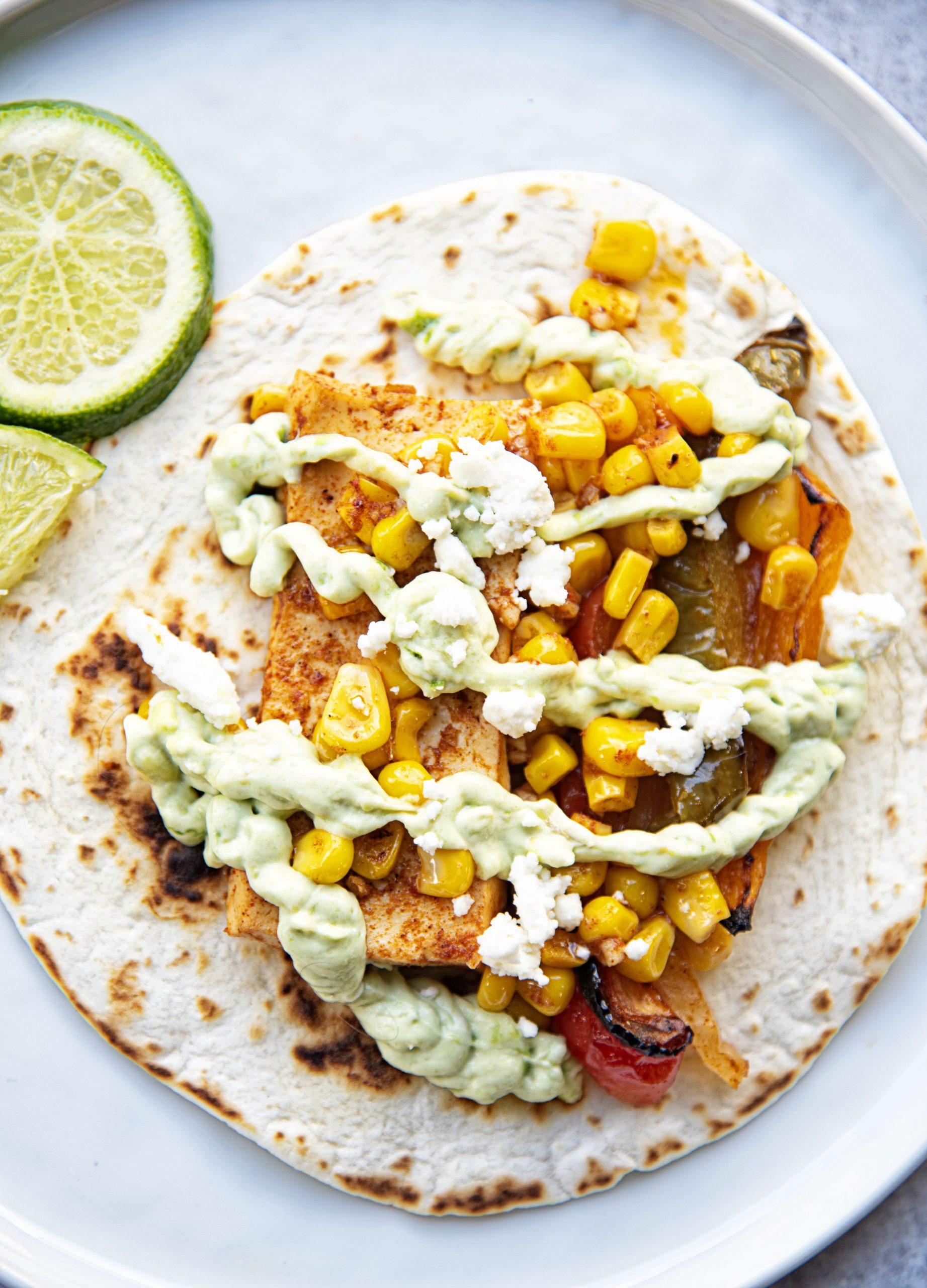 Want More Vegetarian Dinner Recipes?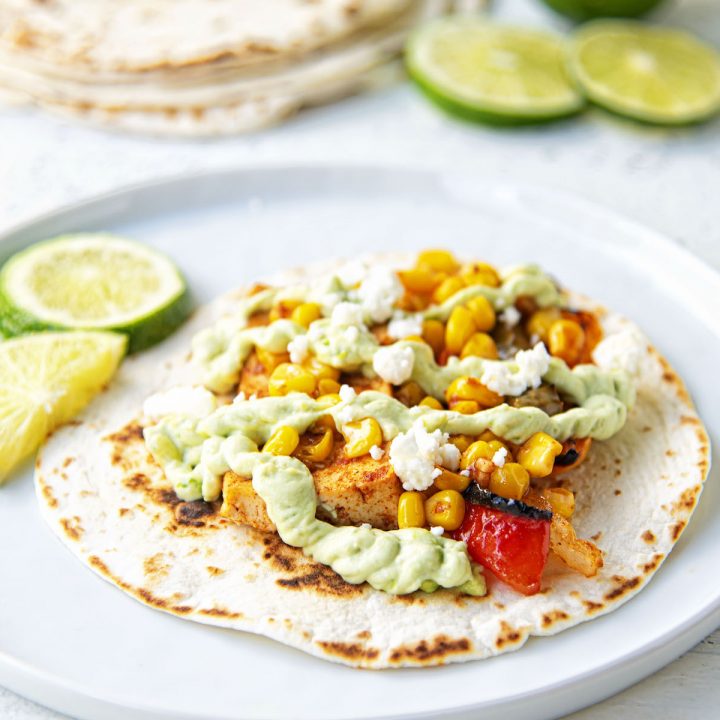 Tofu Sheet Pan Fajitas
Ingredients
For the Fajitas:
1 (14oz) package extra firm tofu, drained
2/3 cup olive oil
1/2 cup freshly squeezed lime juice
zest of two limes
6 TBSP honey
2 tsp cumin
2 tsp chili powder
2 tsp smoked paprika
1 tsp salt
1 tsp black pepper
2 garlic cloves, minced
1 green bell pepper
1 red bell pepper
1 yellow bell pepper
1 orange bell pepper
1 sweet onion
1 bag frozen corn, thawed
lime wedges, for serving
warm fajita size tortillas, for serving
cotija cheese, for serving
For the Avocado Lime Crema:
2 avocados, mashed
1/2 cup sour cream
1 lime, juiced and zest freshly grated
1/2 tsp sea salt
Instructions
For the Fajitas:
Place tofu between several layers of paper towels, both on the bottom and the top.
Press the tofu squeezing out as much liquid as possible. Seriously, this is a super important step. The tofu won't get crispy if you have wet tofu.
Slice the tofu into 10 pieces.
Place them into a large ziplock bag. Set aside.
In a bowl, whisk together the olive oil, lime juice, zest, honey, cumin, chili powder, paprika, salt, pepper and garlic.
Pour half the mixture into the tofu bag.
Let the tofu marinate for at least 2 hours, preferable overnight. Move the bag around from time to time to make sure the mix is getting on all the tofu slices.
Place the rest of the marinade in a airtight bowl and store in fridge until ready to use.
When ready to make fajitas:
Preheat oven to 425F.
Line a baking sheet with foil or parchment paper.
Place the peppers and onion on the baking sheet.
Add the remaining half of the marinade and toss them well, until they're all covered.
Stick the sheet in the oven and roast for 15 to 20 minutes, tossing once or twice during cook time.
Once the peppers are finished, toss them a few times and scoop them over to one side of the pan.
Remove the tofu from the bag and place on a plate for the time being. Add the corn to the bag the tofu was in. Just coat the corn in the marinade.
Place the corn on the sheet (on the half with no peppers) in a single layer. Top the corn with the tofu slices.
Roast the tofu for 10-12 minutes.
Once the tofu is finished, assemble your fajitas!
Start with peppers, onions, corn add on the tofu.
Drizzle with the crema and sprinkle cotija cheese.
For the Avocado Lime Crema:
Mash up the avocado to guacamole like texture.
Add the sour cream, lime juice, and salt.
Whisk until fully combined.