This Salted Cashew Crunch Toffee is a melt in your mouth buttery sweet and salty toffee that is downright addictive.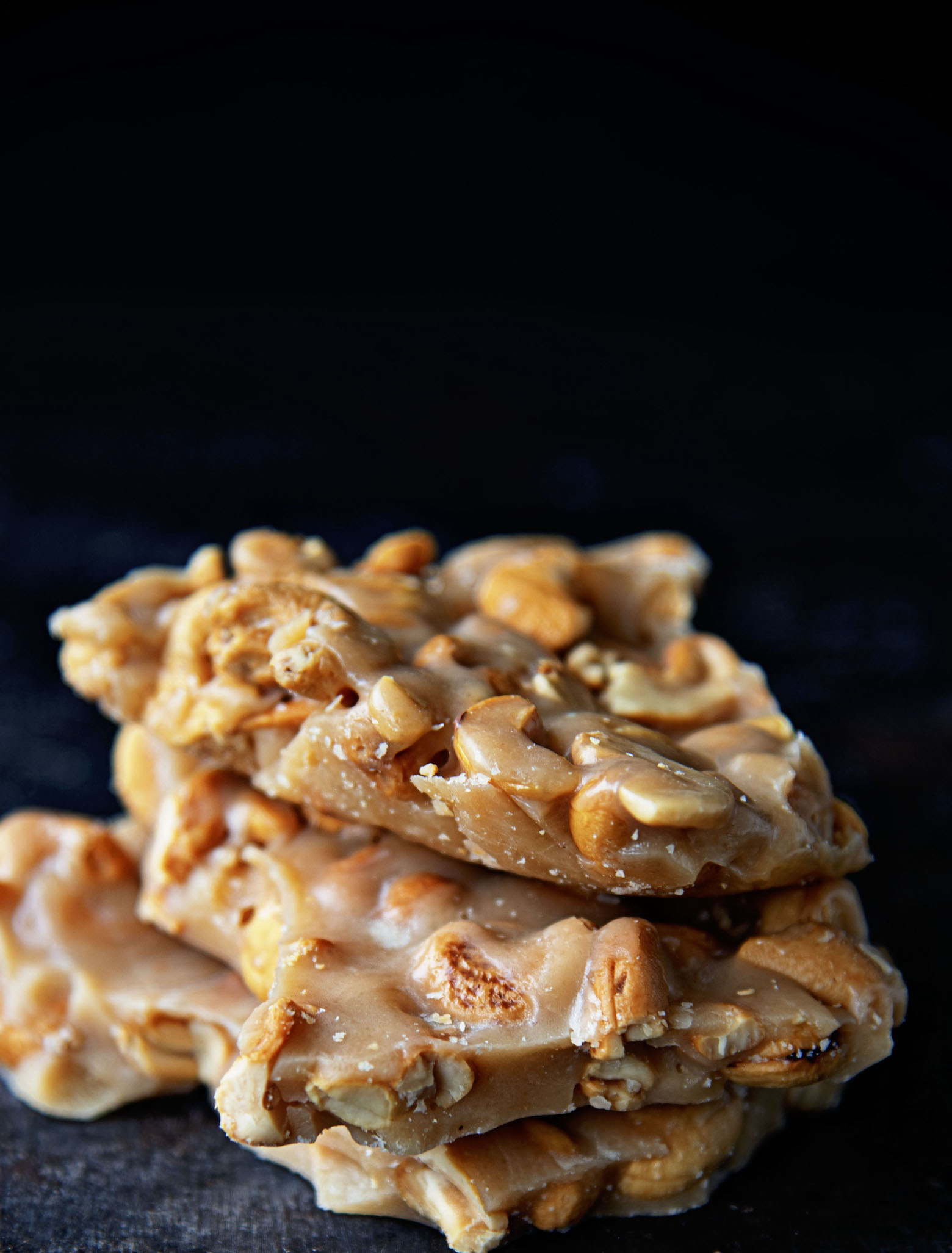 For years my favorite grocery store carried an Amish Cashew Crunch candy at holiday time.
I would always buy as much as I could but still being nice to and leaving a little behind for others to become addicted to it.
Because it is addicting.
I could polish off the small little bag in the blink of an eye.
Then something horrible happened.
They stopped carrying it.
Not because people weren't buying it but because the place was no longer selling to them.
While this might not seem like a tragedy to some it was for me. 😀
So I thought to myself I'll just make some.
I'm decent at candy making, especially fudge.
That started a quest to find a recipe that was like the cashew butter crunch I had in the past.
I tried many a recipe with no luck.
Most of the time the toffee was too toffee like.
Which sounds like a dumb statement but I mean that it was too dark.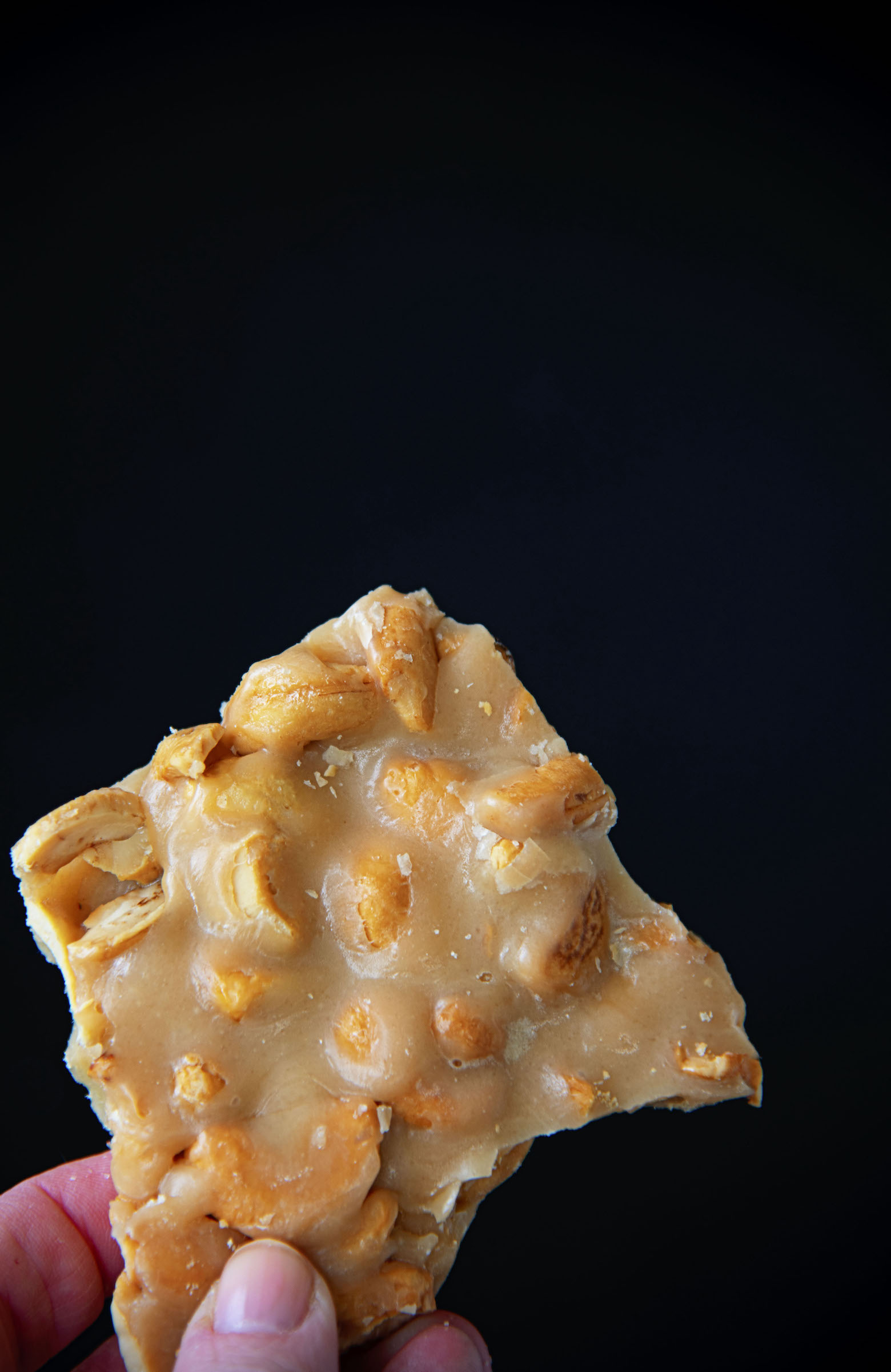 The cashew crunch I had was always rather pale in color compared to traditional toffee.
I had no luck finding the recipe I was looking for.
Then one of the ladies at my mom's community center farmers market became my savior.
Now these ladies are Mennonites and they make peanut brittle.
Amazing peanut brittle.
One which they will not give the recipe for.
So I was shocked when I asked if they knew about cashew butter crunch and they said yes and asked if I wanted the recipe.
Ummm? YES!!!!
They just kind of giggled and said it's a 1 to 1 to 1 recipe.
Now, I had no idea what that meant at all.
But basically it means 1 cup of butter to 1 cup of sugar to 1 TBSP of corn syrup.
They said boil to hard crack, throw in the nuts, pour in a pan.
I asked why they were willing to give this recipe and not the peanut brittle.
They explained that wasn't their cashew crunch recipe so they were able to share.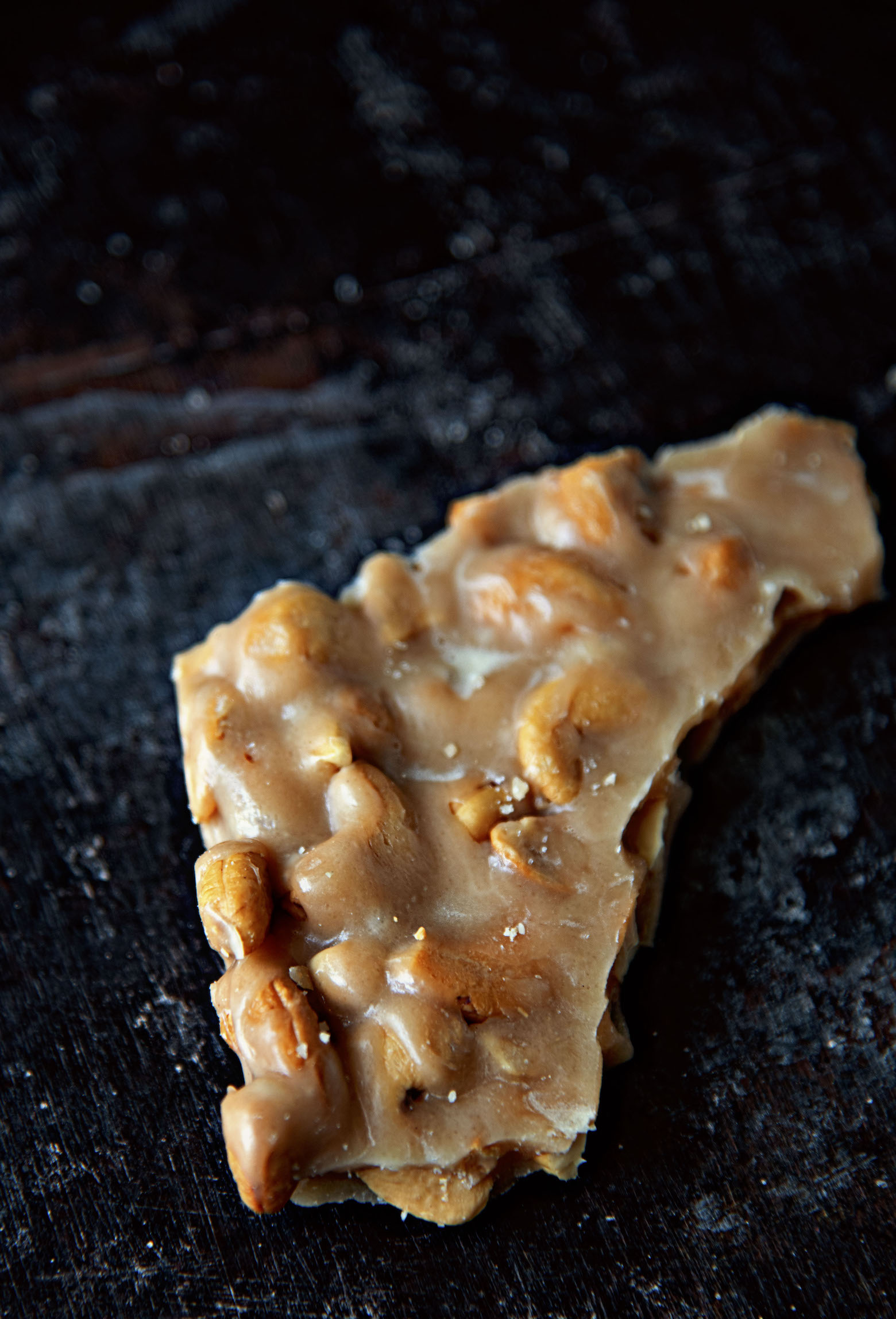 Now they were vague on the steps.
You don't just rush heat the toffee up to the hard crack stage there are steps I had to figure out and mess with.
Luckily there are other recipes out there that helped me.
The first and best advice I can give you is to make sure you are using European butter.
This is key in candy making that involves butter in general.
European butter has a higher butterfat content.
American butter tends to get watery and you don't want that.
The original recipe only called for about a cup of nuts.
Which I found to be ridiculous.
I like my nut toffee to have nuts.
In this case cashews.
But I made this toffee with all sorts of nuts.
From pecans to mixed salted nuts.
It's all good.
Though the salted cashews tend to be my favorites.
Welcome to your new addiction: Salted Cashew Crunch Toffee.
It's a great day to buy my cookbook Holy Sweet!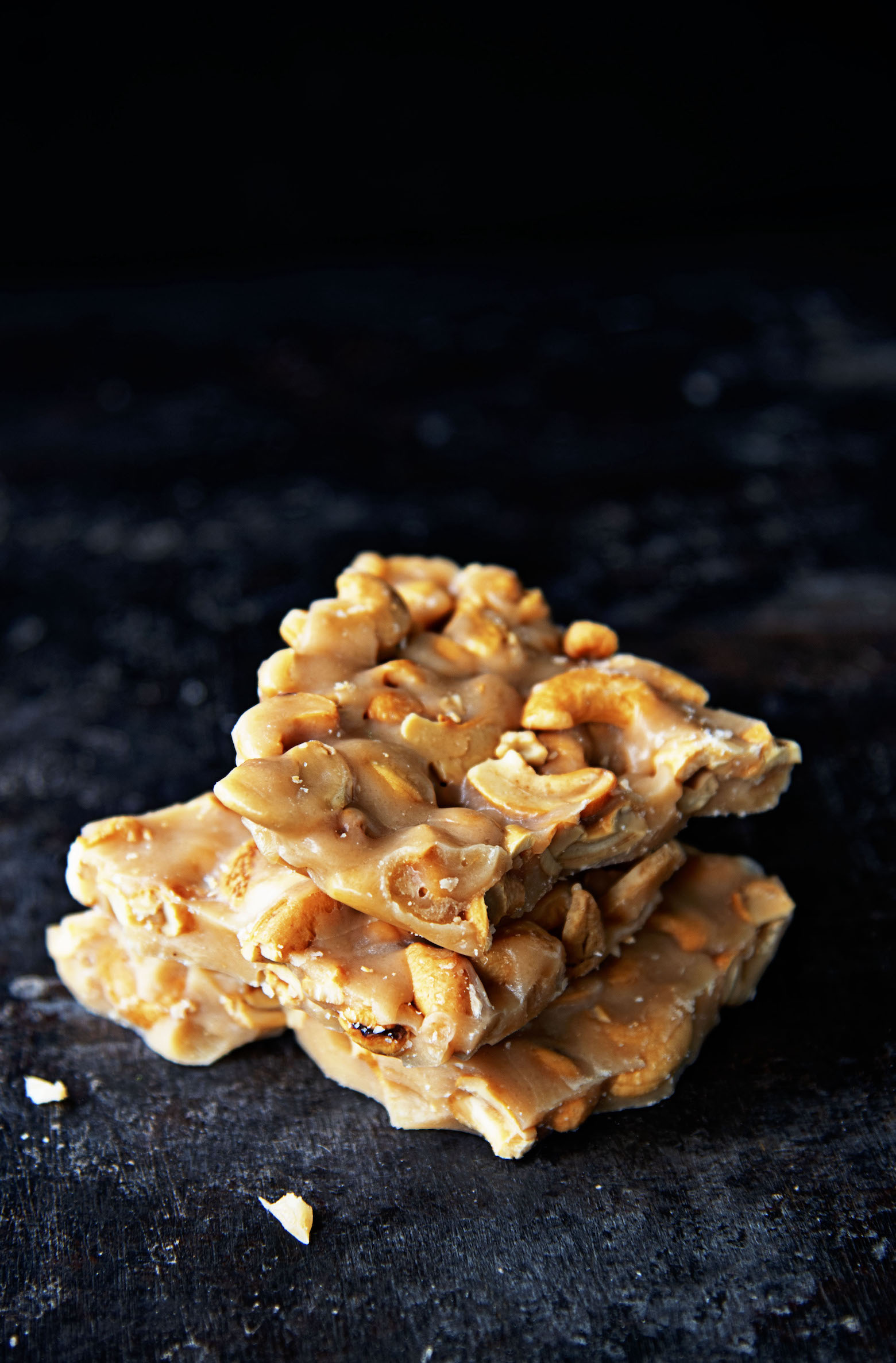 Want More Cashew Recipes?
Butterscotch Honey Roasted Cashew Bars
Chocolate Butterscotch Salted Cashew Fudge
Butterscotch Salted Cashew Cookies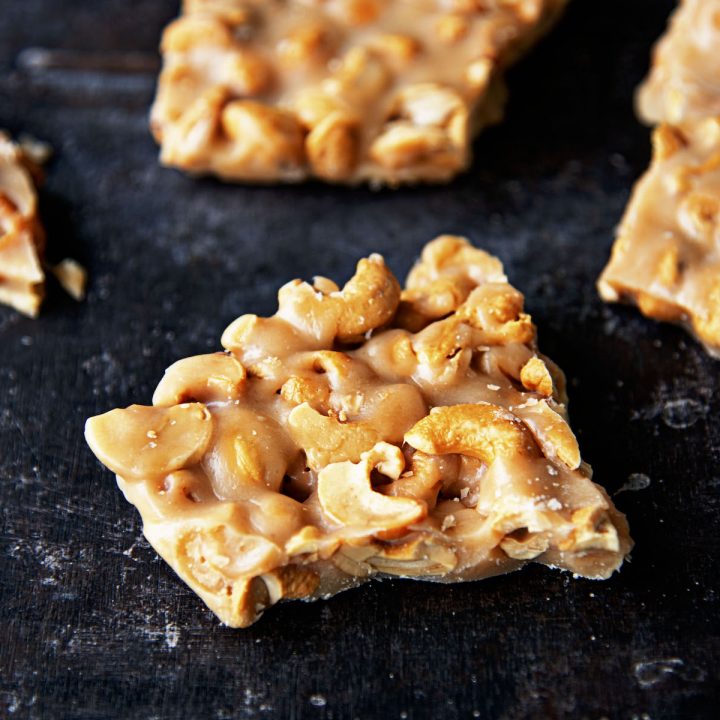 Salted Cashew Crunch Toffee
Ingredients
1 cup unsalted butter
1 1/3 cup granulated sugar
1 tablespoon light corn syrup
2 cups salted cashews
Instructions
Pan size for this depends on what type of toffee you are going for. If you want a thicker toffee then you want a smaller pan. If you what thinner use a larger pan. I used a 10-x-10-inch pan.
Line the pan with foil so that it will be easier to remove later.
Coat foil lined pan with a thin coat of unsalted butter. Set aside.
In a heavy bottom saucepan combine the butter, sugar, and corn syrup and start to cook on medium heat.
Cook, stirring until butter is melted.
Once butter has melted increase the heat to medium-high heat.
Stir occasionally.
Heat to the hard crack stage of 300 to 310 degrees F or until a small amount of syrup dropped into cold water forms hard, brittle threads.
Once you reach the hard crack stage remove from heat and add the cashews.
Stir quickly to coat all the cashews.
Pour into prepared pan and spread evenly as best you can.
Let cool at room temperature. This can take anywhere from 10 minutes to an hour depending on how cool your kitchen is.
Break into pieces and enjoy.