This Cinnamon Red Hots Chocolate Cream Pie has a cinnamon red hots candy infused cream that is both the pastry cream and the whipped cream.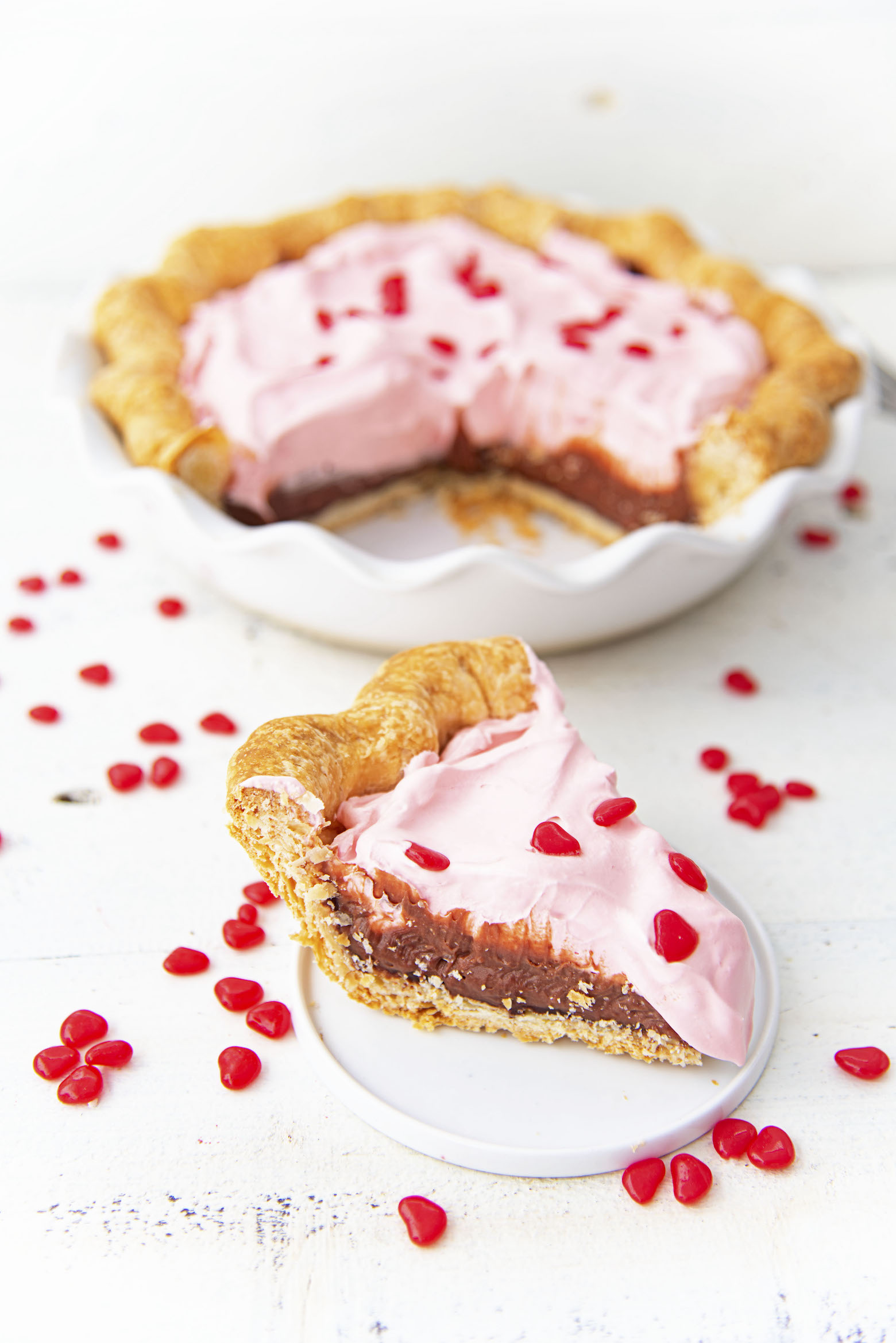 This Cinnamon Red Hots Chocolate Cream Pie has a lot going on with it.
First the crust.
Which you will notice looks a little different than regular crust. It is way more flaky.
Because it's Quick Puff Pastry.
Or British Bake Off fans know it as rough puff.
Basically it's the cheating version of puff pastry.
Takes way less time to make and still is flaky.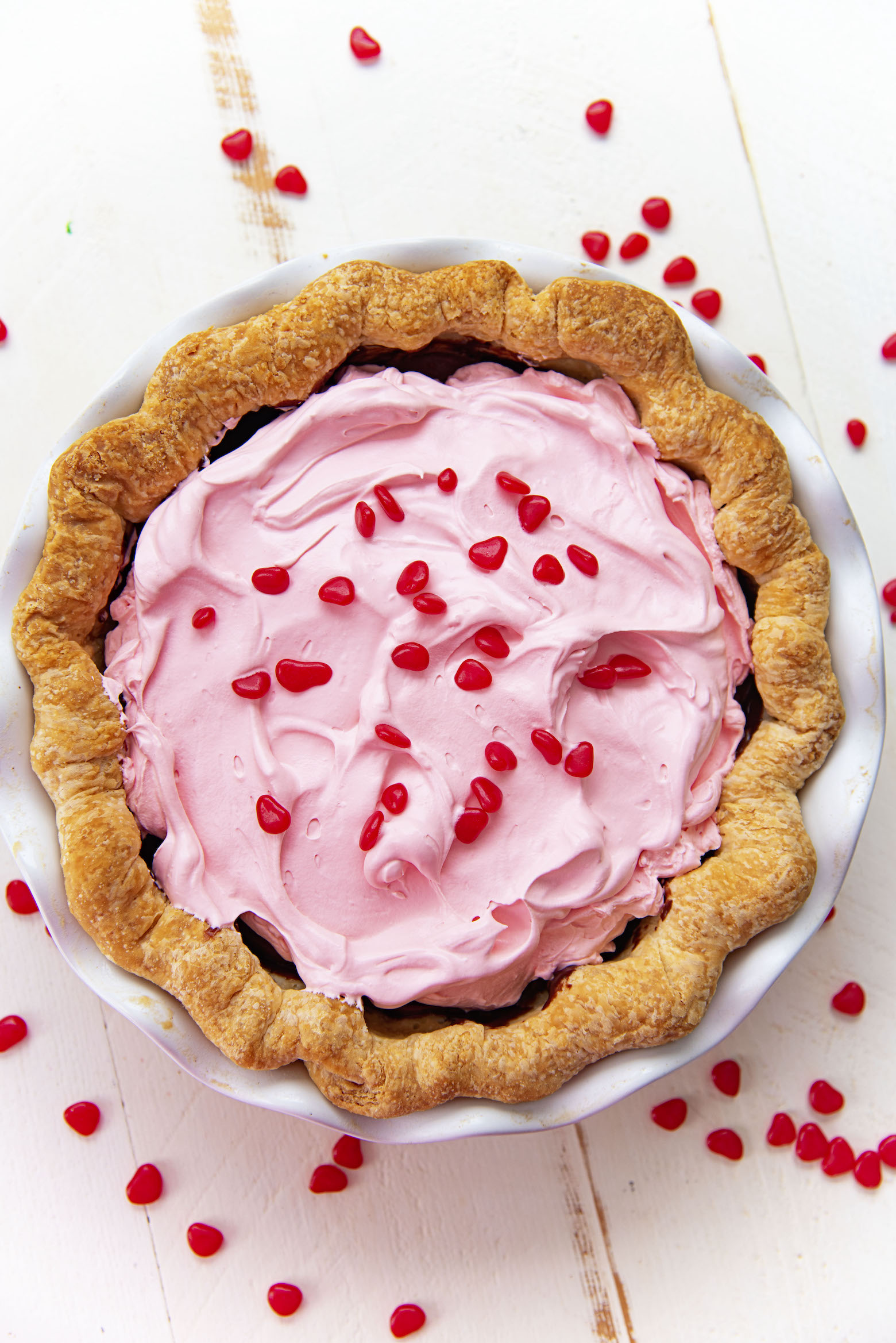 I use this crust pretty much every time I make a cream pie.
Since you have to prebake it and then fill the shell later.
Then you use the ganache to help prevent the base from getting soggy.
Therefore you get to has a crispy pie bottom.
Which lets face it, most pies do not have a crisp bottom.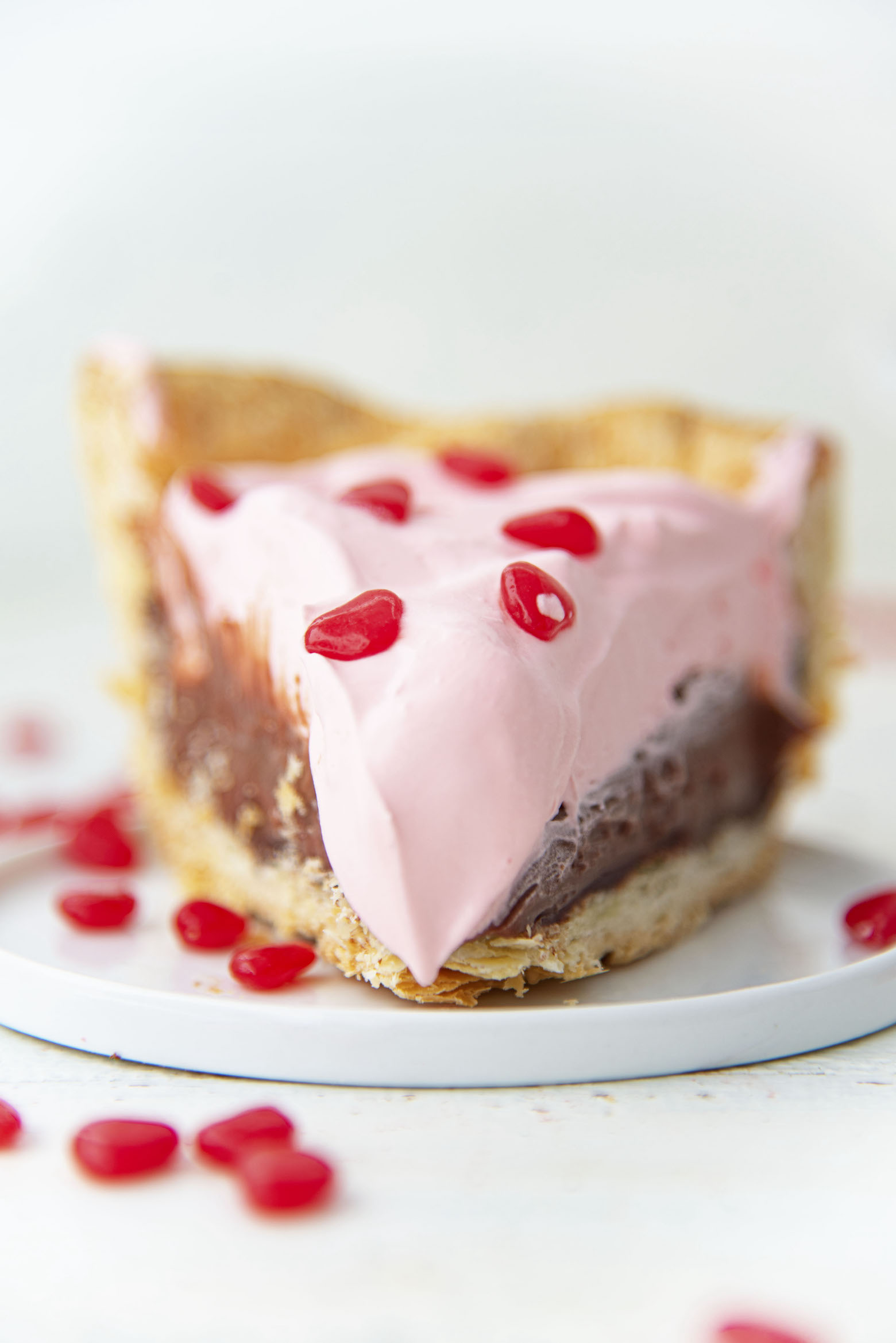 This pie also uses one of my favorite techniques of infusing things in to cream or milk.
I do it in a lot of recipes.
A lot. Infusing the cream is perfect for this type of recipes because I find Cinnamon Red Hots candies to be a bit overpowering at times.
And when you infuse them in to heavy cream it really takes the intensity down.
It also helps the pie be less sweet.
While I love sweet sometimes it's nice to have a contrast.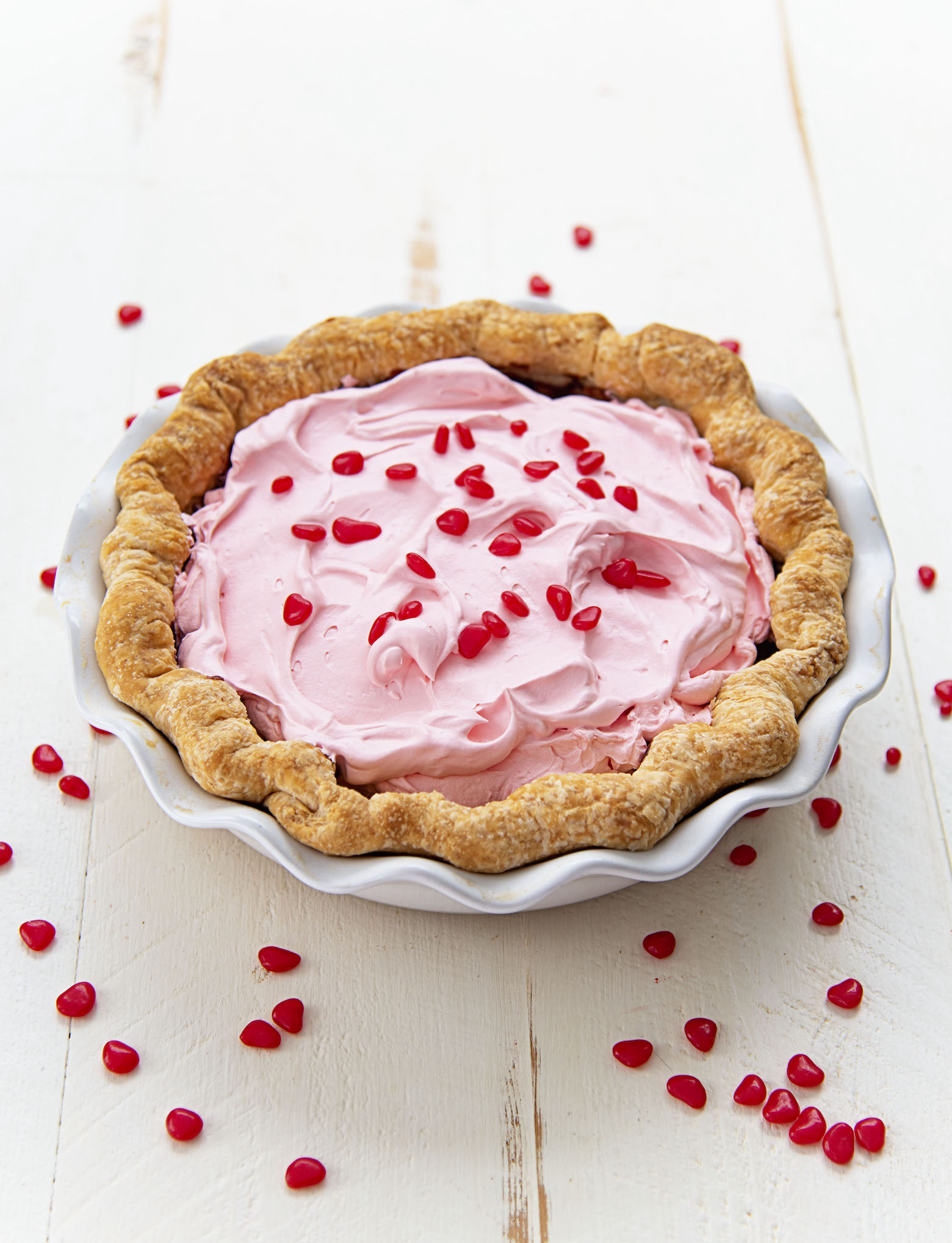 And that infused cream gets used in almost every part of this recipe.
In the pastry cream.
And in the chocolate ganache.
Whipped cream too.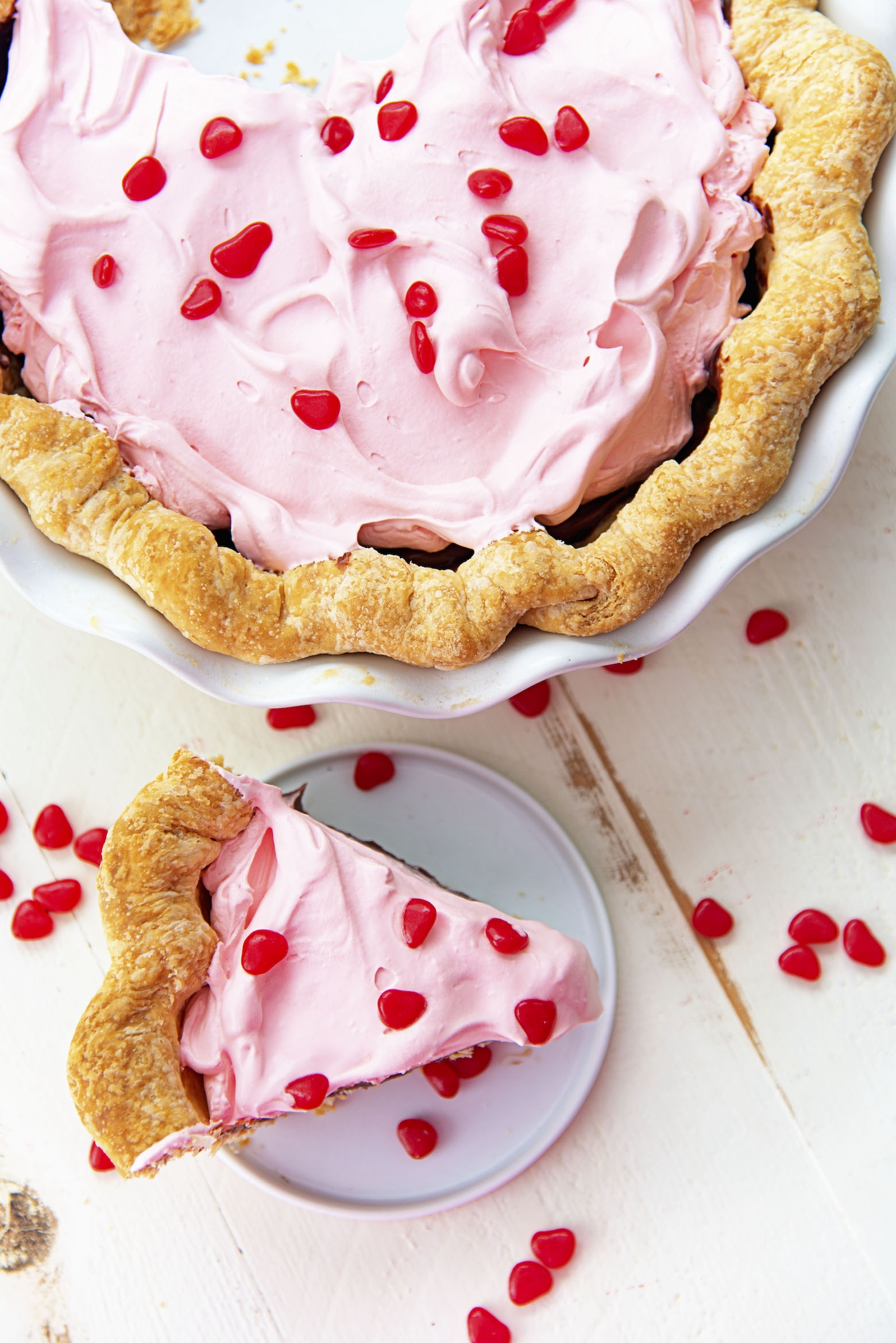 This pie has a lot of elements but they can all be done ahead of time if you would like.
You can make the crust early and set aside.
Same with pastry cream.
I would make the ganache fresh just because you spread it at the bottom of the pie crust.
And you can even make the whipped cream early and just have it in the fridge ready to assemble when you want the pie.
P.S. It's a great day to buy my cookbook Holy Sweet!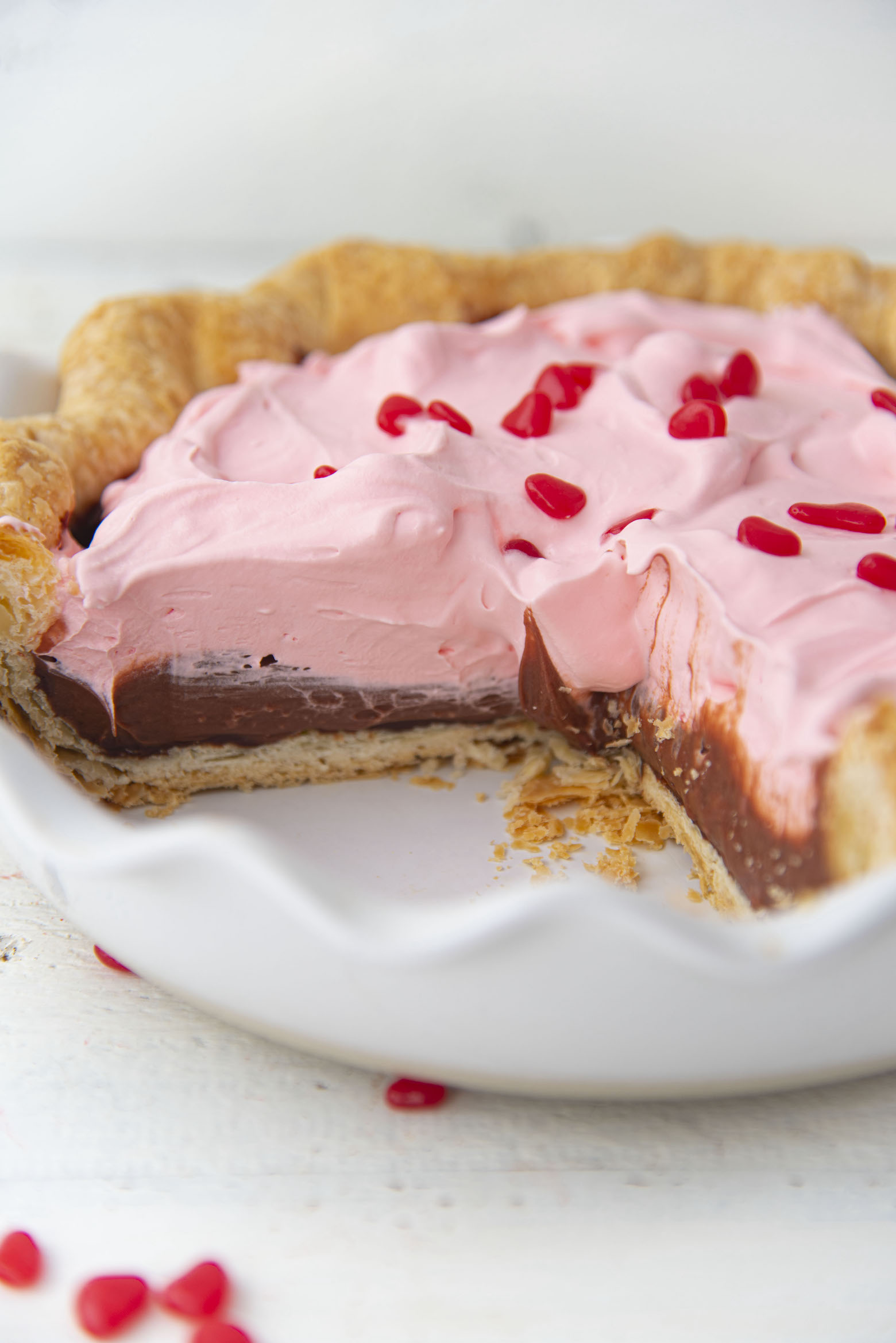 Want More Red Hots Recipes?
Cinnamon Red Hots Chocolate Chip Cookies
Easy Cinnamon Red Hots Ice Cream
Cinnamon Red Hot Cupcakes with Fudge Frosting
Fun Cinnamon Brownies with Red Hot Infused Buttercream Frosting
Cinnamon Red Hots White Russian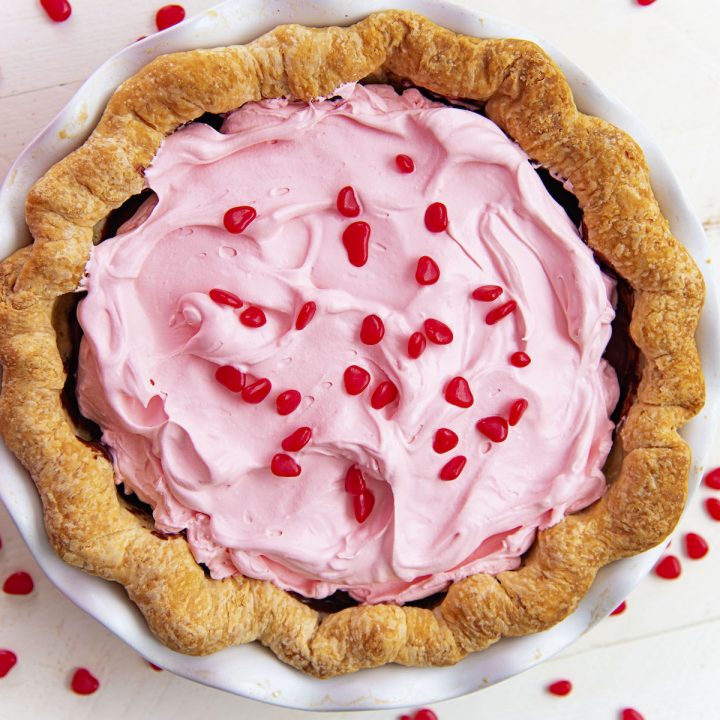 Cinnamon Red Hots Chocolate Cream Pie
Ingredients
For the Infused Cream:
1 cup cinnamon red hots candies
3 cups heavy cream
For the Crust:
2 cups all-purpose flour
1/2 tsp.salt
2 TBSP granulated sugar
2/3 cup chilled unsalted butter
4 to 5 TBSP ice water
For the Pastry Cream:
1/2 cup milk
1/2 cup red hots candy infused heavy cream
3 egg yolks
1/4 cup granulated sugar
1/8 cup corn starch
Pinch of salt
For the Chocolate Ganache:
8 oz. semisweet chocolate, finely chopped
¾ cup red hots candy infused heavy cream
2 TBSP unsalted butter
1 TBSP corn syrup
pinch of salt
For the Cinnamon Red Hots Whipped Cream:
1 cup cinnamon red hots infused heavy cream
2 TBSP granulated sugar
Instructions
For the Infused Cream:
Using a medium saucepan heat the heavy cream and the cinnamon red hots together.
Bring to a boil and then take off of heat.
The cinnamon red hots should dissolve.
If the candy does not dissolve place over heat and stir until it does. Set aside.
For the Crust:
Using a food processor combine flour, salt, and sugar on and pulse for 30 seconds.
Cut butter into 1/2-inch cubes and add to flour mixture and pulse until mixture looks crumbly, with bits of dough the size of peas, about 1 minute.
Add 4 TBSP ice water, 1 TBSP at a time, mixing on low speed for 10 seconds after each addition.
After final addition, dough should begin to clump together in a ball. If it doesn't, continue mixing for about 10 seconds longer. (If it still looks too dry, add 1 more tablespoon ice water.)
Gently mold dough into a disk, cover in plastic wrap, and refrigerate for at least 1 hour.
Transfer unwrapped dough to a lightly floured surface.
Roll into a 1/8-inch-thick circle large enough to cover bottom and sides of a 9-inch-diameter deep-dish pie pan; do not use a regular (shallow) pan. Transfer dough to pie pan, crimping edges with your fingers or a fork.
Prick bottom with a fork.
Cover pan with plastic wrap and place in the freezer until firm, about 30 minutes. Frozen dough is less prone to shrinking while baking.
Preheat oven to 375F and place rack in the center.
Press parchment paper or aluminum foil tightly against the crust, covering the edges to prevent them from burning.
Fill with pie weights/dried beans/uncooked rice, making sure they're fully distributed over the entire surface.
Bake crust for 20 minutes, until foil no longer sticks to the dough. Transfer crust to a wire rack and remove weights and foil.
Then place back into oven and bake for another 10 minutes or until golden brown.
Transfer to a wire rack and let cool completely.
For the pastry cream:
In a saucepan, combine the milk and red hots infused heavy cream. Bring to a simmer.
In the bowl of a stand mixer fit with the whisk attachment, combine the egg yolks, sugar, corn starch, and salt. Whisk on high until light and fluffy.
Turn the mixer speed to medium and carefully pour the hot milk/cream mixture down the sides of the bowl into the egg yolk mixture. Whisk until fully combined.
Transfer the custard back to the saucepan, scraping the sides of the bowl to get all the cornstarch into the saucepan. Whisk over medium/low heat until the mixture thickens, to the consistency of mayo.
Transfer to a large bowl. Cover with plastic wrap, making sure that the wrap touches the surface of the cream to keep a skin from forming. Refrigerate until cold, about 2 hours.
To make the Chocolate Ganache:
Place the chocolate chips and pinch of salt in a medium sized heat safe bowl and set aside.
Combine the butter, corn syrup, and infused cream in a saucepan over medium-high heat and bring the mixture to a simmer.
Pour the infused cream mixture over the chocolate and allow to sit for about a minute.
Whisk until the mixture is smooth.
Cover with plastic wrap and have it come to room temperature.
To assemble the pie:
Spoon ¼ cup of the Chocolate Ganache into the crust and spread it evenly along the bottom and sides of the pie crust. This will help it from becoming soggy when the cream filling goes in.
Chill in fridge for 15 minutes.
Stir 1 cup Chocolate Ganache into the pastry cream and whisk until mixture is smooth.
Pour into the prepared ganache lined pie shell and spread it into an even layer.
Chill the pie until it is set, about 2 hours.
For the Whipped Cream:
Place the sugar into a mixing bowl and add the whipping cream.
Whisk just until the cream reaches stiff peaks.
Place whipped cream on top of cream pie and add red hots candies for garnish if desired.