Strawberry Cream Cheese Pretzel Pie: Inspired by Strawberry Pretzel Salad this pie has a pretzel crust, filled with cream cheese, Strawberry Jell-O, whipped cream, and strawberries.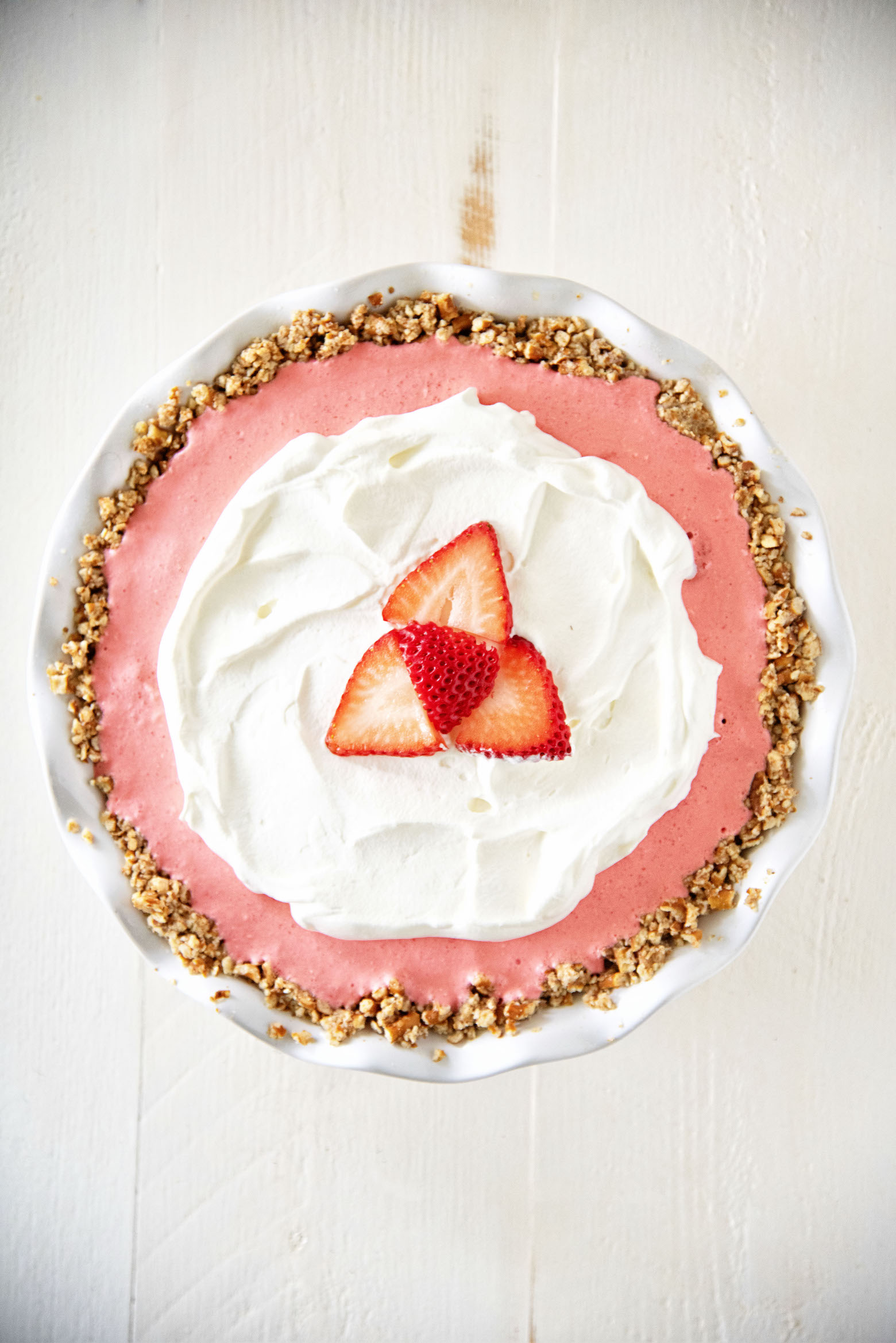 So most people are thinking about hot chocolate and keeping warm not about a summer salad.
Then again, they are probably dreaming about summer.
There was a big chunk of time in the 80's and early 90's when no matter what potluck I went to they had Strawberry Pretzel Salad.
If you are not familiar with the salad it's a layered gelatin based salad.
The salad part was because of the Jell-O, which I don't get but whatever, it tastes good.
It was served in a 9-x-13-inch dish and started with a bottom layer of pretzels, butter, and sugar.
Then layered on top of that was cream cheese, whipped topping, and sugar.
All topped with strawberry Jell-O with frozen strawberries.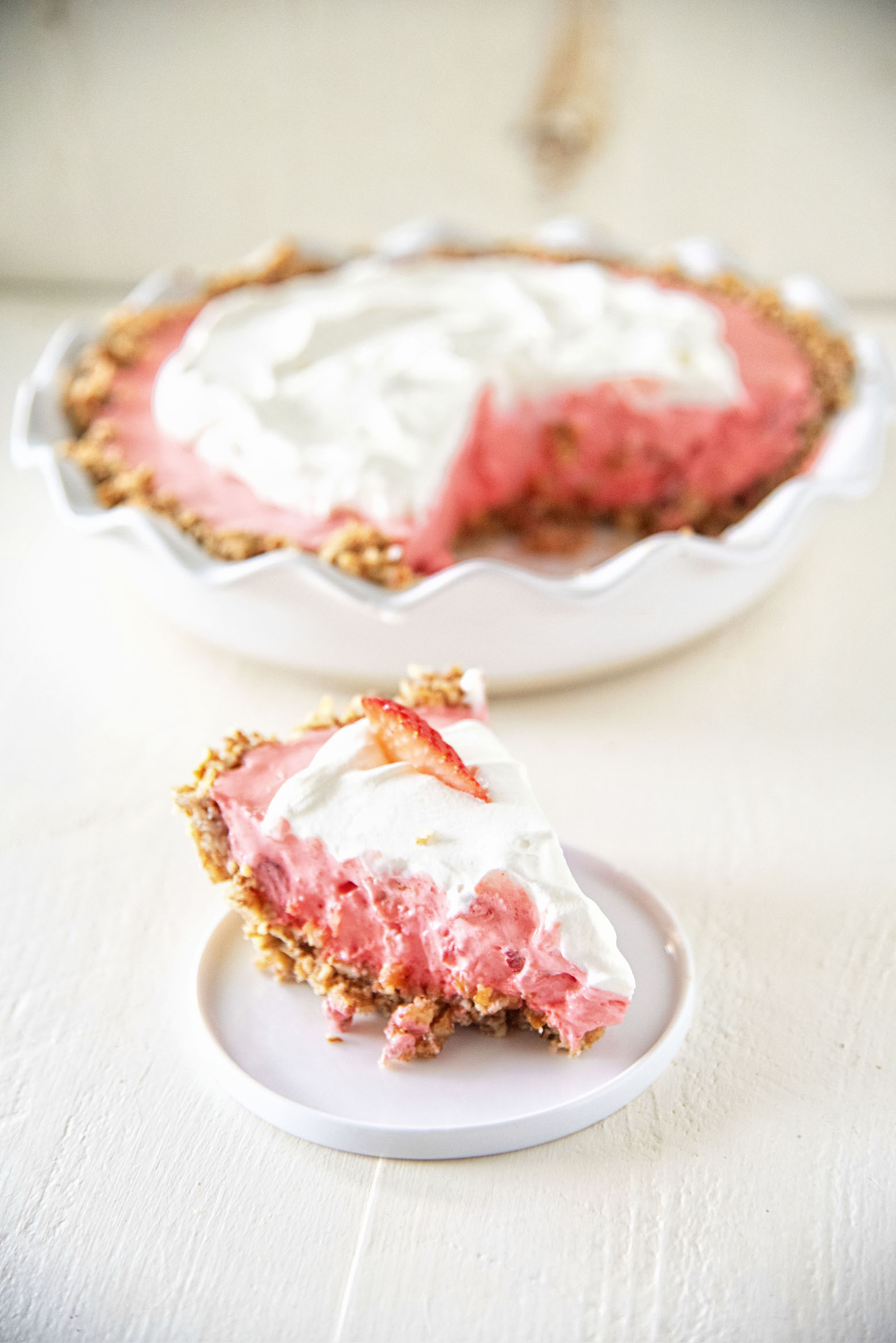 I've always thought about making it in pie form and getting rid of the layers.
And so this pie was invented.
The crust is pretty much the same but the filling is just all of it combined.
Except, I use freeze dried strawberries because they are a little more tart and I like that in this dish.
I suggest, if you can find some decent ones, adding fresh strawberries as garnish to the pie.

P.S. It's a great day to buy my cookbook Holy Sweet!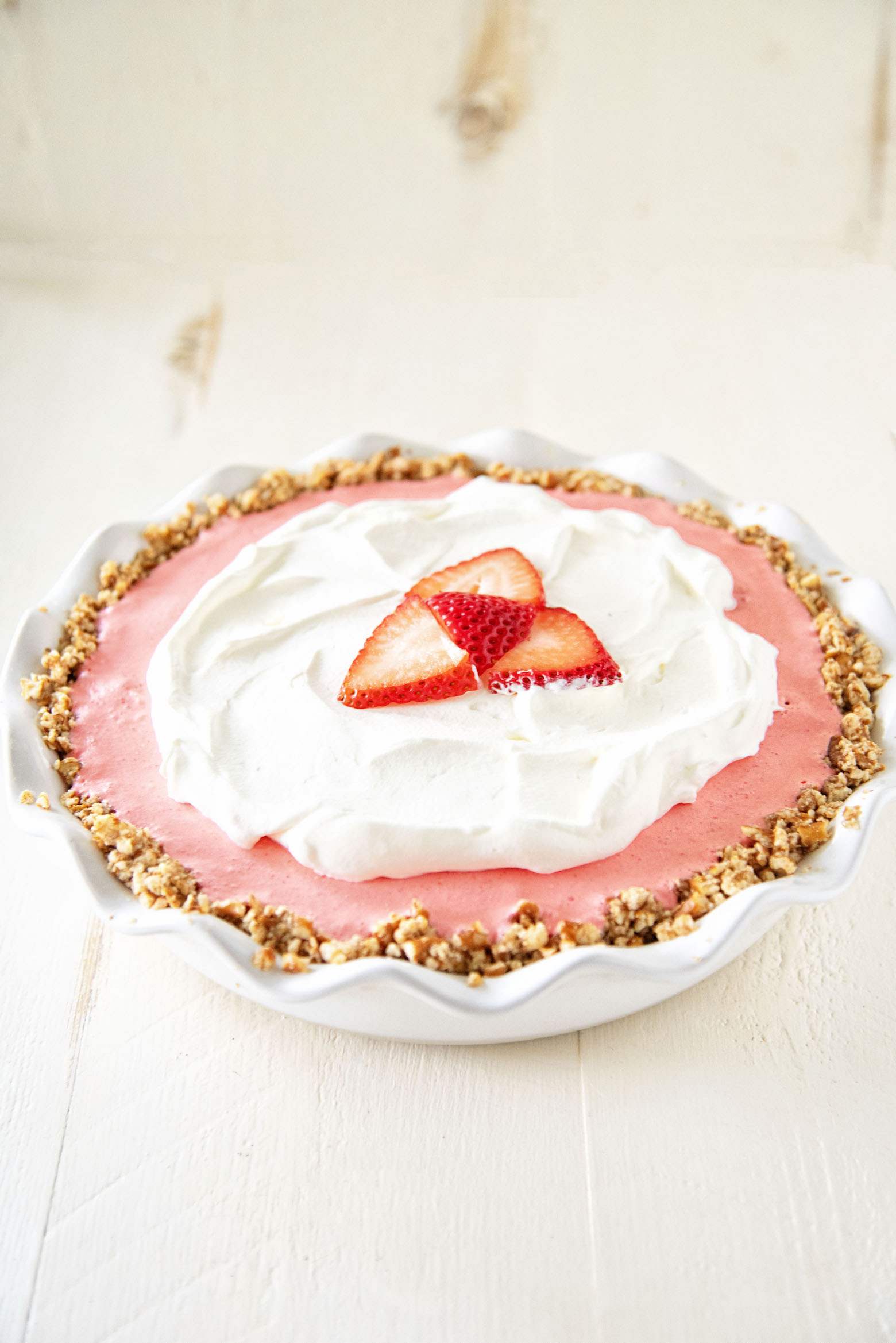 Want More Pie Recipes?
Bailey's Irish Chocolate Cream Pie
Strawberry Cream Cheese Pretzel Pie
Ingredients
For the Crust:
3 cups pretzels, crushed
1 cup butter
4 TBSP granulated sugar
For the Filling:
8 oz. cream cheese, at room temperature
6 oz. Strawberry Jell-O
1 oz. unflavored gelatin
2 1/4 cup bowling water
1 cup granulated sugar
2 cups whipped cream, whipped
Instructions
For the Crust:
Preheat oven to 400F.
Stir together the crushed pretzels, melted butter, and 4 TBSP granulated sugar.
Press mixture into a well greased pie pan.
Bake for 8-10 minutes, until set. Set aside.
For the Filling:
Place strawberry Jell-O, gelatin, and freeze dried strawberries into a medium bowl.
Pour in the boiling water and mix until gelatin is dissolved.
Place in fridge while you make the second part of the filling, about 20 minutes.
Using a stand mixer with a paddle attachment, beat together the cream cheese and the 1 cup granulated sugar until nice and fluffy, about 3 minutes.
Scrape down the sides and bottom of mixer and mix for another 1 minute.
Add the gelatin mixture from the fridge and mix until combined.
Fold in the whipped cream.
Pour into the prepared pie crust and refrigerate for at least 3 hours.
Top with whipped cream and strawberries if desired.