This Banana Split Cheesecake Cheeseball is made with a vanilla malt, strawberry, and chocolate flavored cheeseball topped with all the toppings.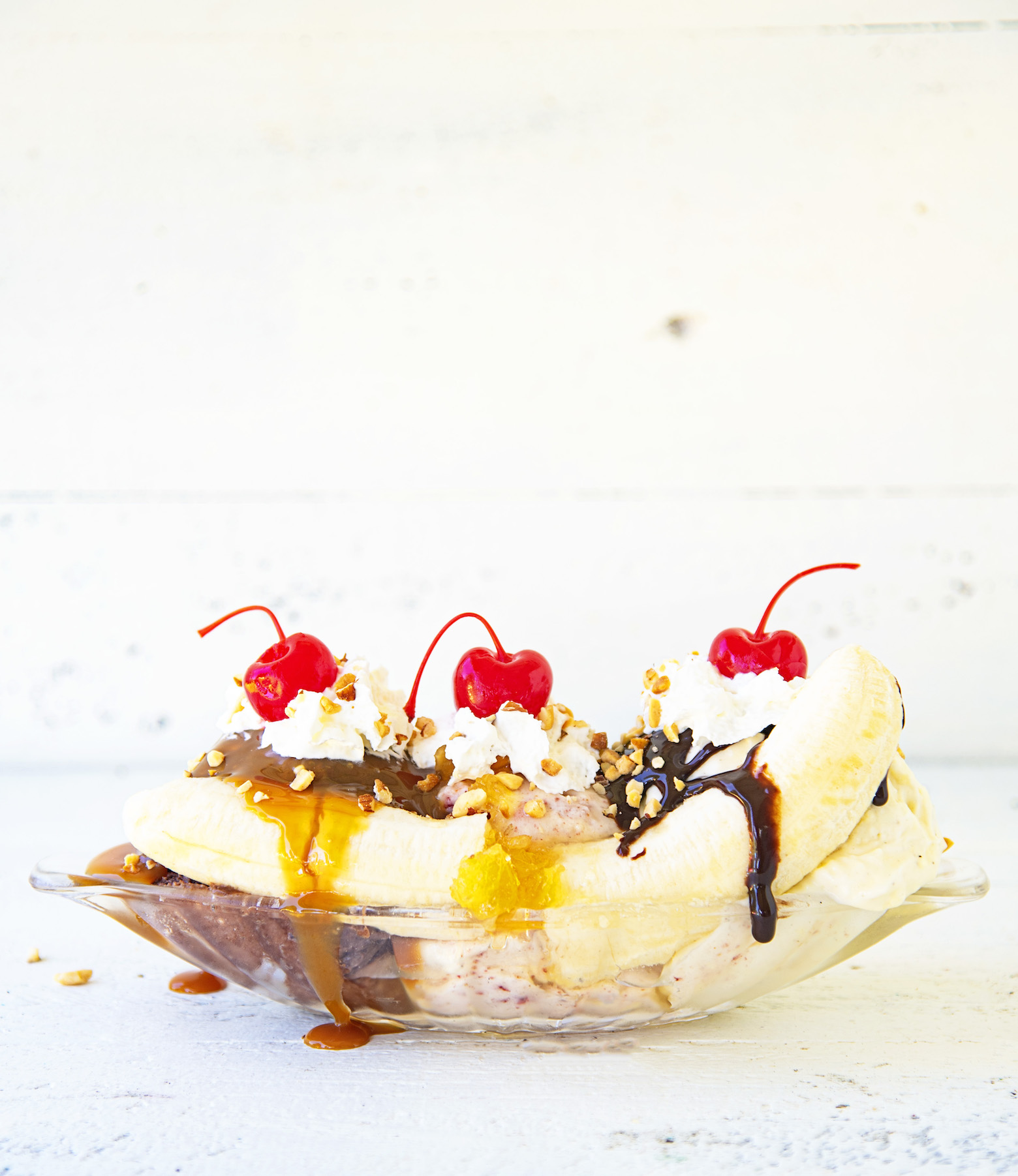 Once again I'm participating in Summer Dessert Week!
I have so much fun doing them each year that I signed up again.
Angie always does such a great job running them.
Unlike previous years where we had sponsors and giveaways we are just doing it for fun this time around.
This year I once again decided to participate in all six days (you only have to sign up for 2).
It's a fun motivation for me to be creative in the summer.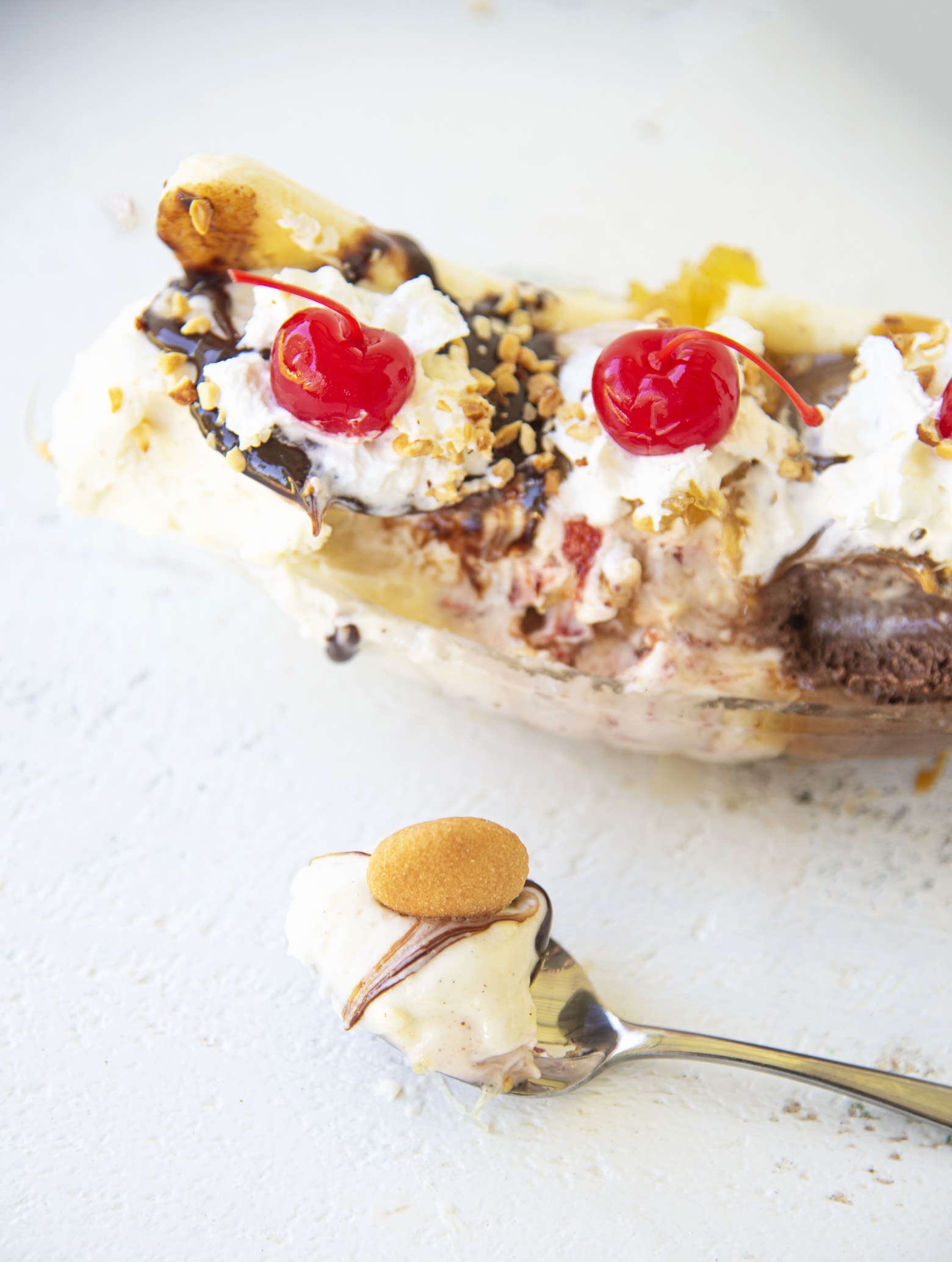 My first dessert to start the week is this Banana Split Cheesecake Cheeseball.
Now this looks different than my usually cheesecake cheeseballs I make.
This one is actually three smaller cheeseballs made to look like ice cream.
Because summer is meant to be fun.
Even in 2020. 😀
One cheeseball is vanilla malt flavored, one is strawberry flavored, and one is chocolate flavored.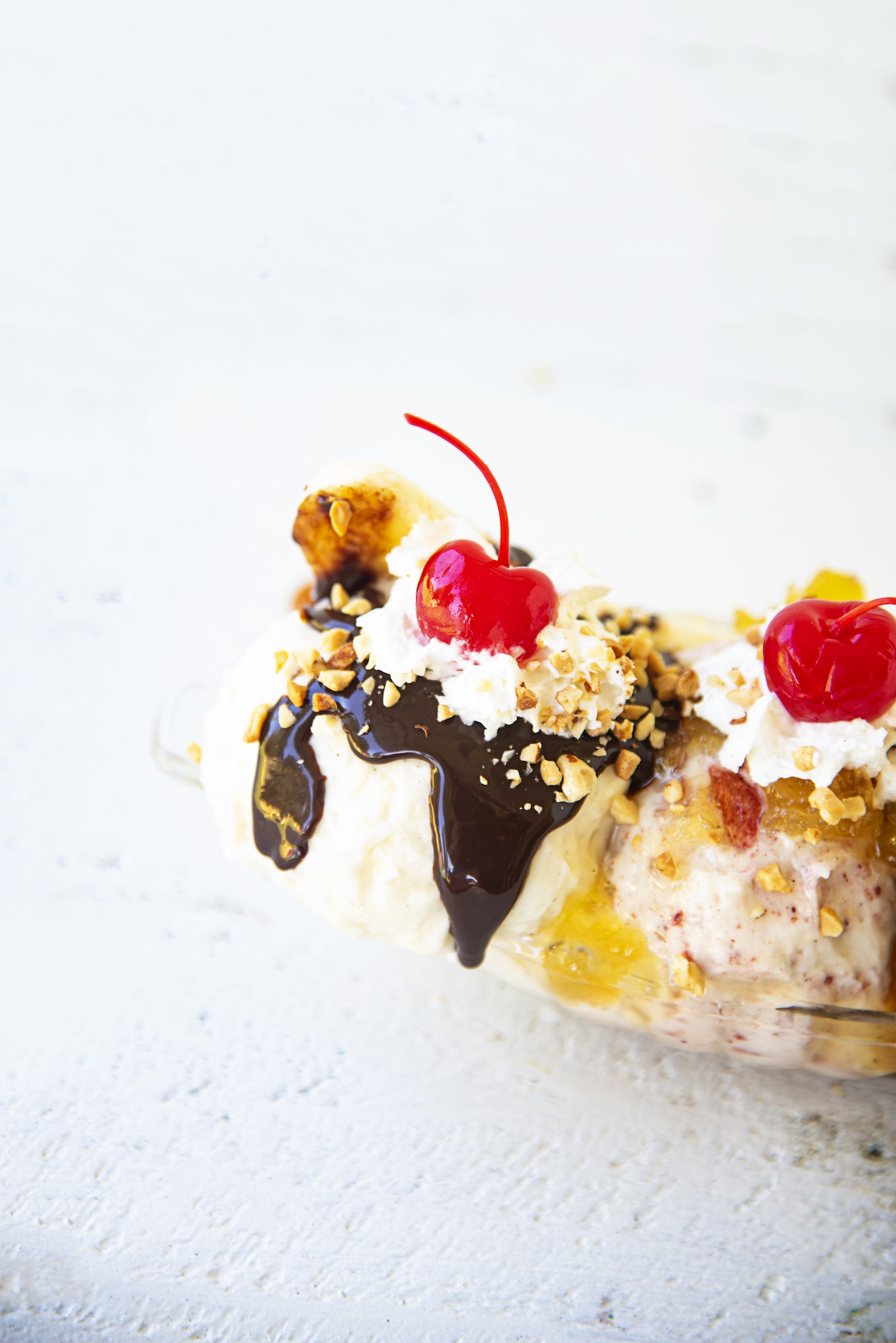 They are served in a banana split bowl because why not?
Then topped with ice cream toppings.
I went with hot fudge, caramel sauce, and pineapple sauce.
Then sprinkled with peanuts.
And topped with whipped cream and maraschino cherries.
Serve with cookies, I did Nilla Wafers, and enjoy!
Best part no oven gets turned on!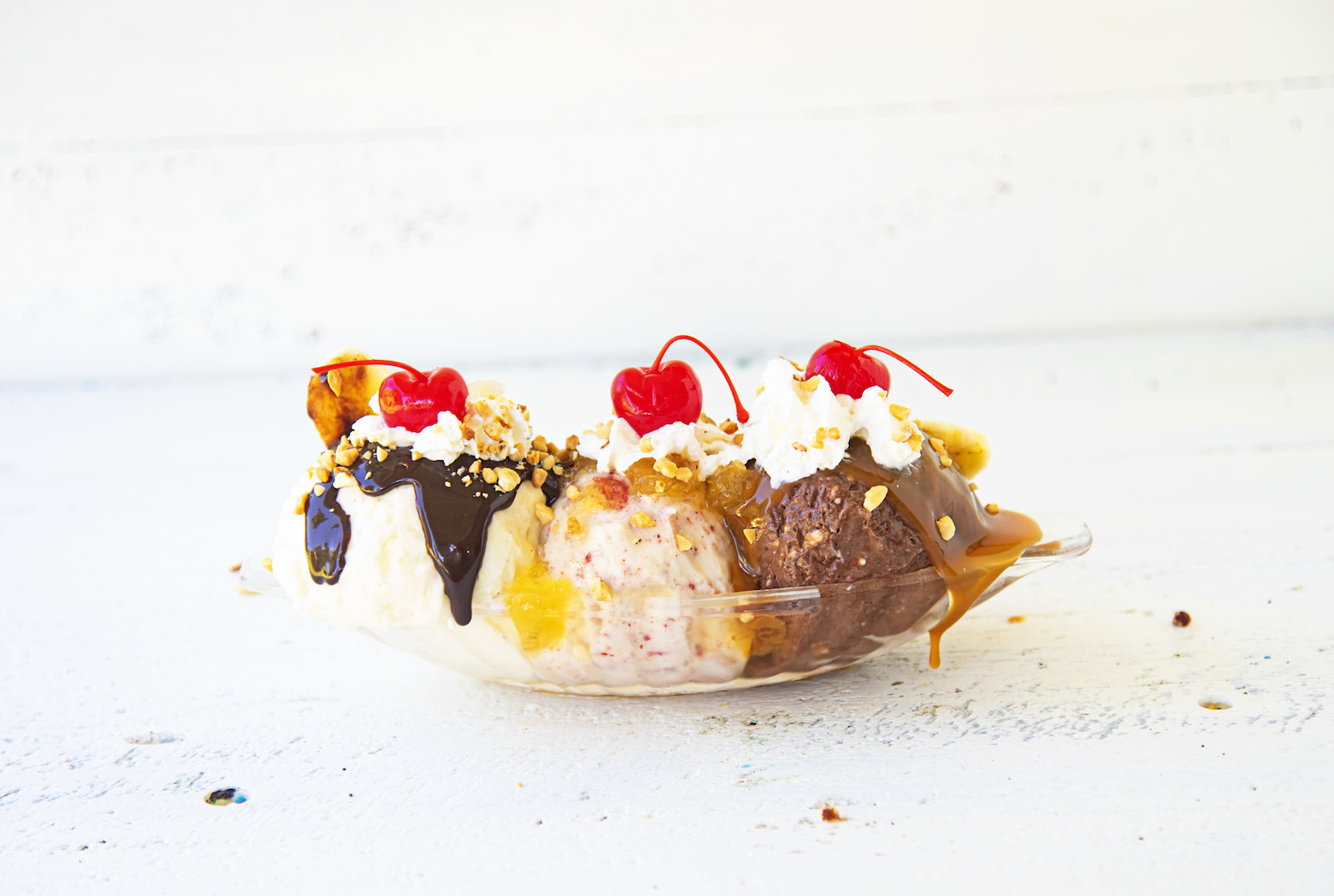 Welcome to the 4th Annual #SummerDessertWeek event hosted by Angie from Big Bear's Wife. We're celebrating all things summer with a week-long event that is absolutely filled with some of the best summer dessert recipes! Follow the hashtag #SummerDessertWeek on social media to find recipes and make sure to check out the bottom of this post for even more summer desserts!
Check out the amazing #SummerDessertWeek recipes from our bloggers today!
Ice Cream & Chilled Desserts:
Summertime Pies:
Sweet Summertime Cakes and Cupcakes:
No Bake Treats:
Baked Desserts: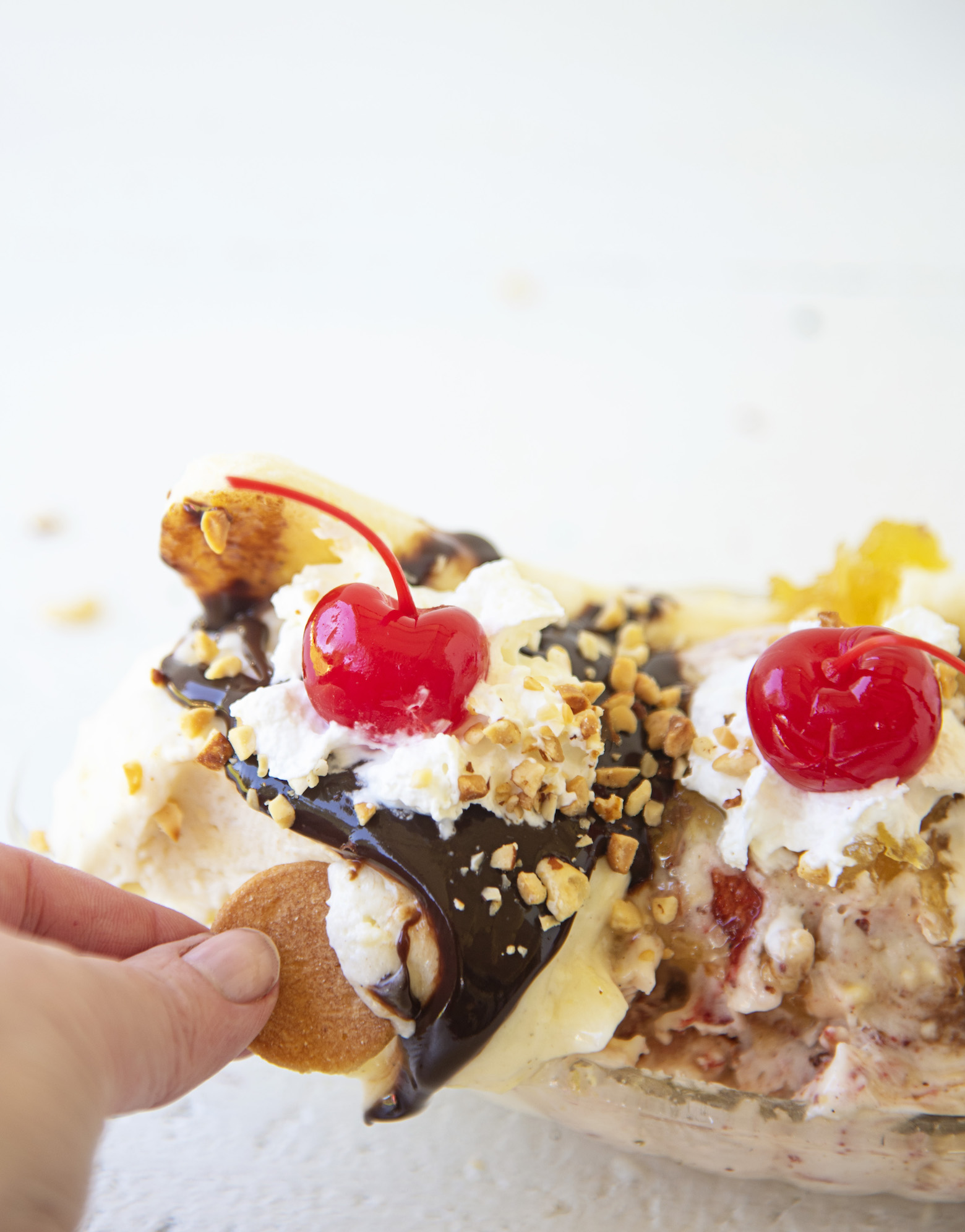 Want More Banana Split Recipes?
Festive Banana Split Sprinkle Muffins
Frozen Banana Split Sundae Cake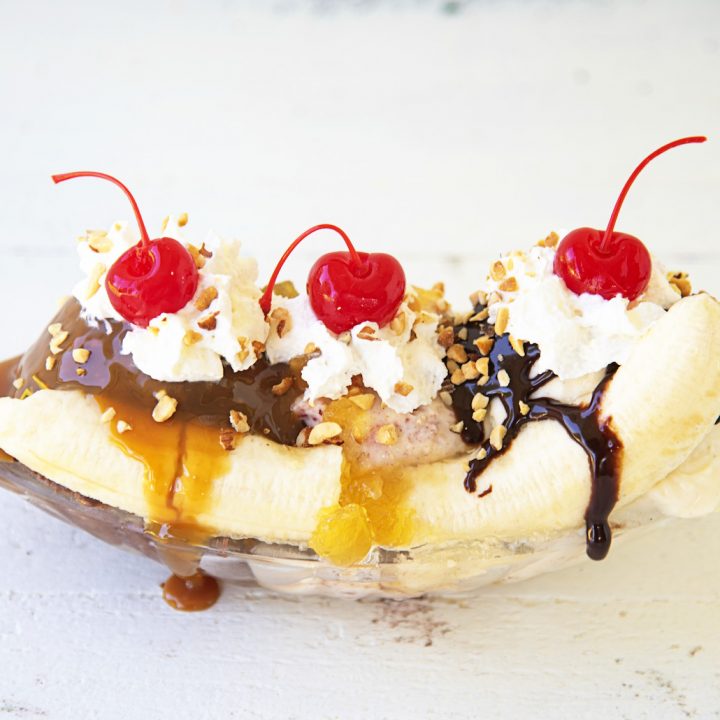 Banana Split Cheesecake Cheeseball
Ingredients
For the Cheeseballs:
16 oz. cream cheese, at room temperature
1 cup unsalted butter, at room temperature
1 TBSP vanilla bean paste
3 cups powdered sugar
1/2 cup unsweetened cocoa powder
For the toppings:
1/4 hot fudge sauce
1/4 cup caramel sauce
1/4 cup chopped peanuts
1 banana, split lengthwise
whipped cream for garnish
maraschino cherries for garnish
Instructions
Using a stand mixer with a paddle attachment beat together the cream cheese and the butter until fully incorporated.
Add the sugar and vanilla bean paste and beat until fully incorporated.
Divide the mixture evenly between three bowls.
Add malted milk powder to one bowl and mix until fully incorporated.
Then add the freeze dried strawberries to the next bowl and mix until fully incorporated.
Finally add the unsweetened cocoa to the third and final bowl and mix until fully incorporated.
Lay out a piece of plastic wrap and scoop the vanilla malt cream cheese mixture onto it.
Do your best to form a ball, then wrap up the ball in the plastic wrap. Do an extra layer of plastic wrap to help it keep its shape.
Repeat this for the strawberry cream cheese and for the chocolate cream cheese.
Freeze for about 4 hours.
Take the ball out of the freezer and unwrap.
Using a banana split bowl place each flavor as you would scoops of ice cream.
Add a banana slice to each side.
Top with the hot fudge, caramel sauce, and pineapple sauce.
Sprinkle with nuts.
Top with whipped cream and cherries.
Serve with cookies.